This fruity post run smoothie combines tropical flavors like coconut, pineapple, and mango into a super refreshing drink. It's ideal for a quick meal after a long workout, and is easy to throw together in just 5 minutes.
What should go into a post run smoothie?
After a long run, it's helpful to take in carbohydrate and protein in order to start the recovery process. Carbohydrates help replenish the energy stores that you used on that run, while protein starts the muscle repair process.
That said – you don't have to worry about recovery meals and shakes after every single run. In fact, your everyday diet will take care of your recovery needs after most of your workouts.
But there are a few exceptions:
You did a long workout (>2-3 hours) or a very intense mid-length workout (>1-1.5 hours).
You do 2-a-day workouts.
You completed a race today and have another one tomorrow.
In these cases, it's wise to refuel with a carb and protein combo within 30-60 minutes of your workout, like with this post-run smoothie. Your muscle is like a sponge in that post-workout time frame, ready to soak up that nutrition you're taking in.
How to make a mango pineapple smoothie
This smoothie is made with a few simple ingredients:
Mango
Pineapple
Coconut flavored Greek yogurt
Milk
Orange juice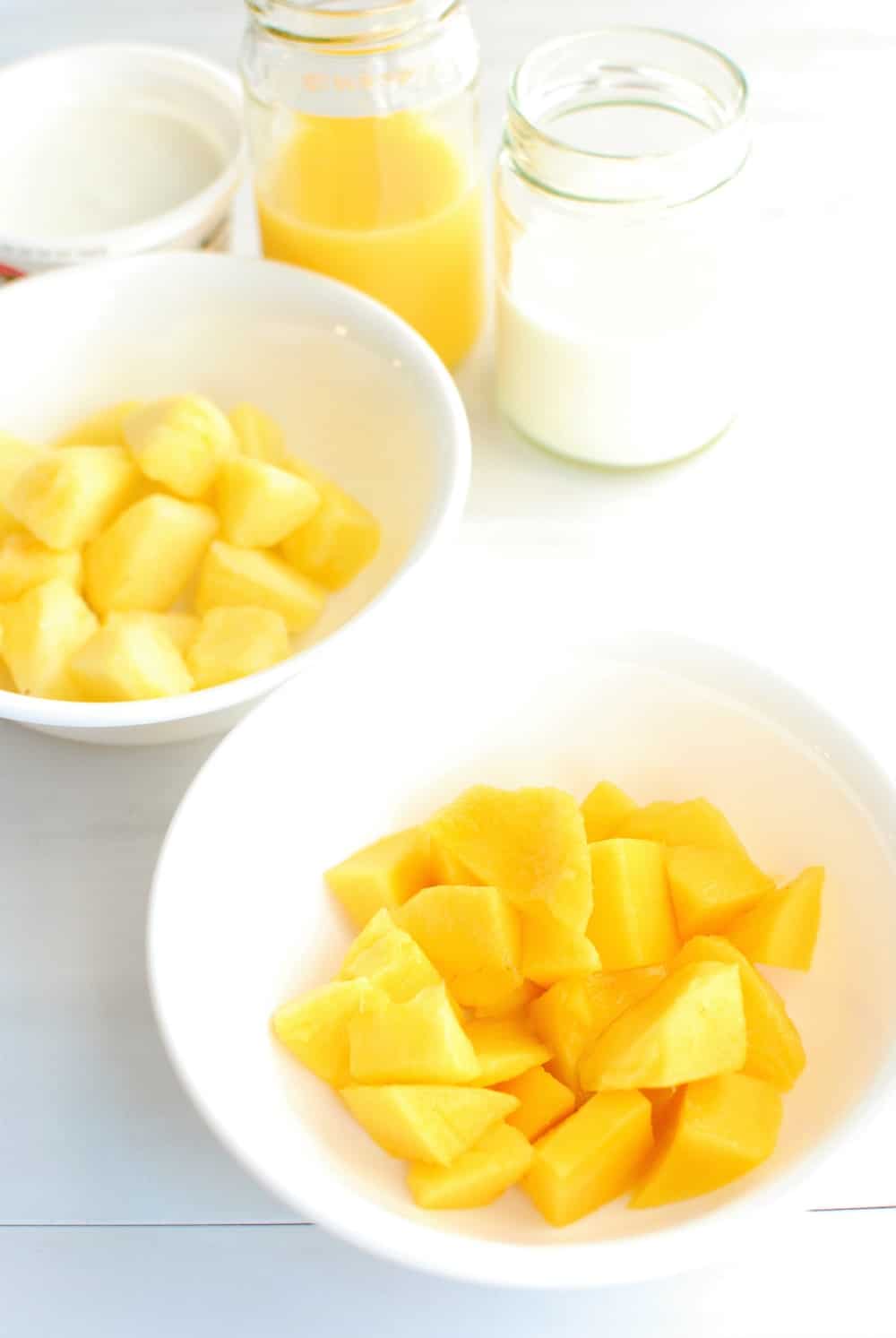 You'll toss everything in the blender, mix it up, and boom – you're ready to sip on your recovery drink.
If you want to amp up the nutrition profile a bit, you can also toss in some greens for extra vitamins and minerals.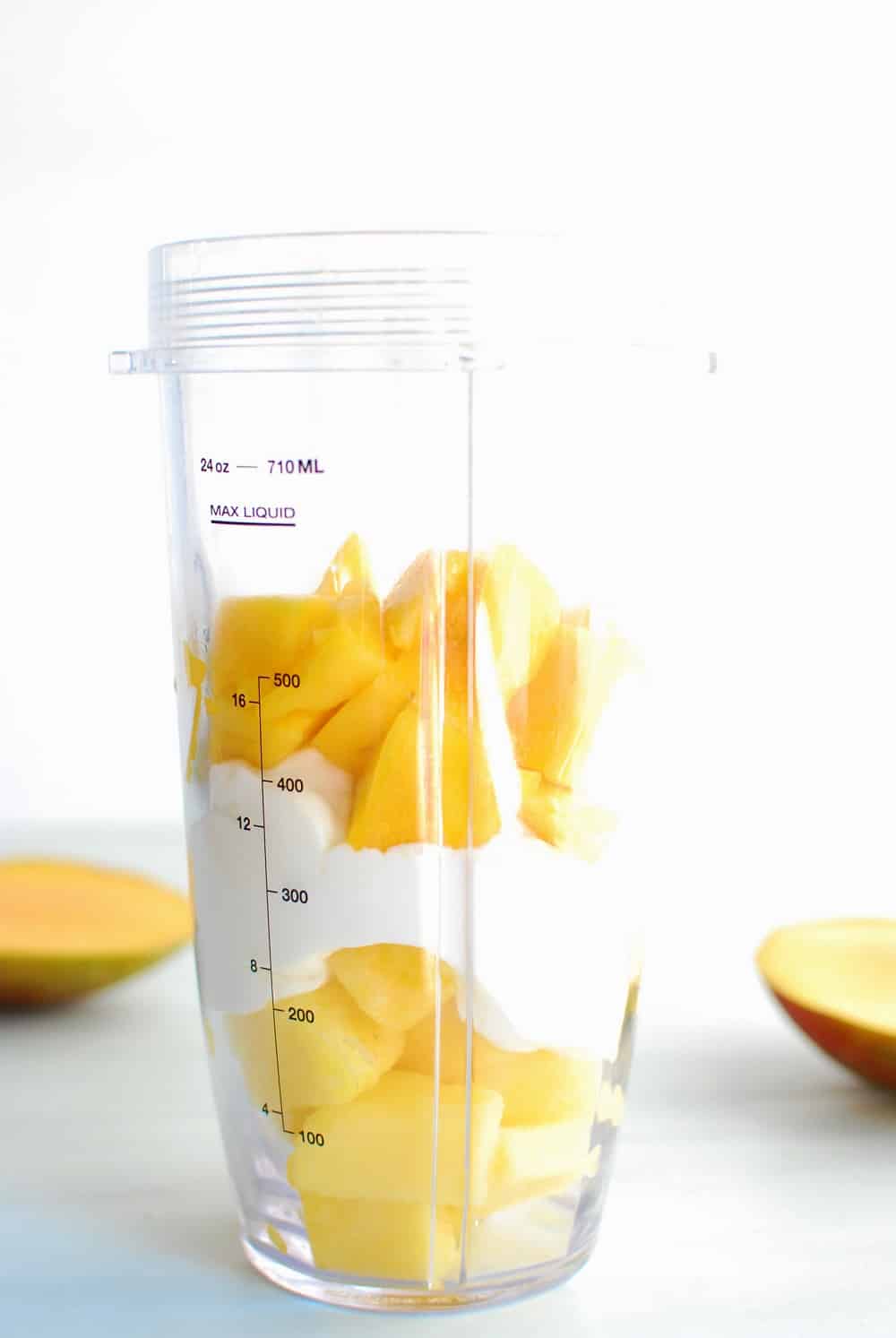 Nutrition benefits
This smoothie has a great 4:1 carb to protein ratio which is thought to be optimal for the post-run time frame. The ingredients used also have several benefits for your health:
Mango, pineapple, and orange juice – pack in a ton of Vitamin C, important for immune health and skin
Greek yogurt and milk – provide calcium, key for bone health
Should you use protein powder in a post run smoothie?
You may have noticed that I didn't use a protein powder, even though this is a recovery smoothie. I'm a whole-foods-first kinda person, so when I can use food to achieve the protein content I'm looking for – I veer towards that.
In this case, by using both Greek yogurt and 1% milk, you're able to get 20 grams of high-quality protein in the smoothie. Dairy products in particular are a great source of leucine, which has different fitness benefits. And that 20 grams is a great amount for after a long run.
That said, if you don't use dairy products, you can easily modify this smoothie by using a milk alternative rather than 1% milk, using coconut milk yogurt, and adding in a scoop of plant-based protein powder.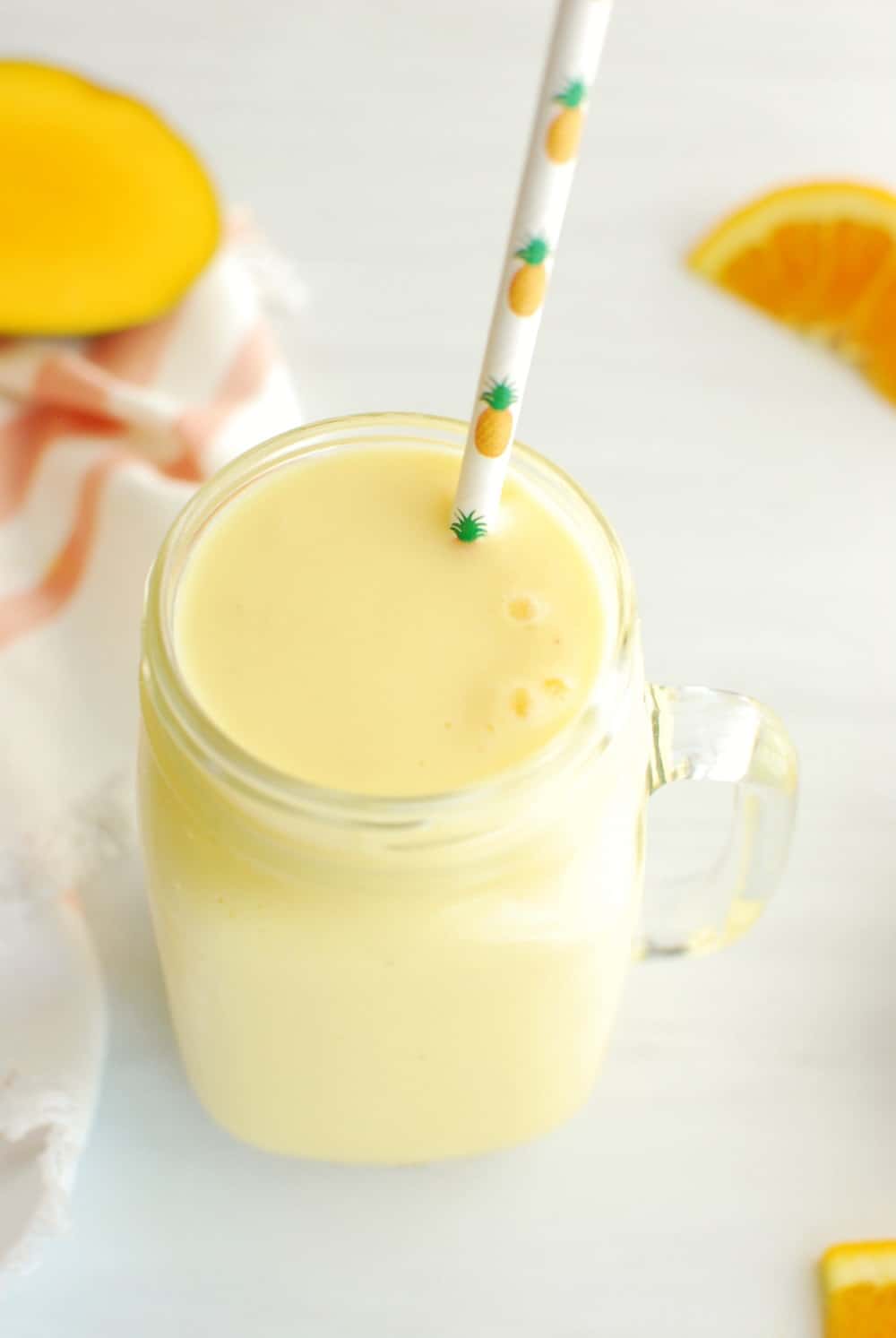 Other post run smoothie ideas
There are tons of smoothies here on Snacking in Sneakers, from snacks to hydrating drinks to meal ideas. These three are ideal for the post-run time frame:
Cacao smoothie – This chocolatey delight packs a punch of health-boosting flavanols and antioxidants thanks to the cacao powder.
Chocolate cherry recovery smoothie – Chocolate milk, tart cherry juice, Greek yogurt, and a cherry berry blend come together to form a fun flavor combination that tastes great after a workout.
Granola smoothie with peaches and strawberries – Granola isn't just for your cereal bowl! Try blending it into a smoothie for added sweetness and texture. This is a great option in the summer thanks to the in-season strawberries and peaches.
I hope you get a chance to try this mango pineapple smoothie soon after a long run or ride! If you get a chance to try it, be sure to leave a recipe rating or comment below.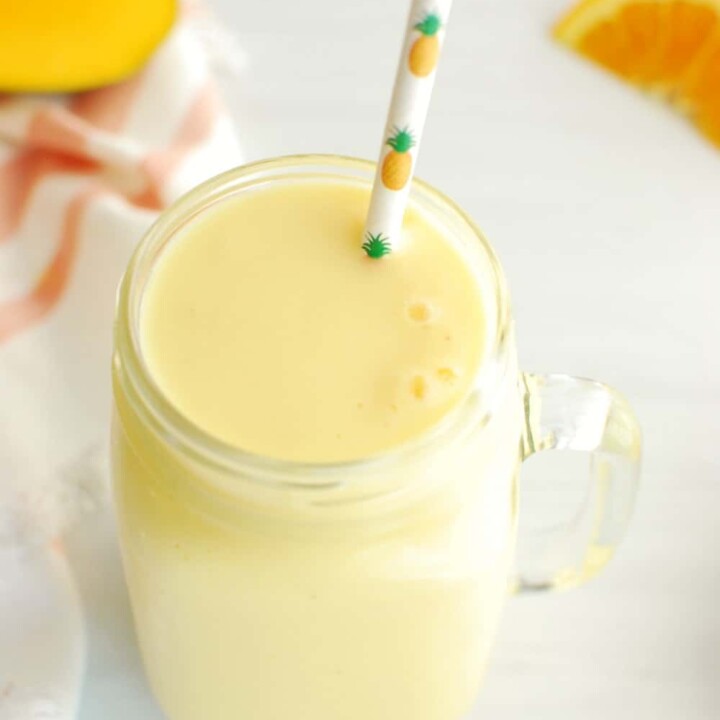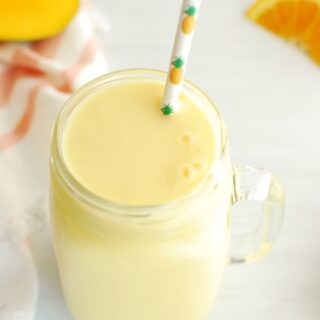 Post-Run Mango Pineapple Smoothie
This mango pineapple post run smoothie makes for a delicious treat after pounding the pavement!
Ingredients
3/4

cup

mango, fresh or frozen

1

cup

pineapple, frozen

5.3

ounce

container of coconut flavored nonfat Greek yogurt

1/2

cup

orange juice

1/2

cup

1% milk
Instructions
Add all ingredients to a blender, blend for about 20 seconds, and enjoy!
Notes
Nutrition analysis (approximate):
420 calories, 2.5 g fat, 1 g saturated fat, 110 mg sodium, 81.5 g carbohydrate, 6 g fiber, 69.5 g sugar, 20.5 g protein, Vitamin A: 49%, Vitamin C: 339%, Calcium: 35%, Iron: 7%
Nutrition
Share: What's your favorite post run smoothie? If you tried this mango pineapple smoothie, what did you think?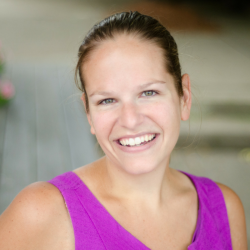 Latest posts by Chrissy Carroll
(see all)