Rounding out the last day of the month with a final Friday smoothie recipe! Up this week? A rich cacao smoothie that's sure to satisfy all the chocolate cravings.
You might be thinking – a chocolatey concoction? Is that really good for me?
The answer is a resounding yes! This cacao smoothie is a nutritious choice for anyone, and especially for all you active ladies out there.
[Tweet "You *need* to try this delicious antioxidant-packed cacao smoothie!"]
Before I get into the smoothie itself though, it's probably helpful if you get a little background on what cacao actually is.
Cacao vs. cocoa – What's the difference?
You've probably seen cocoa powder on shelves before – the stuff you buy if you're making brownies or chocolate cake. But cacao powder is a bit more elusive. What's the difference between these two similar sounding forms of chocolate?
All types of chocolate start out as a humble seed inside the pod of a cacao plant. The seed is similar in appearance to a coffee bean, with a rich but bitter chocolate flavor.
To make cacao powder, the seed is fermented first, then dried, and then heated at a very low temperature – either mechanically or via sun roasting. This helps separate out the fat (cacao butter) from the bean. The beans are then ground into a fine powder.
Cocoa powder is processed somewhat similarly, however it is heated at much higher temperatures. This changes the flavor slightly, as most people find cocoa less bitter than cacao. But it also lowers the overall nutrient profile of the powder.
Don't get scared off from cocoa powder, though – it's still very healthy to use. It's rich in antioxidants and has fiber for digestive health.
But if you can mix things up and try incorporating cacao into your routine, you'll get an even bigger bang for your buck when it comes to the concentration of flavanols and antioxidants – both of which have pretty incredible health benefits.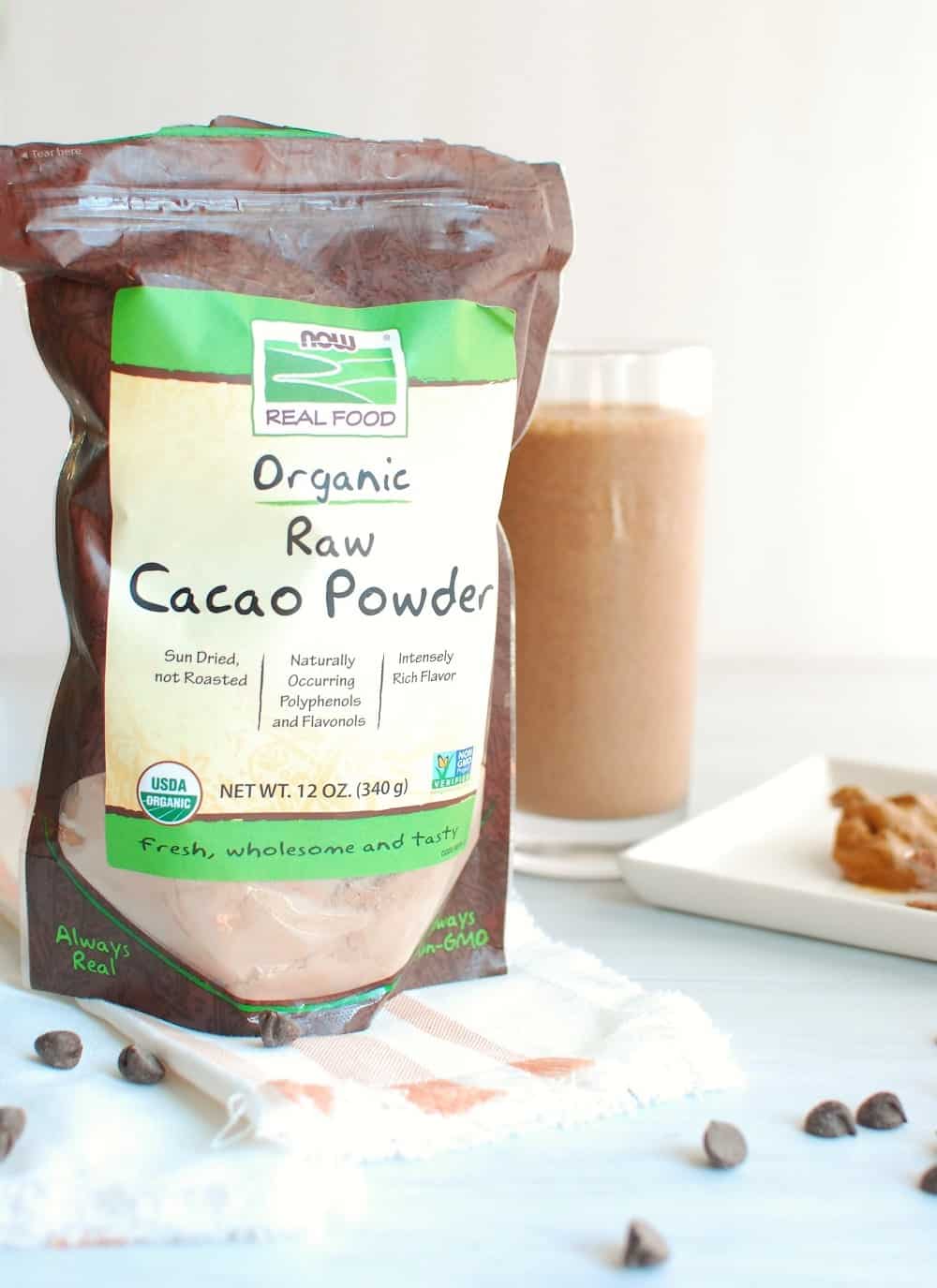 Nutrition benefits of this cacao smoothie
One of my favorite cacao powder recipes, of course, is this smoothie. It's an easy way to blend cacao powder in with other ingredients to hide any bitterness.
In particular, I love the recipe below for a post-workout smoothie. It's a great option if you've just come in from a long run or ride and maybe you're not in the mood to eat something – but you know you want to replenish your energy stores. Here's why I love it:
Provides carbs and protein to replenish energy, in a 4:1 ratio. Quite a bit of sports nutrition research suggests a 3:1 to 4:1 ratio as optimal for recovery after an endurance workout.
Contains antioxidant-rich cacao powder, which may be important for addressing the oxidative damage from heavy exercise.
Is made with just 5 ingredients, making it quick to throw together after a workout.
Tastes delicious!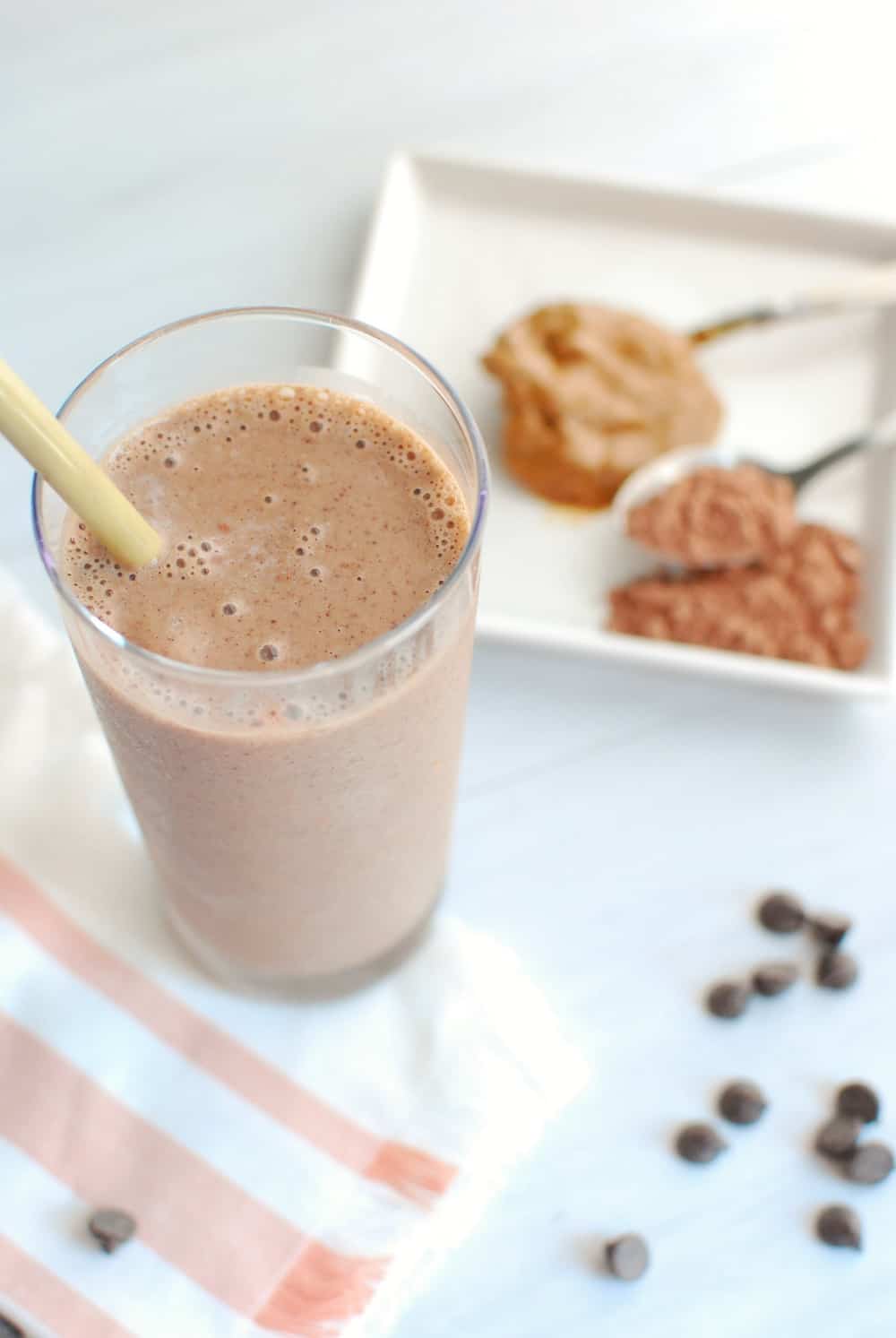 Does dairy negate the benefits of cacao in this smoothie?
As a slight aside, some people have questioned whether it's OK to have dairy along with cacao. There are a few articles that pop up on Google stating that dairy negates all the beneficial effects of cacao.
There is very little research on this topic. Some studies do suggest that the casein protein in milk may bind with certain beneficial components in cacao (or other foods like tea). However, the effect likely isn't as severe as most people think.
For example, two studies – one in 2003 and one in 2006 – found that dairy reduced the antioxidant effects of cacao or chocolate. However, it did not negate them. This research also only looked at certain beneficial components and outcomes.
On the contrary, a 2007 study found no effect on milk powder on cocoa polyphenol concentration. Another study found small reductions in the absorption of polyphenols in cocoa powder with milk, but found bioavailability (and thus potential health benefits) of the polyphenols was not affected.
Aside from chocolate, we can also look at a few studies that were done on tea – another antioxidant-rich beverage frequently combined with milk. One 2007 study found that the casein proteins in dairy negated any benefit of tea on vascular function. However other studies, focused on antioxidant activity, have either shown no effect from the addition of milk or only minimal decreases in antioxidant activity (10-30% decrease).
Let's put this in perspective – if (of the limited research) most studies show a modest decrease – let's say 30% – that means you still retain 70% of the beneficial components when you combine cacao and dairy. To me, I think it's a good trade off for getting that high-quality dairy-based protein after a workout.
If you're concerned though – and you really want to maximize the cacao benefits – simply use a milk alternative (almond, coconut, etc) instead of regular milk in this smoothie. Keep in mind that will remove most of the protein, so you may want to add a scoop of protein powder if you're using this as a post-workout smoothie.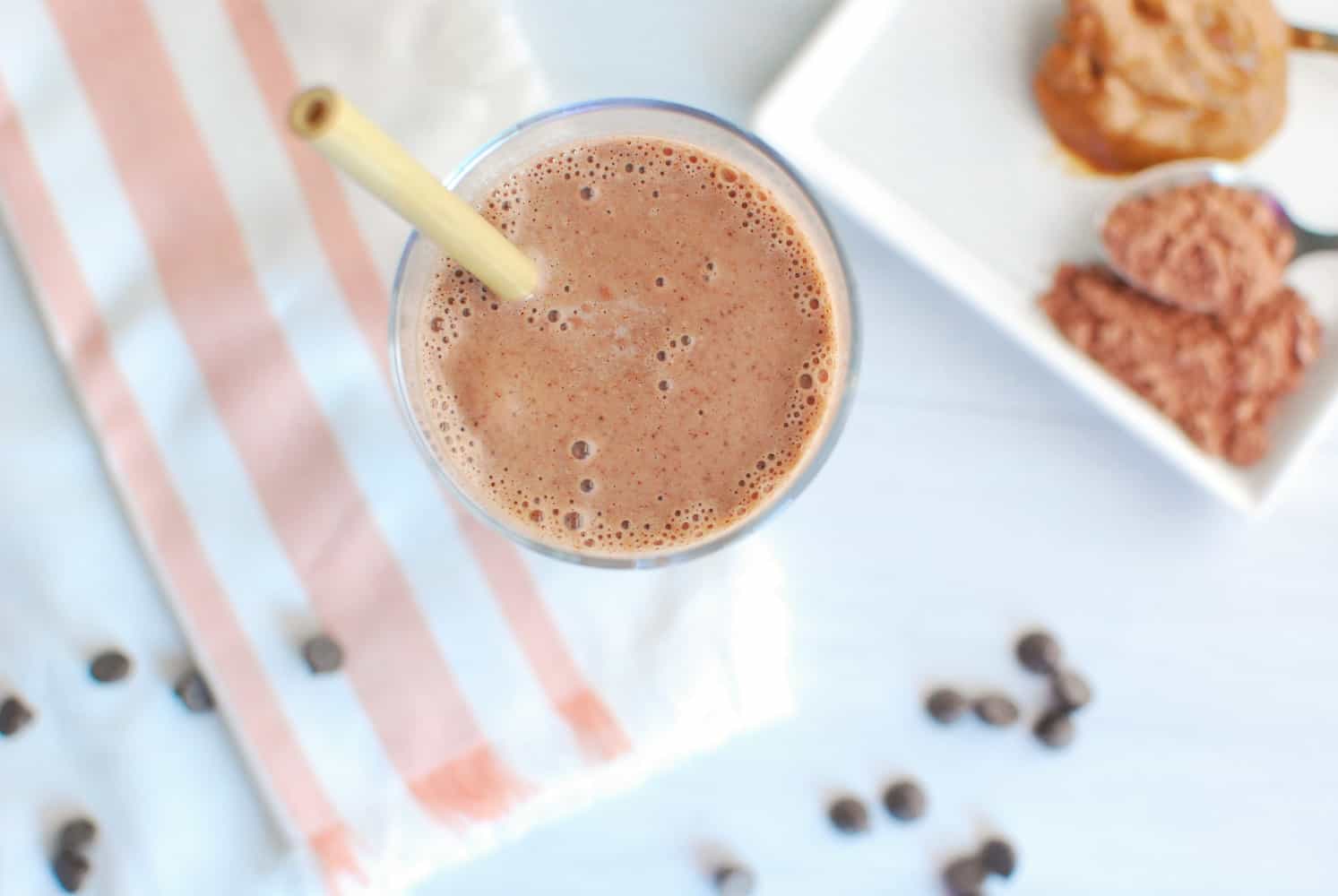 Where to buy cacao powder
*Disclosure – This contains Amazon affiliate links. We are a participant in the Amazon Services LLC Associates Program, an affiliate advertising program designed to provide a means for us to earn fees by linking to Amazon.com and affiliated sites.
Ready to make this smoothie and just need to locate the cacao? You might be able to find cacao powder in the natural section of your grocery store, in the baking aisle.
You can also find it online through natural foods retailers. I ordered the NOW Foods brand (a partner of mine) and highly recommend it, but you can also find plenty of other varieties on Amazon as well.
I hope you love this cacao smoothie as much as I do!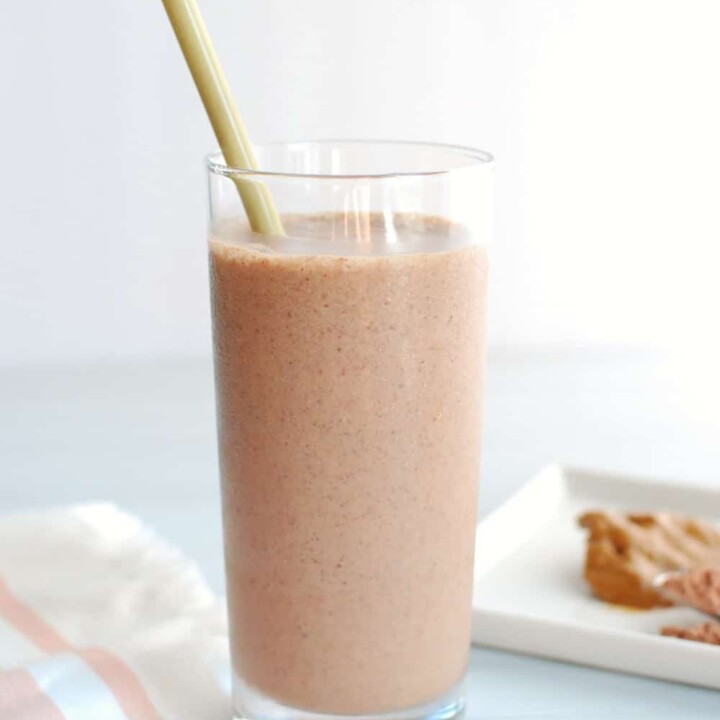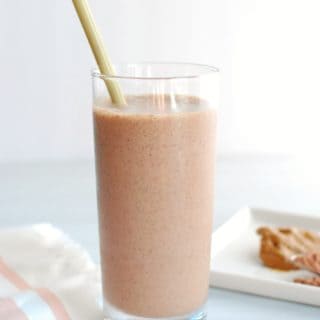 Cacao Smoothie with Banana and Almond Butter
This healthy, antioxidant-packed cacao smoothie tastes incredible. Plus it's creamy, it's rich, and it's a perfect breakfast or post-workout smoothie!
Ingredients
1

banana

frozen

1

tbsp

cacao powder

1

tbsp

dark chocolate chips

1

tbsp

almond butter

1 1/4

cup

1% milk

or milk alternative
Instructions
Blend together all ingredients and enjoy!
Notes
Nutrition analysis (approximate per serving, assumes dairy milk):
430 calories, 17.5 g fat, 5 g sat fat, 209 mg sodium, 60 g carbohydrate, 4.5 g fiber, 14.5 g protein, Vitamin A: 14%, Vitamin C: 20%, Calcium: 42%, Iron: 8%, Vitamin D: 40%, Potassium: 32%
Nutrition
Share with me: Have you ever tried cacao powder in anything? If you tried this cacao smoothie, what did you think? What's your favorite post-workout smoothie?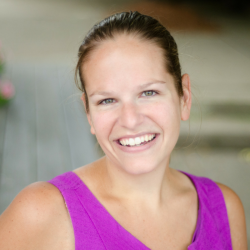 Latest posts by Chrissy Carroll
(see all)