Have you ever laced up your shoes to hit the pavement, but started to feel run down before you even made it a mile? There are many reasons for feeling tired during a run (like overtraining or not eating enough) – but if this happens often, it's worth taking a look at your iron intake. When it comes to iron for runners, many athletes (especially women) may fall short, which impacts not only performance but also overall health.
Iron is a key mineral that the body needs to function at its full potential. Learn about the functions of iron in the body, how much you need, the best food sources, and whether supplementation is worthwhile.
Disclaimer: This post was written by Teresa Chaney, a dietetic student at the University of Alabama. It has been reviewed by Chrissy Carroll, MPH, RD, RRCA Running Coach. The content in this post is for informational purposes only and should not be construed as individual medical or dietary advice. See a doctor or dietitian for individual advice.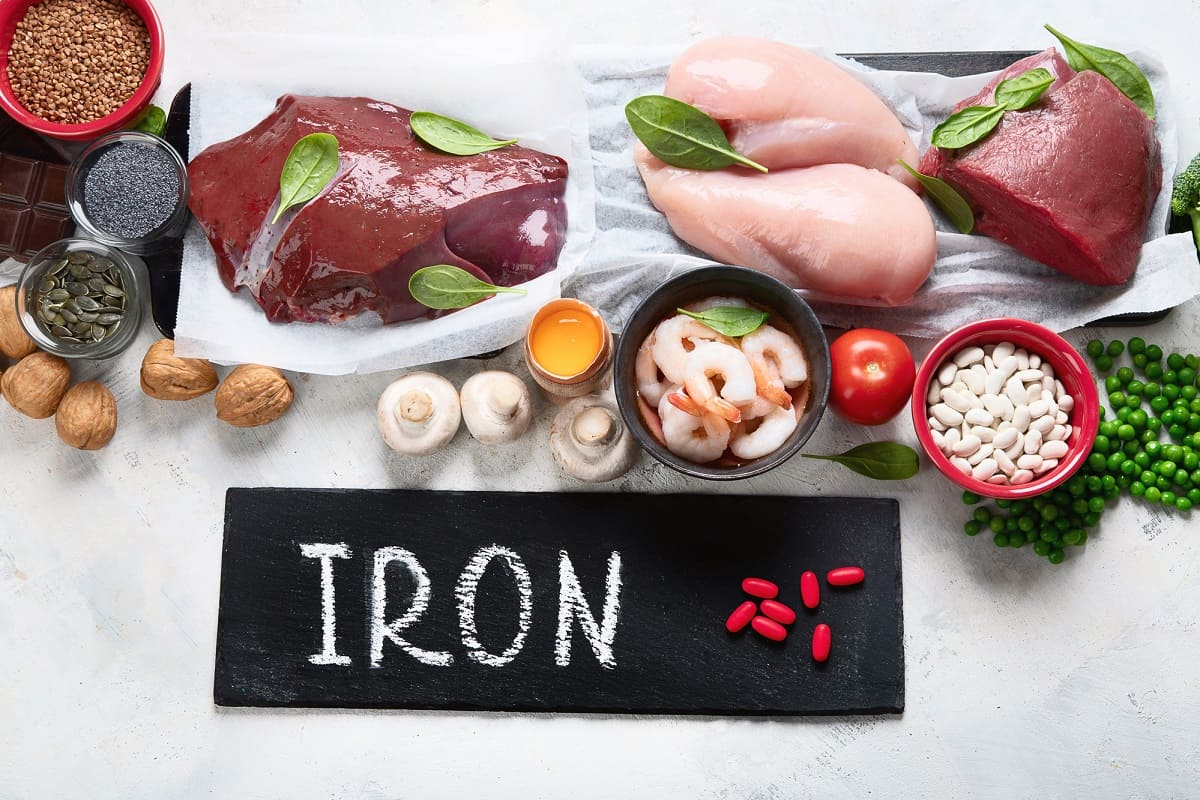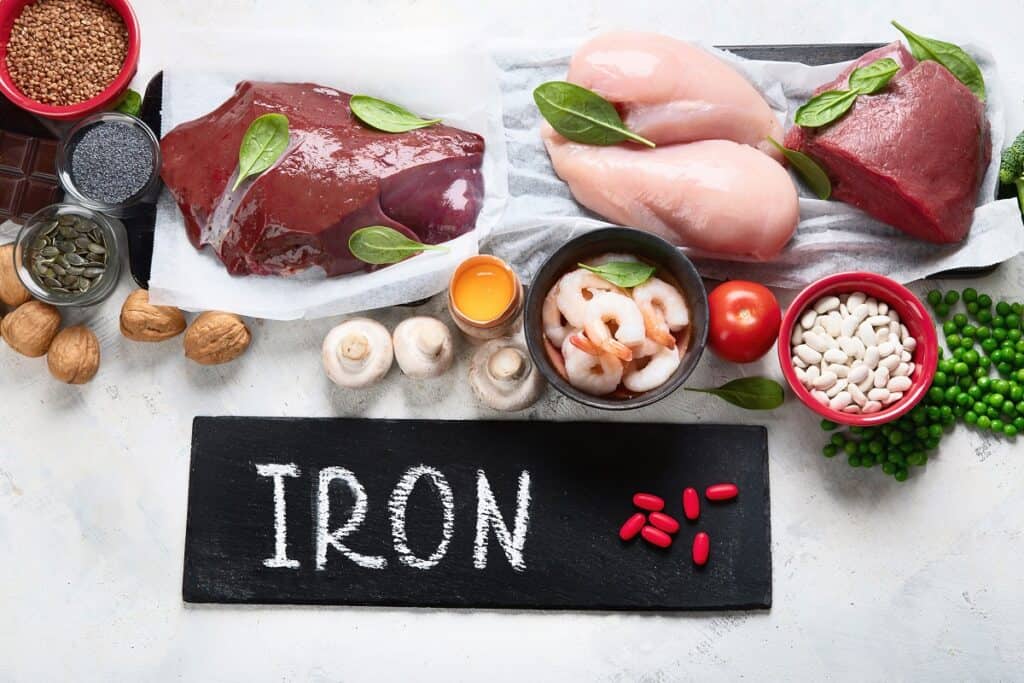 Benefits of iron for runners
Iron is key for runners, for several reasons:
Helps transport oxygen to the muscles: Iron is essential to the production of hemoglobin, which is part of your red blood cells. Hemoglobin binds to oxygen, allowing your body to transport it to those hard-working muscles.
Supports muscle health: Iron is present in a component called myoglobin in your muscles, which stores oxygen. Research shows that when runners are iron deficient, it can affect levels of certain enzymes in the muscles and the ability of the muscle to form energy through certain pathways.  
Needed for healthy tissues and cells: Iron plays a role in the development of healthy connective tissue (which are made of components like collagen), as well as for proper function of the cells in your body.
What does this all mean for you?  When you're low on iron, you may feel tired and unable to workout as intensely because your muscles aren't getting the oxygen they need. 
In fact, research shows that iron deficiency can impair muscle function, affect energy production, and reduce training adaptations – none of which are ideal as you're getting ready for your next big road race.  Plus, additional studies show low iron levels can lead to a reduced VO2 max (a key measure of your overall fitness).
What are the symptoms of low iron?
Low iron and anemia are often thrown around interchangeably, but they can actually mean different things.
Anemia occurs when your body cannot produce enough red blood cells. There are different types of anemia, and the type caused by inadequate iron intake occurs because you don't have enough iron to make enough hemoglobin.
Occasionally, people can have low iron levels without clinically diagnosed anemia. This occurs with iron intake and/or levels are low, but hemoglobin levels are within normal range. Scientists state that individuals with this condition will present with low serum ferritin levels. Eventually, without corrections to the diet, this will typically lead to anemia.
According to Mayo Clinic and Cleveland Clinic, classic signs and symptoms of anemia include the following – which can also be signs of iron deficiency before anemia hits:
Fatigue
Weakness
Pale skin
Lightheadedness
Shortness of breath
Feeling cold more frequently
Feeling zapped or running on empty
Headaches
Dizziness
Struggling early in a race or workout
Racing heartbeat  
(If you have had bloodwork done and tested normal for hemoglobin, but experience these symptoms, it may be worth asking your doctor to test ferritin levels.)
So, with either of these situations – what can be done about it?
Eating more iron-rich foods and/or supplementing with iron (under a doctor's supervision) will help replenish iron levels. This ensures that your body is able to produce red blood cells that can carry oxygen to your muscles, supporting your workouts from beginning to end.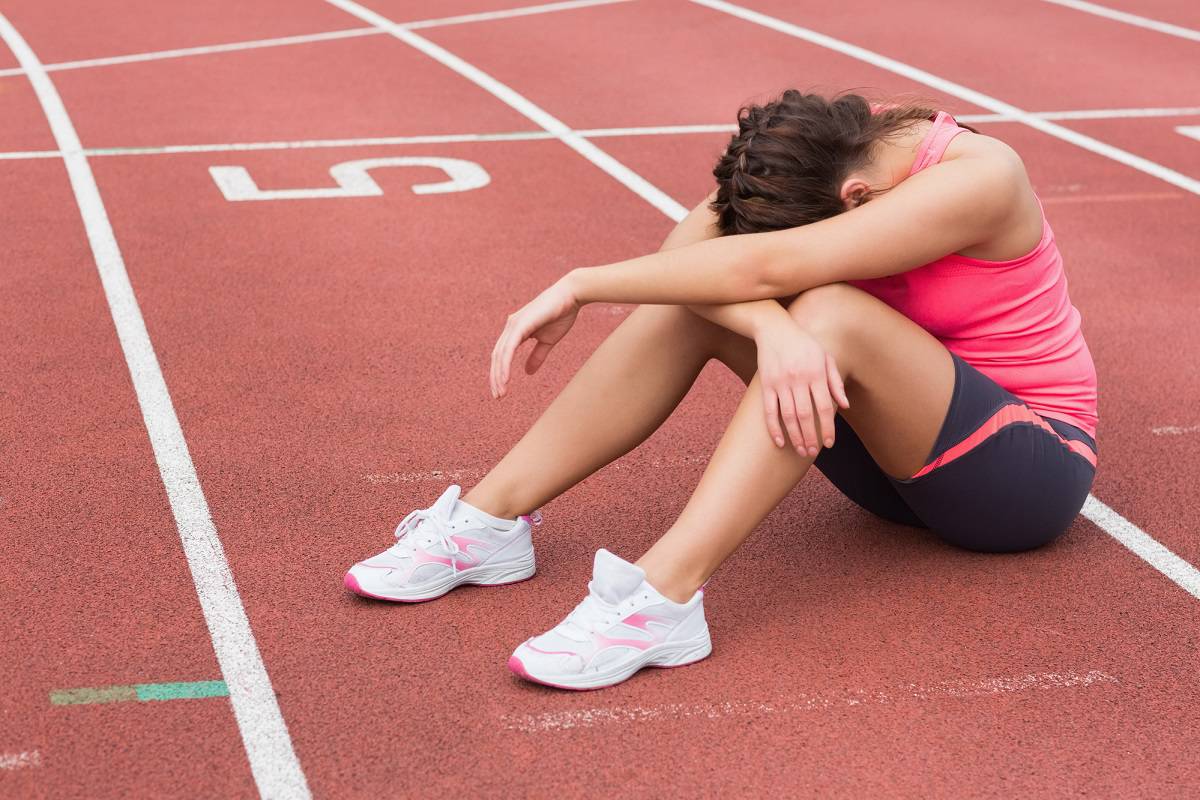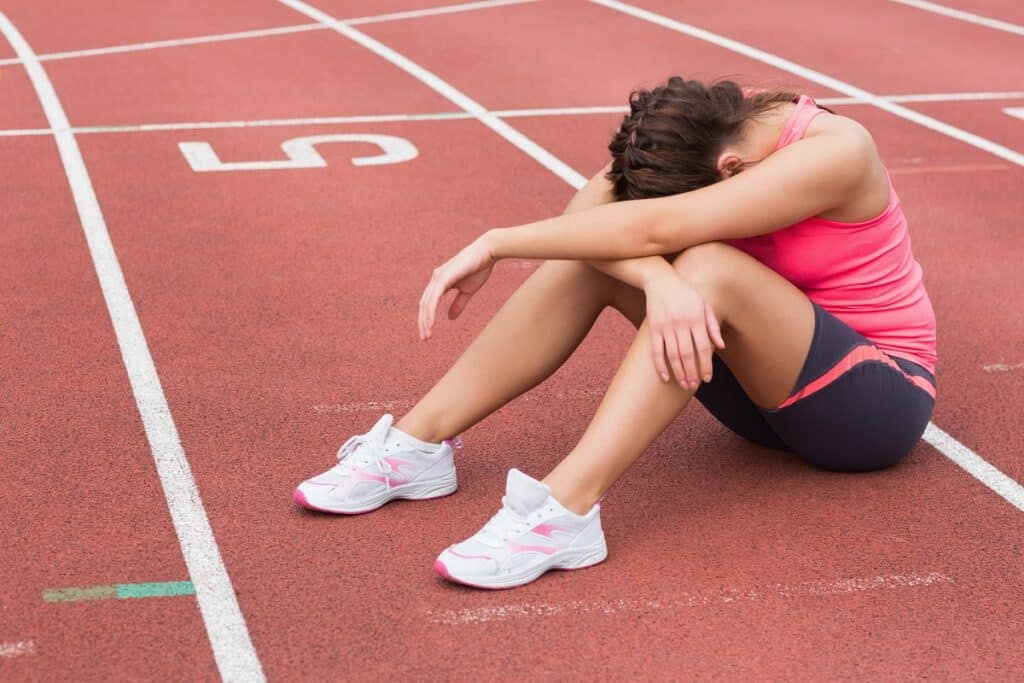 How much Iron do you need?
The recommended dietary allowance for iron (RDA – the amount that should meet iron needs for most healthy people) is as follows:
Males
19-50 years – 8mg
50+ years – 8mg
Females
19-50 – 18mg
50+ years – 8mg
According to the NIH, it is important to note that women 19-50 years of age require a higher amount of iron to account for monthly periods.
Also, note that during pregnancy, iron needs increase to 27 mg per day.
Do Runners Need More Iron?
Exact iron requirements for runners are unknown, but it is thought that they need more iron than those who are less active.  This is due to several factors (such as those described in this study):
Small amounts of iron are lost in sweat.
Training increases the demand for red blood cell production
Some athletes may experience gastrointestinal bleeding during intense events, which can increase losses.
Runners experience "foot strike haemolysis" – a fancy way of saying that we lose iron due to destruction of some red blood cells from the impact of the feet hitting the ground during a race or workout.
Each bout of endurance exercise increases levels of hepcidin, according to research. Hepcidin is a hormone that can reduce iron absorption, and peaks around 3 hours after exercise.
Athletes who go to a site to train at altitude may experience increased risk of iron deficiency, as the body is stimulated to produce more red blood cells.
Female runners in particular may be at greater risk due to their additional iron losses with their period, especially if they are on a calorie-restricted diet or vegan diet while running.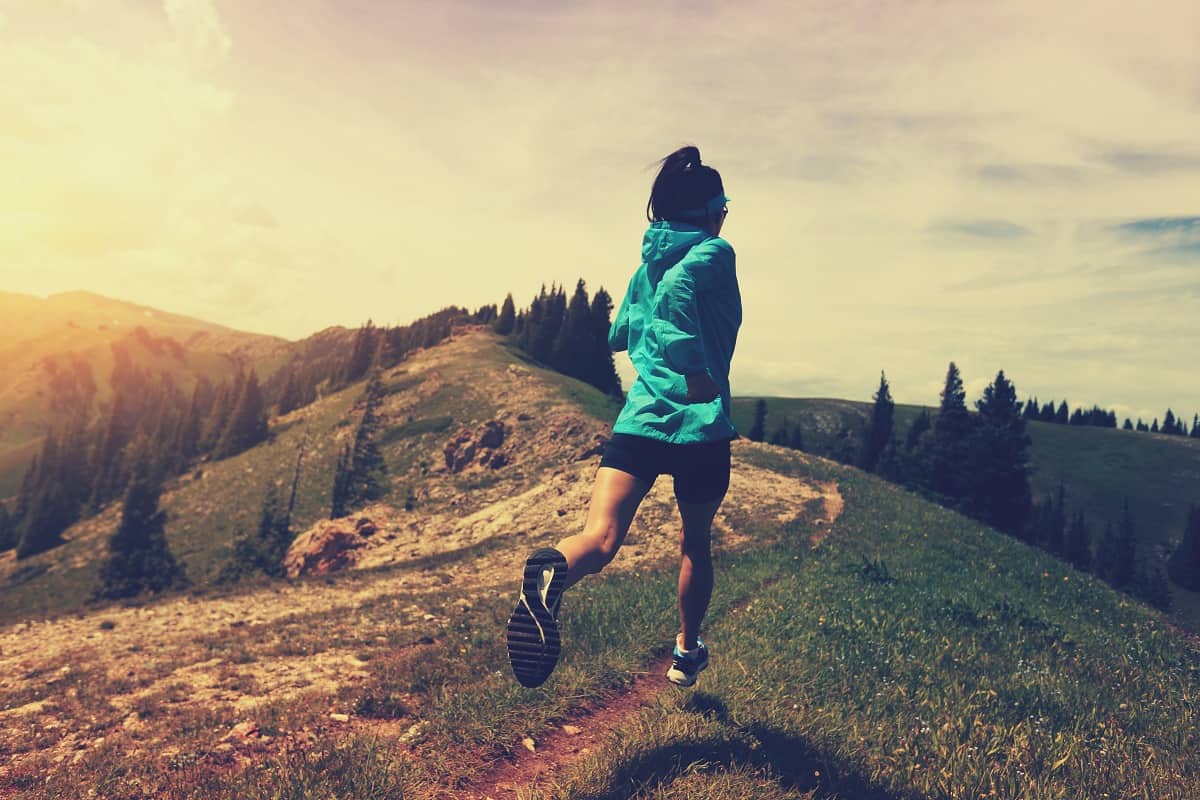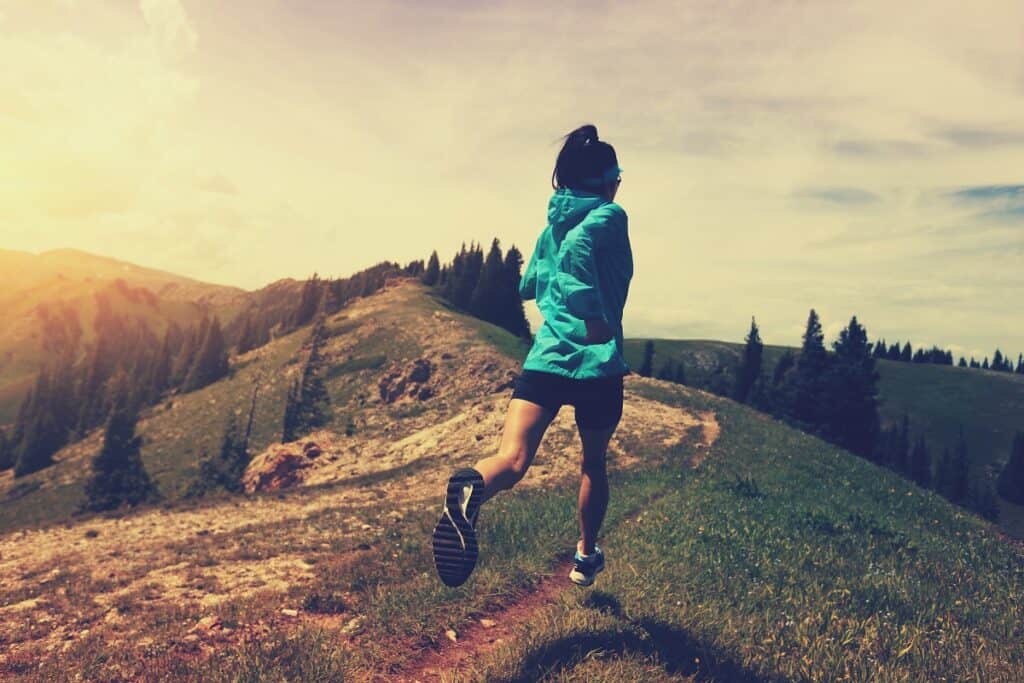 Food Sources
There are both animal-based and plant-based sources of iron. Animal sources contain heme iron, and plant-based foods contain nonheme iron.
The body absorbs heme iron better than nonheme iron.  If you don't eat animal products, though, don't fret – you can help increase the absorption by eating nonheme iron with a source of Vitamin C.  Good sources of Vitamin C include bell peppers, citrus fruits, strawberries, tomatoes, and potatoes (along with many more)!
*All nutrition facts below were gathered from the Dietary Guidelines Food Sources of Iron Chart as well as the USDA FoodData Central Database. For branded foods, amounts were pulled from the brand's website.
Heme Iron Sources – Animal Products
Oyster (3 oysters) – 6.9 mg
Beef (3 oz) – 2.5 mg
Crab (3 oz) – 2.5 mg
Clams (3 oz) – 2.4 mg
Shrimp (3 oz) – 1.8 mg
Turkey (3 oz cooked ground) – 1.29 mg
Chicken thigh meat (3 oz) – 0.96 mg
Chicken breast (3 oz) – 0.4 mg
Non-Heme Sources
Fruits and Vegetables:
Dark Chocolate (1 oz of 70-85% cacao) – 3.37 mg
Tofu (½ cup firm) – 3.35 mg
White Beans, cooked (½ cup)  – 3.3 mg
Lentils, cooked (½ cup) – 3.29 mg
Spinach, cooked (½ cup) – 3.2 mg
Pumpkin seeds (¼ cup) – 2.85 mg
Jerusalem artichokes (sunchokes), cooked (½ cup) – 2.6 mg
Chickpeas (½ cup) – 2.4 mg
Lima Beans (½ cup) – 2.1 mg
Olives (10 small olives) – 2.01 mg
Kidney beans (½ cup) – 2.0 mg
Cashews (1 oz) – 1.9 mg
Potato (1 medium baked) – 1.9 mg
Dried apricots (½ cup) – 1.73 mg
Stewed tomatoes (½ cup) – 1.7 mg
Beets, cooked (½ cup) – 1.4 mg
Mushrooms, cooked (½ cup) – 1.4 mg
Collard greens, cooked (½ cup) – 1.1 mg
Asparagus, cooked (½ cup boiled and drained) – 0.82 mg
Grains (Fortified with Iron):
Honey Bunches of Oats with Almonds (1 cup) – 16.2 mg
Life Cereal (1 cup) – 13.2 mg
Cheerios (1 ½ cups) – 12.6 mg
Wheaties (1 cup) – 12 mg
Cream of Wheat – Original Instant (1 packet) – 8 mg
Sample One Day Iron-Rich Meal Plan for Runners:
Not sure how to pull all of this information together? Not to worry! Here's a sample meal plan for runners that is packed with iron:
Breakfast: Cottage cheese topped with Life cereal, sliced strawberries, and pecans
Snack: Cashews + apple slices
Lunch: Spinach and arugula salad with quinoa, orange wedges, roasted beets, feta cheese, nuts, and a vinaigrette dressing
Snack: "Ants on a log" (Celery topped with peanut butter and raisins)
Dinner: Sirloin steak with air fryer red potatoes and parmesan roasted asparagus
Dessert: Cookie dough hummus with graham crackers
Iron Timing
You know there are iron-rich foods to eat – but does it make a difference when you consume these things?
Some studies say yes.
This relates to the increase in hepcidin that can occur after exercise. Interestingly, research suggests this occurs after both endurance and strength training exercises. Furthermore, it can occur during either moderate steady state running or interval training (according to this study) and increases between 0 and 6 hours – peaking at 3 hours.
As such, it would make sense to avoid eating your iron-rich meal when levels have peaked.
There is some good news though: if you are iron deficient, research suggests the body blunts this hepcidin release, which can help prevent a further worsening of iron status.
And interestingly, even though exercise does cause increasing hepcidin levels, there is evidence that iron absorption may be higher at breakfast when consumed 30 minutes post-run – compared to when it is consumed in a fasting state.
This may be because hepcidin levels have not yet peaked at 30 minutes, perhaps coupled with another mechanism that provides a transient boost in absorption.
In other words, it may be best to eat your iron-rich meal around 30-minutes post-workout, rather than waiting longer. (Note that this is new research though, and not yet supported by many other studies). As a bonus, though, this timing strategy can also help with muscle repair and recovery.
Supplementation
Supplementation of iron may be required for some individuals with iron deficiency (with or without anemia) if dietary intake falls short. Supplementation can aid in correcting nutrient deficiency.
However, typically these are only used when you have a medically diagnosed condition and are under a doctor's supervision. Iron supplements can cause side effects like stomach upset and constipation, and too much iron in the body is not good for you either.
Final Thoughts
As you can see, runners can easily meet their iron needs with some proper food planning! If your doctor does diagnose you with low iron levels, you may need to pay extra close attention to your diet, or potentially take an iron supplement (however, supplements should only be reserved for those who are directed to do so by their doctor). Keeping your iron levels in the right zone will help your body with optimal performance!
About the Author: Teresa is a senior at the University of Alabama majoring in Food and Nutriton. She graduates in Spring 2022. Her goal is to intern and become a registered dietitian. When Teresa isn't studying, she enjoys reading, cooking, jogging, and time spent with her husband and three children.
Share: Have you ever experienced low iron levels? Did it impact your running? What's your favorite food source of iron?
Feel free to pin this post to share with others!
References:
Beard, J. L. (2001, February 1). Iron biology in immune function, muscle metabolism and NEURONAL FUNCTIONING. OUP Academic.
Coates, A., Mountjoy, M., & Burr, J. (2017). Incidence of Iron Deficiency and Iron Deficient Anemia in Elite Runners and Triathletes. Clinical journal of sport medicine : official journal of the Canadian Academy of Sport Medicine. 27(5), 493–498.
Deldicque, L., & Francaux, M. (2015, May 26). Recommendations for healthy nutrition in female endurance runners: An update. Frontiers in nutrition.
Denis, R. S., & Conway, J. L. (2018, September 19). Iron deficiency and aerobic endurance performance in a female club runner. Science & Sports. https://www.sciencedirect.com/science/article/pii/S0765159718302442.
McCormick, R. (2019, October). The impact of Morning versus Afternoon exercise On Iron… : Medicine & science in Sports & exercise. LWW. Retrieved September 13, 2021.
U.S. Department of Health and Human Services. (2021, March 3). Iron – Health Professional Fact Sheet. NIH Office of Dietary Supplements.
US Department of Agriculture. (2019). Food Sources of Iron | Dietary Guidelines for Americans.
Hallberg, L. (1989). The role of vitamin c in iron absorption. International Journal for Vitamin and Nutrition Research.
U.S. Department of Health and Human Services. (2021, March 26). Office of dietary supplements – vitamin c. NIH Office of Dietary Supplements.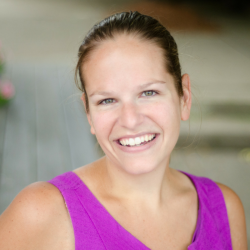 Latest posts by Chrissy Carroll
(see all)