When you're looking for a sweet treat made with wholesome ingredients – you'll want to whip out this recipe! This easy cookie dough hummus is made with just five simple ingredients, and you can customize it with additional add-ins depending on the time of year (like adding peppermint and sprinkles for the holidays).
This is a perfect dish to put out for a holiday party, or to simply snack on for dessert. I just made this for a brunch with friends over the weekend and it was a huge hit.
What is dessert hummus?
Just like it sounds, dessert hummus is a sweeter take on the traditional savory dip. Both types are made with a base of chickpeas, but dessert hummus also has confectionary ingredients like honey, syrup, sugar, cocoa, mint, fruit, or other delicious options.
In this version, the dessert hummus has a similar texture and appearance to cookie dough. The taste isn't as sweet or buttery as normal cookie dough – but it has many of the same flavor elements in a more nutritious package.
Why this recipe is great for active women
For all you active ladies, this cookie dough hummus (or any type of dessert hummus) can be a great option for satisfying the sweet tooth in a healthier way. Since it packs in both carbohydrates along with satiating fat, fiber, and protein – it truly helps you feel full and satisfied with your dessert. It's a great option when that training "hanger" kicks in. 😉
This recipe also uses just a little maple syrup to sweeten the base rather than refined sugar – though of course, there will still be a little refined sugar in the chocolate chips you'll add in. But still, likely far less total sugar than you'd get eating spoonfuls of cookie dough straight outta the mixer (What? Just me?!).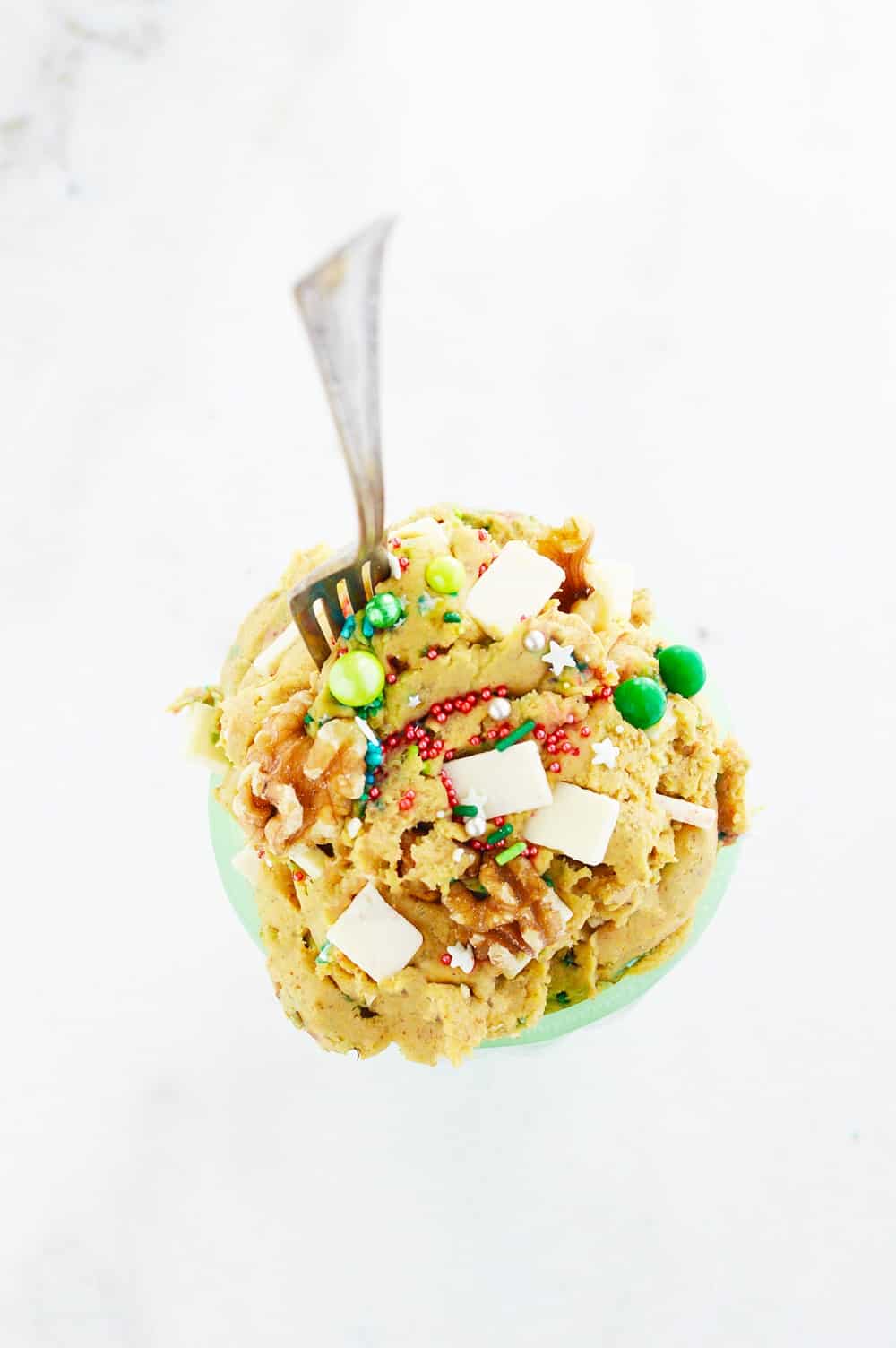 How to make cookie dough hummus
This recipe is super simple, and you only need 5 ingredients for the base:
Chickpeas
Maple syrup (the pure stuff – not the processed pancake syrup stuff)
Nut butter or your choice (I used salted caramel cashew butter for this, similar to what I use in my salted caramel granola – I highly recommend it! But you can also use whatever peanut butter or almond butter you've got at the house.)
Chia seeds (ground or whole – ground will make a smoother texture in the final product, but I'm often lazy and just use whole – I don't think it makes a major difference)
Chocolate chunks (white or dark)
It should only take you a few minutes to make this. First, you'll toss the chickpeas, syrup, nut butter, and chia seeds in a food processor.
Now in some of the recipes I've seen for hummus, they recommend peeling the chickpeas prior to processing. Let's be real – ain't nobody got time for that. Toss those babies right in.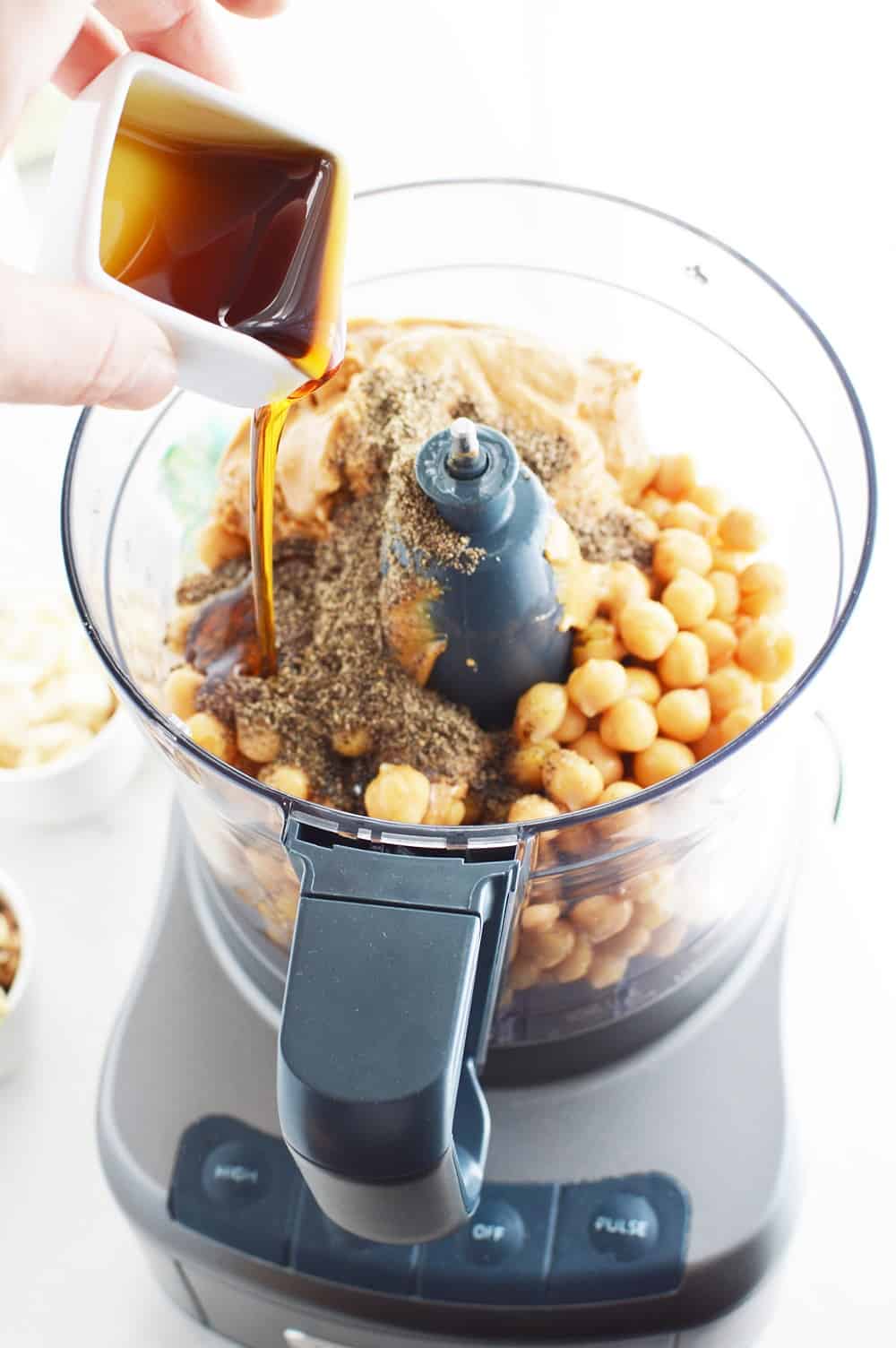 Next, you're going to turn on the food processor and let it do its thing for about a minute. Scoop down the sides, and then turn it back on for another minute. That should be all the time you really need to get a nice smooth texture with a high-quality food processor.
That said, if you notice the texture isn't quite right with your hummus for some reason – just keep processing it for 30-60 seconds at a time until you get the right consistency.
Once that's done, scoop the hummus into a bowl and mix it with the chocolate chips. I personally love white chocolate chunks in this recipe but you can easily swap with some dark chocolate chunks (or chocolate chips of course).
This is the basic recipe I make often, and it is just perfect as is!
But of course, you can also mix in any other add ins of your choice, like nuts, sprinkles, toffee bits, peppermint, shredded coconut, dried cranberries, or whatever else floats your boat! In the photos in this post you can see I also added fun sprinkles and a few walnuts to jazz it up a bit.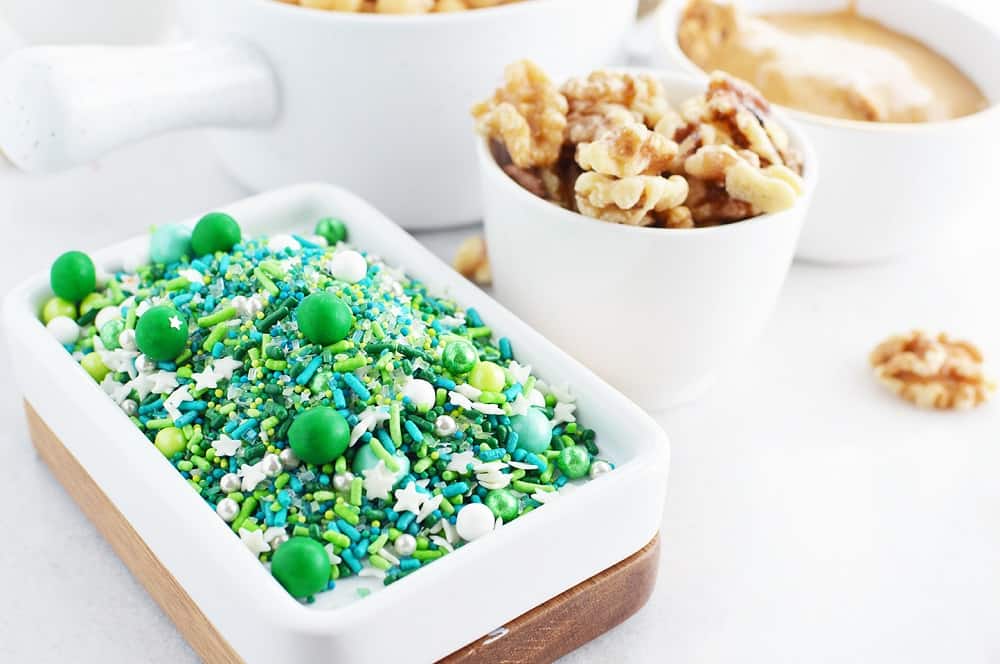 What to serve with dessert hummus
This hummus will be thicker than traditional varieties; it's more like a spread than a dip. You can put it on:
Graham crackers (my absolute fav)
Sliced apples (second fav)
Pretzels
Bananas (especially frozen banana chunks)
Gingersnap cookies
Pancakes
Waffles
Cinnamon pita chips
The inside of two pieces of bread to make stuffed French toast
Of course, you can also just eat it straight up by the spoonful.
Can you freeze cookie dough hummus?
Yes, you can. Just make the base recipe and then you can freeze it in an air tight container for up to 3-4 months. Don't fill the container too full to the top as it can expand a bit when freezing, so you want a little wiggle room.
If there's additional add-ins you want to mix in, wait until you defrost to add those. This is simply because certain colors – like those in sprinkles – can spread when you're thawing it and it just doesn't look as appealing.
To defrost: the day before you want to eat it, remove it from the freezer and place it in the fridge. When ready to eat, give everything a good stir and enjoy!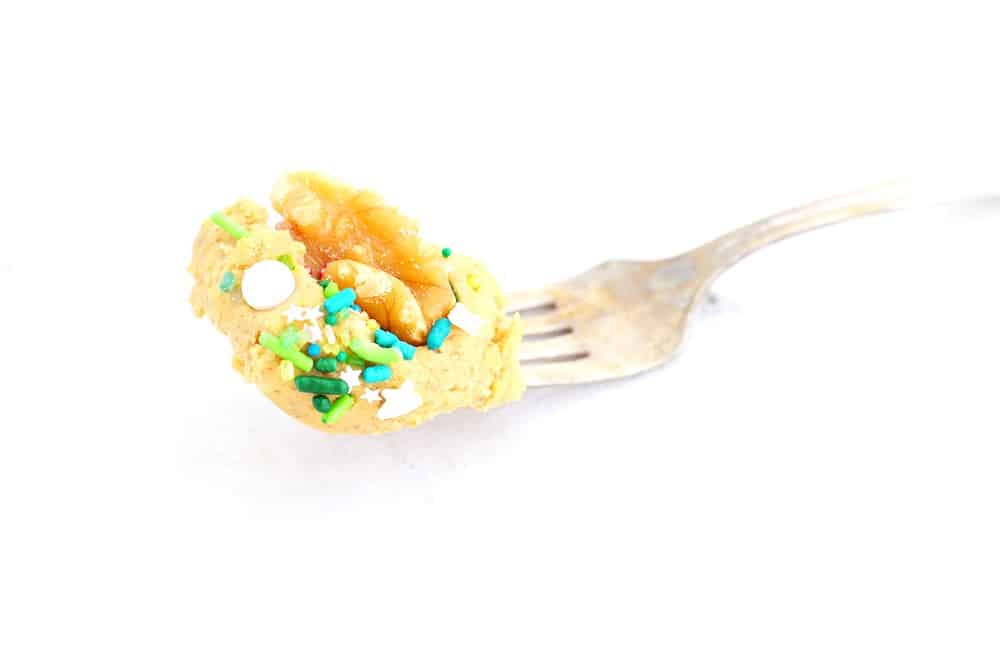 I hope you enjoy this and perhaps get a chance to make it for an upcoming holiday party – I think your guests will be pleasantly surprised at how delicious a bean-based dessert is! If you do get a chance to make it, be sure to leave a recipe rating or comment below.
PS – Looking for other great dessert recipes? Try this caramel apple salad or these peanut butter honey cheerios bars.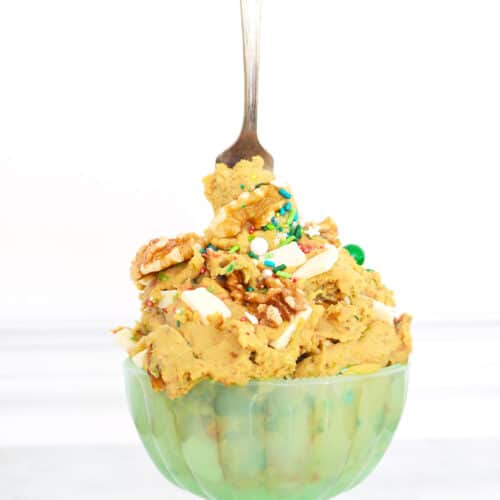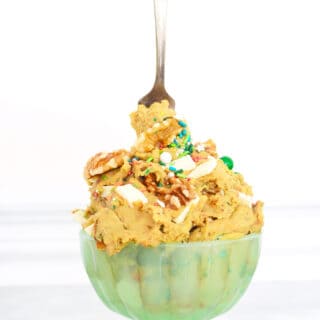 Easy Cookie Dough Hummus
This easy cookie dough hummus makes a great dessert hummus for parties, or to snack on anytime! Tastes great spread on graham crackers and sliced apples.
Ingredients
For the cookie dough hummus:
15

ounce

can of chickpeas, drained and rinsed

1/4

cup

pure maple syrup

1/2

cup

nut butter of choice

(I use salted caramel cashew butter)

1/4

cup

chia seeds

(ground or whole)

1/3

cup

white chocolate chunks

(or dark chocolate)
Optional add ins:
Peppermint pieces

Sprinkles

Walnuts

Pecans

Toffee bits

Dried cranberries

Shredded coconut
Instructions
Combine the chickpeas, maple syrup, nut butter, and chia seeds in a food processor. Process in 1 minute increments, scraping down the sides of the bowl as necessary, until the hummus has reached a relatively smooth consistency. (It should take around 2-3 minutes total).

Stir in the chocolate chunks, along with any other optional add ins of your choice. Enjoy!
Notes
Nutrition analysis (approximate per serving, does not include optional add-ins):
197 calories, 9.5 g fat, 2.5 g saturated fat, 105 mg sodium, 23.5 g carbohydrate, 4.5 g fiber, 10.5 g sugar, 6 g protein, Vitamin A: 0%, Vitamin C: 0%, Calcium: 7%, Iron: 0%
Nutrition
Share: Have you ever made dessert hummus? If you tried this cookie dough hummus, what did you think?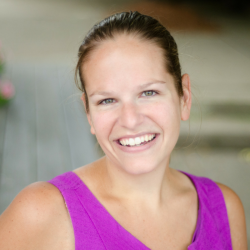 Latest posts by Chrissy Carroll
(see all)