This healthy caramel apple salad puts a nutritious twist on a delicious fall dessert. With just four ingredients, you can whip up this tasty dish quickly. And by swapping out most of the processed ingredients in the traditional recipe, you're left with a snack that's a good source of protein and fiber – yet still tastes amazing.
Disclosure: This post is sponsored by NOW Foods. As always, all opinions are my own.
What is caramel apple salad?
Let's be real; this isn't a salad – it's a dessert. But the name has stuck around for this potluck favorite, so I'll honor that and stick with calling it a salad too. 😉
Now, the traditional recipe is typically a mixture of chopped apples, chopped popular candy bars, instant pudding (usually vanilla, or sometimes butterscotch), cool whip, and caramel syrup. Sometimes there are also marshmallows mixed in.
Essentially, it's a big 'ol bowl of sugary deliciousness. And completely cool to dig into occasionally. But really not an everyday kinda dessert, ya know?
Making this a healthier recipe
I really wanted to recreate a version of this dessert that I could enjoy more regularly. Enter this healthy caramel apple salad.
This version the recipe only has four simple ingredients, and the first three are actually very nutritious:
Apples – This classic favorite fruit is a natural source of fiber, Vitamin C, and health-promoting compounds called polyphenols. It's also a nutritious source of carbohydrates for all you active ladies. Plus, up here in the Northeast, is there anything better than a fresh-picked fall apple?!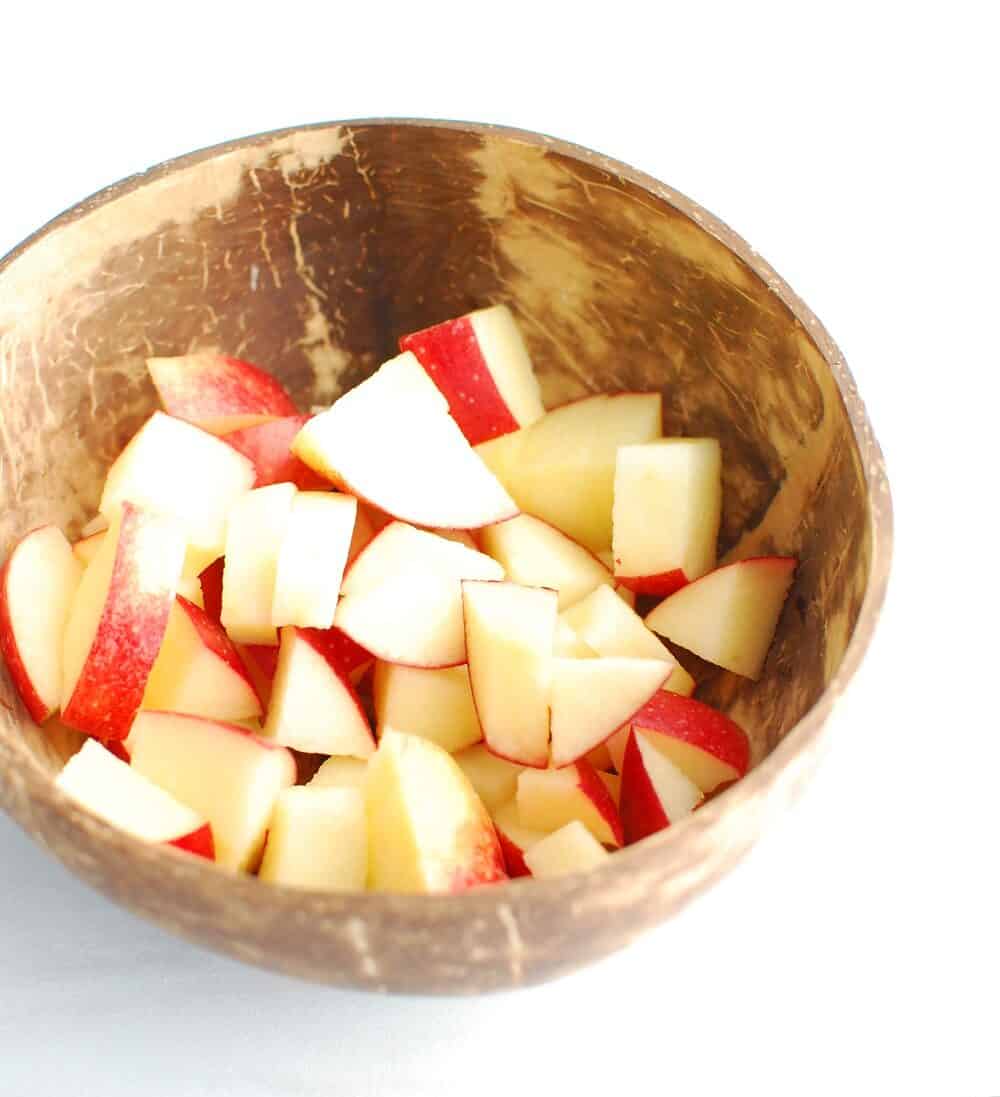 Cacao Nibs – If you've never used these before, I highly recommend ordering a bag from NOW Foods right now. These are essentially a nutritious, very pure form of chocolate. They're little bits of cocoa beans that have a bold flavor and no added sugar. When you mix them into this dish, they add the perfect pop of chocolatey richness (like you might get from the chocolate candy added to a normal version – but now in a more nutritious way).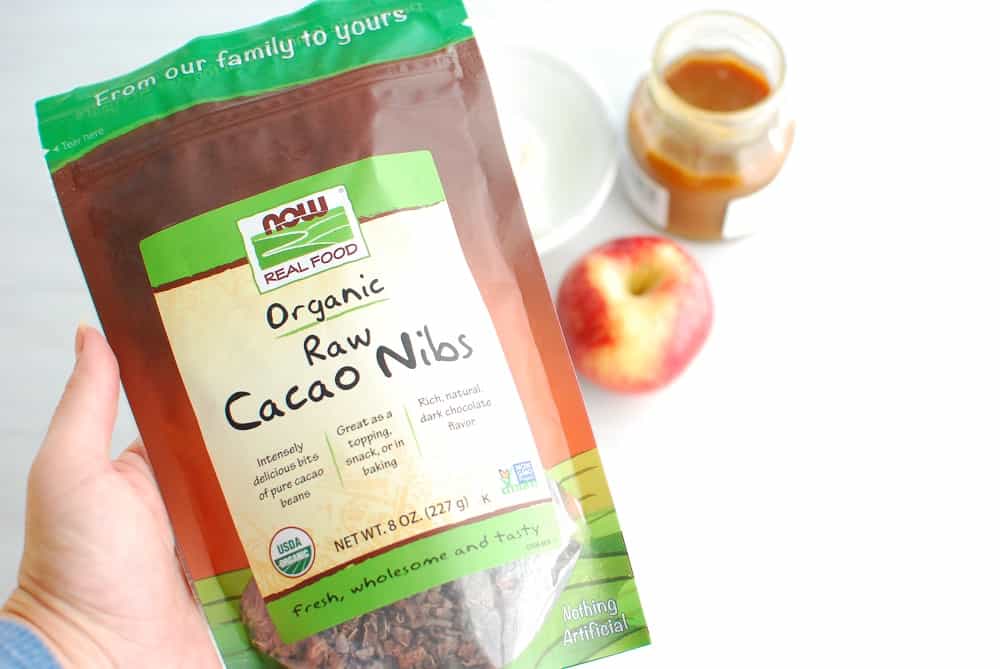 Ricotta – I feel like ricotta is the underdog of the dairy world; most people don't ever break it out unless they're making lasagna or cannoli. But ricotta is incredibly versatile for many different savory and sweet applications. It adds a creamy decadent coating to the apples in this recipe, and also provides both protein and calcium!
Caramel Syrup – This fourth ingredient isn't winning any nutrition contests, but hey – we can't have caramel apple salad without caramel, right?! This does contribute a little added sugar but I've cut down considerably from the original recipe. Keep in mind with a good quality store-bought or homemade caramel syrup – a little goes a long way. Just half a tablespoon distributes the caramel flavor evenly throughout this recipe when mixed in with the ricotta.
The end result is a dish that clocks in at just 227 calories. The blend of fat, protein, and carbohydrates in here will help satisfy you and won't leave you searching for more treats to munch on. And with 5.5 grams of fiber, 7.5 grams of protein, and 19% of your daily calcium needs – you're giving your body nutrients it needs when you eat this.
PS – It's kid friendly too! My son LOVES this recipe. As I was photographing it, he kept asking for more and more tastes. He easily devoured a bowl of it.
Making and storing this dish
Once you've got your four ingredients above, all you need to do is mix everything together – that's it! It literally only takes 5 minutes to whip up this healthy caramel apple salad.
This makes a single serve portion that's perfect for a snack or dessert. If you want to make this for a fall party, you can easily multiply the recipe by the number of servings you need. I'm actually making a big batch for a party we're attending this week.
Lastly – while you can make it ahead and store it in the fridge, the apples will oxidize a bit and can turn lightly brown. For this reason, I recommend making it in close proximity to the time when you're planning to eat it.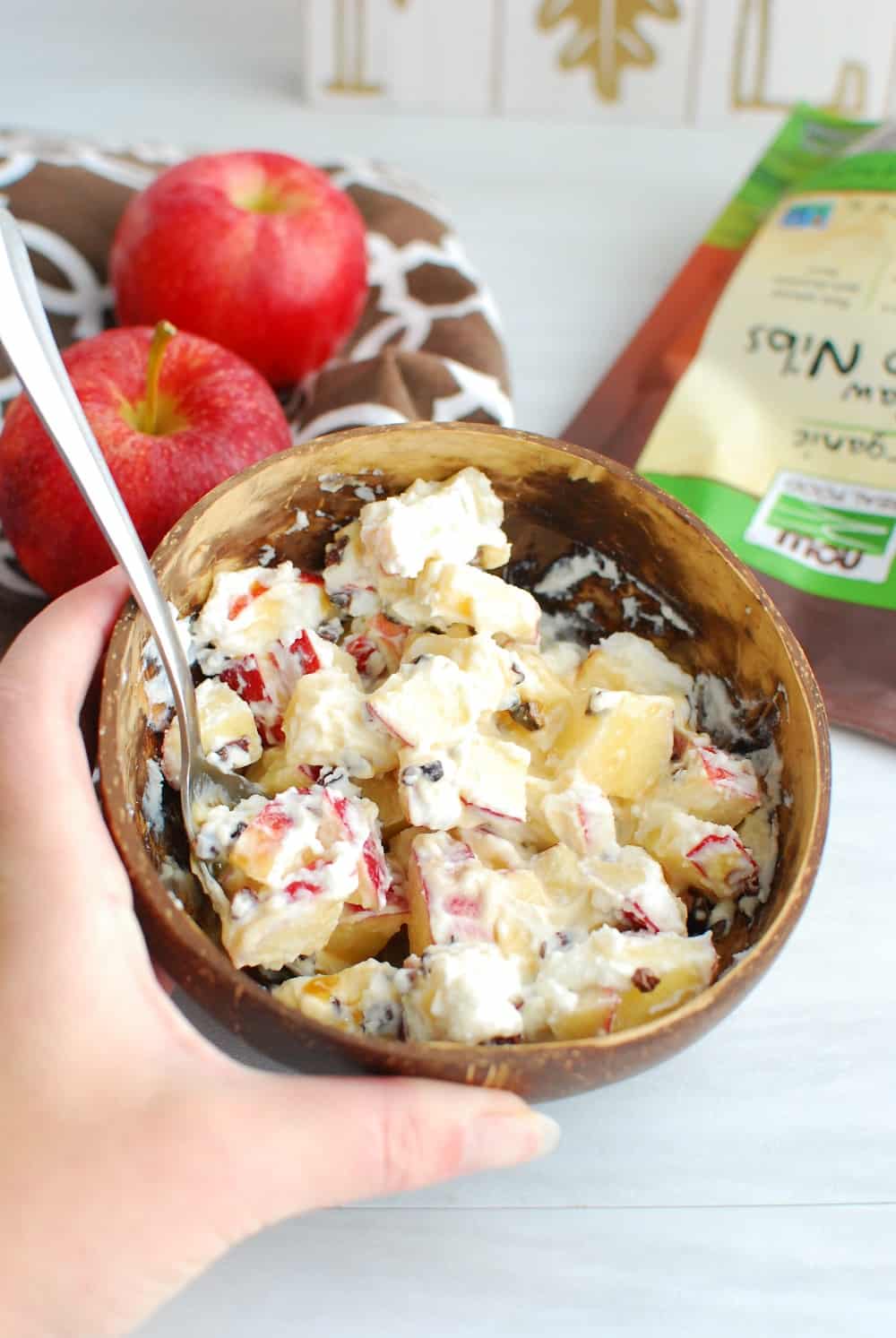 Cacao nibs and health
I want to loop back around to the cacao nibs for a second, because they may be one of the coolest ingredients you can keep in your cabinet. You know how you've heard that chocolate may have some health benefits? Well, cacao nibs give you a way to regularly include chocolate in your diet – but without any added sugar.
While nothing has been proven yet, some research shows the flavanols and antioxidants in chocolate products may promote good cardiovascular health.
This healthy caramel apple salad is the perfect way to experiment with using cacao nibs. You can also try sprinkling them on your yogurt, making granola that includes them, using them as an oatmeal add-in, or blending them into a smoothie. Don't forget to order a bag from NOW Foods so that you've got them on hand however you want to use them.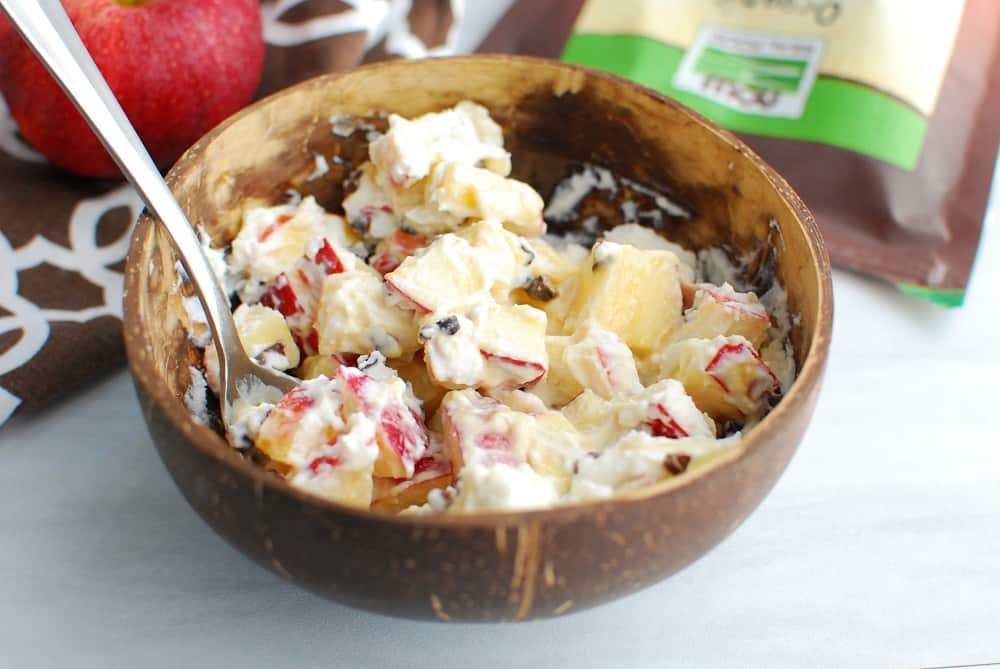 I hope you enjoy this recipe as much as my family does. If you get a chance to try it, be sure to leave a recipe rating or comment to let me know your thoughts!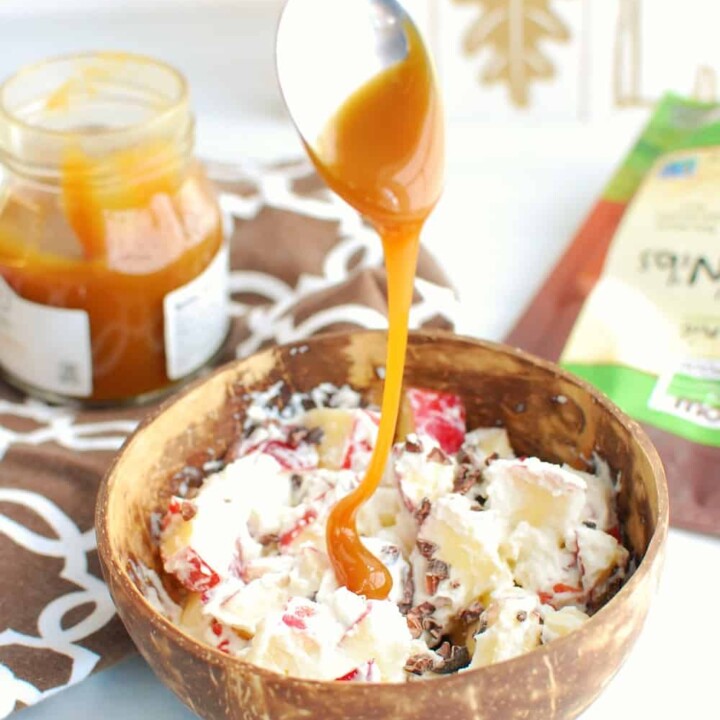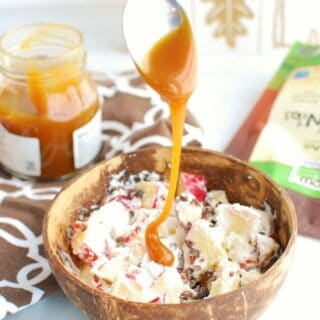 Healthy caramel apple salad
This healthy caramel apple salad puts a nutritious twist on a delicious fall dessert!
Ingredients
1

small apple, chopped (with skin)

1/4

cup

part skim ricotta cheese

2

tsp

cacao nibs

1/2

tbsp

caramel sauce
Instructions
Combine all ingredients in a bowl and enjoy!
Notes
Nutrition analysis (approximate per serving):
227 calories, 8 g fat, 5 g saturated fat, 100 mg sodium, 32 g carbohydrate, 5.5 g fiber, 20.5 g sugar, 7.5 g protein, Vitamin A: 6%, Vitamin C: 11%, Calcium: 19%, Iron: 2%
Nutrition
Share: What's your favorite fall dessert? If you tried this healthy caramel apple salad, what did you think?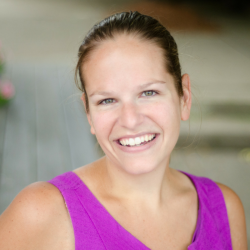 Latest posts by Chrissy Carroll
(see all)