When you're craving roasted potatoes but are short on time, you'll definitely want to try these air fryer red potatoes. Baby red potatoes are seasoned with herbs and spices, then tossed with a little olive oil and cooked to perfection. Crisp on the outside and tender on the inside – the best kind of potato there is!
Why Use the Air Fryer
The air fryer is amazing because it uses forced hot air to cook food quickly and impart crisp texture.
I know a lot of people use the air fryer to eliminate oil in cooking. While you can do that in this recipe, I really love the flavor that the olive oil imparts. (Though in other recipes, it can really reduce or eliminate the need for excess oil!).
Instead, I tend to use the air fryer to simply cut the cooking time. In just 15 to 20 minutes in the air fryer, your potatoes will be the perfect texture – compared to what usually takes 40-50 minutes in the oven. They'll quickly be ready for you to enjoy as a snack or as a side dish.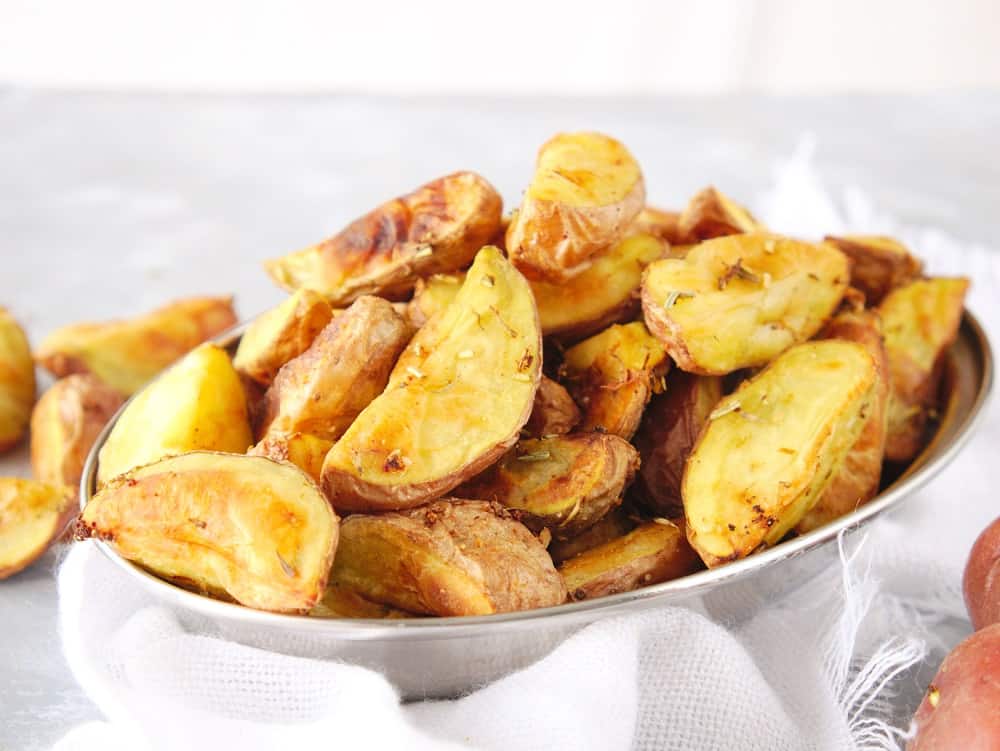 How to Make Air Fryer Red Potatoes
To make these air fryer baby potatoes, you'll need a handful of simple ingredients:
Baby red potatoes
Dried rosemary
Dried thyme
Salt
Garlic Powder
Olive oil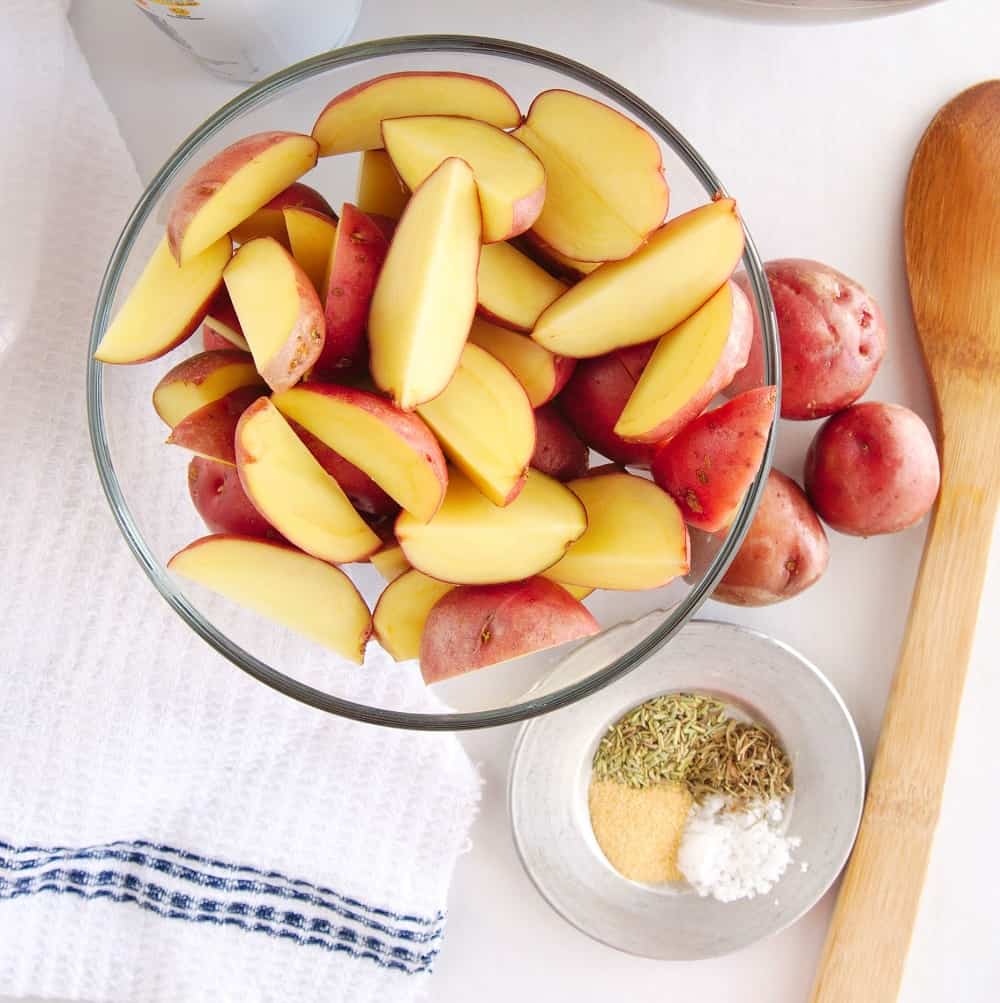 All you need to do is quarter the baby red potatoes lengthwise (so you've got four small wedges from each), then toss all the potatoes with your oil and seasonings.
Pop those in the air fryer for about 10 minutes, then give everything a quick stir and pop back in for another 6 to 10 minutes. That's it!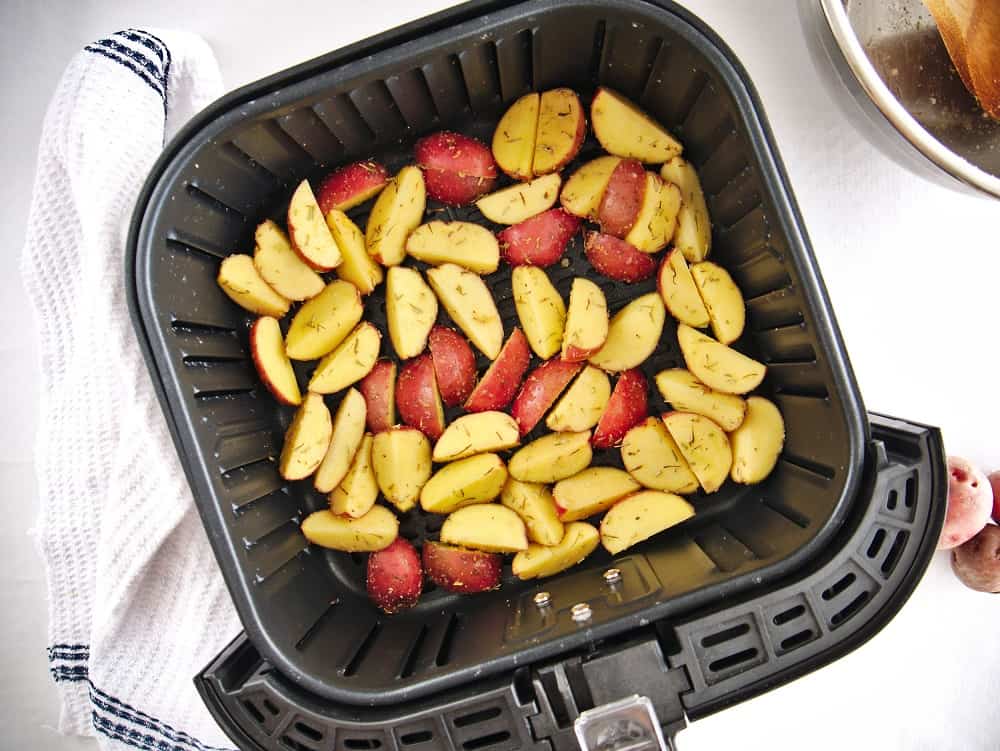 What Type of Air Fryer to Use
Now keep in mind I use a large 7-quart air fryer, which allows me to cook all the potatoes at once. (The quart size indicates how big the cooking basket is.) If you have a 6- or 7-quart model at home, you should have no problem making all the potatoes at once.
If you have a smaller model, you'll want to split the potatoes into two batches.
If you don't have an air fryer yet but are looking to purchase one, here's a few recommended models (disclosure – amazon affiliate links; I earn a commission on qualifying purchases):
Why I Love This Dish for Active Folks
Mass media has convinced us that "regular" potatoes aren't good for us, but that's not the case!
Besides the fact that potatoes are crazy delicious, they're also great for active folks. They provide energy-boosting carbohydrates that your muscles can use during workouts, and are also a great source of potassium (an electrolyte involved in muscle contractions and that we lose in sweat). In addition, they've got Vitamin C for immune support.
Ways to Mix Up This Recipe
Potatoes go great with so many spice combinations, it's easy to play around with this and create different flavor combos. Try one of these ideas:
Use a mixture of garlic powder, mild chili powder, salt and black pepper for a different spice combo.
Try using different types of potatoes, from fingerlings to Yukon gold.
Use lemon pepper seasoning on your potato wedges, and then toss them afterwards with a little extra olive oil and feta cheese. It's Greek-style deliciousness!
Taco or fajita seasoning mix is also delicious on baby potatoes. Or, you can load up your plain roasted potatoes with taco meat, cheese, and salsa!
Alright, are you ready to try these delicious air fryer red potatoes? If you get a chance to give 'em a whirl, be sure to leave a recipe rating or comment below!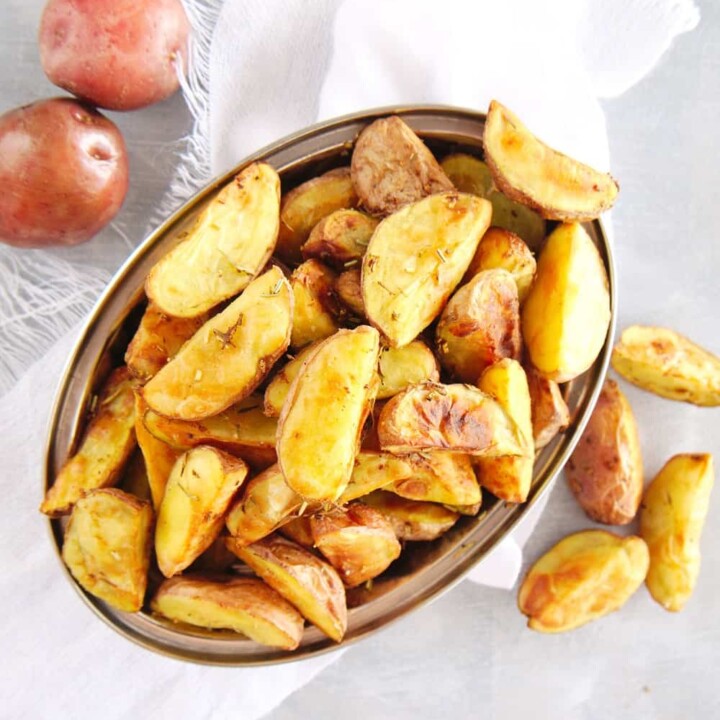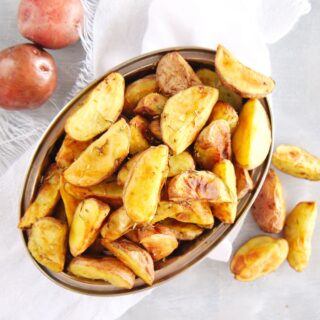 Air Fryer Baby Red Potatoes
When you're craving roasted potatoes but are short on time, try these seasoned air fryer red potatoes for a delicious side dish!
Ingredients
24

ounces

raw baby red potatoes

1

teaspoon

dried rosemary

1/2

teaspoon

salt

1/4

teaspoon

garlic powder

1/4

teaspoon

dried thyme

1

tablespoon

olive oil
Instructions
Quarter the potatoes lengthwise to make small wedges. Place in a bowl and toss with the rosemary, salt, garlic powder, thyme, and olive oil.

Place in the air fryer basket. If you have a large air fryer they should all fit fine –if you have a small air fryer it's best to divide this into two batches.

Cook at 400 F for 10 minutes, then toss the potatoes. Cook for another 6 to 10 minutes, depending on the size of the potatoes and the crispiness you desire.
Notes
Nutrition analysis (approximate per serving):
151 calories, 3.5 g fat, 325 mg sodium, 27.5 g carbohydrate, 3 g fiber, 2 g sugar, 3.5 g protein, Vitamin A: 0%, Vitamin C: 25%, Calcium: 2%, Iron: 8%, Potassium: 22%
Nutrition
Share: Did you try to make these air fryer baby potatoes? What's your favorite way to use potatoes?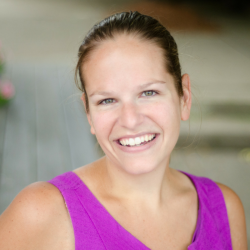 Latest posts by Chrissy Carroll
(see all)