If you're craving a healthy smoothie recipe for breakfast or to quell that mid-afternoon hunger, you'll love this beet green smoothie recipe. Fresh beet greens are combined with mixed berries, banana, and Greek yogurt to create a nutrient-packed smoothie that tastes amazing! Plus, with only five ingredients, this is easy to whip up quickly.
What are beet greens?
If you're searching for this recipe, you're probably already familiar with what beet greens are. But if you've just stumbled across this on Pinterest, you might not be!
Beet greens are the top leafy part of the beet plant. You're probably familiar with beets, those gorgeous purple and golden yellow root vegetables that grow beneath the ground. They taste amazing in salads, or perhaps my favorite – when roasted and sliced, then put on top of toast with ricotta, arugula, and honey.
But the greens, which grow above the ground and often come still attached to the beets, often leave people perplexed. Do you throw them away? Do you use them? What can you possible do with them?
The good news is that beet greens are not only edible, but they can be used in many delicious ways. You can sauté them as a side dish (like you would for collard greens or kale), or you can use them in salads and stir fries. And of course, one of my favorite ways to use them is in smoothies.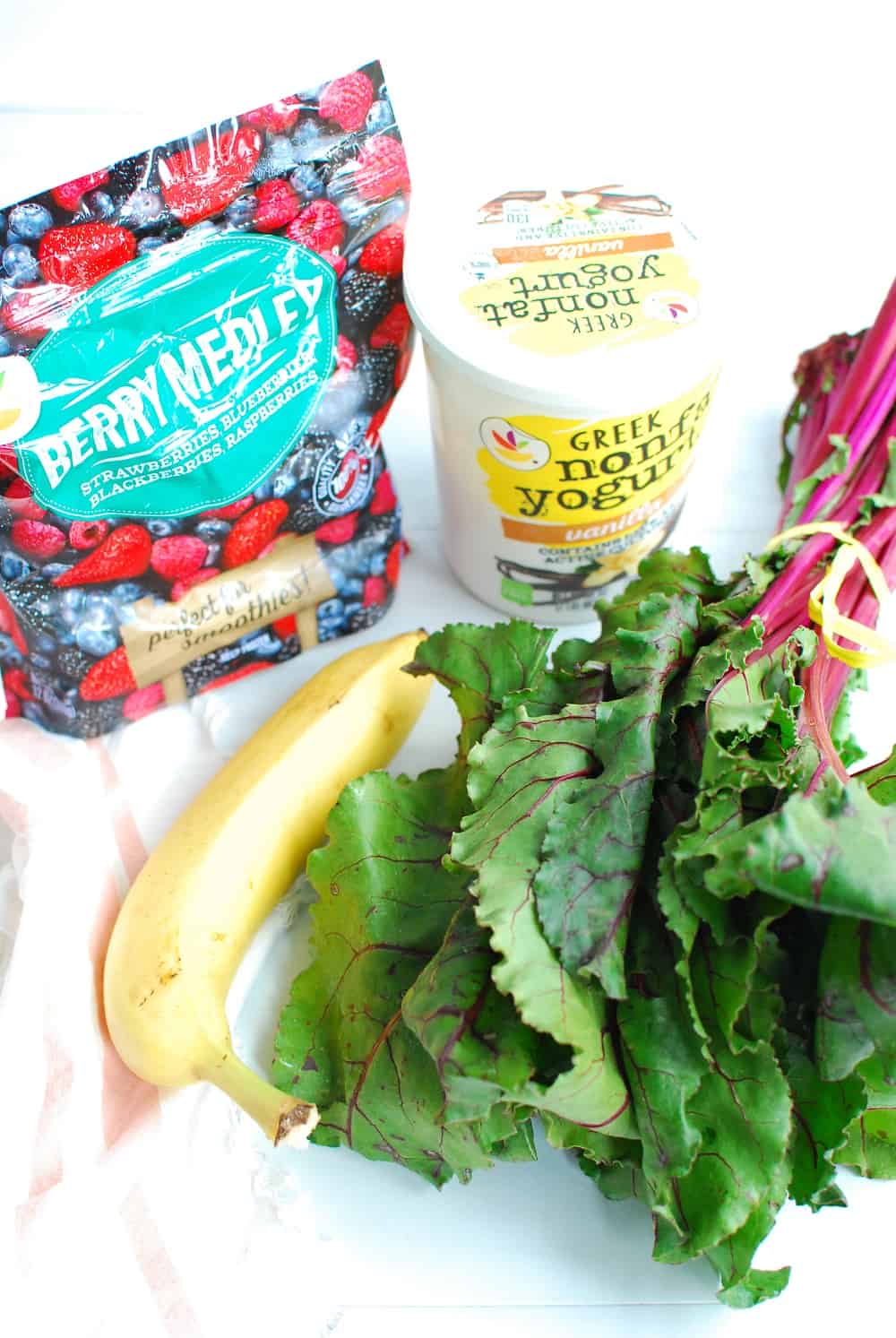 Why add greens to smoothies?
Adding greens is an excellent way to add more vitamins, minerals, and phytochemicals to your smoothies, increasing their nutritional value. For example, beet greens are an excellent source of Vitamin A and Vitamin K, as are most other leafy green veggies.
For any of you with kids, adding greens also helps your kids meet their veggie intake for the day. My kiddo has become pickier in his pre-K years, and I know he's way more likely to enjoy greens added to a smoothie than if they were just sautéed on his plate.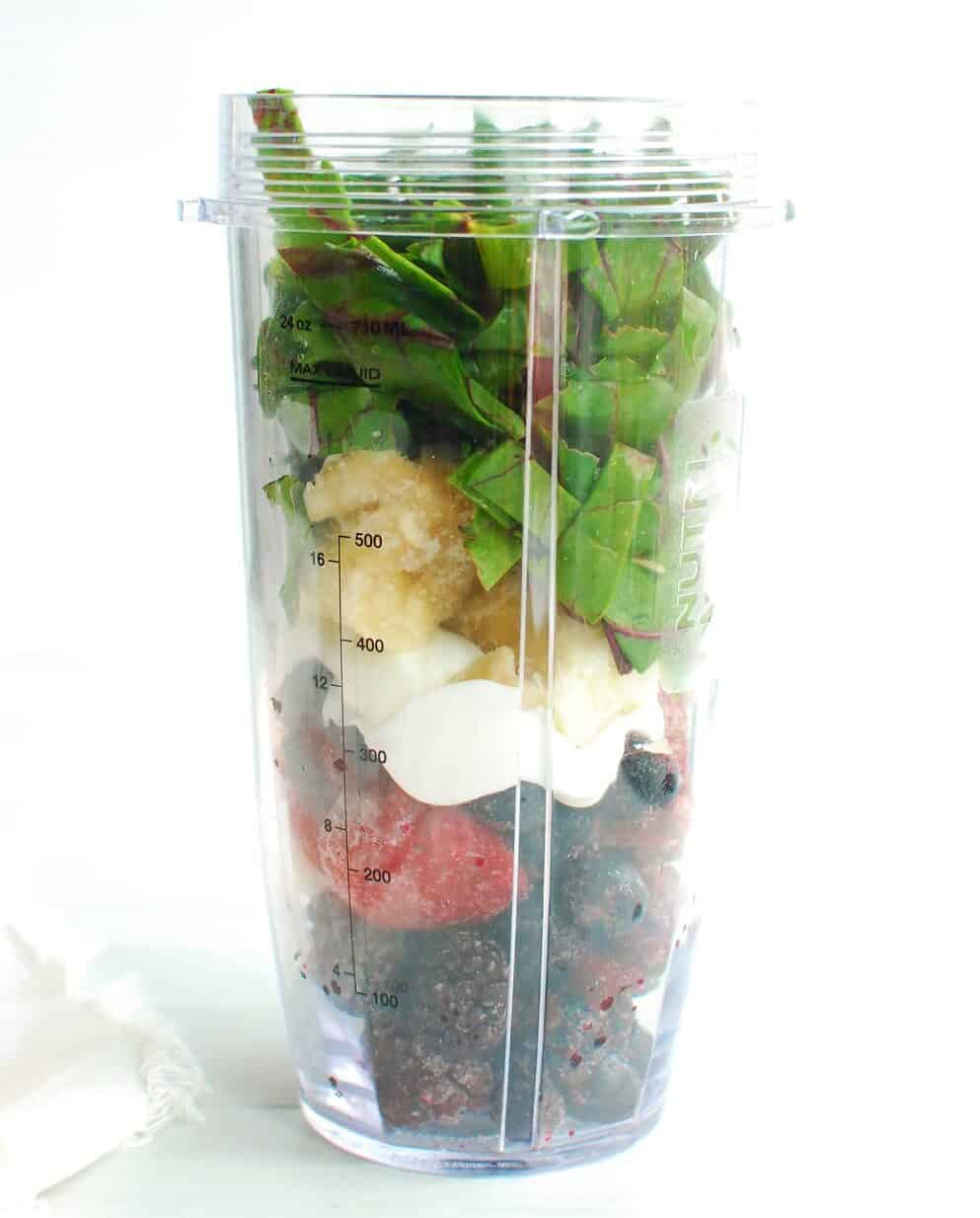 Nutrition benefits of this beet green smoothie
This smoothie is a great choice for active women. Here's a few highlights:
Reasonable calories. This makes a very large smoothie, but only clocks in at 278 calories. This is far less than most smoothies you'd purchase from a quick service restaurant. It makes it a lovely option for a small breakfast, hearty snack, or fruity dessert.
Helps meet hydration needs. You'll use water as the fluid in the smoothie, which helps meet hydration needs. It might seem weird to use water, but it doesn't taste diluted or anything; the fruity flavors are still very strong.
Packs in potassium. Many of you who are active ladies know that you lose potassium as one of the electrolytes in your sweat. Luckily, it's easy to replenish this on an everyday basis with a variety of nutritious foods, like this beet green smoothie. This packs in 25% of your daily potassium needs! Bonus: research has shown that getting enough potassium may help control blood pressure levels and reduce the risk of stroke.
Filled with fiber. This smoothie packs in 8 grams of fiber, which is key for digestive health.
Provides carbohydrate and protein. You'll find a blend of carbs and protein in this smoothie, which is a nice combination for active women. Carbohydrates help provide energy that is stored in the muscles for subsequent workouts, while protein helps support muscle repair and recovery.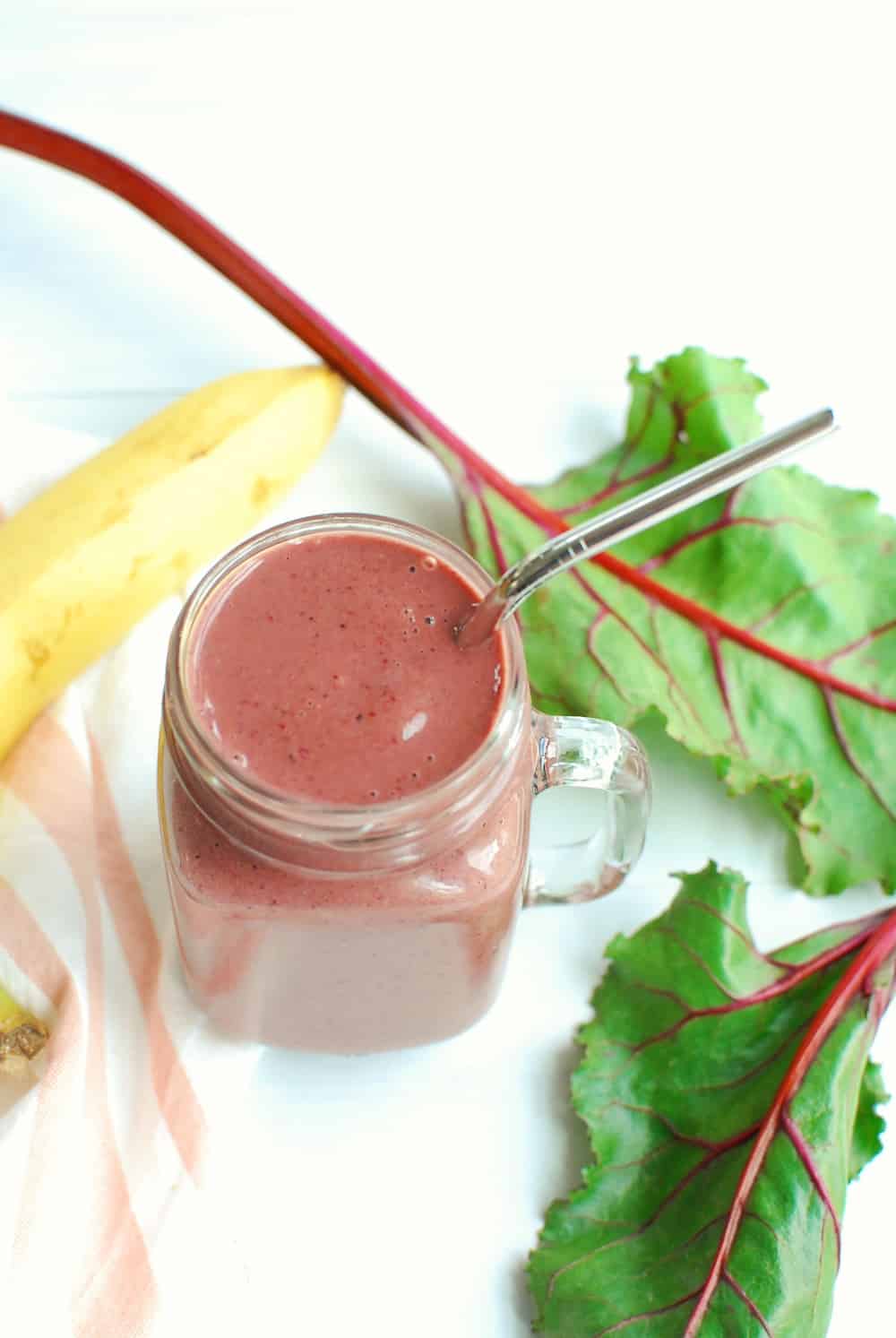 Recipe FAQ
Here are some answers to common questions that may come up as you're making this smoothie:
What kind of berries do you use? I personally buy a blend that's a combination of blackberries, raspberries, blueberries, and strawberries. Many stores sell a frozen mixed berry blend like this. But if you've got some fresh berries on hand that are at the end of their life, you can also freeze those and use any kind of berry in this smoothie.
Can you use plain Greek yogurt rather than vanilla? Yes. Keep in mind plain is less sweet, so depending on your taste preferences, you may find the smoothie to be tart. If that's the case, you can add a little extra banana or a smidge of honey.
Can you increase the protein in this recipe? Yes. If you're looking to increase the protein intake, I would recommend adding a half scoop of vanilla whey protein powder. That would bring the protein intake to around 25 grams total.
Can you make this dairy free? Sure! You can feel free to use dairy free vanilla yogurt in place of the Greek yogurt. Keep in mind that dairy free yogurt does not contain much protein (as opposed to Greek yogurt). If you're looking for some protein in your smoothie, you can add a vanilla plant-based protein powder.
Can you make this vegan? Yes, just follow the instructions above for the dairy-free version.
I hope you enjoy this beet green smoothie! This was a hit in our house with all three of us – myself, my husband, and my child. I think you'll love it too. If you get a chance to try it, be sure to leave a recipe rating or comment below.
PS – If you're looking for more green smoothie recipes, definitely check out my arugula apple smoothie or my blueberry pancake smoothie!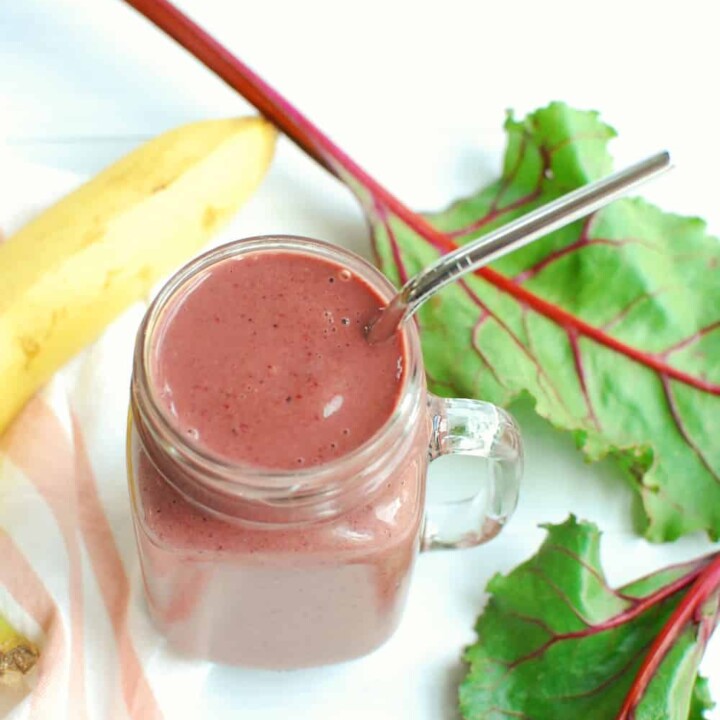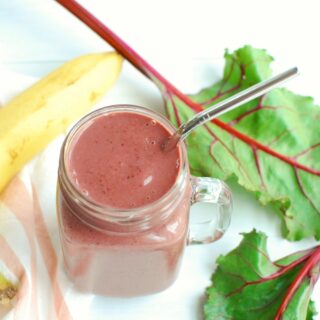 Beet Green Smoothie
This beet green smoothie with berries and bananas is a great way to pack a ton of nutrients into a delicious healthy drink!
Ingredients
1

cup

raw beet greens, chopped and hard stems removed

1

cup

frozen mixed berries

1

frozen banana

1/2

cup

vanilla Greek yogurt

1

cup

cold water
Instructions
Place all ingredients in a high-speed blender. Blend for 20-30 seconds, or until everything is well combined. Enjoy!
Notes
Nutrition analysis (approximate):  278 calories, 1 g fat, 0 g saturated fat, 145 mg sodium, 57.5 g carbohydrate, 8 g fiber, 36.5 g sugar, 13.5 g protein, Vitamin A: 52%, Vitamin C: 56%, Calcium: 23%, Iron: 12%, Potassium: 25%
Nutrition
Share: What's your favorite way to use beet greens?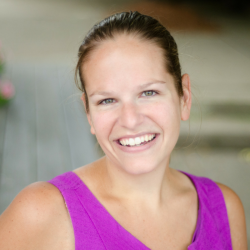 Latest posts by Chrissy Carroll
(see all)