This blueberry pancake smoothie takes all the tasty flavors of a ricotta blueberry pancake and uses them in a more nutritious smoothie form! Plus, it's packed with nutritious greens.
Disclosure: By posting this Wild Blueberry Pancake Smoothie recipe I am entering a recipe contest sponsored by the Wild Blueberry Association of North America and I am eligible to win prizes associated with the contest. I was not compensated for my time.
As much as I love a blank slate when it comes to brainstorming recipes, sometimes I end up in the kitchen staring at the fridge and freezer thinking "what the heck should I make"? It's like gastronomic-style writers block.
When I saw a recipe contest pop up that a) sounded fun, b) was sure to result in a delicious treat, and c) focused on a certain ingredient – well, I knew I could get down with that. Concentrating on a particular ingredient in a specific style of dish always helps me get that culinary creativity flowing.
In this case, the ingredient of choice is wild blueberries and the style of dish is a smoothie, for the Wild Blueberry Association of North America's second annual Wild Your Smoothie Recipe Contest. YUM.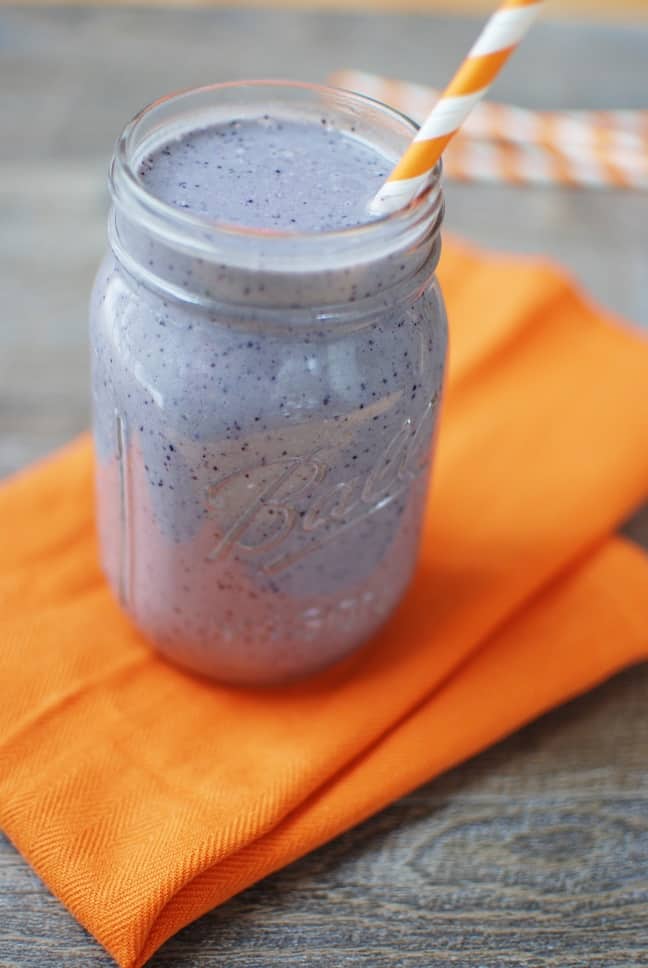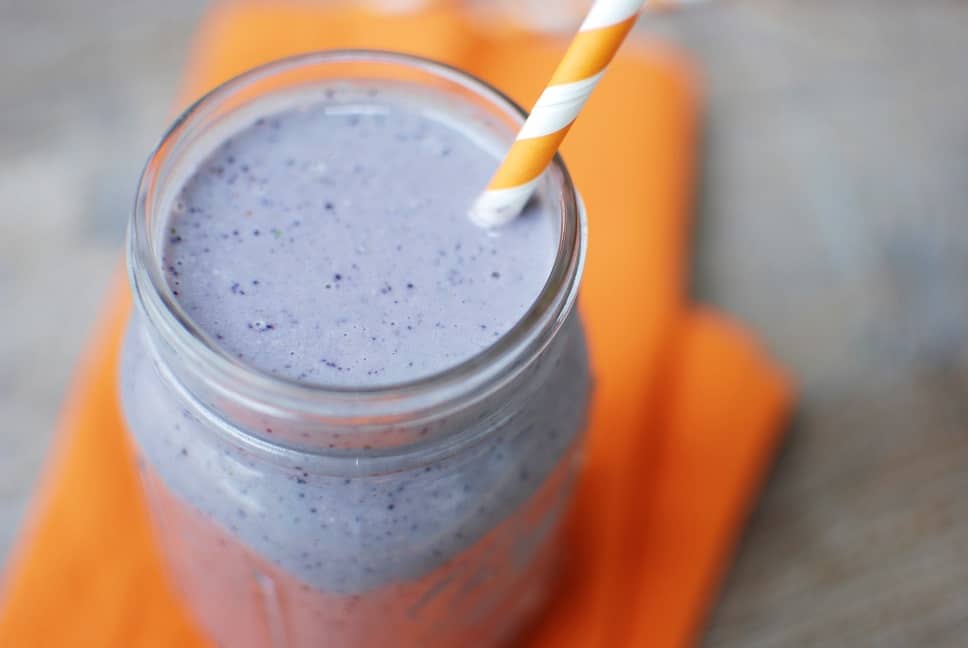 If you've never tried wild blueberries, you're missing out. Most people are used to the cultivated (planted) blueberries that you'll find fresh at the supermarket. Wild blueberries are a little different – they are not planted for harvest, but instead grow wild in barrens in Maine and Canada. They are smaller than cultivated berries and have a more intense flavor, as well as additional fiber and antioxidants.
Because of their delicate nature and the antioxidant value, the large majority of wild blueberries are frozen at harvest to keep peak nutritional and flavor value. You can find them at your grocery store by just looking for "wild" on the label of the frozen fruit.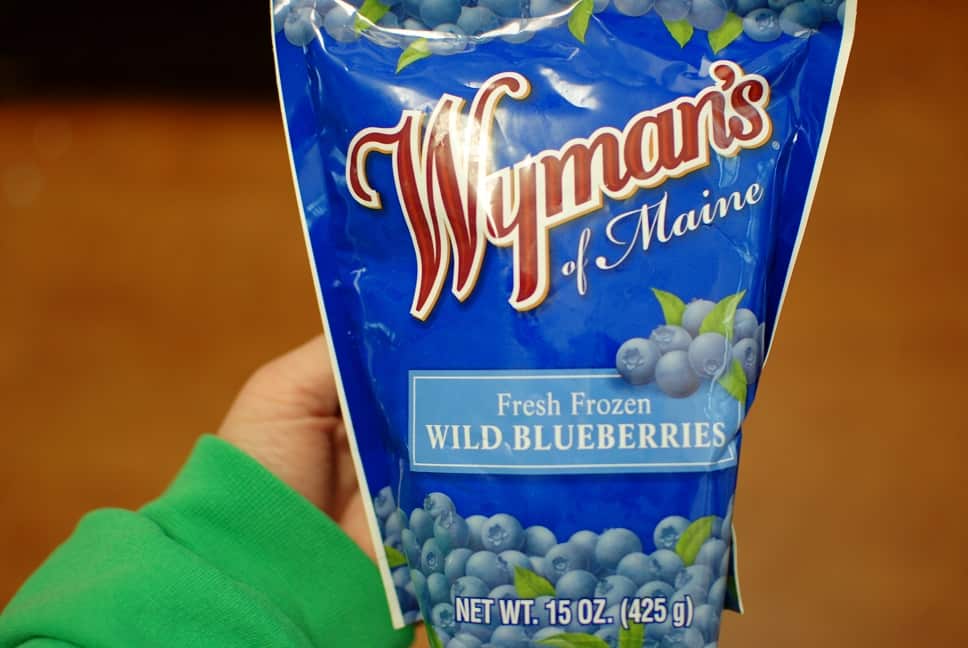 For this smoothie contest, I actually tested out quite a few recipes. Some were not so successful. If you've ever wondered if wild blueberries, sweet potatoes, and cottage cheese would taste good together in a smoothie – it does not. 😉 Keepin' it real here; not every recipe is a winner.
However, this wild blueberry pancake smoothie is 100% a winner. If you think about what a blueberry pancake might taste like in smoothie form, this is it. It is amazing.
[Tweet "A wild blueberry pancake SMOOTHIE?! It exists! Enjoy this breakfast treat."]
In this case, I took inspiration from one of my fav kind of pancakes – ricotta pancakes. The ricotta adds a nice creaminess to the smoothie, along with the plain greek yogurt. I didn't just add them for that creaminess though. Both of these ingredients pack in protein, helping to give the smoothie some sticking power.
Oats add a little texture to the smoothie (along with fiber), and they are also quite reminiscent of pancake flavor. You'll get intense blueberry flavor thanks to those frozen wild blueberries, plus a little sweetness from the dates and banana. A smidge of maple syrup (optional) adds to the traditional pancake flavor you know and love.
Plus, I snuck some leafy greens in (in this case spinach, but you can use whatever you prefer) for extra vitamins and minerals. A blueberry green smoothie that tastes like a pancake? Yes, mam.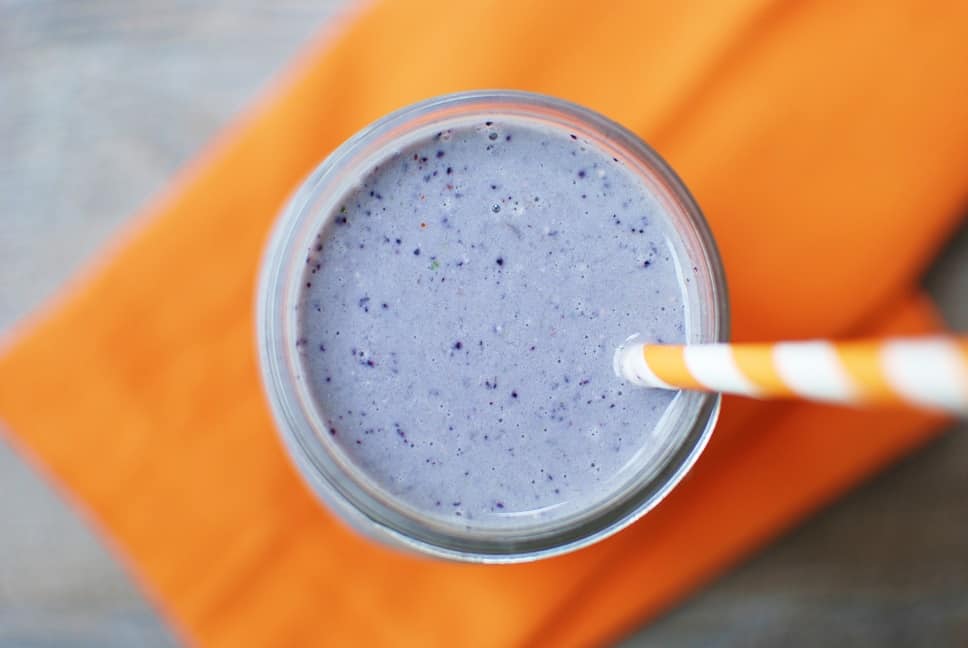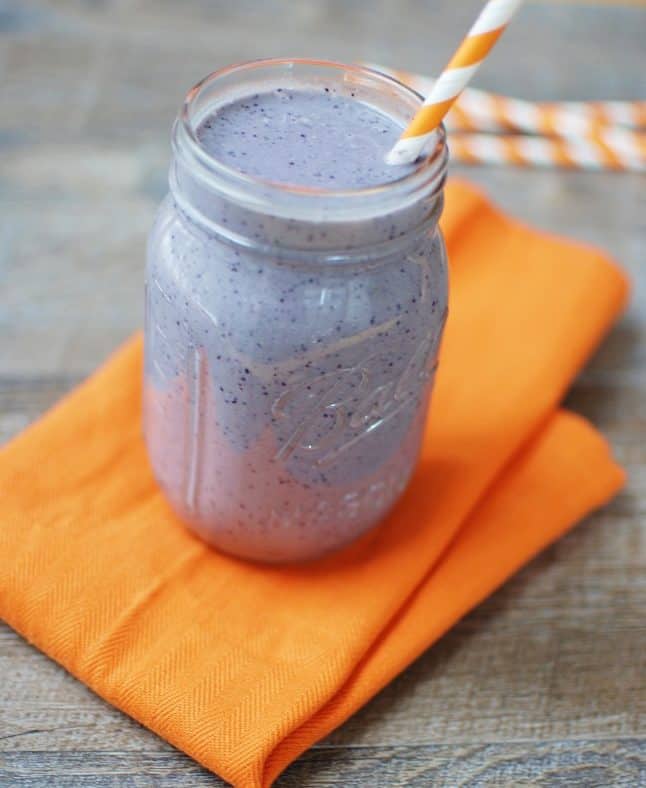 The result is a creamy, delicious smoothie that packs in 10 grams of fiber and 17 grams of protein. You can drink the whole recipe as a meal, or you can split it with a friend for two snack-size servings.
And if you're a runner or triathlete, you'll definitely want to bookmark this recipe. It's awesome for a post-long-workout recovery meal. Many athletes struggle with eating after a long run or ride, but drinking a smoothie is often much easier. This wild blueberry pancake smoothie has both healthy carbs and protein necessary for recovery, in an ideal ratio.
Give it a try asap and let me know what you think! 🙂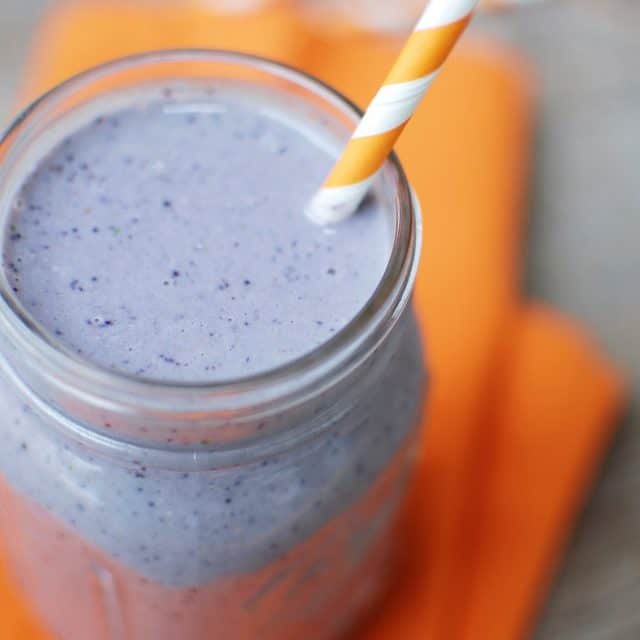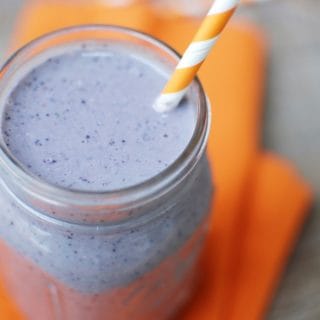 Wild Blueberry Pancake Smoothie with Greens
This wild blueberry pancake smoothie packs in all the yummy flavors that you think of in your favorite morning breakfast treat! Plus, added greens pack in extra vitamins and minerals.
Ingredients
1/2

cup

frozen Wild Blueberries

1/2

ripe banana, frozen

2

dates, pitted

1/4

cup

part skim ricotta cheese

1/4

cup

nonfat plain greek yogurt

1 1/2

cups

unsweetened almond milk

1

tsp

vanilla

1/4

cup

rolled oats

1/2

cup

spinach

(or kale, or other leafy green of your choice)

1

tsp

maple syrup

optional
Instructions
Add all ingredients to a blender. Blend until smooth, and enjoy!
Notes
Notes:
This recipe makes one meal sized serving or two snack-sized servings.
Nutrition Analysis (approximate; for entire smoothie):
421 calories, 12 g fat, 3 g sat fat, 386 mg sodium, 62 g carb, 10 g fiber, 31 g sugar, 17 g protein, Vitamin A: 50%, Vitamin C: 18%, Calcium: 95%, Iron: 13%
Nutrition
Share with me: Have you ever eaten wild blueberries? What kind of wild blueberry smoothie would you make?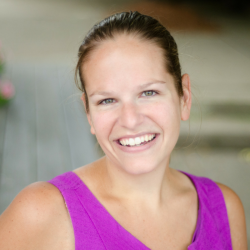 Latest posts by Chrissy Carroll
(see all)