Looking for a new way to spice up your meals? Try this homemade watermelon hot sauce! Between fiery serrano peppers and sweet watermelon, you get the perfect balance of flavors in this recipe.
Never made hot sauce before? Don't worry, this recipe is super easy and takes less than an hour (with very little prep time).
Disclosure: This post was sponsored by the National Watermelon Promotion Board. As always, all opinions are my own.
How to make homemade hot sauce
You'll probably be surprised that homemade hot sauce is quite easy to make. There is no "official" combination of ingredients, and sauce styles vary by region. Some hot sauces are a simple blend of chili peppers, vinegar, and salt, while others have complex flavor profiles thanks to the addition of different aromatics, fruits, and other ingredients.
In this watermelon hot sauce, we're going to blend both spicy and sweet ingredients, along with some flavor enhancers like scallions and garlic. And while I add salt, I like that this homemade version uses considerably less than many store-bought varieties.
Here's the ingredients you'll need to gather up to make this recipe (specific amounts in the recipe card at the bottom):
Watermelon
Serrano peppers
Carrots
Garlic
Scallions
Lime juice
Vinegar
Water
Salt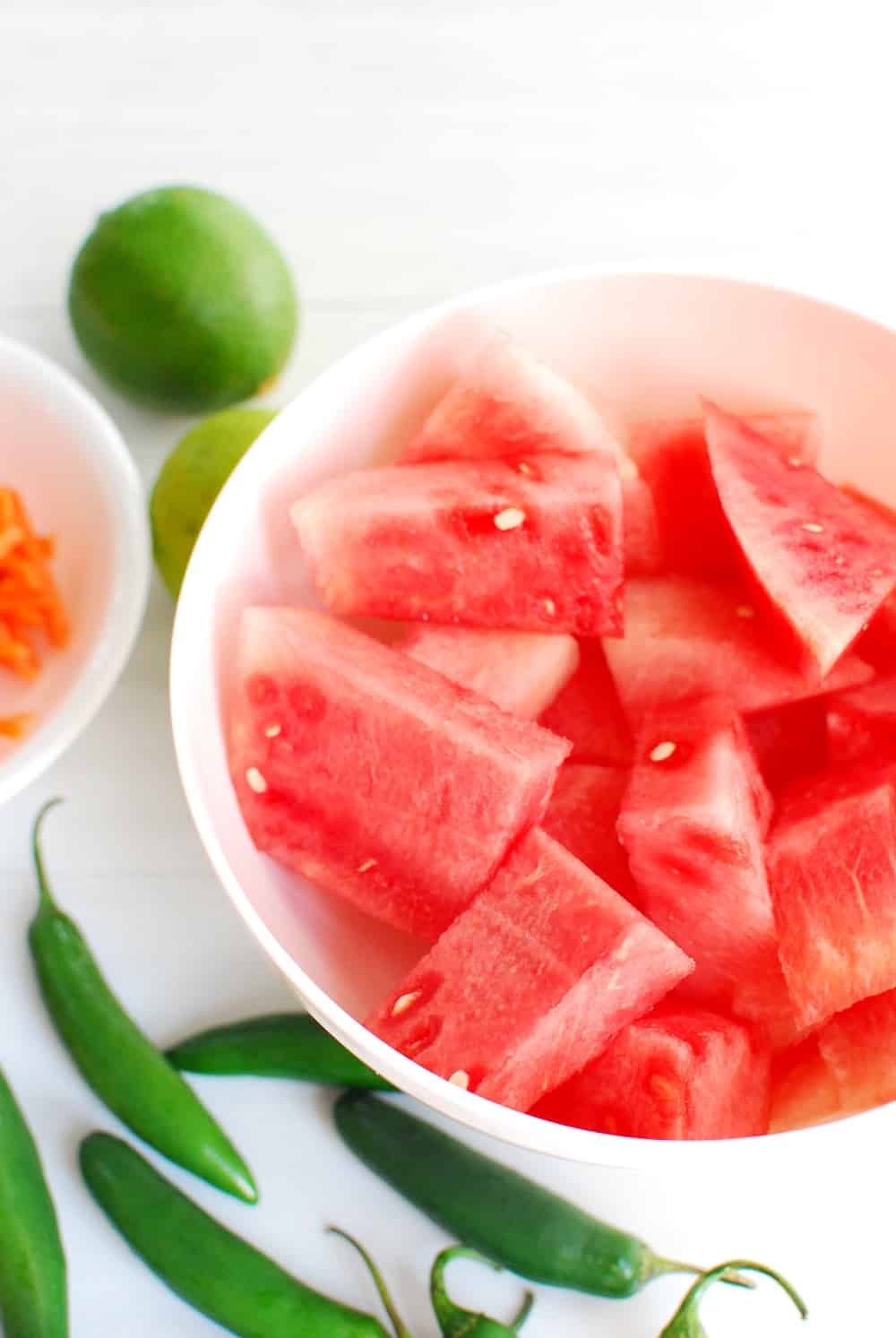 Ready for how easy this is? The first step is to halve and deseed your peppers. You'll also roughly chop up some of the other ingredients.
Quick tip – wear gloves when cutting and deseeding your peppers. While serranos aren't as hot as other peppers (like habaneros) it can still cause a pretty uncomfortable burning sensation if you happen to rub your eyes after cutting or seeding them. If you don't have gloves, be sure to wash your hands well after touching them before you do anything else. (For peppers hotter than serranos, though, you'll want to keep gloves on hand regardless, as the oils can irritate the skin).
Next, toss all of these ingredients into a high-powered blender. I've seen some recipes where you blend the sauce after you simmer, but I've tested it both ways and I personally think blending before brings out better flavor (and is easier to handle, as you're not blending a hot liquid). The key is making sure you blend well here so the sauce will be as smooth as possible.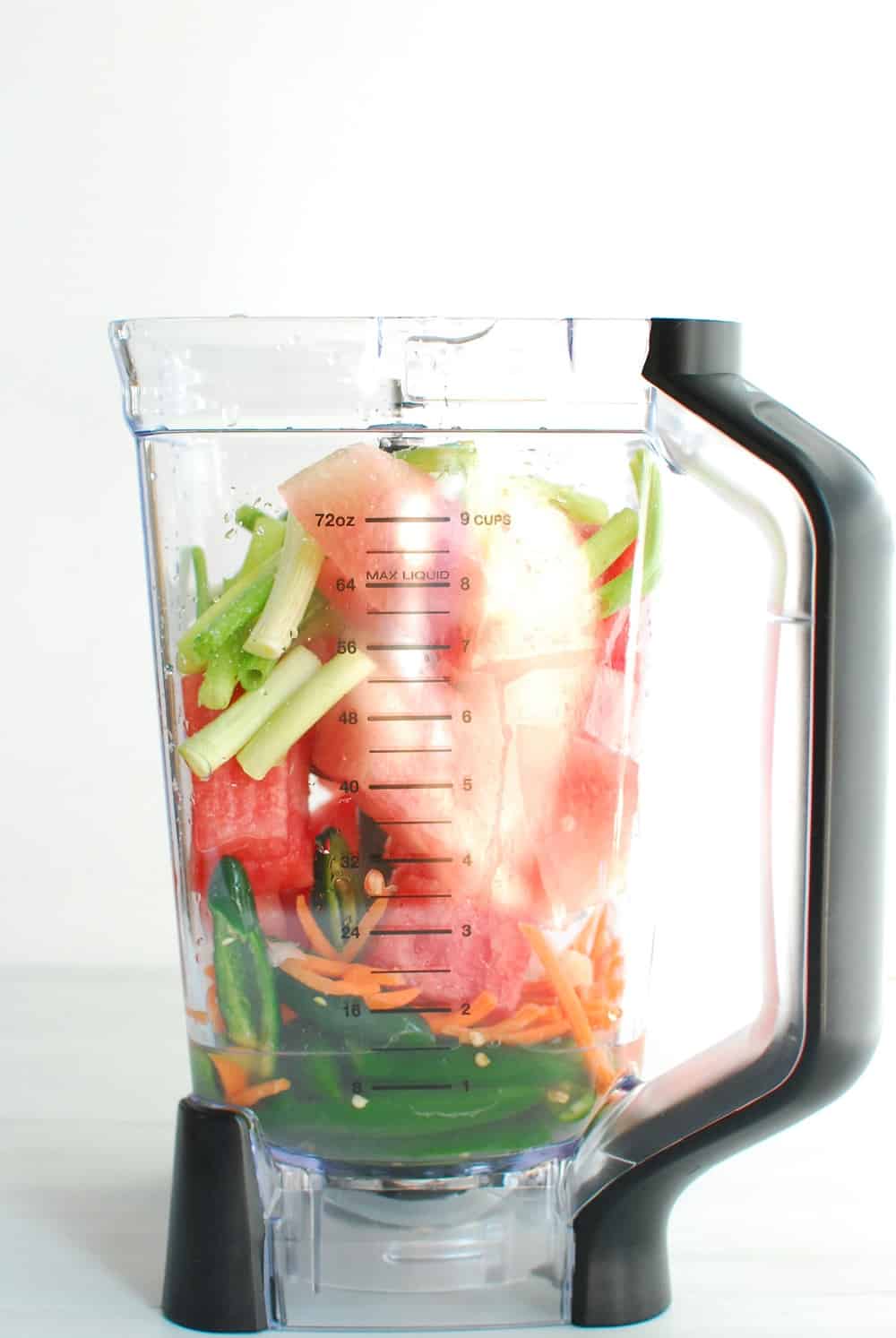 After it's blended, pour it into a sauce pot and let that baby simmer for a while. You want it to reduce down a bit and let all the flavors meld together.
Towards the end of cooking, you may notice a little bit of a red film on top from the watermelon pulp. This is fine to leave in, or you can just spoon it off the top for aesthetics.
Now just let it cool, pour it into a bottle, and enjoy! If you have a not-so-great blender, you may want to run it through again after simmering, when the ingredients are softer, to create a smoother sauce.
Also, I don't mind a bit of texture to my hot sauce – but if you want, you can strain it before putting it into a bottle or jar for a thinner, smoother sauce.
Nutrition Benefits
Adding watermelon to a hot sauce recipe may sound unique, but I love adding this nutrient-dense fruit to just about any recipe!
Watermelon is an excellent source of Vitamin C, which is involved in maintaining your body's defenses, helping repair tissue, and acting as an antioxidant.
It's also one of the best sources of lycopene in the diet, which may be (but is not conclusively) linked to certain types of cancer prevention (source). Lycopene may also promote healthy skin by protecting against some of the harmful UV rays in the sun (key for all of us out there running and exercising outdoors!) (source). Of course, that's not a substitute for sunscreen which is always your best defense against the sun's rays.
And combining that watermelon with spicy peppers? Now we're talking a real win-win situation!
Besides making food taste great, the capsaicin in hot peppers may have weight control benefits. Some studies have suggested that capsaicin may temporarily increase energy expenditure, leading to more calories burned (source). Other studies suggest it may affect appetite regulation, leading to less consumption at a subsequent meal (source).
There's another simple mechanism too. When food is spicy, you're naturally forced to slow down your consumption. This can help prevent people from overeating if you're used to eating very quickly at a meal (guilty as charged).
Now of course, this is very minimal, and the path to a healthy lifestyle is grounded in an overall balanced diet – not throwing as much hot sauce on your food as possible. But that said, it's still cool to understand these benefits and know that hot sauce is a healthy choice to incorporate in your diet.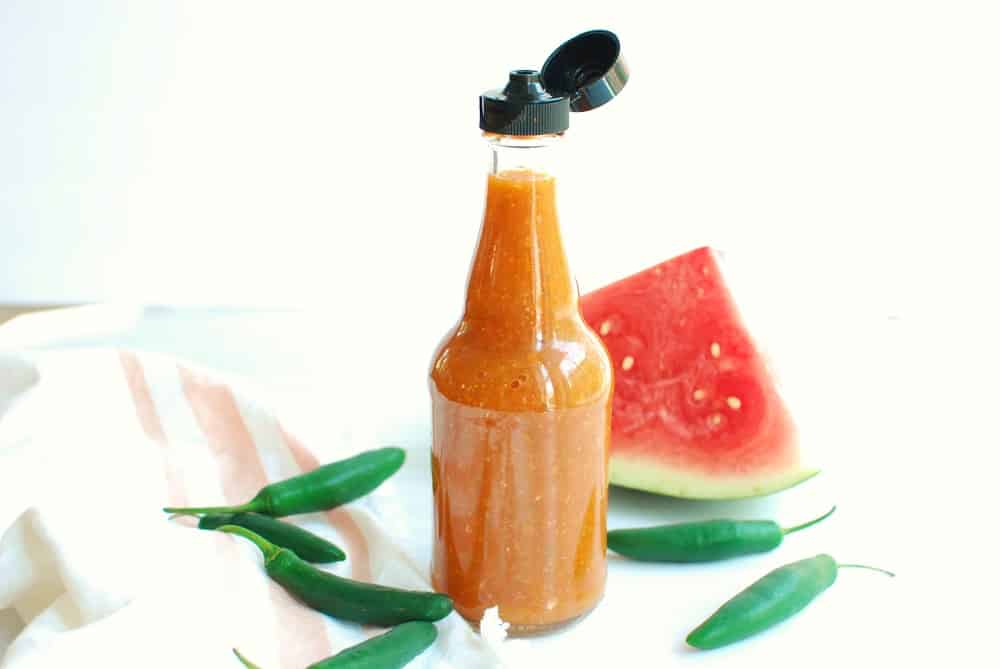 Recipe FAQ
Here are some common questions that may arise as you prepare this watermelon hot sauce:
How hot are serrano peppers? Peppers are rated by heat based on something called the Scoville scale. According to this resource, serrano peppers generally fall around 8,000 to 22,000 SHU (Scoville heat units). To give context, a jalapeno pepper falls around 2,500 to 8,000, so serranos are generally about 2-4x spicier. An orange habanero, on the other hand, falls around 150,000 to 325,000 SHU – making it much spicier.
How hot is this hot sauce? So you know the heat of the peppers – but what about the sauce as a whole? I would say this is a mild hot sauce. It has a great kick to it, but doesn't leave a lingering burn or make your eyes water. If you want a hotter sauce, you can buy hotter peppers to use (habaneros, scotch bonnets, etc).
How long can you store hot sauce? I recommend using this within a week in the fridge. It may last a bit longer as the vinegar helps act as a preservative, but one week should be a safe guideline.
Is this recipe good for canning? Because this recipe includes a lot of different ingredients that affect the pH of the recipe (i.e. watermelon, carrots, etc), I would not recommend it as an option for a hot water canning recipe. Instead, make it fresh and enjoy it! If it makes more than you can personally use, you can either give some away to a friend – or you can freeze it.
Can you freeze this hot sauce? Yes. Freeze extra in an ice cube tray, then transfer to a freezer storage bag. You can pull out a cube or two when you need to add some spice to dishes like soups, stews, chilis, and more.
Serving suggestions
Wondering how to use this homemade hot sauce once it's made? Here's just a few ideas:
Y'all, I'm going to drop my favorite first – chicken wings. Toss a cup of this hot sauce with a few tablespoons of melted butter, and use it to coat some baked crispy chicken wings. It is the best.
Drizzle this into a cup of ramen to add a new layer of flavor and spiciness.
Mix it with BBQ sauce and use it to coat ribs.
Top your burger – beef, turkey, chicken, or veggie!
Stir it into chili or a chicken tortilla soup.
Mix with mayo and use it to top savory veggie fritters.
Combine it with butter then drizzle it over popcorn for a spicy snack.
Add it to a hot dog.
Pour a little over some roasted veggies or sautéed greens.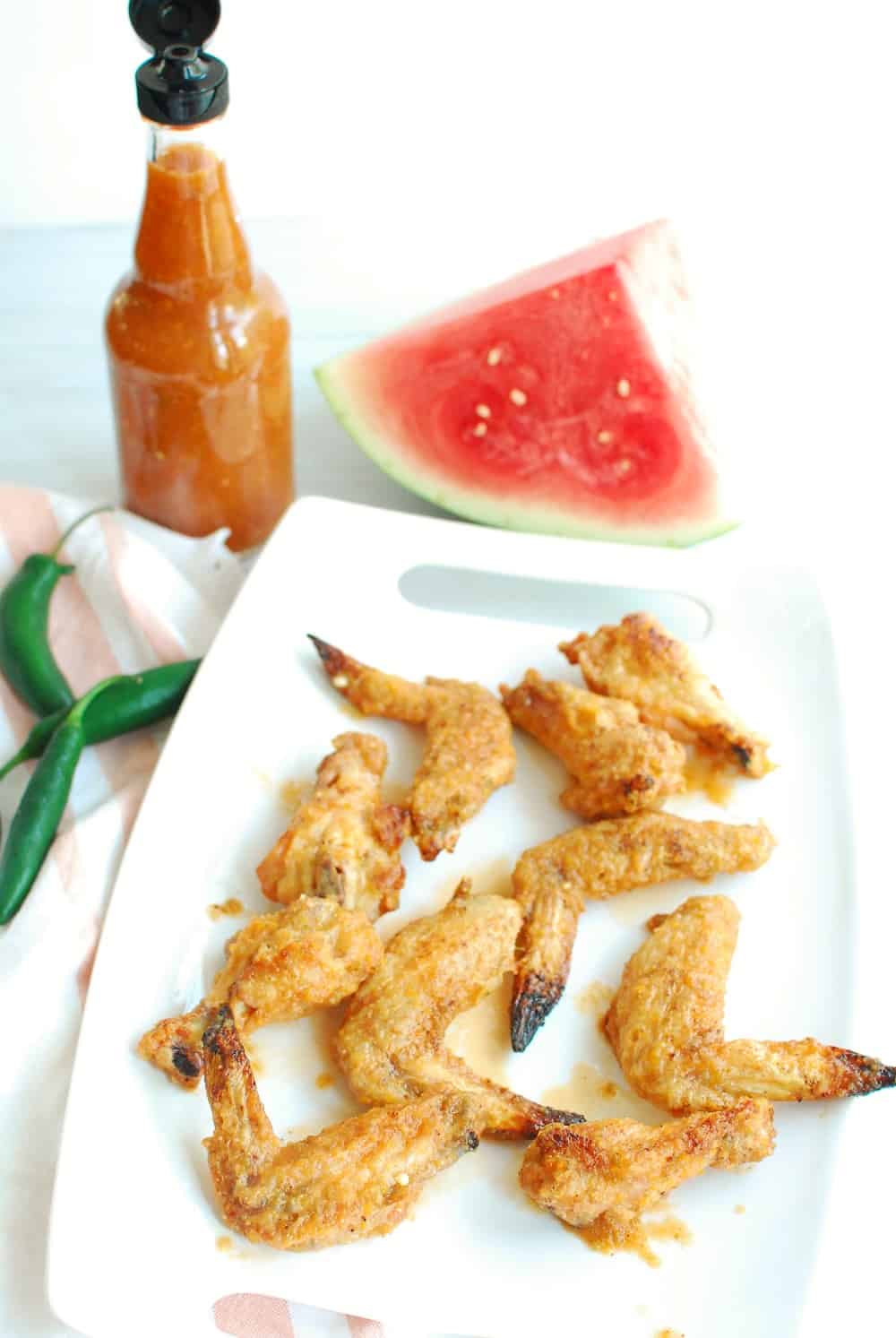 I hope you love this watermelon hot sauce as much as I do! If you get a chance to try it, please feel free to leave a recipe rating or comment below. And if you're looking for more watermelon recipes, don't forget to try my homemade watermelon sports drink and watermelon protein gummy bears, or check out the many recipes available at the Watermelon Board!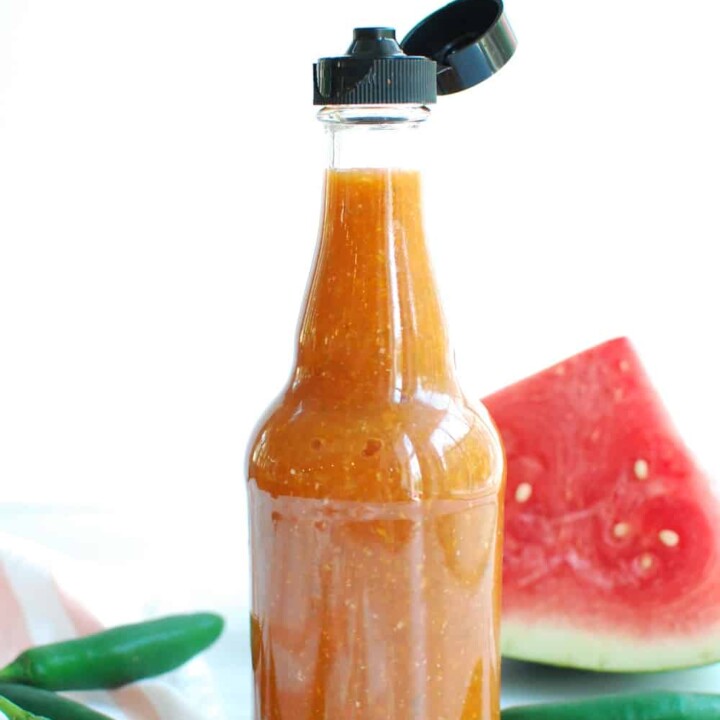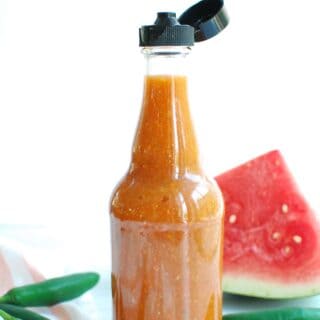 Watermelon Hot Sauce
Looking for a new way to spice up your meals?  Try this homemade serrano and watermelon hot sauce! 
Ingredients
3 1/2

cups

chopped watermelon

12

serrano peppers, halved and seeded

1/2

cup

shredded carrots

3

cloves

garlic

3

scallions, roughly chopped

1/3

cup

lime juice

1/4

cup

white vinegar

1/2

cup

water

1/2

tsp

salt
Instructions
Place all ingredients in a high-speed blender. Blend for about 30-60 seconds, until well combined.

Pour the mixture into a pot, then simmer for 25 minutes over medium-low heat.

Let cool for about 15 minutes, the pour into a bottle or jar. Or as an alternative, you can first pour the sauce through a fine mesh strainer for a thinner, smoother sauce.
Notes
Notes:
This makes about 20 ounces of hot sauce without straining. If you strain it, it will be around half of that amount.
For the nutrition analysis, we assumed one serving = 1 teaspoon, similar to most brands of jarred sauce. 20 ounces equals about 120 teaspoons of sauce.
If you prefer a hotter sauce, try substituting a couple serranos for habaneros.
Nutrition analysis (approximate per teaspoon): 2 calories, 0 g fat, 10 mg sodium, 0.5 g carbohydrate, 0 g protein, Vitamin A: 2%, Vitamin C: 1%, Calcium: 0%, Iron: 0%
Nutrition
Share: Have you ever made homemade hot sauce? What's your favorite flavor combinations?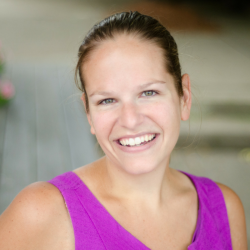 Latest posts by Chrissy Carroll
(see all)