Looking to make something fancy for a dinner party? Want to treat your partner to something special this Valentine's Day? If so, you'll definitely want to try this watermelon tartare recipe!
Wait – watermelon tartare? Yes! It's not something you hear every day, but trust me – it's a delicious way to incorporate this summertime favorite all year round. Packed with fresh flavor and vibrant colors, this stacked appetizer is sure to please. Put a twist on tradition with this clever dish that will tantalize taste buds.
Disclaimer: This post is sponsored by the National Watermelon Promotion Board. As always, all opinions are my own.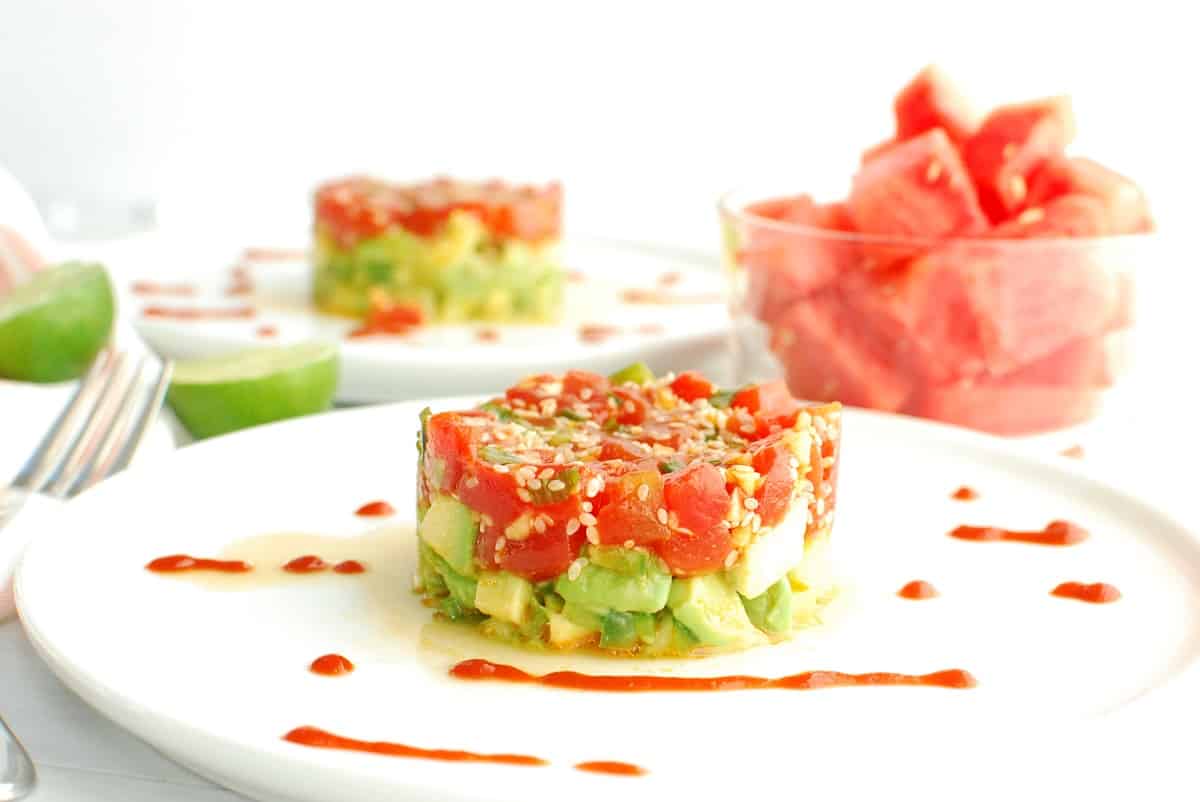 Is this really tartare?
Technically, the definition of tartare is meat or fish that's finely chopped and served raw. This recipe doesn't include meat or fish. I also do cook the watermelon first in this dish, so it's not raw.
Stick with me, though, haha! The way the watermelon is cooked then soaked gives it a texture and taste that's very reminiscent of tuna tartare.
Side note – I've got nothing against tuna – in fact, I love it! – but I really enjoy this fully plant-based spin on the dish that's easy and less expensive to make at home.
Ingredients
Here's a photo of everything you'll need to make this recipe, along with some selected ingredient notes: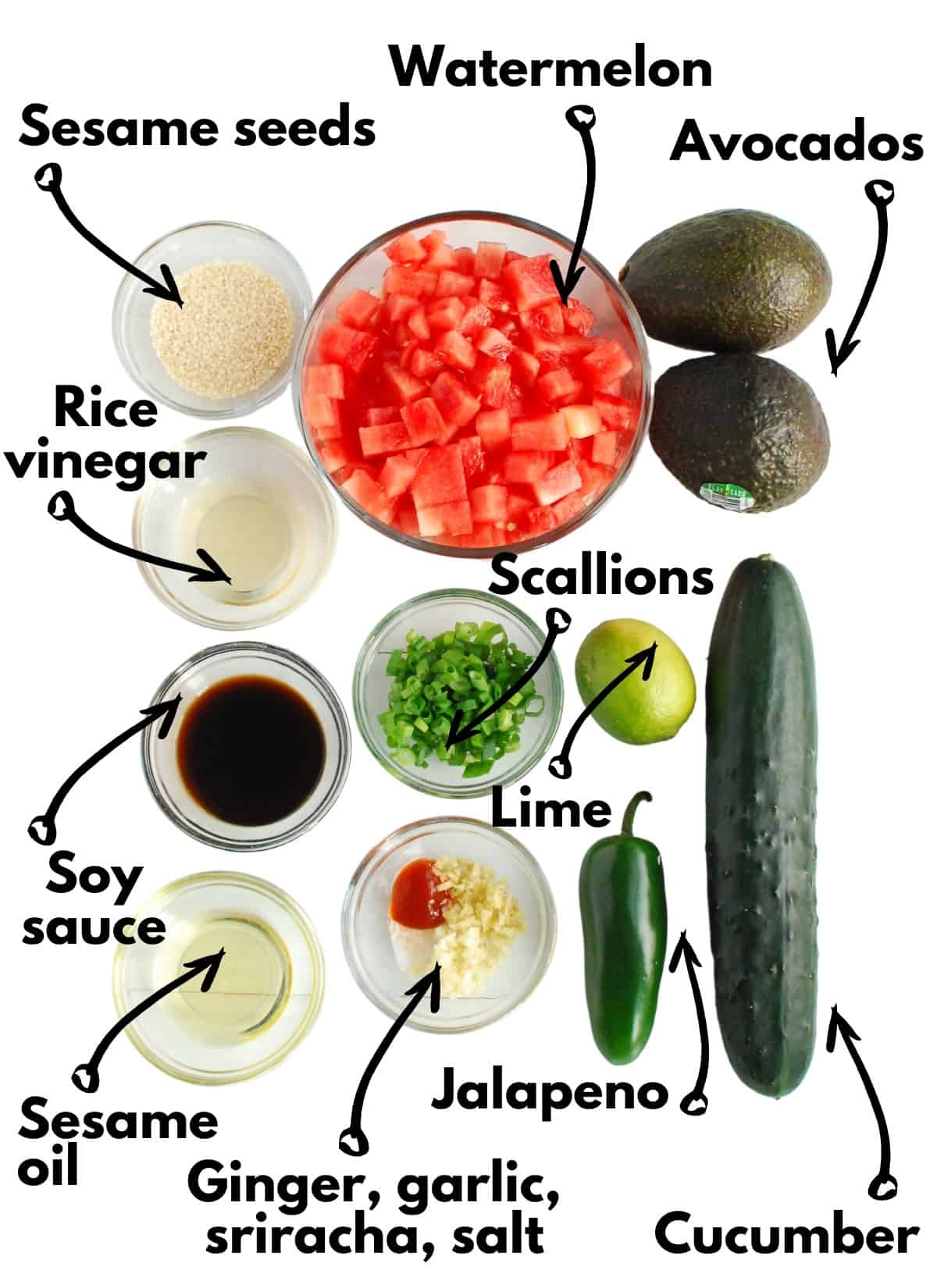 Watermelon – You know that song, "It's 5 O'Clock Somewhere"? (Uh, come on, we know you do 😉). The same can be said for watermelon season! It's always watermelon season somewhere, so fresh watermelon can typically be found year-round in your grocery store. You don't have to wait for summer to enjoy this tasty treat!
Sesame oil – This oil has a very nutty, earthy flavor, which goes great in the soy-based sauce you'll make. If you don't have sesame oil on hand, you can use olive oil as a substitute in a pinch (it just won't have the same nutty undertones).
Rice vinegar – A little punch of acidity helps balance out the saltiness of the sauce and sweetness of the watermelon. If you don't have rice vinegar on hand, apple cider vinegar works fine as a substitute.
Instructions
You'll find the full recipe amounts and instructions in the recipe card at the bottom of the page, but here's a helpful overview with step-by-step process photos.
Start by mixing together all the ingredients for the sauce – the green onions, soy sauce, sesame seeds, sesame oil, rice vinegar, ginger, garlic, sriracha, and salt – in a mixing bowl. Place that to the side.
Next, sauté your finely chopped watermelon in a little sesame oil. You'll notice the watermelon will start to release a little bit of liquid at the start, like you can see at the side of the pan below:
At the end of 6 to 9 minutes of cooking, most of the liquid will have evaporated out, and the watermelon will have turned slightly darker in hue and shrunk down a bit, like this: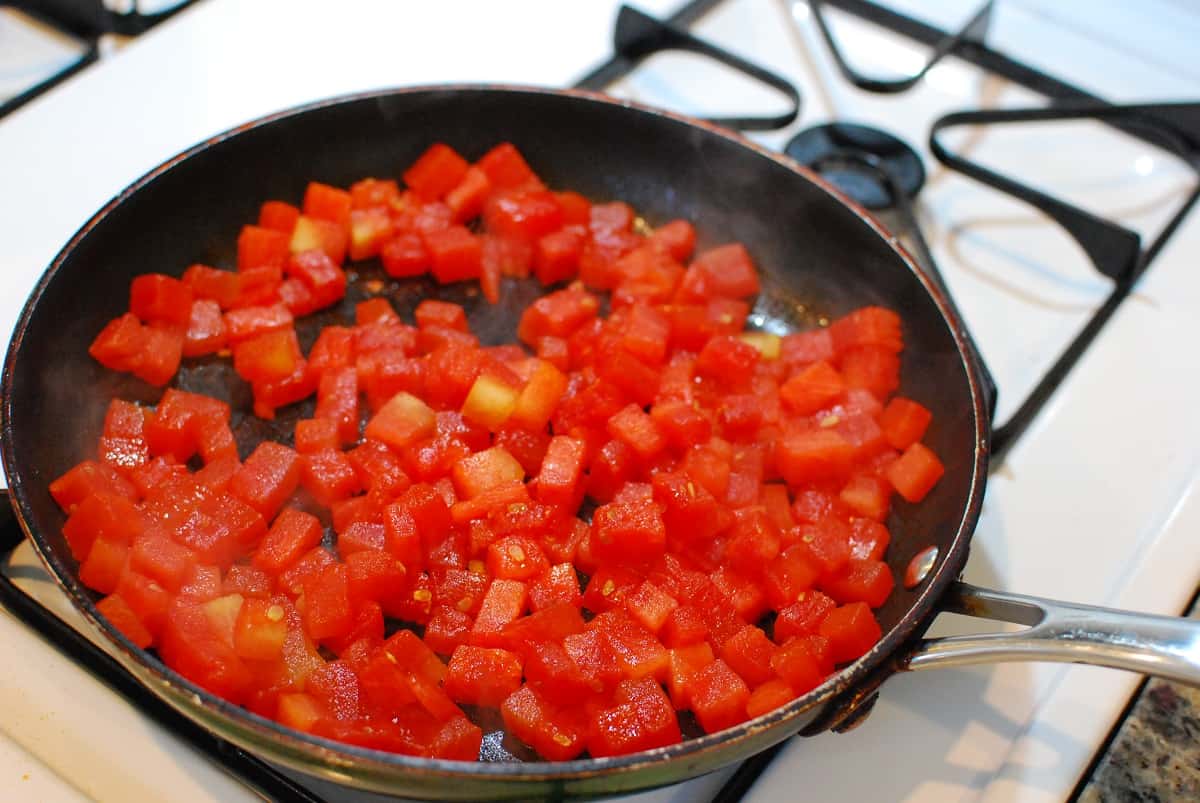 Toss the watermelon with the sauce, and pour it into a flat glass container or a zip top bag – something where most of the watermelon will be in contact with the sauce.
Place that in the fridge for about an hour. If you need to, you can speed this up by placing it in the freezer for about 30 minutes instead.
While that's chilling, prepare the base of your tartare stacks. Combine the avocado, jalapeno, cucumber, lime juice, and salt.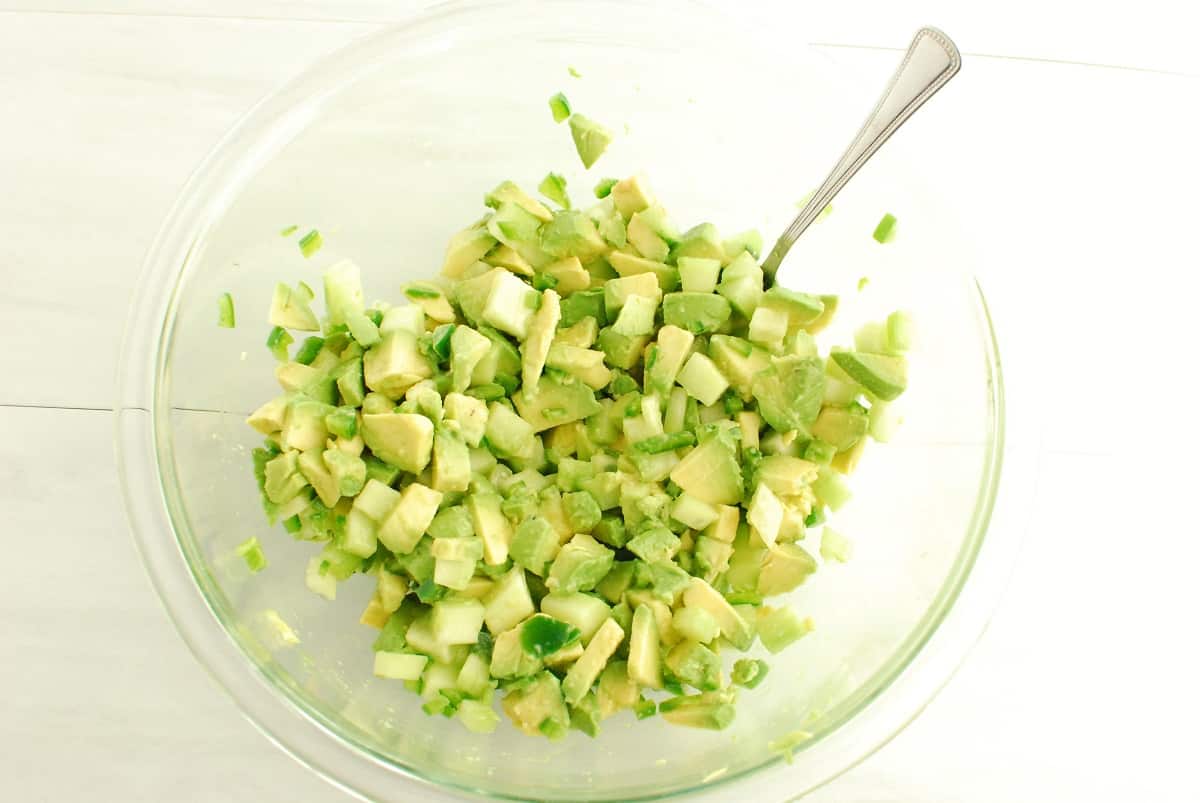 When the watermelon is chilled, it's time to prepare your stacks. You can use a food mold for this, or a biscuit cutter – whatever you have on hand. I only had a biscuit cutter and it worked just fine.
Put the avocado cucumber base in the mold first, until about halfway full.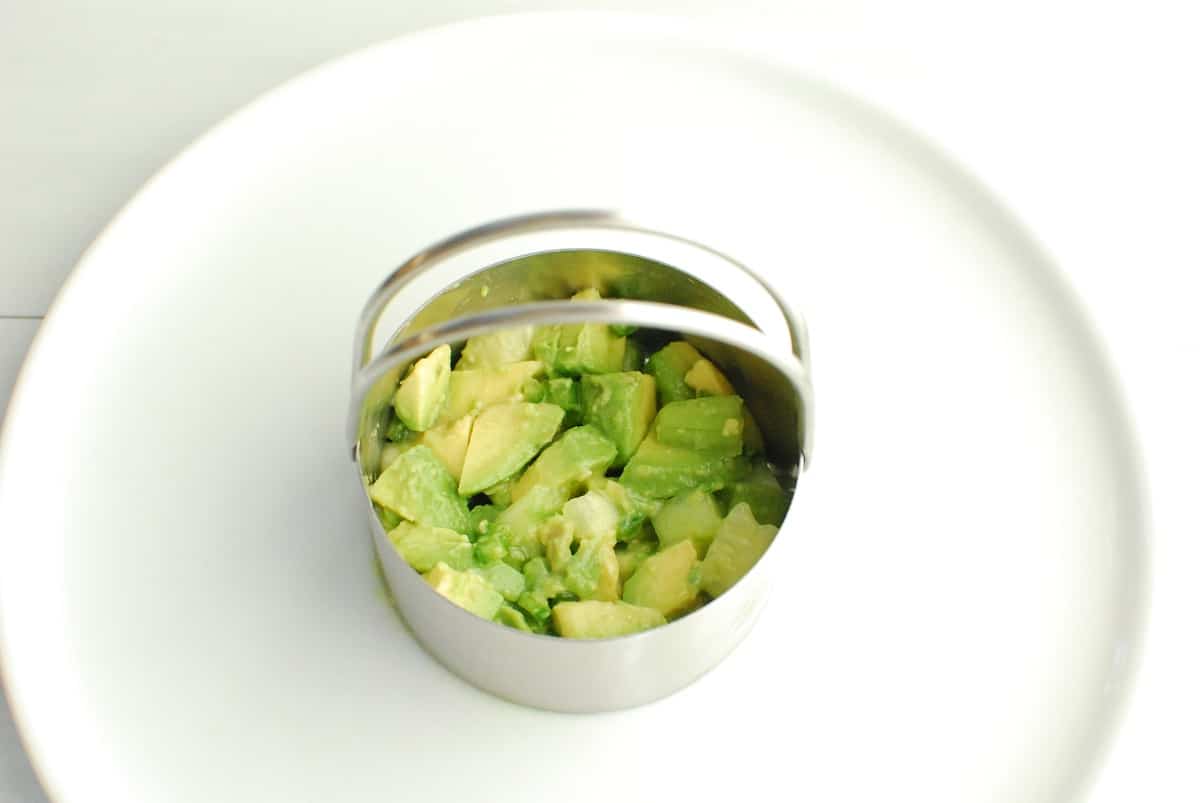 Then, using a slotted spoon to drain out excess sauce, add spoonfuls of watermelon to the top. Press down slightly with the back of the spoon.
If any excess sauce has expanded on the plate at this point, you can take a paper towel and blot it a bit (though I usually don't worry about that).
Now remove the mold carefully, and you'll have your beautiful watermelon tartare stacks!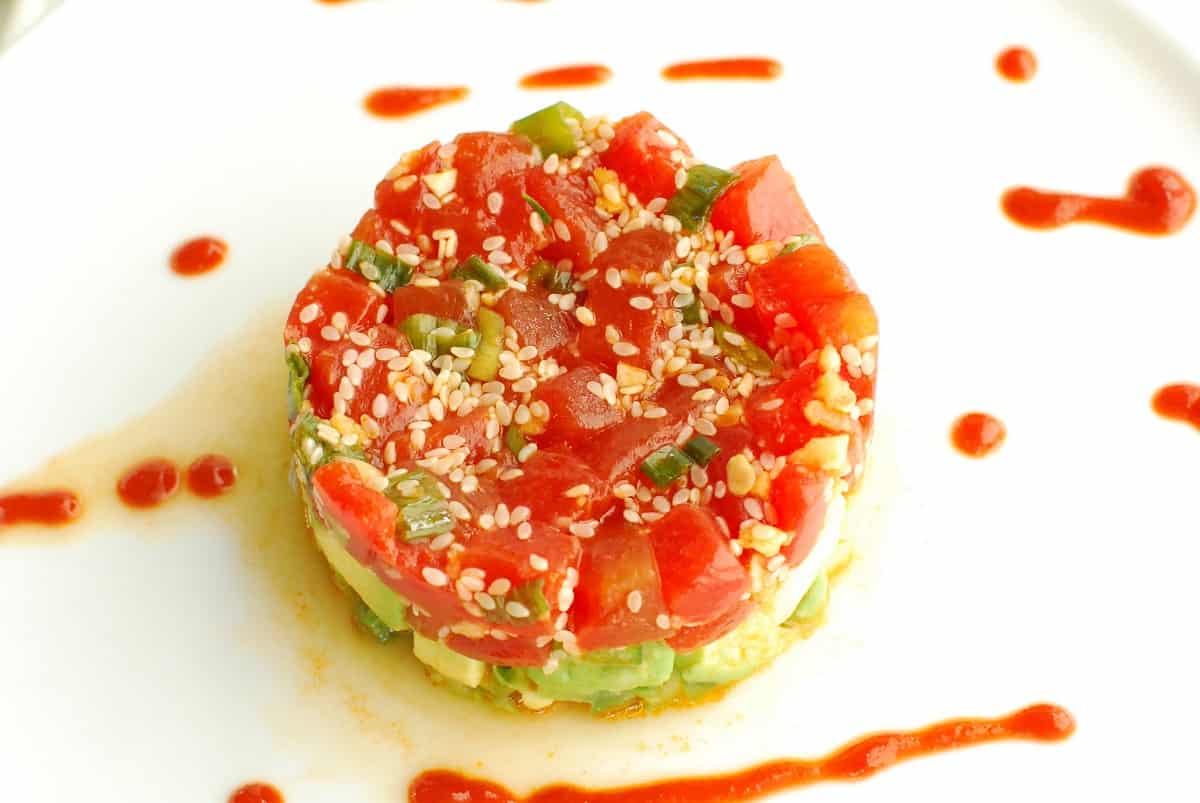 Recipe FAQ
Here are some common questions that may come up as you prepare this recipe:
How should you serve watermelon tartare?
You can serve it as-is for an appetizer, simply letting the beauty of the produce shine through and enjoying each bite. As an alternative, you can serve this with crispy wonton chips, or increase the portion size and serve with sushi rice to make it a meal.
How should you store extra watermelon tartare?
Both the extra marinated watermelon and the avocado cucumber base can be stored in the fridge. Store in separate airtight containers until ready to serve, then assemble as described. Enjoy within 3 days for best quality. Note that the avocado may brown a bit due to oxidation the longer it sits.
Can you make tartare without molds?
Sure! If you want to skip the mold step, you can simply mix together all the ingredients and portion it out into small bowls instead.
Is there a substitute for soy sauce if you can't eat soy?
If you cannot eat soy, you can substitute an equivalent amount of coconut aminos.
Nutrition Benefits
As an RD and foodie, I'm obsessed with this fun recipe. Here are some highlights – per serving, it contains…
8.5 grams of fiber to support digestive health and help you feel full after eating – whoop whoop!
43% of daily Vitamin C needs, important for helping protect cells, skin health, and immune health
16% of daily magnesium needs, essential for many functions in the body including maintaining normal muscle function
16% of daily potassium needs, a key electrolyte that's also involved in blood pressure regulation
22.5 grams of total fat which includes 12.5g of monounsaturated fat – aka plenty of "good fat" thanks to the avocado base!
Plus, this version is safe for those who can't eat raw fish (like pregnant or immunocompromised folks), and is vegan-friendly (just be sure to grab a vegan-friendly sriracha brand if that's a concern for you).
More Watermelon Recipes
Looking for more fun uses for watermelon? Try one of these recipes:
I hope you enjoy this recipe as much as I do! My husband and I had a nice little fancy lunch this past weekend at home that included these. If you get a chance to try them, feel free to leave a recipe rating or comment below.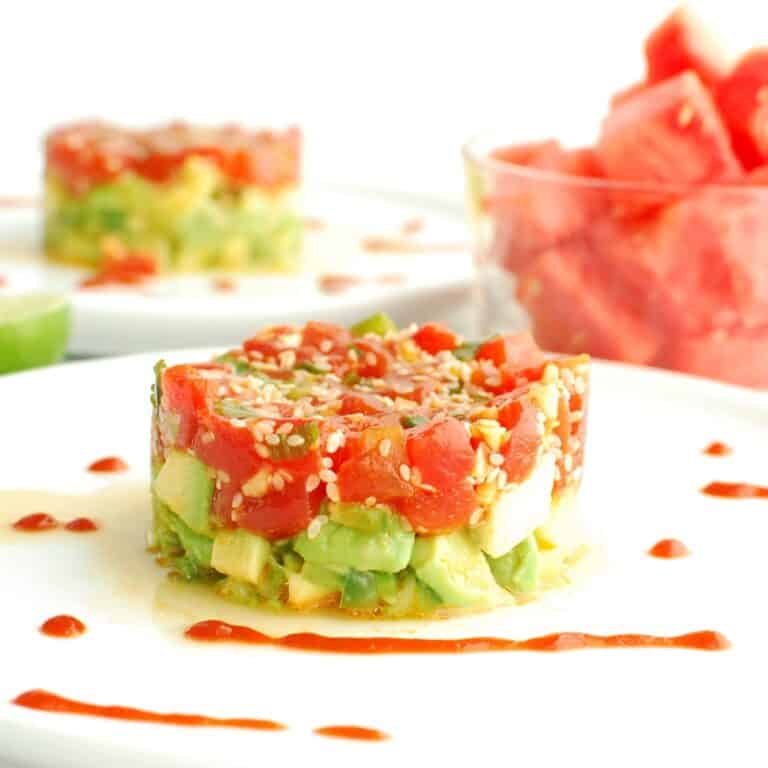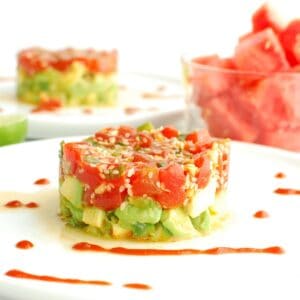 Watermelon Tartare
This watermelon tartare is a fun and fancy plant-based recipe that is perfect for a special evening!
Ingredients
For the sauce:
3

green onions, chopped

2

tbsp

soy sauce

1 ½

tbsp

sesame seeds

1

tbsp

sesame oil

1

tbsp

rice vinegar

½

tbsp

minced fresh ginger

½

tbsp

minced garlic

1

tsp

sriracha

(optional; vegan-friendly brand if desired; additional for drizzling if desired)

⅛

tsp

salt
Additional ingredients:
½

tbsp

sesame oil

3

cups

finely chopped watermelon

2

avocados, finely chopped

1

jalapeno, minced

1

cup

cucumber, finely chopped

1

lime, juiced

⅛

tsp

salt
Instructions
In a medium mixing bowl, combine all the ingredients for the sauce: green onions, soy sauce, sesame seeds, sesame oil, rice vinegar, ginger, garlic, sriracha, and salt. Set aside for now.

In a large skillet, heat the ½ tablespoon of sesame oil over medium heat. Add the chopped watermelon and cook for 6 to 9 minutes, stirring occasionally, until most of the excess liquid in the pan has evaporated and the watermelon has deepened in hue slightly. Let cool for a few minutes.

Remove the watermelon from the pan and toss in the mixing bowl with the sauce. Pour the mixture into a flat glass container or food-safe ziptop bag, and place in the refrigerator to marinate for about an hour.

Meanwhile, in a mixing bowl, prepare the base of the tartare by combining the avocado, jalapeno, cucumber, lime, and salt. Keep chilled until ready to use.

When the watermelon is done marinating, prepare the tartare stacks by using a round food mold (or a biscuit cutter). First place in the cucumber avocado base until halfway full. Then use a slotted spoon to remove the watermelon from the sauce mixture, and place it on top of the cucumber avocado mixture. Press down slightly with the top of the food mold or the back of a spoon, then remove the mold. Repeat for each stack.

Enjoy! Feel free to add an additional drizzle of sriracha on the plate if desired.
Notes
You can halve the recipe if you only want to make two servings.
You can speed up the watermelon cooling process by placing the mixture in the freezer for about 30 minutes instead of in the fridge for an hour.
If there's excess liquid on the plate from the sauce when preparing the stacks, just use a paper towel to soak it up and wipe the plate clean.
Leftovers can be stored in the fridge for up to 3 days for best quality. Note that the avocado may brown due to oxidation over time.
This recipe will make 4 to 5 stacks, depending on the size of your mold and how full you pack them. The nutrition analysis below is based on 4 stacks, but if you make more they will have fewer calories per serving.
The nutrition facts below assume all the sauce is used, however, there will be quite a bit of sauce remaining after soaking the watermelon. We can assume the calorie and sodium count is likely lower than displayed below, due to this fact.
Nutrition analysis (approximate per serving): 284 calories, 22.5 g fat, 3.5 g saturated fat, 12.5 g monounsaturated fat, 5 g polyunsaturated fats, 630 mg sodium, 22 g carbohydrate, 8.5 g fiber, 9.5 g sugar, 4.5 g protein, Vitamin D: 0%, Calcium: 3%, Iron: 8%, Potassium: 16%, Vitamin C: 43%, Magnesium: 16%
Nutrition
Feel free to pin this post to save for later!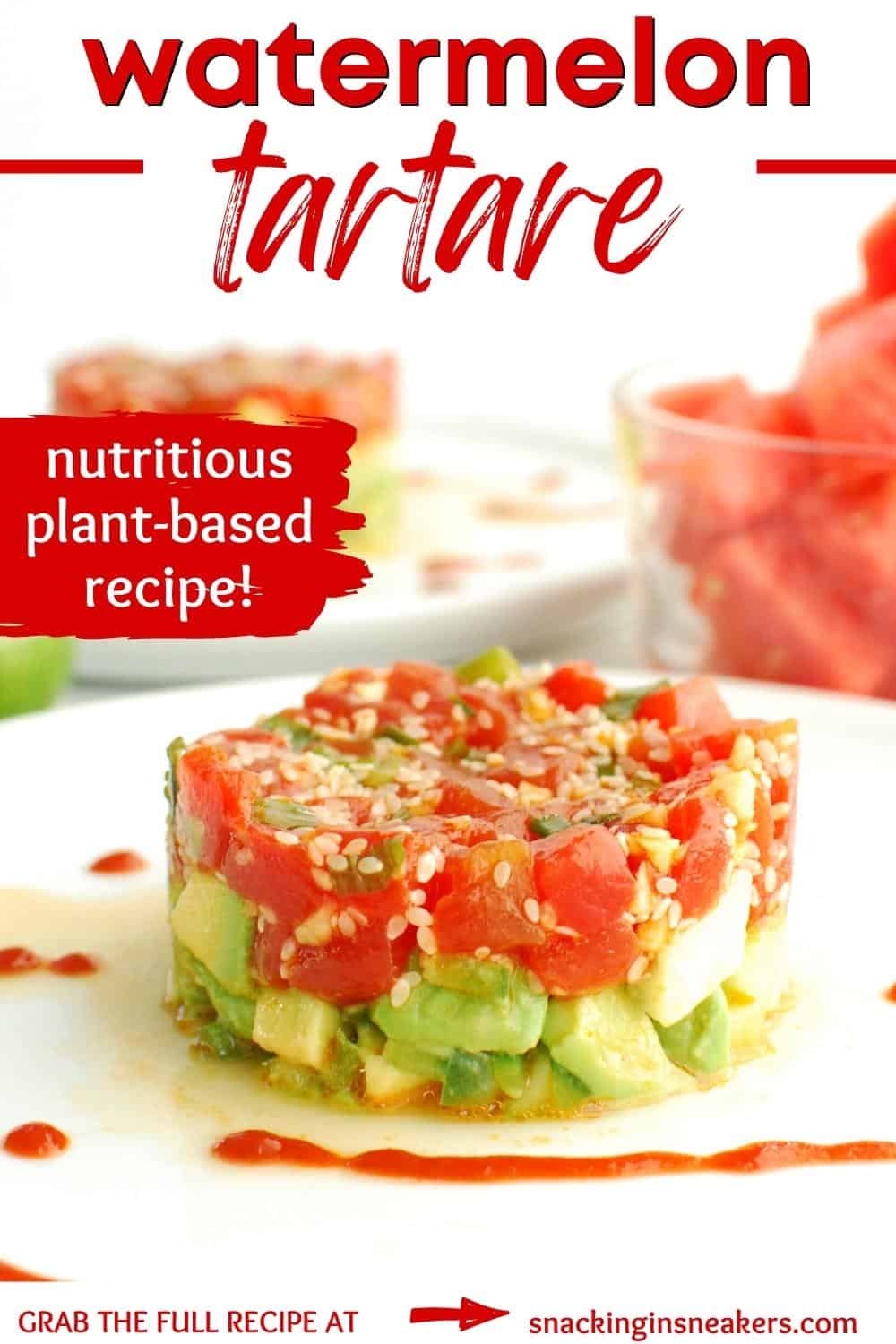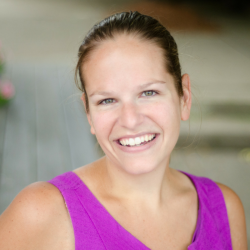 Latest posts by Chrissy Carroll
(see all)