This watermelon panzanella salad is a delicious and unique way to enjoy your favorite summertime fruit! You'll find sweet juicy watermelon, bright cherry tomatoes, and hearty chunks of bread, all tossed in a tangy vinaigrette. It's light, flavorful, and a wonderful addition to your menu this week.
2020 has been a strange year. While in some ways it's seemed like this is the year that is dragging along, in other ways I can't believe how quickly it's flying by. I'm writing this towards the end of September – somehow we're already in fall, despite the fact that I feel like summer started not so long ago.
I absolutely love the fall – the crisp air, bright colored leaves, the apple and pumpkin treats – but I also want to cling to the nice weather we're going to have this weekend for one last summer-like adventure. We're hoping to get outside and do some more axe throwing and archery, then enjoy a little picnic with some smores over a fire, and of course, this watermelon salad to dig into!
What is Panzanella?
Panzanella is a traditional Italian style salad that is thought to have originated in Tuscany. Stale bread is combined with onions and tomatoes, and drizzled with a combination of oil and vinegar. Depending on the region, other ingredients may be added too, like basil and cucumber.
Cultural fusion has brought together numerous iterations of Panzanella, from adding shrimp to peaches to other unique ingredients.
In this case, we're mixing up the traditional version by adding watermelon. The sweet, juicy watermelon adds another layer of texture and flavor to the salad, which consists of mostly classic ingredients otherwise.
How to Make This
This recipe is super simple! You'll find all the instructions in the recipe card at the bottom of the post. To start, you'll chop up your bread, toss it in some olive oil, and bake it in the oven.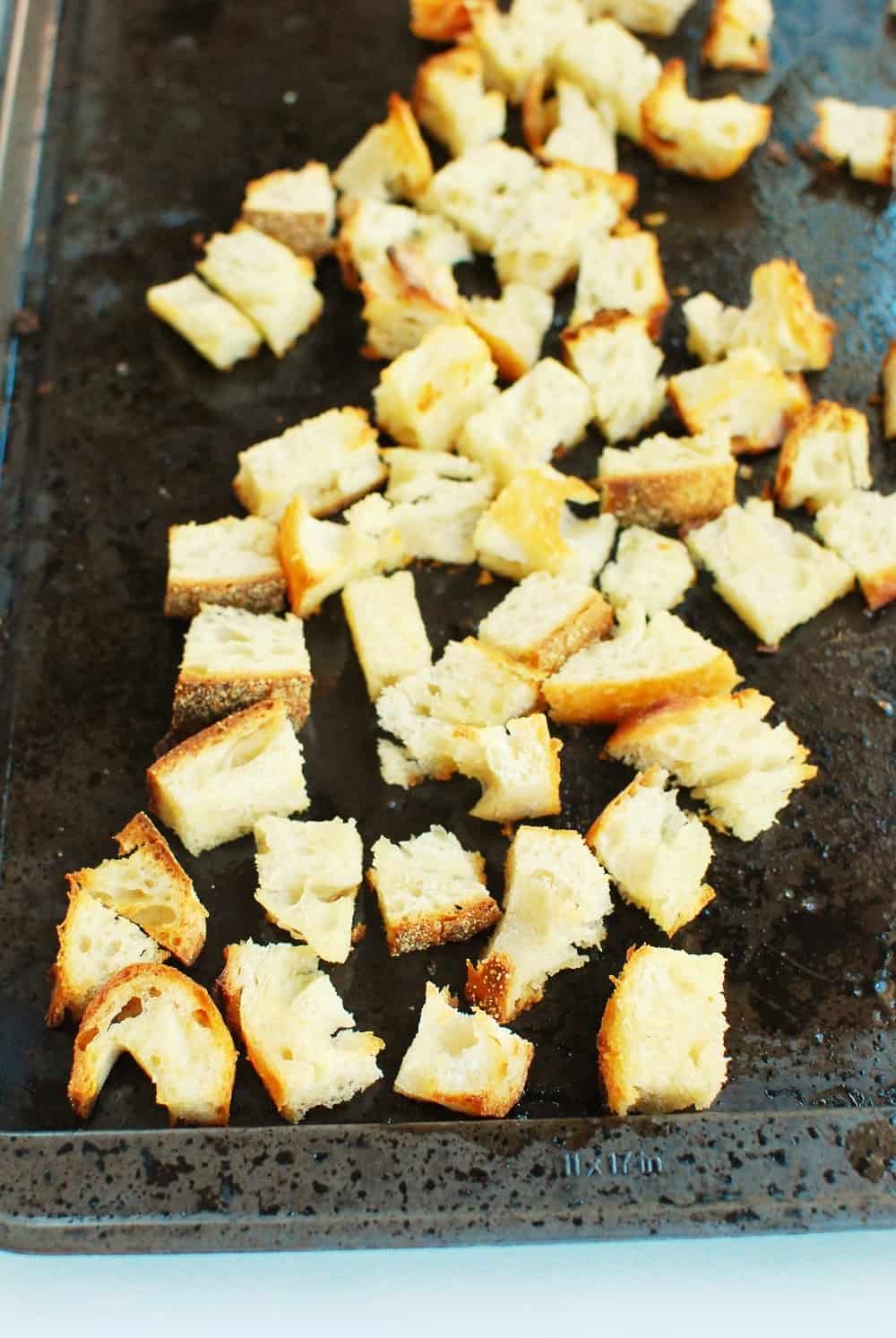 When the bread is crisp, you'll toss it together with your other ingredients:
Watermelon
Cherry tomatoes
Red onion
Basil
The last step is to mix up a simple vinaigrette, then pour that over the salad and toss it all together!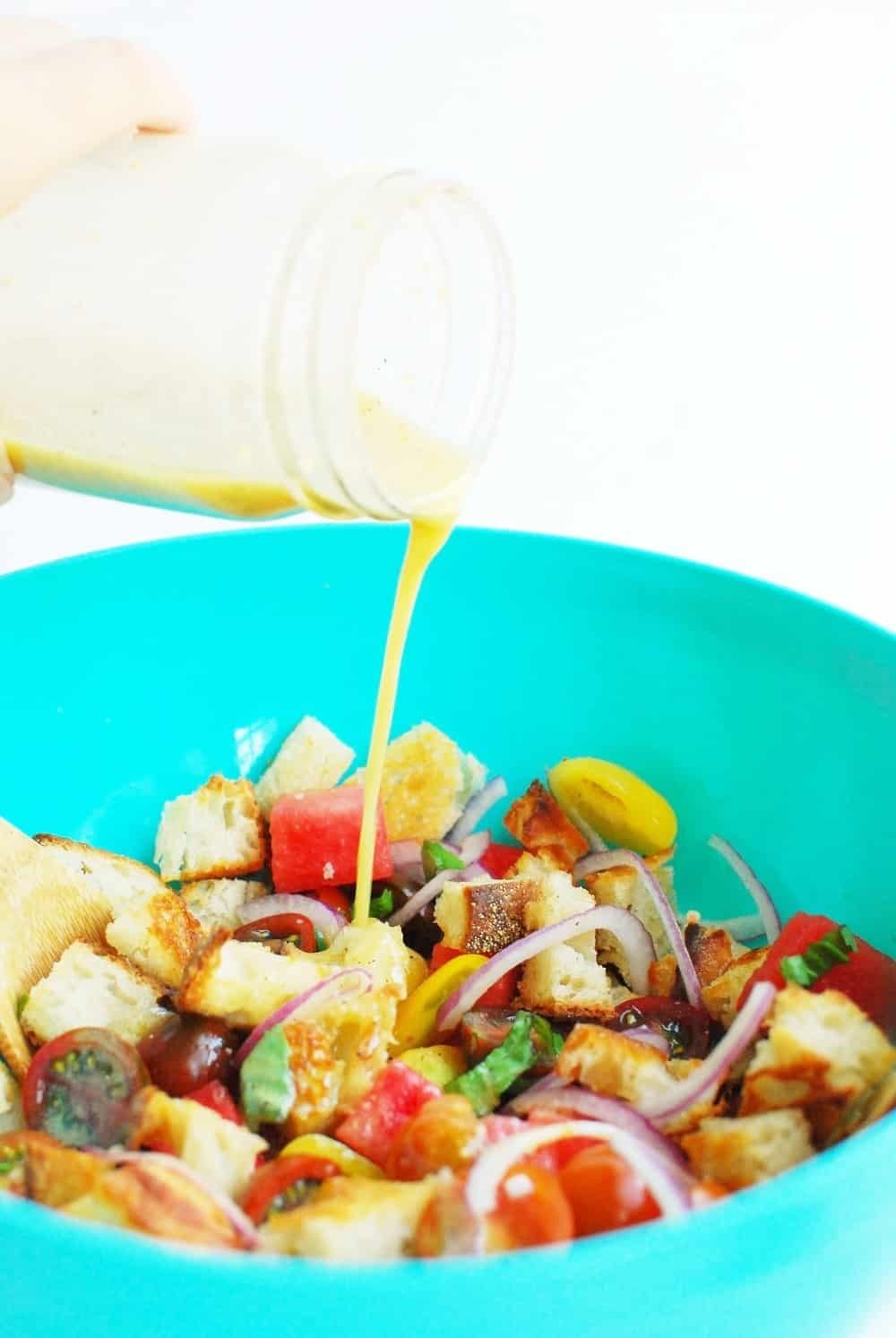 Nutrition Benefits
As a dietitian, I really appreciate all the nutritional benefits of this watermelon panzanella salad recipe (especially for active women). Here's a few highlights:
Vitamin C: This recipe packs in almost half a day's worth of Vitamin C, helping to support your immune system and helping with tissue repair.
Lycopene: Watermelon is the leading fresh source of this phytonutrient, which may be (but is not conclusively) linked to certain types of cancer prevention (source). It also may promote healthy skin by safeguarding you against some of the harmful UV rays in the sun (source) – but keep in mind that's not a substitute for sunscreen.
Magnesium: A serving of this provides 10% of your daily magnesium needs, involved in muscular and nerve function. For all my active pals, magnesium deficiency may affect exercise recovery and muscular health – read more in my post about magnesium for runners.
Potassium: While sodium is the main electrolyte lost during a sweaty workout, we also lose some potassium! Potassium plays a key role in muscle and never contractions, and blood pressure regulation. This salad clocks in at 15% of your daily needs.
Recipe FAQ
Here's some common questions that may arise as you make this recipe:
What kind of bread should you use for panzanella salads? Any good, rustic bread will do. I've been doing a lot of sourdough baking lately, so that's what I used since it's always on hand in my house. But ciabatta, boule, Italian bread, French bread – most will work. The fluffier breads work best if they're a day or two old so they're a bit less tender.
How should you store this? This dish is best served within an hour or so of preparing it. You can store leftovers in the fridge and they will taste great, but some people do not like the changes in bread texture upon sitting overnight in the fridge.
How can you modify this to fit for dietary restrictions? This recipe is already dairy free, nut free, and vegan (as long as the bread you select fits those needs). To make this gluten free, simply use a high quality gluten-free bread instead of regular sourdough bread.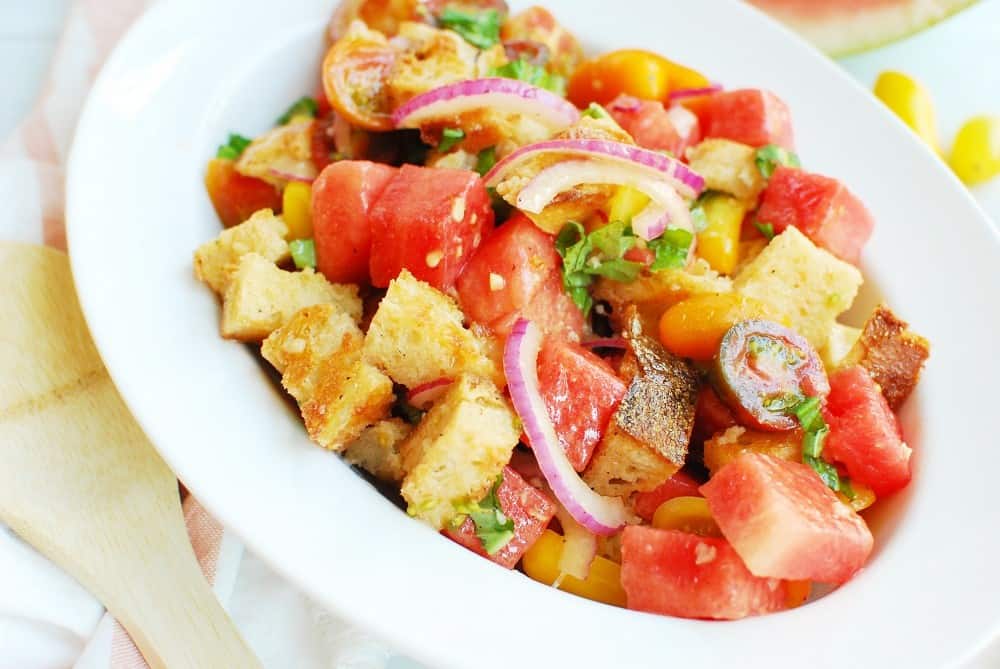 Other Panzanella Salad Recipes
If you're looking for more delicious options, try one of these recipes:
Tuscan Panzanella Salad – This Panzanella Salad is made with ripe and juicy tomatoes, crusty ciabatta and fragrant basil – seriously the best of the summer offerings! The salad dressing packs a flavor punch from anchovies and garlic.
Peach Panzanella Salad – This delicious recipe combines juicy peaches, creamy burrata, and crispy bread. Add on the included dressing and enjoy!
Cara Cara Orange Panzanella Salad – This cheerful salad includes tomatoes, red onion, and arugula mixed with a little oil and breadcrumbs. It makes for a brilliant salad!
I hope you love this recipe as much as I do – I could seriously eat it all day long. If you get a chance to try it, please feel free to leave a recipe rating or comment below.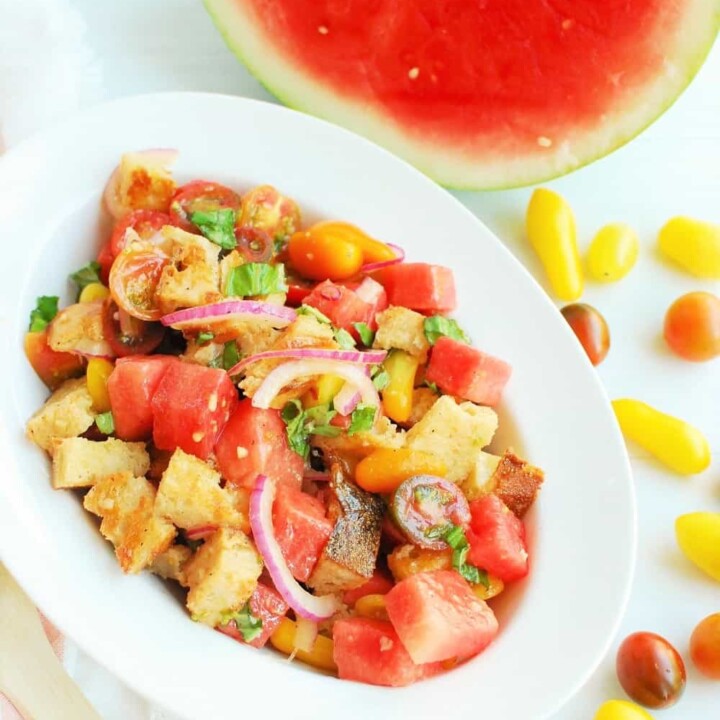 Watermelon Panzanella Salad
This watermelon panzanella salad combines sweet juicy watermelon, bright cherry tomatoes, and hearty chunks of sourdough bread, all tossed in a tangy vinaigrette. Delicious!
Ingredients
For the Salad:
4

cups

chopped sourdough bread

(or ciabatta, Italian bread, boule, etc.)

1 1/2

tbsp

olive oil

3

cups

chopped watermelon

3

cups

halved cherry tomatoes

1/4

red onion, thinly sliced

1/4

cup

chopped fresh basil
For the Dressing:
1/4

cup

olive oil

3

tbsp

apple cider vinegar

(or red wine vinegar)

1

tbsp

Dijon mustard

1

tsp

garlic

½

tsp

salt

¼

tsp

pepper
Instructions
Preheat the oven to 400 degrees F.

Place the bread on a baking sheet. Drizzle with 1 1/2 tablespoons of olive oil, and toss the bread around on the pan to evenly coat. Bake for 8-12 minutes, or until the bread is crisp.

In a large bowl, combine the watermelon, cherry tomatoes, red onion, basil, and baked bread.

Prepare the dressing by combining the olive oil, vinegar, mustard, garlic, salt, and pepper in a mason jar. Place the lid on the jar and shake until well combined.

Drizzle the dressing on the Panzanella salad, tossing to coat everything well. Serve and enjoy.
Notes
Notes:
Day old bread works wonderfully in this recipe.
If you prefer the bread to have a crisper texture, serve immediately. If you prefer the bread to soak up the dressing and be softer, let sit for about 20-30 minutes.
This makes 4 meal-sized servings, or about 6 side dish servings.
Nutrition analysis (approximate per serving, assumes 4 meal-size servings):  322 calories, 20 g fat, 3 g saturated fat, 600 mg sodium, 32 g carbohydrate, 3 g fiber, 12 g sugar, 5.5 g protein, Vitamin A: 38%, Vitamin C: 48%, Calcium: 7%, Iron: 12%, Potassium: 15%, Magnesium: 10%
Nutrition
Share: What's your favorite way to use watermelon in a main dish?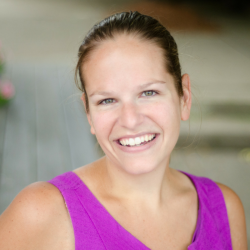 Latest posts by Chrissy Carroll
(see all)