Craving a healthy snack?  Think creatively with these healthy rice cake toppings!  There's tons of delicious options, so you'll always have something yummy to eat. Find plenty of topping ideas along with some of our favorite rice cake recipes.
When people think of rice cakes, they often think of being on a diet. You know, the cardboard-esque, low-calorie snack touted by dieters as long for as you can remember. Rice cakes are often thought of as being bland and leaving people hungry and unsatisfied. But they do not have to be!
Rice cakes can actually be a canvas for creativity and can complement a diverse range of flavors. The crunchy base lends itself perfectly to a variety of rice cake toppings that add flavor and nutrition. And since the rice cake itself is generally gluten free and vegan (but always check labels to verify), it can be an excellent snack-starter for anyone with dietary limitations.
Read up to learn more about the types of rice cakes I love for a base to my healthy snack, and then more than 50 different topping combinations for you to try!
Note: This post was first published in 2020 and has been updated in 2022.
Disclosure:  This post contains Amazon affiliate links.  As an affiliate, I earn a commission on qualifying purchases.
What kind of rice cakes should I start with?
There are a plethora of options to choose from, from whole grain rice cakes to flavored rice cakes. Here are a few of my favorites:
Now let's get to topping these bad boys!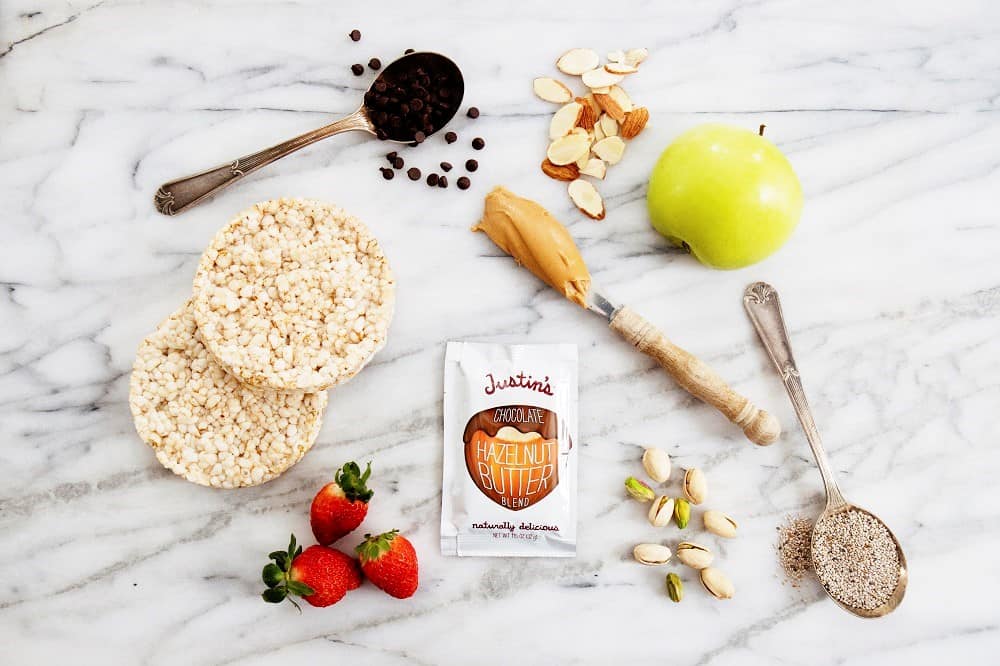 50+ Rice Cake Topping Ideas
Here are a ton of rice cake snack ideas, separated out by category with specific pairing combinations in each category!
Greek Yogurt + Toppings
Greek yogurt is a great way to add in protein (to keep you full longer and support muscle recovery), calcium (for bone health), and probiotics (for gut health).
We love to buy a big tub of lower-added-sugar vanilla greek yogurt and pull from it throughout the week for snacks, including topping rice cakes. Siggi's is great for this, or you can also find store-brand or other brand options.
If you're looking for a brand with very minimal sugar, Two Good is also a nice one to try – it's got 12 grams of protein and 2 grams of added sugar in the little containers. It's sweetened with stevia, so keep that in mind depending on your preferences. Ironically, I'm not a huge fan of most stevia-sweetened products but I do really like this yogurt.
To further complete your snack, add toppings like:
Granola (Tip – when choosing a granola, look to limit the sugar content and find one that includes nuts or seeds. The fat, protein and fiber will help tide you over until lunchtime. You can also try this no added sugar granola recipe.)
Strawberries
Raspberries and lemon zest
Pecans or walnuts
Almonds and honey
Sliced bananas 
Sliced apples with cinnamon
Half of a chopped up protein bar
Hemp hearts
Nut/Seed Butters + Toppings
Nut butters are delicious in pretty much any snacking form, and rice cakes are no exception. Whether you prefer almond, peanut or cashew, all provide healthy fats and a little protein to keep you full and satisfied throughout the afternoon.
Here are a few of my favorite recipes and brands:
Nut Butters:
Seed Butters (great for those who are allergic to nuts):
While a rice cake slathered with nut butter alone is perfectly delicious in my book, you can also dress it up with extra toppings. Here are a few ideas that work well:
Cinnamon
Raisins
Honey
Sliced bananas
Ground flaxseed
Coconut flakes
Chia seeds
Berries
Pumpkin seeds
Dark chocolate chips (I love this brand which is top 8 allergen free)
White chocolate chips (not the healthiest option on the list but darn delicious, haha)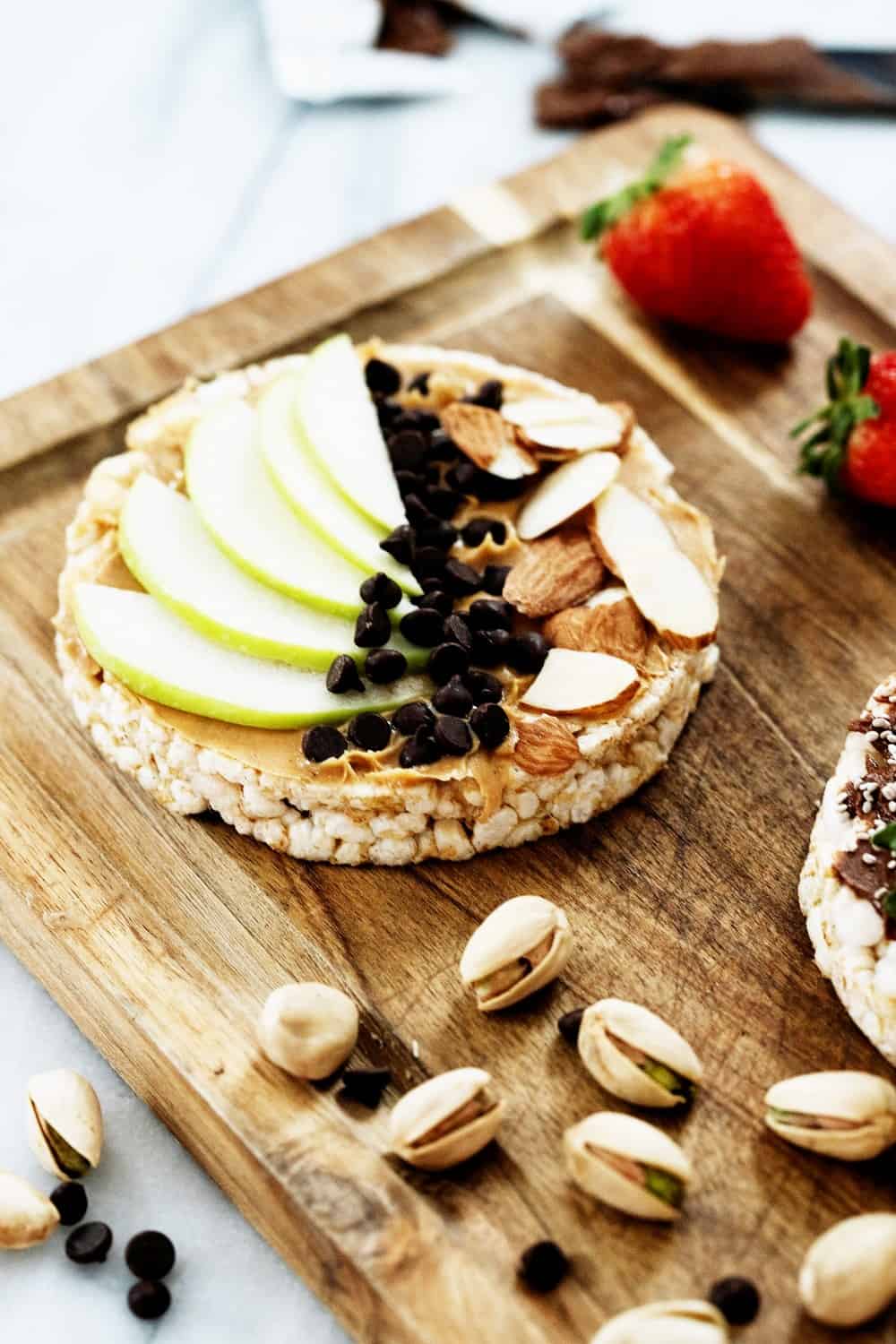 Cottage Cheese + Fruit
There are two types of people in this world: those who love cottage cheese and those who hate it. 😉 I'll fully admit that it's not a natural love for me in snack form (though I do love it in recipes, like my cottage cheese pancakes). But that said, if you're a fan for snacking, it goes wonderfully on rice cakes!
It's great nutritionally because it's got a high protein content, which makes it wonderful for active folks who are trying to meet their needs. And of course, it's got a delicious salty flavor. Stores often stock varieties from fat free to 4% milk fat, so you have a range of options when making a selection.
Try putting a thin layer of cottage cheese on a rice cake and topping with sliced peaches, pears, or pineapple. Canned fruit actually works really well for this idea, so you can always have that on hand in your pantry. This combo provides a perfect mix of salty/sweet and crunchy/soft in every bite.
Hummus + Toppings
Hummus is made from chickpeas, generally processed with olive oil, tahini, lemon juice, and often additional seasonings. It contains healthy fats and some fiber to keep you full and satisfied.
There are so many flavors of hummus to try these days, from roasted red pepper to garlic to olive and everything in between. Finishing the hummus off with additional toppings provides extra flavor and fun – for example, you can try:
Spices like everything bagel seasoning or black sesame seeds
Squeeze of lemon juice
Sliced tomatoes
Cucumbers
Sliced radishes (one of my favorites!)
To make it a dessert, you can also try chocolate hummus (yes it is a thing, and it is amazing) and strawberries.
Bean Dips or Refried Beans
In addition to hummus, you can also find – or make! – a variety of bean dips, like black bean dip or white bean dip. I tried this rosemary white bean dip on rice cakes a few weeks ago and it was incredible.
If you don't feel like topping your rice cake, you can break off pieces and just dunk 'em into your bean dip.
Or, try spreading leftover refried beans on your rice cake and then topping it with veggies (like tomatoes and peppers) or a fried egg.
Avocado + Toppings
Everyone loves avocado toast, so why not add it to your rice cake? Full of yummy healthy fats and fiber, it makes for a savory and filling rice cake topping.
Here are a few ideas for topping your avocado rice cake:
Fried egg
Everything bagel seasoning (ALDI sells this now if you don't have a Trader Joes near you!)
Sriracha
Lemon juice
Cayenne pepper
Sliced tomatoes
Feta and scallions
Sweet corn
Beans
Salsa
Sprouts
Jerk shrimp
Ricotta + Toppings
I feel like ricotta is the most underappreciated cheese of the dairy world, but it's one of my very favorites. Ricotta can go in a sweet or savory direction, making it very versatile. Here are some of my favorite additional toppings for rice cakes with ricotta:
Berries
Cooked sliced beets (regular or golden)
Honey
Pistachios
Cacao nibs
Dark chocolate chips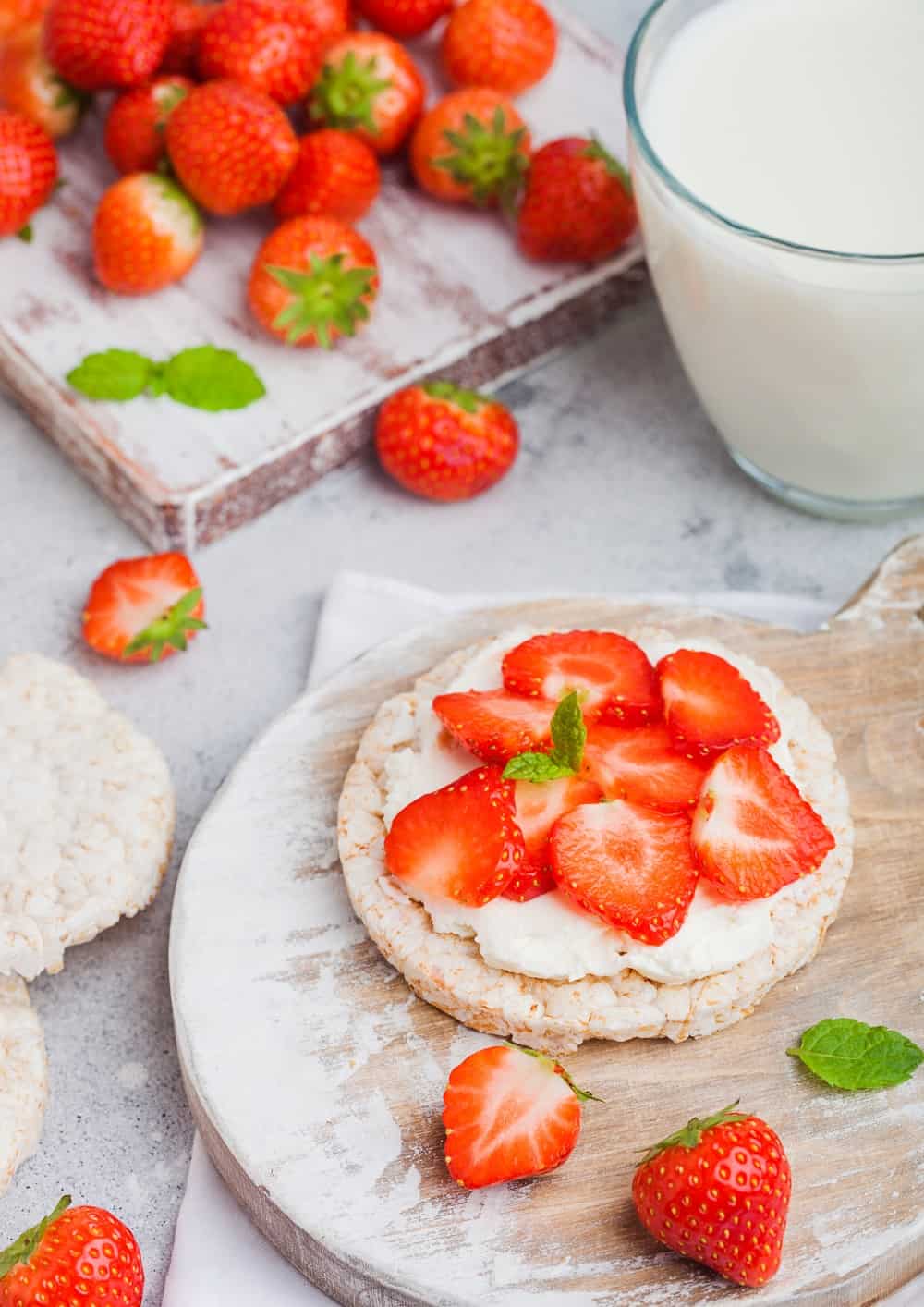 Goat Cheese, Fruit, + Nuts
If you have never tried goat cheese, add it to your adventurous eating checklist – many people find it quite delicious. Goat cheese, or chèvre, is often bought as a soft cheese and is a good option to spread on a rice cake. Cheese also contains fat and protein for satisfaction.
Try spreading it on a rice cake and then adding chopped pistachios and a drizzle of honey – a must try!
Chicken Salad or Tuna Salad
Make an open-faced chicken or tuna salad sandwich, using a rice cake instead of the standard bread. Both are amazing options for protein sources.
Many seafood companies make individual pouches of tuna and chicken salad, which come in flavors like buffalo, Thai chili and bacon ranch. They are individually wrapped and perfect portions for a rice cake! You can add lettuce or tomato for more vitamins and some veggies too.
Meat and Cheese
Take the last idea one step further and make any type of open faced sandwich. Here are just a few ideas:
Turkey and cheese
BLT (bacon, lettuce, tomato)
Ham and cheese
Roast beef and spicy mustard
Club sandwich
Add in veggies to further elevate the rice cake and get that nutrient boost!
Tahini + Toppings
Tahini is something a lot of people may not have heard of, but have probably eaten at some point. It's ground up sesame seeds, and is one of the key ingredients in hummus. This is another way to add some healthy fat to the rice cake to keep you satisfied.
You can usually find regular tahini at your grocery store, either near the nut butter section or sometimes in the "natural" foods section. You can also find various brands on Amazon if you can't spot it at the store and want to order it online instead.
Here are some ideas for additional toppings on your tahini rice cake:
Chopped dates
Pistachios
Pomegranate seeds
Cacao nibs
Dark chocolate
Zaatar seasoning
Maple syrup
Charred eggplant
Grilled chicken
Apples and honey
Try mixing cocoa powder into the tahini for a chocolate spread that can be topped with strawberries
Tzatziki + Toppings
Tzatziki is often found in the hummus section of the grocery store. It's traditionally made with Greek yogurt, cucumbers, garlic, oil, and fresh herbs. It is a good source of protein and provides a tangy flavor, making it awesome to use as a rice cake topping.
Cedar's, Boar's Head and Opaa are three brands of tzatziki that are commonly found at most grocery stores. Another option would be finding a recipe online and making your own (I often use this recipe since I never seem to have fresh dill on hand!).
Once you've spread on the tzatziki, add on one of these topping ideas:
Cucumber
Tomatoes
Olives
Feta cheese
Cooked chicken
Pizza
You've done regular pizza, pizza on a bagel, pizza on an English muffin…and now you're going to do pizza on a rice cake!
Start with a pizza sauce or a marinara sauce, or pesto if you'd like. I like Otamot, a tomato sauce that's made with just veggies and no added sugar. But use anything that floats your boat!
Next, top it with cheese like mozzarella, parmesan, or even a vegan cheese if you need that your diet. After that, top it off with protein and/or veggies. Some of my favorites are black olives, ground turkey, chopped spinach, mushrooms or peppers.
After you finish topping the pizza, heat in the oven until the cheese is melted. If you like your cheese to get a little brown- put under the broiler for a minute or so. Make sure to keep a close eye on it because it browns quickly.
Bonus tip – you can also use rice cakes as a base for pizza style lunchables when you're out of flatbread or naan. Just add the rice cakes, sauce, cheese, and toppings and let 'em assemble and eat it cold.
Salmon Dip
That's right, our canned salmon dip tastes amazing on top of a rice cake! This is obviously more of a pre-planned snack than a quick grab and go option. But on the weekend, you can whip up a batch of the dip and serve it with veggies and rice cakes for your family. It's a great way to get more omega-3 fatty acids into your diet.
Cream Cheese / Neufchatel + Toppings
While cream cheese on it's own isn't exactly a nutrient-packed food, it provides that delicious creamy, rich taste on a rice cake – and can then be layered up with more nutrient-dense options! Neufchatel is just a fancy term for low fat cream cheese. Choose whichever one you prefer, and then try one of these topping ideas:
Everything bagel seasoning
Smoked salmon and dill
Cucumbers
Sliced strawberries
Chives or green onions
Olives
Shrimp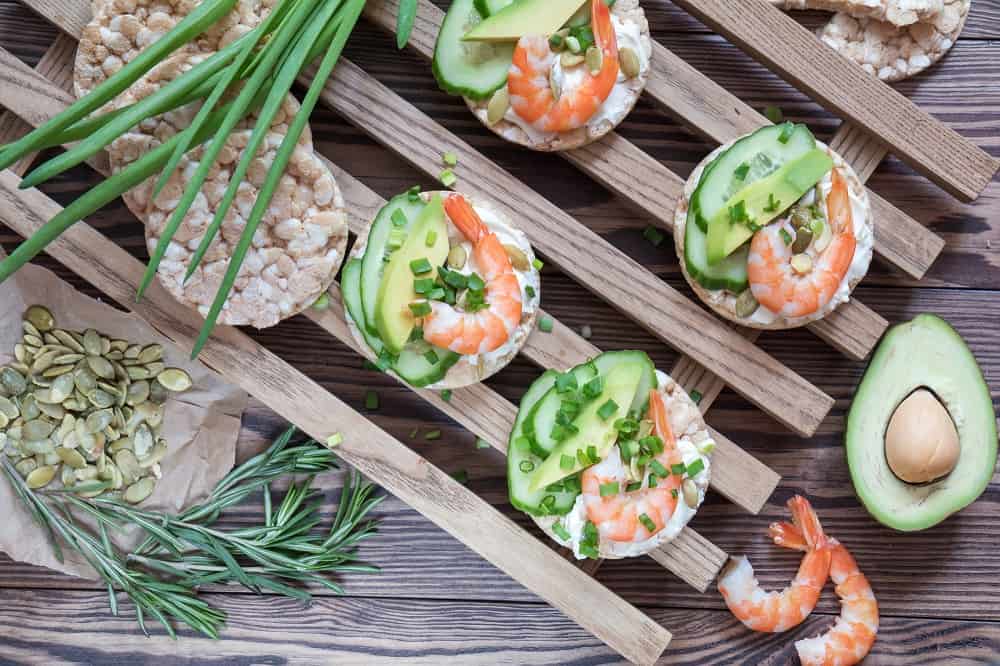 5 Delicious Rice Cake Recipes
Overwhelmed by the topping combinations above? Not to worry! Here are 5 creative rice cake recipes that are flavor tested and RD approved. 😉
1. Savory Salmon Snack
Mash 1⁄3 of an avocado and spread it over two rice cakes. Top with everything bagel seasoning and 2 ounces of smoked salmon.
2. Triple Chocolate Craving Crusher
Spread 2 tbsp of chocolate coconut macadamia nut butter over two rice cakes. Top with cacao nibs and dark chocolate chips.
3. Just Beet It
Spread ¼ cup of part-skim ricotta on two rice cakes. Add leftover roasted beets and a drizzle of honey.
4. PB&B
Spread 2 tbsp of peanut butter on two rice cakes and top with a sliced banana. Easy peasy!
5. Protein-Packed
Spread ¼ cup of vanilla greek yogurt on two rice cakes. Top with raspberries and hemp hearts.
The Bottom Line
Rice cakes can be a great vessel for healthy snack combinations! I hope these topping ideas give you some culinary inspiration and help you to get creative in the kitchen, adding variety to snack time.
Share:  Got any other topping ideas?  Share 'em in the comments!
Feel free to pin this post to save for later!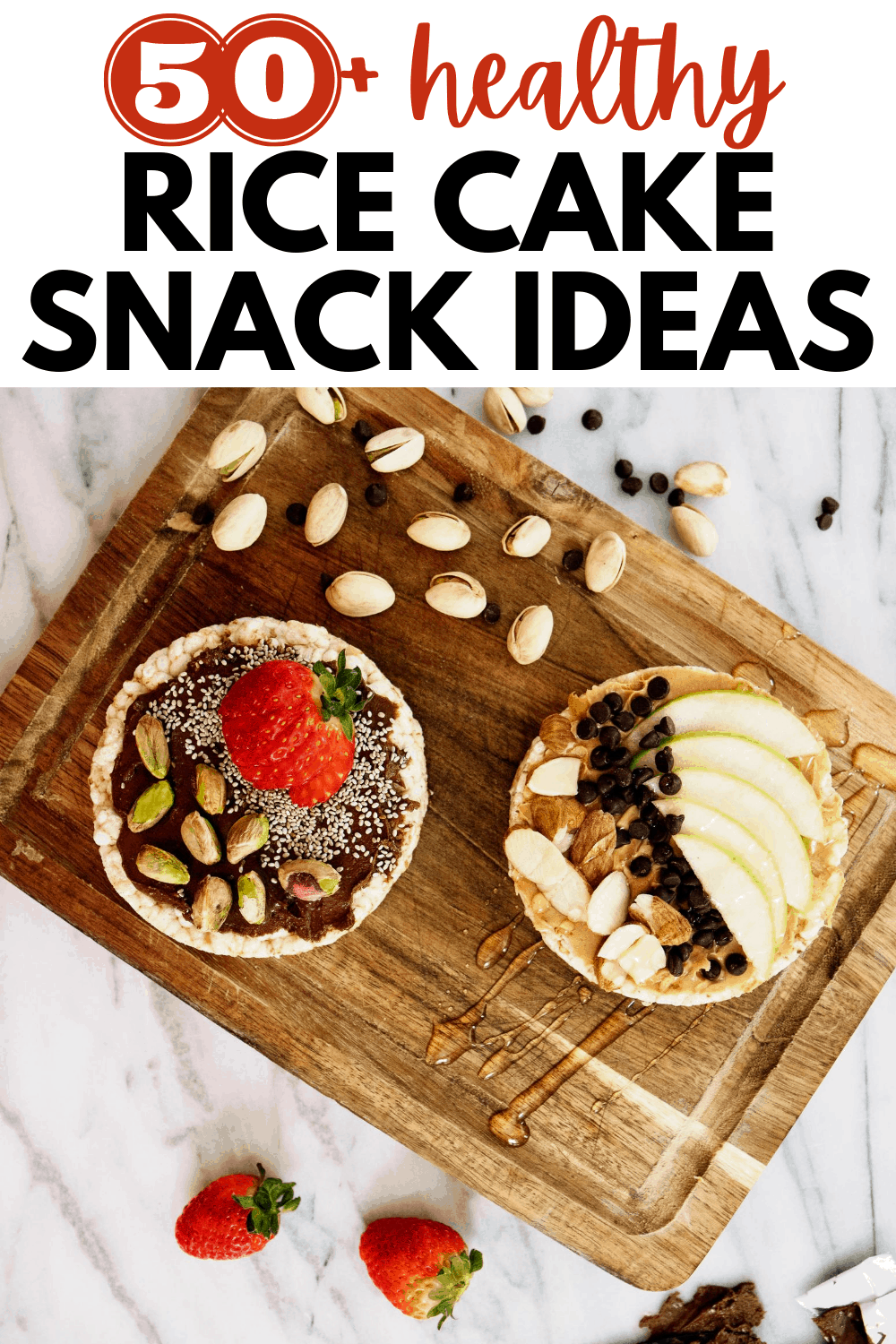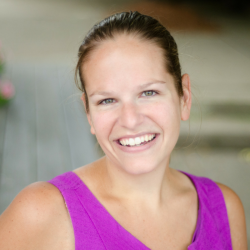 Latest posts by Chrissy Carroll
(see all)