Are you a bagel lover? If so, you'll want to try this scrumptious twist on this breakfast staple! These cottage cheese bagels have the perfect texture and require just four ingredients to make 'em. Plus, they are packed with 11 grams of protein each!
Whether you want to slather yours in cream cheese or butter, or use them as a base for a breakfast sandwich – I think you'll be hooked on this easy and healthy breakfast recipe.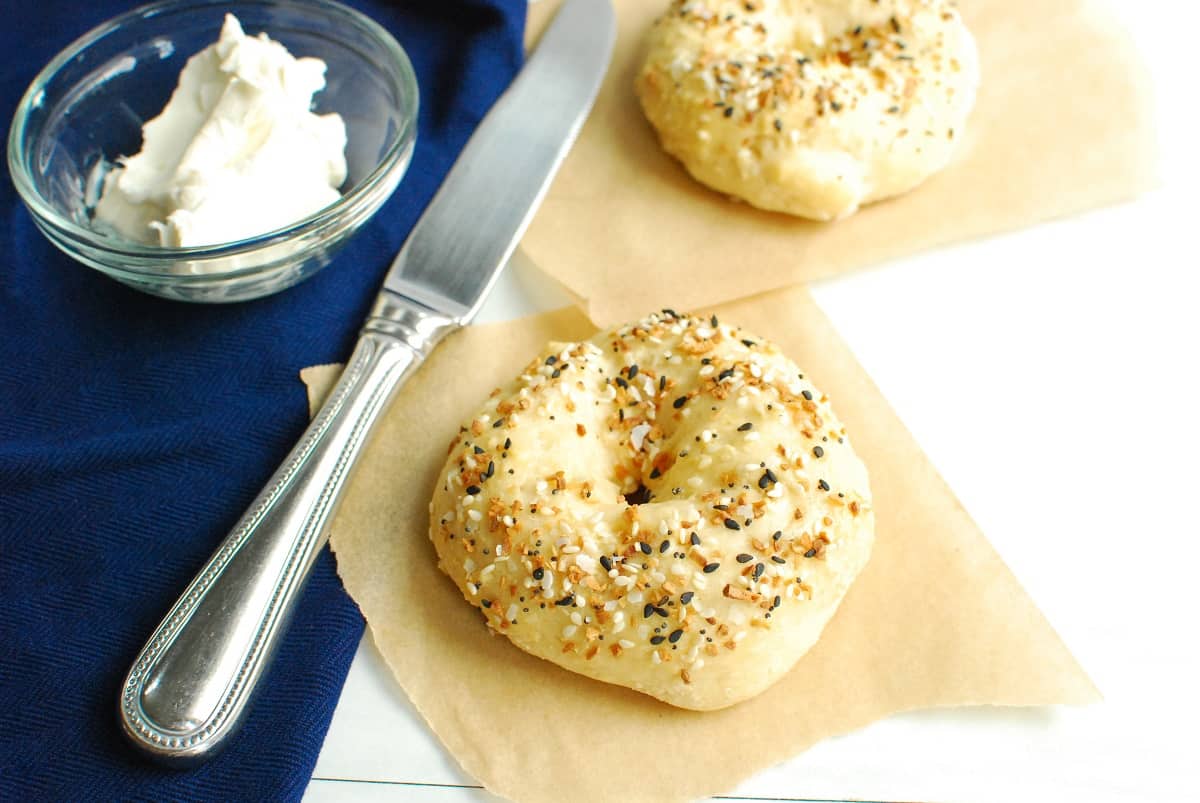 Ingredient Notes
Here's a photo of all the ingredients you'll need – just 4! – along with notes on each: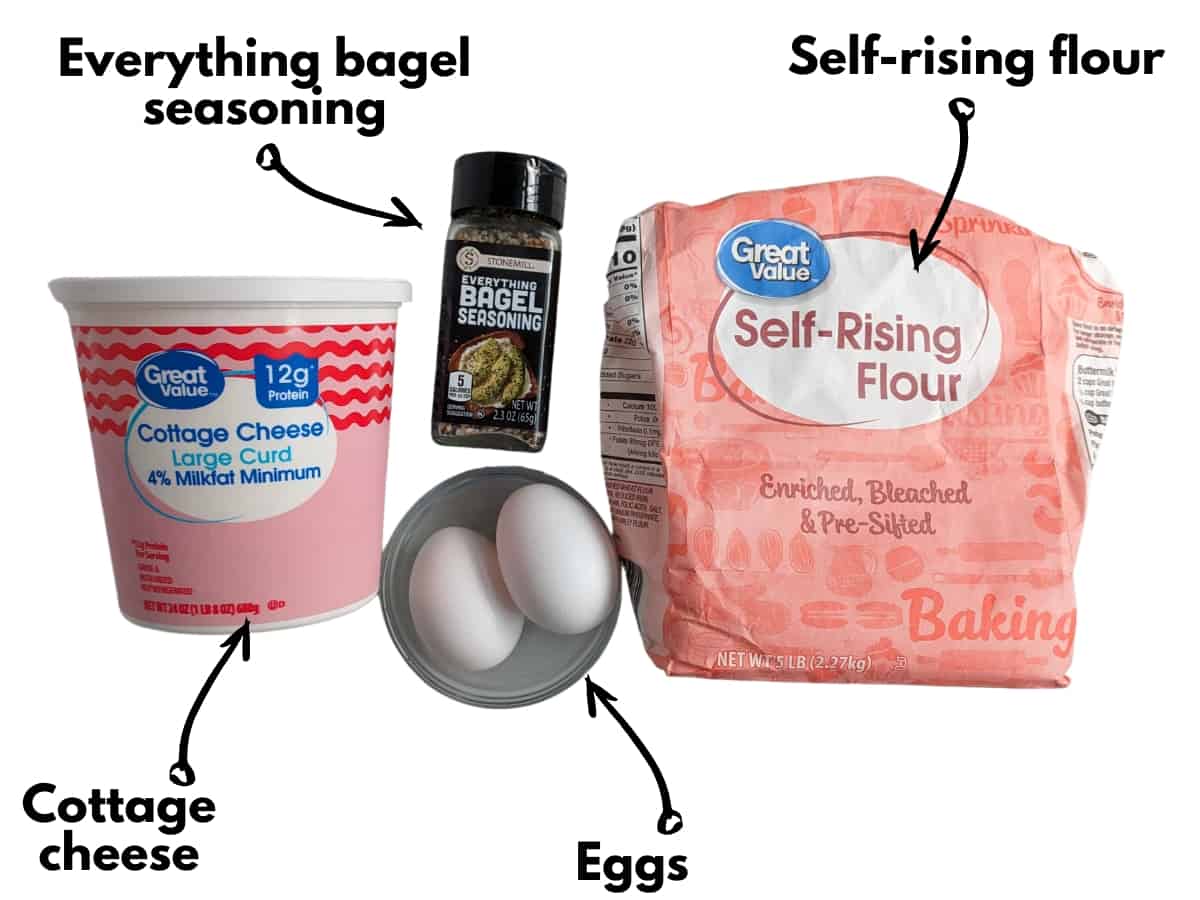 Cottage cheese – I like 4% milkfat cottage cheese for this recipe, as I think the extra fat adds a little richness to the dough. But you can use whatever you have on hand.
Self-rising flour – This flour already has salt and baking powder mixed in. Do not try to substitute all-purpose flour alone; it will not work. If you don't have self-rising flour on hand, you can use 1 cup all-purpose flour + 1 ½ teaspoons baking powder + ¼ teaspoon salt.
Everything bagel seasoning – I find mine at ALDI, but I know Trader Joes and other grocery stores have their own version too. If you don't have this on hand, feel free to skip it and just make plain bagels.
Egg – You'll use one egg in the dough, and then the other egg will be whisked with a little water for an egg wash. Once the dough is formed into bagels, you'll brush the egg wash on and top with the seasoning before baking. The egg wash has two roles: helping the seasoning to stick and also promoting a browning on top that gives the bagels their nice golden color.
Instructions
You'll find the full recipe amounts and instructions in the recipe card below, but here's a helpful overview with photos and tips. This recipe is super easy!
Start by adding the cottage cheese and egg to a blender cup (or small food processor bowl). You'll need a small blender cup as there aren't enough ingredients to blend in a normal size blender (the mixture won't reach the blades). You could also use an immersion blender in a bowl if that's easier.
Blend for about 30 seconds, until the cottage cheese and egg mixture is smooth and creamy.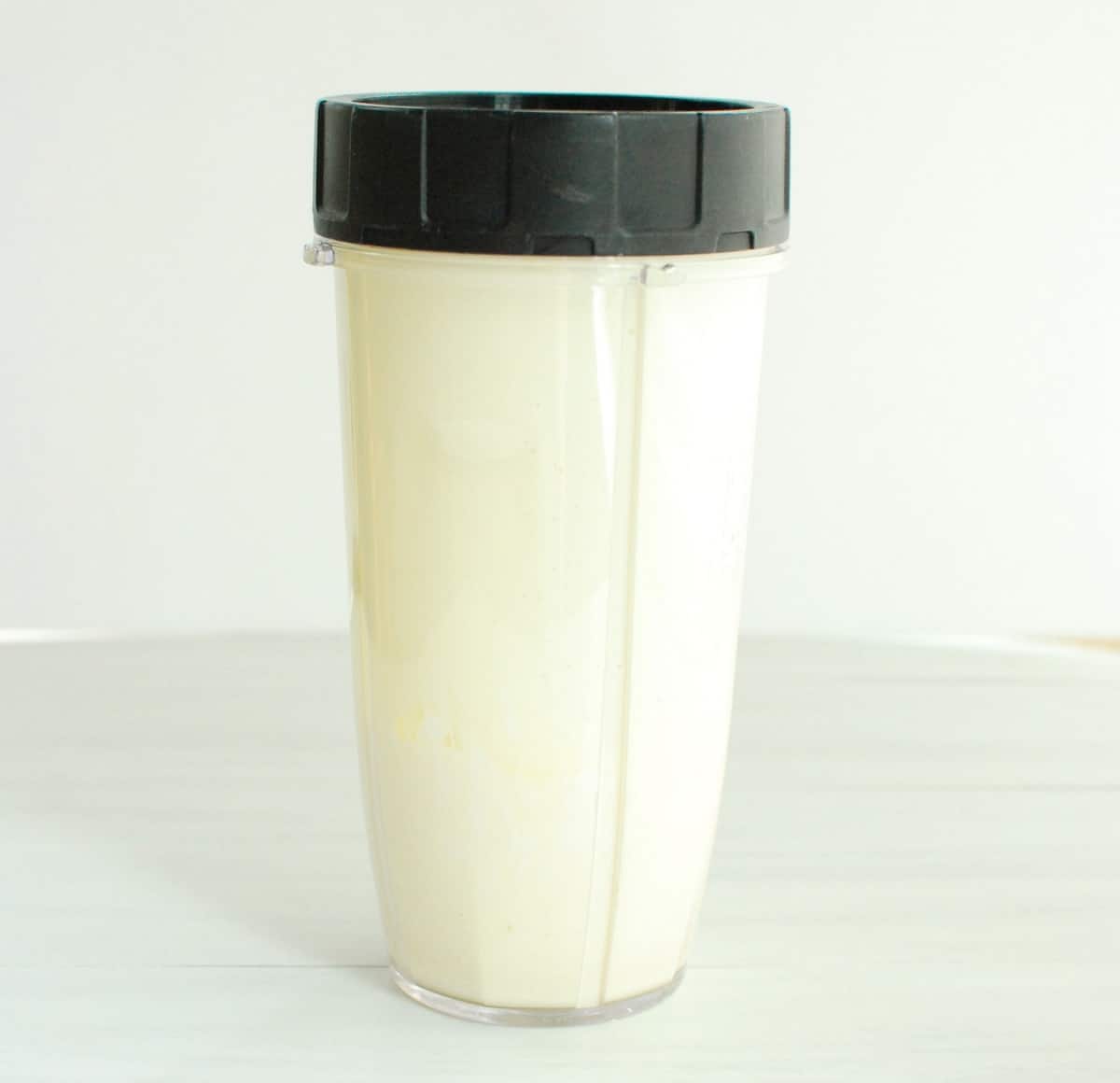 Pour that into a large bowl.
Add the self-rising flour and mix until it's combined.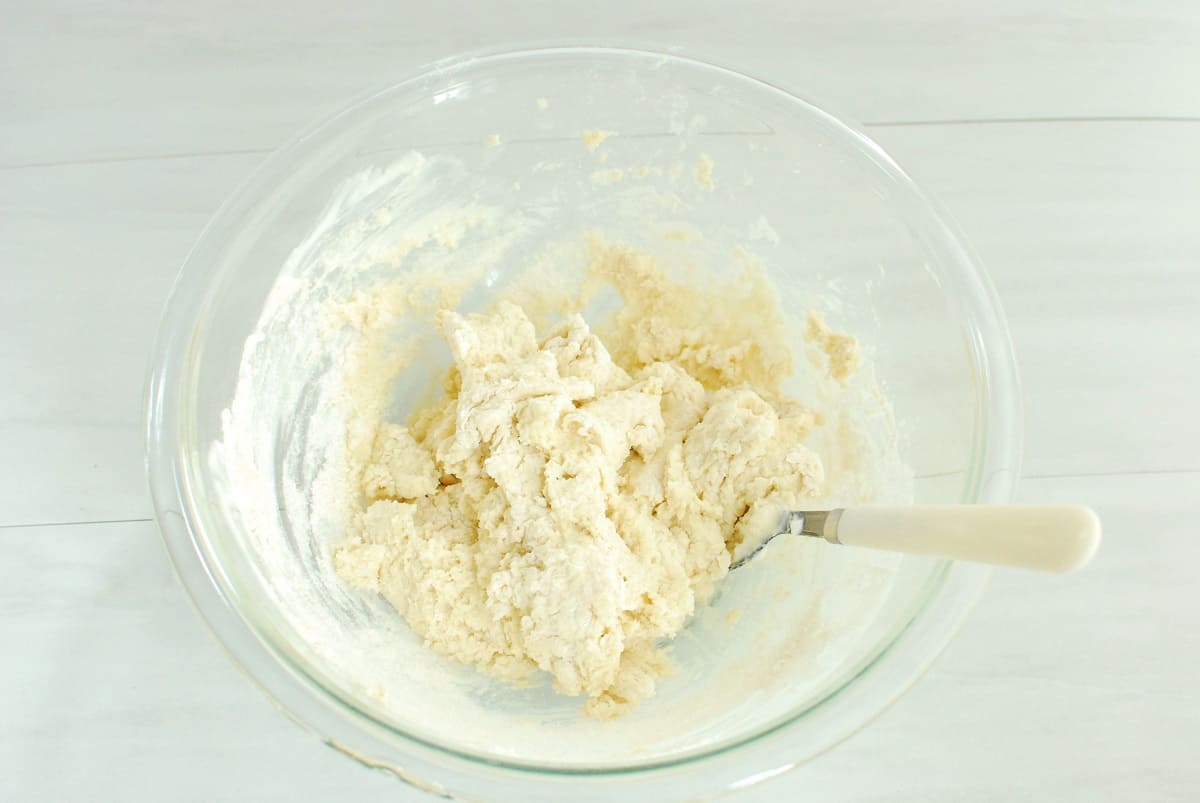 Lightly flour your hands, and knead the dough a few times in the bowl, getting all the ingredients to come together into one large ball of dough.
Break that ball of dough into four sections.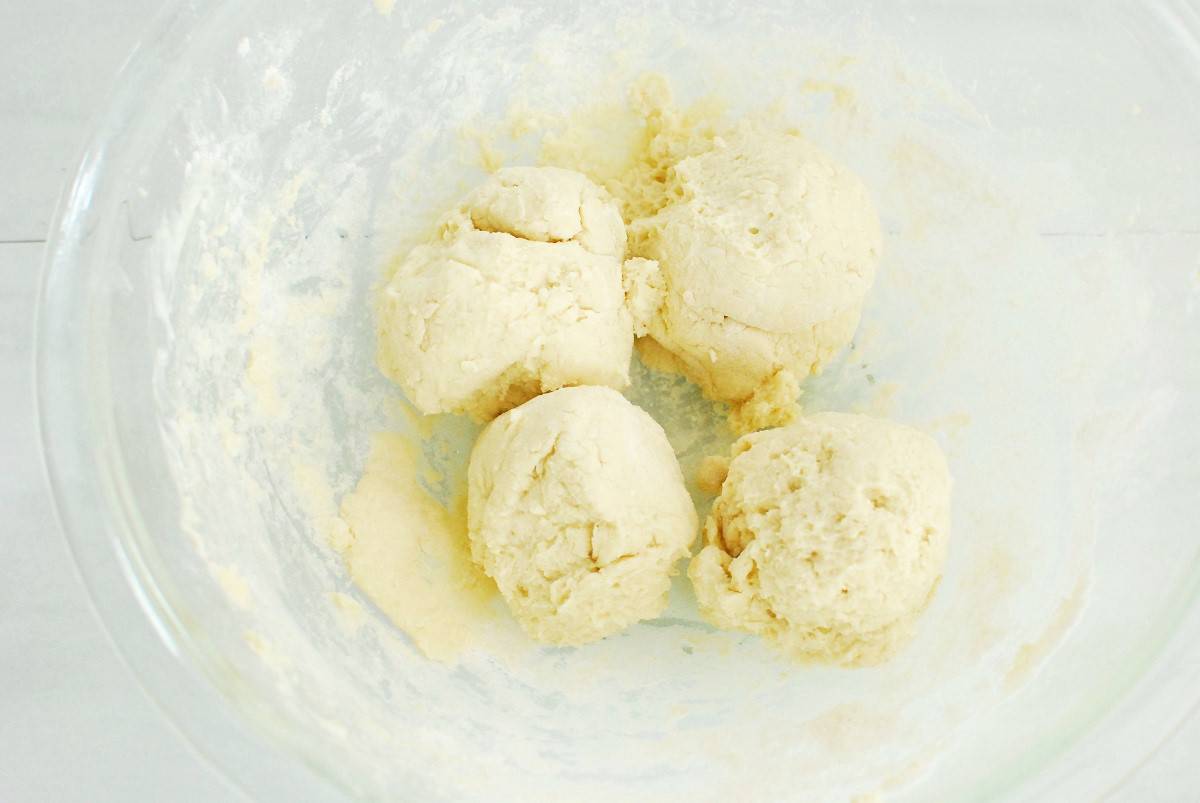 Roll each into a ball and poke your thumb through the center, then gently stretch it into a bagel shape.
Place those on a parchment-lined baking sheet.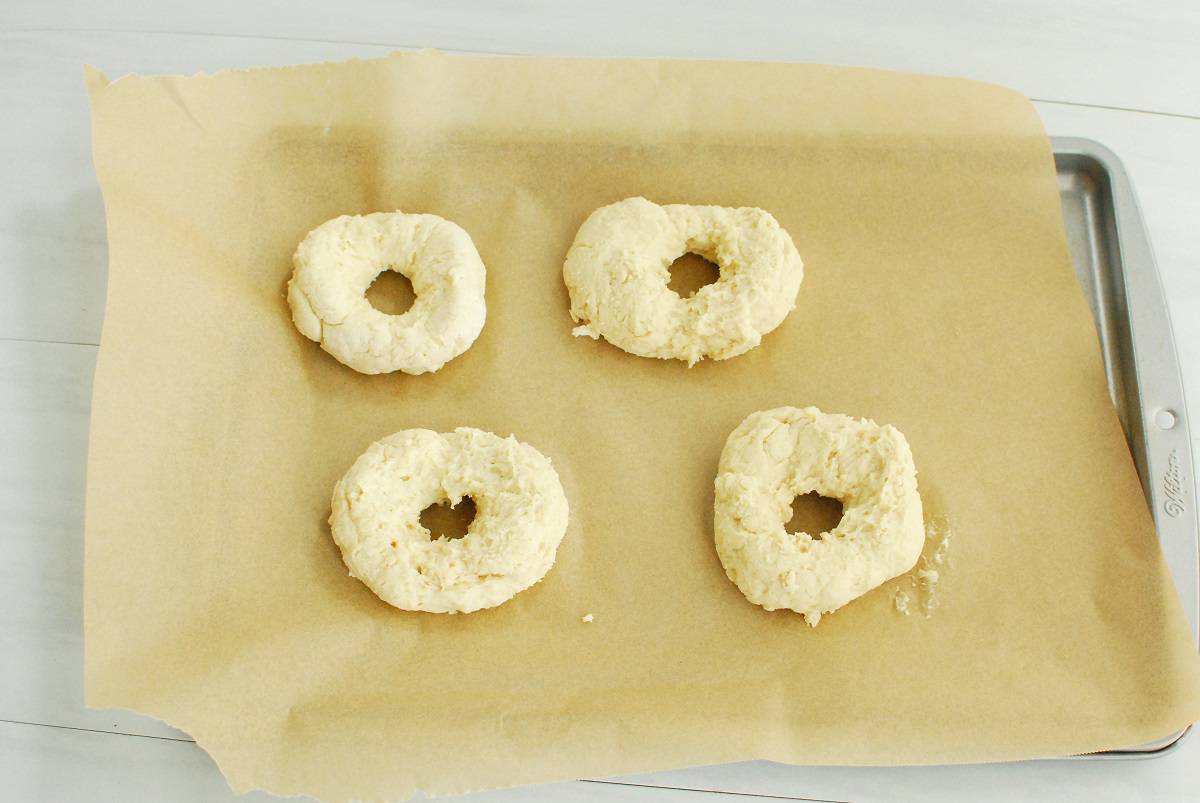 Then brush with the egg wash and top with the seasoning.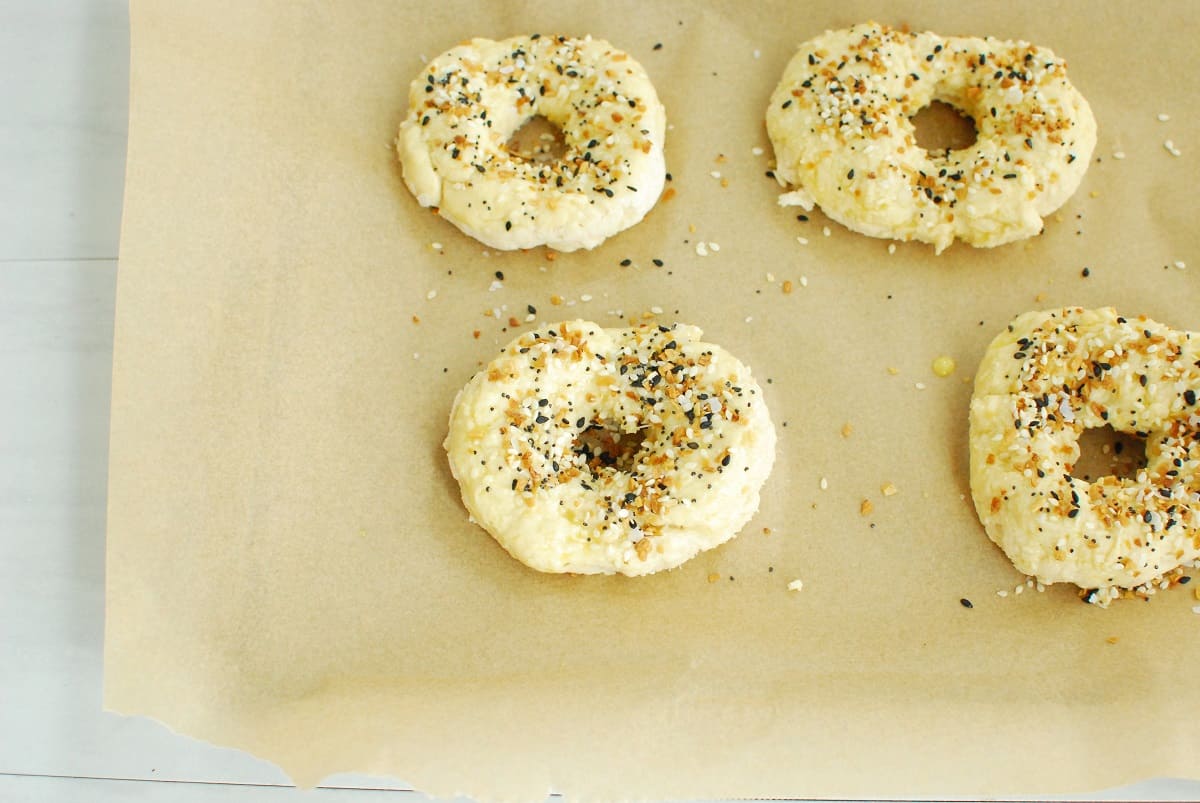 Bake 'em for about 20-25 minutes, until lightly golden on top and cooked through.
Now just let them cool on the pan, then slice and top with whatever your heart desires!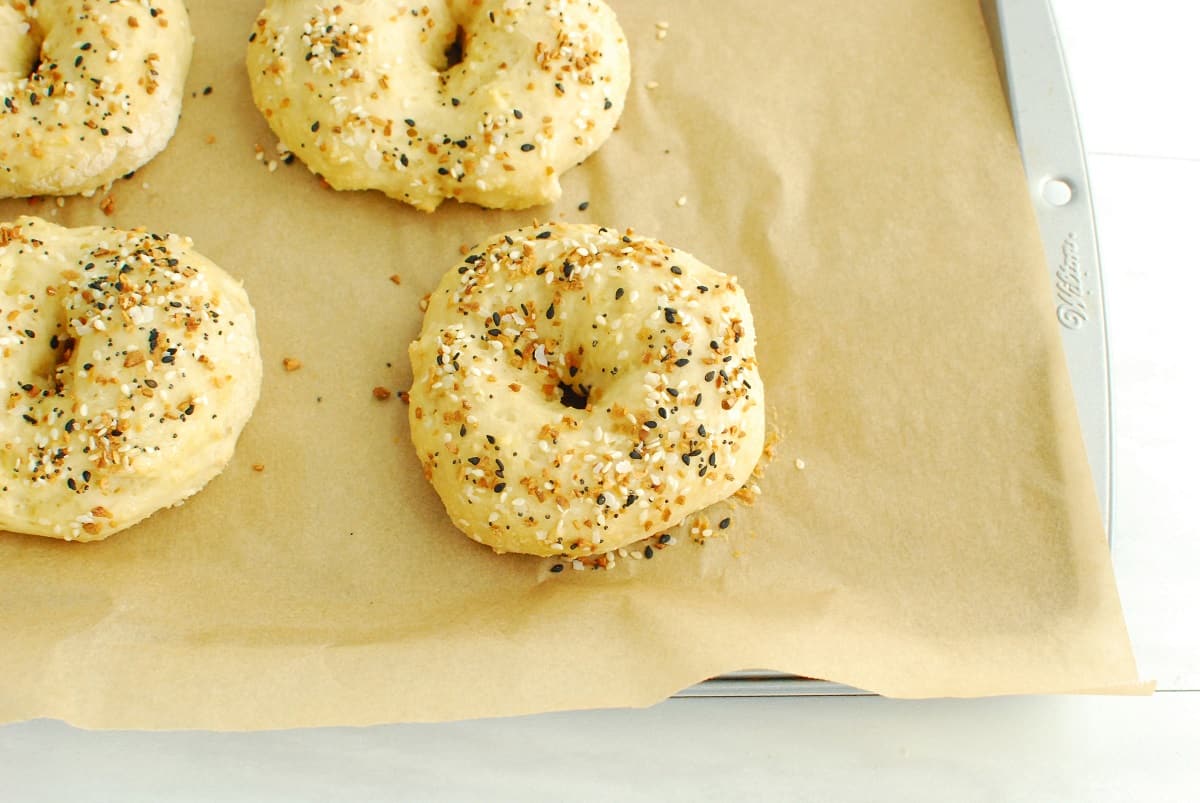 Recipe FAQ
Here are some common questions that may come up as you're preparing this recipe:
Can you substitute cottage cheese with another ingredient in bagels?
Cottage cheese plays a crucial role in this bagel dough, providing moisture and a subtle tanginess. You can use plain Greek yogurt as a substitute but you may need to play around with the amount of self-rising flour that you use to achieve the right consistency.
Can you taste the cottage cheese in bagels?
No, it doesn't have a strong taste. Even if you're not a fan of cottage cheese, you might be surprised how much you enjoy these bagels!
How should you store cottage cheese bagels?
These are best eaten freshly made. If you have leftovers, you can store them in an airtight bag at room temperature for up to 1 day. If you make extras and want to store longer than that, slice them and then freeze them in an airtight container for up to 3 months. You can toast them directly from frozen (note it may require longer toasting times).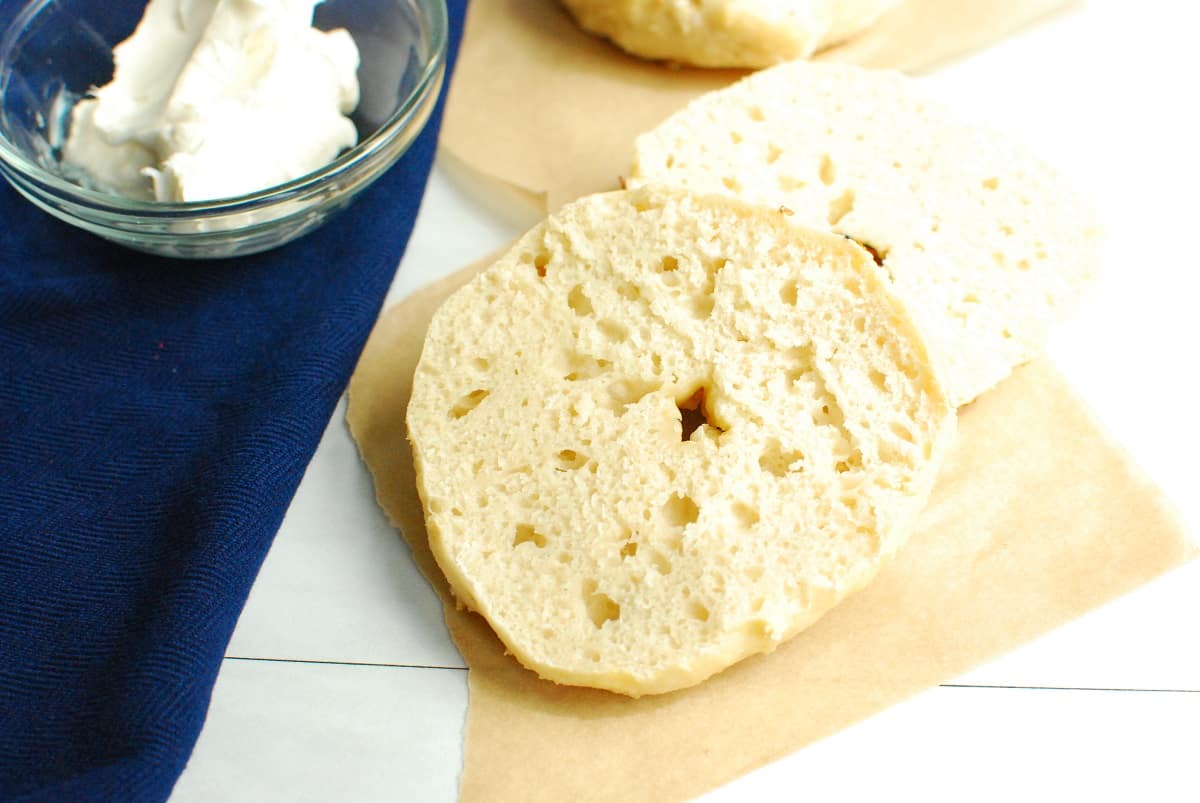 Nutrition Benefits
Don't get me wrong, I love a big 'ol bagel from a deli. But as a dietitian, I also find joy in discovering ways to add a little more nutrition to some classic dishes, and mix those recipes into my routine too. These bagels are one example.
I like 'em for three main reasons:
Provides protein – One bagel provides 11 grams of protein, giving you a great start to your breakfast. If you make a breakfast sandwich with it, you'll pack in even more! Protein is essential for muscle repair and recovery for active folks. It also helps you stay full longer after you eat!
Contains calcium – This mineral is key for bone health. Using cottage cheese in the bagel dough helps boost the calcium content, so that one bagel provides 13% of your daily needs.
Provides iron – One bagel has 10% of your daily iron needs, key for supplying oxygen to muscles during exercise and proper energy levels.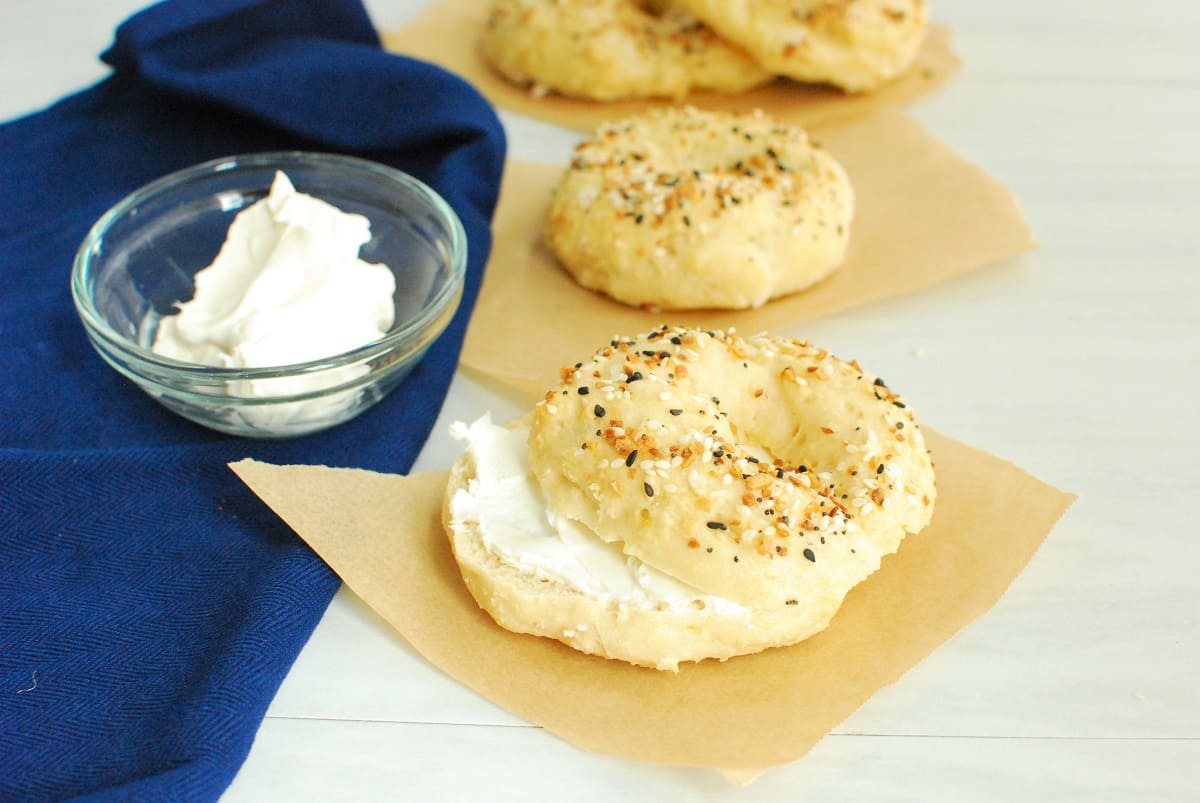 More Healthy Breakfast Recipes
If you're looking for more healthy breakfast recipes, be sure to give one of these a try:
I hope you enjoy these cottage cheese bagels! Even my hubby – who hates cottage cheese – loved these (similar results were found for my cottage cheese cookie dough recipe). If you get a chance to try them, feel free to leave a recipe rating or comment below.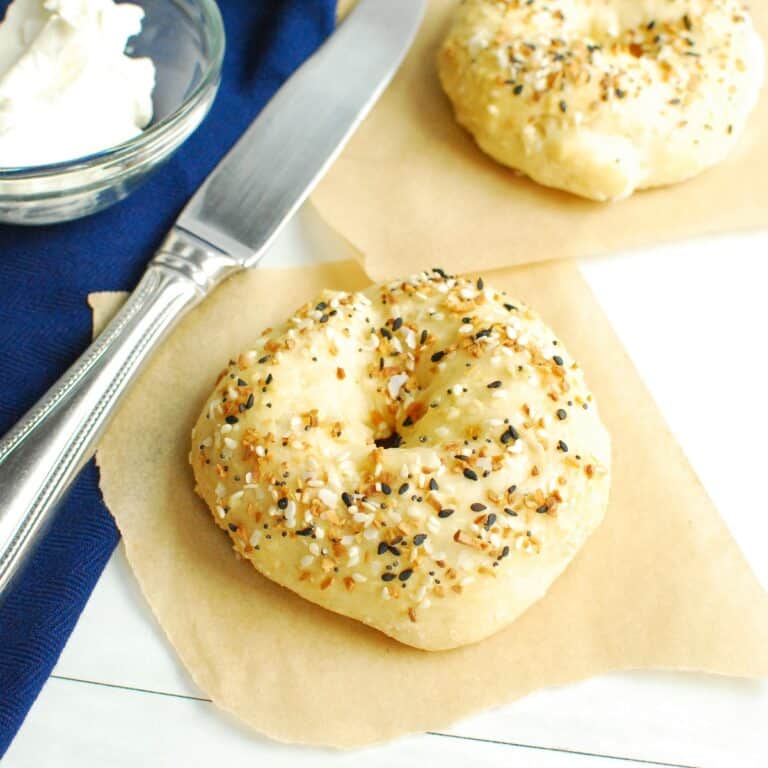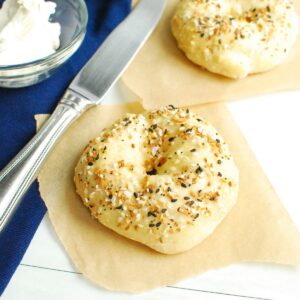 Cottage Cheese Bagels
These cottage cheese bagels are made with just four ingredients, are easy to whip up, and contain 11 grams of protein each!
Ingredients
For the bagel dough:
1

cup

cottage cheese

(recommend 4% milkfat for this recipe)

1

large egg

1

cup

+ 1 tbsp self-rising flour

(plus extra for flouring hands)
For the topping:
1

large egg, whisked in a small bowl with 1 tablespoon water

1

tsp

everything bagel seasoning
Instructions
Preheat the oven to 350 degrees F. Line a baking sheet with parchment paper.

Add the cottage cheese and egg to a blender cup or small food processor bowl. Blend for 30 seconds, until smooth and creamy. Pour into a large mixing bowl.

Add the self-rising flour to the mixing bowl. Stir until well combined. Use lightly floured hands to knead the dough a few times in the bowl, fully incorporating all the ingredients. (The dough should be slightly tacky but shouldn't be overly sticky. If it is, add another tablespoon of flour)

Break the dough into four equal sections. Roll each portion into a ball, then use your thumb to poke a hole in the center. Stretch it out a bit until it forms a bagel shape.

Place each onto the baking sheet. Brush with the egg wash then sprinkle on the everything bagel seasoning.

Bake at 350 degrees F for approximately 20-25 minutes, or until bagels are golden and cooked through. Let cool for a few minutes. Enjoy topped with cream cheese or butter, or use for breakfast sandwiches.
Notes
Do not substitute self-rising flour for all-purpose flour unless using the following modifications: Use 1 cup + 1 tbsp all-purpose flour + 1 ½ teaspoons baking powder + ¼ teaspoon salt.
I've found the amount of flour needed for this dough can vary based on the brand of cottage cheese used. In most cases, 1 cup plus 1 tablespoon is the perfect amount. However, if the dough is very sticky, just add another tablespoon at a time until it reaches a tacky but not covering-your-hands-sticky texture.
Nutrition analysis (approximate per bagel): 197 calories, 4 g fat, 1.5 g saturated fat, 660 mg sodium, 26.5 g carbohydrate, 1 g fiber, 11 g protein, Vitamin D: 2%, Calcium: 13%, Iron: 10%, Potassium: 2%
Nutrition
Feel free to pin this post to save for later!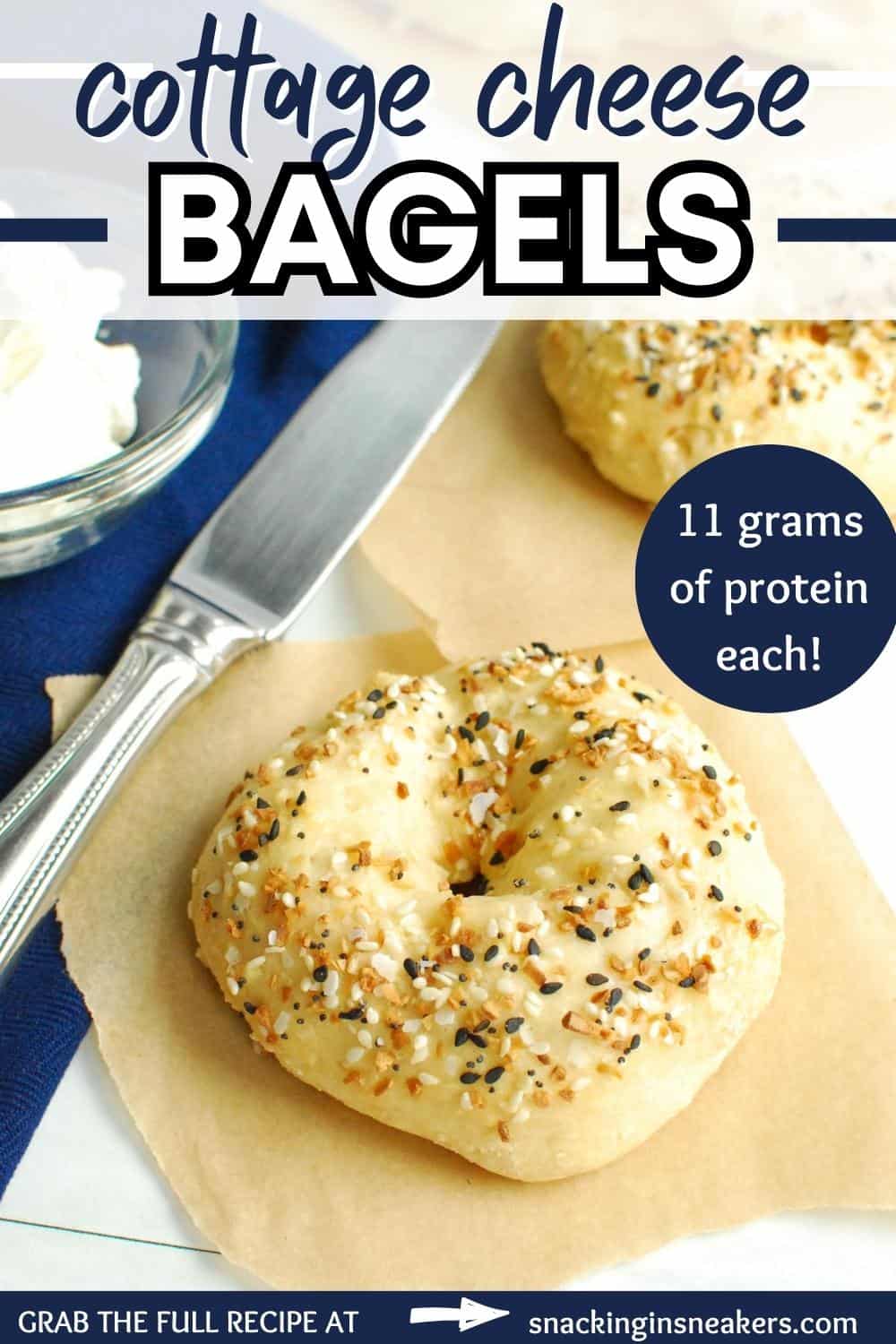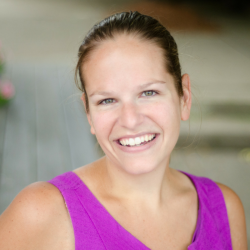 Latest posts by Chrissy Carroll
(see all)