Start your day right with these healthy pumpkin breakfast bars – sure to fuel your busy lifestyle and keep your energy levels up! Deliciously spiced and easy to make, these bars are filled with wholesome ingredients like oats, whole wheat flour, pumpkin puree, nuts, and seeds. You can even meal prep these ahead of time to grab-and-go throughout the week.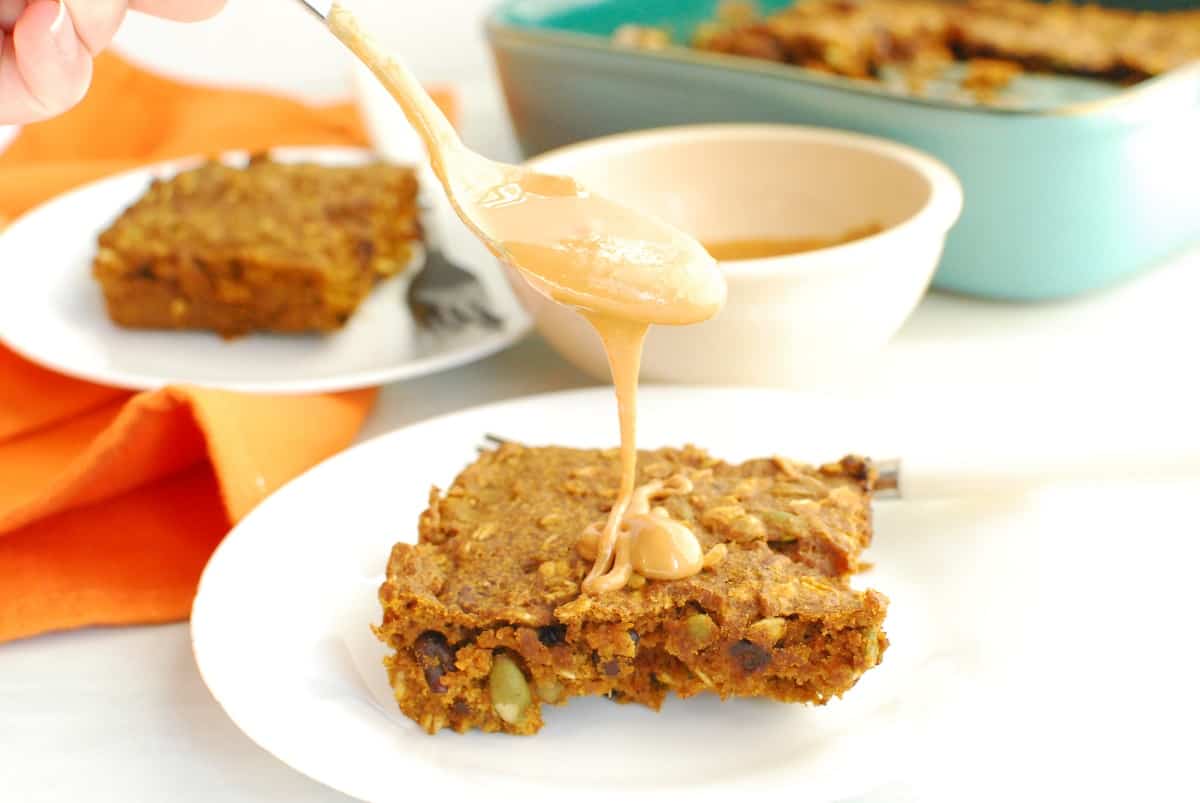 Ingredients
Here's a photo of everything you'll need to make these tasty treats, along with selected ingredient notes: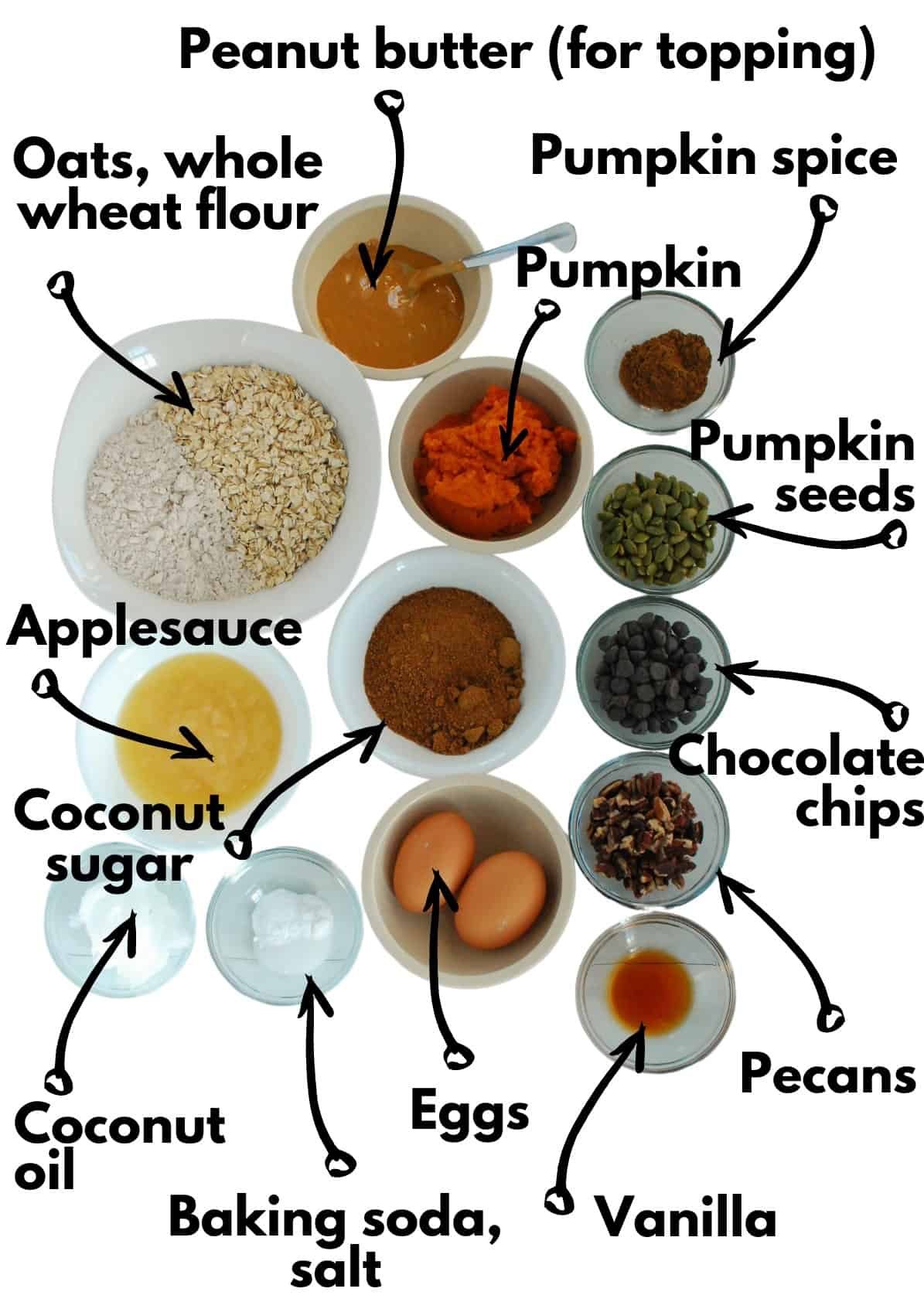 Pumpkin puree – You can use canned pumpkin puree or homemade pumpkin puree (great use for leftover Halloween pumpkins) to make this recipe. Do not use pumpkin pie filling, as this contains additional added sugar and spices and will throw off the recipe.
Coconut sugar – This sugar comes from the sap of the coconut palm tree (not the coconut itself). It retains some minerals and fiber (compared to other sweeteners), but the amount is fairly negligible. I do love the slightly caramel-like taste of coconut sugar. You can substitute with brown sugar if you don't have coconut sugar on hand.
Pumpkin spice – If you don't already have this on hand, it's pretty easy to locate at the supermarket in the spice aisle. If you don't want to purchase a new ingredient, though, you can substitute the 2 teaspoons pumpkin spice for 1 ½ teaspoons cinnamon, ¼ teaspoon nutmeg, and ¼ teaspoon cloves or allspice.
Peanut butter – This isn't in the bars themselves, but I highly recommend it for topping the bars!
Instructions
You'll find the full recipe instructions and amounts in the recipe card at the bottom of the page, but here's a helpful overview with process photos. This recipe is super simple to make!
Start by mixing together the pumpkin puree, coconut sugar, applesauce, coconut oil, eggs, pumpkin spice, and vanilla.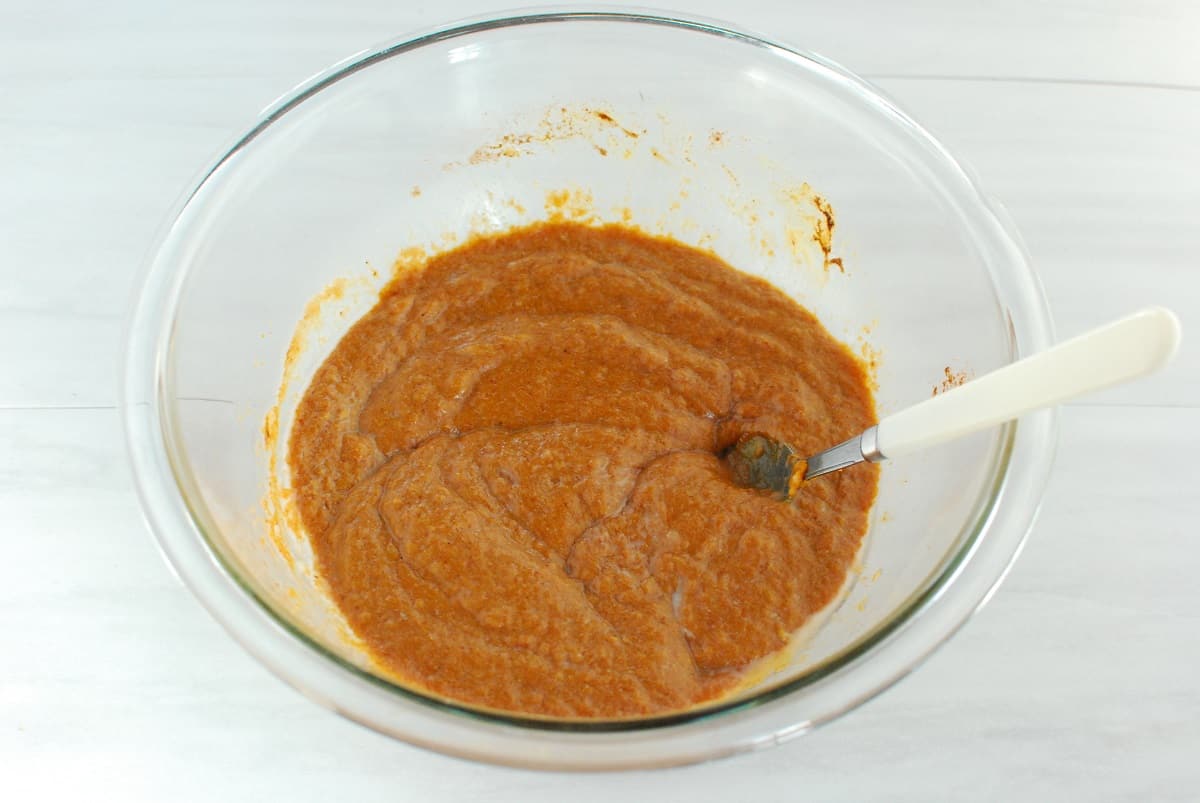 Next, add in the oats, flour, baking soda, and salt.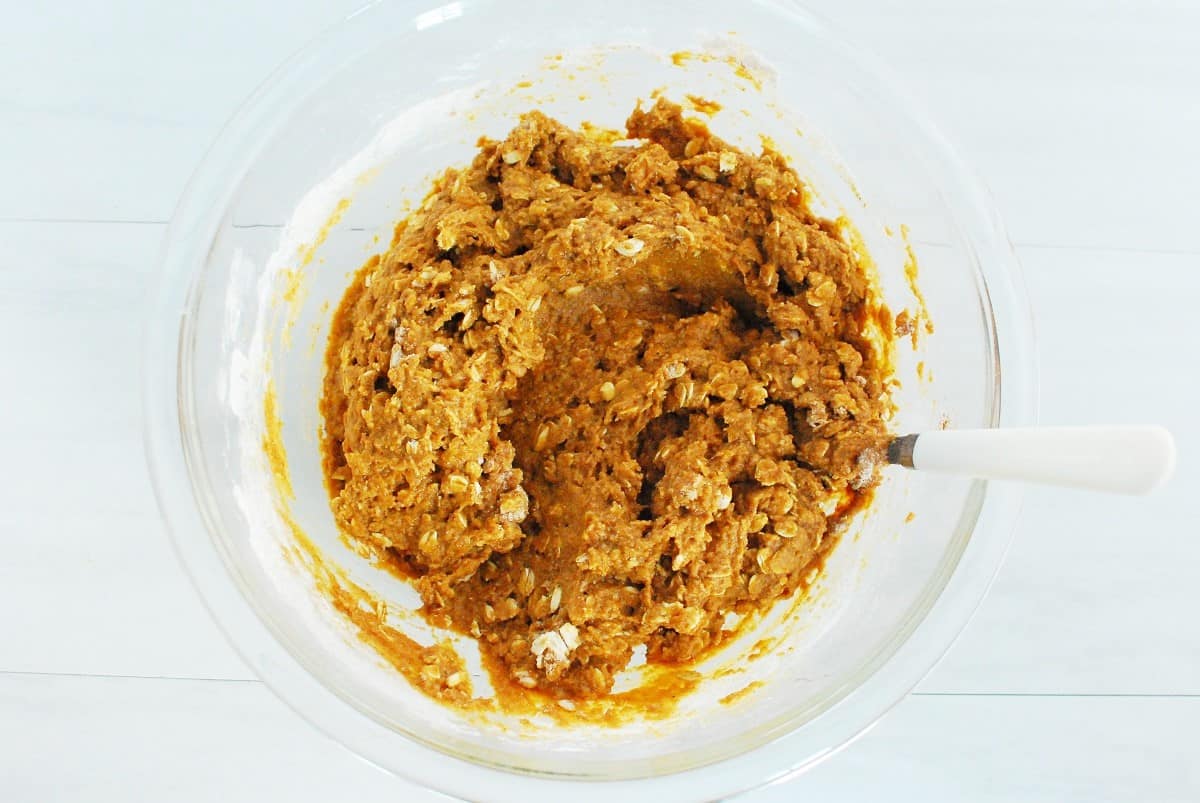 Fold in the add-ins – in this case, chocolate chips, pecans, and pumpkin seeds.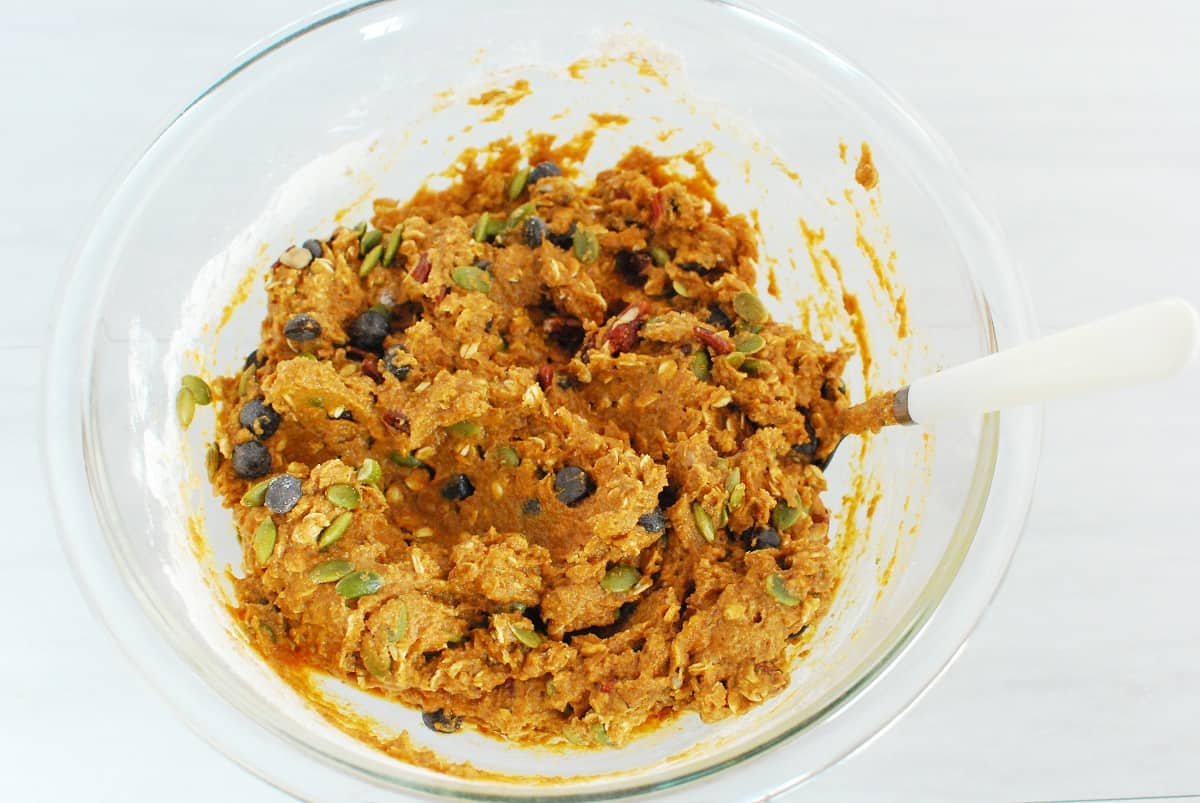 All you have to do is pour that in a greased 8×8 dish, bake it, and boom – delish breakfast awaits! I like to serve slightly warm and top with peanut butter right before serving.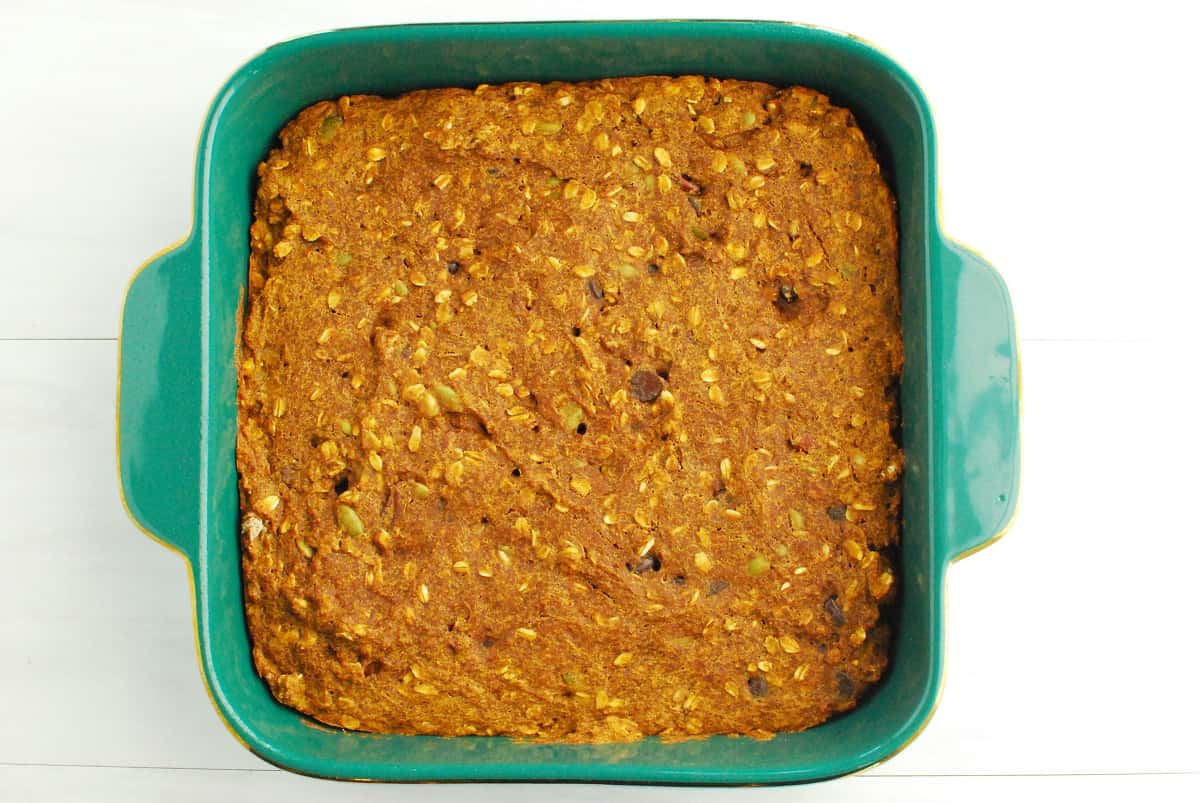 Recipe FAQ
Here are some common questions that may come up as you prepare this recipe:
How should you store pumpkin breakfast bars?
Store these in the fridge for up to 5 days. Feel free to reheat for about 15 seconds in the microwave prior to eating.
Can you use different add-ins for healthy pumpkin bars?
Sure. While this recipe contains dark chocolate chips, pecans, and pumpkin seeds, you can substitute with other add-ins too. For example, you could use shredded coconut, walnuts, dried fruit, sunflower seeds, crushed pretzels, or cacao nibs. Just use the same total amount of add-ins as the recipe calls for – like ¾ cup in this recipe.
How can you make gluten free pumpkin bars?
To make a gluten-free version, use a gluten-free all-purpose flour instead of whole wheat flour, and be sure to choose certified gluten-free rolled oats.
Nutrition Benefits
As an RD, I love sharing recipes that help women fuel their fitness goals. Here's what I'm digging about these pumpkin bars:
You can use 'em for a light breakfast or hearty snack. Pair one of these bars with a piece of fruit and you've got a solid, power-packed breakfast for athletes. A lot of athletes I've worked with also sometimes eat two breakfasts, so this could be useful for one of those two. Or, you might be training a lot and need a substantial snack to help fuel your body. This works all around!
They're super filling. When you have a bar topped with 1 tablespoon of peanut butter, you're getting a nice blend of carbs, fats, and protein – plus 4 grams of fiber. This helps keep you satisfied. (If one bar is too little for you, feel free to cut bigger squares for a larger portion).
Includes key vitamins and minerals. A bar topped with peanut butter provides 11% of your daily iron needs, 14% of your daily magnesium needs, and 13% of your daily Vitamin E needs.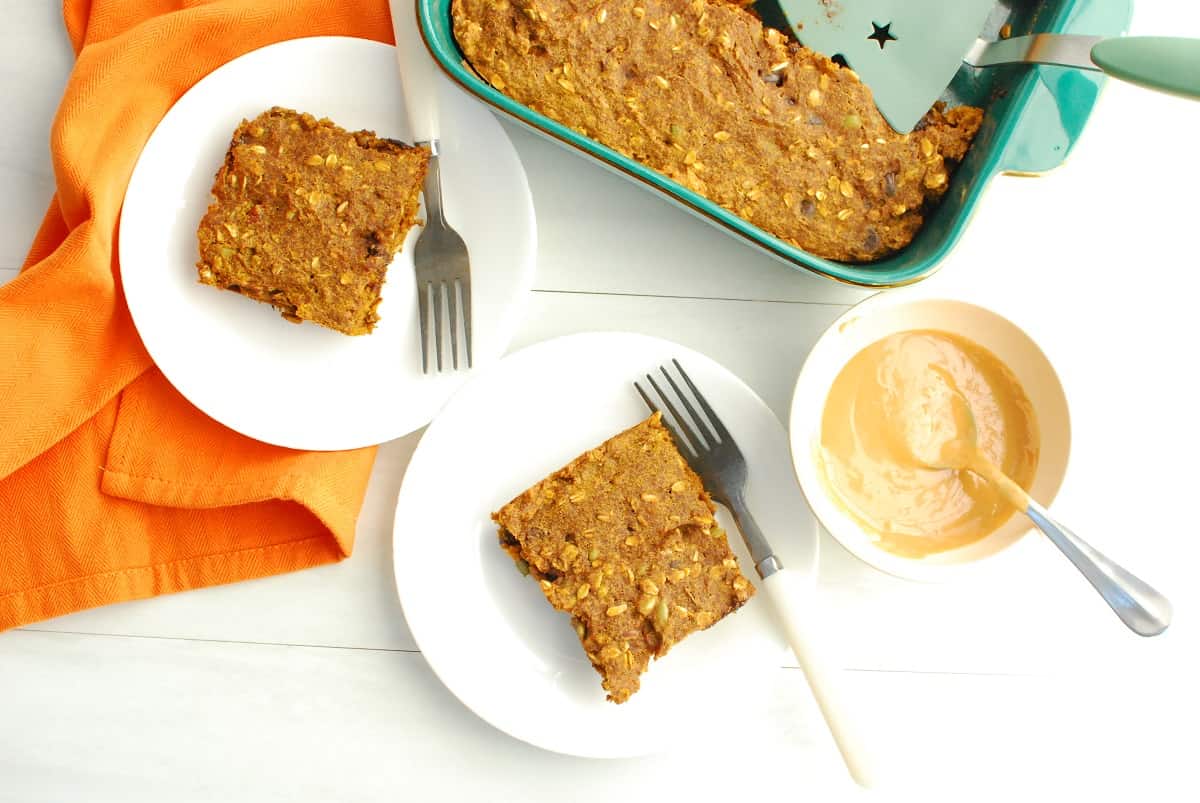 More Pumpkin Recipes
Here are some more healthy pumpkin recipes that you might enjoy:
I hope you enjoy these pumpkin breakfast bars as much as I do! I make a batch at least one a month, all year round. They're just that good! If you get a chance to try 'em, feel free to leave a recipe rating or comment below.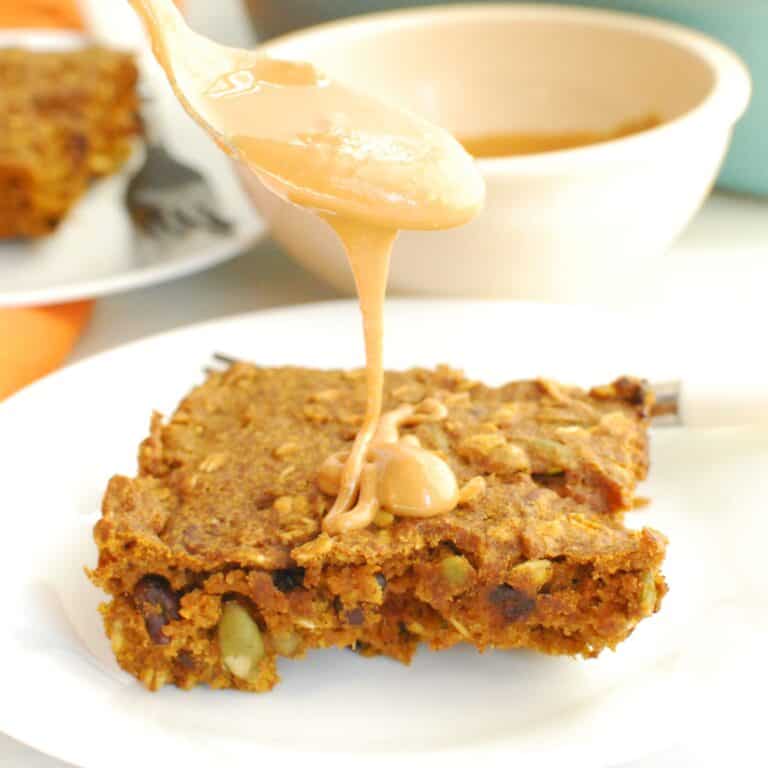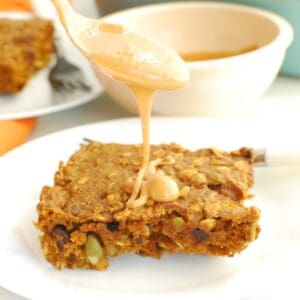 Healthy Pumpkin Breakfast Bars
Start your day off right with delicious and healthy pumpkin breakfast bars, made with wholesome ingredients.
Ingredients
¾

cup

pumpkin puree

(canned or homemade)

⅓

cup

coconut sugar

⅓

cup

unsweetened applesauce

3

tbsp

coconut oil, melted

2

large eggs

2

tsp

pumpkin spice

1

tsp

vanilla extract

1

cup

rolled oats

¾

cup

whole wheat flour

½

tsp

baking soda

¼

tsp

salt

¼

cup

dark chocolate chips

¼

cup

chopped pecans

¼

cup

pumpkin seeds

Peanut butter

for topping
Instructions
Preheat the oven to 350 degrees F. Grease an 8×8 baking dish.

In a large mixing bowl, whisk together the pumpkin puree, coconut sugar, applesauce, coconut oil, eggs, pumpkin spice, and vanilla.

Add the rolled oats, whole wheat flour, baking soda, and salt. Stir until combined.

Fold in the dark chocolate chips, pecans, and pumpkin seeds.

Pour into the 8×8 dish and bake at 350 degrees F for 20-25 minutes, or until a toothpick pulls out clean from the center. Let cool in the dish, then cut into 9 squares and serve slightly warm. Top with peanut butter as desired!
Notes
Do not overcook bars.
Store extra bars in the fridge in an airtight container for up to 5 days.
You can also use pureed butternut squash for this recipe if you don't have pumpkin on hand.
Nutrition analysis (per bar with 1 tablespoon peanut butter to top): 336 calories, 20.5 g fat, 8 g saturated fat, 220 mg sodium, 31 g carbohydrate, 4 g fiber, 13 g sugar, 9.5 g protein, Vitamin D: 1%, Calcium: 3%, Iron: 11%, Potassium: 6%
Nutrition
Share: What's your favorite pumpkin breakfast recipe? If you tried these bars, what did you think?
Feel free to pin this post to save for later!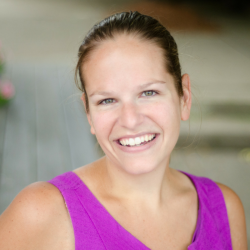 Latest posts by Chrissy Carroll
(see all)