There's a slight crisp in the morning air, school has started, and the pumpkin treats are rolling out – who else is excited for fall?! Get your daily fall pumpkin fix with these delicious pumpkin protein muffins. They make a great addition to breakfast, a hearty snack, or even a healthier dessert, packing in 7 grams of protein each.
Disclosure: This post was sponsored by NOW®. As always, all opinions are my own.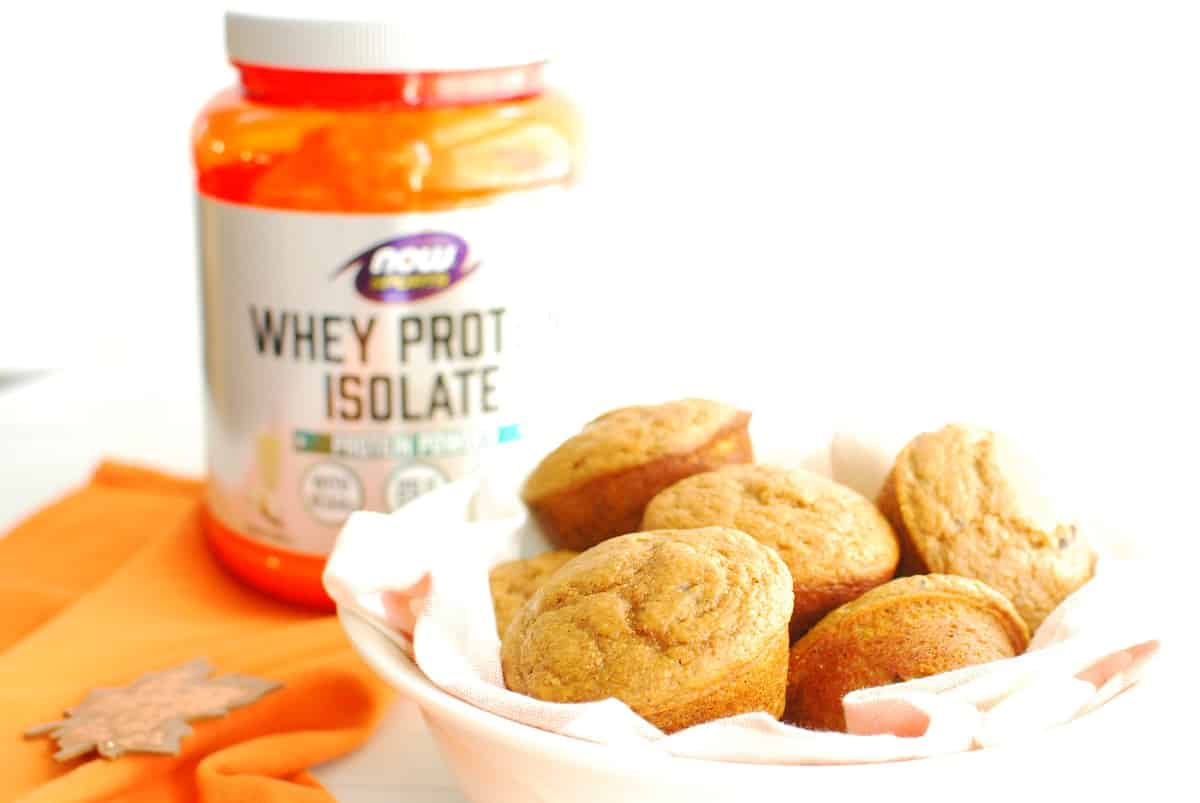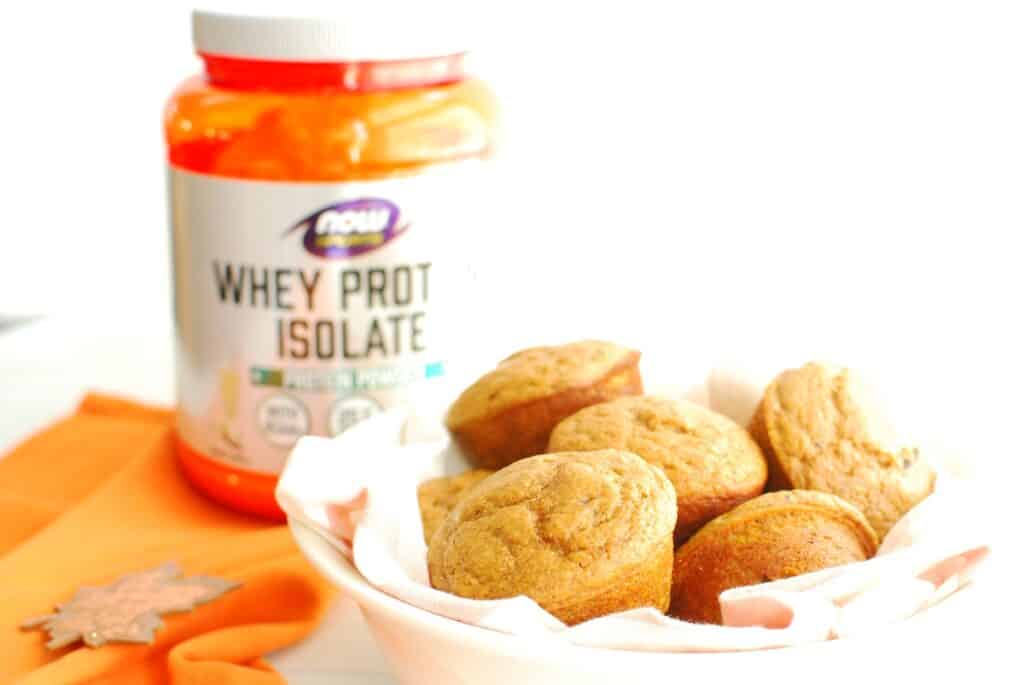 Ingredients
Here are the ingredients you'll need to make this recipe, along with selected ingredient notes: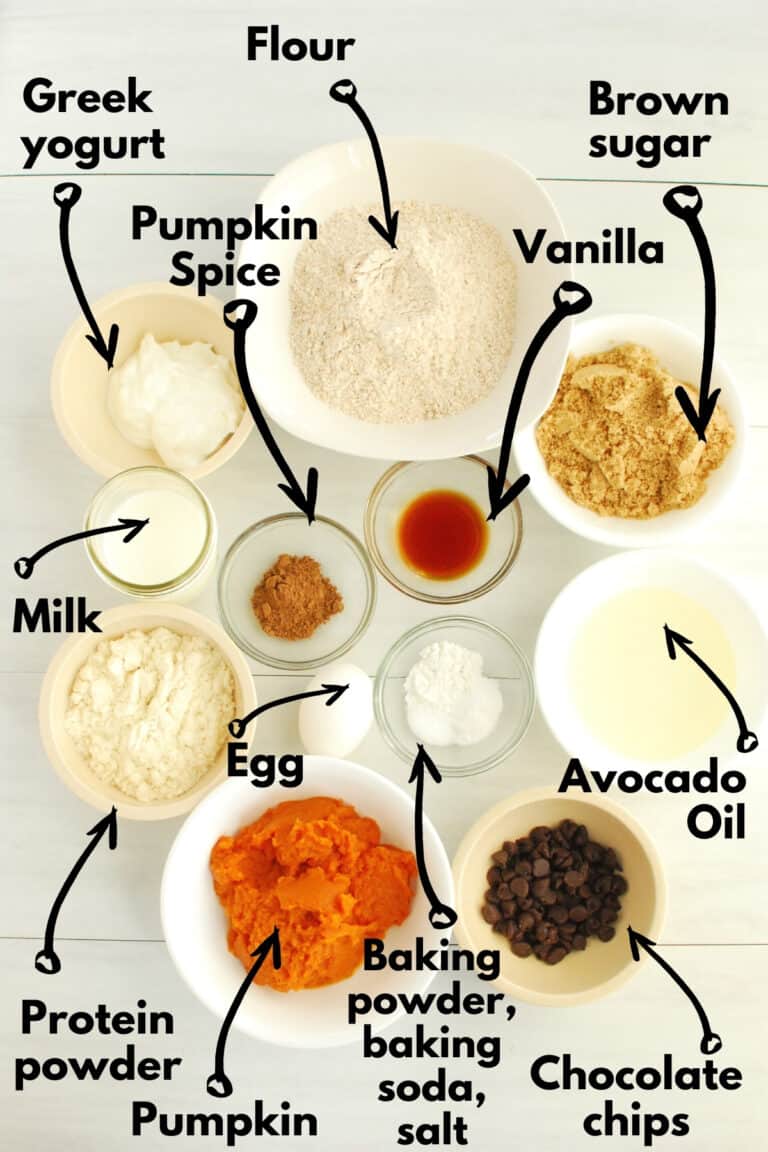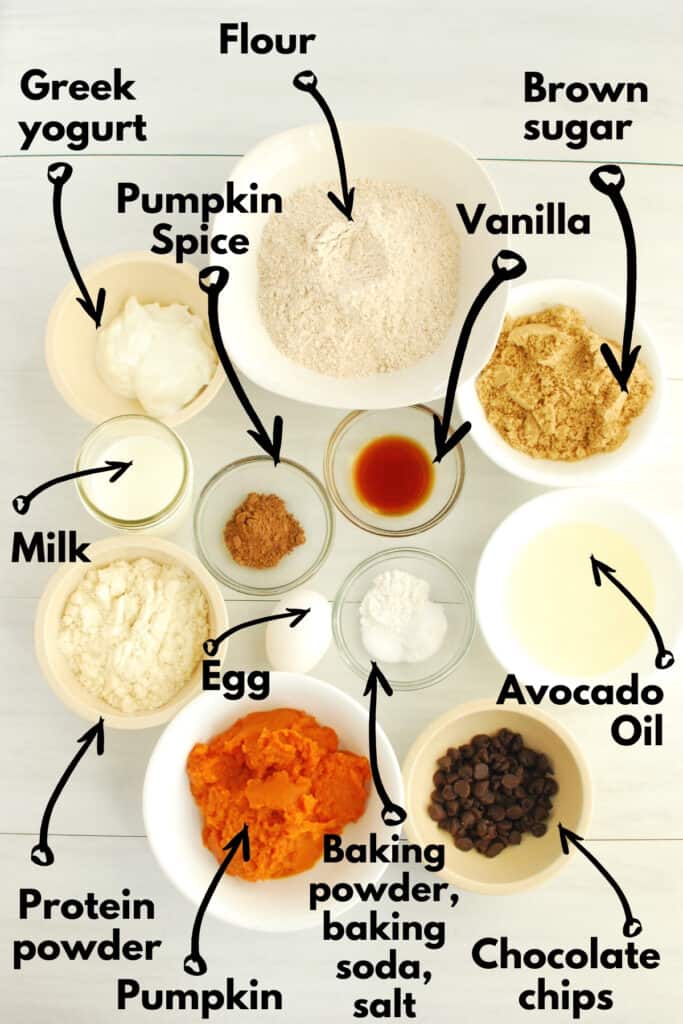 PS – If you want to stock up on the protein powder and avocado oil you'll need to make this recipe, you can get 20% off your order at nowfoods.com using code CHRISSY.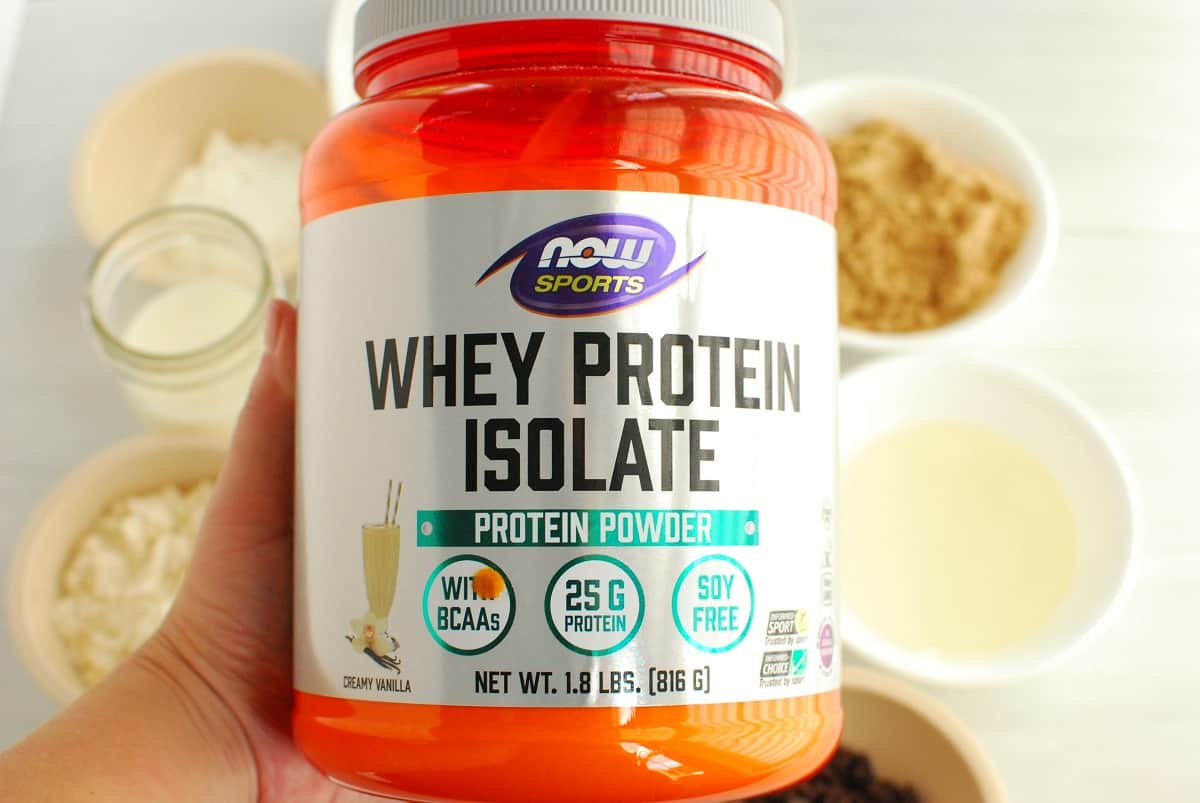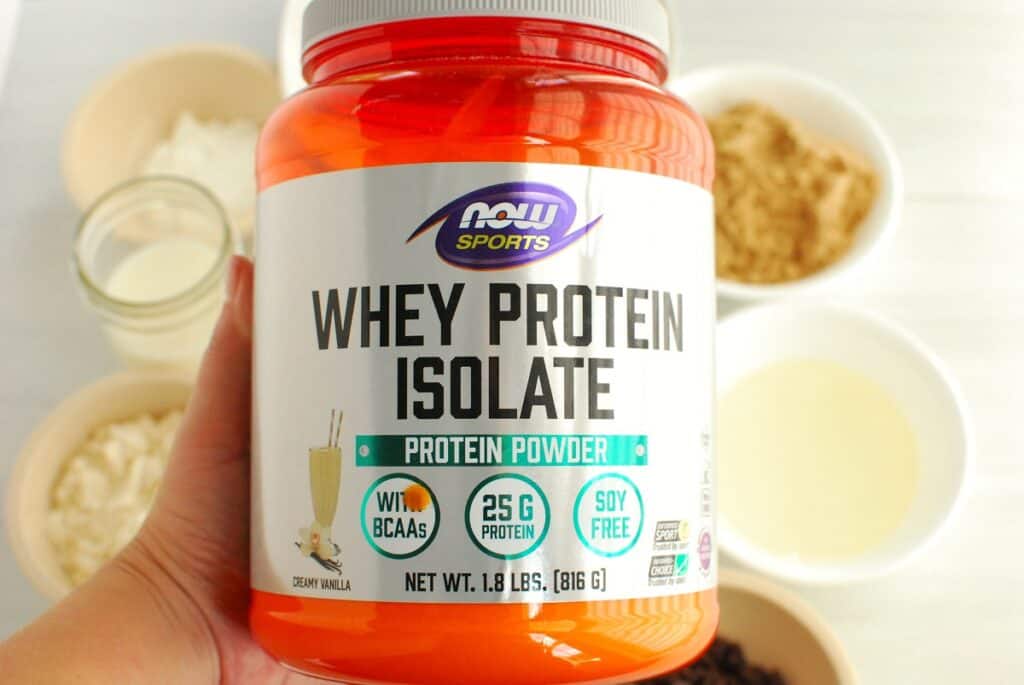 Step by Step Instructions
You'll find full recipe amounts and instructions in the recipe card below, but here's a helpful overview with photos.
You'll start by mixing together the pumpkin puree, yogurt, oil, brown sugar, egg, pumpkin pie spice, and vanilla. At this point, the batter will look like this: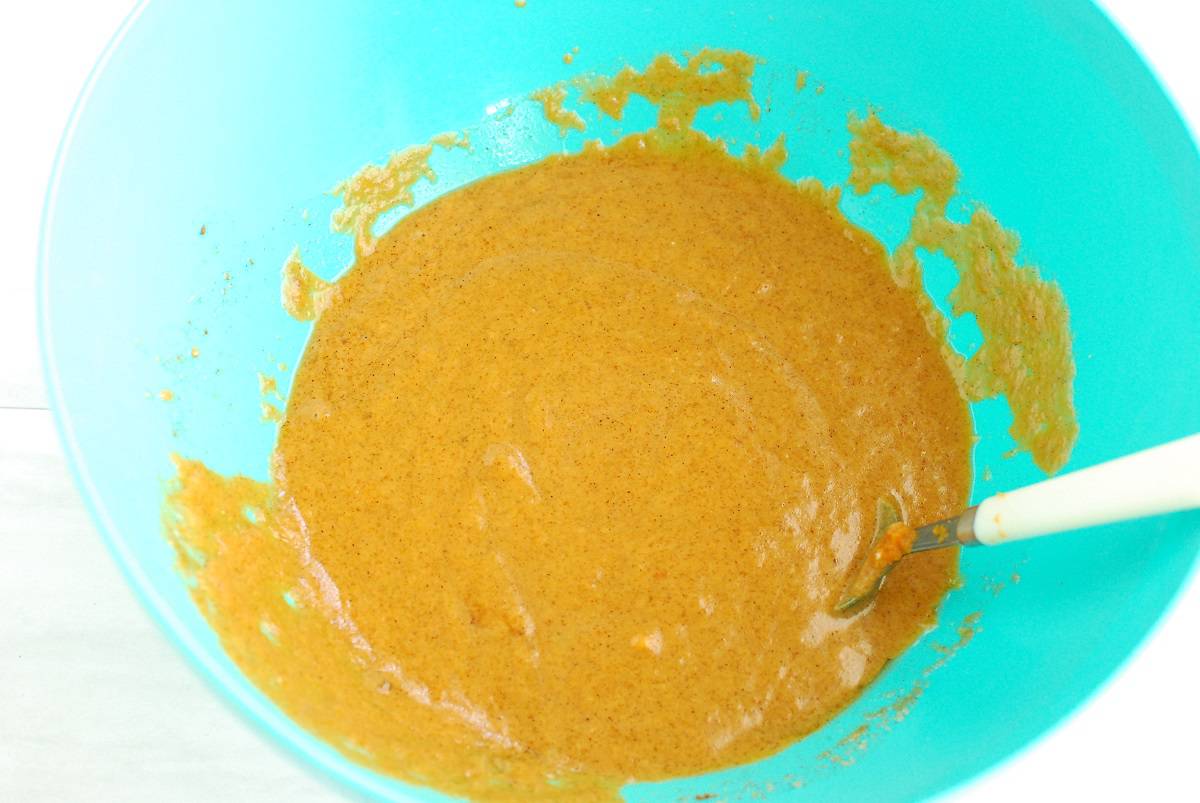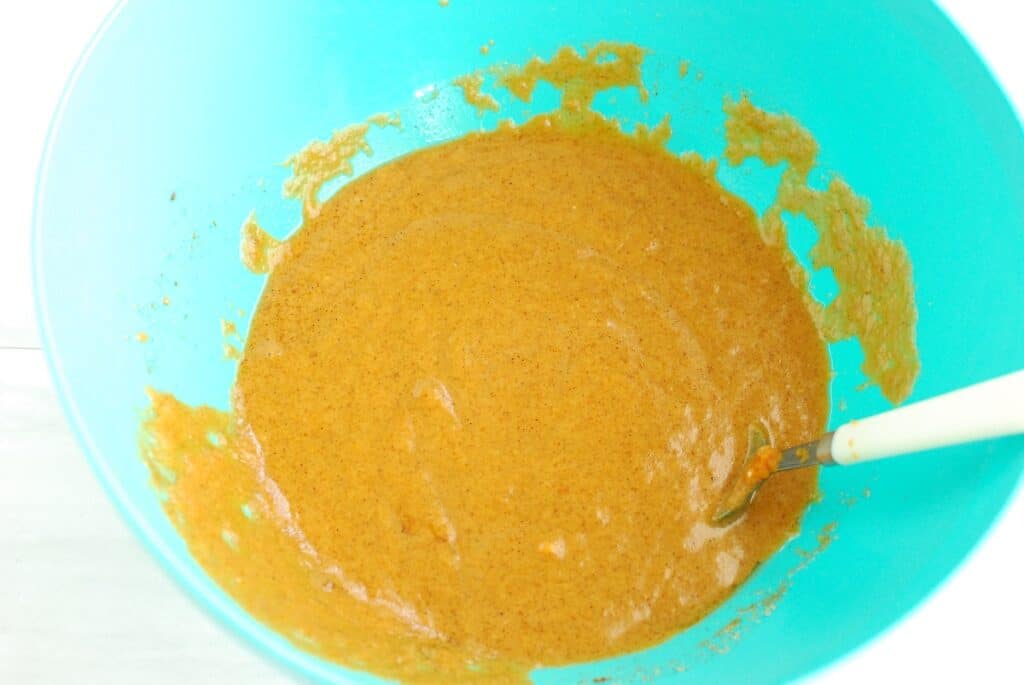 Then add your dry ingredients – flour, protein powder, baking powder, baking soda, and salt. Give it a few stirs, then add the milk to the mixture and continue stirring until fully combined. The batter will look like this: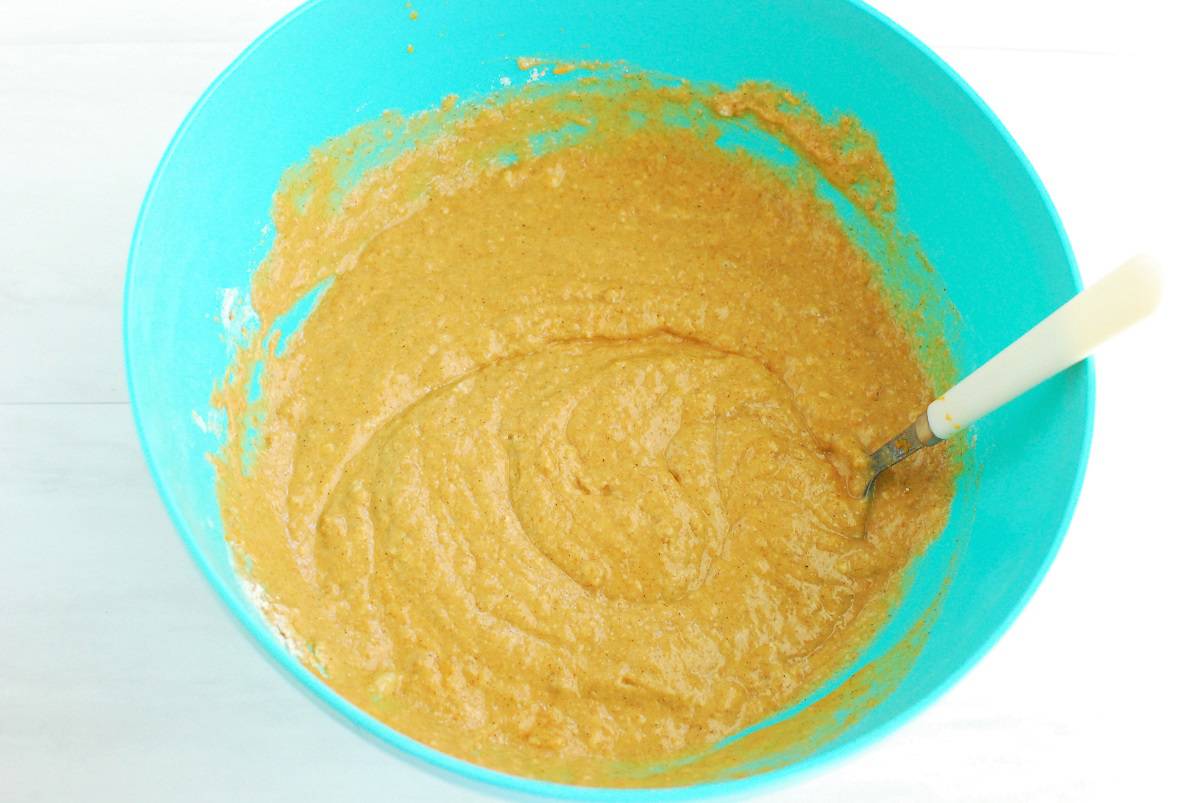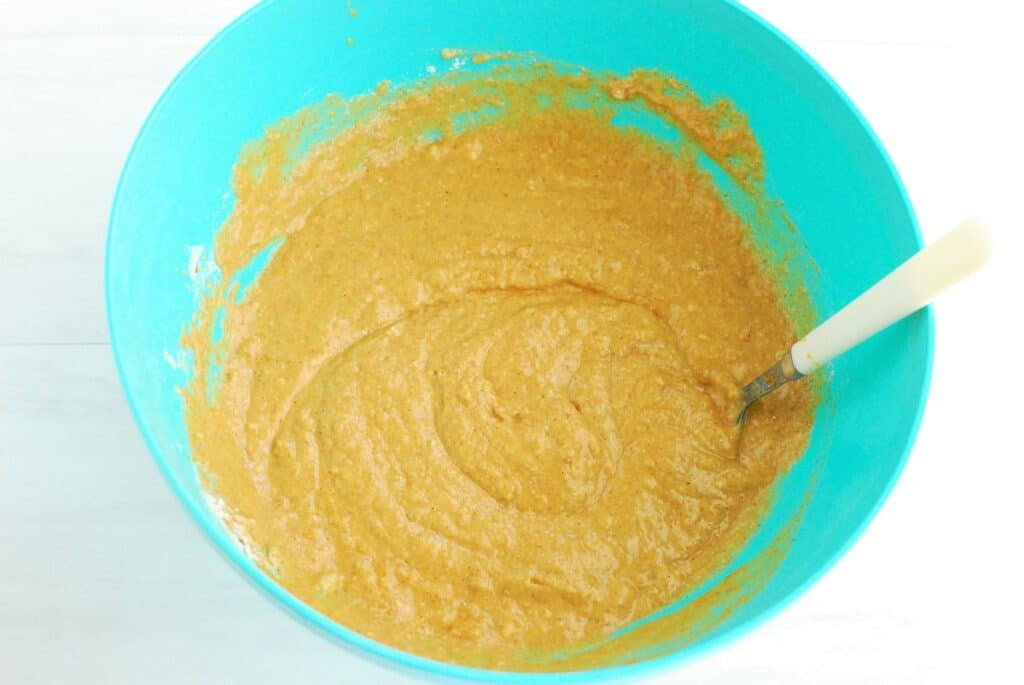 Now fold in the chocolate chips. I used dark chocolate chips in this recipe, but you can also use no-added-sugar chocolate chips if you'd like.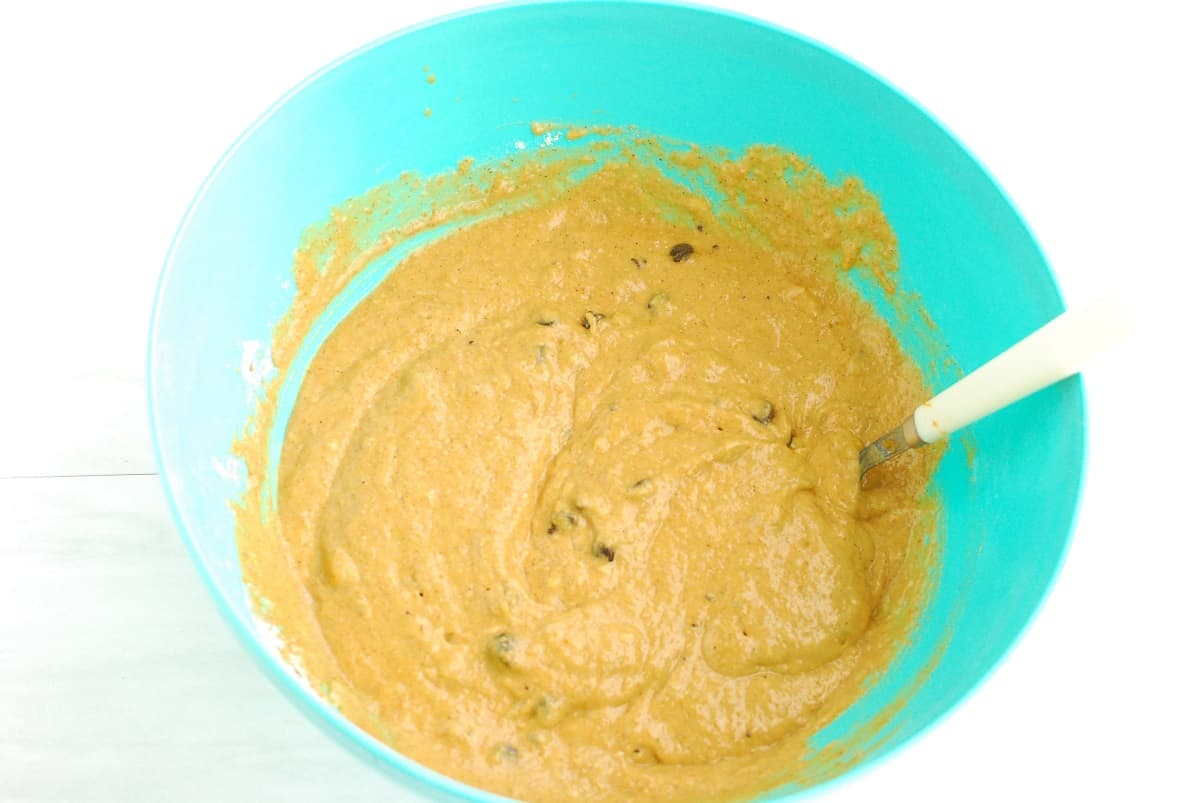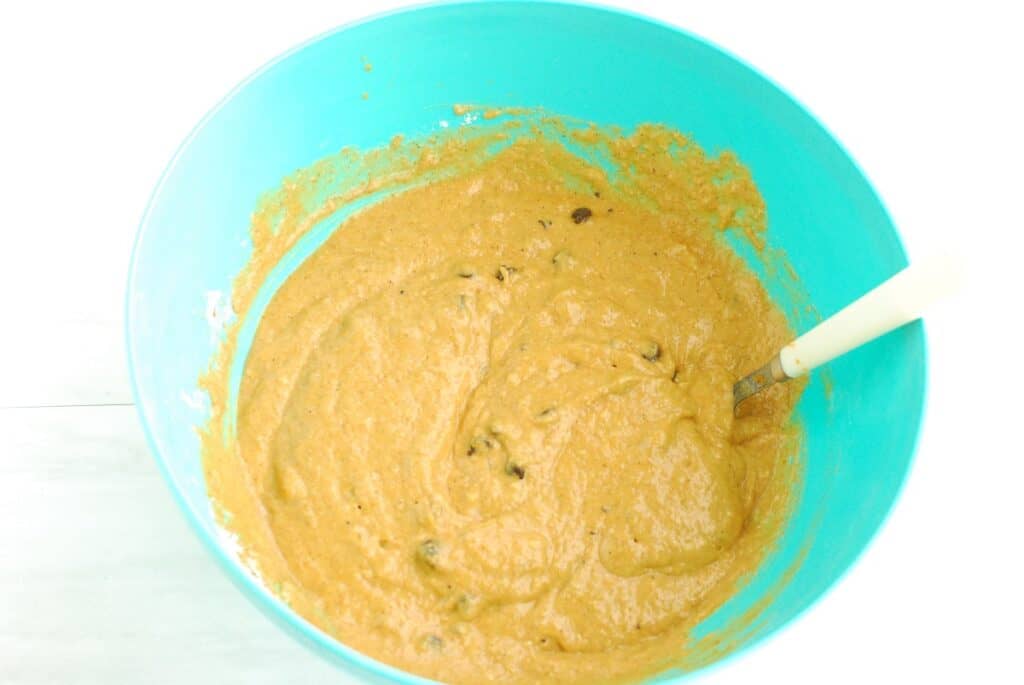 Last step is to pour the batter into the muffin tin and bake 'em! Once they're done, let them cool in the pan for a few minutes, then remove to a cooling rack.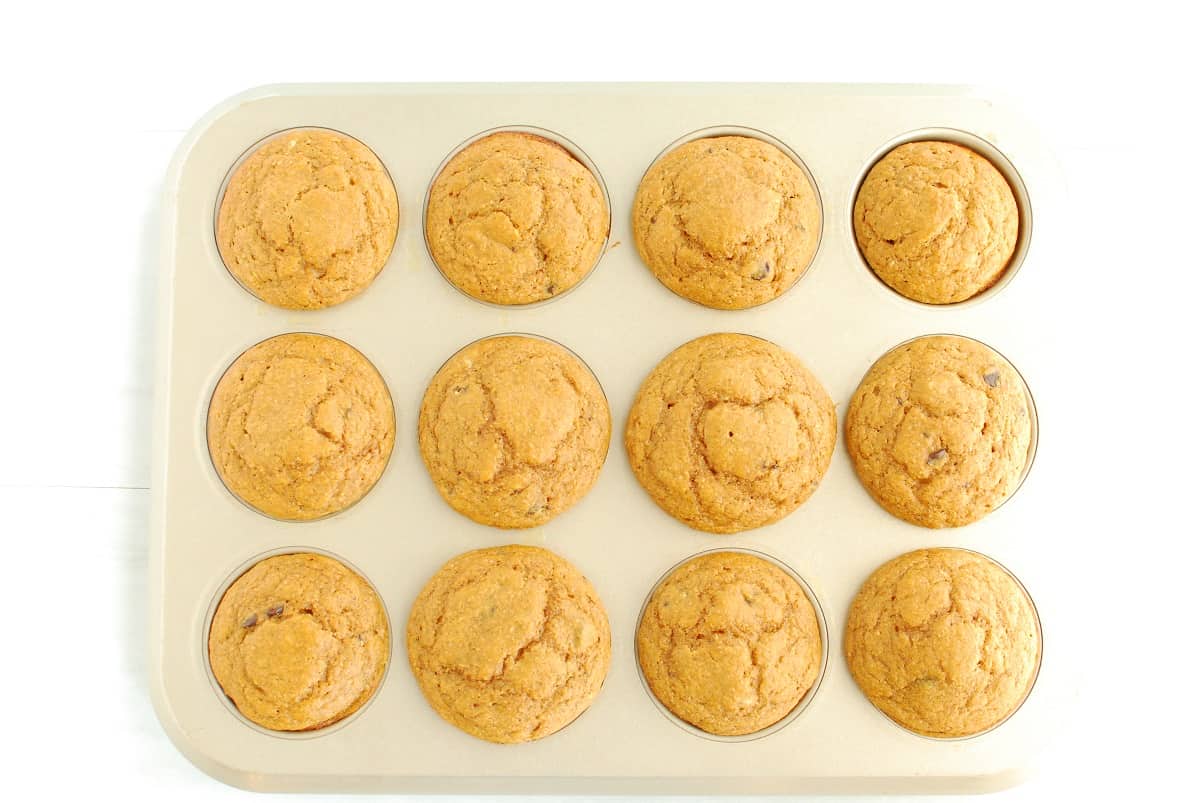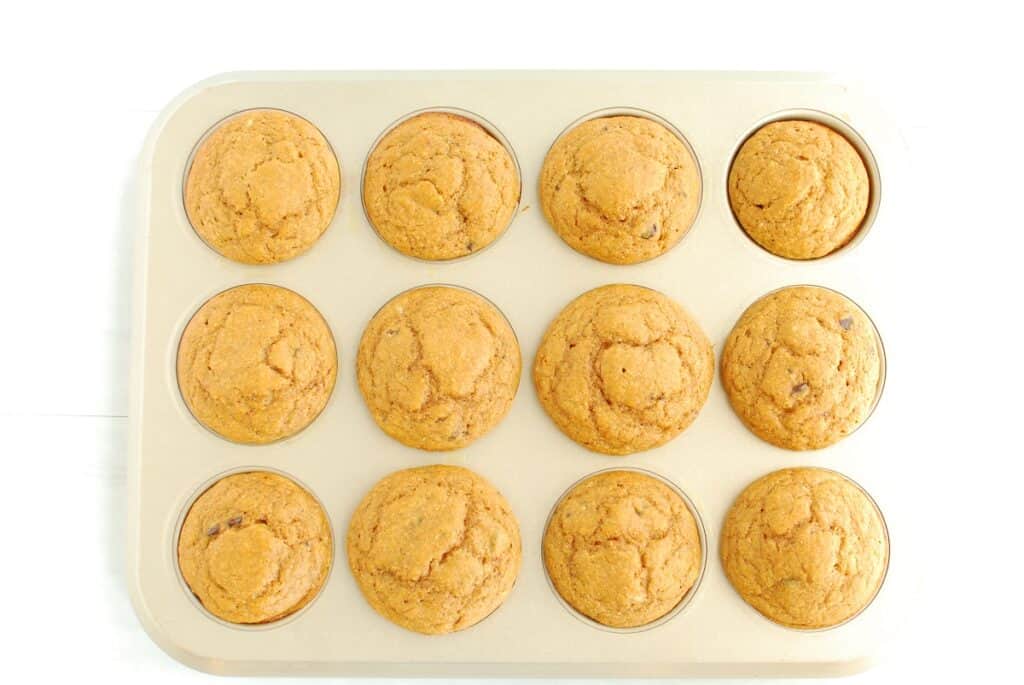 Recipe FAQ
Here are some common questions that may come up as you prepare this recipe:
Can you freeze pumpkin protein muffins?
Yes.  Freeze the muffins in a zip top bag.  When you're ready to enjoy one, simply take it out and microwave it for 30 seconds.
Is there a substitute for pumpkin pie spice?
If you don't have pumpkin pie spice, you can substitute with a mixture of cinnamon, nutmeg, and cloves or allspice.  In this recipe, substitute the 1 ½ teaspoons of pumpkin pie spice with the following:  1 teaspoon cinnamon, ¼ teaspoon nutmeg, and ¼ teaspoon cloves or allspice (either will work depending on what you have on hand).
Can you use homemade pumpkin puree instead of canned pumpkin?
Yes.  Use 1 cup of homemade puree in place of the 1 cup of canned puree.
Nutrition Benefits
I love muffins like this (or my banana protein muffins) because they're a step up nutritionally from the average muffin recipe.
While many homemade muffins clock in at just 2 or 3 grams of protein, these muffins provide 7 grams. Protein is helpful for your muscles, as it's needed for them to function, as well as to repair them after tough exercise. While I wouldn't necessarily say this is a "high protein" recipe, it's definitely higher than normal while still maintaining excellent taste and texture. (Me and my kiddo LOVE them).
In addition, these muffins have fewer calories and added sugar compared to many bakery muffins. For example, a popular coffee shop serves a pumpkin muffin that clocks in at 550 calories and has 39 grams of sugar. This muffin recipe, on the other hand, has just 195 calories and 14.5 grams of sugar.
And with a great blend of carbs, fat, and protein – these pumpkin protein muffins will help you stay full while satisfying your sweet tooth.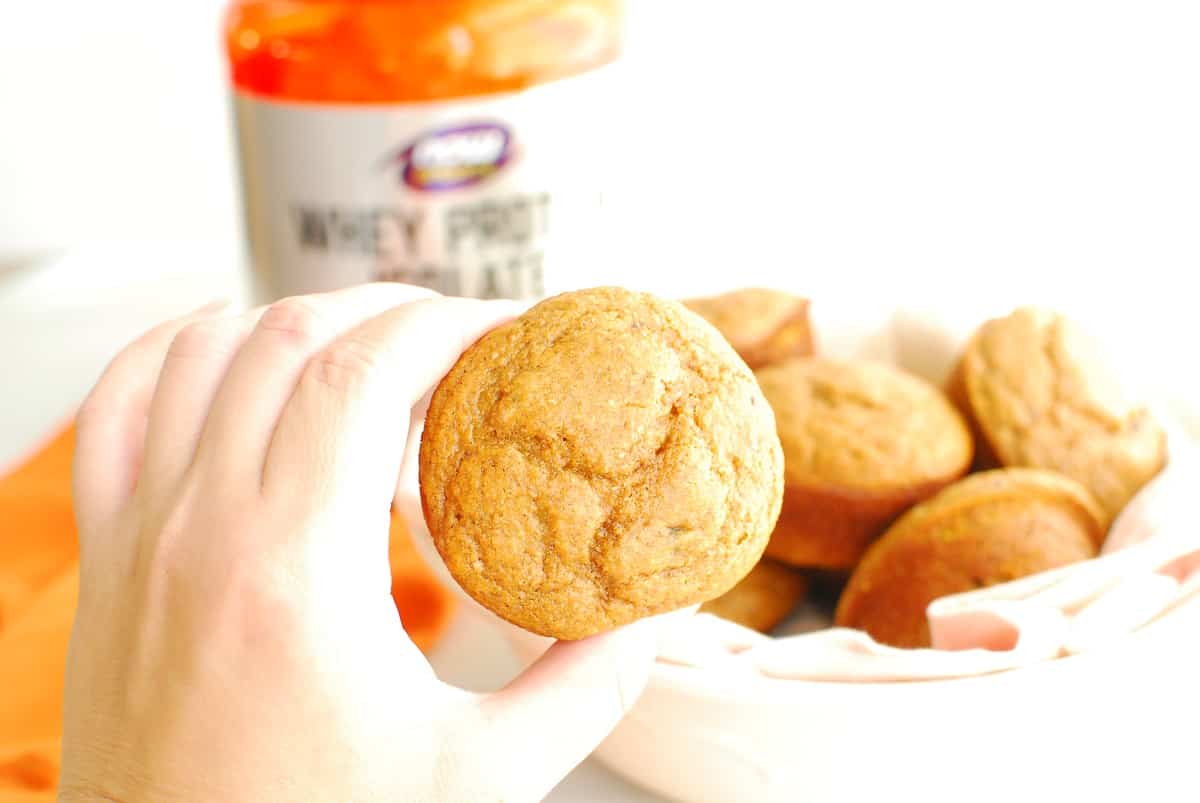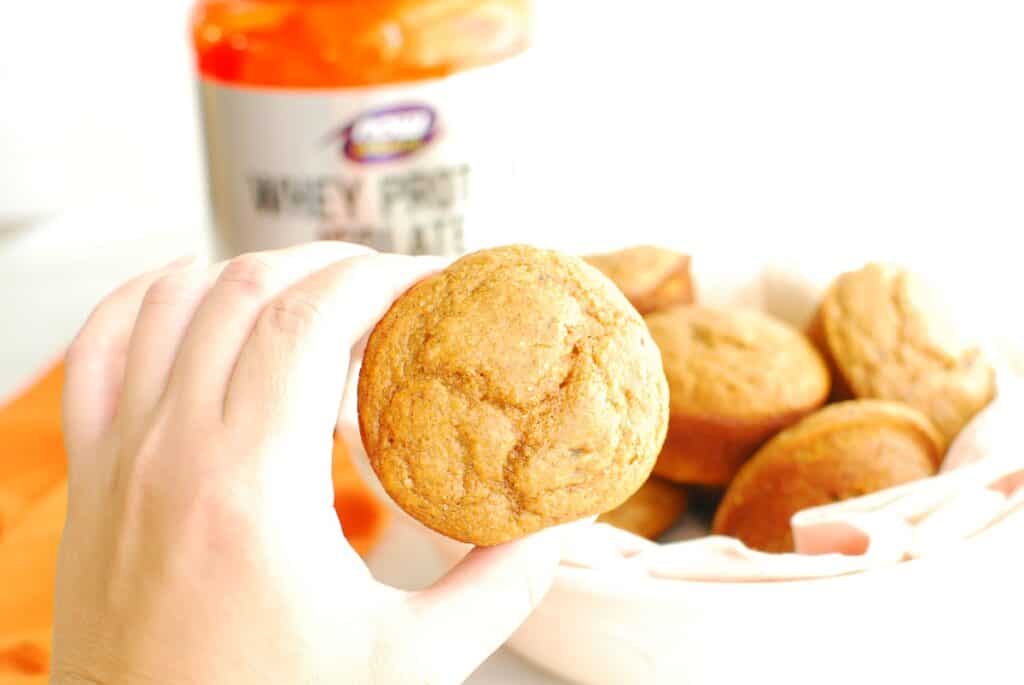 More Pumpkin Recipes
Craving more pumpkin treats? Try one of these options:
I hope you enjoy these tasty pumpkin muffins. If you get a chance to try them, feel free to leave a recipe rating or comment below.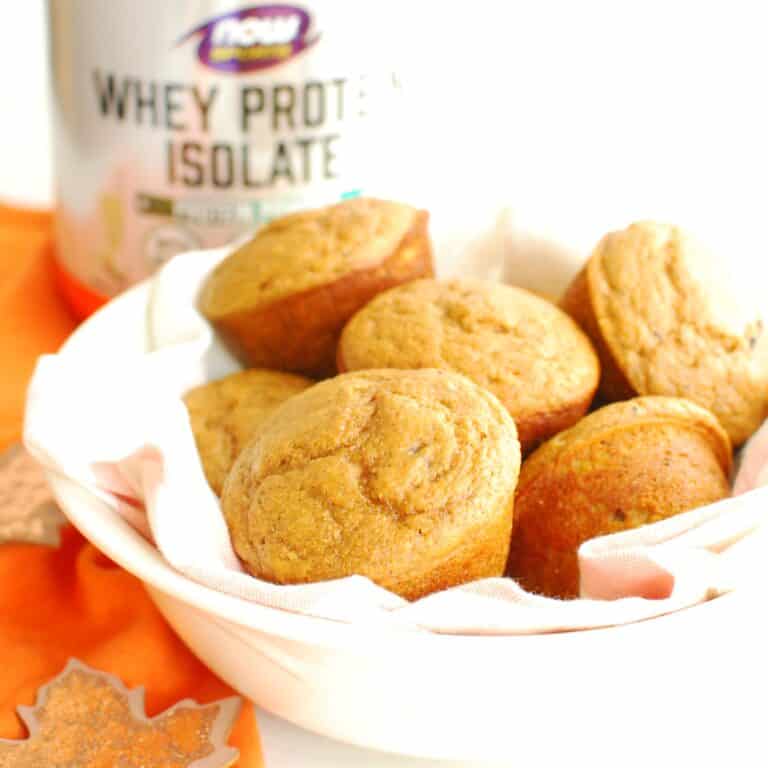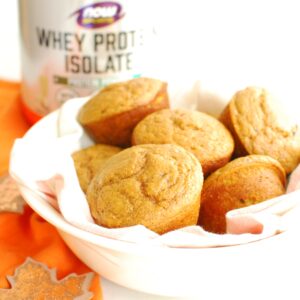 Pumpkin Protein Muffins
These delicious pumpkin protein muffins are a great fall snack or a tasty addition to breakfast!
Ingredients
1

cup

pumpkin puree

⅓

cup

plain nonfat Greek yogurt

¼

cup

NOW® Real Food Avocado Oil

(or olive oil or coconut oil)

½

cup

brown sugar

1

large egg

1 ½

tsp

pumpkin pie spice

1

tsp

vanilla

1 ¼

cup

whole wheat flour

(or all-purpose flour)

½

cup

NOW® Creamy Vanilla Whey Protein Isolate

packed*

1

tsp

baking powder

½

tsp

baking soda

¼

tsp

salt

½

cup

1% milk

½

cup

dark chocolate chips
Instructions
Preheat the oven to 350 degrees F. Grease a 12-count muffin tin.

In a large bowl, add the pumpkin, yogurt, oil, brown sugar, egg, pumpkin pie spice, and vanilla. Whisk until well combined.

Add the flour, protein powder, baking powder, baking soda, and salt. Stir the ingredients until just combined, then add the milk and continue to mix until fully combined. Fold in the chocolate chips.

Pour the batter evenly into each spot in the muffin tin, filling just about completely. Bake for approximately 20 minutes, or until a toothpick pulls out clean. Let cool for a few minutes in the pan, then remove from the pan and allow to finish cooling on a wire rack. Enjoy.
Notes
If you are concerned about macros being as accurate as possible, you can weigh the protein powder rather than measure by volume. Weigh out approximately 48 grams.
If you'd prefer, you can use no-added-sugar chocolate chips rather than dark chocolate chips.
Nutrition analysis (approximate per muffin): 195 calories, 8 g fat, 2 g saturated fat, 165 mg sodium, 26 g carbohydrate, 2.5 g fiber, 14.5 g sugar, 7 g protein, Vitamin D: 1%, Calcium: 7%, Iron: 7%, Potassium: 4%, Vitamin A: 107%
Nutrition
Share: What's your favorite pumpkin treat this time of year?
Feel free to pin this post to save it for later.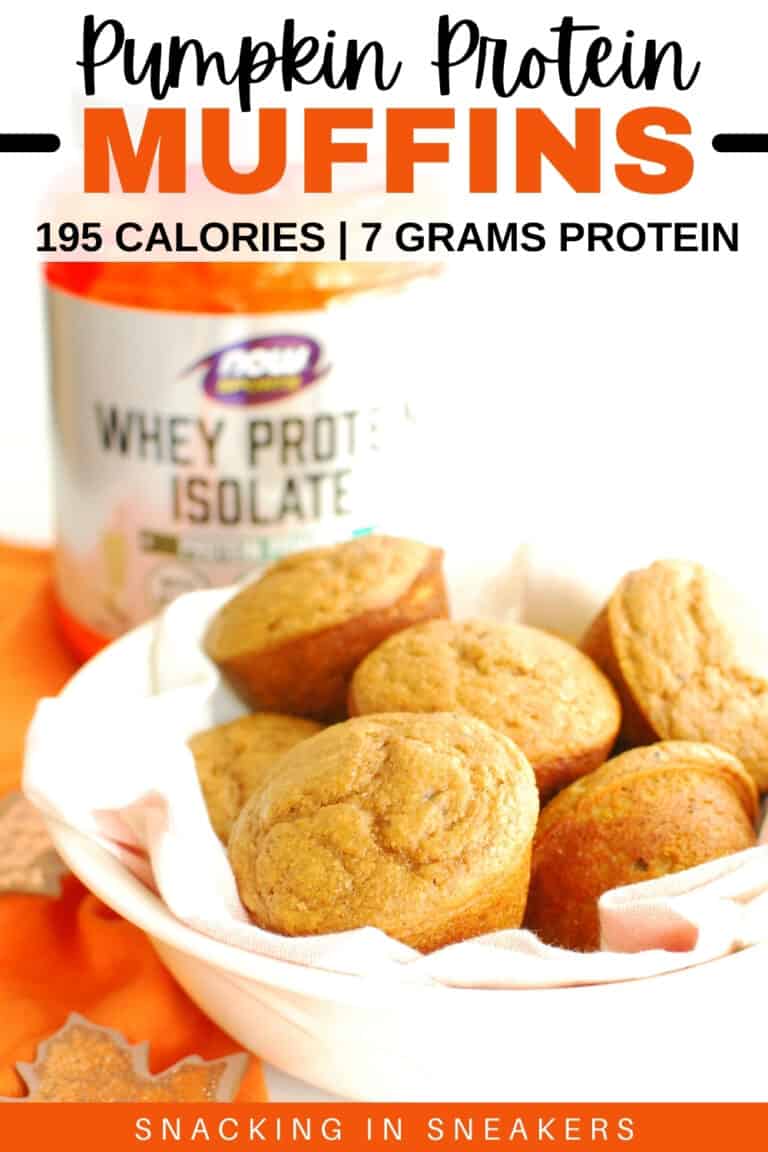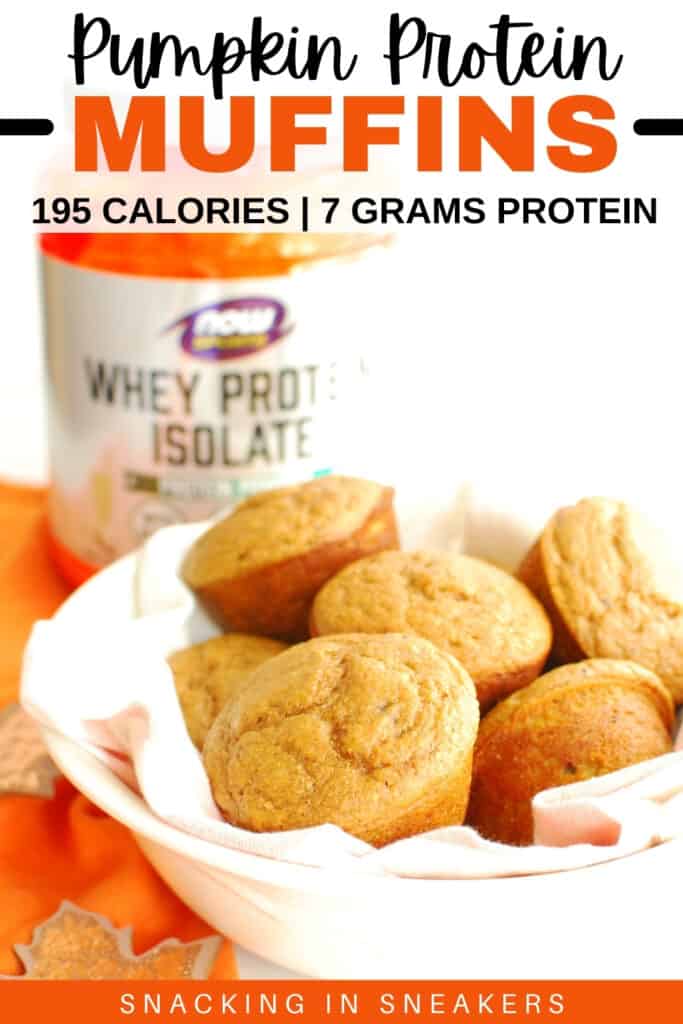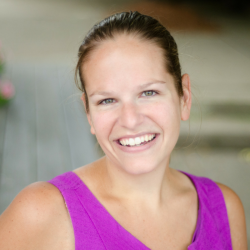 Latest posts by Chrissy Carroll
(see all)