Craving a sweet treat on a cozy fall morning? Try these caramel pumpkin overnight oats! This lightly sweetened recipe is reminiscent of a pumpkin dessert, but in a more nutritious combination for breakfast.
What are overnight oats?
Overnight oats are one of the best meal prep breakfasts because they're just so simple to make. Essentially, you just toss a bunch of ingredients in a mason jar, shake it up, and let it sit in the fridge overnight.
While they sit in the fridge, the oats will absorb much of the liquid and soften in texture – making them more similar to the regular oatmeal texture you know and love.
You can eat overnight oats either cold or hot, so they're great for a grab-and-go breakfast. And because they'll last for 3-4 days in the fridge, they're great to prep ahead on Sunday for the next few days of the work week.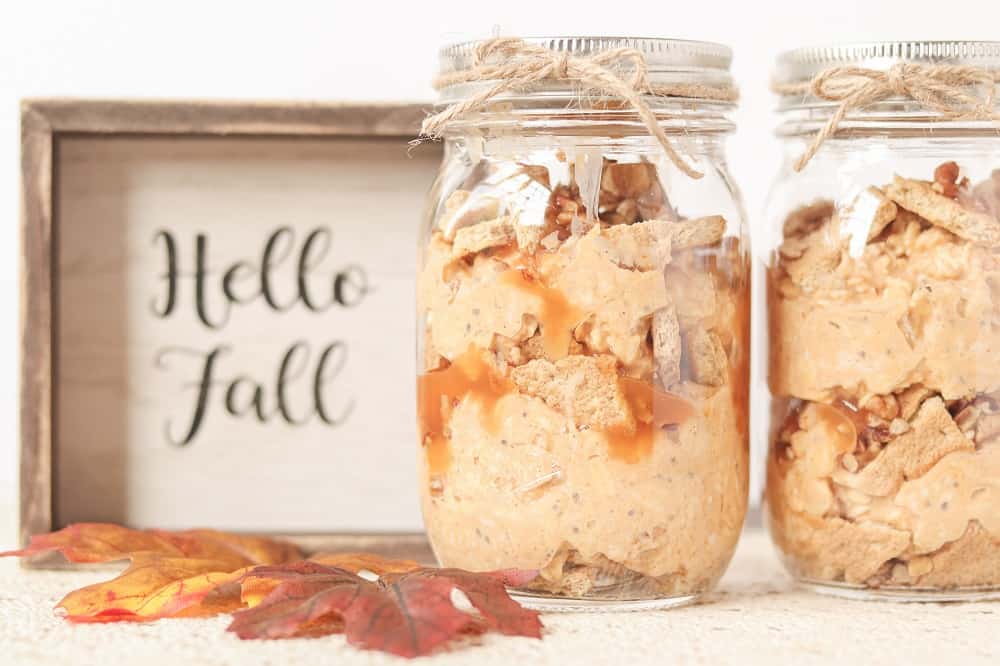 How to make caramel pumpkin overnight oats
For these pumpkin overnight oats, here's what you'll put in your mason jar:
Oats
Greek yogurt
Pumpkin
Pumpkin pie spice
Chia seeds
Pecans
Milk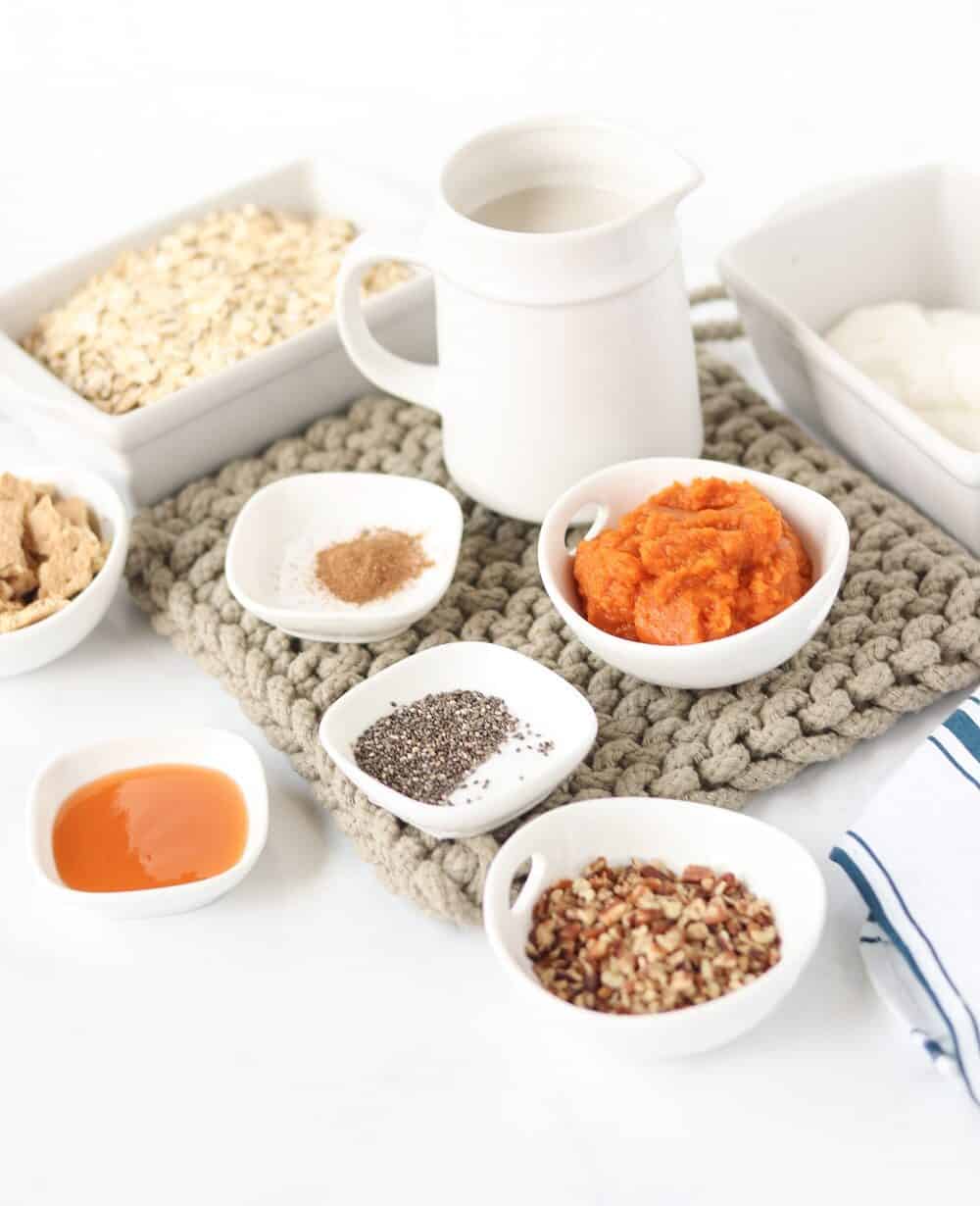 Just mix those all together in the jar and let it sit overnight.
In the morning, you can add some pieces of graham cracker and a drizzle of caramel syrup and boom – a delicious breakfast that will remind you of pumpkin pie in a jar.
Now one quick note – you can see in some of the photos here, I layered it all cute (because I wanted them to look pretty!). But after testing it both ways I realized the result is much better if you actually don't layer it, and instead save the graham cracker and caramel to add in the morning. This results in a) the most pronounced caramel flavor, and b) the graham cracker stays a little crunchy adding texture, rather than getting soggy and disappearing into the oats when left overnight.
When you're ready to eat your oats, dig into them cold – or pop the jar (remove the lid!) in the microwave for about 60-90 seconds. I prefer them warmed up, but they still taste delicious cold.
Why pumpkin overnight oats are good for active women
These pumpkin oats are a crazy filling breakfast option. You know how training hunger kicks in and you want to eat ALL THE THINGS? A meal like this will help keep you full and satisfied, thanks to the 9.5 grams of fiber and almost 20 grams of protein.
It's also a higher carbohydrate meal, which is a good choice for those of you with busy fitness schedules that need the energy to power you through those workouts.
And as a bonus, it's a great source of calcium (important for athletes' bone health) and iron (key for blood health as far as transporting oxygen to the muscles). And it packs in more potassium than a banana.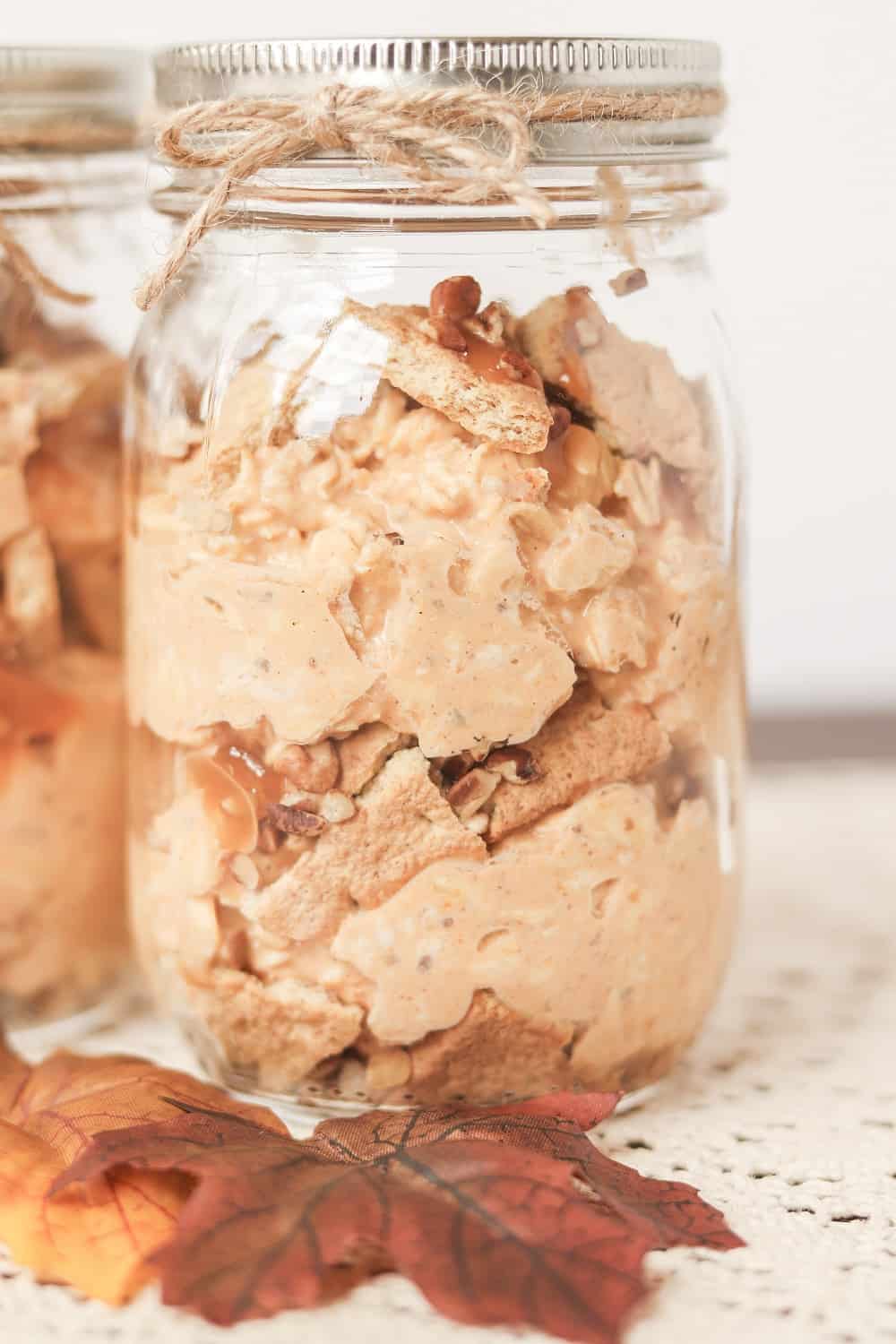 What about the added sugar?
I'm all about minimizing daily added sugar intake, and in many overnight oat recipes I use, I'll mash up fruit in order to sweeten them – thus nixing any added sugar and only focusing on natural sugar.
However, the goal for this breakfast was to create something a bit reminiscent of a fall dessert, but for a morning meal. And for that, I broke out the caramel.
Even though the breakfast itself contains a total of 21 grams of sugar, some of that is naturally occurring in the milk and yogurt. About 10 grams of sugar in this recipe are added, coming from the graham cracker and caramel syrup.
Keep in mind the American Heart Association recommends that women limit added sugars to 25 grams per day, and that men limit added sugars to 36 grams per day. Another recommendation from the Dietary Guidelines recommends keeping added sugar to less than 10% of daily calories, so around 180 calories – or 45 grams – for an 1800 calorie diet.
Even looking at the stricter AHA guidelines, these caramel pumpkin overnight oats are still only about a third of your daily added sugar limit for the day, so this meal can certainly fit into a balanced diet. Just keep the rest of the day controlled and you're all set.
Overall, as an RD, I don't see a major issue with adding small amounts of added sugar to nutritious foods (like oats and yogurt) in order to make them more palatable and delicious. If that encourages you and your kiddo to eat oatmeal, than it's all good – as long it's not excessive (i.e. stirring in half the jar of caramel). 😉
All that said – if you don't feel comfortable using the caramel because of the added sugar, though, you could easily blend some dates or another fruit into the base to sweeten it before putting it in the mason jar overnight.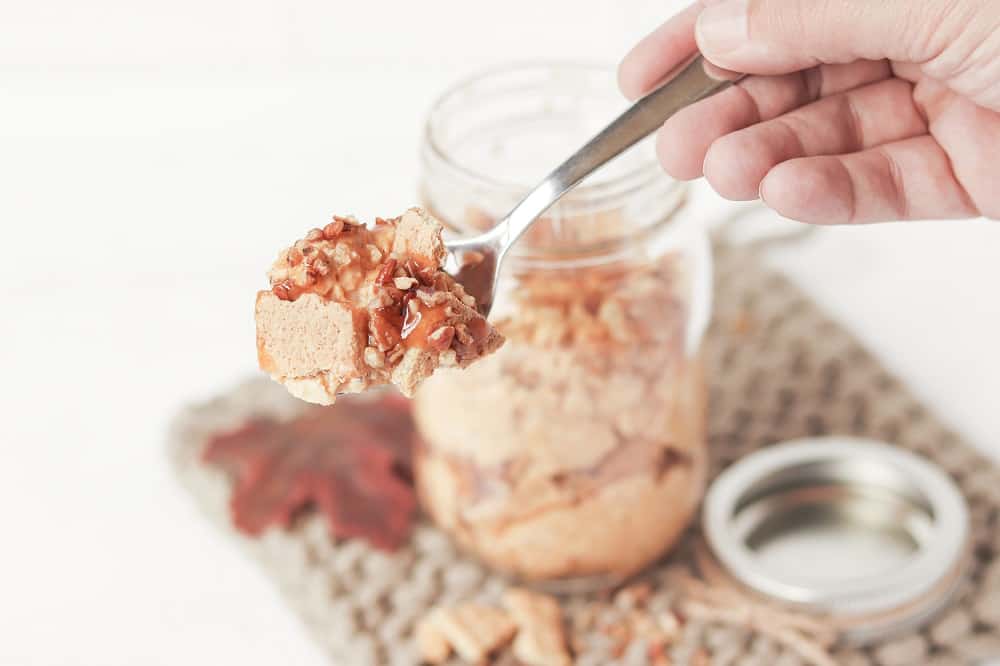 Alright folks – go get 'yo fall on and enjoy these delicious caramel pumpkin overnight oats! If you get a chance to try them, do me a favor and leave a recipe rating or comment below.
PS – Looking for more tasty pumpkin recipes? Try these pumpkin baked oatmeal cups, pumpkin truffles, or pumpkin and butternut squash pasta!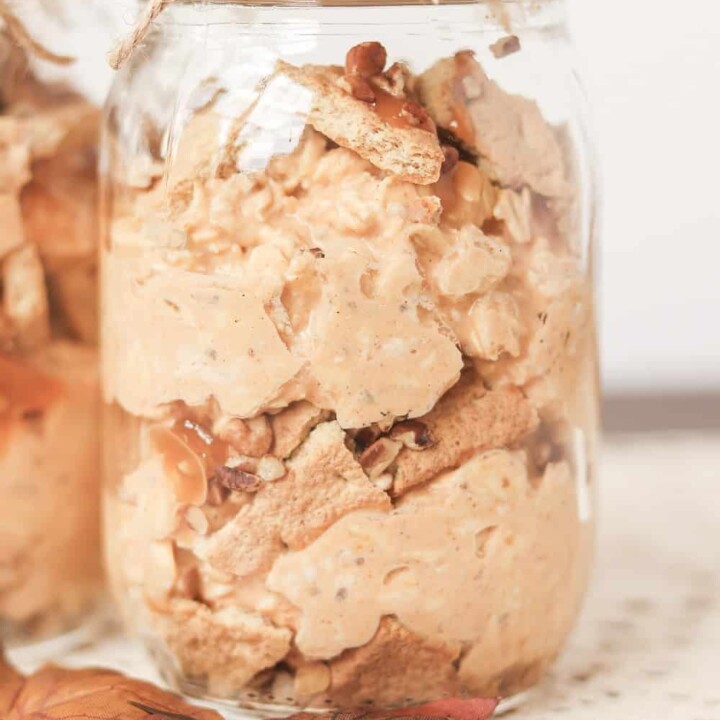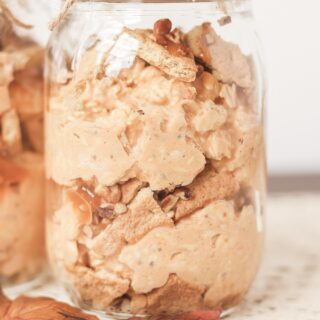 Caramel Pumpkin Overnight Oats
Craving a sweet treat on a cozy fall morning?  Try these caramel pumpkin overnight oats! 
Ingredients
Ingredients for overnight oats:
1/2

cup

rolled oats

1/4

cup

plain nonfat Greek yogurt

2

tbsp

canned pumpkin

1/2

tsp

pumpkin pie spice

1

tbsp

chia seeds

1

tbsp

chopped pecans

1/2

cup

1% milk

(or milk of your choosing)
For topping in the morning:
1

graham cracker, broken into bite size pieces

2

tsp

caramel syrup
Instructions
Combine all the ingredients for the overnight portion in a mason jar. Put the lid on, give everything a good shake, and place in the refrigerator overnight.

In the morning, mix in the graham cracker and caramel syrup.

Enjoy cold or hot. To serve hot, place in the microwave for 60-90 seconds (important – remove lid prior to microwaving). Stir well and enjoy.
Notes
Nutrition facts (approximate):
457 calories, 14.5 g fat, 3 g saturated fat, 185 mg sodium, 64 g carbohydrate, 9.5 g fiber, 21 g sugar, 19.5 g protein, Vitamin A: 100%, Vitamin C: 3%, Calcium: 35%, Iron: 26%, Potassium: 16%
Nutrition
Share: What's your favorite fall breakfast? If you tried these overnight oats, what did you think?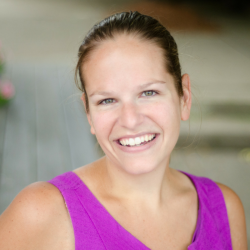 Latest posts by Chrissy Carroll
(see all)