Pumpkin baked oatmeal cups are great to make ahead, freeze, and heat up on cool fall mornings!
I was fighting it the last few weeks, but I think I'm ready to embrace the fall season. I'm sad summer is over but I'm ready for the leggings, boots, pumpkin, apples, and all the other quintessential fall things. Go ahead, you can label me basic 😉 –>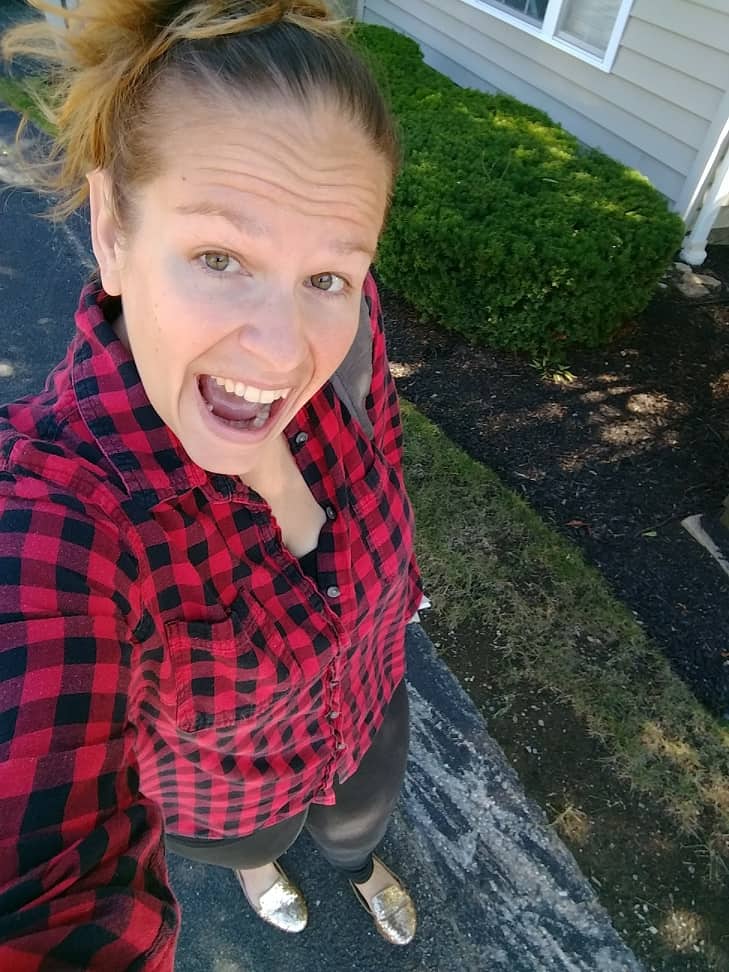 As that crisp fall morning air creeps in, you'll fall in love with today's recipe – pumpkin baked oatmeal cups. Think hearty oatmeal; warm, earthy pumpkin; sweet bananas and dates; and rich dark chocolate. All these simple ingredients come together to create this lovely morning (or anytime) treat.
One of the best things about this recipes is that these have no added sugar (except for the added sugar in the few chocolate chips on top). Instead, they're sweetened naturally with bananas and dates. That means you get additional vitamins, minerals, and phytochemicals – compared to making baked oatmeal with regular sugar where you lose out on all those benefits.
This recipe is also nice because it checks off boxes for a lot of dietary limitations, which is great for some of my friends and clients. It's vegan-friendly and gluten free. It's also top-8 allergen free, as long as you buy allergen-friendly chocolate chips (I recommend Enjoy Life – the red bag of dark chocolate chips is SO good).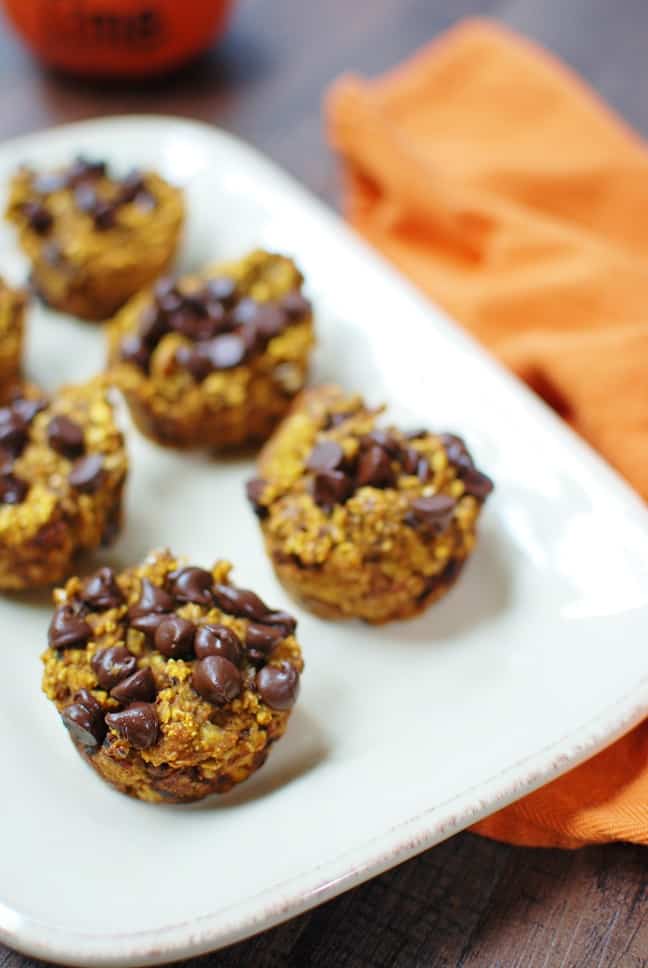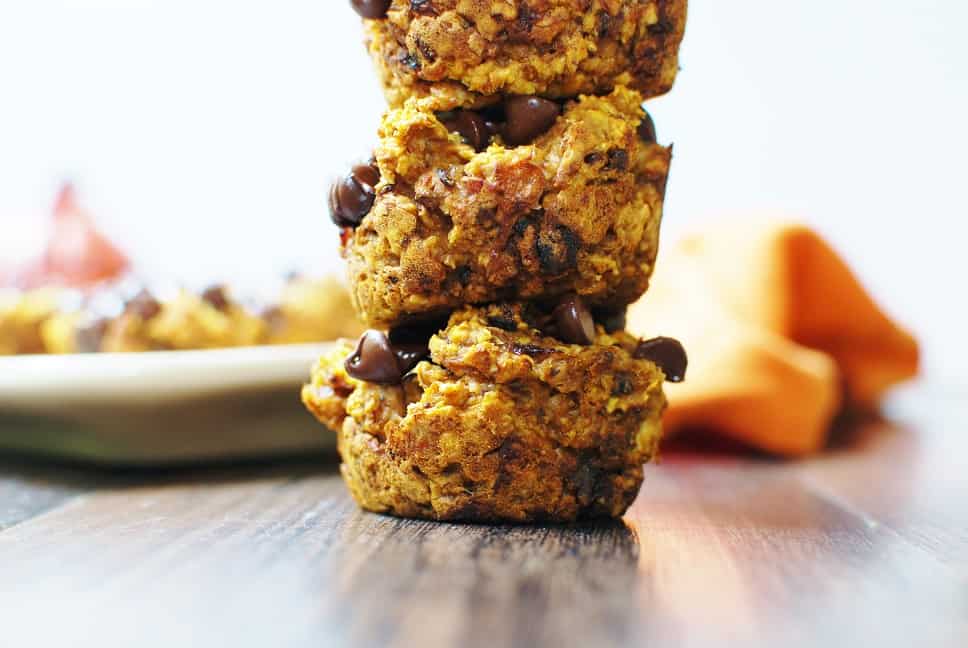 As a runner, I'm often looking for things that I can grab quickly on a busy morning. One of these pumpkin baked oatmeal cups plus a hardboiled egg or a string cheese makes a simple, balanced grab-and-go breakfast.
They're also a great snack choice when you're looking for some healthy carbs to fuel your body. Let's say you've got an afternoon workout, but you're feeling that energy dip between lunch and your sweat sesh. You can snack on one of these an hour before your workout to top off those energy stores.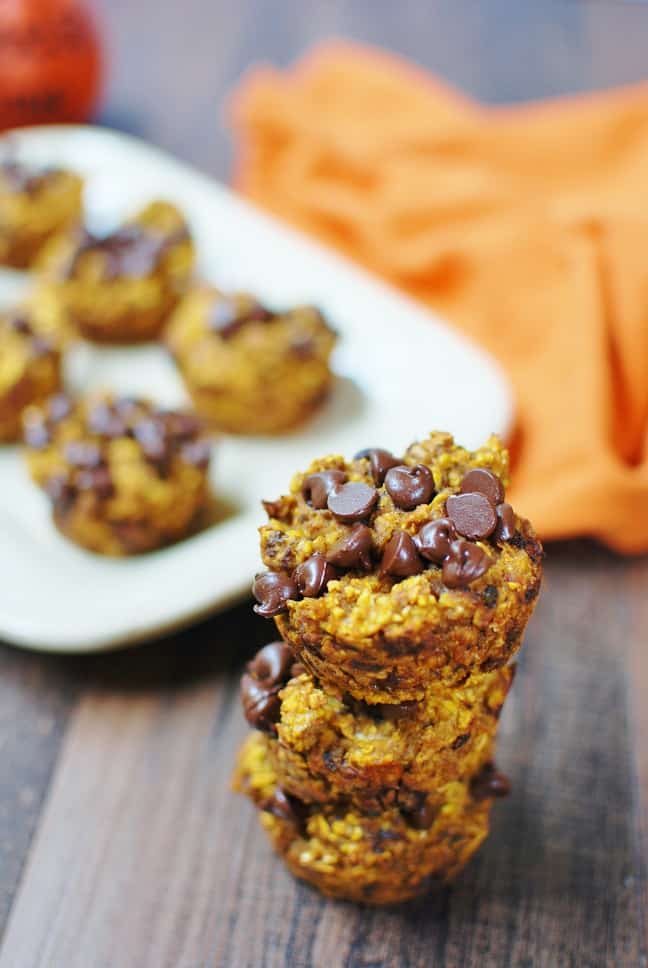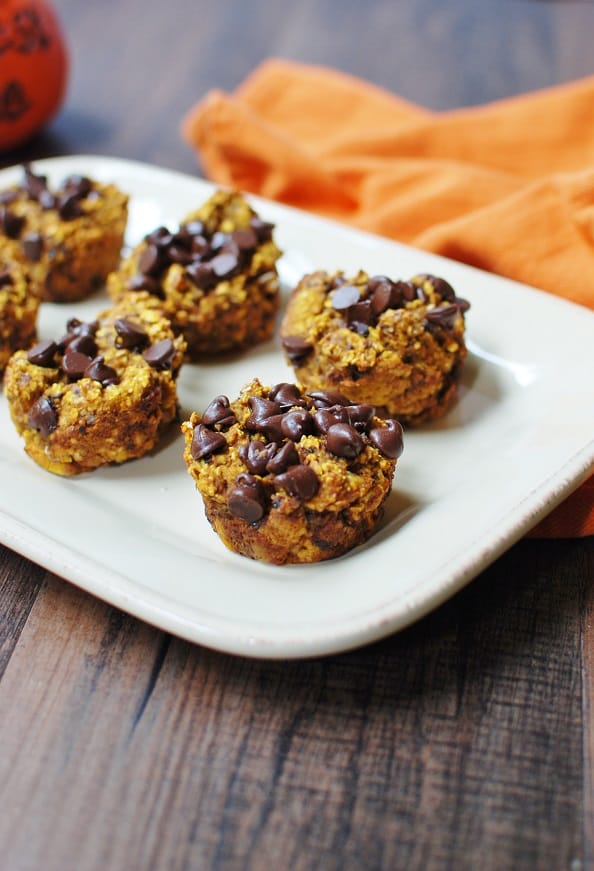 One of the other reasons I love these so much is that they freeze wonderfully. After you bake the oatmeal cups, wait for them to cool, and then store them in a container or zip top bag in the freezer. When you are ready to eat one, just pop it in the microwave it for about 30-40 seconds. I'll often bake a batch of 12 on Sundays and throw them in the freezer to pull out for me (and the kiddo) throughout the week.
Break out the pumpkin and give these a try – then be sure to stop back over and let me know what you think.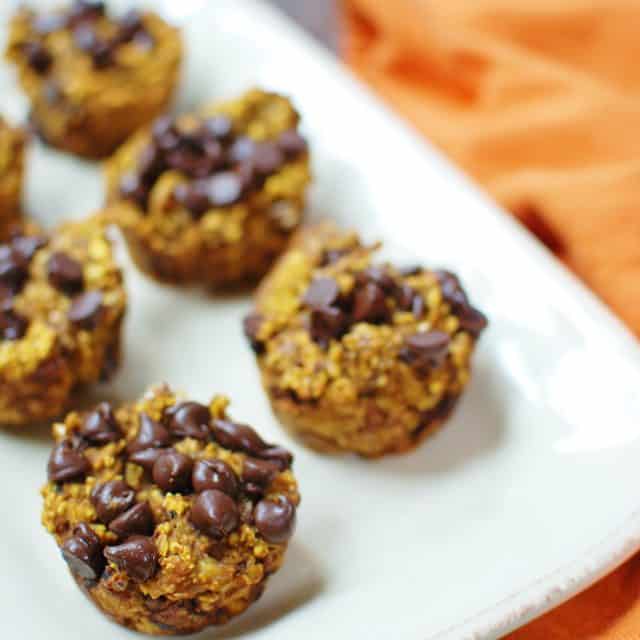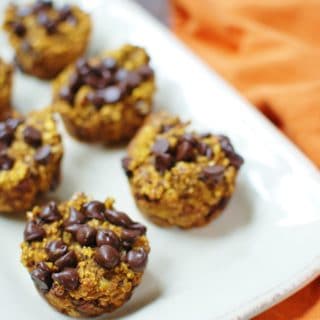 Pumpkin Baked Oatmeal Cups
Pumpkin baked oatmeal cups are great to make ahead, freeze, and heat up on cool fall mornings! This recipe is also vegan friendly and allergy free.
Ingredients
2

tbsp

ground flax seed

3/4

cup

whole dates

(about 13-15 smaller size dates)

2

bananas

(I recommend very ripe)

1

cup

pumpkin puree

2

cups

rolled oats

(if gluten free, look for certified gluten free)

1

tsp

baking soda

1

tsp

pumpkin spice or cinnamon

(optional - recipe works fine without spices)

1/3 to 1/2

cup

dark chocolate chips

(if vegan or have allergies, look for allergen-free chocolate chips.)
Instructions
Preheat oven to 350F. Lightly grease a muffin tin.

Place the ground flax in a small bowl or cup and add 6 tablespoons of hot water (otherwise known as making "flax eggs"). Set aside for a few minutes.

Meanwhile, add the dates and bananas to a food processor. Pulse several times until well combined. There may be a few small chunks of dates in there; that's fine.

In a large bowl, combine the banana-date mixture with the pumpkin, oats, baking soda, and "flax eggs". You can also add in the optional cinnamon or pumpkin spice (the recipe works fine without it though). Stir until well combined.

Divide mixture evenly in the muffin tin, then divide chocolate chips evenly to top each one. Bake for 15-20 minutes. Let cool slightly then enjoy!

Notes
Notes:
These have no added sugar, except the sugar that's added to whatever chocolate chip you may purchase. You can make them completely added sugar free by skipping the chocolate chips or using cacao nibs on top.
You can also make these with just bananas, and mix in frozen blueberries rather than topping with chocolate chips.
If you find these are not sweet enough for your liking, try adding a few extra dates or stirring in a little maple syrup.
Nutrition analysis (approximate per baked oatmeal cup):
150 calories, 4 g fat, 1.5 g sat fat, 106 mg sodium, 27 g carbohydrate, 4 g fiber, 13 g sugar, 3 g protein, Vitamin A: 64%, Vitamin C: 4%, Calcium: 2%, Iron: 7%, Potassium: 7%
Nutrition
Share with me: Are you in fall mode yet, or are you still hanging onto summer? What's your favorite pumpkin breakfast item? Have you ever tried pumpkin baked oatmeal cups?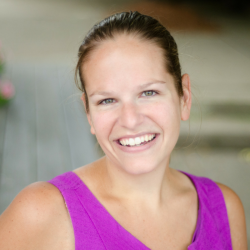 Latest posts by Chrissy Carroll
(see all)