Cookies for breakfast?! You betcha! These healthy pumpkin oatmeal breakfast cookies are filled with nutritious ingredients that will fuel your morning – whether you're running out the door for a workout, getting ready for a long day at the office, or playing with your kiddos at home.
This recipe is filled with healthy carbs to give you the energy you need, along with healthy fats for sticking power. They're great to make ahead so you can grab a couple quickly before you're heading out the door. Plus, they're a nice option for kids too – definitely the kind of cookies you can feel good about letting the little ones snack on.
Note: This recipe was originally published in 2017 and has been updated in 2021 with additional information and new photos. The recipe itself remains the same.
Ingredients
These vegan pumpkin breakfast cookies are mostly made up of nourishing whole foods. Essentially, this recipe is oatmeal in cookie form! Here's what you'll need to make it and some highlights about each ingredient:
Ground flax seed – When you combine ground flax with water, it takes on a gel-like consistency that makes an excellent substitute for eggs. It's also rich in fiber (important for digestive health) and contains ALA, a type of omega-3 fatty acid.
Rolled Oats – Oats make up the bulk of this cookie recipe, making them very hearty cookies. Oats are an example of a healthy carbohydrate (seeing as they're a whole grain and pack in fiber) – so they're great to incorporate regularly in your diet, especially if you're active.
Dried Cranberries – Cranberries add a pop of tart flavor to these cookies (plus, they're rich in antioxidants). Most dried cranberries are sweetened and that's what I used here. However, if you'd prefer, you could use unsweetened ones.
Golden raisins – These are always my go-to in the raisin world (love the taste) – but you can feel free to use regular ones instead if you prefer! Raisins add additional sweetness to the recipe.
Walnuts – Walnuts add a lovely nuttiness and crunch to this recipe. We often hear about antioxidants in fruits and veggies, but walnuts are also a great source of antioxidants. Some research suggests that walnuts may also improve gut health.
Chia seeds – Remember those old commercials – cha cha cha chia? Yep, those chia heads used chia seeds to sprout greens. However, now we know we can actually eat the seeds as they're really good for us! Chia seeds contain healthy fats and fiber.
Pumpkin puree – You'll want plain pumpkin puree for this recipe (not pumpkin pie filling). This veggie (or botanically, fruit) is packed with beta carotene, which the body converts to Vitamin A (important for eye sight and overall health). (PS – if you're looking for more pumpkin recipes to try after this one, definitely check out my pumpkin smoothie bowl and pumpkin overnight oats).
Coconut oil – This adds a little fat and richness to the recipe, and also helps the cookies keep their form.
Pure maple syrup – This is used to sweeten to cookies. Who doesn't love that delicious maple flavor in fall (or anytime)?!
Cinnamon – This aromatic spice adds extra flavor.
Salt – Using salt helps bring out the rest of the flavors in the recipe.
Instructions
Ready for one of the easiest recipes ever? Let's get to it! (Full recipe details and instructions are in the recipe card at the bottom of this post).
You'll start by making what's called "flax eggs". Sounds strange, but you're just mixing up the ground flax seed with hot water. When you do this and let it sit for a few minutes, it thickens up a bit and look like this: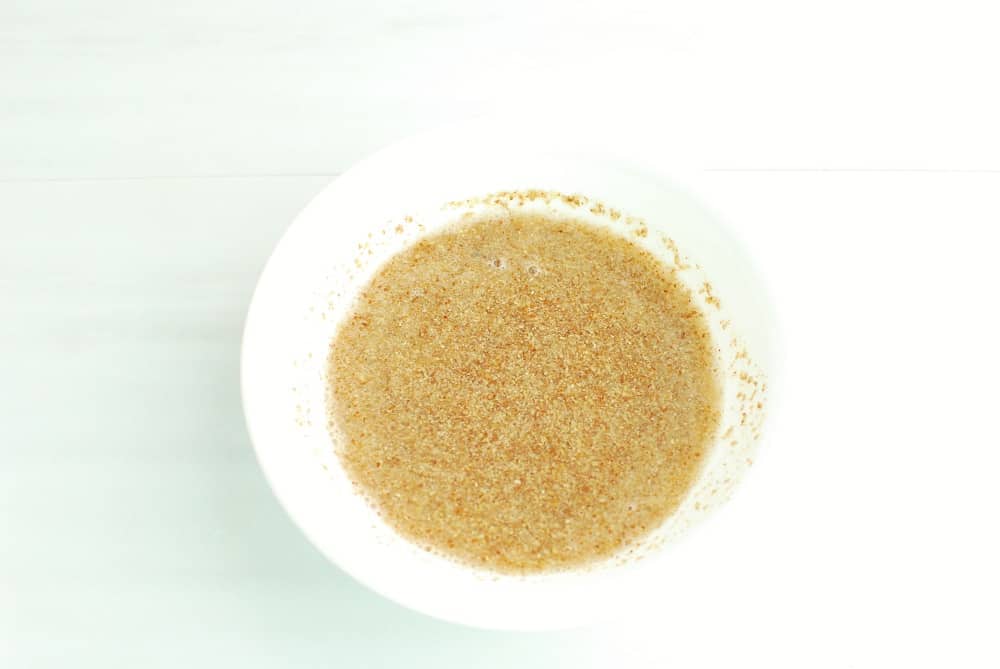 When you use that mixture in this recipe (or other vegan cookie recipes) it helps hold structure in the recipe.
Now, you'll mix all your other ingredients together. No special way of mixing; just toss everything into the bowl. Add your flax mixture too once it's ready. And then stir everything up to combine well. It'll look like a bit different than regular cookie dough; that's normal. Here's what it looks like: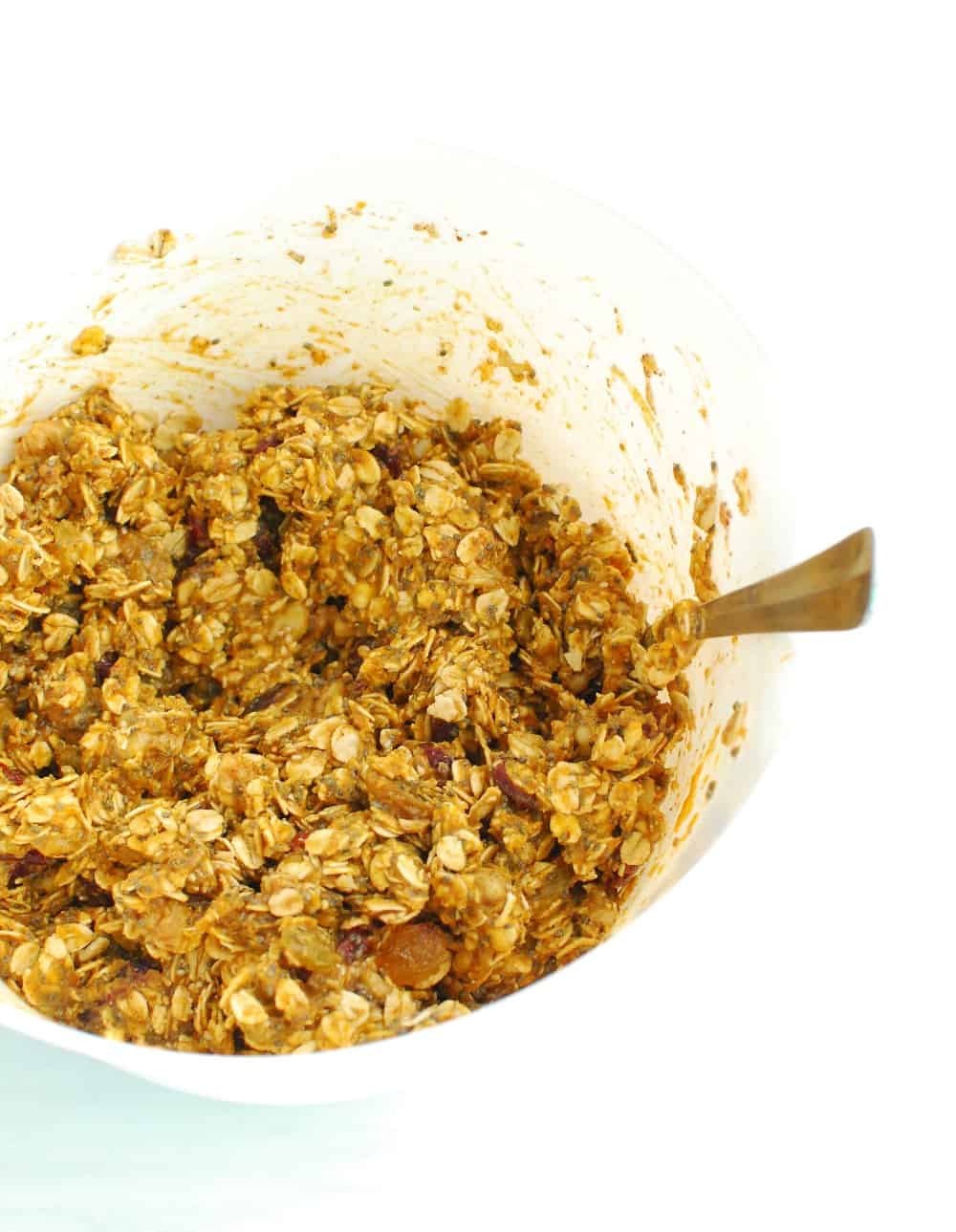 Next, take a 1/8-cup measuring cup – or a cookie scoop – and scoop these out onto parchment-lined baking sheets. You should get about 18 cookies (though that may vary if you're using a different size scoop).
Flatten them out a bit into a thick, round cookie. These don't spread when you bake them, so you want to shape them now. Leave them on the thicker side – around 1/2 to 3/4 inch – for the best texture. Pro tip: if you make them too thick (like over an inch), they won't cook right — and if you make them too thin, they won't hold together.
Now just pop 'em in the oven and bake them for about 20-25 minutes. Yes, that sounds long! Feel free to check after 15 minutes if you're nervous. But if you leave them thicker as mentioned above, they do need around 20-25 minutes to cook completely. I personally prefer the longer end of that range, as the bottoms get a little crisper.
When you remove them from the oven, just leave them on the baking sheet to cool completely. Then dig in and enjoy!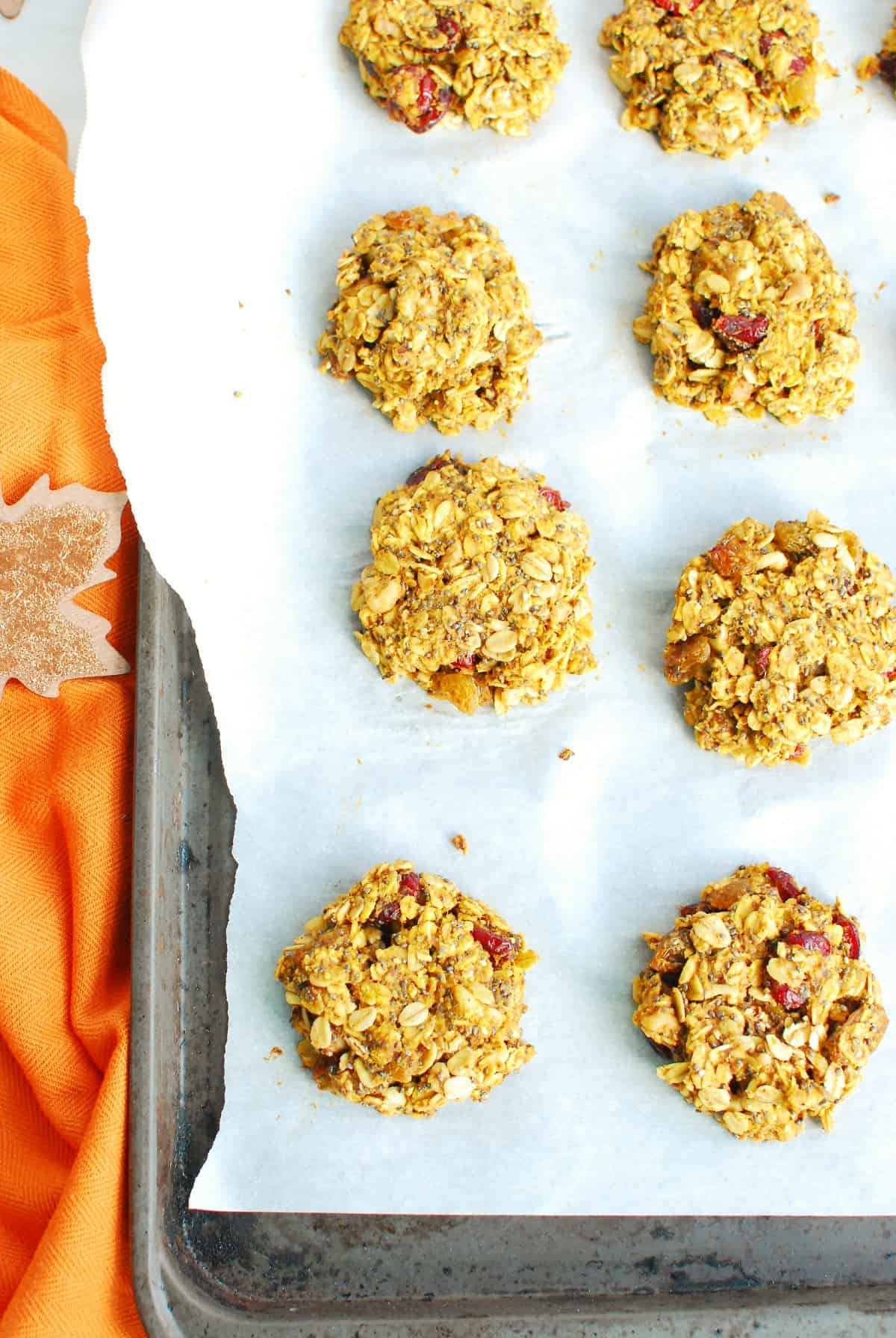 Recipe FAQ
Here are some common questions that may arise as you prepare this recipe:
What type of oats can you use in this recipe? I recommend rolled oats, as you'll end up with the best texture. You can also use instant oats (sometimes called quick oats) in a pinch. However, do not use steel cut oats – they will not work for this recipe.
Can you use honey instead of maple syrup? Sure! (Keep in mind if you use honey, the recipe will no longer be vegan-friendly).
How should I store these? You can store the pumpkin oatmeal breakfast cookies at room temperature for 2-3 days. If storing longer than that, I recommend putting them in the refrigerator.
I accidentally undercooked them. What should I do? No worries, they're still good to eat! Since there's no egg, there's no worry about food safety for undercooking these. They might just be softer and a bit moister than expected. Also, if you do undercook them, just be sure to store any leftovers in the fridge.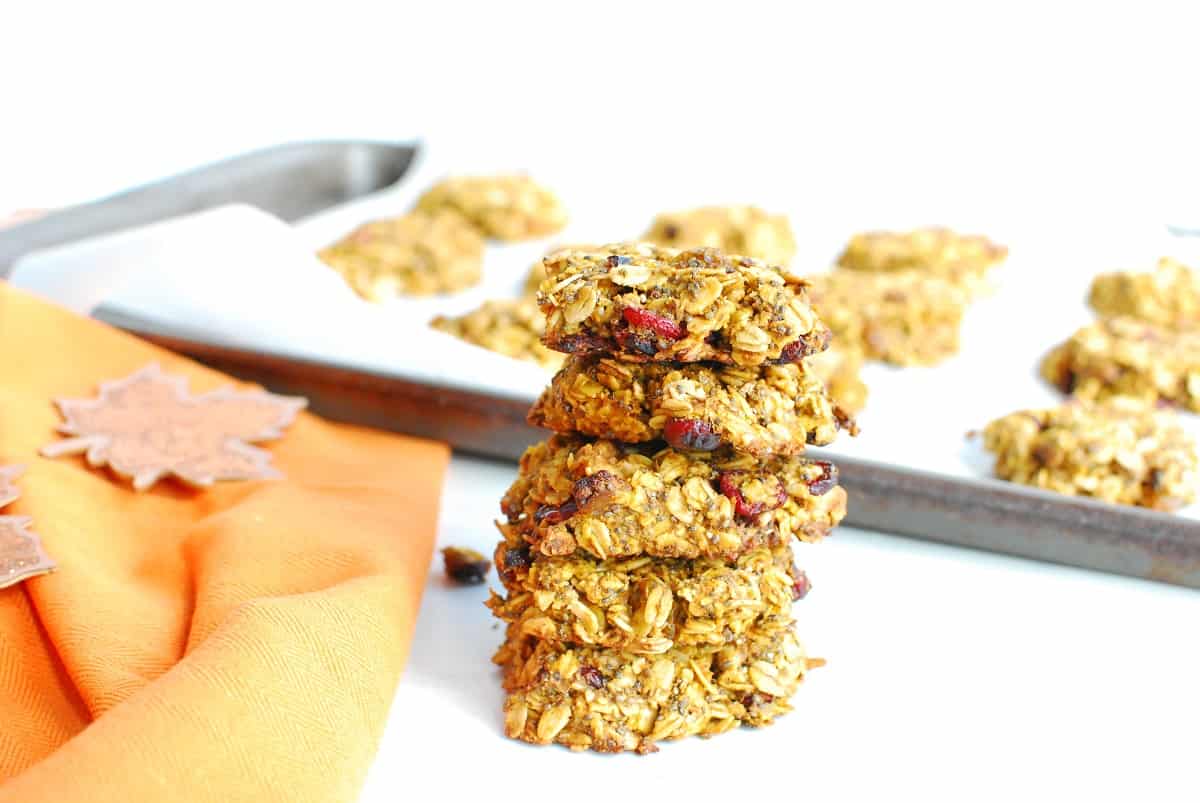 Other Breakfast Cookie Recipes
If you're looking for more breakfast cookie recipes, check out a few of these tasty options I found from other bloggers:
I hope you enjoy these as much as my family did. We've been munching on them all week! Give 'em a whirl and be sure to comment and let me know what you think.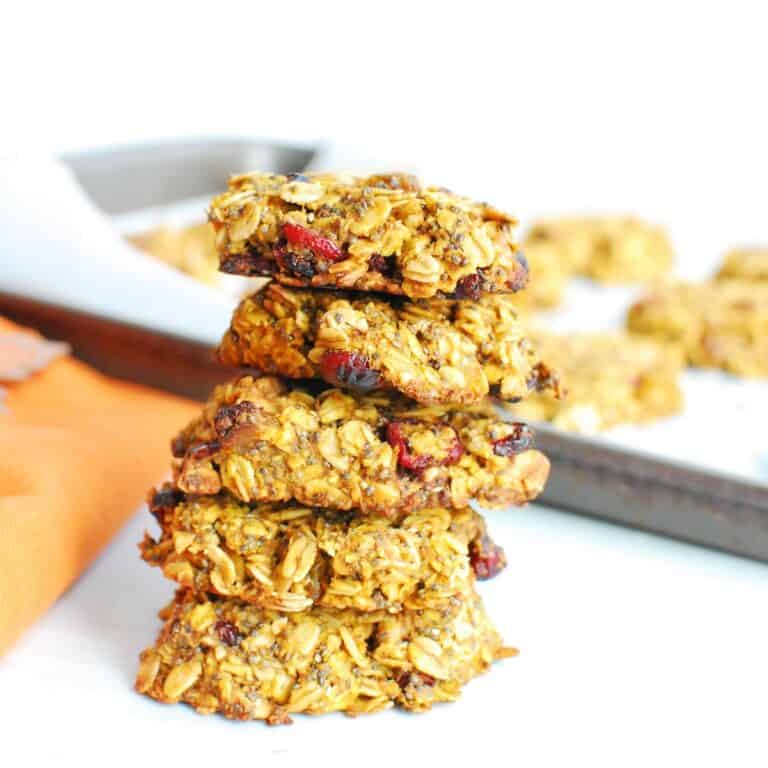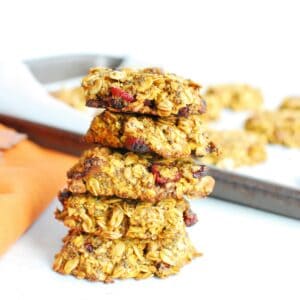 Pumpkin Oatmeal Breakfast Cookies
These pumpkin oatmeal breakfast cookies are a perfect fall treat for your morning meal!  They're made with whole food ingredients and are vegan.
Ingredients
2

tbsp

ground flax seed

5

tbsp

hot water

2

cups

rolled oats

(*if gluten free, use certified gluten free variety)

1/3

cup

dried cranberries

1/3

cup

golden raisins

1/2

cup

chopped walnuts

1/4

cup

chia seeds

1/2

cup

pumpkin puree

1/4

cup

coconut oil, melted

1/4

cup

pure maple syrup

1

tsp

cinnamon

1/2

tsp

salt
Instructions
Directions:
Preheat oven to 350 degrees F. Line two baking sheets with parchment paper.

Prepare flax mixture by mixing the 2 tablespoons of ground flax seed with the 5 tablespoons of hot water. Set aside for 5-10 minutes. (It will thicken in texture after sitting for a few minutes).

Meanwhile, add all remaining ingredients to a large bowl, then add the flax mixture when it's ready. Stir until all ingredients are well combined.

Using a 1/8 cup measuring cup (or cookie scoop), scoop the cookie mixture out and onto the baking sheet. You should end up with about 18 cookies. Flatten down each one a bit, forming a thick, round cookie shape (about 1/2- to 3/4-inch thick).

Bake for approximately 20-25 minutes, or until edges start to brown and bottoms are crisp (the centers will stay a little chewy). Let cool on the baking sheet and enjoy.
Notes
Keep in mind these don't spread while baking, so you want to shape them appropriately.  If they are too thick they won't be the right texture, and if they're too thin, they will not stay together upon cooling.
Nutrition Analysis (approximate per cookie):
128 calories, 6.5 g fat, 3 g sat fat, 70 mg sodium, 16 g carbohydrate, 2.5 g fiber, 7 g sugar, 2.5 g protein, Vitamin D: 0%, Calcium: 3%, Iron: 6%, Potassium 2%, Vitamin A: 35%
Nutrition
Share with me: If you tried these breakfast cookies, what did you think? Are you over the pumpkin treats or do you love 'em year round?
PS – Don't forget to pin this post to refer to later and share with friends!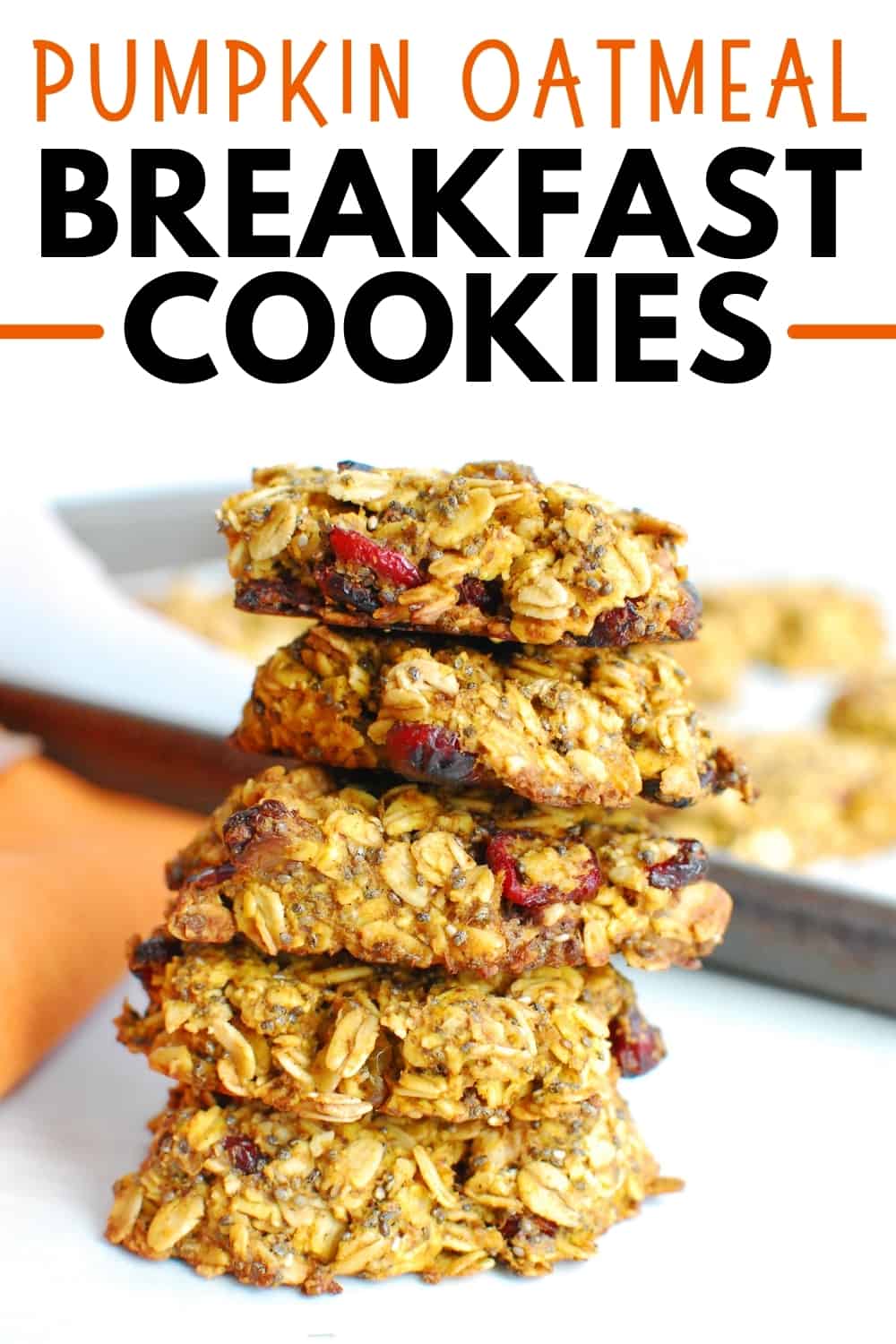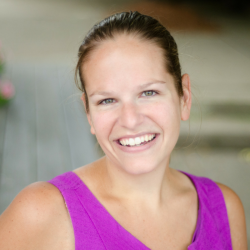 Latest posts by Chrissy Carroll
(see all)