This fueling pumpkin smoothie bowl is a delicious fall favorite that active women will love. It's creamy, full of pumpkin spice flavor, and packed with nutrient-dense ingredients that will help support your health. And of course, you can load it up with any toppings of your choice!
Disclosure: This post contains Amazon and other affiliate links; as an affiliate I earn a commission on qualifying purchases.
How to make a smoothie bowl
Smoothie bowls are made exactly the same way as you would a regular smoothie, except you'll use a little less liquid to do so. This helps create the really thick, spoonable texture of a smoothie bowl. It's like halfway between a drinkable smoothie and "nice cream", if that makes sense.
To do this, you'll need a good high-powered blender. I could never create smoothie bowls in my old junky blender because it'd just clock out when there wasn't a ton of liquid to blend. When I got a real blender and stopped using that $5 Black Friday deal one, haha, it was much easier.
Ingredients + nutrition facts
For this smoothie bowl, you're using a variety of nutrient-dense ingredients that taste great. It's sweet enough that it feels like dessert but nutritious enough to use as a breakfast, so you'll love the versatility. Here's some of the nutrition highlights:
Banana – potassium, a key electrolyte for exercise and regulating blood pressure
Pumpkin puree – beta carotene, the precursor to Vitamin A, important for vision and immune health
Cauliflower – Vitamin C, important for maintaining the body's tissues and immunity
Milk – Calcium and Vitamin D, for bone health
Greek yogurt – protein, to help with muscle repair and recovery
Cashew butter – healthy fats, to keep you full and satisfied
Also, before you say "What?! Cauliflower in a smoothie?!" – yes, there is cauliflower in here! Frozen cauliflower rice is one of my favorite tricks for making smoothies creamier and adding extra nutritional value. I promise, you do not taste the cauliflower at all. Again though, make sure you have a good blender, as you want to thoroughly blend it in so as not to have chunks in the smoothie.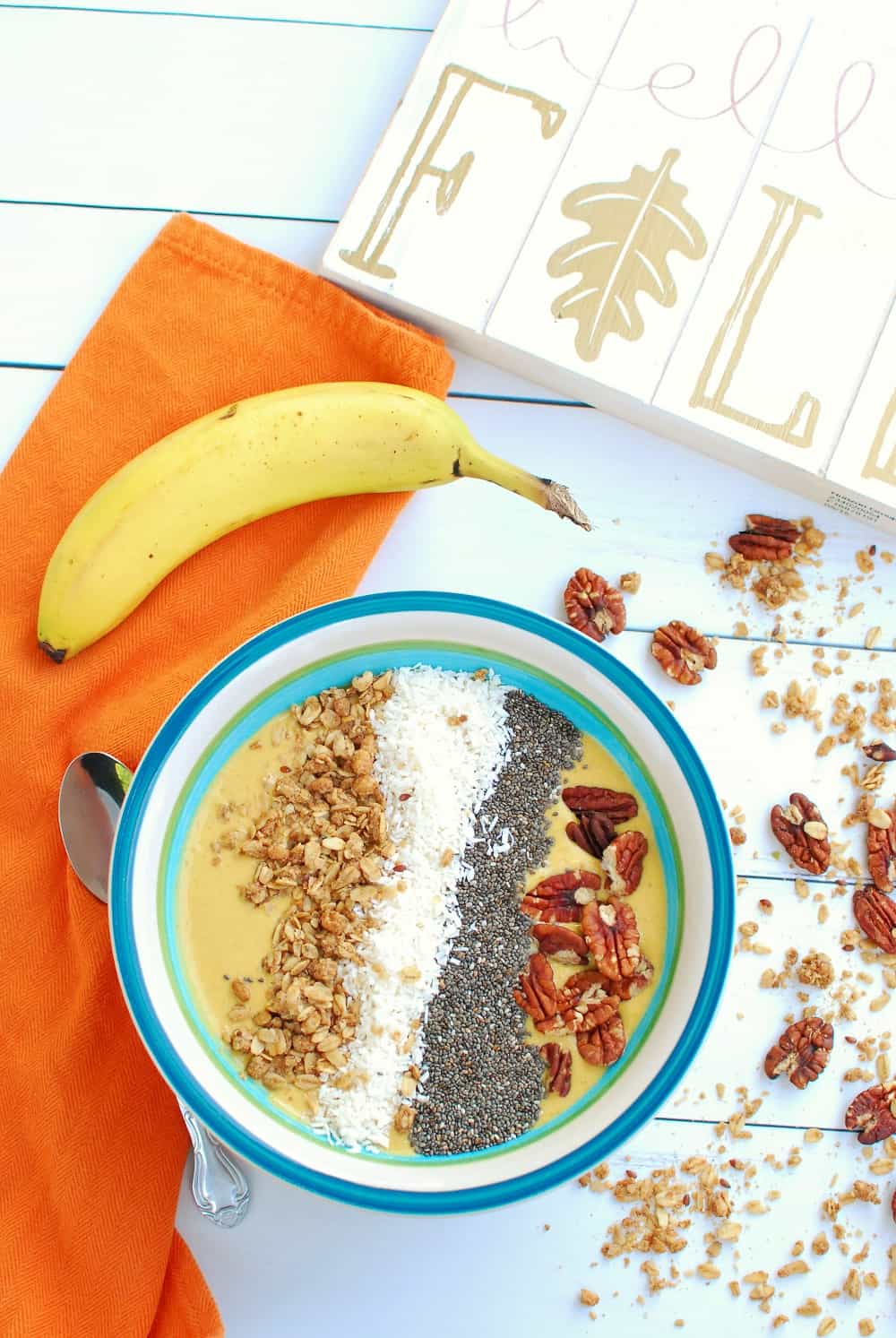 Smoothie bowl toppings
For the toppings on this smoothie bowl, I went with two of my standards – coconut and chia seeds – and then also added on pumpkin granola and pecans. I love these because each provides a different texture and flavor sensation, and all work really well with the pumpkin smoothie base. Plus, chia seeds, coconut, and pecans all contain healthy fats that help with satiety and keeping you full.
But there are tons of other toppings you could put on this too. Really, it's all about your flavor preferences. Consider these ideas:
Chopped apples
Sliced banana
Pumpkin seeds
Raisins
Dried cranberries
Fresh sautéed cranberries with a little brown sugar
Dark chocolate chips
Cacao nibs
Flax seed
Hemp hearts
Walnuts
Almonds
Peanut butter
Cashew butter
Almond butter
Grabanzos (these chocolate chickpea snacks are awesome as a smoothie bowl topping; use code CHRISSY06 for 15% off your order)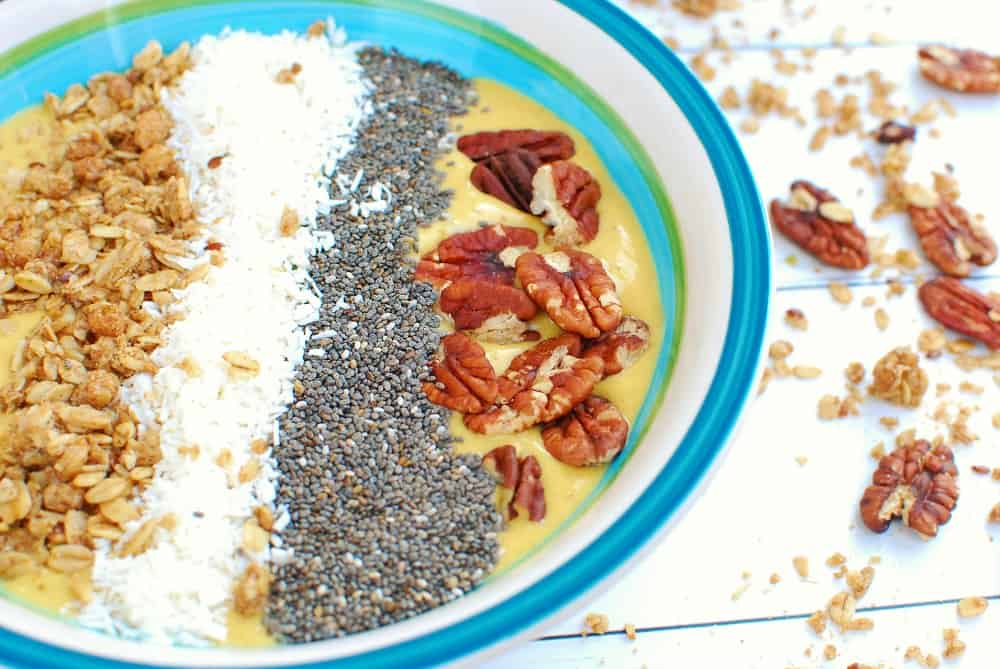 Recipe FAQ
I think most of you will find this recipe is super simple to whip up, but here's a few common questions you might come across:
Why is my smoothie bowl watery? You may have used too much liquid in it, or you may have used a fresh banana instead of a frozen banana. In this case your smoothie will still be delicious to drink, it just won't be the thick spoonable texture.
What's the best blender for smoothie bowls? I would recommend either a Vitamix or a Ninja. I also have a smaller personal size Ninja model that I use when I'm making smoothies. The model isn't made anymore but is pretty similar to this one if you're looking for something small on your countertop.
Can I make this without bananas? Yes, you can. I'd recommend doubling the cauliflower rice to get that same creamy frozen texture, and then adding a couple of dates for the sweetness that's missing in the banana.
I hope you love this fall pumpkin smoothie bowl. If you get a chance to try it, please feel free to leave a recipe rating or comment and let me know your thoughts! (And if you need other smoothie bowl recipes, try this high fiber smoothie bowl or this carrot cake smoothie bowl).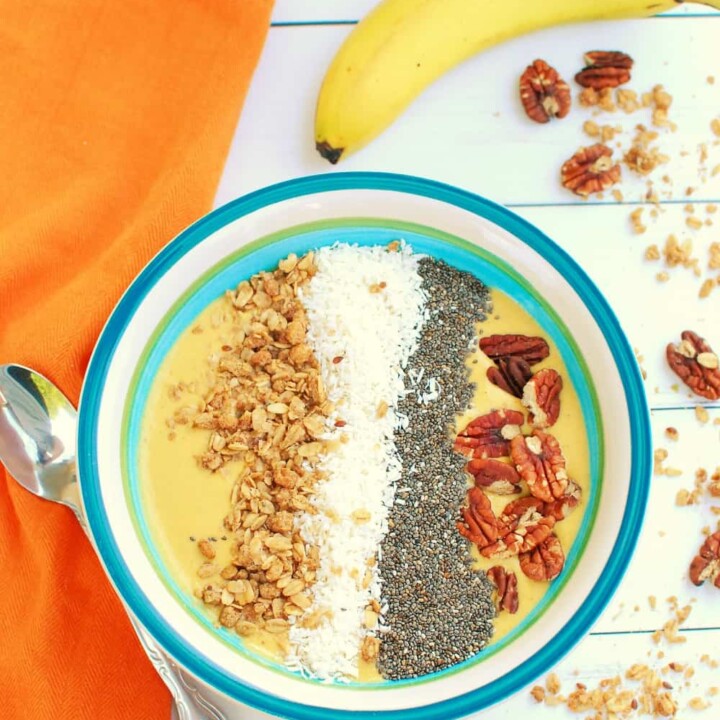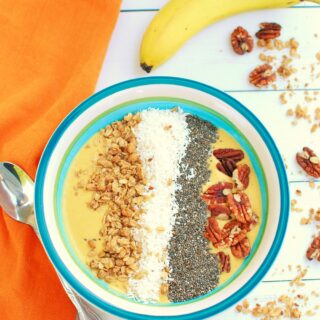 Pumpkin Smoothie Bowl
This delicious pumpkin smoothie bowl is creamy, full of pumpkin flavor, and packed with nutrient-dense ingredients!
Ingredients
Smoothie Bowl Ingredients:
1

frozen banana

1/2

cup

frozen cauliflower rice

1/3

cup

pumpkin puree

1/3

cup

1% milk

(or vanilla almond milk)*

1/3

cup

vanilla Greek yogurt

1

tbsp

cashew butter

1/4

tsp

pumpkin spice
Optional Toppings:
1

tbsp

granola

(I used pumpkin granola)

1

tbsp

unsweetened coconut

1

tbsp

chia seeds

10

pecan halves
Instructions
Blend all the smoothie bowl ingredients together in a high-speed blender. Pour into a bowl and top with the recommended toppings, or any that you'd like. Enjoy!
Notes
Notes:  *If your blender needs more liquid to be able to blend, increase milk to 1/2 cup. I find 1/3 cup is usually just enough to get everything to blend up smoothly into a spoonable texture, but if your blender isn't as powerful, you'll need a bit more.
Nutrition analysis (approximate without toppings): 339 calories, 10 g fat, 2.5 g saturated fat, 130 mg sodium, 53 g carbohydrate, 7.5 g fiber, 31 g sugar, 16 g protein, Vitamin A: 257%, Vitamin C: 77%, Calcium: 23%, Iron: 15%, Vitamin D: 10%, Potassium: 29%
Nutrition analysis (approximate with toppings): 554 calories, 28 g fat, 7 g saturated fat, 140 mg sodium, 65 g carbohydrate, 14 g fiber, 33 g sugar, 20 g protein, Vitamin A: 257%, Vitamin C: 77%, Calcium: 31%, Iron: 29%, Vitamin D: 10%, Potassium: 34%
Nutrition
Share: What's your favorite kind of smoothie bowl?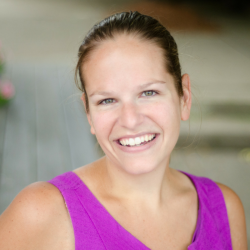 Latest posts by Chrissy Carroll
(see all)