Ready to kickstart your day with a nutritious and protein-packed breakfast? A high-protein breakfast helps provide protein to support the health and development of lean muscle mass, and also helps keep you full longer. Whether you're an athlete trying to optimize your meals for performance, or an on-the-go mom just looking to boost your protein intake – you'll love these ten meals with at least 30 grams of protein each.
(PS – If you want to download this content to save for later, there's an opt-in form at the end where you can get a PDF copy of it! Just scroll all the way to the bottom of the post and you'll see the box.)
1. Choco-PB Banana Smoothie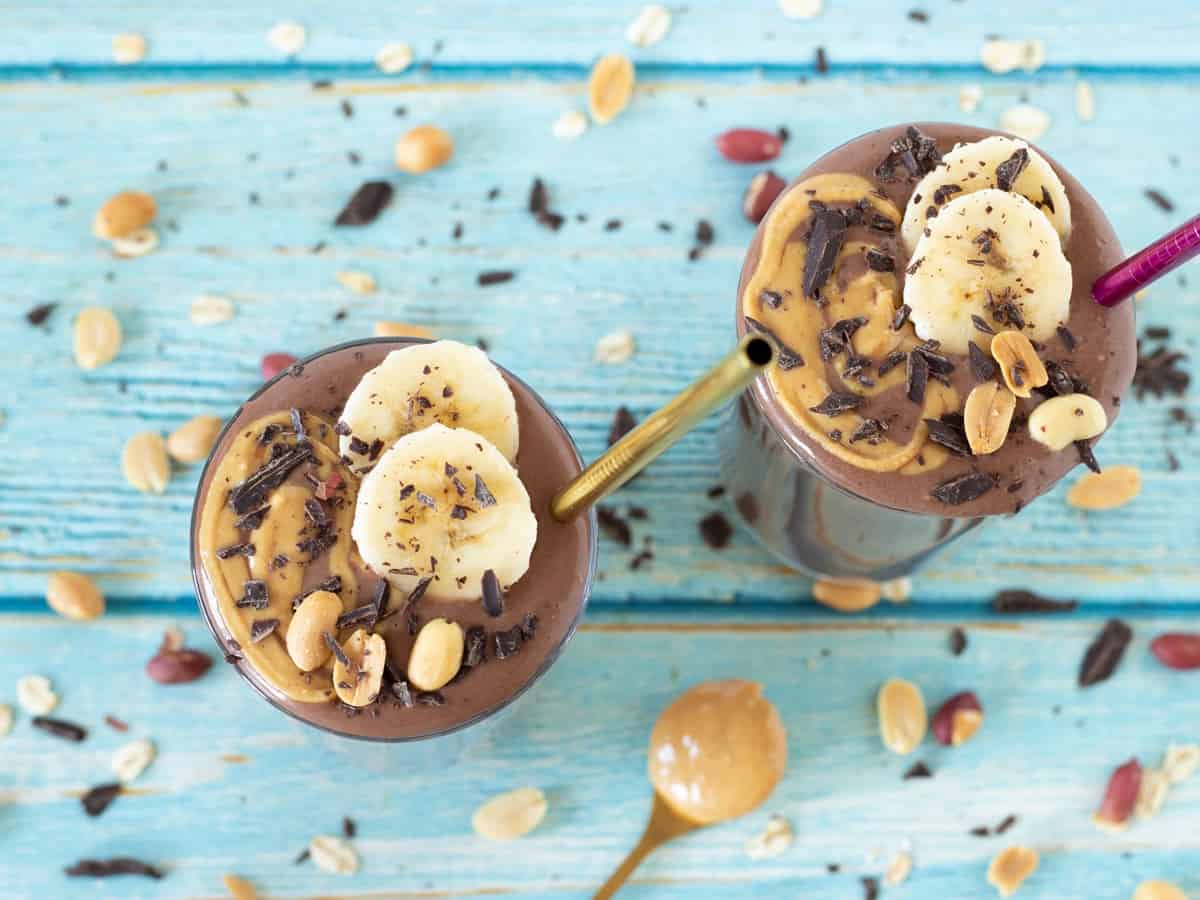 Is there anything better than the combination of chocolate, peanut butter, and banana?! To this day, it is my very favorite smoothie flavor combo. And this particular recipe is great since you only need five simple ingredients, and it comes together in seconds in the blender.
Helpful tips:
See if your grocery store sells browning bananas on a reduced rack or via the Flashfood app. Mine always does! You can buy them, freeze them as soon as you get home, and then you've got plenty of bananas on hand when you want to whip up smoothies.
You can use vanilla protein powder if you prefer, rather than chocolate.
You can use almond milk if you prefer rather than dairy milk (just keep in mind this knocks off about 7 grams of protein though).
Recipe – Single Serving
Ingredients:
1 banana, frozen
1 cup 1% milk
½ cup spinach
1 tbsp peanut butter
1 scoop chocolate protein powder
Instructions: Combine all the ingredients in a blender, and blend until smooth. Enjoy right away.
Nutrition: 470 calories, 13.5 g fat, 4 g saturated fat, 250 mg sodium, 53.5 g carbohydrate, 5.5 g fiber, 29 g sugar, 1.5 g added sugar, 37.5 g protein
2. Easy Cheeseburger Frittata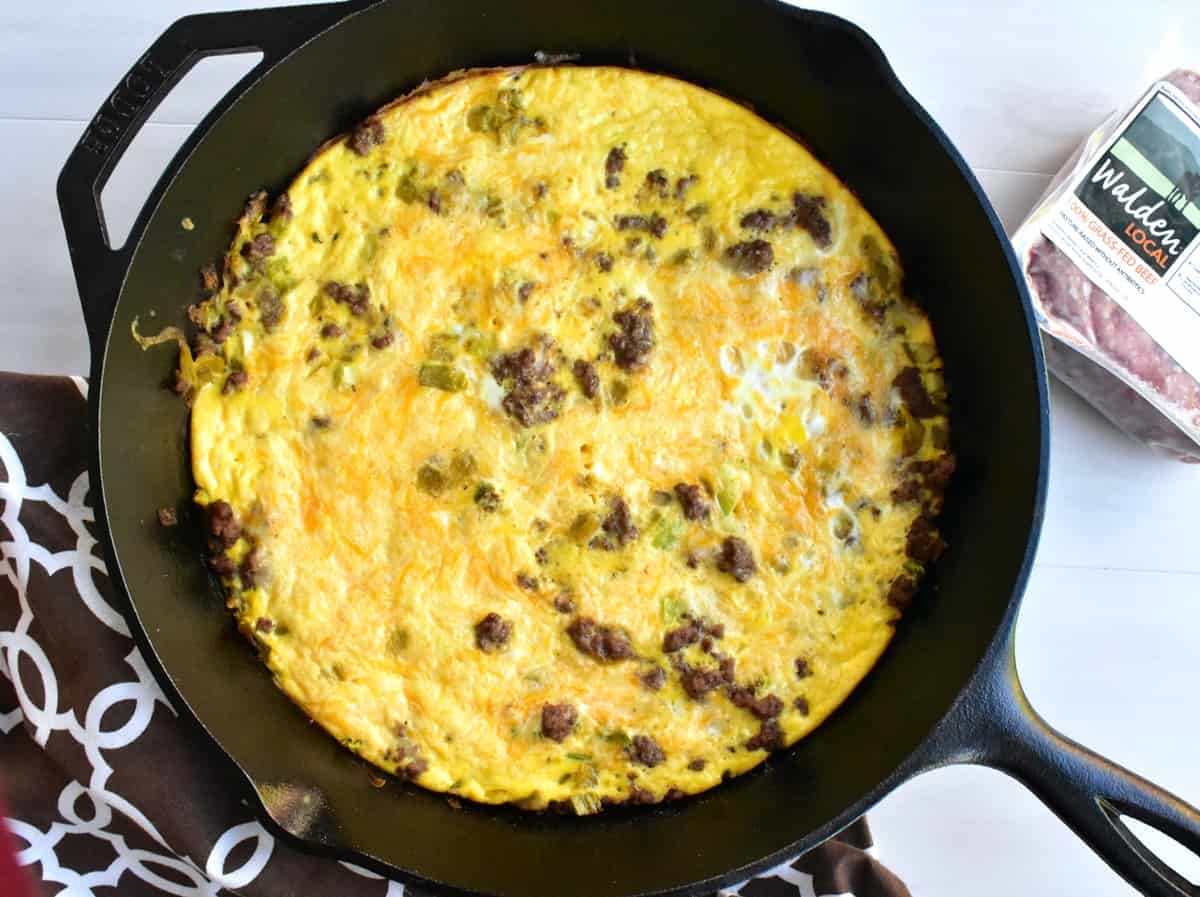 This breakfast is a riff on your favorite dinnertime meal, the cheeseburger! Lean ground beef is combined with green onions, green chiles, eggs, and cheddar cheese – then baked quickly in the oven into a fluffy frittata. When done, top it with pico de gallo for fresh tomato flavor.
Helpful tips:
90% ground beef is ideal for this recipe, since you're also getting fats in the cheese and eggs. But if you've got another type of ground beef on hand, feel free to use that instead. You can also use ground turkey in this recipe.
Feel free to mix in additional veggies you have on hand, like spinach or mushrooms.
Recipe – 4 Servings
Ingredients:
8 ounces 90% lean ground beef
3 green onions, sliced thinly
4 ounce can green chiles
6 large eggs
1 cup cheddar cheese
2 cups ready-to-eat pico de gallo (or chopped tomatoes and onions)
Instructions:
Preheat oven to 375 degrees F.
Brown the ground beef in a large cast iron skillet until fully cooked. Drain off any excess fat.
Add scallions and green chiles and give everything a good stir. Turn off heat.
In a large mixing bowl, whisk together 6 eggs. Stir in the cheddar cheese. Dump egg and cheese mixture in the skillet.
Place skillet in the oven and bake for 10-12 minutes, or until eggs are fully cooked through. Cut into 4 servings. Eat topped with the pico de gallo.
Nutrition (per serving): 384 calories, 24 g fat, 10.5 g saturated fat, 950 mg sodium, 9 g carbohydrate, 1 g fiber, 4.5 g sugar, 0 g added sugar, 32 g protein
3. Blueberry Almond Yogurt Parfait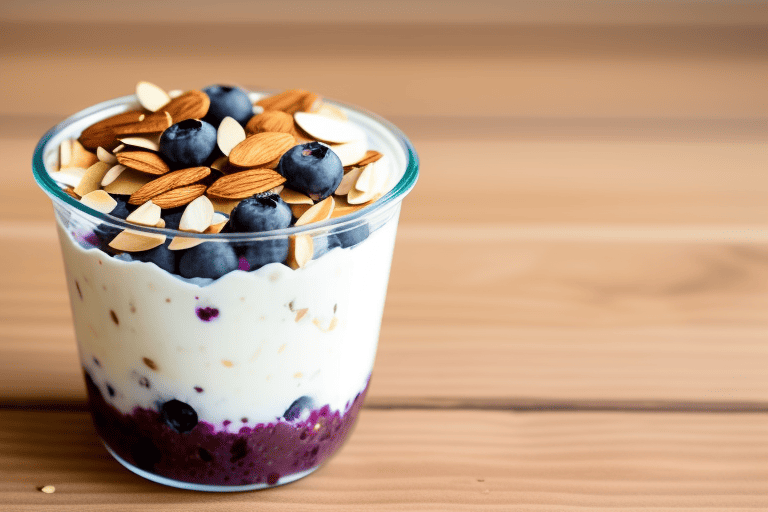 This easy breakfast recipe features just a handful of ingredients and is quick to throw together each morning. Wild blueberries are a great source of antioxidants, and are easy to regularly purchase frozen (that way you always have some on hand when you want to enjoy 'em).
Helpful tips:
If you can't find frozen wild blueberries, feel free to use regular blueberries (either frozen or fresh). Or use another berry of your choice.
Compare the labels on your favorite varieties of Greek yogurt, as the amount of added sugar varies widely from brand to brand. Aim for one with less added sugar, since you'll be adding sweetness with the blueberries.
Recipe – Single Serving
Ingredients:
1 cup nonfat vanilla Greek or Skyr yogurt (like Siggi's)
1 cup frozen wild blueberries, thawed
2 tbsp maple almond butter (or any nut butter)
2 tbsp slivered almonds
Instructions: Mix together all ingredients in a bowl, or layer in a jar. (If desired, mash some of the blueberries up to swirl in). Enjoy!
Nutrition: 532 calories, 24 g fat, 3.5 g saturated fat, 150 mg sodium, 46.5 g carbohydrate, 9.5 g fiber, 33 g sugar, 8.5 g added sugar, 33.5 g protein
4. Smoked Salmon and Avocado Bagel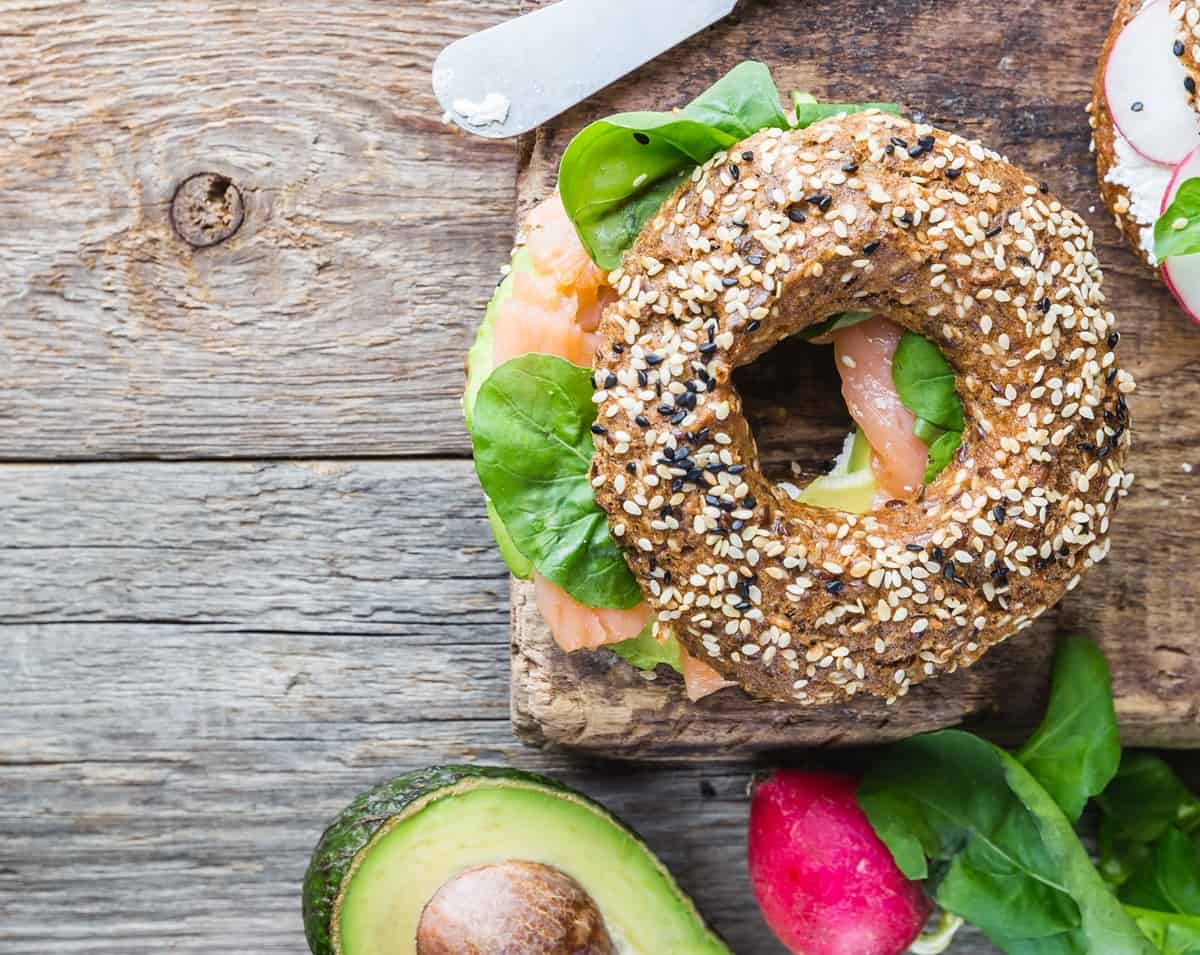 Packed with high-quality protein and essential omega-3 fatty acids, this breakfast packs a nutritional punch for the start of your day. Most people fall short in their daily omega-3 intake (which is key for brain health), so incorporating this recipe every so often can help you on your way towards meeting your needs. As a bonus, this recipe is also rich in fiber, providing 13.5 grams, thanks in part to the combination of avocado and beans as a spread.
Helpful tips:
Recipe – Single Serving
Ingredients:
⅓ medium avocado, peeled and pitted
⅓ cup white beans, drained and rinsed
⅓ cup mixed greens (packed)
⅓ cup sliced cucumber
2 oz smoked salmon
1 tbsp fresh dill (optional)
Instructions:
In a bowl, add the half an avocado with the white beans. Mash with a fork until well combined.
Toast the bagel until it is golden brown.
Spread the mashed avocado and bean mixture on each slice of the bagel.
Add the greens, sliced cucumber, and smoked salmon to one side of the bagel. Sprinkle the dill on top if using. Top with the other half and enjoy.
Nutrition: 520 calories, 17 g fat, 2.5 g saturated fat, 890 mg sodium, 68.5 g carbohydrate, 13.5 g fiber, 5.5 g sugar, 4 g added sugar, 30 g protein
5. Sweet Potato and Ground Turkey Hash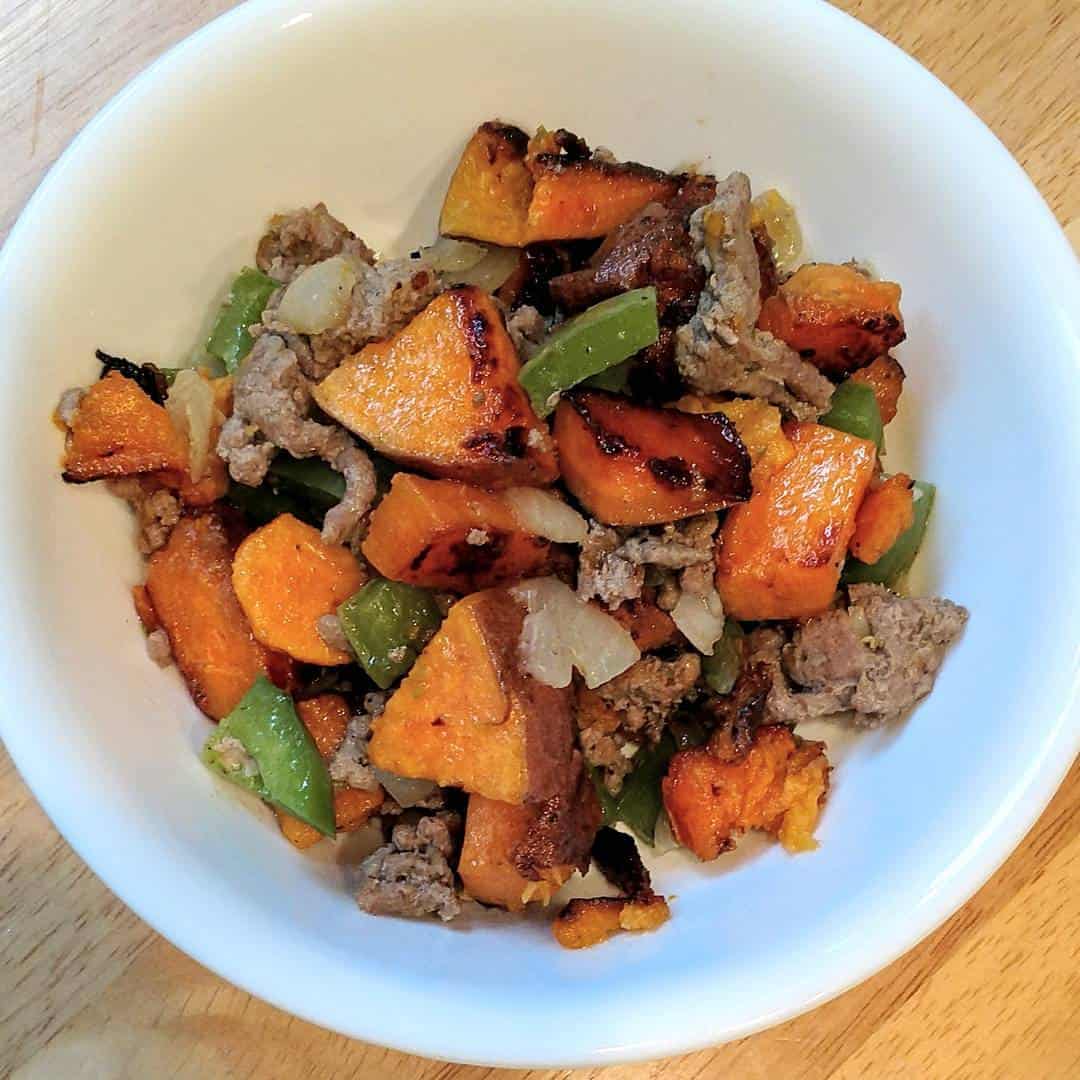 This hearty dish is another great meal prep option; it reheats well in the microwave. It's also a good source of iron, potassium, and magnesium – all essential minerals for active folks. The key to making this dish quickly is heating the sweet potatoes in the microwave until just about cooked, then dicing and transferring them to the skillet. This still allows them to get a little caramelization on the outside but doesn't require as much oil or cooking time as sauteing them raw.
Helpful tips:
If you want to reduce the fat and calories in this recipe, you can choose 99% lean ground turkey.
Feel free to also toss in greens like spinach or kale. You can add these in with the sweet potatoes in the last few minutes of cooking.
Recipe – 4 Servings
Ingredients:
2 medium sweet potatoes
2 tbsp olive oil, divided
1 large bell pepper, diced
1 medium onion, diced
1 lb ground turkey
¼ tsp salt
¼ tsp pepper
Instructions:
Poke sweet potatoes with a fork, then place them on a microwave-safe plate or bowl. Cook whole in microwave for about 6 minutes, or until they are almost fully cooked.
Meanwhile, heat 1 tablespoon of the olive oil in pan over medium heat. Add peppers and onions and cook for 4-5 minutes, until the vegetables are crisp-tender.
Add the ground turkey and season with the salt and pepper. Cook until turkey is browned. Remove turkey/pepper/onion mixture with a slotted spoon and set aside in a bowl.
Dice the sweet potatoes that you've almost fully cooked in the microwave. Add the remaining tablespoon of olive oil to pan. Add the sweet potatoes and cook for 5-10 minutes, or until potatoes are soft and outside has started to caramelize slightly.
Add the vegetables and turkey back to the skillet. Give everything a stir and cook for 1-2 minutes, until everything is warm. Enjoy.
Nutrition analysis (per serving): 428 calories, 26.5 g fat, 6 g saturated fat, 300 mg sodium, 17.5 g carbohydrate, 3 g fiber, 5 g sugar, 0 g added sugar, 30 g protein
6. High Protein Pancakes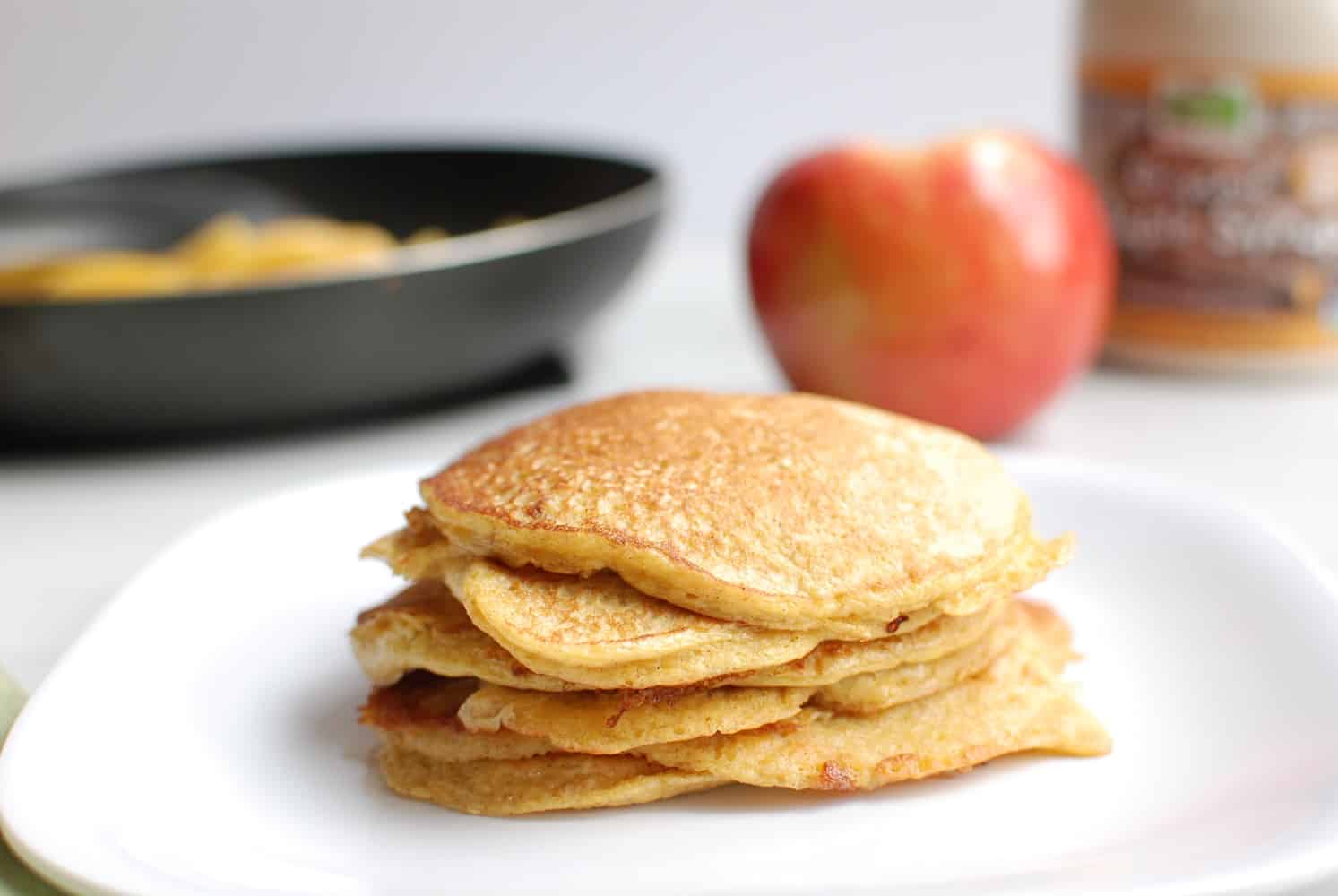 These high protein pancakes get their protein content from cottage cheese rather than protein powder, giving them a softer, tender texture. This is a short stack you'll love to include in your regular breakfast routine!
Helpful tips:
Feel free to use whatever topping you prefer. I like fresh strawberries and maple syrup, but you could also use sugar-free syrup, a drizzle of peanut butter, or frozen berries that have been heated up on the stovetop to release some of their juices.
Use rolled oats or instant oats for this recipe; do not use steel cut oats.
Recipe – Single Serving
½ cup rolled oats
½ cup low fat cottage cheese (1%)
2 large eggs
½ tsp baking powder (optional but recommended)
¼ tsp cinnamon
¼ tsp vanilla
½ cup halved strawberries
1 tbsp pure maple syrup
Instructions:
Place the oats, cottage cheese, eggs, baking powder, cinnamon, and vanilla in a blender. Blend until well combined.
Heat a large nonstick skillet over medium heat. Spray with cooking spray. Pour the batter into pancakes in the skillet. Note that the batter and pancakes will be relatively thin – that's normal. Cook for approximately 2 minutes, then flip and continue cooking an additional minute.
Remove the cooked pancakes with a spatula and set aside on a plate. Repeat cooking process with remaining batter.
Top pancakes with strawberries and maple syrup. Enjoy.
Nutrition: 471 calories, 14.5 g fat, 4.5 g saturated fat, 830 mg sodium, 52 g carbohydrate, 6 g fiber, 20.5 g sugar, 13 g added sugar, 32.5 g protein
(PS – Want another delish cottage cheese recipe for snack time? Try this cottage cheese cookie dough!)
7. Apple Peanut Butter Protein Oatmeal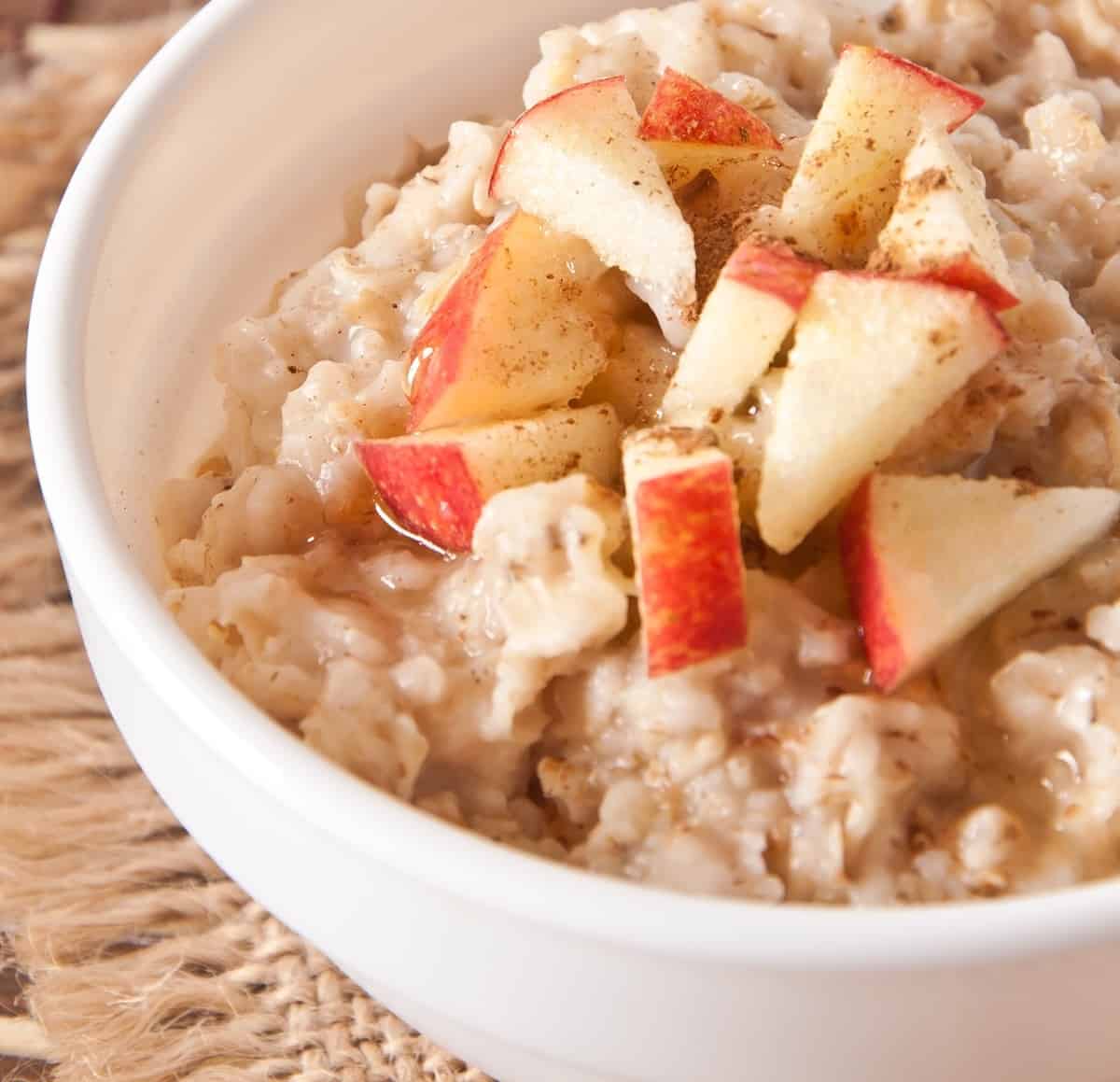 Oatmeal is a great blank canvas for breakfast, perfect for mixing in your favorite fruits, nuts, seeds, and more. The apple peanut butter combination is one of my personal go-to meals on many mornings. This recipe is great if you're following a plant-based diet, as it contains no meat or dairy.
Helpful tips:
I find plant-based protein powders tend to work better in hot oatmeal than other types of protein powders.
Feel free to sub out the peanut butter for other nut or seed butters, and to mix up the apples with other fruits.
Recipe – Single Serving
Ingredients:
½ cup rolled oats
1 cup water
¼ cup unsweetened almond milk
1 scoop vanilla plant-based protein powder
1 tsp brown sugar
1 medium apple, peeled and chopped
1 tbsp peanut butter
Instructions:
In a small pot, combine the oats and water. Bring to a boil over medium heat, then reduce heat to medium-low. Cook for about 5 minutes, until the oats are soft and creamy.
Meanwhile, mix the almond milk, protein powder, and brown sugar in a small bowl. Add this to the oats in the pot and heat for another minute.
Serve the oatmeal topped with chopped apple and peanut butter.
Nutrition: 482 calories, 13.5 g fat, 2 g saturated fat, 470 mg sodium, 63.5 g carbohydrate, 9 g fiber, 23.5 g sugar, 6 g added sugar, 32 g protein
8. Breakfast Burrito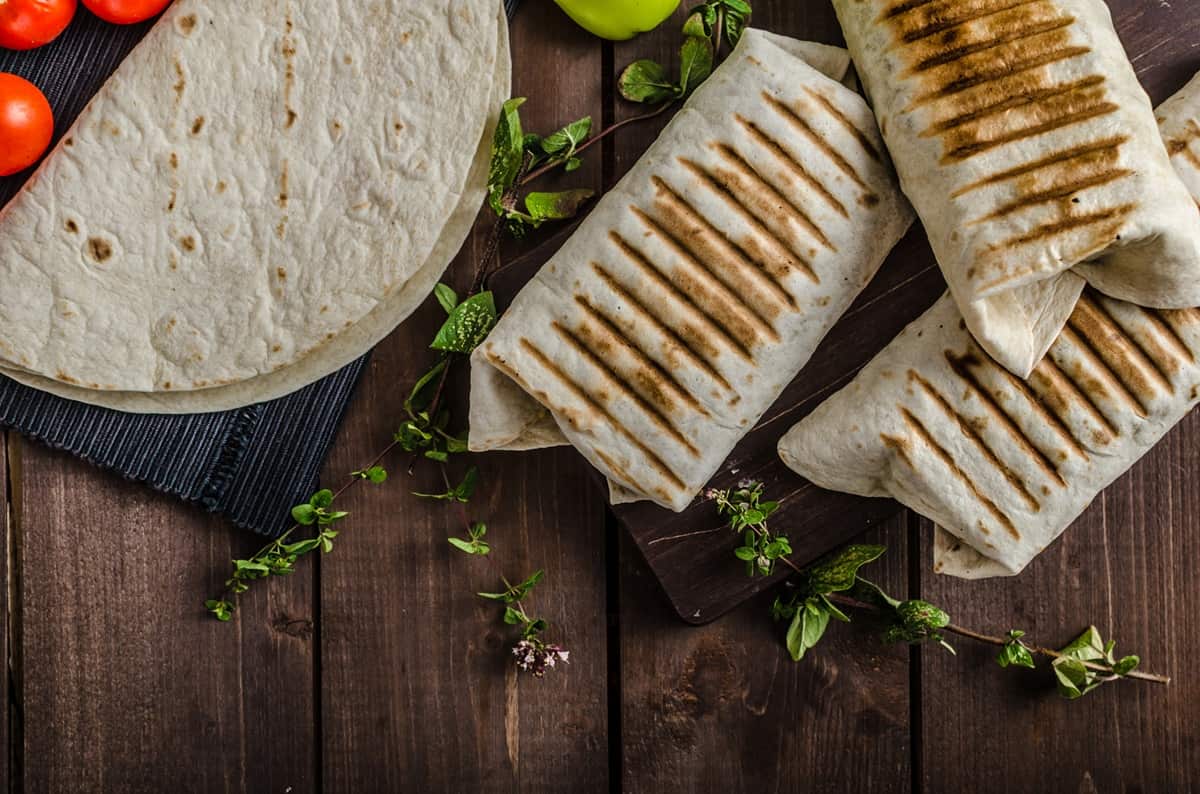 A big 'ol breakfast burrito? Yes please! This version is packed with eggs, chicken sausage, and veggies for a balanced breakfast that will keep you full. It also provides a ton of vitamins and minerals.
Helpful tips:
The lower carb tortillas tend to have added fiber, which can be nice for increasing the sticking power of the breakfast. However, feel free to use a regular tortilla instead if you prefer.
If you are looking for a plant-based version of this recipe, feel free to make scrambled tofu, use a vegan sausage, and skip the cheese.
Once you roll your burrito, you can pop it on a grill or skillet for a few minutes to get it a little crisp on the outside if you'd like.
Recipe – Single Serving
Ingredients:
2 large eggs
½ tbsp olive oil
¼ cup diced onion
¼ cup diced bell pepper
1 cup spinach
2 fully cooked chicken breakfast sausage links, chopped into pieces
2 tbsp shredded cheddar cheese
1 burrito-sized lower-carb flour tortilla (or a standard tortilla)
Hot sauce (optional)
Instructions:
Crack the eggs into a bowl and whisk well. Set aside for now.
Heat the oil in a skillet over medium heat. Add the onions and pepper and cook for about 3-4 minutes, until they start to get tender. Add the spinach and cook for another minute.
Add the eggs and fully cooked sausage to the skillet with the vegetables. Cook for a few minutes, stirring often, until the scrambled eggs and cooked and sausages are warm.
Add the cheese on top and turn off the heat. Let sit for a minute, just to let the cheese melt slightly over the warm food.
Pour the skillet mixture into the tortilla. Add any desired hot sauces, and enjoy.
Nutrition: 486 calories, 30.5 g fat, 10 g saturated fat, 850 mg sodium, 34 g carbohydrate, 15 g fiber, 6.5 g sugar, 0 g added sugar, 30.5 g protein
Additional Recipes
If you need a few more recipes to add to your routine, each of these has 30 grams of protein as well:
Food Ideas to Add Protein to Breakfast
If you prefer to build your own breakfast recipes, here are some helpful food sources of protein that will help you add quite a bit to your morning meal:
Protein powder – 20 to 25 grams protein per serving (amount varies based on brand)
Chicken breast – 26 grams protein in 3 oz cooked
Turkey breast – 25.5 grams protein in 3 oz cooked
Ground beef (90% lean) – 22 grams protein in 3 oz cooked
Greek yogurt – 22 grams protein in 1 cup of plain nonfat (amount varies based on brand)
Salmon – 19 grams protein in 3 ounces cooked
Cottage cheese – 13 grams protein in ½ cup
Lentils – 9 grams protein in 1 cup cooked
Milk – 8 grams protein in 1 cup
Peanut butter – 7 grams protein in 2 tablespoons
String cheese – 7 grams protein in 1 part-skim mozzarella stick
Eggs – 6 grams protein in 1 large egg
Pistachios – 6 grams protein in ¼ cup
Rolled oats – 5 grams protein in ½ cup dry
High protein breads – 4 to 8 grams protein per slice (amount varies based on brand)
(You can find more ideas to add protein to breakfast here.)
The Bottom Line
With these recipes and food ideas, there's no fighting between fitness and flavor – they all pack in protein and nutrients to support your fitness goals, while also tasting great!
Feel free to pin this post to save for later!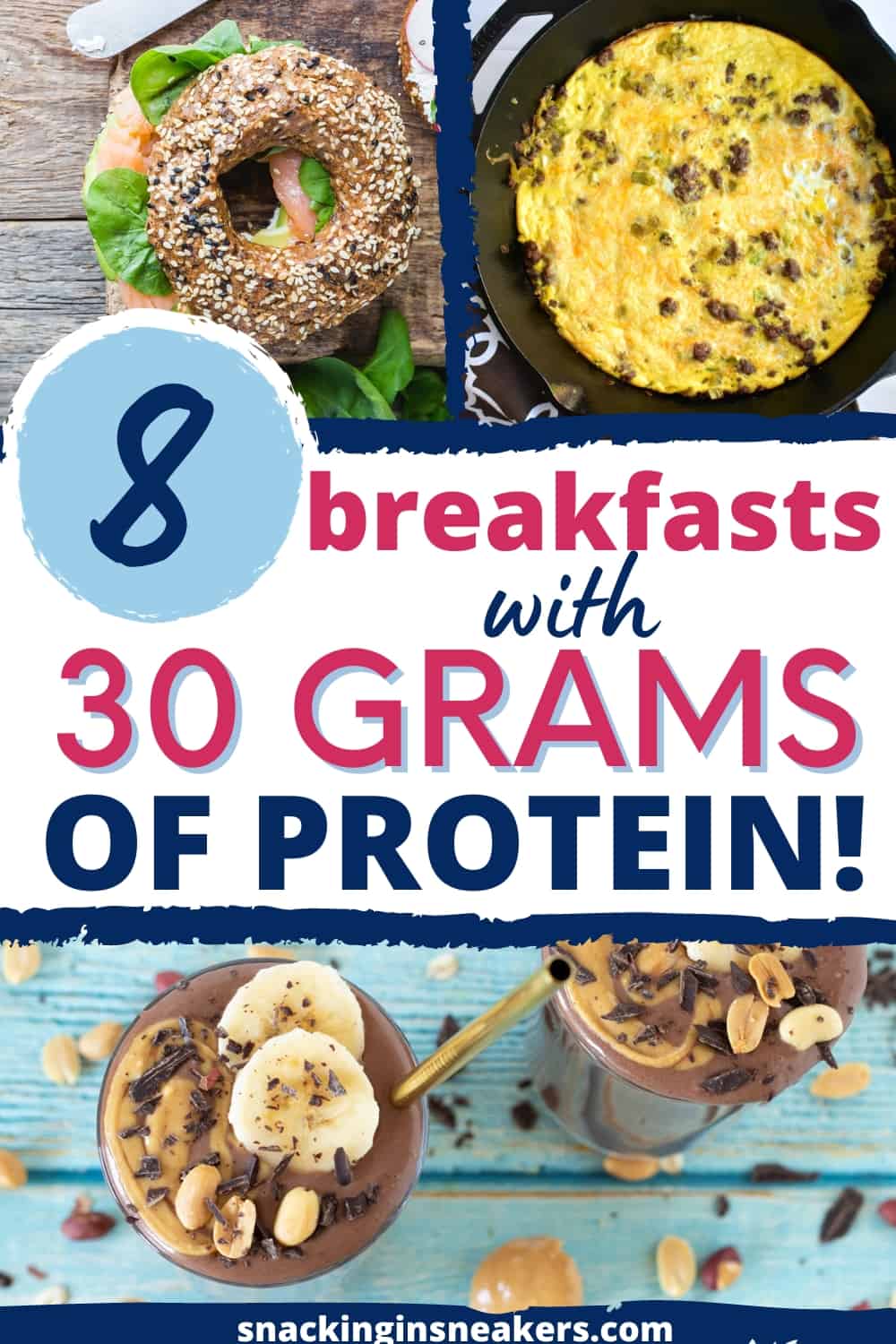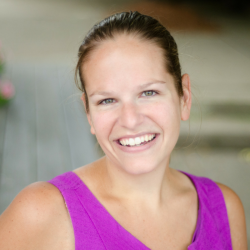 Latest posts by Chrissy Carroll
(see all)