Though most people get enough protein over the course of the day, their protein-rich foods are generally weighted towards the lunch and dinner meals.  Unfortunately, this isn't always optimal for the body.  Check out these 3 reasons why protein intake at breakfast is important:
1)  Protein helps people feel full and satiated, and incorporating protein in your breakfast may help you feel more full throughout the first half of your day.  For those concerned about weight maintenance or weight loss, this can be very important.
2)  A breakfast with carbohydrate and protein creates a better blood sugar response compared to those breakfasts with just carbohydrate alone.  This means a breakfast with protein will help create a more gradual rise in blood sugar, compared to a rapid spike and fall.  This may be particularly helpful for those with conditions like diabetes or pre-diabetes.
3)  For the athletes reading:  Your body is likely only able to utilize a certain amount of protein at any one point for muscle healing, recovery, and building.  Preliminary research indicates that this is somewhere in the range of 20-30 grams at a time for most people.  This means – especially for athletes – that spacing out your intake over the whole day is much better for your muscles than having one monstrous piece of grilled chicken at night.
OK, I think I've made my point!  🙂  To help you, I've created this list to point out some easy ways to add protein to your breakfast options….
19 easy ways to add protein to breakfast
Make oatmeal made with milk rather than water.
Consider adding almond butter or peanut butter to your oatmeal or smoothie.
Make a vegetable omelet with eggs or egg whites.
If you're on the run, grab 1 or 2 hardboiled eggs for a quick protein option.  Combine it with a piece of fruit that provides healthy carbohydrates, and you've got a balanced grab-and-go option.
Mix cottage cheese with fruit for a mix of healthy carbohydrates and protein.
Include yogurt at breakfast.  Greek yogurt has more protein and less sugar compared to regular yogurt, but either can be a good choice.  To cut back on added sugar in flavored varieties, choose plain versions and add your own fruit to sweeten it up.
Add silken tofu to your smoothies.
Make a breakfast burrito:  scramble eggs, top with salsa, and place in a small whole wheat tortilla.
Spread part skim ricotta cheese on whole wheat raisin toast, and top with sliced strawberries and nuts.
Try whole wheat pancake recipes that include either greek yogurt, cottage cheese, or part skim ricotta in their ingredients.
Add a glass of milk to your breakfast.  Keep in mind that some of the milk alternatives do not contain the same amount of protein as regular milk.  Almond milk, for example, typically contains 1 gram of protein per cup compared to the 8 grams per cup in regular milk.  However, there are protein-fortified versions of almond milk.
Add yogurt, milk, or protein powder to your favorite smoothie recipe.
Sprinkle pumpkin seeds or nuts on your yogurt parfait or over hot cereal.
Add a piece of part skim mozzarella string cheese to the side of your morning meal.
Make egg muffins!  I'll get a recipe post up on these soon, but basically – just whisk together some previously sautéed vegetables, eggs, and cheese.  Bake in a muffin tin in the oven until firm.  You can store these in the fridge and pop a few in the microwave for breakfast in the morning.
Use warm cooked quinoa as a breakfast option for a grain that packs more protein than traditional cereals.  Combine it with a little milk, applesauce, cinnamon, and a sliced apple for a delicious breakfast.
Make overnight oats using greek yogurt or milk.
Chop up some ham to add to your morning omelet.
Consider a less traditional breakfast item, like a turkey and cheese sandwich on whole wheat bread.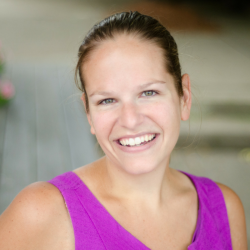 Latest posts by Chrissy Carroll
(see all)