Need a new way to add protein to your morning meal? If you're craving some variety, try this breakfast black and blue burger. It's a delicious combination of beef, blue cheese, veggies, and (of course) an egg on top, all sandwiched between an English muffin.
Disclosure: This post is sponsored by the Northeast Beef Promotion Initiative, a subcontractor to the Beef Checkoff. As always, all opinions are my own.
What is a black and blue burger?
You've probably seen this name on a restaurant menu, and it's clear the "blue" refers to blue cheese. But have you ever wondered what "black" refers to?
It's actually for blackening seasoning mix!
While there's no "official" recipe for blackening spice, it's typically a blend of spices like paprika, onion powder, garlic powder, etc. This is rubbed on the burger patty, and when you cook it, it gives it a bit darker, "blackened" look on the outside. (It's also frequently used on other proteins, like fish and chicken.)
The spice mix adds a ton of flavor, so don't be shy when you rub it onto your burger patties.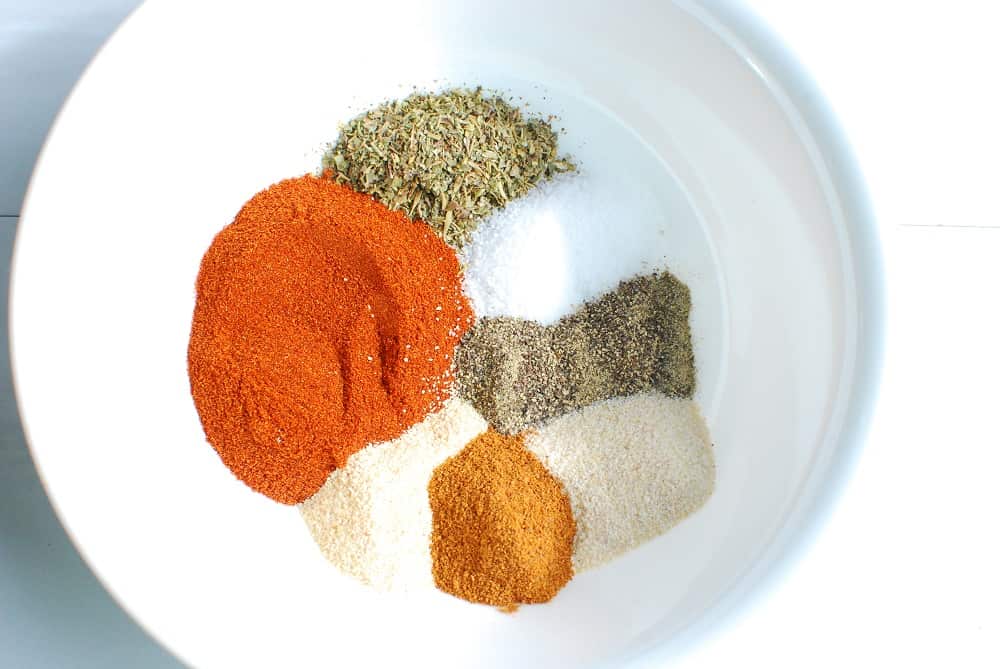 How to make this breakfast burger
The ingredient list may look a little overwhelming at first, but remember – the blackening seasoning mix is just a bunch of spices you'll throw together that you probably already have in your pantry.
Once you make the spice mix, set it aside. Then you'll form burger patties with some sautéed mushrooms and shallots, combined with your ground beef.
You'll dip those patties in the spice mix and cook them in a skillet. Then just serve 'em up on an English muffin with blue cheese, arugula, tomato, and that delish egg on top!
Or, you can make patties ahead of time and store 'em in the fridge for the upcoming workweek – then just reheat in the morning and add your toppings.
As a heads up, I love a good egg on just about anything, but it is totally an optional ingredient here. My hubby hates over easy eggs, so I just leave it off when I make this for him. You'll still get plenty of flavor in all the other ingredients if you skip the egg.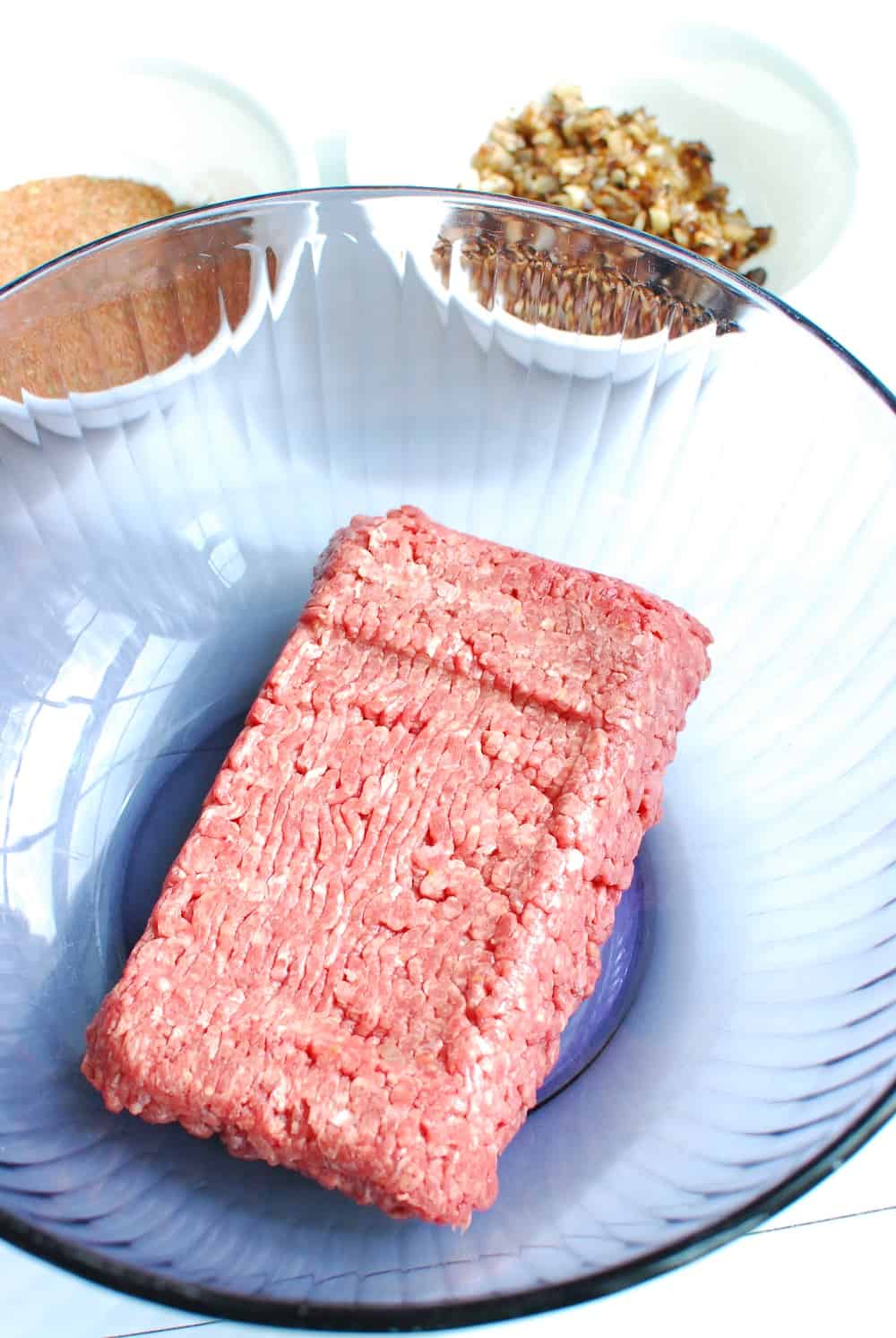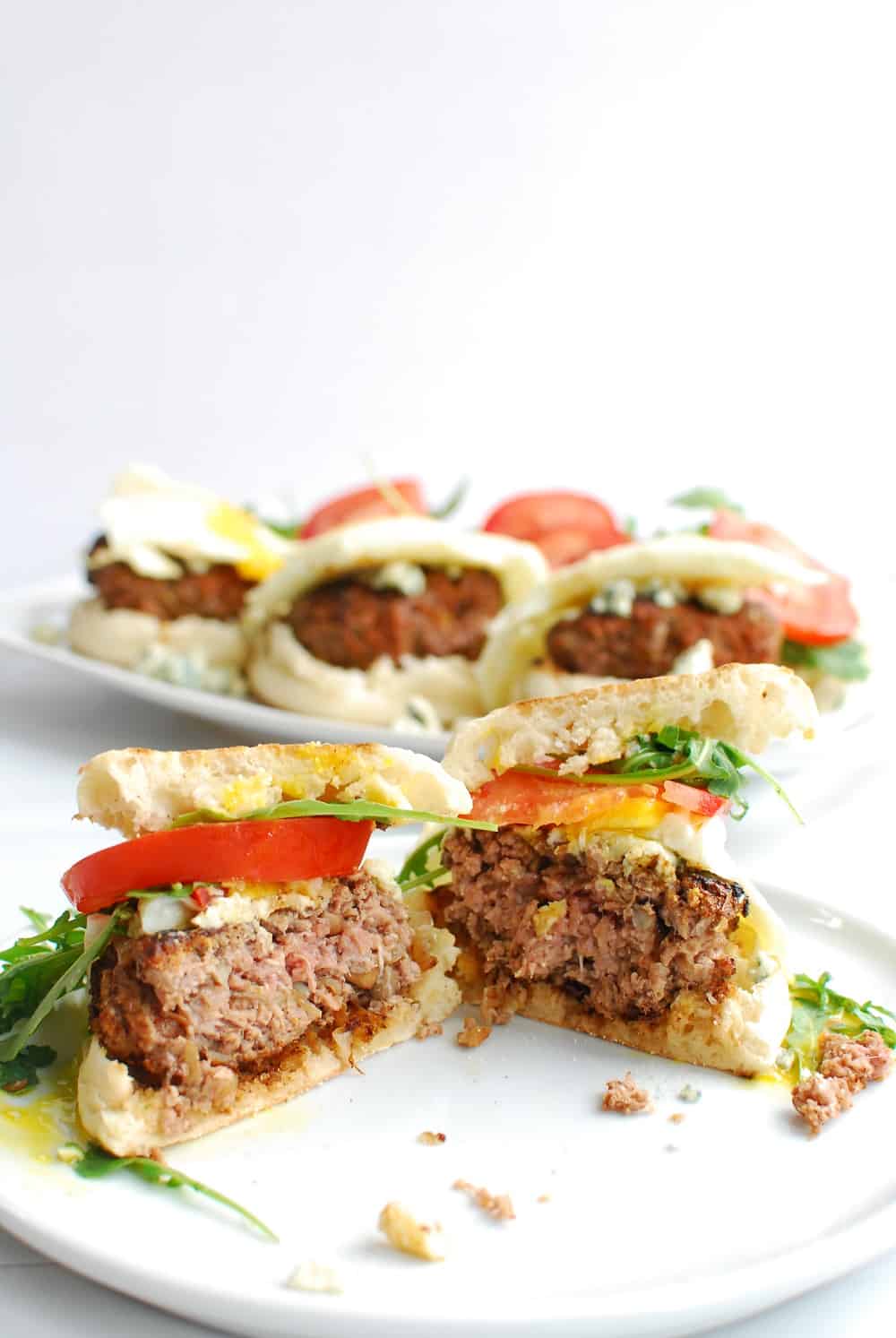 Is it safe to have a runny egg yolk on my burger?
We all have our own opinions about this. 😉 Let me give you the official food safety answer:
Salmonella can be found in the white of the egg or the yolk of the egg, which is why major organizations generally advise against eating undercooked eggs. Certain groups are more at risk for a salmonella infection, like children, pregnant women, or immunocompromised people. The official guidance from the USDA though is that everyone – including healthy adults – should avoid eating undercooked raw eggs (which include a runny yolk). (1).
If you're worried about this, there are three solutions:
1. Skip the egg.
2. Cook your egg until the yolk is solid, and put this on top of your burger.
3. My favorite solution – if you want that dreamy runny egg yolk, buy in-shell pasteurized eggs. These eggs are gently heated before you purchase them, which kills the bacteria but doesn't cook the egg. The USDA says these are safe to use undercooked, so you can fully enjoy your runny yolk.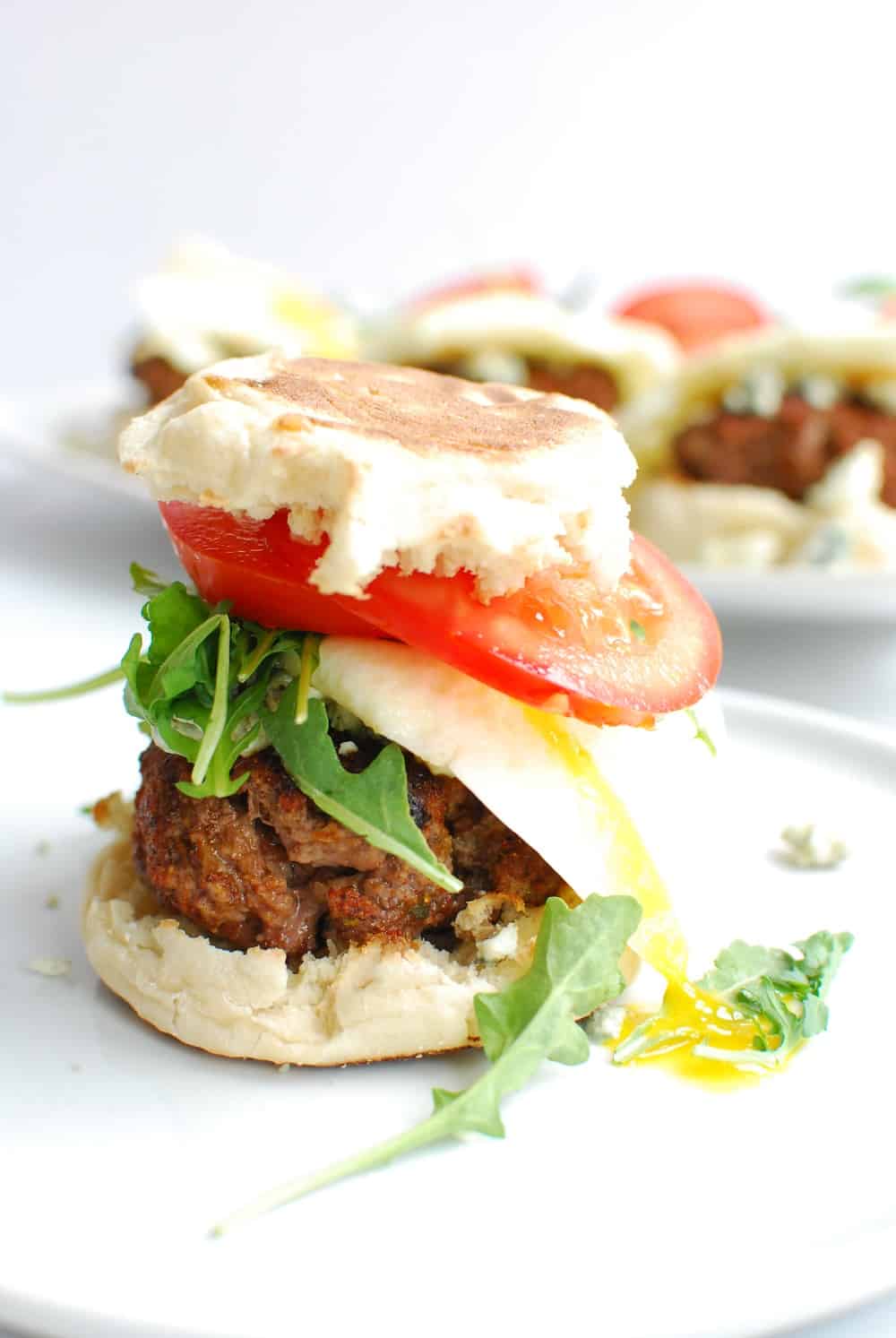 A burger for breakfast? Can that really fit my meal plan?
I vote yes! Here's why:
Packed with protein
Protein is a key nutrient, particularly for all you active folks that need it for muscle recovery.
This burger uses 90/10 ground beef, which is naturally lower in fat than your 80/20 choices, yet still packed with protein. In fact, one serving of this burger recipe with all the accompaniments gives you 34 grams of protein!
While most people get enough protein throughout the day, they typically eat the majority at dinner. Only about 16% of daily protein intake occurs at breakfast – but it's thought that spacing protein intake throughout the day may be better for optimal health and muscle protein synthesis. (2).
This burger is a great option to weave in at breakfast – especially after a morning strength workout!
Reasonable amount of calories
This burger recipe – with all the fixins! – is 462 calories. This will stand alone as a filling, hearty breakfast.
If you want to combine it with some fresh berries (at breakfast time) or some steamed veggies (at dinner time), you'll fall right around a 500-calorie meal. That's a pretty nice amount for something that looks – and tastes – this good.
To give you some comparison: a popular fast food chain's breakfast burger clocks in at 730 calories, while another version from a popular restaurant tops the charts at 1030 calories. This version is much better for those of you who may be trying to control portions.
Sneaks in some veggies
Most people don't eat enough vegetables each day, and breakfast is a meal that tends to fall short. For these burgers, I've mixed the meat with mushrooms to create a juicy, tender patty – with a hidden veggie boost.
You'll also top the patties with arugula and tomato. I've listed some minimum amounts in the recipe that you'll want to have on hand – but honestly, load your burger up with as much of these as you can!
Vitamins and minerals
This burger recipe is also an excellent source of iron (key for athletes, especially females!) and zinc (important for a healthy immune system). The recipe also contains choline, thanks to both the eggs and beef, which is important for your cells' structure and your nervous system function.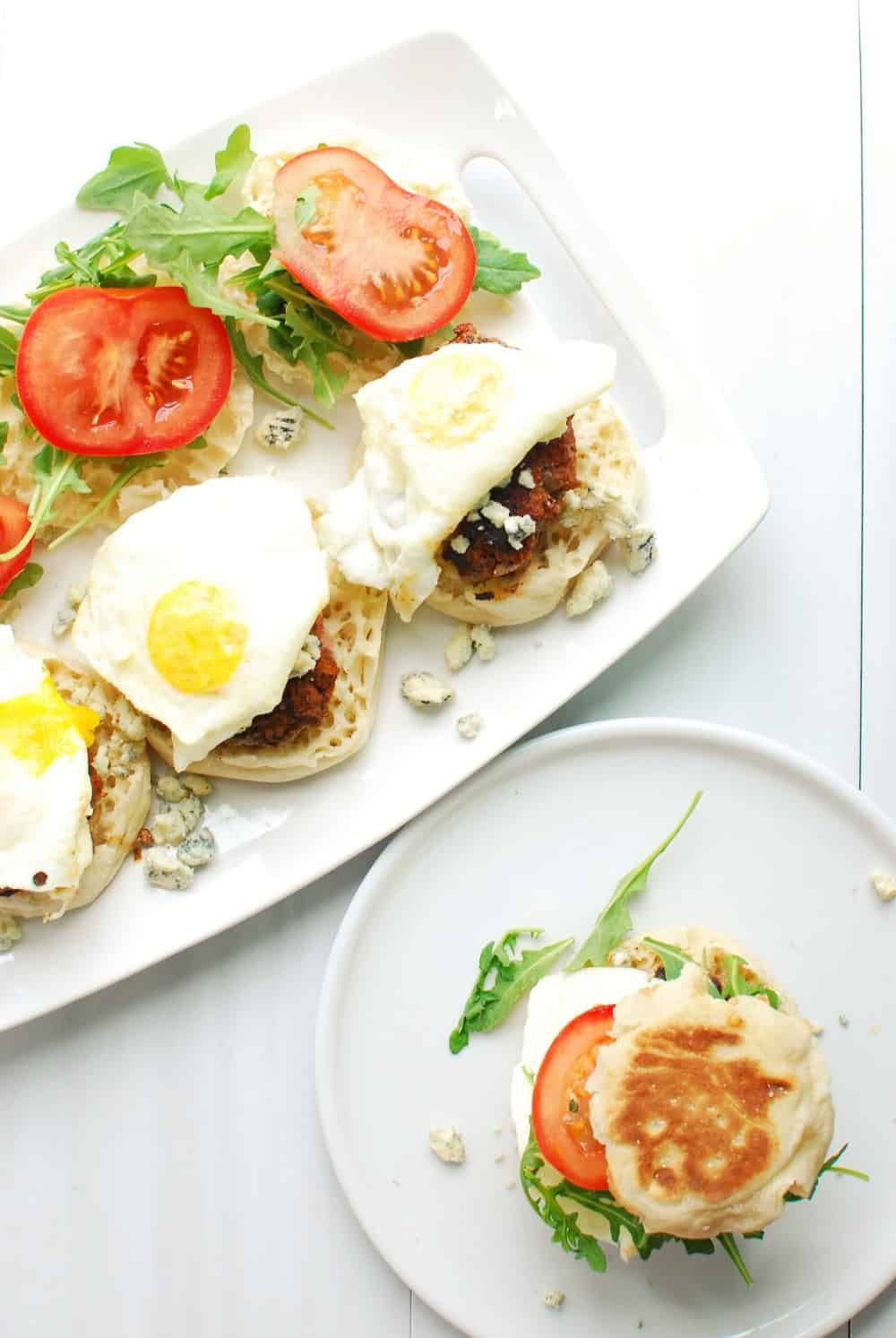 I hope you enjoy these breakfast black and blue burgers as much as my family does. If you try it, be sure to leave a recipe rating in the comments and let me know what you think!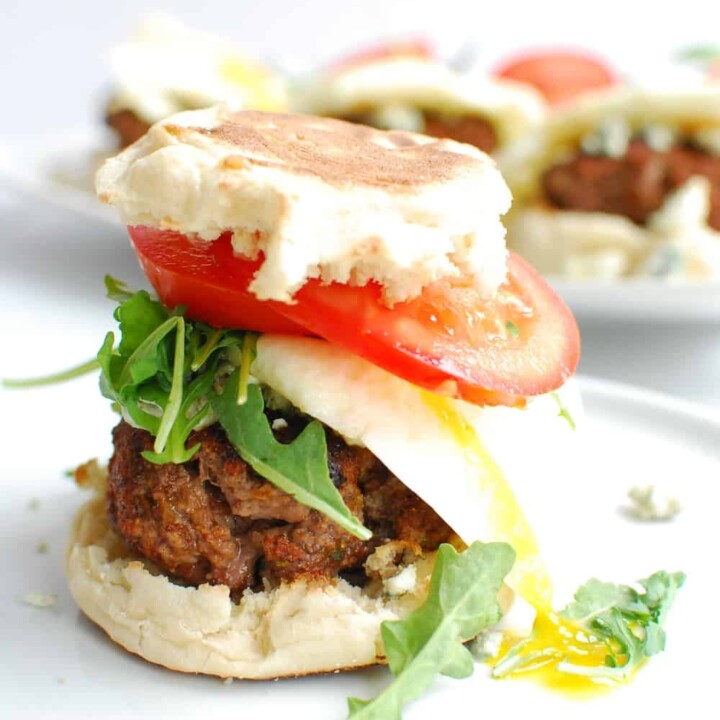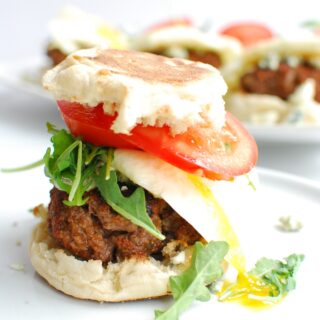 Breakfast Black and Blue Burger
Upgrade your morning meal with a breakfast black and blue burger! A delicious combo of beef, blue cheese, veggies, and an egg, all on an English muffin.
Ingredients
Blackening Spice Mix:
1

tbsp

paprika

1

tsp

Italian seasoning

1

tsp

garlic powder

1

tsp

onion powder

1/2

tsp

cayenne

1/2

tsp

pepper

1/2

tsp

salt
Burgers:
1

tbsp

butter

1

cup

baby bella mushrooms, finely chopped

1

shallot, finely chopped

1

pound

90/10 ground beef

(or any other ground beef you prefer)

5

English muffins, toasted

5

eggs

(optional)

1/2

cup

blue cheese crumbles

2/3

cup

arugula

1

large tomato

sliced
Instructions
Combine all the ingredients for the blackening spice mix in a bowl. Set aside.

Heat the butter in a large skillet over medium heat. Add the mushrooms and the shallot, and cook for about 5 minutes until they are golden and fragrant. Pour out of the skillet into a large mixing bowl and let cool for a few minutes. Meanwhile, give your skillet a quick rinse and wipe it out with a paper towel.

Add your ground beef to the bowl with your cooked mushroom mixture. Mix with your hands until just combined, then form into five patties. Coat each side of the patties with your blackening spice mixture (you can just dip each side into the bowl with the spice blend).

Heat your skillet again over medium heat. Coat the pan with a little cooking spray. Add your patties to the pan, and cook for about 3-4 minutes per side, or until they reach an internal temperature of 165 degrees. Top with blue cheese crumbles and set them aside for a minute.

While the burgers are cooking or when they are done, toast your English muffins.

When the burgers have just finished, heat another skillet over medium heat. Give it a quick shot of cooking spray, and add your eggs. Cook them over easy – or as you desire.

Add a burger patty to each English muffin and top with your egg, arugula, and sliced tomato. Enjoy!
Notes
Notes:
Though I love the egg on top of the burger, it is an optional ingredient – feel free to skip it if desired!
Nutrition analysis (approximate per burger):
462 calories, 21.5 g fat, 9.5 g sat fat, 819 mg sodium, 33.5 g carbohydrate, 3 g fiber, 4 g sugar, 34 g protein, Vitamin A: 33% (1653 IU), Vitamin C: 13% (7.8 mg), Calcium: 23% (232 mg), Iron: 34% (6.2 mg), Zinc: 42% (6.2 mg)
Nutrition
Share: Have you ever eaten a breakfast burger? Do you have a favorite burger recipe? If you tried this black and blue burger, what did you think?
References:
1. USDA. Shell Eggs from Farm to Table. 2016.
2. Beef Checkoff. Protein: Essential for Life.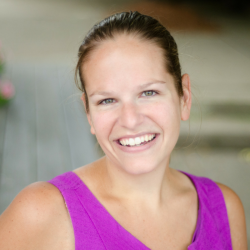 Latest posts by Chrissy Carroll
(see all)