Want to try a nutritious dessert that tastes great and packs in some protein? Try this cottage cheese cookie dough! This easy six ingredient recipe will satisfy any sweet tooth. And as a bonus – no baking involved.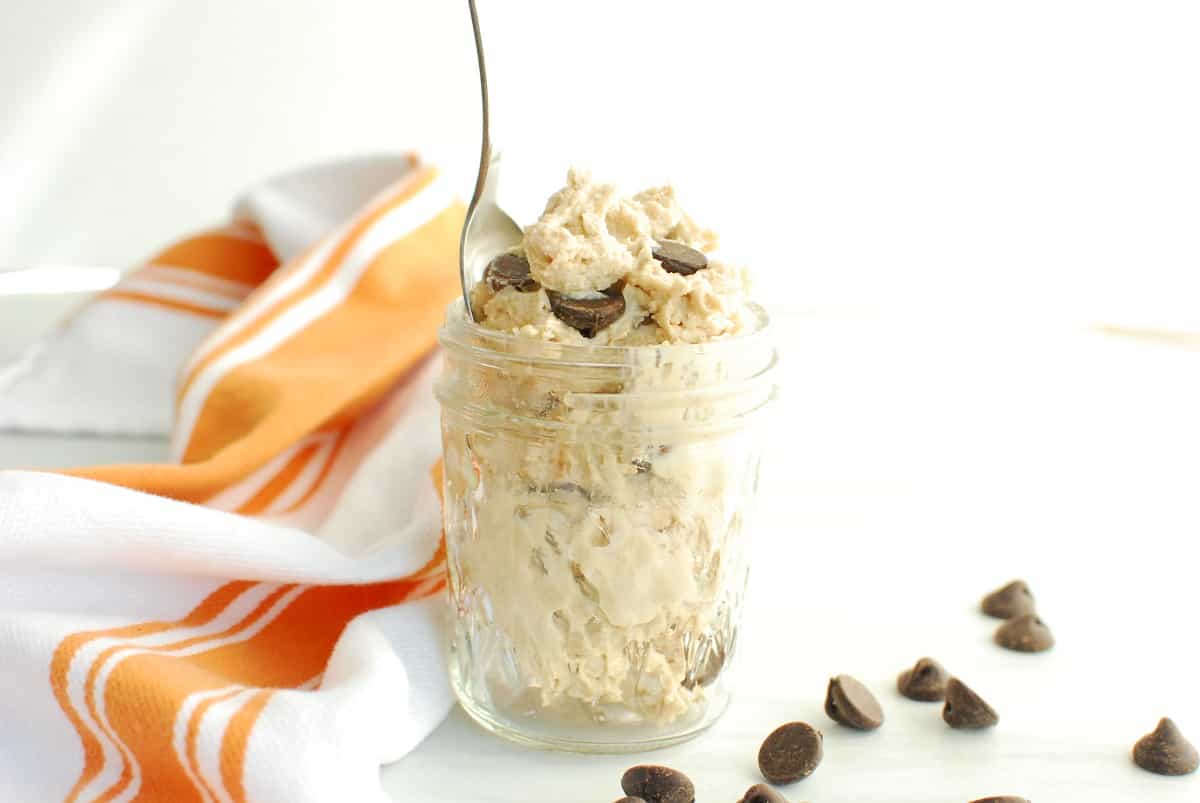 This version is simply my interpretation of the idea; I know there have been a few social media versions of this type of recipe floating around. I believe the original viral hit is credited to creator Jake Cohen. His version differs a bit from mine in the type of flour (he uses almond flour while I use oat flour) and proportions of ingredients.
I hope you enjoy this version!
Ingredient Notes
You only need a few ingredients to make this recipe, pictured below with some ingredient notes: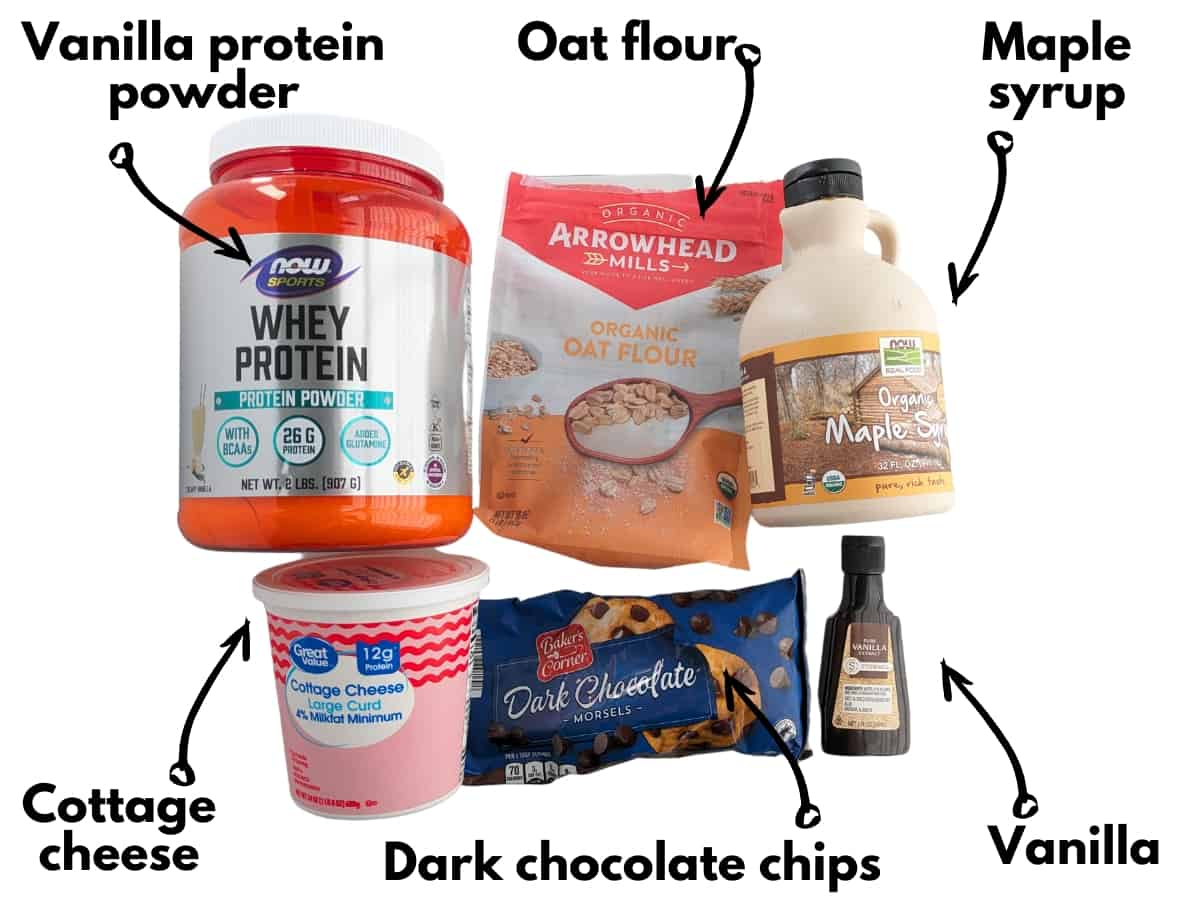 Cottage cheese – I like using 4% milkfat for this recipe because the fat adds a bit of richness to the flavor and texture. I imagine you could use whatever you have on hand though!
Maple syrup – Pure maple syrup has such a lovely flavor and works well in this recipe! For people looking for less processed sugars, it offers a more natural alternative that contains a few vitamins and minerals, along with antioxidants (though of course, added sugar is still sugar, regardless of source). If you prefer, you can use brown sugar in this recipe instead.
Vanilla extract – Vanilla helps enhance the flavor of this recipe.
Oat flour – I like oat flour because it has a subtle toasty oat-forward flavor, but one that's mild and relatively neutral. It also has a smooth texture when you purchase it from the store (though you can also make oat flour by grinding oats in a food processor; this will have a bit of a coarser texture).
Vanilla protein powder – I use whey protein for this, which is a highly bioavailable protein. You can also use a plant-based protein powder if that's what you have on hand.
Dark chocolate chips – Dark chocolate has more flavonoids and phenolic compounds compared to milk chocolate, so you get a little extra nutrition boost there! Plus, I love the rich taste of dark chocolate. Obviously you can substitute semi-sweet or milk chocolate if you prefer.
Instructions
You'll find the full recipe amounts and instructions in the recipe card below, but here's a helpful overview with photos and tips. Luckily, this recipe is so simple!
Grab a blender cup and add the cottage cheese, maple syrup, and vanilla. Blend until it's smooth. You'll want a blender cup rather than a full-size blender, as the ingredients will likely sit too low for the blade to reach on a full-size blender. (Note – you can double the recipe in that case if that's all you have).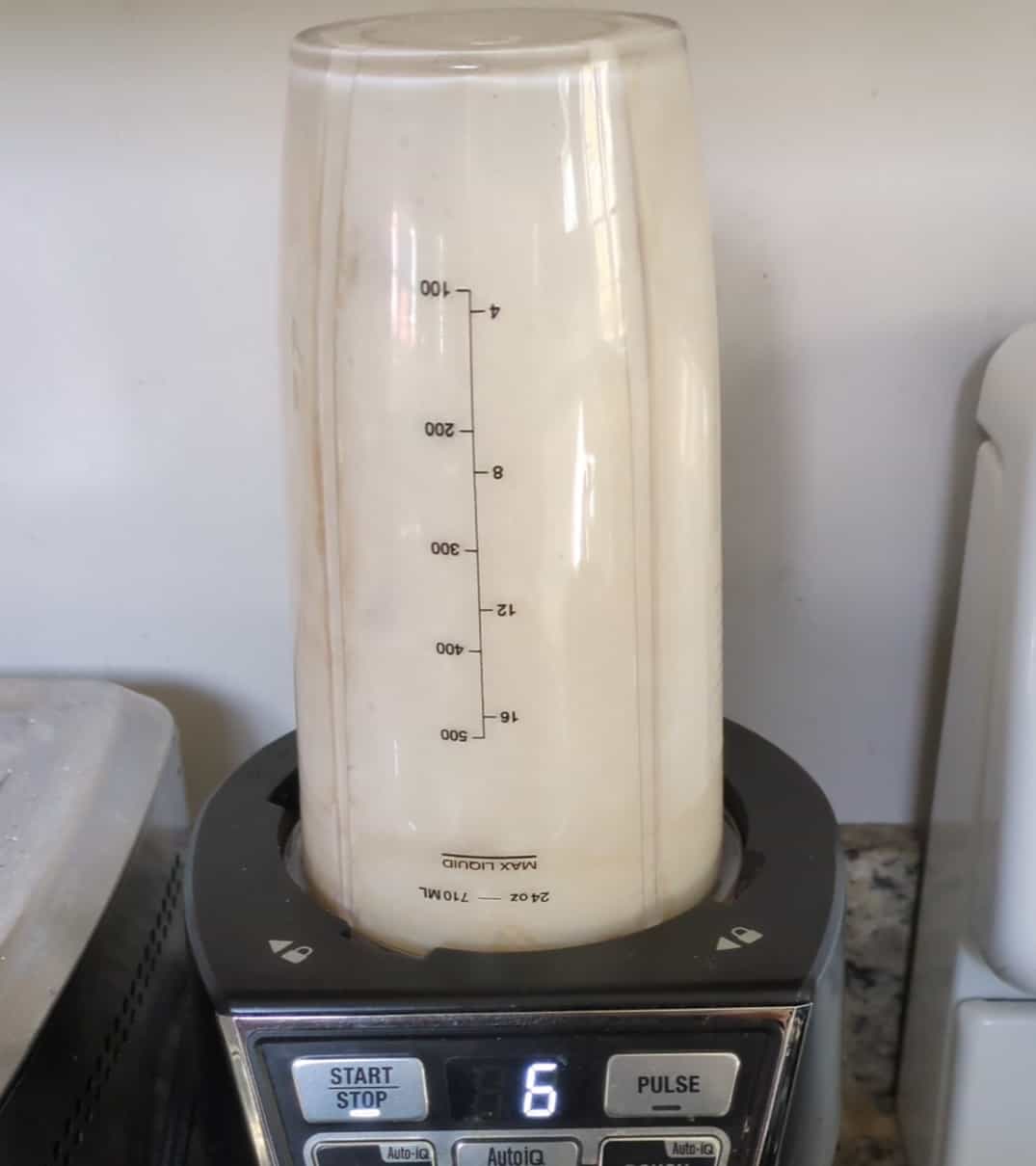 Pour that in a bowl, and add the oat flour and protein powder. Then mix in the chocolate chips.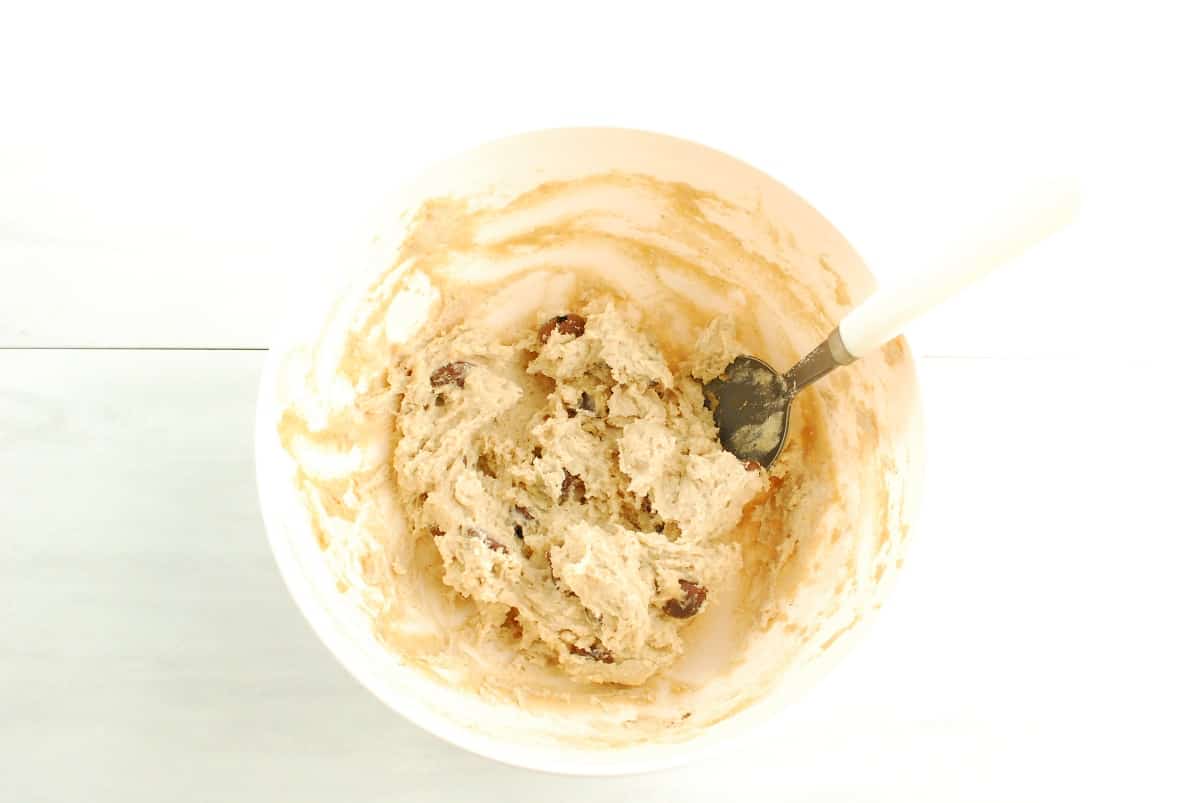 At this point, I like to pop it in the fridge for 30-60 minutes, because it firms up a bit. But you can also eat it as-is if you don't want to wait!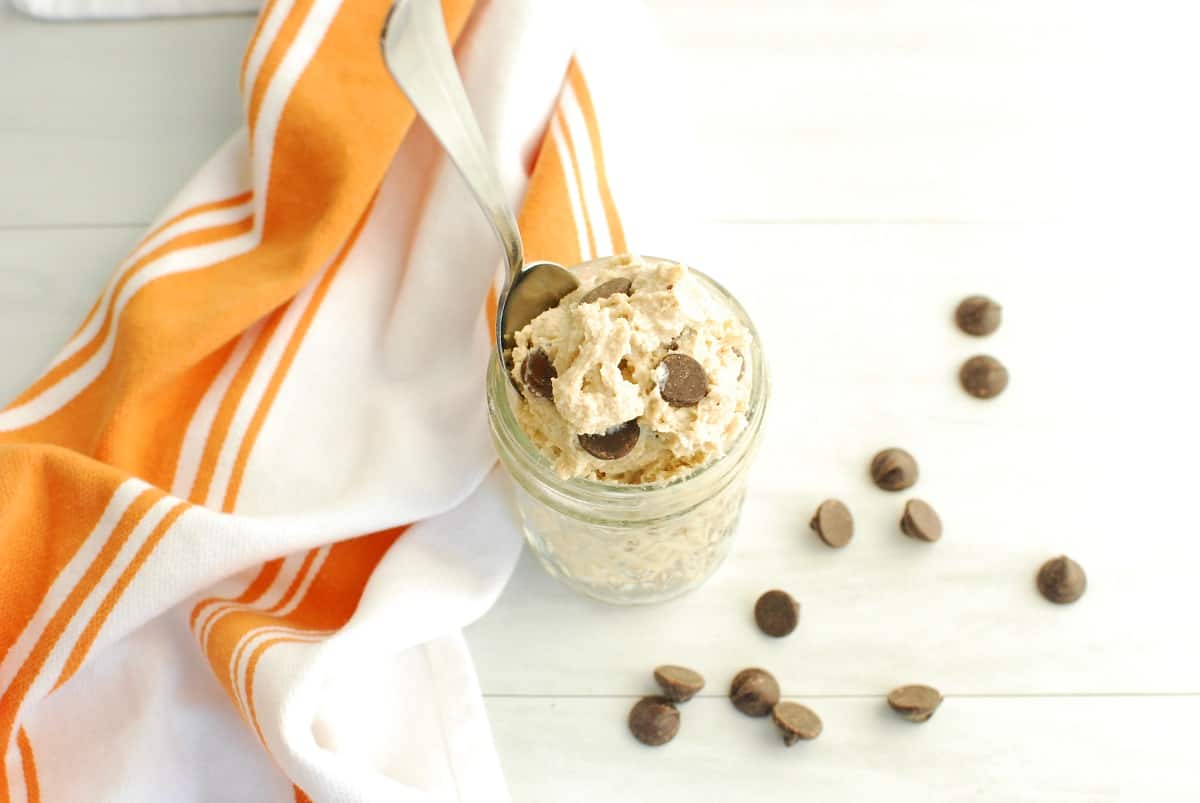 Note that I prefer my cookie dough to lean towards creamier rather than firmer – but if you want a firm scoop like you might be used to, just add a little more oat flour. Just remember it will also firm up a bit in the fridge, though, so you don't want to add too much extra.
Recipe FAQ
Here are some common questions that may come up as you're preparing this recipe:
How should you store cottage cheese cookie dough?
Store in an airtight container in the fridge for up to 4 days. You want to avoid letting air hit the dough as much as possible or it can cause the edges to dry out a bit.
Should you use small curd or large curd cottage cheese for cookie dough?
It doesn't matter. You can use either because you'll blend the cottage cheese to make it smooth before using.
Does cottage cheese cookie dough taste like cottage cheese?
Nope! It's more reminiscent of a cheesecake-like flavor than cottage cheese. It's definitely not exactly the same as traditional cookie dough, but still yummy nonetheless.
Can I use rolled oats to make oat flour?
Yes! You can put oats in a food processor and pulse several times until flour forms. You likely won't be able to get it as fine as commercially-purchased oat flour, but it'll work fine in this recipe. For ½ cup of oat flour, try starting with about ¾ cup of rolled oats in the processor, and then measure after they're pulverized into flour.
Nutrition Benefits
Don't get me wrong – there's nothing wrong with indulging in regular cookie dough (well, maybe aside from the raw flour and raw egg risk, haha). I'm not trying to suggest you abandon your traditional version!
But, as a dietitian, I love recipes that can be made in a way that offers some extra nutritional value. It gives people a way to try foods in a new way and find options that they could incorporate in their routine more regularly.
I like this particular recipe because it packs in protein. Each serving (using my favorite whey protein powder) comes out to around 12 grams of protein each. Some plant-based protein powders may be a little less, around 10 grams of protein per serving, but that's still a great amount for a sweet snack!
Protein is essential for muscle repair and recovery from workouts, as well as keeping you full and satisfied until your next meal.
Plus, this particular combination of both cottage cheese and whey protein gives your body quite a bit of leucine, an essential amino acid that's key for fitness folks.
More Healthy Dessert Recipes
If you're looking for more sweet treats that offer a bit more nutrition, be sure to give one of these a try:
I hope you enjoy this cottage cheese cookie dough as much as I do! If you get a chance to try it, feel free to leave a recipe rating or comment below. (And if you're looking for more ways to use cottage cheese, be sure to also give these cottage cheese bagels a try.)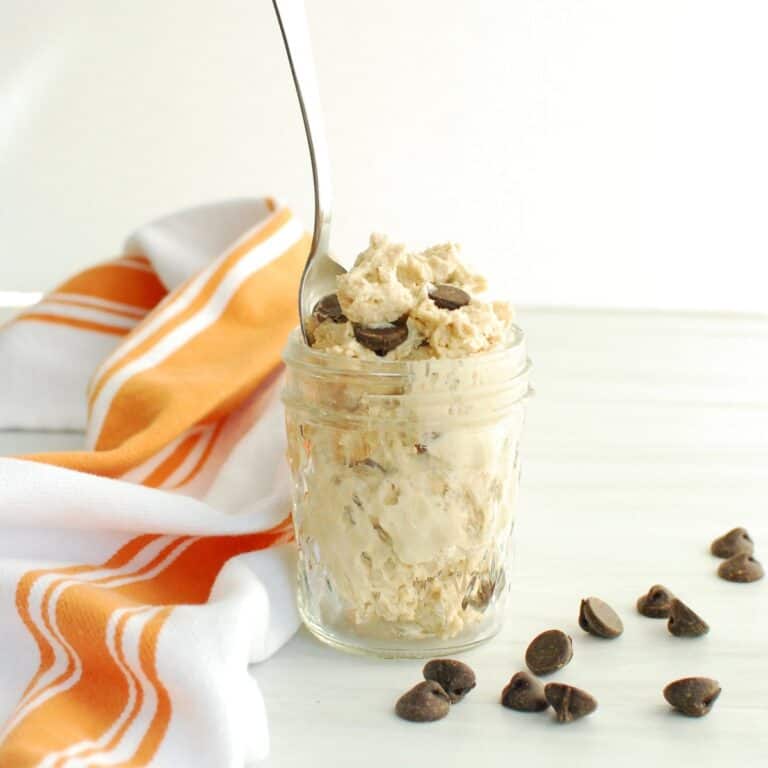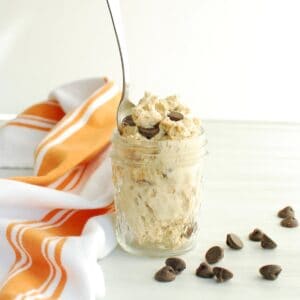 Cottage Cheese Cookie Dough
This cottage cheese cookie dough is a delicious and nutritious option for satisfying your sweet tooth!
Ingredients
1

cup

cottage cheese

(recommend 4% milkfat)

½

cup

oat flour

¼

cup

vanilla protein powder

(recommend whey)

2

tbsp

maple syrup

½

tsp

vanilla extract

¼

cup

dark chocolate chips
Instructions
Add the cottage cheese, maple syrup, and vanilla to a blender cup. Blend until smooth, then pour into a mixing bowl.

Add the oat flour and protein powder. Stir until combined, then fold in the chocolate chips.

While optional, it's recommended to refrigerate for at least 30 minutes (this will help it firm up a bit), then enjoy!
Notes
If you prefer a thicker, chunkier cookie dough, add a little more oat flour. I like mine with a softer, creamier texture.
This makes about 3-4 servings, depending on your hunger level and personal eating habits.
The nutrition analysis will vary based on your protein powder and how much fits into ¼ cup. The weight that fits in that volume, and thus the amount of protein, depends on the type of powder. I used a whey protein powder where ¼ of a cup was equivalent to about ⅔ of a full scoop.
Nutrition analysis (approximate per serving, assumes whey protein and based on 4 servings): 232 calories, 7.5 g fat, 3.5 g saturated fat, 180 mg sodium, 29 g carbohydrate, 1.5 g fiber, 6.5 g sugar, 12 g protein, Vitamin D: 0%, Calcium: 7%, Iron: 4%, Potassium: 4%
Feel free to pin this post to save for later!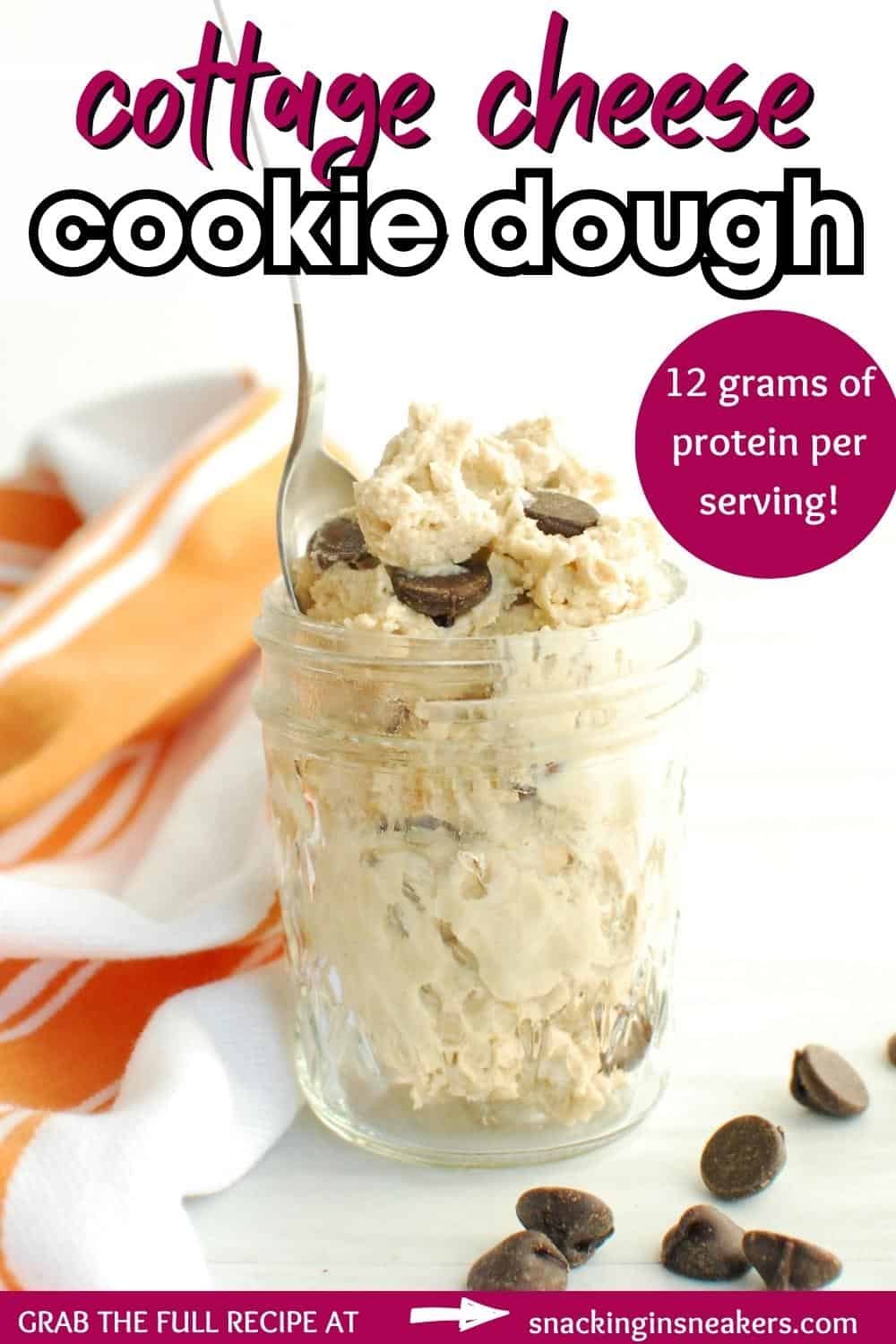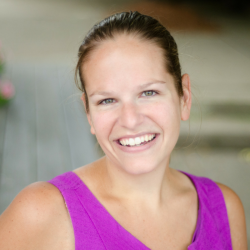 Latest posts by Chrissy Carroll
(see all)