Is there anything better than a juicy, fresh-picked summer peach? How about an air fryer peach that's cooked with brown sugar and cinnamon until it's warm and slightly caramelized? Yes, please!
As a bonus – there's only a little sugar added to this dessert, and there's no fat needed for cooking thanks to using the air fryer. But it's still utterly delectable!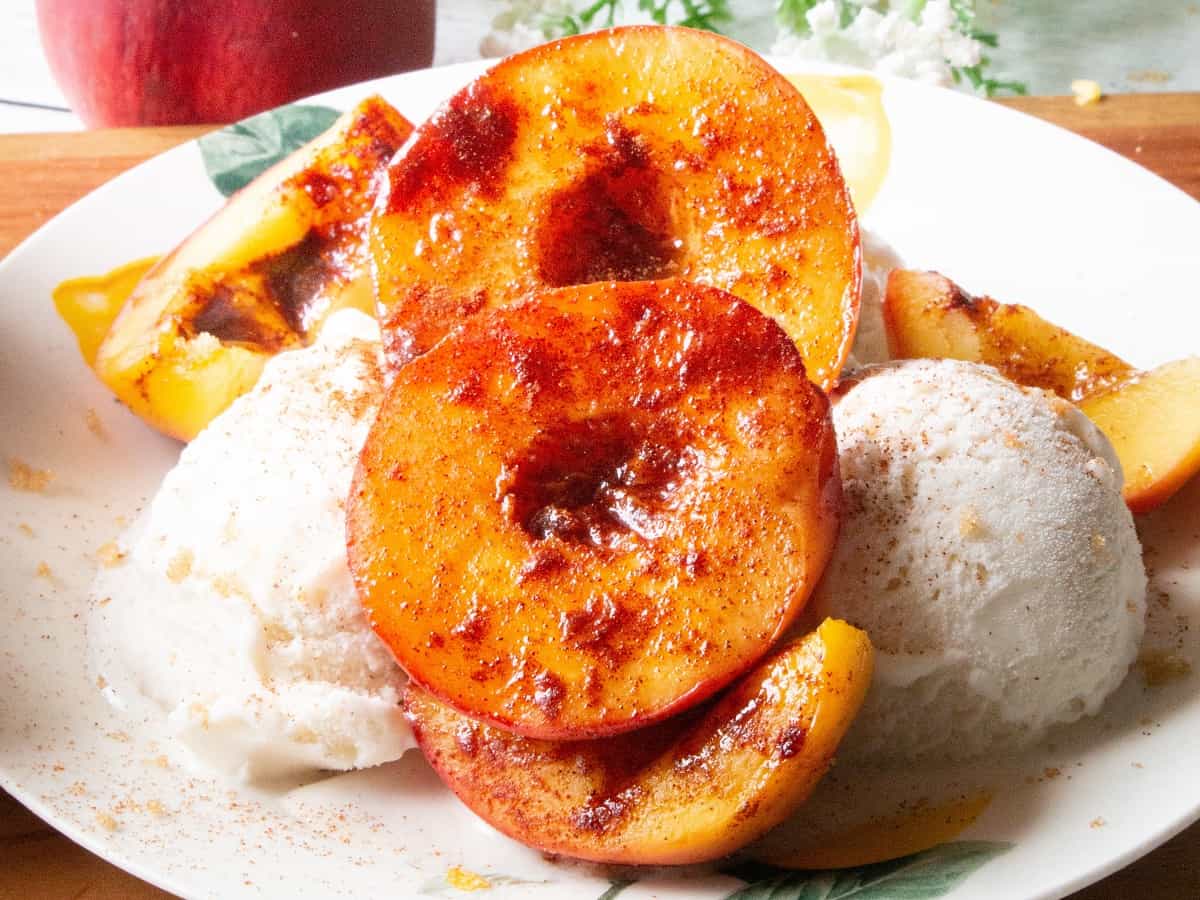 Ingredients
You only need three simple ingredients to make this recipe: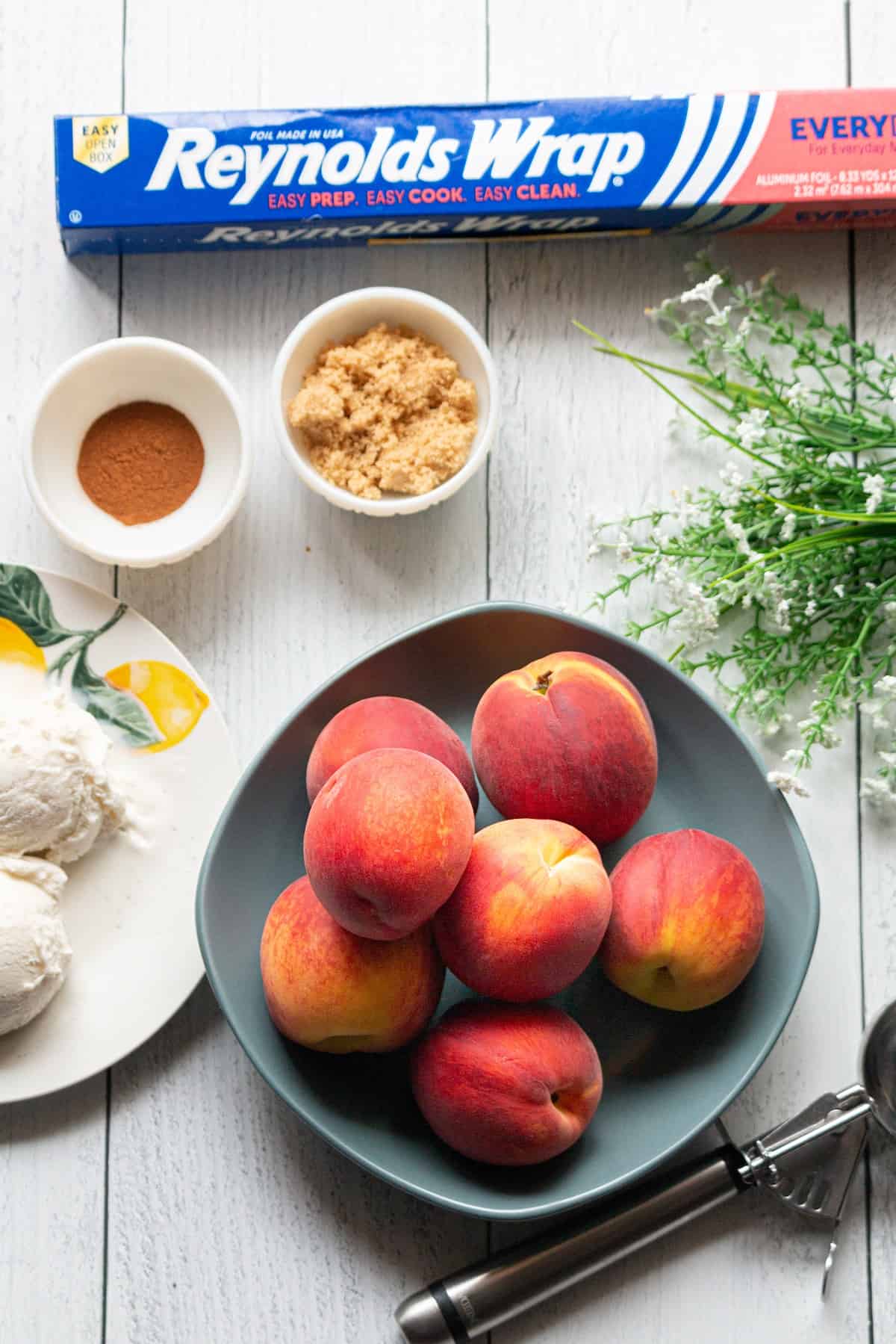 Peaches – We love picking peaches at local farms for this recipe, but grocery store peaches work equally well of course. Riper peaches will take a little less time to cook, while slightly underripe peaches will need a little extra time to fully soften in the air fryer.
Brown sugar – This adds a nice sweetness and caramelization to the peach. If you want to cut back on added sugar, you can use a brown sugar substitute (my favorite is Lakanto Golden).
Cinnamon – This warming, aromatic spice adds lovely flavor.
Instructions
You'll find the full recipe amounts and instructions in the recipe card at the bottom of the post, but here's a helpful overview with photos.
Start by slicing the peaches in half and removing the pit. If using peaches that are a little underripe, removing the pit can be a little more difficult, so be careful. I recommend running a paring knife all the way around the edge of the pit, then using a spoon to pop it out.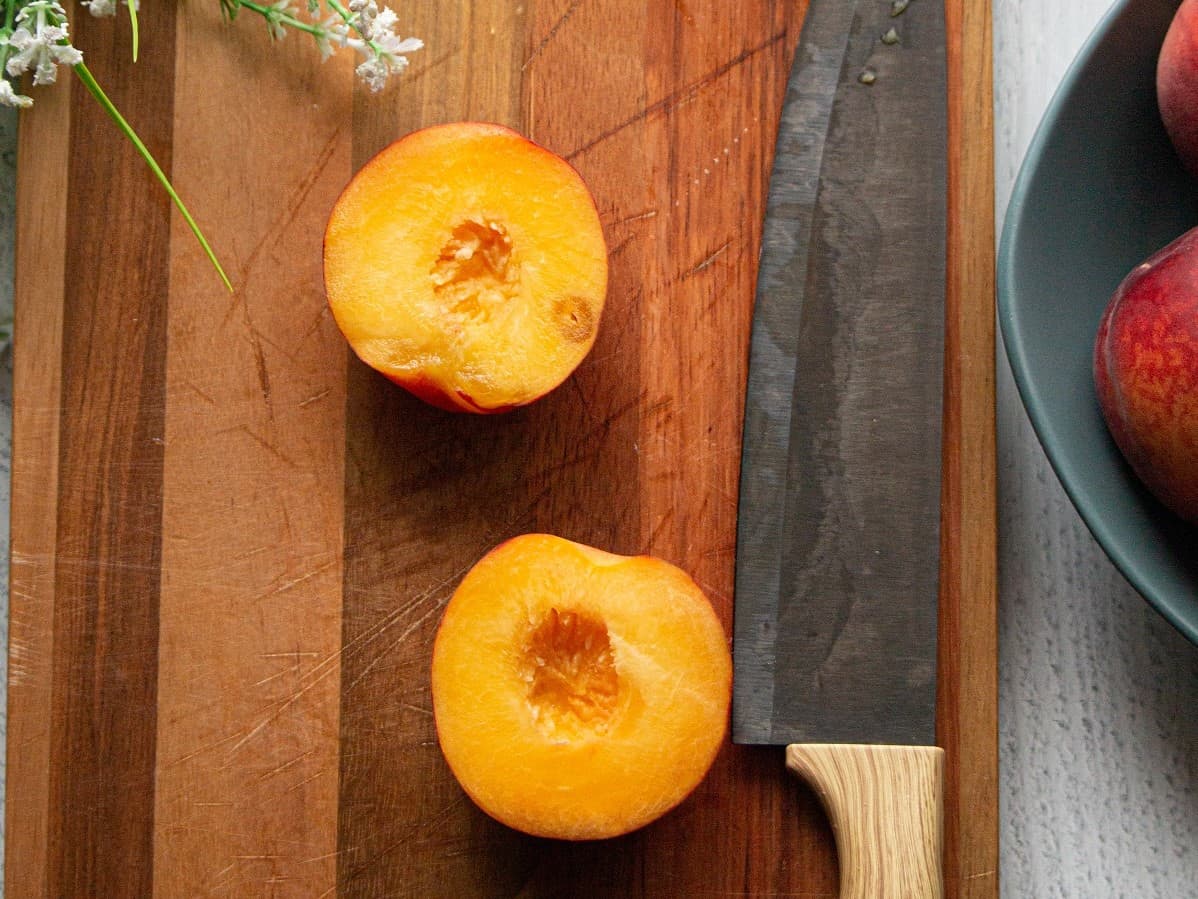 Next, place the peach halves on top of two sheets of aluminum foil (two halves per sheet). Top the peaches with the brown sugar and cinnamon.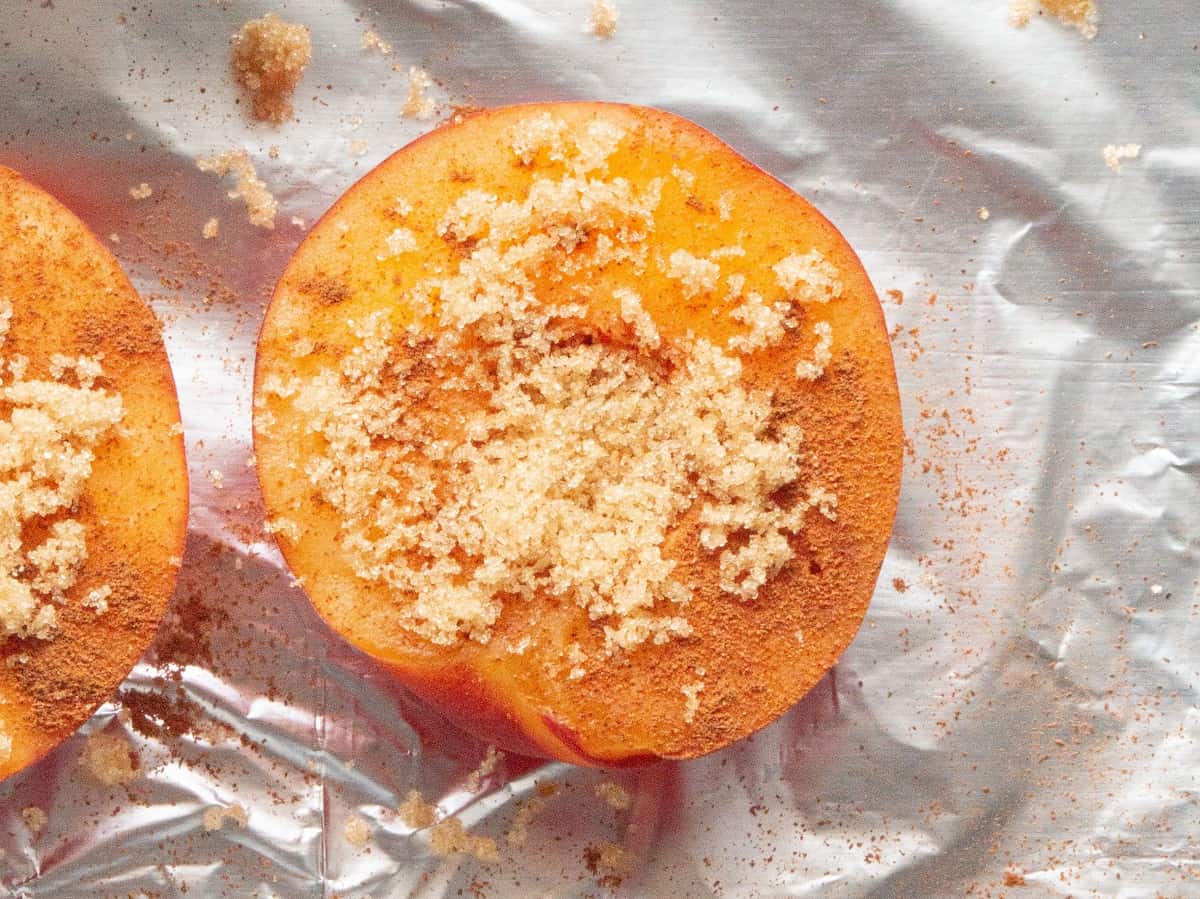 Bring the foil around the peaches, bunching at the top to create a little pouch. Place this in the air fryer basket. (Bonus – using foil pouches like this means way less clean up in the air fryer!)
You'll air fry at 350 degrees for 8 to 14 minutes – you'll need around 8-9 minutes for soft, ripe peaches, 10-12 minutes for less soft but still ripe peaches, and 13-14 minutes for slightly underripe peaches.
Once the timer goes off, let the peaches sit in the foil pouch for another 5 minutes to finish fully cooking and slightly cool.
Now you're ready to use 'em however you please!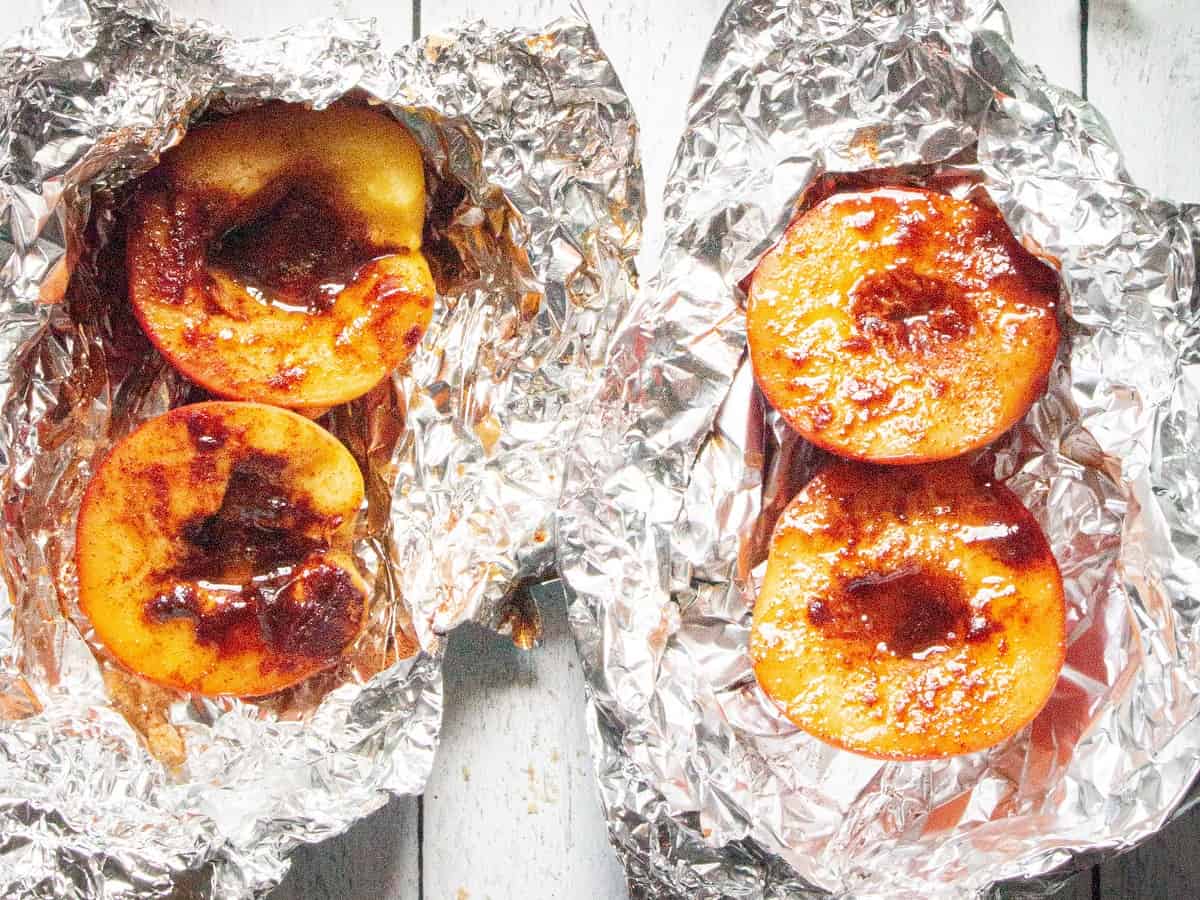 Ways to Use Air Fryer Peaches
Once the peaches are cooked, you may be thinking – now what? But here's a few delicious ideas:
Chop the caramelized peach and add it to a bowl of plain or vanilla greek yogurt. Add some granola or nuts on top. This is one of my favorite summer breakfasts!
Top a slice of toast with ricotta, drizzle it with honey, then add the sliced peaches on top.
Serve the peaches over a bowl of vanilla ice cream.
Add fresh whipped cream on top of the peach, and dig in.
Slice the peaches and toss them in a salad. They pair particularly well with peppery arugula and salty blue cheese, which balance out the sweetness in the peach.
Mix into oatmeal along with some pecans and a dollop of Greek yogurt.
Use as a topping for pancakes or waffles.
Recipe FAQ
Here are some common questions that may come up as you prepare this recipe:
Do you have to preheat the air fryer when making peaches?
Nope, you do not have to preheat the air fryer. You can cook as instructed.
How should you store leftover air fryer peaches?
Store in a container in the refrigerator for up to 4 days. Reheat in the microwave for about 20-30 seconds.
Does fruit get sweeter when you cook it?
Fruit tastes sweeter after cooking to for two reasons – some of the complex carbohydrates are broken down into simple sugars, and some of the sugar caramelizes.
More Peach Recipes
Looking for more recipes to make use of all those fresh, juicy summer peaches? Try one of these delicious options:
I hope you love these air fryer peaches! They're easy to make and so versatile. If you get a chance to try them, feel free to leave a recipe rating or comment below.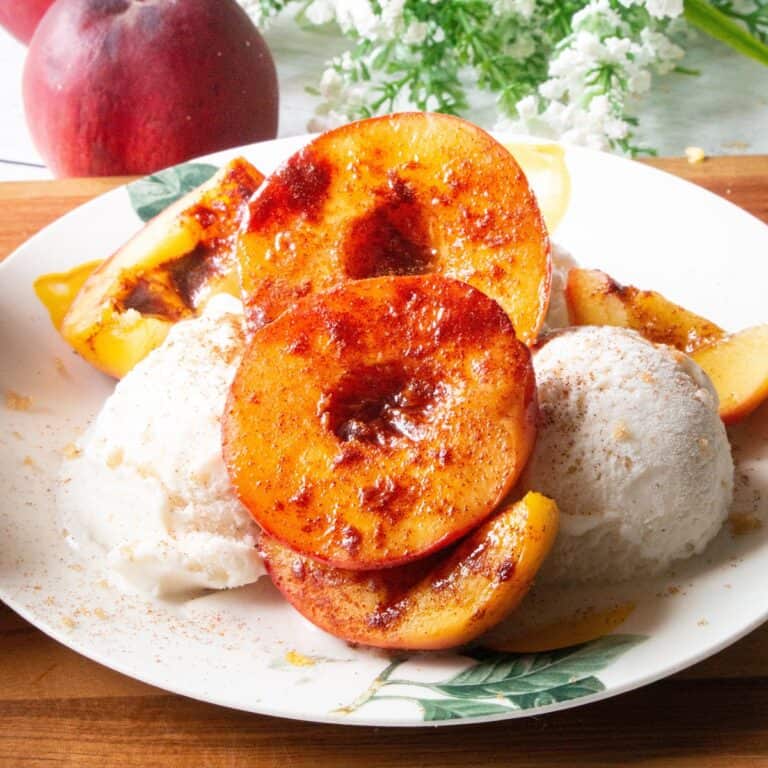 Air Fryer Caramelized Peaches
You'll only need three simple ingredients to make these delectable air fryer caramelized peaches! Perfect for adding to yogurt, oatmeal, or ice cream.
Ingredients
2

large peaches

1

tbsp

brown sugar

1

tsp

cinnamon
Instructions
Slice the peaches in half and carefully remove the pits.

Lay the peaches on a two sheets of aluminum foil, cut side up (two halves per sheet of aluminum foil). Sprinkle each peach half with cinnamon and brown sugar.

Bring the foil up around the peaches, creating a little pouch, being careful to keep the peaches flat against the bottom of the foil. Place the foil pouches in the air fryer basket.

Air fry at 350 degrees F for 8 to 14 minutes, based on the ripeness of the peach – soft, juicy, ripe peaches will take 8-9 minutes, slightly soft ripe peaches will take 10-12 minutes, and slightly underripe peaches will take 13-14 minutes.

Allow the peaches to stay in the foil, unwrapped, for 5 minutes to continue cooking and start to slightly cool. Serve as desired!
Notes
If the peaches are slightly under ripe, it can be more difficult to remove the pit. Run a paring knife around the pit, then use a spoon to pop it out.
This recipe makes four peach halves. One serving could be 1-2 of these. For the purposes of the recipe analysis below, we've assumed one serving equals two halves.
Nutrition analysis (approximate per serving): 98 calories, 0.5 g fat, 0 g saturated fat, 24.5 g carbohydrate, 3.5 g fiber, 21.5 g sugar, 1.5 g protein, Vitamin D: 0%, Calcium: 2%, Iron: 3%, Potassium: 7%
Nutrition
Share: What's your favorite way to use peaches? If you tried this recipe, what did you think?
Feel free to pin this post to share with others!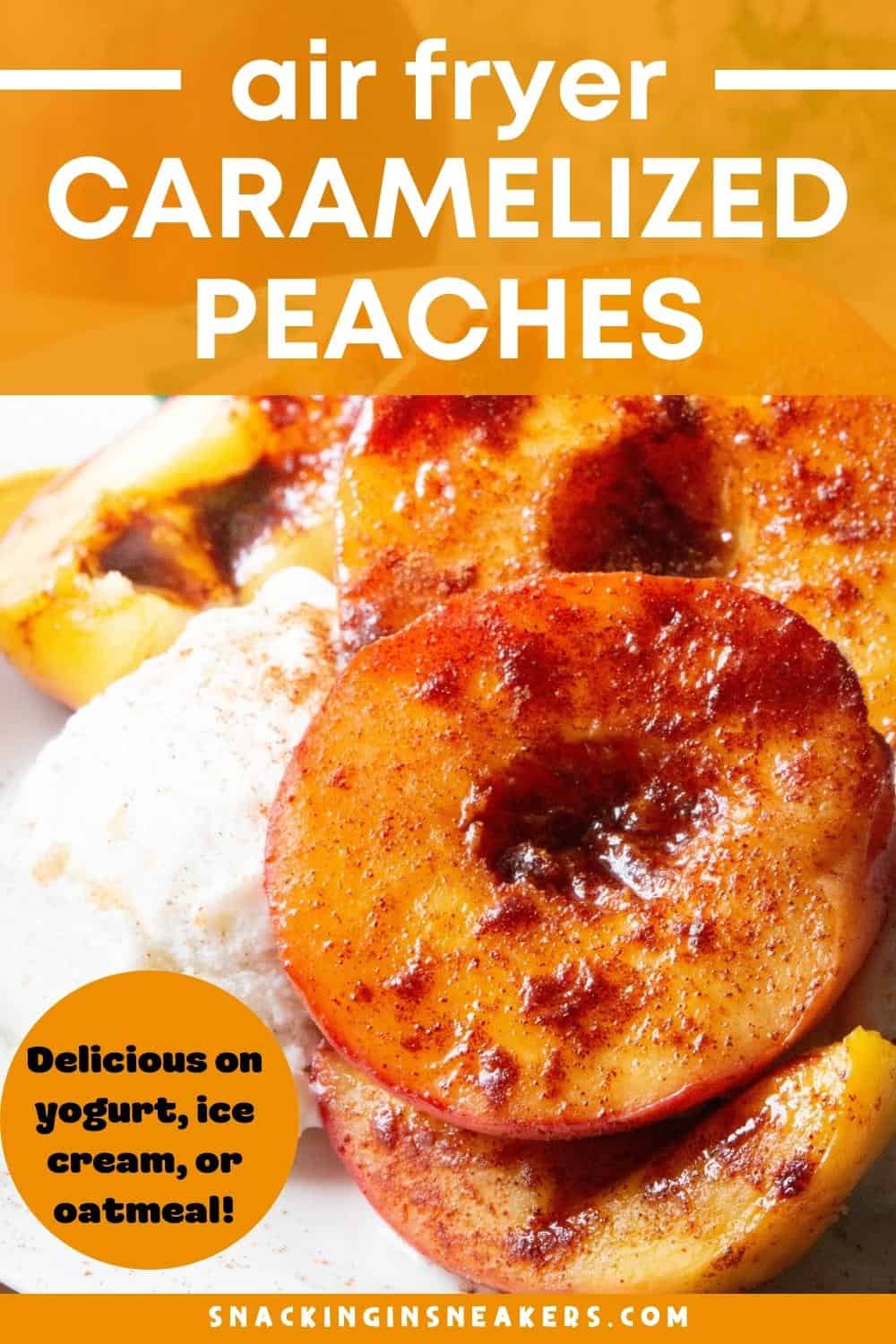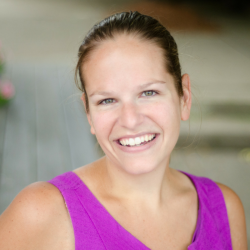 Latest posts by Chrissy Carroll
(see all)