Craving a big 'ol bowl of salad? This arugula spinach salad tastes delicious and is incredibly easy to make. The combination of peppery arugula, tender baby spinach, rich blue cheese, sweet honey-roasted pecans, and juicy sautéed peaches is one of the best salad combos you could imagine.
Disclosure: This post is sponsored by NOW Foods. As always, all opinions are my own.
Getting creative with salads
Back when my husband and I started dating, I remember him saying to me that "salads are for sides, not for meals." And I think a lot of people feel this way. That standard lettuce/tomato/cucumber combo that we often associate with "salad" isn't always all that exciting.
But salads are totally for meals, and I'm proud to say that I've changed my hubby's mind. 😉
I think the key is getting creative with the different ingredients you're using. When you think outside the box by mixing different types of greens with different cheeses, proteins, fruits, veggies, nuts, beans/lentils, etc. – there really are endless filling combinations.
Here are a few of our family favorites:
Southwestern salad: green leaf lettuce, tomatoes, corn, beans, taco meat, and a seasoned ranch dressing
Kale & chicken salad: kale, chicken, celery, avocado, golden raisins, balsamic vinaigrette
Salmon & greens: baby spinach, roasted salmon, bell pepper, dried cranberries, pears, walnuts, creamy citrus dressing
Kale & mango salad: kale, mango, avocado, red onion, mango dressing
Buffalo chickpea salad: green leaf lettuce, chickpeas cooked in hot sauce, avocado, red onion, ranch
And of course, this arugula spinach salad with peaches, pecans, and blue cheese!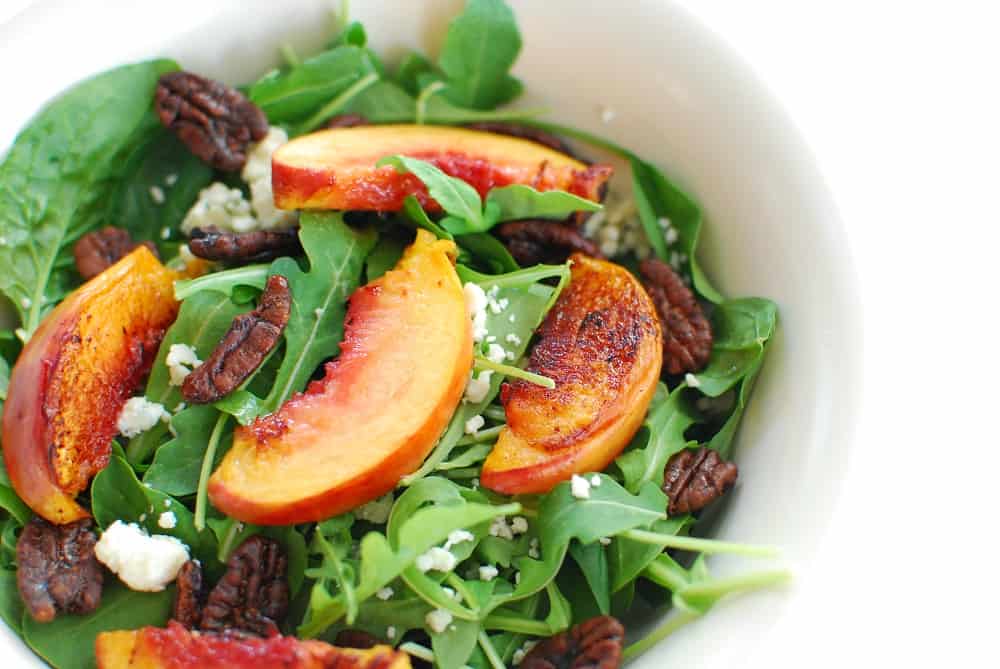 How to make this arugula spinach salad
You'll only need 7 ingredients and about 15 minutes to whip up this restaurant-worthy dish. Here's what you'll want to gather to make this: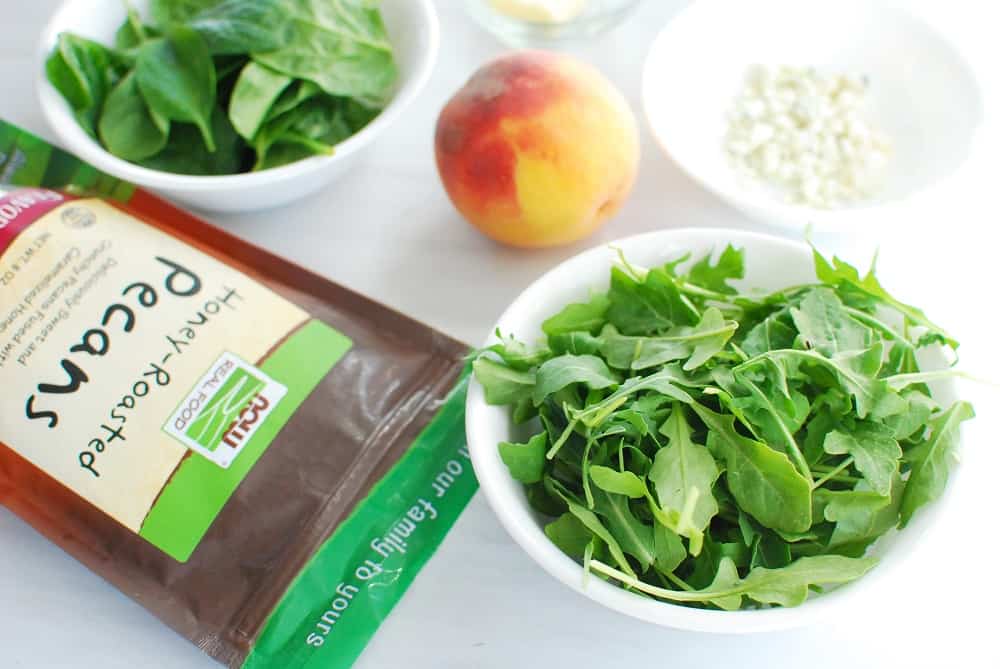 You'll start by sautéing the halves of the peach (remove the pit). If it's nice out and you've got a grill, you can also grill the peaches instead. Since I like to eat this year-round, I often sauté them though.
Just add a little butter to a skillet, and add your peaches. Cook for a few minutes on each side until the outsides start to caramelize a bit.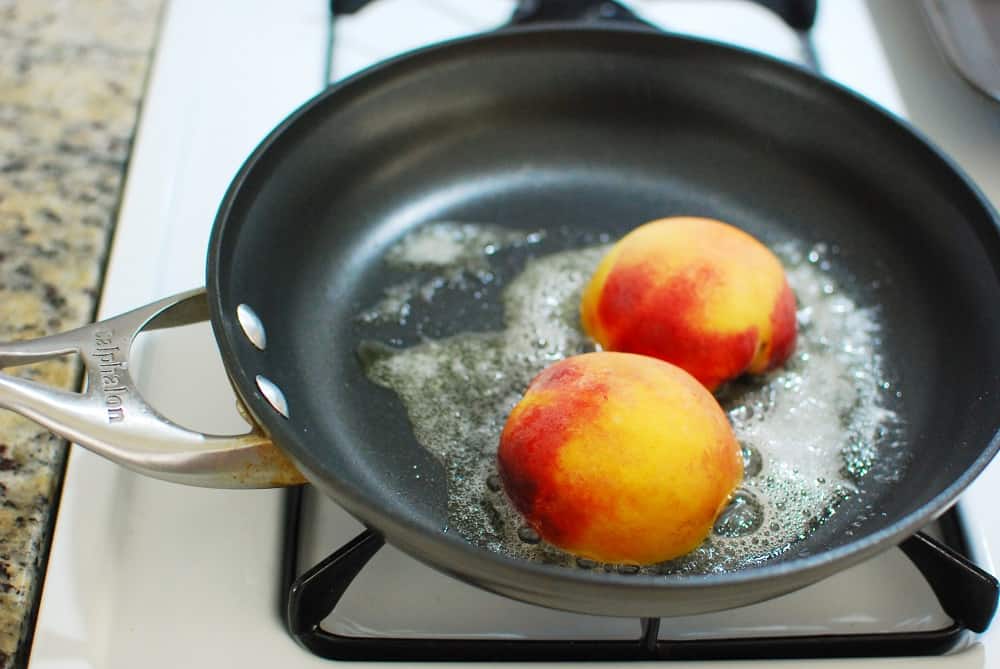 Once you've cooked that and it's cooled for a minute, slice it up.
Then just toss together your arugula and spinach, and top it off with the pecans, blue cheese, peaches, and dressing. Easy peasy!
Including nuts in salads
Nuts are one of my favorite ways to increase the "sticking power" of a salad. Because they're rich in healthy fats, they help with satiety and feeling full after a meal.
Sometimes I find that active folks get nervous about nuts because of the higher calorie content. But over the course of the day, the satiety benefits can actually help with calorie balance by making sure you feel satisfied at your meals and snacks.
In this arugula spinach salad, the nuts also add an amazing flavor. I've used NOW Real Food® Honey-Roasted Pecans which have this incredible sweet and caramelized exterior. Plus, they add a great crunchy texture to the salad! (And I love that these nuts have no artificial additives or anything, just straight up pecans with a little sugar, oil, and honey).
If you want to buy some for your own salads or snacking, you can grab 'em on the NOW website here.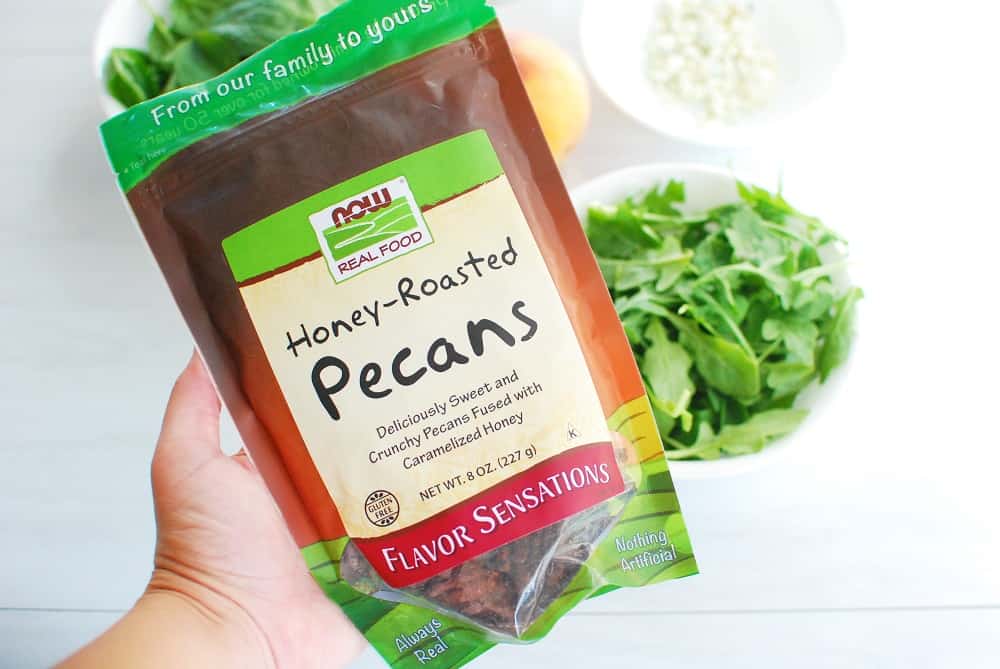 Recommended dressings for this salad
As I mentioned, a vinaigrette-based dressing is ideal for this salad. There's one I always love at the grocery store that's an apple cider vinaigrette and tastes delicious on this.
Any kind of balsamic dressing works really well too. You can see in the photo below, I'm using a balsamic and fig dressing that was a great pairing.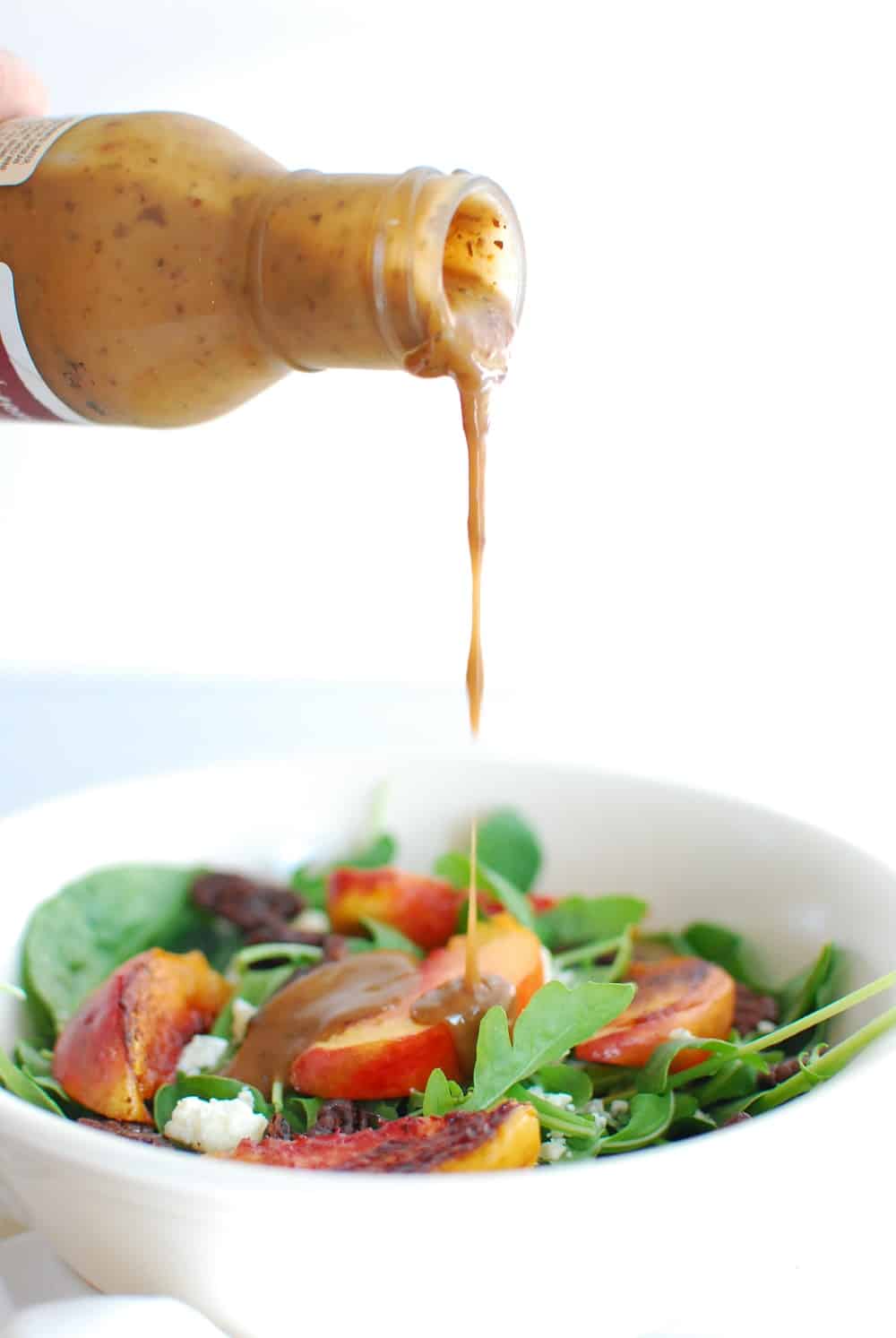 I hope you get a chance to try this spinach arugula salad soon – I bet you'll love it as much as I do! If you have a second after you give it a whirl, be sure to leave a recipe rating or comment to let me know what you think.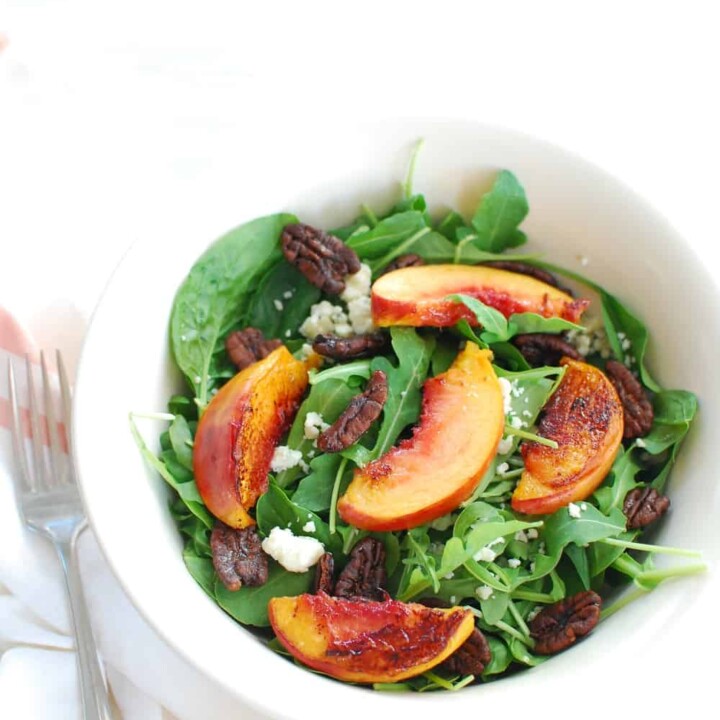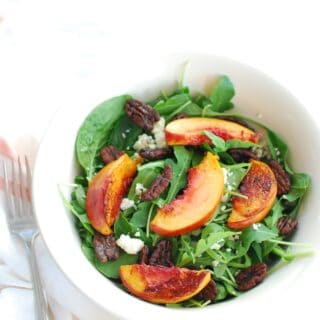 Arugula Spinach Salad with Peaches and Pecans
This arugula spinach salad with sautéed peaches and honey roasted pecans tastes delicious and is incredibly easy to make. 
Ingredients
1/2

tbsp

butter

1

small peach

(or half a large peach)

2

cups

arugula

1

cup

baby spinach

1/4

cup

NOW Real Food® Honey-Roasted Pecans

2

tbsp

crumbled blue cheese

2

tbsp

vinaigrette dressing

(balsamic or apple cider vinaigrette recommended)
Instructions
Slice the peach in half and remove the pit.

Heat the butter in a small skillet over medium heat. Add the peach and cook for approximately 3 minutes per side, until the outside of each side starts to caramelize a bit. Remove from heat, and when cool enough to touch, slice.

In a bowl, combine the arugula, spinach, pecans, blue cheese, and sliced peach.

Drizzle with a vinaigrette-based dressing of your choice. Enjoy!
Notes
Nutrition analysis (approximate, includes dressing):
499 calories, 36.5 g fat, 8.5 g saturated fat, 600 mg sodium, 34 g carbohydrate, 5 g fiber, 10.5 g protein, Vitamin A: 90%, Vitamin C: 38%, Calcium: 21%, Iron: 16%
Nutrition
Share: What's your favorite salad combination? If you tried this arugula spinach salad, what did you think?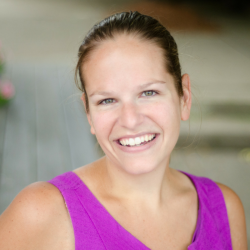 Latest posts by Chrissy Carroll
(see all)