Summertime is rapidly approaching, and that always seems to have me craving big 'ol salads. This kale mango salad is the perfect easy salad recipe that will fill you up and fuel your body right!
Picture crisp kale greens, fruity chunks of mango, creamy rich avocado, tangy red onion….it's nutritious and delicious.
How to make a kale mango salad
You only need 7 ingredients to make the base of this salad:
Kale
Olive oil
Lemon
Salt
Avocado
Red onion
Mango
You'll massage the kale with the olive oil, lemon juice, and salt which will help to tenderize the leaves. Then you'll top it off with the rest of your ingredients – so easy and delicious!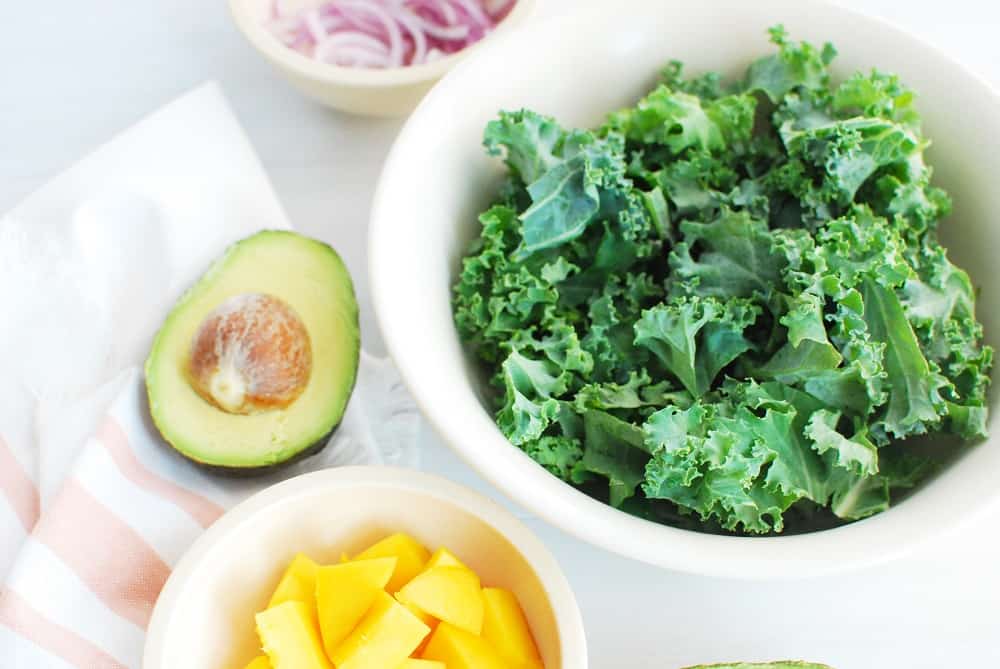 What's the deal with massaging kale?
If you're using larger kale leaves, massaging kale helps to break down the structure of the plant just a bit. This reduces the toughness and makes the leaves more tender. Some people also say it helps reduce bitterness a bit.
It may sound silly, but it makes the salad better – I promise! To massage kale, basically you'll just crunch up the leaves in your hands with the olive oil and lemon juice for a minute or two. You'll start to feel the leaves wilt a little bit and that's a good time to stop.
You don't want to over massage the kale, or the leaves can start to get a mushy quality to them. You want them crisp-tender and not tough. If you're unsure, just scoop up a bite after a minute and see how it tastes and if you need to do any more massaging.
As a quick heads up – if you're using baby kale or Tuscan kale, you can skip this step!
What kind of dressing should you use?
I use my homemade mango salad dressing for this recipe and I absolutely love the double dose of mango!
But there are also plenty of other dressings that would taste great on this: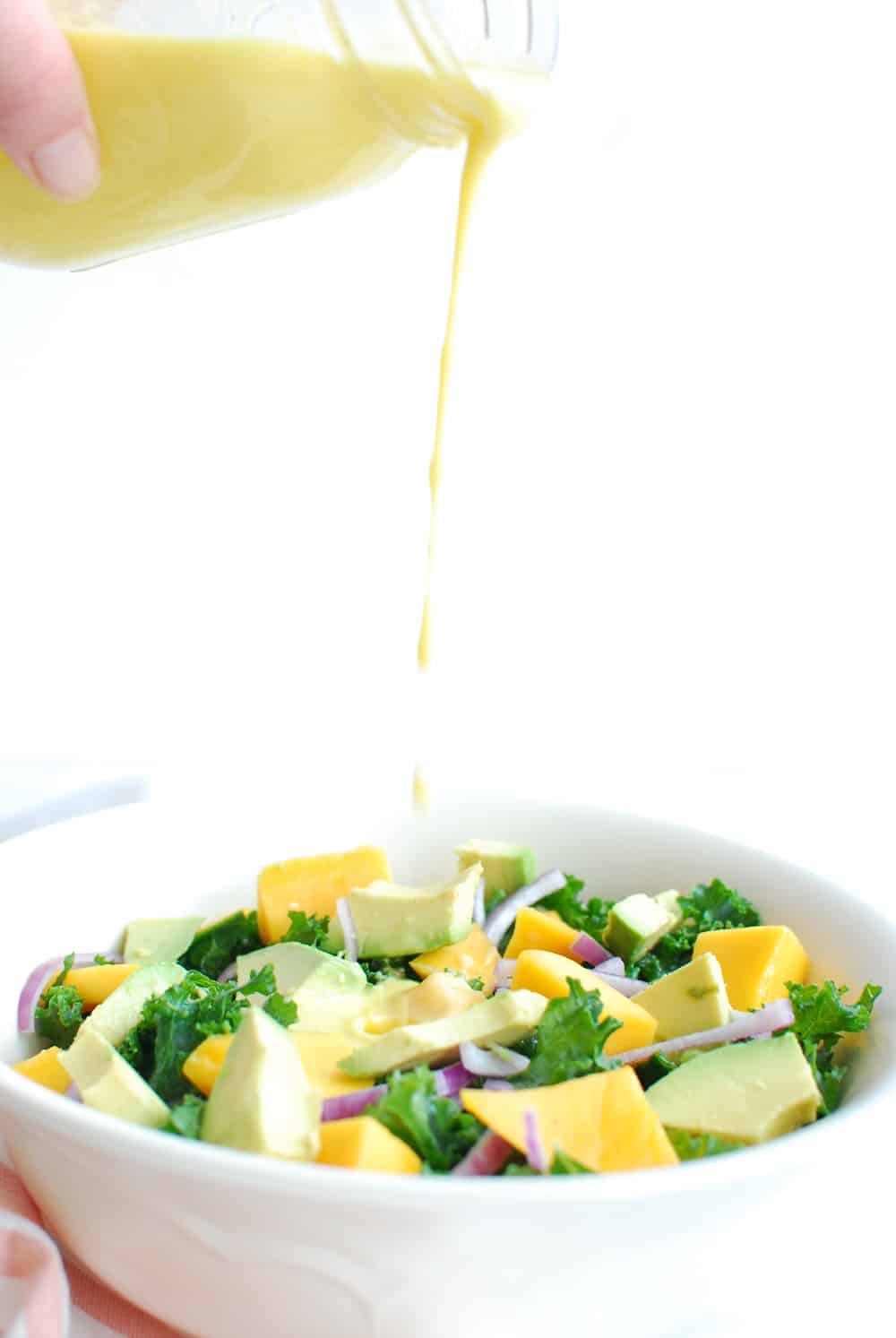 How to add more protein
Now I wanted to keep this a light, plant-based option, but if you want to boost the protein intake – or if you've got an eater in your family who believes no meal is complete without meat – not to fear, haha. Just add a few ounces of grilled steak or chicken to it! We've had both at various times and they both taste great in combination with the rest of the ingredients.
Why this salad is a nutritious choice
I am legit obsessed with how awesome this salad is – here's just a few favorite facts about it:
Great source of healthy carbohydrates for all you fit friends! Time and time again, research has shown that carbohydrates help to support fitness training. And the carbs in this salad come from nutrient-dense ingredients like mango, avocado, and kale. (As an aside – while low carb and keto style diets can work for some people, they are not associated with an improvement in performance and may actually lead to poorer sprint performance.)
Fills you up with 14 grams of fiber. Did you know almost all Americans fall short in fiber? We always seem to focus on protein or other nutrients. But according to research, 95% of Americans are falling short on fiber recommendations – currently set at 25 grams per day for women and 38 grams per day for men. Fiber is involved in gut health, both as far as good digestion and feeding the gut microbiome.
It is packed with potassium – I'm talking almost half of your day's needs in this one salad. That is incredible. Potassium is a key electrolyte that's involved in both blood pressure regulation and muscle contractions, so it's really important to get enough each day.
Rich source of lots of vitamins, minerals, and phytochemicals. Aside from the potassium, you're also getting tons of other nutrients in here. Your daily Vitamin A needs? Check. Your daily Vitamin C needs? Check. Good sources of a bunch of other vitamins and minerals? Yes! And of course, in addition to what's listed on that label, you're also getting lots of phytochemicals – things like antioxidants and other powerful plant-based compounds that support good health.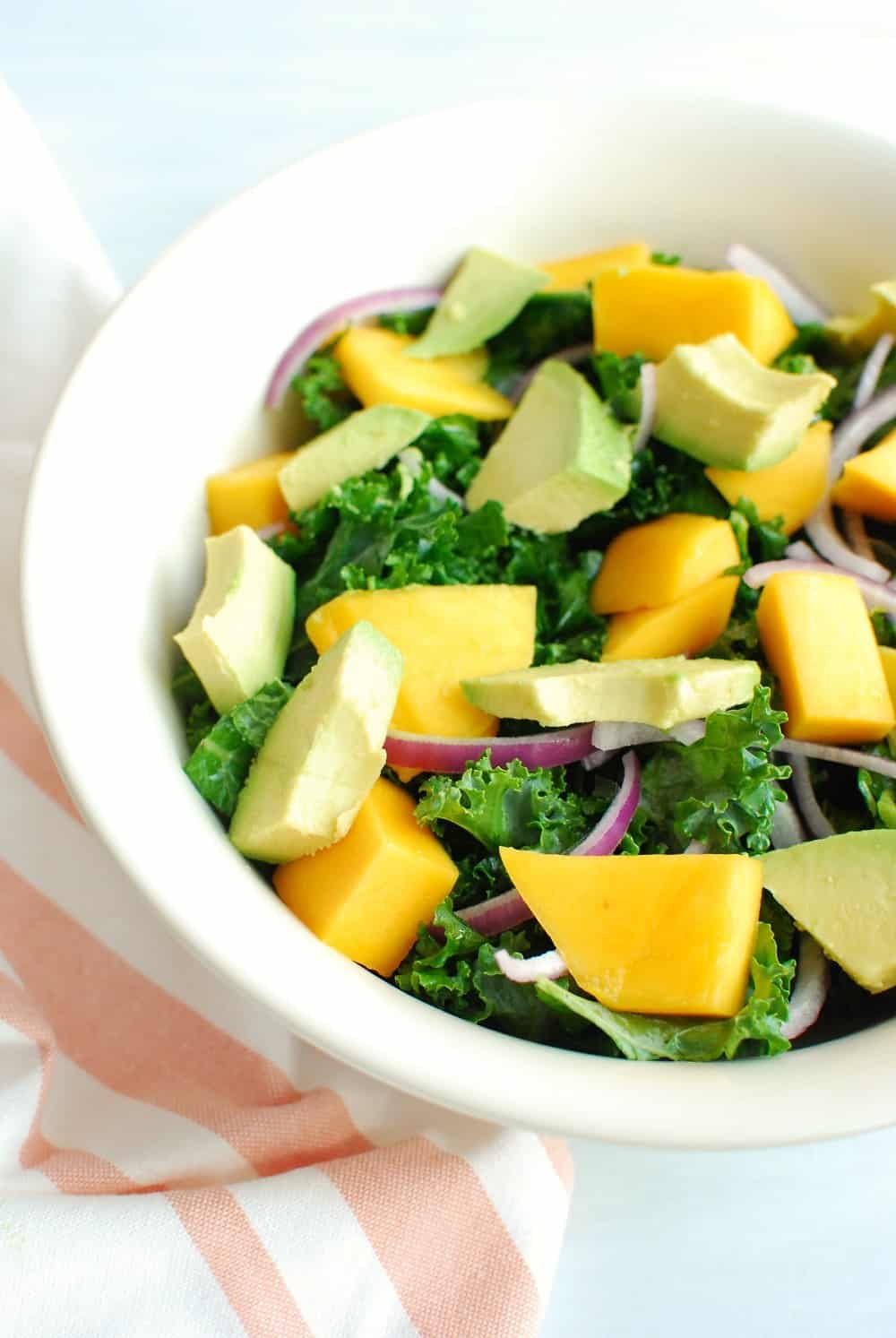 I hope you enjoy this kale mango salad as much as I do! If you try it, be sure to leave a recipe rating or comment below.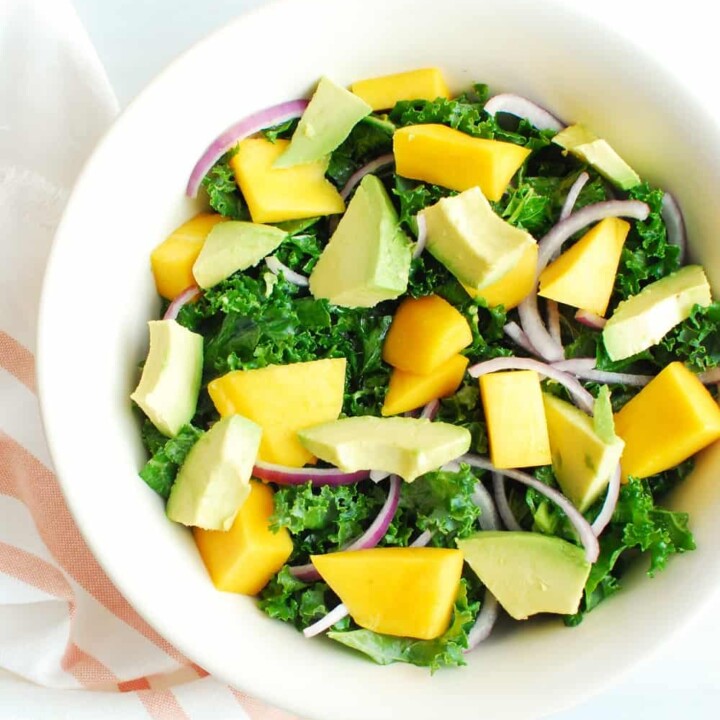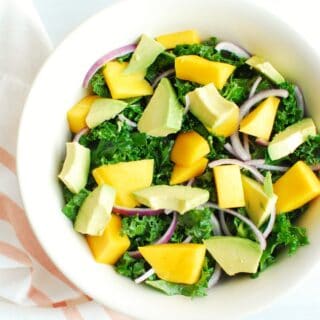 Kale Mango Salad
This kale mango salad is the perfect easy salad recipe that will fill you up and fuel your body right! 
Ingredients
Salad
3

cups

kale, large stalks removed, roughly chopped, loosely packed

1

tsp

olive oil

1/2

lemon, juiced

1/8

tsp

salt

1/2

avocado, chopped

1/4

cup

red onion, sliced

3/4

cup

mango, chopped
Dressing (optional; use any you'd like!)
Instructions
If making the mango salad dressing, prepare everything for that dressing first and set aside. If using a different dressing, move onto the next step.

Place kale in a large bowl. Drizzle with olive oil, lemon juice, and salt. Massage kale with your hands for a minute. (This helps to make it more tender).

Add avocado, red onion, and mango. Top with the dressing of your choice and enjoy.
Notes
Nutrition analysis (approximate per serving, does not include dressing):
401 calories, 21 g fat, 3 g sat fat, 388 mg sodium, 55 g carbohydrate, 14.5 g fiber, 21 g sugar, 10 g protein, Vitamin A: 640%, Vitamin C: 505%, Calcium: 31%, Iron: 24%
Nutrition
Share with me: What's your favorite summer salad combo? If you tried this kale mango salad, what did you think?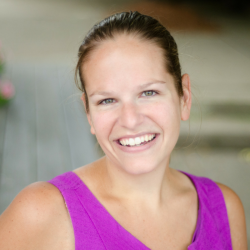 Latest posts by Chrissy Carroll
(see all)