This peach whiskey chicken is a perfect summertime meal, hitting on all the sweet and savory notes you love. Though you'll need a bit of time to cook this dish, the prep is extremely easy and requires just a handful of ingredients. Try this recipe for a hearty family dinner that everyone will enjoy.
How to Make This Recipe
If you're ready to whip up this peach whiskey chicken, give yourself a good two hours before dinner to start prepping it. There's not a ton of active prep, but you'll want to give yourself time to cook it in the oven for an hour and a little time to let it sit so the sauce thickens up.
Here's what you'll need to gather up:
Olive oil
Chicken drumsticks and thighs
Salt
Pepper
Onion
Peaches
Whiskey
Barbecue sauce
Apricot or peach preserves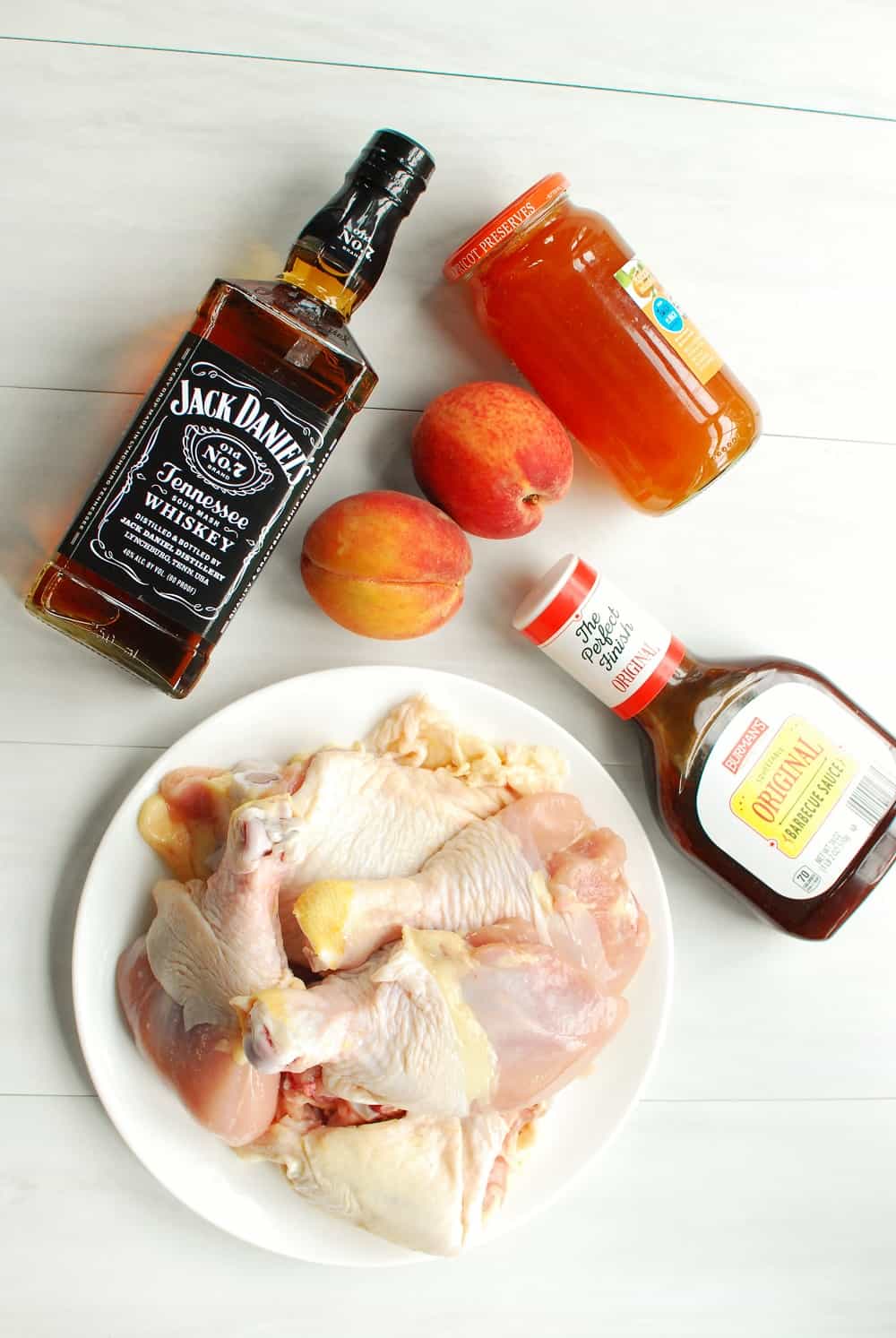 You'll start by heating your olive oil in a cast iron dutch oven – or any dutch oven that is safe for both stovetop and the oven. I scored this one at ALDI a while back and I use it ALL the time, for anything from this recipe to homemade sourdough bread.
Once you've got the oil heated up, season your chicken with a little salt and pepper. Work in a couple batches to sear your chicken on each side so the skin gets a bit brown.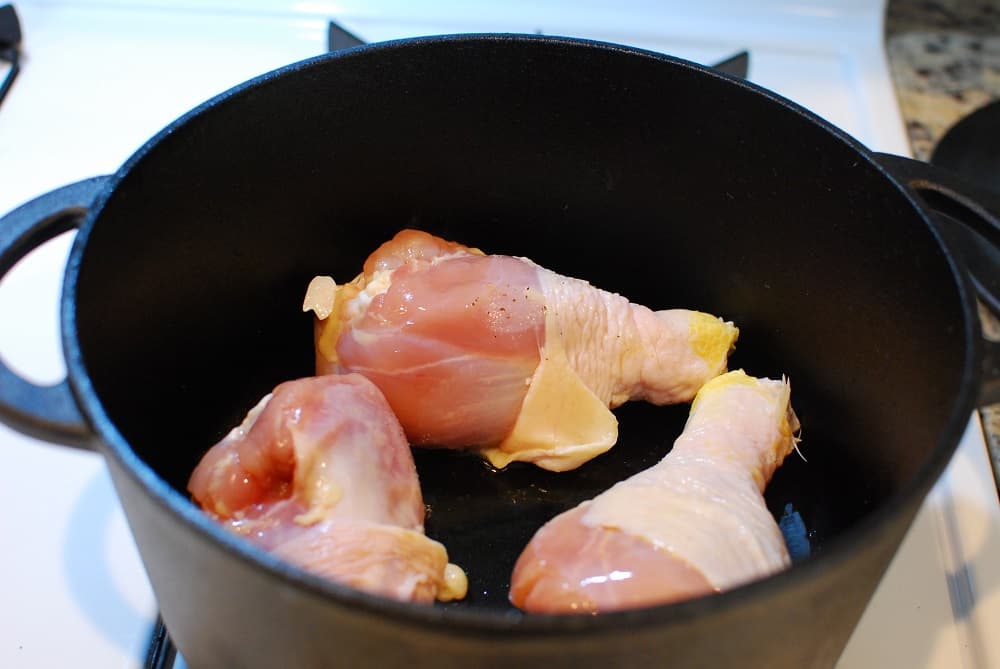 Now set aside that chicken for a few minutes, and move on to making your sauce. First, sauté your onion. Then add the peaches.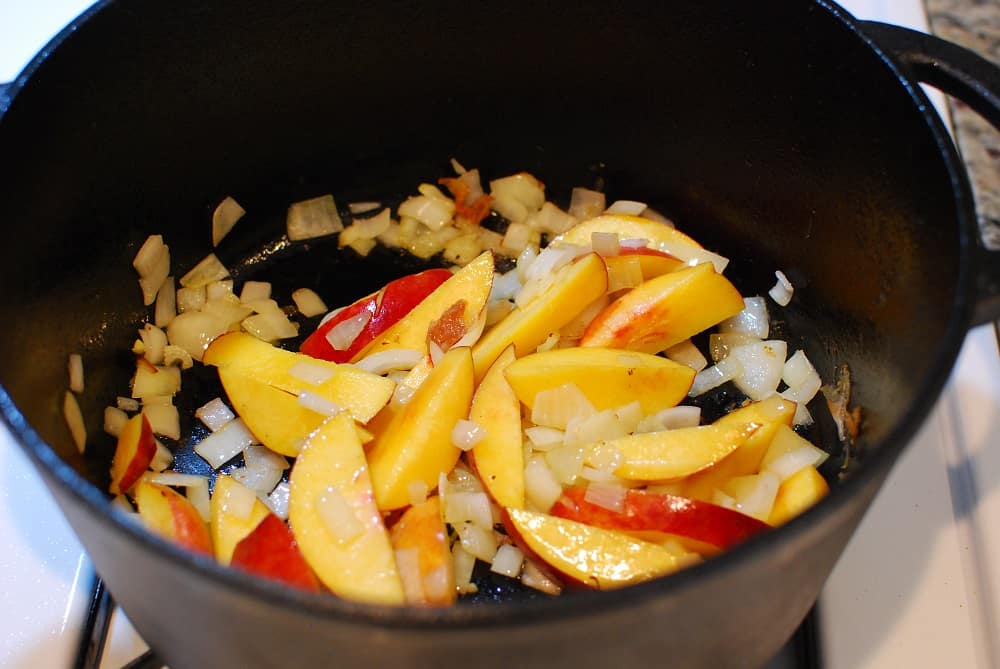 Next, you'll stir in the whisky and let it cook for a few minutes. Then mix in your BBQ sauce and apricot or peach preserves to create a delicious-smelling sauce!
I tend to use apricot preserves in this recipe because they're easier to find than peach preserves. The flavor is fairly similar, and it works well with the fresh peaches you'll use in this recipe. That said, if you can track down peach preserves, feel free to use those.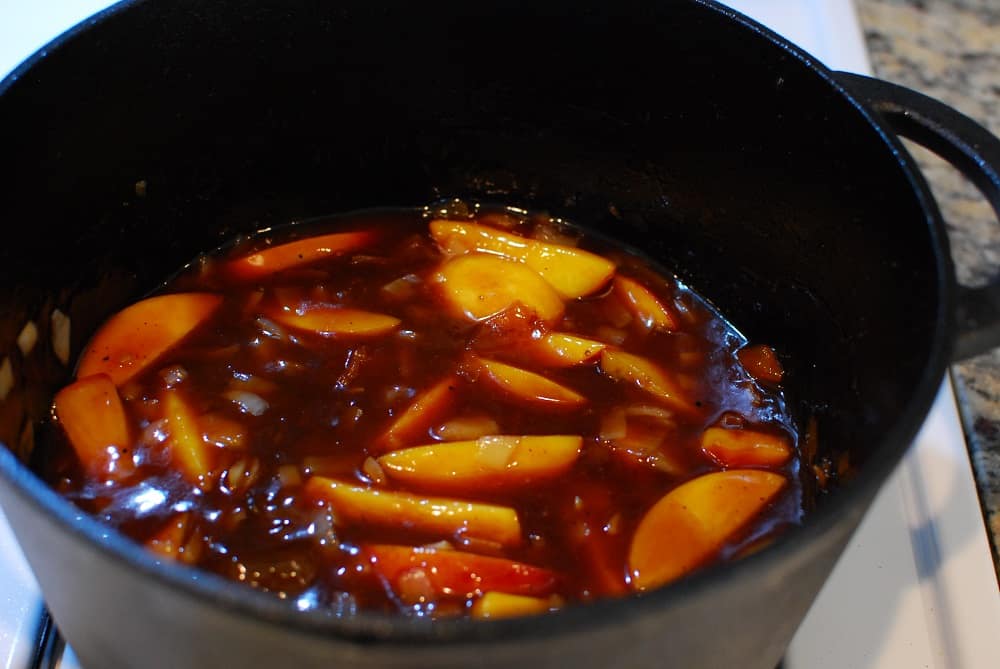 After you've got that sauce mixed up, go ahead and plop that chicken back in the dutch oven, spoon some of the sauce over the top, and bake it up for an hour.
When it's done, the chicken will be fall-off-the-bone tender and the sauce will have the perfect blend of sweet and tangy!
I like to serve this with fresh sourdough bread or rice, as both make excellent vessels for sopping up all the extra sauce. Fresh sautéed spinach is a nice way to round out the dish for a complete meal!
Why Use Alcohol in Cooking
Alcohol's fragrance molecules are volatile, which means they easily float into the air and allow us to smell them. That's why when you open a bottle of whiskey or wine, you'll be treated to those wonderful aromas. When a little alcohol is added to dish you're cooking, that little bit can help to enhance those smells from the rest of the dish.
According to Fine Cooking, alcohol also bonds to both fat and water molecules, which means it has the ability to help enhance both the aroma (as described above) as well as the flavor (what we experience in our mouth). With meat, it can help drive those flavor molecules into the cells of the meat. These effects can lead to a better perceived taste of a dish.
You're probably used to this in popular dishes like chicken marsala, in which marsala wine adds flavor. In this case, we use whisky in a similar way. The bitter and fragrant whisky plays well off the tangy barbecue sauce and sweet preserves and peaches, and helps drive those flavors into the chicken.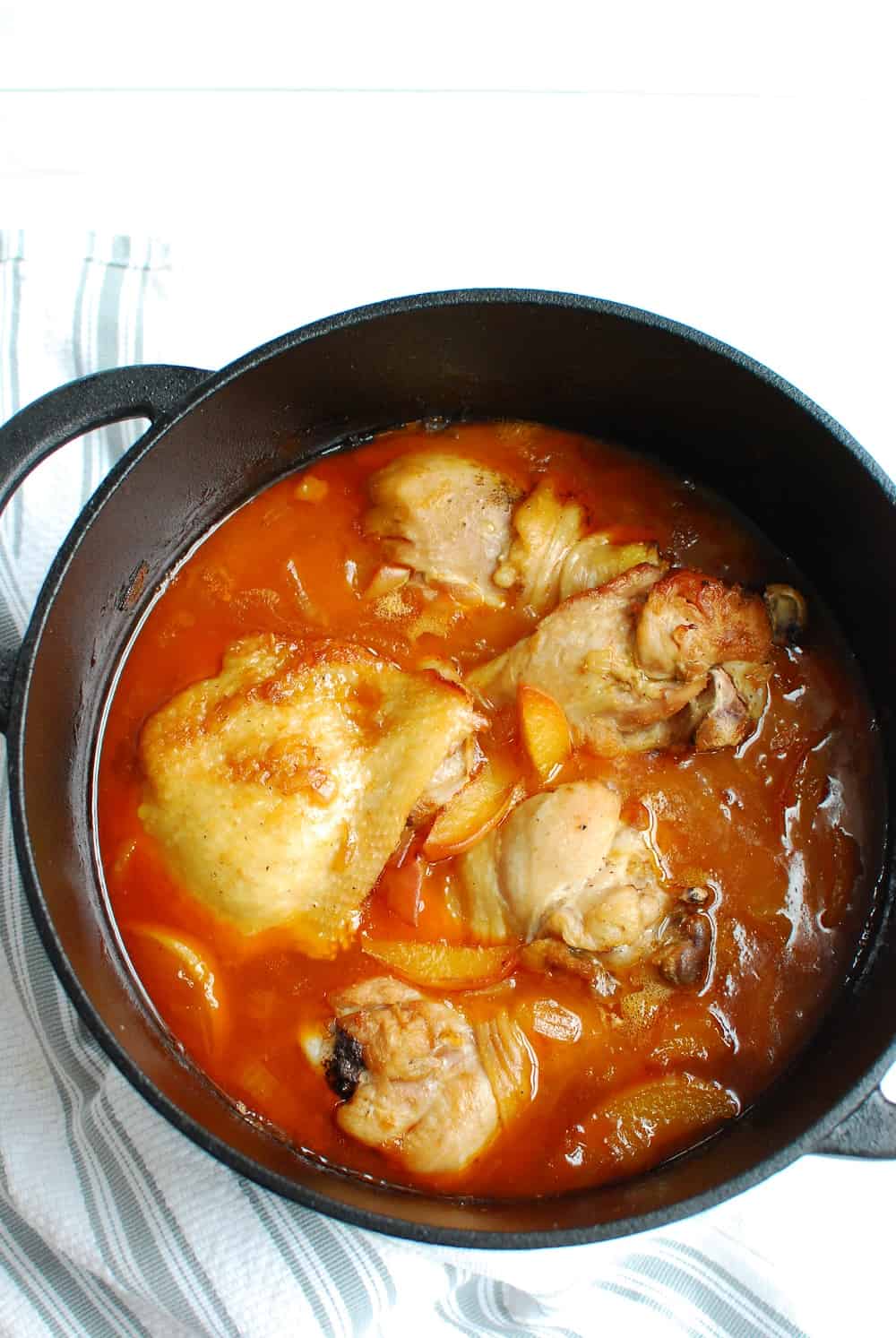 Recipe FAQ
Here are some common questions that may come up as you prepare this recipe:
Is it safe for kids to eat food cooked in alcohol? This is a personal decision. All alcohol does not cook out when preparing food – it depends on the cooking time, cooking temperature, and pan size. According to this resource (which apparently comes from the USDA, but I'm having trouble tracking down the original article with this chart), about 25% of alcohol remains after 1 hour of cooking time, which is the length used in this recipe. That would mean about 2 tablespoons of the whisky alcohol is retained throughout the entire 8 servings, or a little less than 1 teaspoon per serving (which includes quite a bit of sauce). If you're worried about that for your child, just don't spoon extra sauce on top.
What if you don't have a dutch oven? No problem. Use a skillet for the first few steps in this recipe. When you're ready to move on to the oven step, transfer the chicken and sauce in a casserole dish and bake it in that.
Can you grill this instead? Yes. Prepare the sauce as described, then divide it into two servings: about 2/3 in the first, and 1/3 in the second. Marinate the chicken in 2/3 of the mixture, and save the other 1/3 to use for basting while grilling. You can grill the peaches as well. With this preparation, there won't be extra sauce to use for soaking into rice and bread, but it's equally delicious as far as the chicken itself goes.
Can you freeze this? Yes, you can freeze this recipe once it's prepared. I recommend freezing in single-serving portions that you can take out and enjoy as desired. Keep in mind the texture of the peaches in the sauce will be a bit different after freezing.
I hope you love this peach whisky chicken as much as my family does! If you get a chance to try it, be sure to leave a recipe rating or comment below. (PS – Looking for more chicken recipes? Try these BBQ chicken spaghetti squash bowls or chicken apple meatballs!)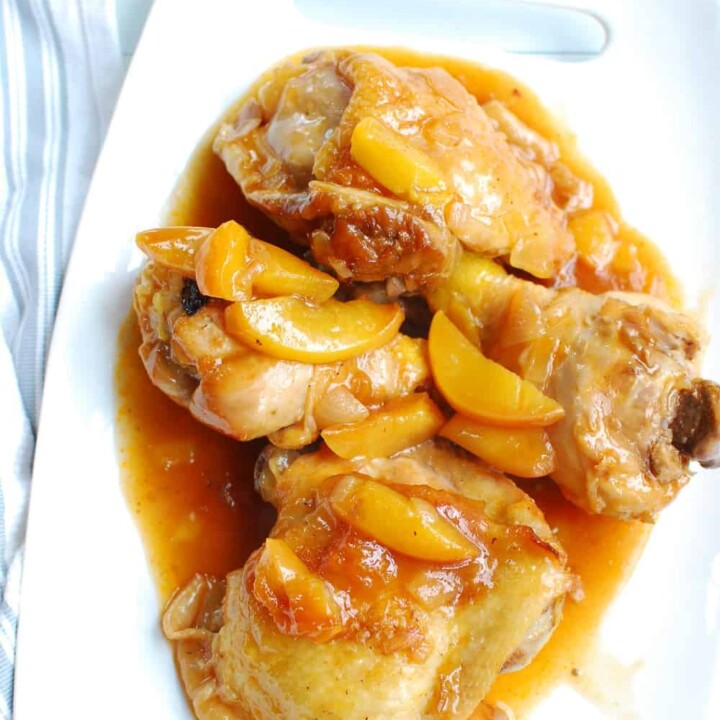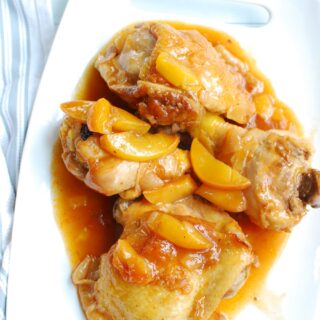 Peach Whiskey Chicken
This peach whisky chicken is a delicious dinner that plays on sweet and savory flavors! Don't forget some bread or rice to soak up the extra sauce.
Ingredients
1

tbsp

olive oil

8

assorted bone-in chicken thighs and drumsticks*

1/8

tsp

salt

1/8

tsp

pepper

1

yellow onion, chopped

4

peaches, sliced about ½-inch thick

1/2

cup

whiskey

1 1/4

cups

BBQ sauce

2/3

cup

apricot or peach preserves
Instructions
Preheat the oven to 350 degrees F.

In a large cast iron dutch oven (or another dutch oven that is both stovetop and oven safe), heat the olive oil over medium heat.

Season the chicken with salt and pepper, and sear each side in the hot oil for 2-3 minutes per side, working in batches. Remove the chicken and set aside on a plate for now.

Add the onion to the pot and sauté for 3-4 minutes, until it starts to get translucent. Add the peaches and cook for another minute.

Add the whisky to the pot and cook for 2-3 minutes, letting some of the liquid evaporate off.

Stir in the BBQ sauce and fruit preserves, then add the chicken back to the dutch oven. Spoon sauce over the chicken. Place the lid on the dutch oven and place in the preheated oven. Cook for about 60 minutes, or until the chicken is cooked through (reaching an internal temperature of 165 degrees).

Optional but recommended: Let the pot sit out uncovered for about 15-30 minutes before serving to thicken up the sauce. Enjoy!
Notes
Notes: 
*I used 4 skin-on drumsticks and 4 skin-on thighs. You can use whatever combination you prefer.
You can also make less than 8 too; you'll just have extra sauce.
Nutrition analysis (per serving, includes 1 piece of chicken and extra sauce):  454 calories, 15 g fat, 3.5 g saturated fat, 775 mg sodium, 44 g carbohydrate, 1.5 g fiber, 33 g sugar, 29 g protein, Vitamin A: 8%, Vitamin C: 14%, Calcium: 5%, Iron: 11%
Nutrition
Share: What's your favorite way to make chicken?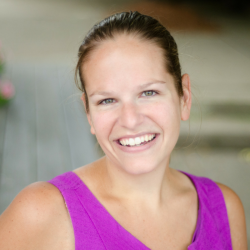 Latest posts by Chrissy Carroll
(see all)