Get ready for some delicious comfort food, because this creamy chicken and zoodles recipe is cozy and tasty! A lighter alfredo sauce is made for the zucchini noodles using half and half rather than heavy cream, and the chicken is jazzed up with some spicy Cajun seasoning. Top it all off with some chopped cherry tomatoes for a flavor-packed meal you'll love.
Disclaimer: This post contains affiliate links. As an affiliate, I earn a commission on qualifying purchases.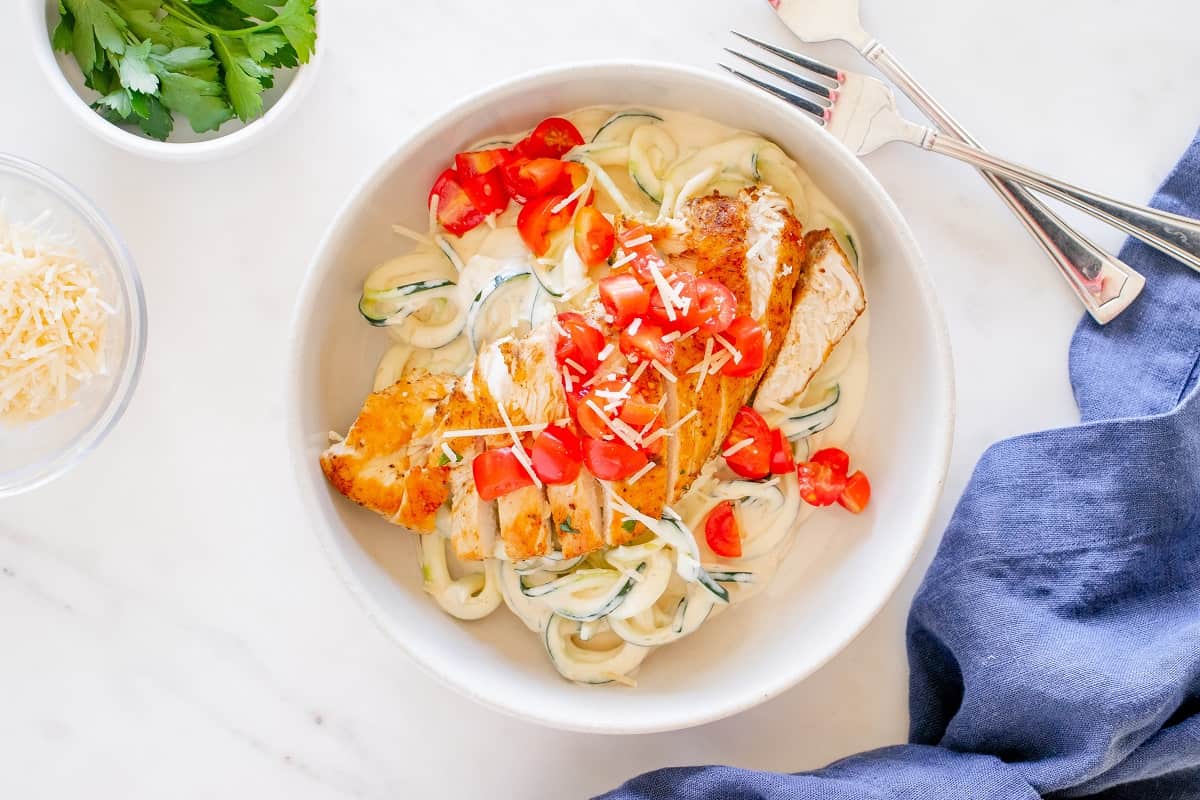 Ingredients
Here's a photo of what you'll need to make this recipe, along with selected ingredient notes:
Chicken breast – I love seasoned chicken for this recipe – it's such a versatile food and contains a lot of protein! But you can also make this with shrimp too. (Note that you'll need to adjust the cooking time if you decide to use shrimp; it cooks far faster than chicken).
Cajun seasoning – You can find store bought blends (I like McCormick's Cajun Seasoning), or you can make your own with a little cayenne pepper, black pepper, white pepper, onion powder, garlic powder, and paprika (here is a great recipe for a homemade Cajun seasoning). Depending on what kind of cajun seasoning you use, you may need to adjust the salt in this recipe to taste (some blends are saltier than others).
Half and half – This still retains a very creamy texture for the sauce you'll make, but with less calories and fat than heavy cream. While you can try substituting milk, it will be thinner and not as rich.
Instructions
You'll find the full recipe amounts and instructions in the recipe card at the bottom of the page, but here's a helpful overview with step-by-step photos.
Start by spiralizing your zucchini. Little handheld spiralizers work great, as do inexpensive tabletop spiralizers. No need to spend a ton fancy equipment.
Once you spiralize the zucchini, I recommend trimming them in half, otherwise they will be super long noodles.
Next, toss 'em in a colander and sprinkle of salt. This will help draw out excess moisture. Let sit for about 15 minutes, then squeeze excess water out with a few paper towels, and you're ready to roll.
Time to start prepping the dish itself. Start by tossing the chicken with a little oil and Cajun seasoning in a zip top bag until coated.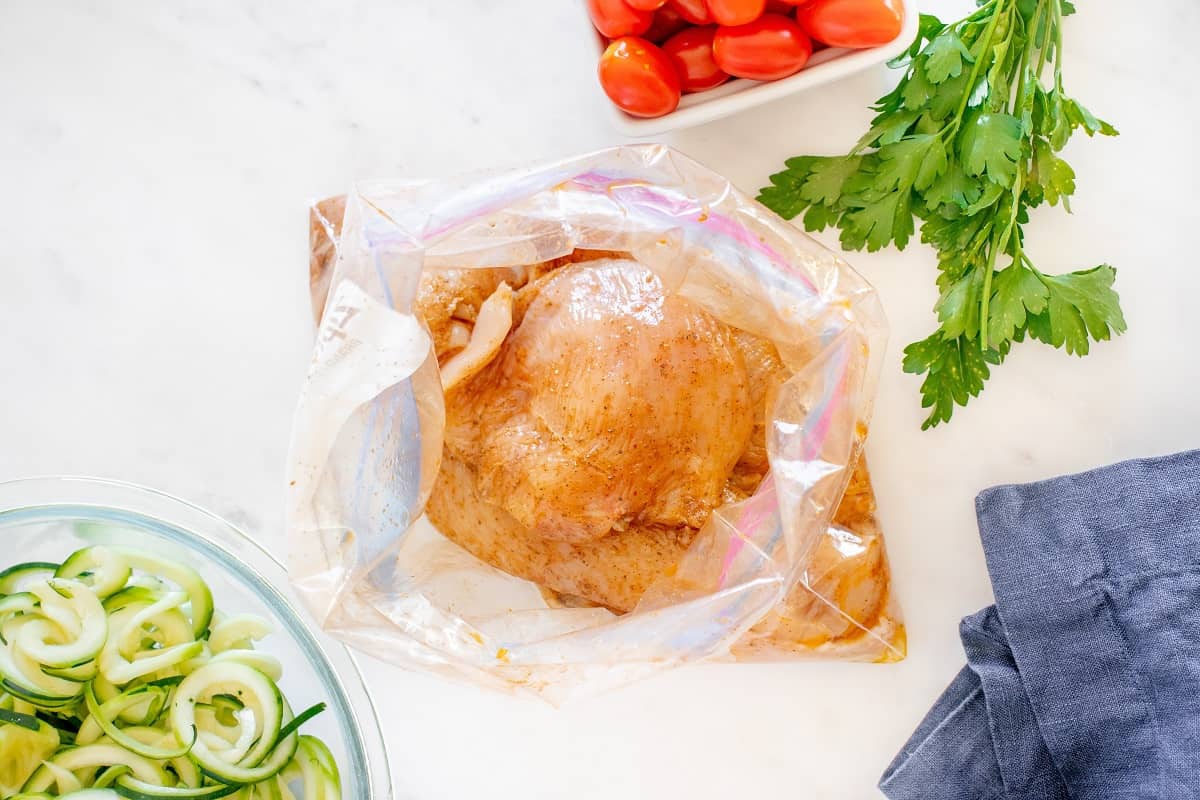 Then cooking the chicken in a sauté pan until it's cooked through.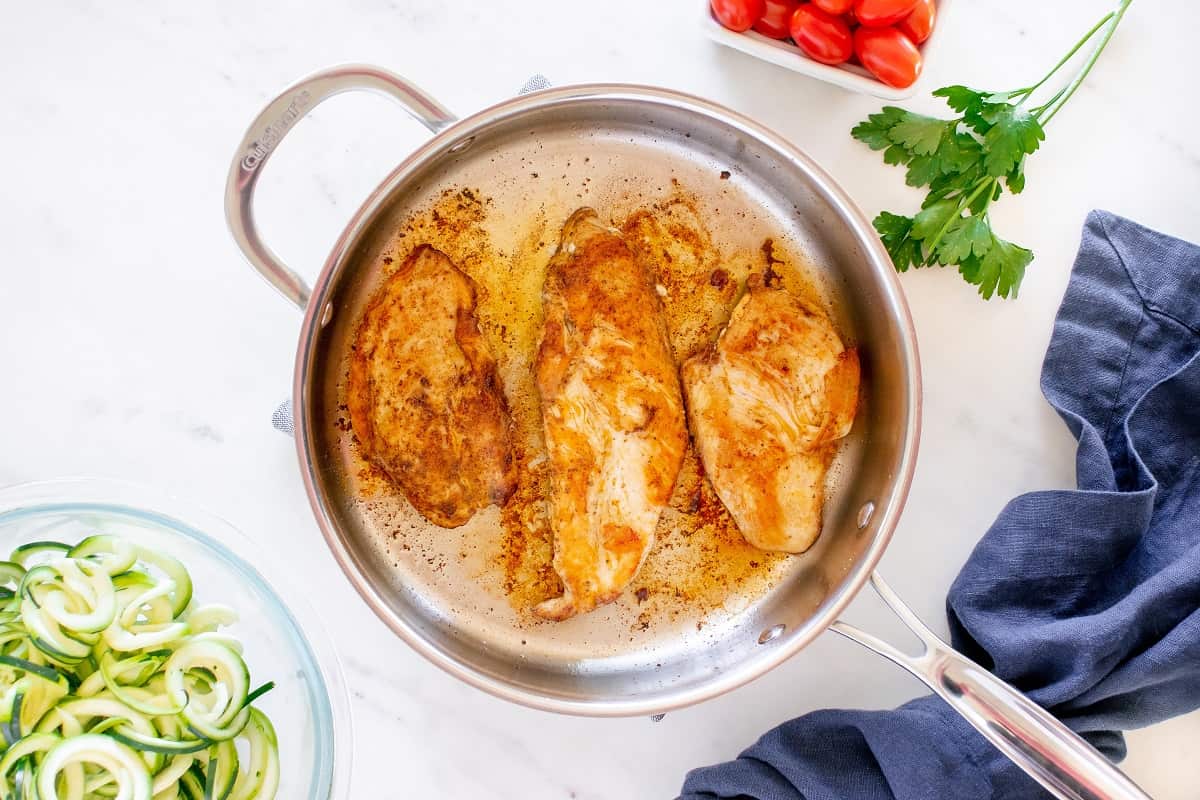 Set it aside on a plate, and slice it when it's cooled down a bit.
In the same pan, add the butter and garlic. Cook for a minute or two until nice and fragrant.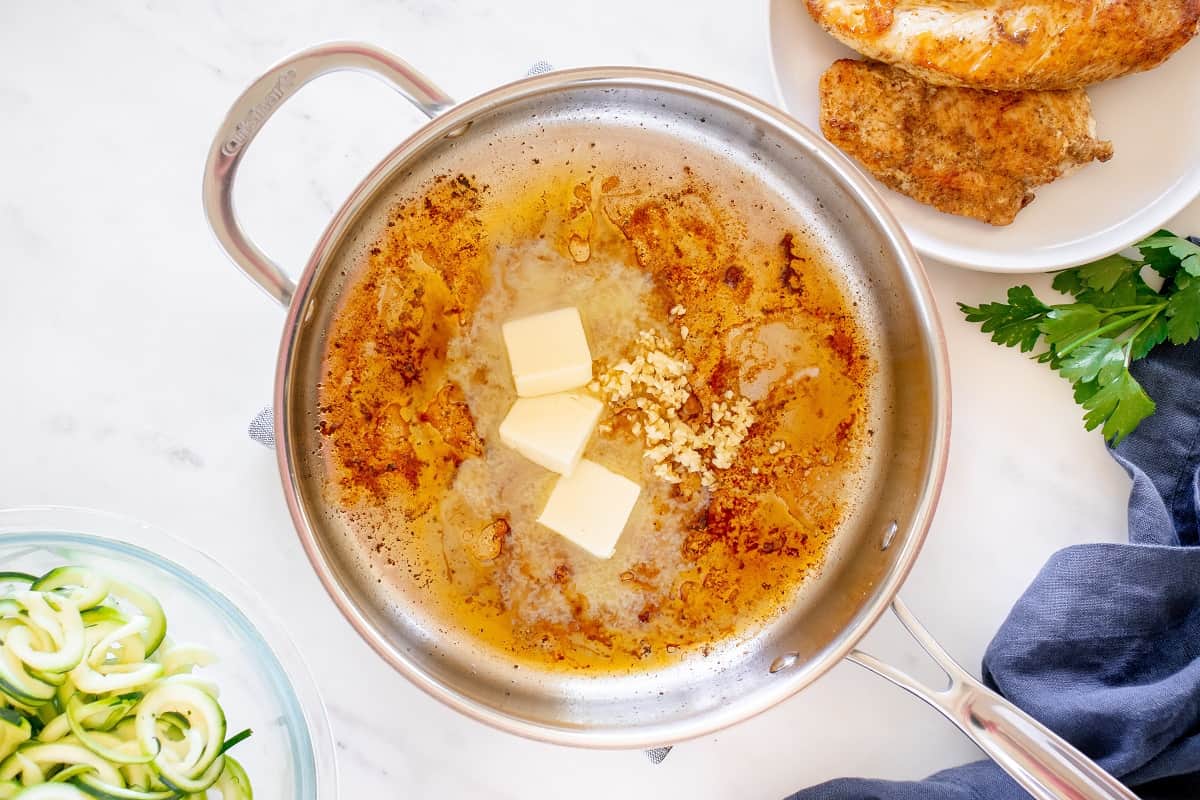 Stir in the half and half.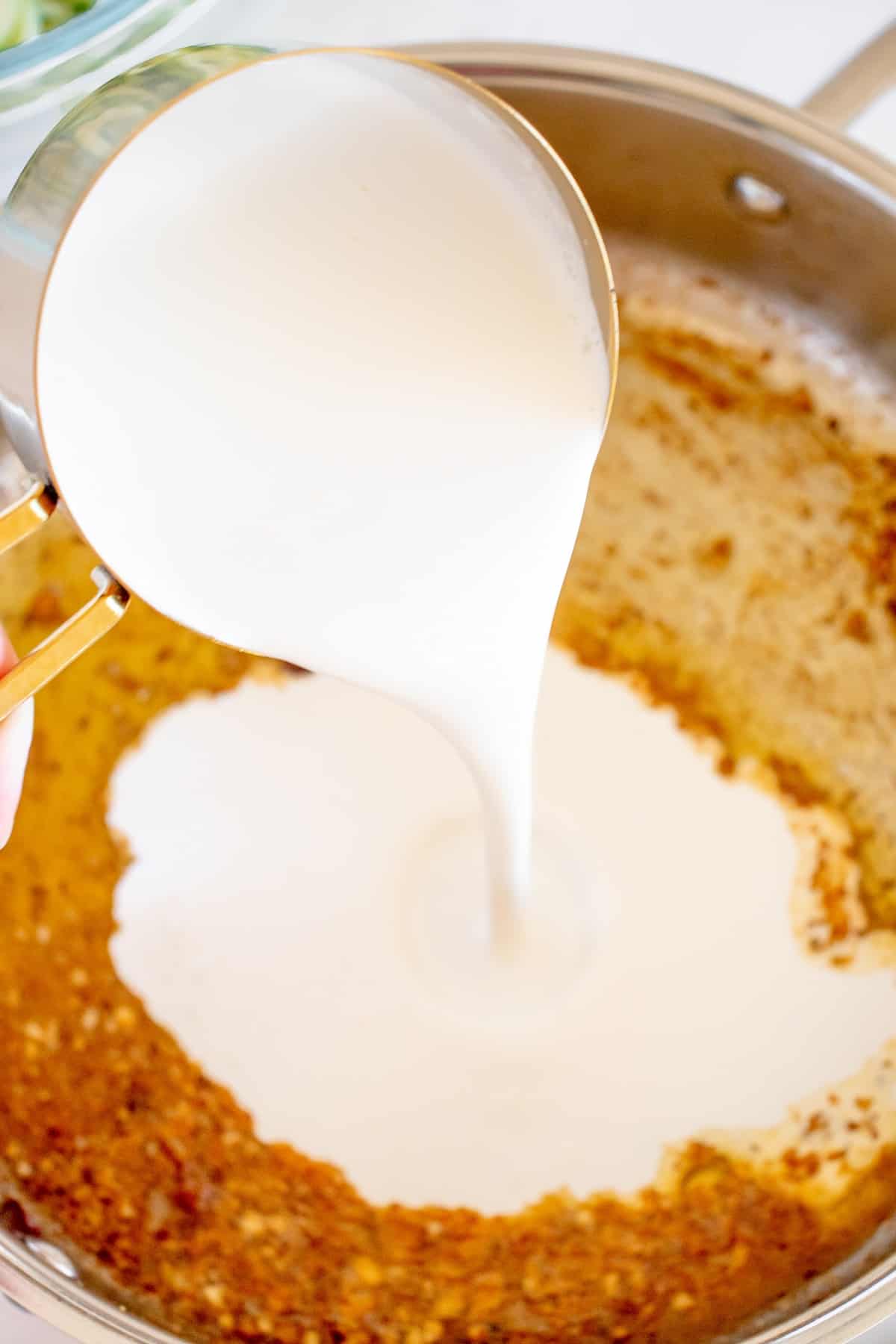 Meanwhile, mix the corn starch with the water to create a slurry. This is important, as it helps the cornstarch evenly disperse when you add it to the pan. Don't try to add cornstarch right into the hot pan without mixing with water first, or it'll clump.
Add the cornstarch mixture to the pan (to help thicken the sauce). Also stir in most of your parmesan, pepper, and zucchini noodles. Cook for a few minutes, stirring often, until the zucchini noodles are your preferred texture. I like them to still have a little bite to them.
Add the cooked chicken back to the sauté pan and give everything a good stir. Taste and add salt if needed.
Add the cherry tomatoes on top, sprinkle with the remaining Parmesan, add some optional parsley for garnish, and enjoy! Yum!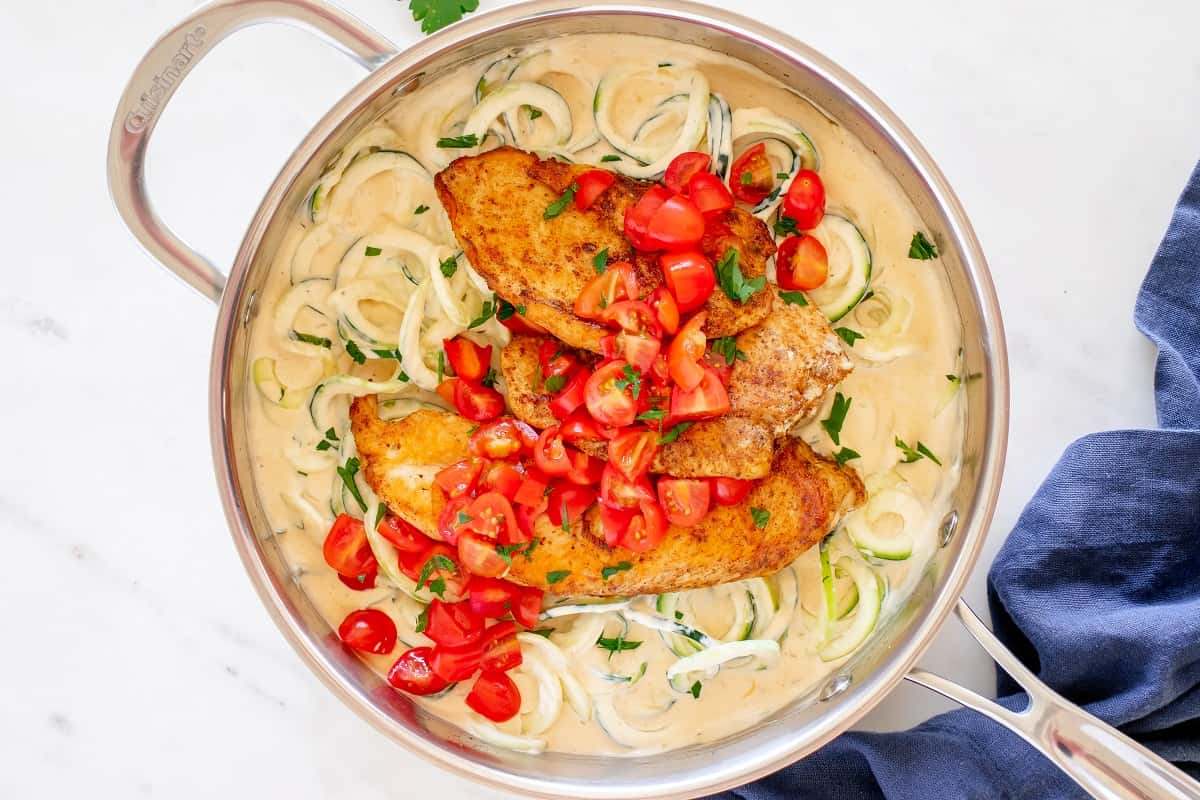 Recipe FAQ
Here are some common questions that may come up as you prepare this recipe:
How should I store leftover creamy chicken and zucchini noodles?
Leftovers will store in an airtight container in the refrigerator for up to 3 days. You can reheat it in the microwave, or stovetop with a splash of milk added if needed.
Can you make zoodles in advance?
You can meal prep the zucchini noodles up to 3 days in advance and store them uncooked in the refrigerator until you're ready to use.
Are there other add-ins you can include in this recipe?
Some optional add-ins include bell peppers, onions, julienned carrots, broccoli, or mushrooms.
More Healthy Dinner Ideas
Need more healthy dinner inspiration? Try one of these tasty recipes!
I hope you enjoy these creamy zoodles with chicken as much as my family did! It's so delicious; definitely comfort food with a better-for-you spin. If you get a chance to try it, feel free to leave a recipe rating or comment below.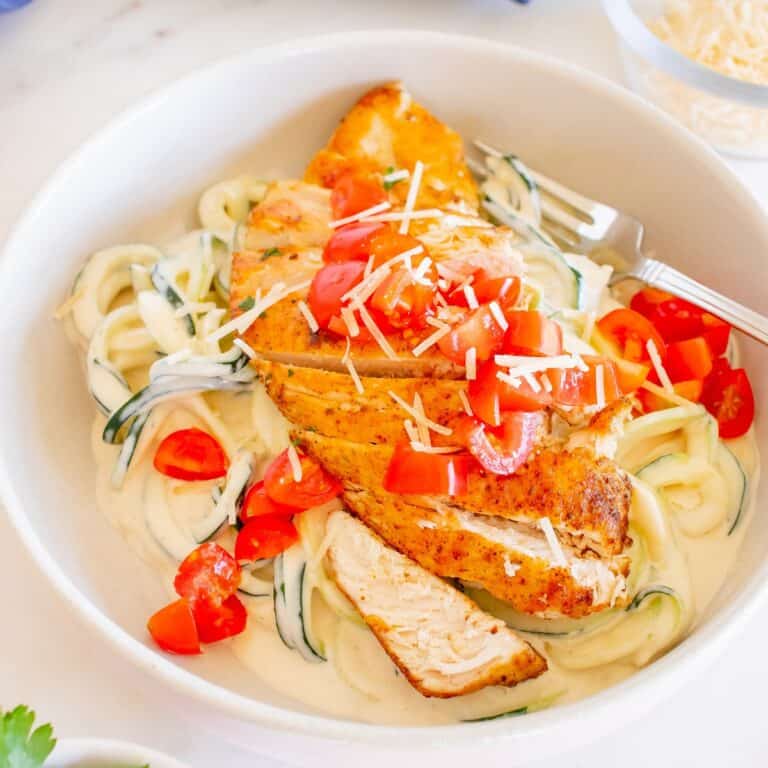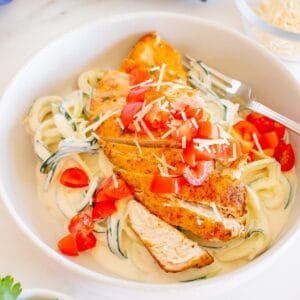 Creamy Zoodles with Cajun-Seasoned Chicken
This creamy chicken and zoodles recipe is better-for-you comfort food that is packed with flavor!
Ingredients
4

medium zucchini, spiralized into zoodles

(or 5 smaller zucchini)

1

pound

boneless skinless chicken breasts, cut in half lengthwise to make thinner pieces

1 ½

tablespoons

olive oil, divided

1

tablespoon

Cajun seasoning *

2

tablespoons

butter

3

cloves

garlic, minced

1

cup

half and half

1

tablespoon

corn starch

1

tablespoon

water

¾

cup

freshly shredded Parmesan, divided

½

teaspoon

black pepper

¼

teaspoon

salt

(*see instructions)

1

cup

diced cherry tomatoes

Fresh parsley, for garnish

(optional)
Instructions
Place the spiralized zoodles in a colander over the sink with a sprinkle of salt. Let sit for 15 minutes to release the moisture. After 15 minutes, squeeze the water out of the noodles with paper towels, then set aside to use in the recipe.

Meanwhile, add chicken breasts, ½ tablespoon of olive oil, and Cajun seasoning to a gallon-size Ziploc bag. Shake to coat in the seasoning and oil.

Heat the remaining tablespoon of olive oil in a large sauté pan over medium heat. Add chicken and cook until cooked through and chicken reaches 165 degrees F, about 4-7 minutes on each side depending on thickness. Set aside on a plate and let cool, then slice.

Add butter and garlic to the same hot pan. Stir until the butter is melted and the garlic is fragrant, about 1-2 minutes.

Stir in the half and half and cook for 2 minutes.

Meanwhile, mix the corn starch with the water, then add to the pan. (This will help thicken the sauce). Also stir in ½ cup of the Parmesan, pepper, and zucchini noodles. Cook, stirring often, until the zucchini noodles are heated through and slightly tender, about 3 minutes.

Add chicken back to the sauté pan and toss well. Taste and add salt if needed. Garnish with tomatoes, parsley, and the remaining ¼ cup of Parmesan. Enjoy!
Notes
Cutting the chicken in half lengthwise means you're cutting through the middle all the way across the longest part (not cutting in half through the shorter width).
If your Cajun seasoning is very salty, I recommend cutting down to 1-2 teaspoons rather than 1 tablespoon.
Nutrition analysis below assumes salt is included in recipe and includes the use of a store-bought Cajun seasoning. You can easily adjust this recipe to be lower in sodium by omitting the salt or using a lower-sodium Cajun seasoning.
Nutrition analysis (approximate per serving): 442 calories, 26.5 g fat, 12.5 g saturated fat, 820 mg sodium, 16 g carbohydrate, 2.5 g fiber, 8.5 g sugar, 35.5 g protein, Vitamin D: 1%, Calcium: 26%, Iron: 8%, Potassium: 24%
Nutrition
Feel free to pin this post to save for later!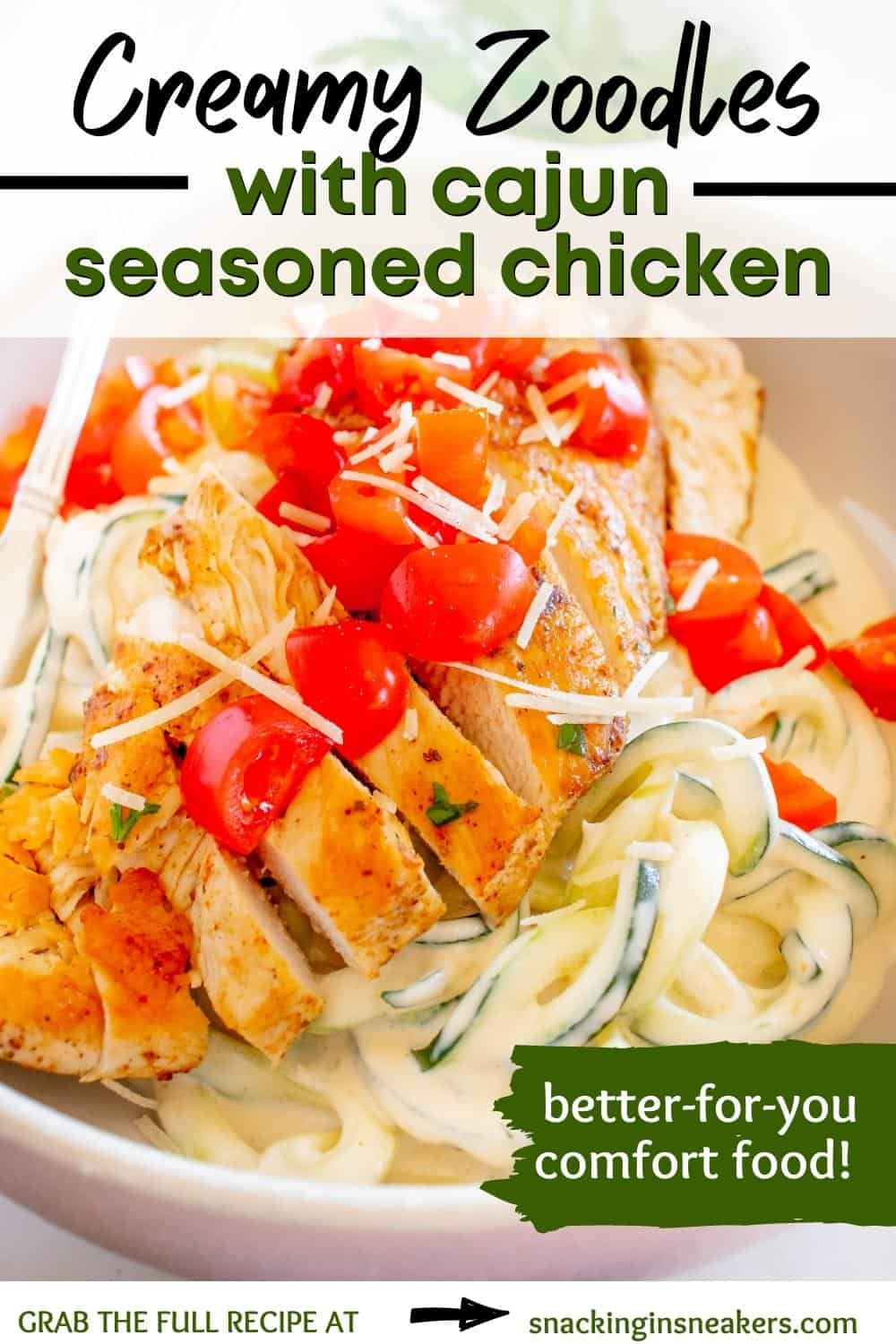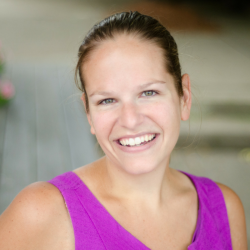 Latest posts by Chrissy Carroll
(see all)