Whether it's a chilly day outside or you're just feeling a little under the weather, you'll love cozying up to a bowl of this lemon ginger chicken soup. It's a simple recipe that's packed not only with flavor, but also many foods that are known to support health – like ginger, garlic, and turmeric. Ready to get cooking?!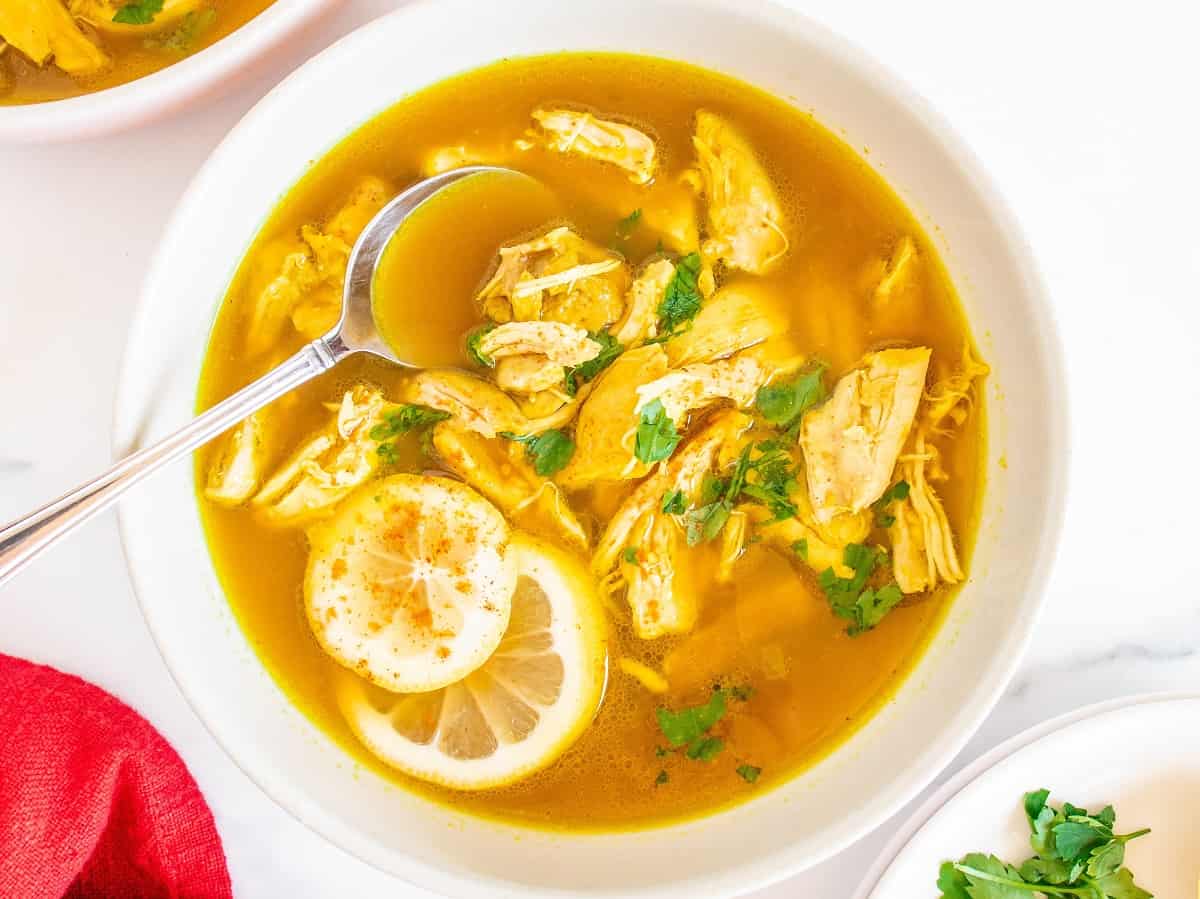 Ingredients
Here's a photo of what you'll need to make this recipe, along with selected ingredient notes (ignore the cinnamon stick in the photo, my kiddo snuck that in there, lol):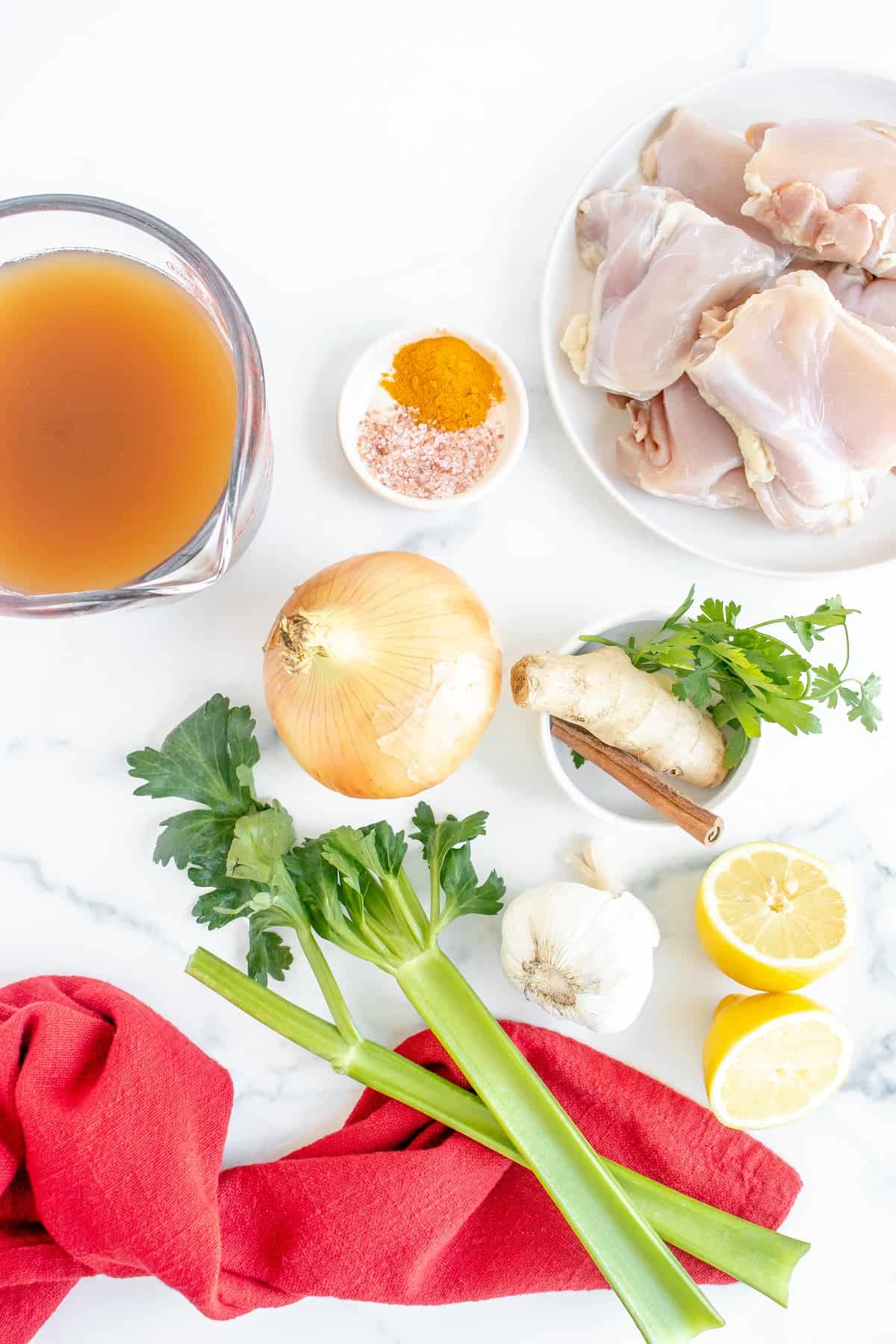 Chicken thighs – Boneless skinless chicken thighs can be a budget friendly and nutritious choice to add to your diet. They're a great source of protein (essential for muscle repair and recovery), and have some fat that makes 'em rich, flavorful, and tender.
Turmeric – According to Cleveland Clinic, this spice has both anti-inflammatory and antioxidant properties. In addition, some research suggests curcumin (the main active component of turmeric) may increase brain derived neurotropic factor (known as BDNF) which may promote cognitive health. (Fun fact, exercise increases BDNF too!)
Ginger – Fresh ginger is a great addition to this soup, adding its slightly spicy yet sweet flavor along with several nutrition benefits. According to Johns Hopkins, ginger may help support digestive health and provides antioxidants, as well as possibly reduces inflammation.
Garlic – This powerful flavor enhancer also packs in many benefits. According to Cleveland Clinic, it supports the immune system, has anti-inflammatory properties, and may support cardiovascular health.
Instructions
This recipe is very simple – you'll find the ingredients and instructions in the recipe card at the bottom of the page, but here's a helpful overview with photos.
Start by seasoning your chicken with a little salt. Heat up the olive oil in a pot, then add the chicken thighs.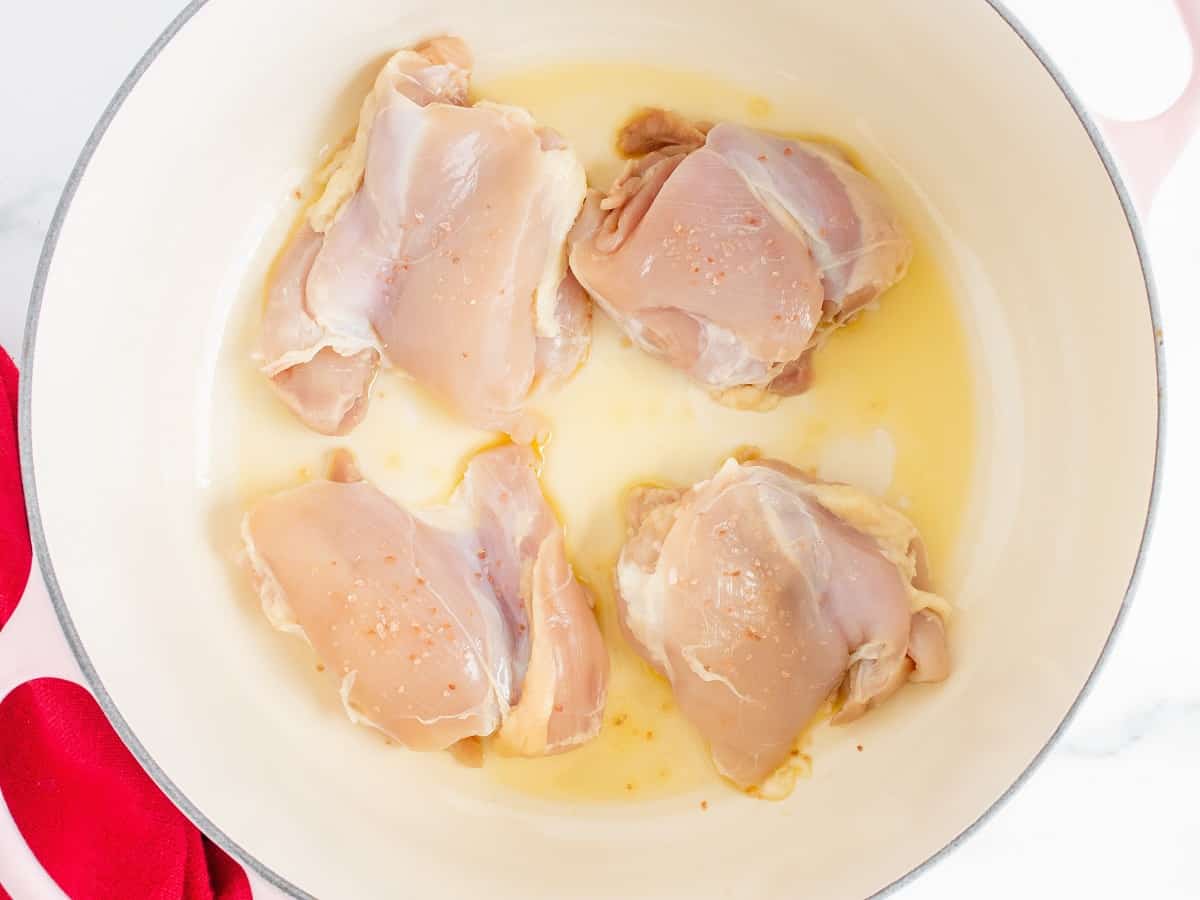 You want to brown them slightly on all sides; use tongs to flip the chicken to make this easy. While you could get away with skipping this step, it does help a lot with flavor development, so I recommend taking the couple minutes to do so.
Remove the chicken and set it aside for now. Add a smidge more olive oil to the pot, and then add your celery and onion. Sauté those for about 5 minutes.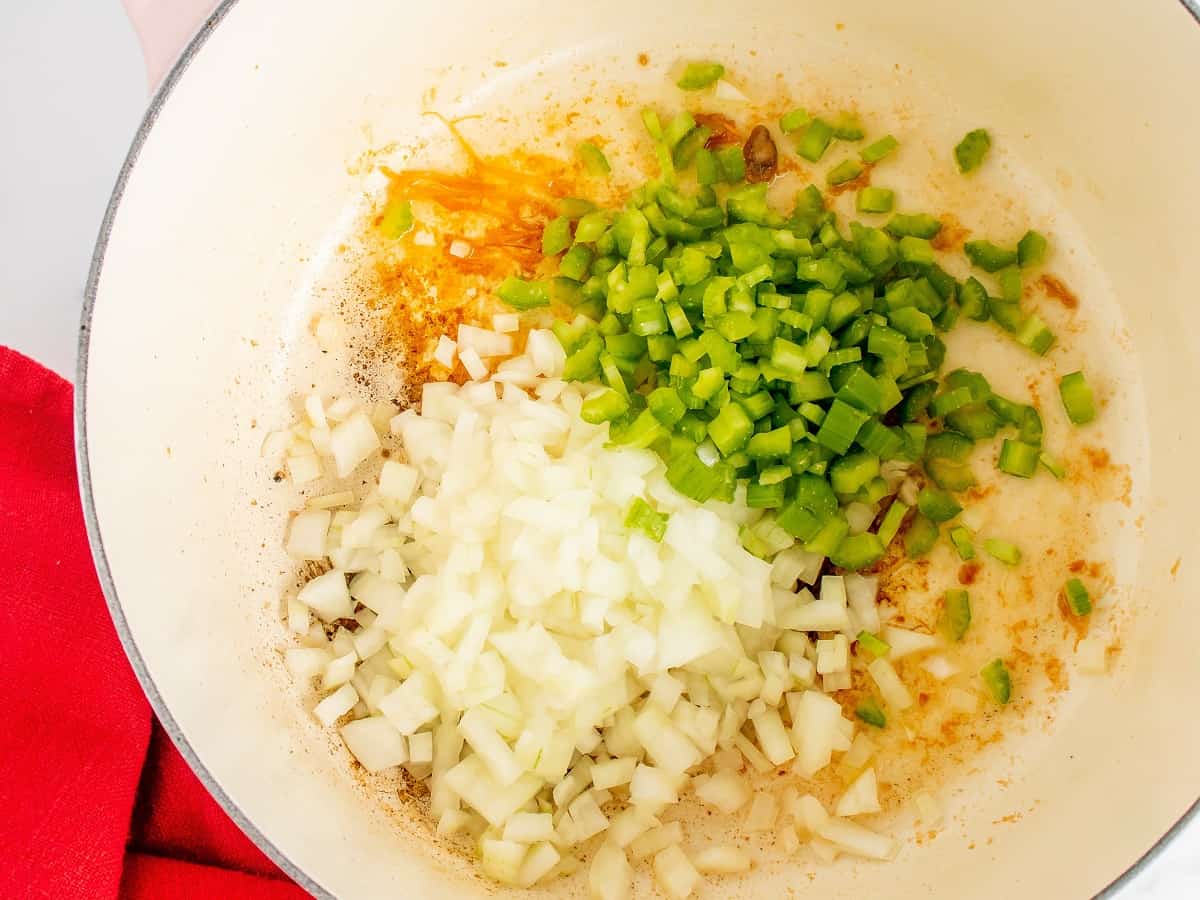 Next you'll add your ginger, garlic, turmeric, and black pepper. (Fun fact – black pepper helps your body absorb the curcumin in the turmeric!)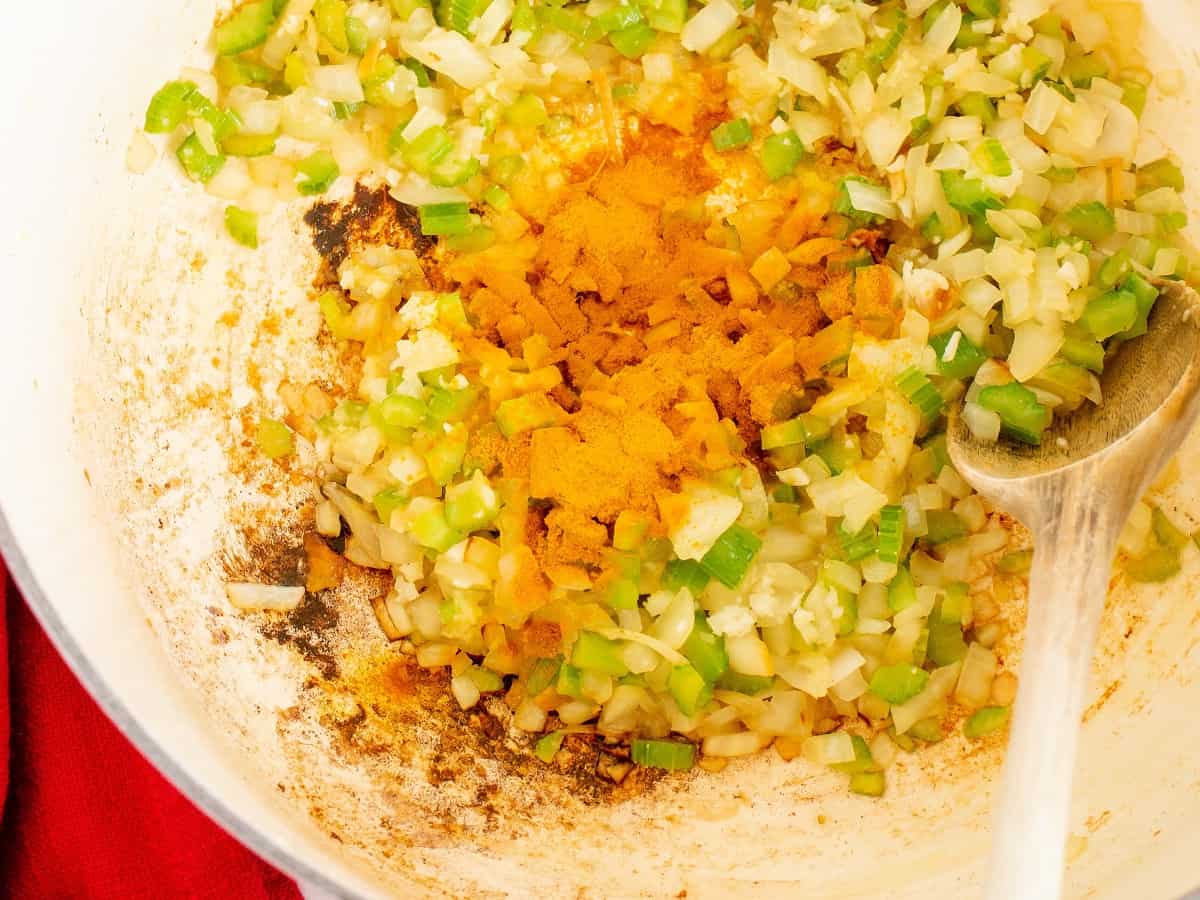 Stir that around for a minute until it's nice and fragrant, then add your broth to the pot, along with the chicken thighs.
Bring that to a boil, then reduce to a simmer. Cook it for about 15 minutes, or until the internal temperature of the chicken reaches 165 degrees. I highly recommend keeping a meat thermometer on hand as it's a great way to a) ensure food is cooked through, and b) not overcook food.
Shred the chicken and return it to the pot. Add the lemon juice and a little cayenne (and maybe a few pieces of parsley for garnish), and you're ready to dig in!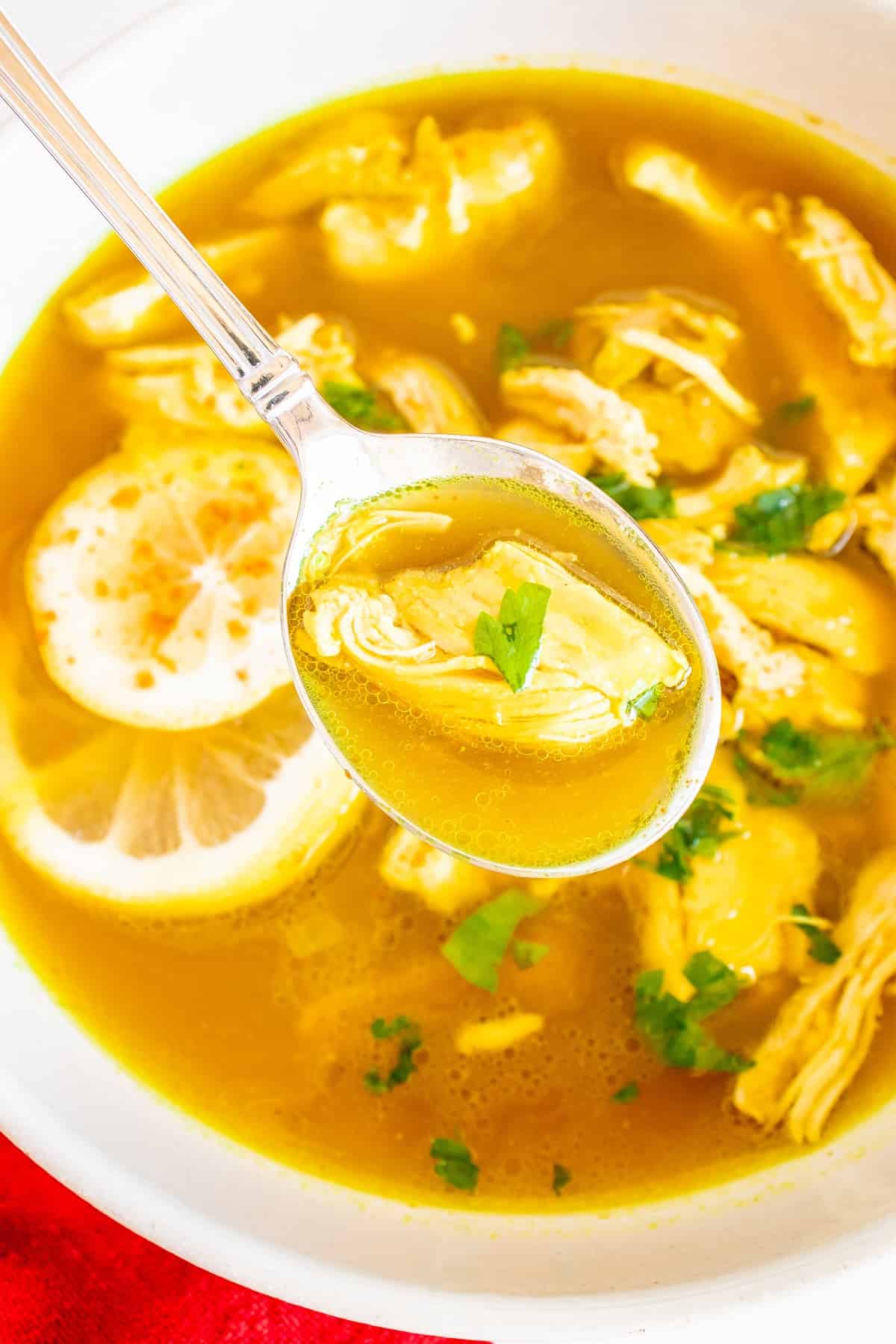 Recipe FAQs + Tips
Can you use boneless chicken breasts instead of thighs?
Yes, feel free to use chicken breast for this recipe. Note that chicken breast can become drier and tougher when overcooked, while chicken thighs are a little more forgiving thanks to their higher fat content. If you use chicken breast, I recommend using a meat thermometer and check starting at 10 minutes of simmering.
How should you store leftover soup?
Store leftovers in food storage containers in the refrigerator for up to 4 days. You can also freeze the soup in individual portions for up to 3 months.
Tip for extra ginger
If you have extra ginger you won't be using right away, consider mincing it or grating it, then storing it in a freezer-safe container or ziptop bag. You can then pop that out of the freezer the next time you need fresh ginger for a recipe!
Benefits for Active Women
Just come in from an outdoor run or ride during the fall or winter? Consider grabbing a bowl of this lemon ginger chicken soup to help with recovery!
The warm fluid will help you rehydrate and feels great after spending time in chilly temps. The sodium will replace the electrolytes you lost during a long workout. And the protein in the chicken will help support the muscle repair process. (Just note you'll want to combine the bowl of soup with some carbs to help fully recovery if you had a long workout).
Plus, this soup is also great if you're feeling a little under the weather. You saw many of the health benefits of individual ingredients noted above, but I also just wanted to note that research has found several benefits of chicken soup during illness:
The fluid helps your body stay hydrated, which is important all the type but particularly while you're sick.
A very early study found that hot liquids, like chicken soup, increase the flow of mucous, which may sound gross but can help ease congestion temporarily.
Another study suggests that chicken soup may help mitigate inflammation during infection, possibly helping you feel better.
Super cool, right?!
Other Soup Recipes
If you're looking for more soup recipes to make once those chilly nights hit, try one of these recipes:
I hope you enjoy this ginger lemon chicken soup – my husband and I truly love it. If you get a chance to try it, feel free to leave a recipe rating or comment below!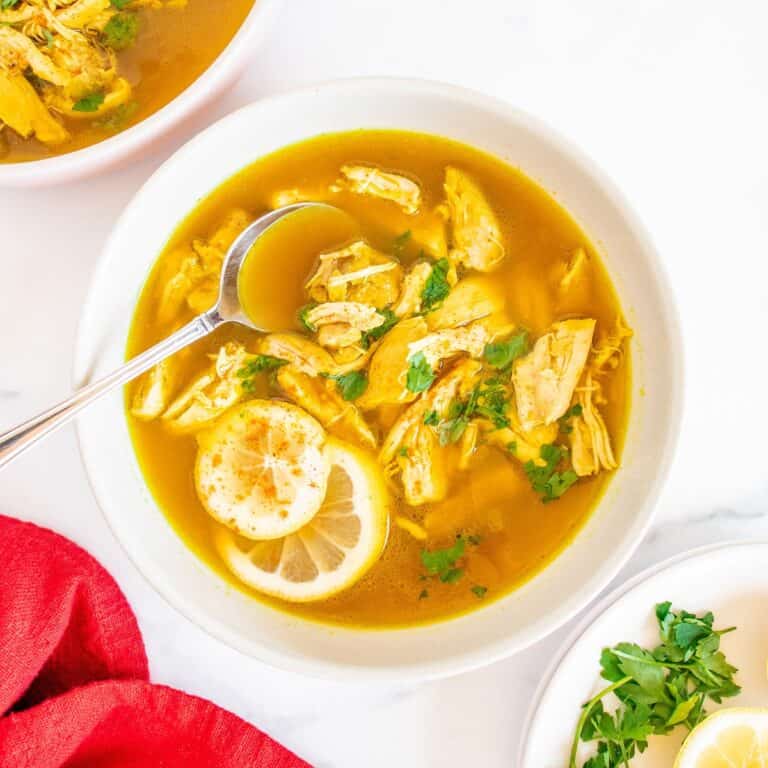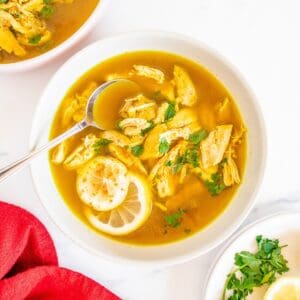 Lemon Ginger Chicken Soup
This ginger lemon chicken soup is great to cozy up to on a cold winter night – or whenever you're feeling under the weather!
Ingredients
1 ½

tablespoons

olive oil, divided

1 ½

pounds

boneless skinless chicken thighs

¼

teaspoon

salt, divided

1

medium yellow onion, diced

2

celery stalks, diced

5

garlic cloves, minced

2

tablespoons

fresh peeled and minced ginger root

1

teaspoon

ground turmeric

¼

teaspoon

black pepper

5

cups

chicken broth

1

large lemon, juiced

(or 2 small lemons; you want about ¼ to ⅓ cup lemon juice)

Pinch

of cayenne

(adjust to taste)

Parsley

optional for garnish
Instructions
Heat 1 tablespoon of the olive oil in a large pot over medium heat. Meanwhile, season the chicken thighs with ⅛ tsp of salt. Once the oil is hot, add the chicken thighs.

Brown the chicken thighs on all sides, about 2 minutes per side. Once they have browned, remove the chicken to a plate (they will not be cooked all the way through yet; they'll continue cooking in a later step). Set aside.

Add the additional ½ tablespoon of olive oil to the pot, then add the onions and celery. Sauté the vegetables for 5 minutes, until crisp-tender.

Add the garlic, ginger, turmeric, and black pepper. Cook for 1 minute, stirring often, until fragrant.

Add the chicken broth to the pot, along with the browned chicken thighs. Bring to a boil, then reduce to a simmer. Cover and simmer for 15 minutes or until the internal temperature of the chicken reaches 165 degrees F.

Once the chicken is fully cooked, remove it from the pot and shred on a cutting board using two forks. Add the chicken back to the pot.

Add the lemon juice and pinch of cayenne to the soup. Stir and give it a quick taste. If desired, add the additional ⅛ tsp of salt and another pinch of cayenne, adjusting to your preferred taste.

Garnish with parsley if desired. Enjoy!
Notes
Nutrition analysis (approximate per serving, assumes use of all salt): 237 calories, 10 g fat, 2 g saturated fat, 1120 mg sodium, 7.5 g carbohydrate, 1 g fiber, 2.5 g sugar, 28.5 g protein, Vitamin D: 0%, Calcium: 4%, Iron: 12%, Potassium: 11%
Nutrition
Share: What's your favorite soup on a cold night? If you tried this recipe, what did you think?
Feel free to pin this post to share with others!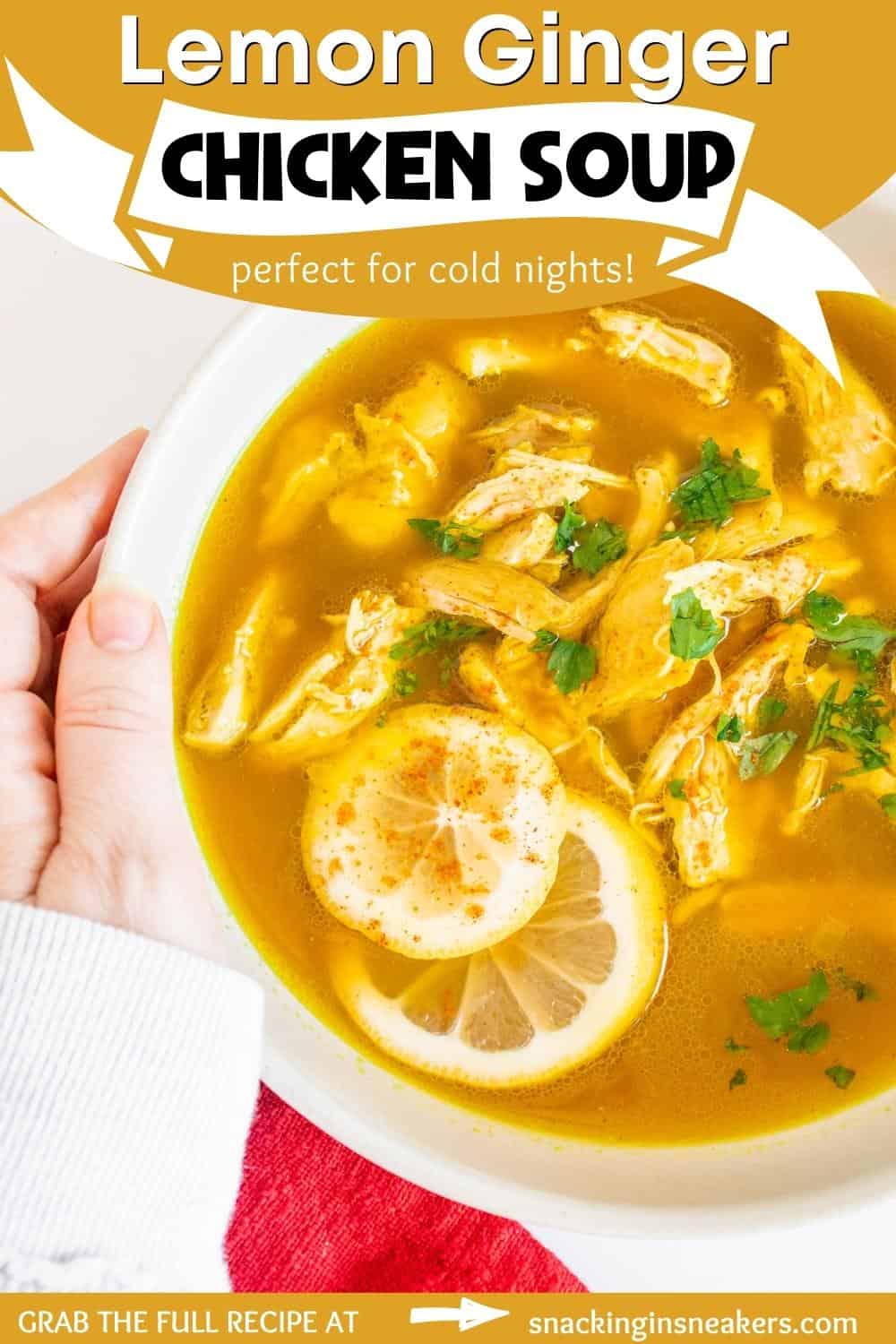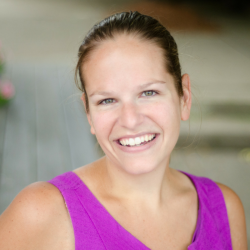 Latest posts by Chrissy Carroll
(see all)