This smoky roasted red pepper and gouda soup is the ultimate comfort food!
Disclosure: This post is brought to you by Morinaga Nutritional Foods, Inc., maker of Mori-Nu® Silken Tofu and The Motherhood. All opinions are my own.
Let's get real – raise your hand if you've ever been nervous to experiment with tofu…
I know my friends. I've been there too. And in all reality, I'm still kind of picky when it comes to how to use tofu.
But I've discovered there are so many creative recipes besides Asian-inspired soups and stir fries! That's really the only way I ever tasted tofu through college, and I didn't realize just how versatile it can be when you think outside the box.
Which brings me to this roasted red pepper and gouda soup. It's the tofu recipe for those of you who don't know what the heck to do with tofu. ?
Of course, if you're a tofu connoisseur, you'll love it too. It's rich, creamy, smooth, and oh-so-delicious. And quite easy to make too…
What type of tofu should you use for this roasted red pepper and gouda soup?
The first time I went to the grocery store to purchase tofu, I'm pretty sure I looked like a deer in headlights. I just stood there staring at all the different varieties wondering what the differences were before I resorted to an eenie-meenie-miney-mo selection strategy.
I've since learned much more about all the different types. For this recipe, you'll want to look for silken tofu, which you'll puree in the soup to add creaminess and protein. Silken tofu is a bit different than regular (or "momen") tofu. It's creamier and smoother, versus other varieties that are a bit more dense and spongy.
I highly recommend Mori-Nu Silken Tofu Organic Firm for this recipe. I find the texture to be just right for blending in the soup. And for those of you who may be looking for certain food attributes, you'll be pleased to know this variety is certified gluten free, organic, and non-GMO.
Plus, I love that Mori-Nu Silken Tofu by Morinaga Nutritional Foods, Inc. comes in a unique aseptic shelf-stable packaging – so you don't have to refrigerate it before opening. This makes it an ideal preservative-free pantry staple to keep in your closet.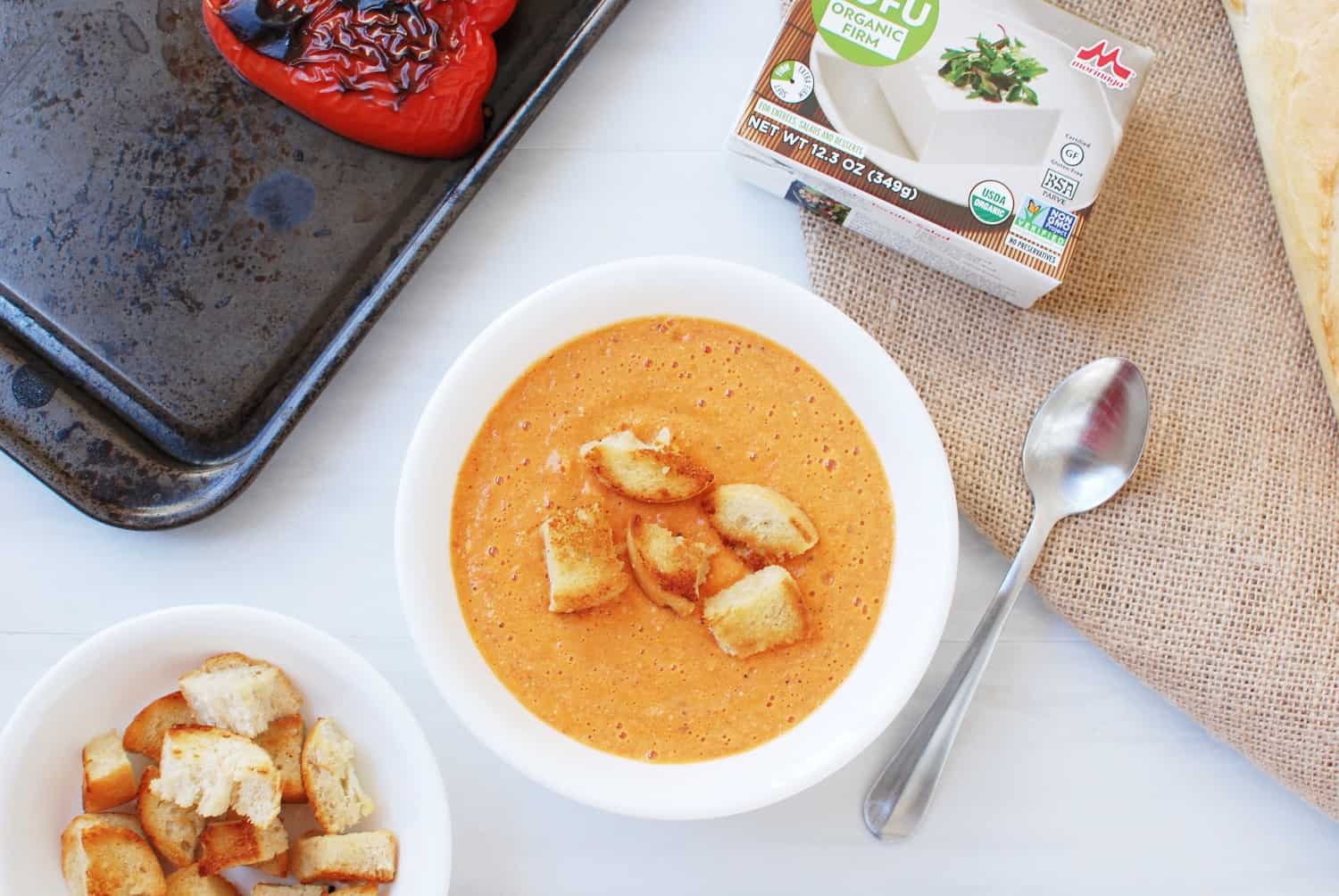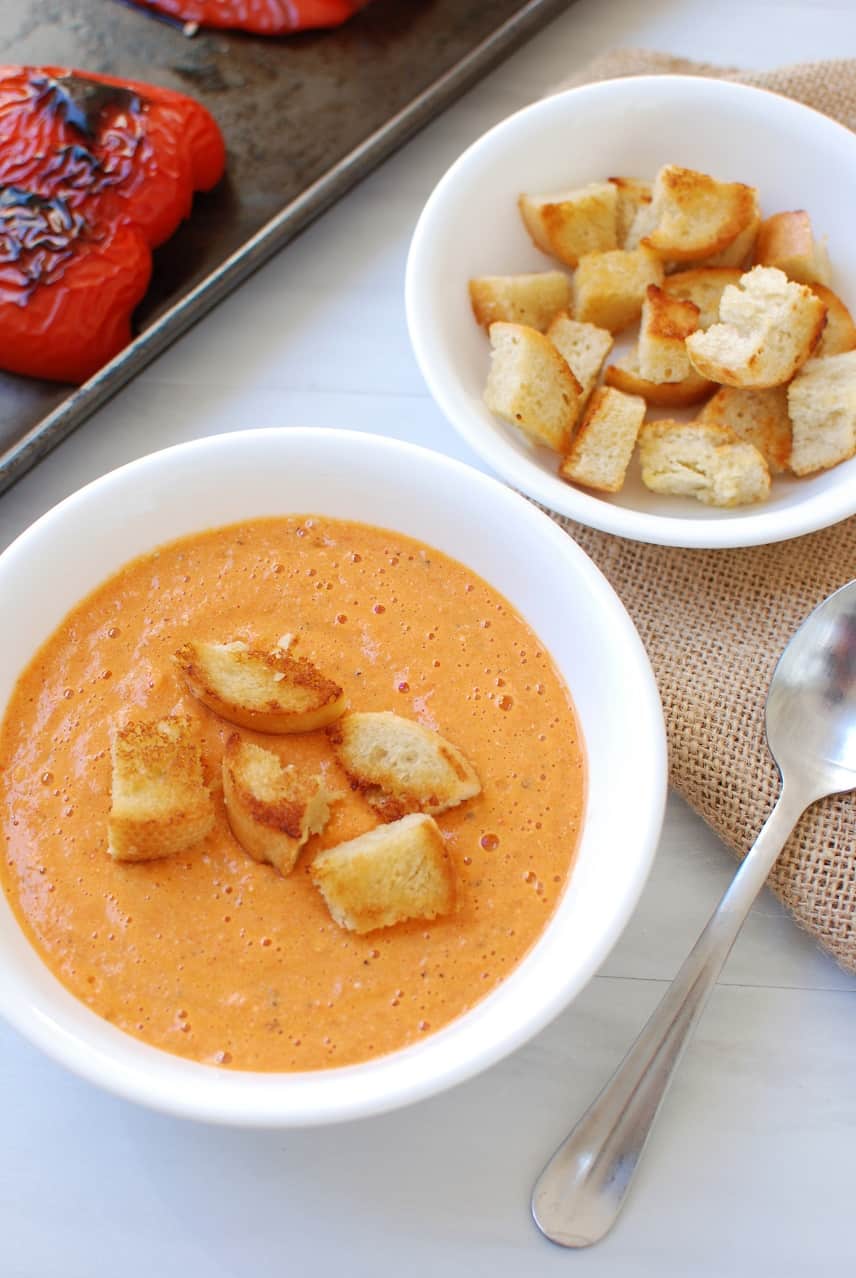 Nutrition Benefits
In addition to pleasing those taste buds, you can rest assured that this roasted red pepper and gouda soup is also quite nutritious. Here are a few things I love about it from an RD perspective:
This soup is packed with veggies – think peppers, tomatoes, carrot, celery, onions and garlic. If there's one thing I think almost everyone in the nutrition field can agree on, it's that increasing your vegetable intake is clutch to good health.
Thanks to the gouda and cream, this soup is an excellent source of calcium.
Soy boosts the protein content of this recipe, giving you around 13 grams per serving – a nice step up from most plant-based soups!
Soy also contains a group of phytochemicals called isoflavones. These, along with other potential nutrients in soy, may have an array of health benefits. Recent research has suggested possible associations between soy intake and reduced diabetes risk and reduced risk of cardiovascular disease.
As an aside, there are quite a few misconceptions about soy – especially surrounding breast cancer. Most research suggests that soy does not increase breast cancer risk, and recent research suggests soy may actually have a protective effect. A 2017 meta-analysis found that a high intake of soy foods was actually associated with a lower risk of breast cancer. And a 2017 study suggested that women with breast cancer who had the highest dietary intake of isoflavones actually had the lowest risk of all-cause mortality.
I definitely believe whole-food soy products have a place in a healthy, balanced diet – which is why I love tofu in this roasted red pepper and gouda soup! (I also am obsessed with silken tofu in my easy vegan chocolate pie – a must-try if you're looking for a sweet rather than savory option.)
[Tweet "This roasted red pepper and gouda soup is made with a surprise ingredient – silken tofu!"]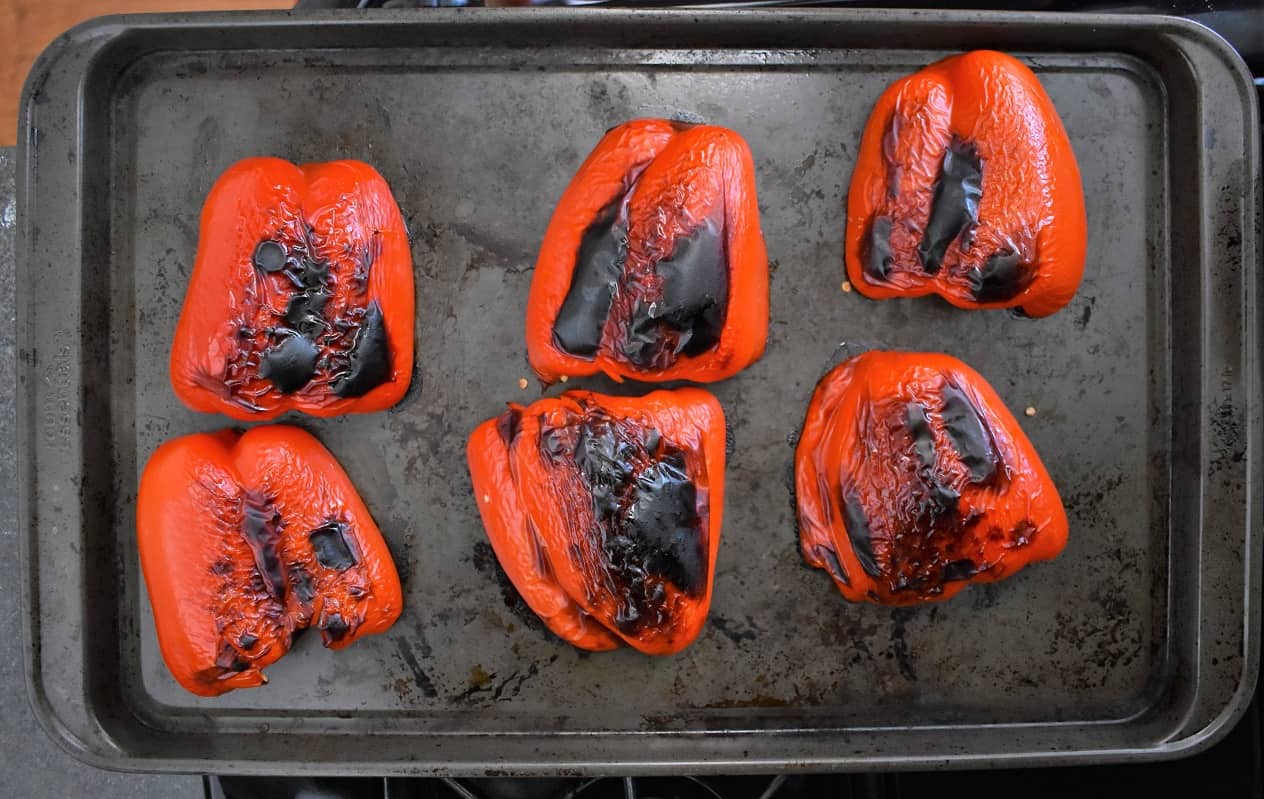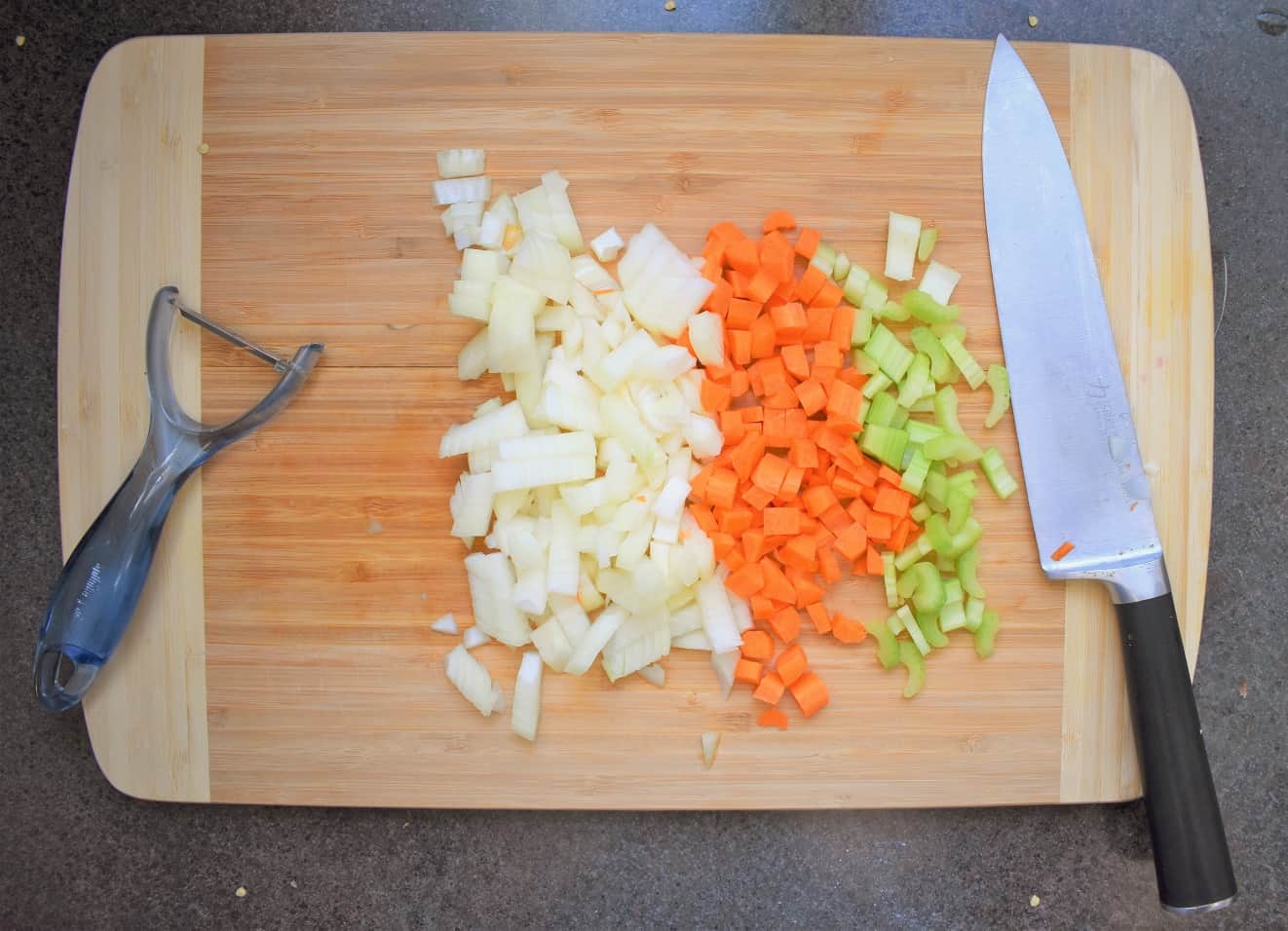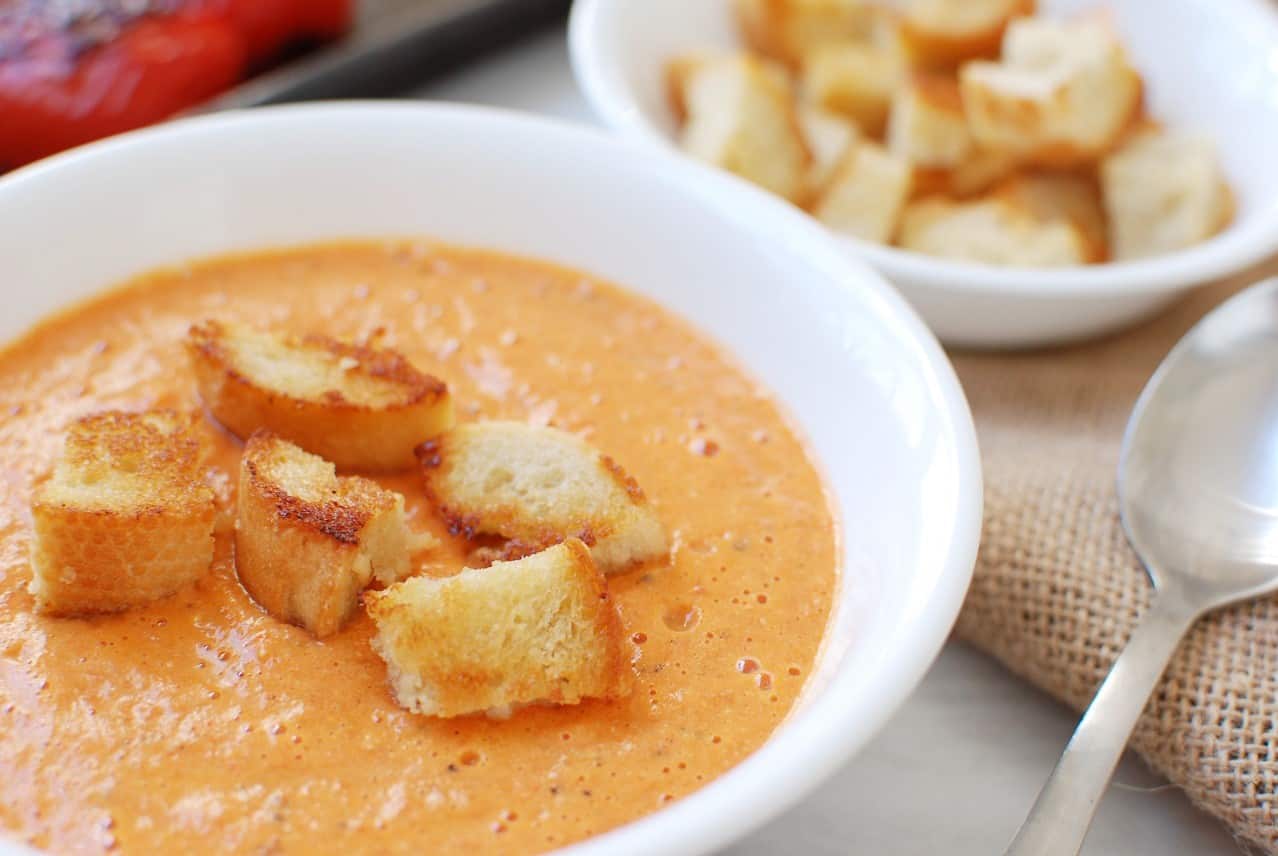 Have dietary limitations? Here are modification ideas…
This soup is naturally a vegetarian option for those who don't eat meat products but do include dairy in their diet.
If you are dairy-free or vegan, you can modify this recipe by substituting extra vegetable stock instead of the half and half, skipping the smoked gouda cheese, and using olive oil (rather than butter) in the garlic croutons. If you'd like to retain the smokiness in the soup, you can add a few drops of liquid smoke.
This can also easily be adapted for gluten free diets. The soup recipe itself is already gluten free. The croutons can either by skipped or can be modified by using a gluten free bread instead of the French baguette.
Ready to cook?!
Grab your Mori-Nu Silken Tofu Organic Firm – along with your veggies and other ingredients – and let's get this party started!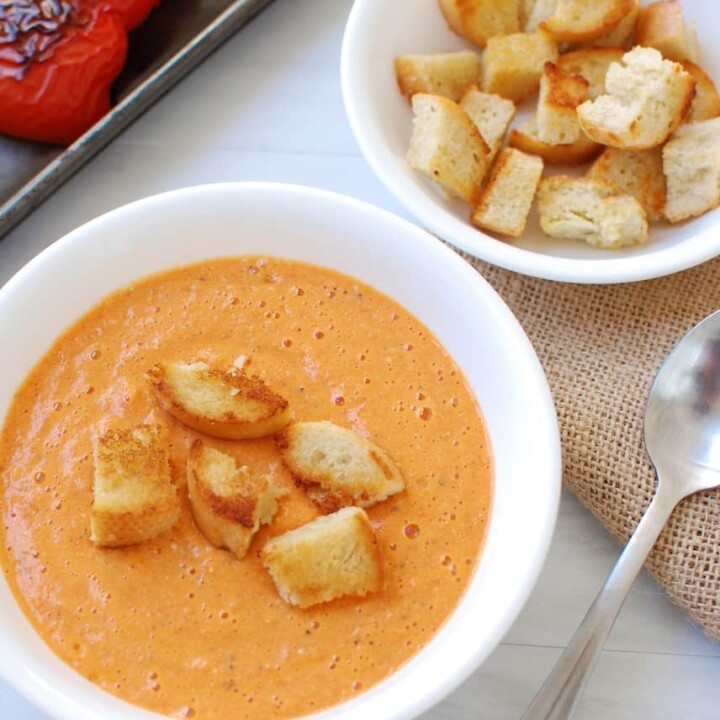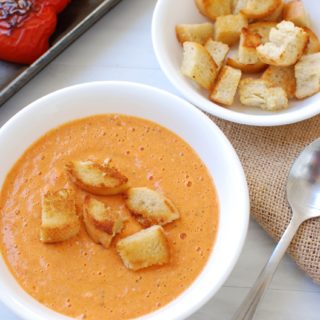 Smoky Roasted Red Pepper and Gouda Soup
This smoky roasted red pepper and gouda soup is the ultimate comfort food! It's vegetarian and packed with flavor, plus it has protein thanks to a secret ingredient - tofu!
Ingredients
For soup:
3

red bell peppers

1

tbsp

olive oil

(+ additional 1-2 tsp for roasting peppers)

1

stalk celery, chopped

1

carrot, peeled and chopped

1

medium onion, chopped

3

cloves

garlic, minced

15

oz

can of fire-roasted tomatoes

¼

tsp

salt

¼

tsp

pepper

1

cup

vegetable stock

12.3

oz

Mori-Nu Silken Tofu Organic Firm

(one package)

½

cup

half and half

2

cups

freshly shredded smoked gouda cheese

(do not pack into measuring cup – this should be a little less than a full 7-ounce block)
For garlic croutons:
9-

inch

piece of French baguette, chopped into crouton-size chunks

3

tbsp

butter, melted

2

cloves

garlic, minced
Instructions
To roast your peppers:
Turn your oven broiler on high.

Slice your red peppers in half and place them cut side down on a baking sheet. Rub just a small amount of olive oil over the tops of each pepper half (about 1-2 tsp total).

Place the baking sheet on the top rack of the oven so that the peppers are relatively close to the heating element (do not place them so that they are at risk of touching the heating element as that is a fire risk). Roast the peppers this way for 10-15 minutes, until they are charred and tender. You may want to shift your pan around once or twice to ensure the peppers cook evenly.

Remove the peppers from the oven and let sit for 10-15 minutes. Peel off the skin, chop the peppers, and then they're ready to use in your soup!
To make the soup:
Heat 1 tbsp olive oil in a large pot over medium heat. Add celery, carrot, and onion. Sauté for about 4-5 minutes, until vegetables start to soften.

Add garlic and cook for another minute. Add your chopped roasted red peppers, can of fire roasted tomatoes, salt, pepper, and vegetable stock.

Stir in the silken tofu. When you add it to the pot, just stir it and break it apart with your cooking spoon.

Simmer everything for 15 minutes. If you're planning to make garlic croutons, do so now (see instructions below).

Remove from heat and use an immersion blender to puree everything. Return to low heat and stir in half and half and gouda cheese. When everything is well combined, remove from heat again and your soup is ready. Serve with garlic croutons (optional)!
To make the garlic croutons (optional)
Preheat oven to 350 degrees. Combine melted butter with garlic in a bowl. Toss chopped baguette in the butter mixture and then spread on a baking sheet. Bake for approximately 10 minutes, until golden brown and crisp.
Notes
Notes:
The oven broil method works best for a gas stove, as the flame helps give that lovely roasted char on the peppers. If you have an electric oven, you may need to experiment with the times and distance from the heating element. As an alternative to the broiling method, you can roast the peppers in a 450 degree oven for 25-40 minutes, until they achieve the same char.
An immersion blender does a great job of getting this soup relatively smooth. However, if you would like it as smooth as possible, you'll probably want to use a high-quality standard blender instead.
Nutrition analysis for soup (approximate per serving, assumes 6 servings):
239 calories, 14 g fat, 6.5 g sat fat, 669 mg sodium, 16.5 g carbohydrate, 3 g fiber, 8 g sugar, 13 g protein, Vitamin A: 95%, Vitamin C: 189%, Calcium: 26%, Iron: 11%
Nutrition Analysis for garlic croutons (approximate per serving, assumes 6 servings):
122 calories, 6 g fat, 3.5 g sat fat, 14 g carbohydrate, 0.5 g fiber, 0.5 g sugar, 3 g protein, Vitamin A: 4%, Vitamin C: 1%, Calcium: 1%, Iron: 5%
Nutrition
Share with me: Have you ever been nervous to cook with tofu? What's your favorite way to use Mori-Nu Silken Tofu? What did you think of this roasted red pepper and gouda soup?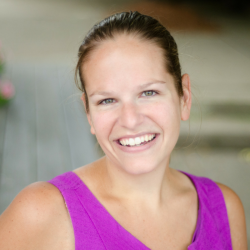 Latest posts by Chrissy Carroll
(see all)