This no bake easy vegan chocolate pie is one of the yummiest desserts out there (and it's vegan and gluten free)!
Confession time: I'm not really a regular coffee drinker. I'll have it on Black Friday or when Dunk's does that yearly free coffee day, but other than that I've never been one to brew a hot cup of joe in the morning. Or to make an iced coffee run in the afternoon.
But I love coffee flavored things. Coffee ice cream has always been a top 10 indulgence (especially Ben and Jerry's Coffee Coffee Buzz Buzz Buzz – the BEST!). There's a coffee beer that's pretty darn amazing which my hubby picks up for us sometimes. And I've been digging my java peanut butter cups the last couple weeks as a nice portion controlled sweet treat.
So when I had some leftover cold brew concentrate lying around from a free sample I received, I decided to experiment a little more with coffee flavored treats. I had been wanting to test out an easy vegan chocolate pie recipe, so I thought – why not add a little cold brew concentrate? The result is that classic coffee and chocolate combination that works wonderfully in this chilled dessert.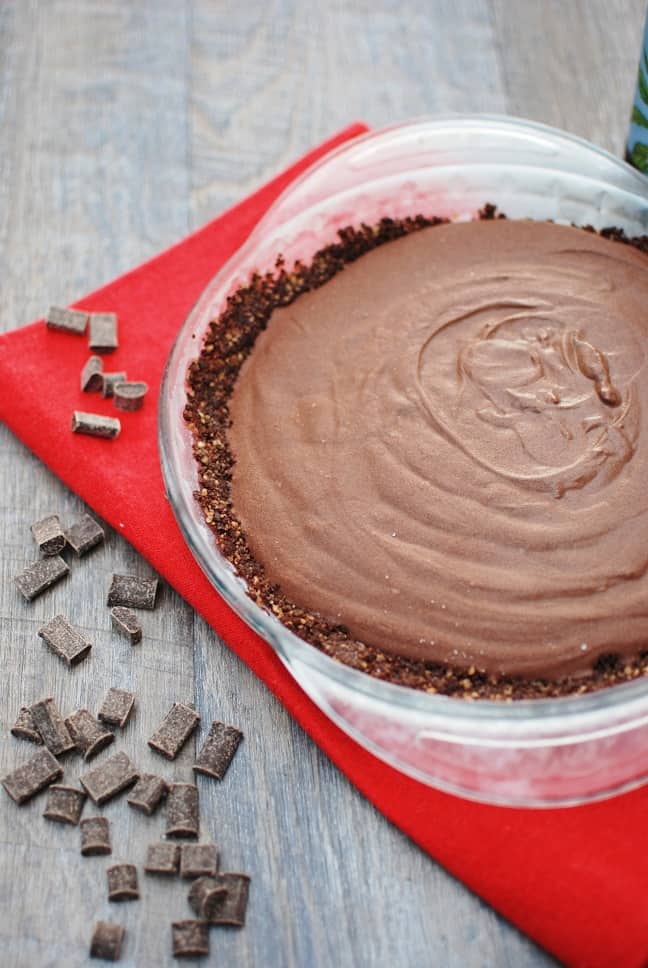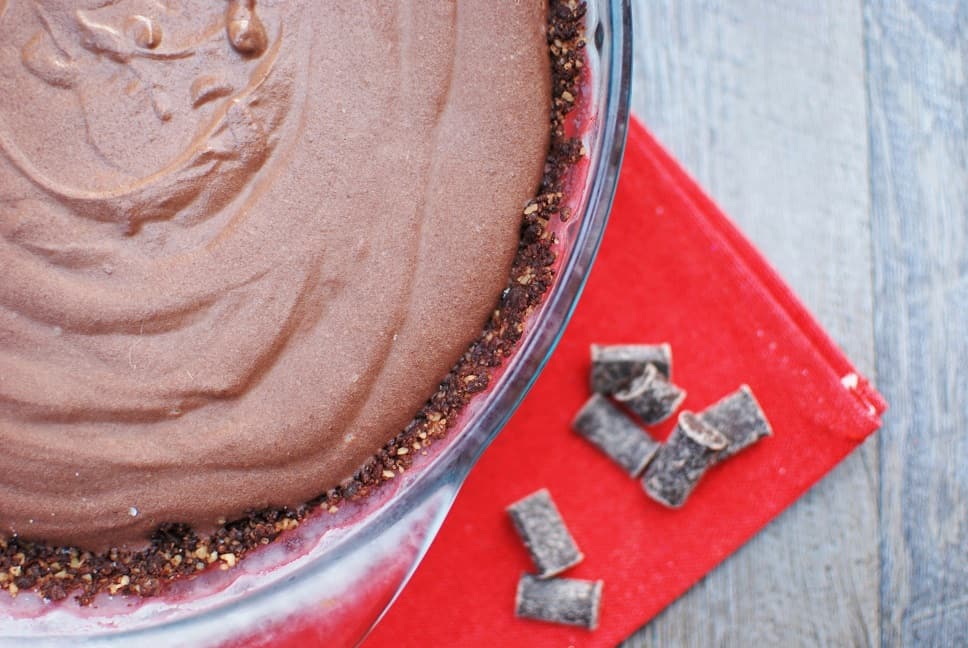 But there's another secret ingredient in this easy chocolate pie besides the cold brew concentrate…silken tofu! That's right, tofu. I've stumbled across my RD friends making sweet smoothies and puddings with tofu, so I figured it had to work for a vegan chocolate pie filling too! And it did, beautifully.
Before you get scared off, let me tell you that I am not normally a tofu fan. I think it's a nice option for people who enjoy it, but anytime I've had tofu cooked in vegetarian or vegan dishes, I have not been over the moon excited. I think it's something to do with the texture or the mouthfeel. Once in a while I'll taste a dish that has it and like it, but on the whole, I've never been a big tofu lover.
In this recipe, though, you can't even taste it! The silken tofu just lends a creamy filling that blends perfectly with the rest of the ingredients to make smooth, silky chocolate filling.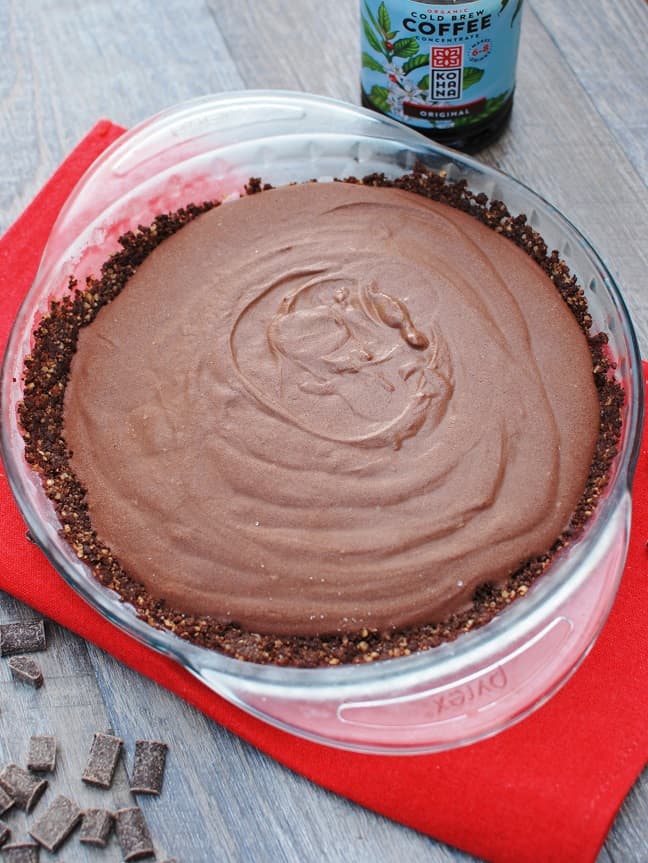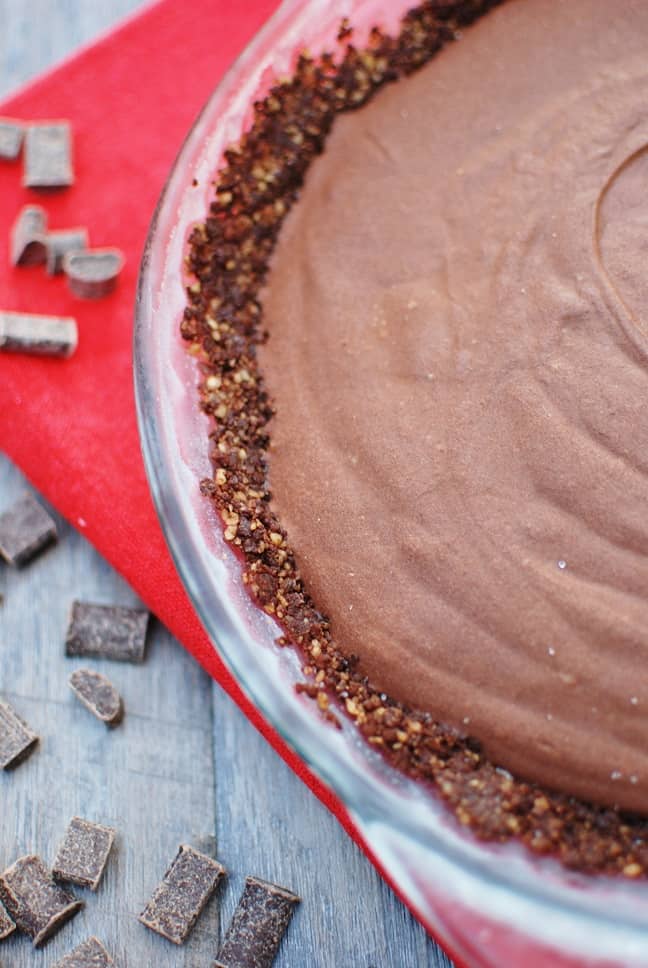 The bonus is it is that tofu is relatively low calorie and adds a bit of protein, so this easy vegan chocolate pie is really a better-for-you dessert option. At 250 calories per rich, indulgent slice – this is a treat that can fit into anyone's meal plan.
[Tweet "This rich, indulgent chocolate pie is vegan, gluten free, and just 250 calories a slice!"]
PS: I'm one of those people that will question if 12 servings is realistic for a regular pie plate, but trust me – this pie is very decadent so the small slices are the perfect size.
Once you mix the filling and pour it into the crust, you can choose to let it firm up in the freezer or the fridge. The freezer makes a more solid filling, kind of like an ice cream pie (you can see the more frozen texture in these photos). You can also let it firm up in the fridge which makes more of a creamy pudding like filling. You can also store it in the freezer but pull out a slice at a time and let it sit at room temp for 15 minutes or nuke it in the microwave for 20 seconds to achieve that more pudding-like texture.
I hope you love this easy vegan chocolate pie as much as I do!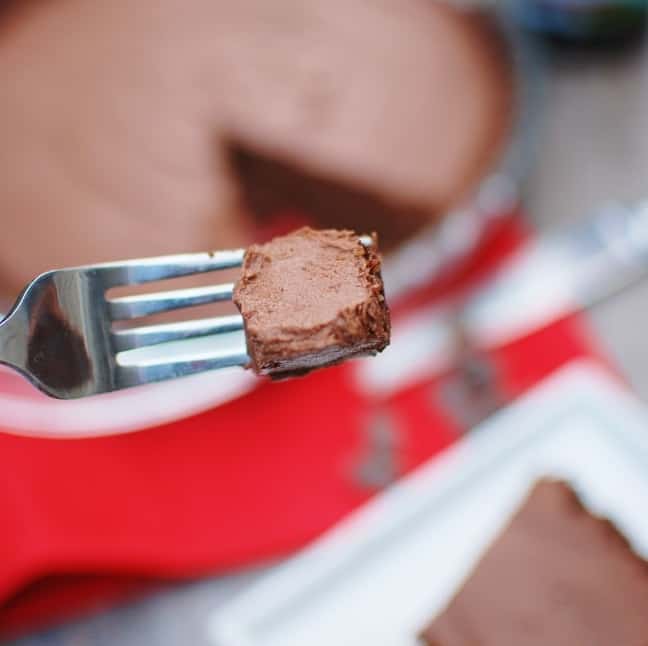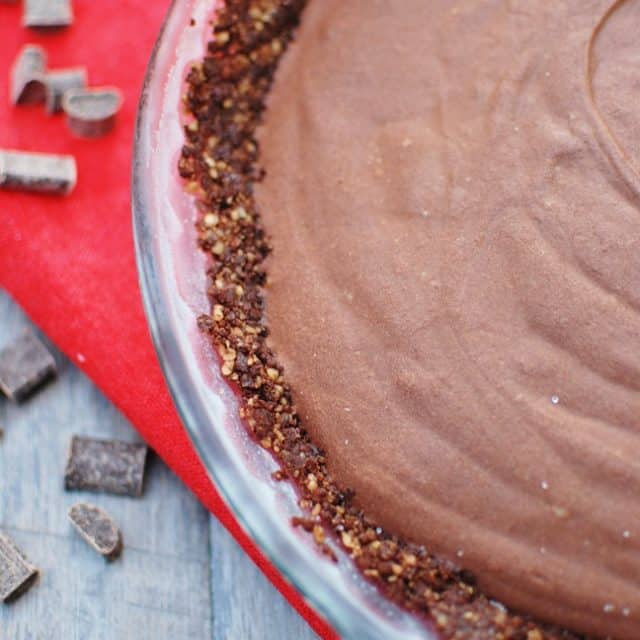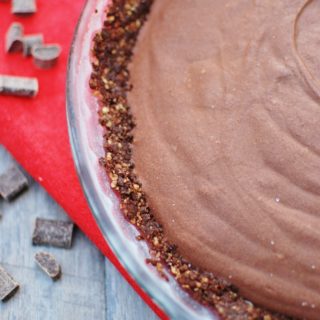 Easy Vegan Chocolate Pie
This no bake easy vegan chocolate pie is one of the yummiest desserts! It's a better-for-you option with just 250 calories per slice that's vegan & gluten free.

Ingredients
Crust Ingredients:
1

cup

shelled walnuts

15

small pitted dates (about 3/4 cup)

1/4

cup

cocoa powder
Filling Ingredients:
1

pound

silken tofu

(if gluten free, double check to ensure it is GF)

2

tbsp

maple syrup

1/3

cup

cold brew coffee concentrate

1

tsp

vanilla

1/4

tsp

salt

10

ounce

package of semisweet chocolate chunks

(or chocolate chips)
Instructions
Directions:
In a food processor, combine walnuts, dates, and cocoa powder. Pulse several times until the mixture is crumbly and starts to stick together.

Lightly grease a pie plate with cooking spray or coconut oil. Press the crust mixture down into the pie plate and place in the freezer while you work on the filling.

Rinse out your food processor bowl and wipe dry. Place tofu in the food processor with maple syrup, cold brew concentrate, vanilla, and salt. Process until just combined.

Melt chocolate in the microwave (work in increments of 30 seconds then stir – this helps to ensure you heat it just enough to melt without burning it). Pour melted chocolate into food processor bowl with tofu mixture, and pulse several times until everything is well combined.

Remove the pie plate with your crust from the freezer. Pour the filling into the crust. You can place this in either the freezer or the fridge for about 2 hours to set. The freezer will produce more of a solid filling while the fridge will produce more of a pudding like filling.
Notes
Nutrition Analysis (approximate per serving – 1/12 of pie):
250 calories, 14 g fat, 5 g sat fat, 59 mg sodium, 27 g carbohydrate, 3 g fiber, 22 g sugar, 5 g protein; Vitamin A: 0%, Vitamin C: 0%, Calcium: 6%, Iron: 10%
Nutrition
Share with me: Are you a coffee drinker? What's your favorite coffee dessert? Have you ever used tofu to make a dessert?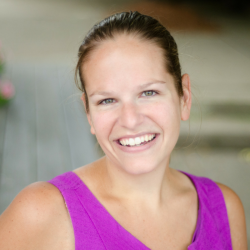 Latest posts by Chrissy Carroll
(see all)