This jerk shrimp salad is a delicious and filling recipe that's perfect for a hot summer day. With fiery shrimp, sweet pineapple, creamy avocado, and hearty leafy greens, it's a healthy meal that tastes great. Plus, it's on your table in under 30 minutes!
What is jerk seasoning?
At it's core, jerk seasoning is a blend of spices and chile peppers. There are many different variations of this throughout Jamaica and the Caribbean, but allspice and scotch bonnet peppers are usually used.
Traditionally, jerk meats or fish are grilled over fire – and you can certainly do that with the shrimp in this recipe if you prefer. I acknowledge that my cooking version is untraditional, as I used a stovetop sauté method instead, simply to make it accessible for those who do not have a grill.
(Side note – if you do grill the shrimp, you should also toss the pineapple on the grill for this recipe too. It's delightful!)
Ingredients
Here's what you'll need to make this jerk shrimp salad recipe, with some helpful notes about some of the ingredients: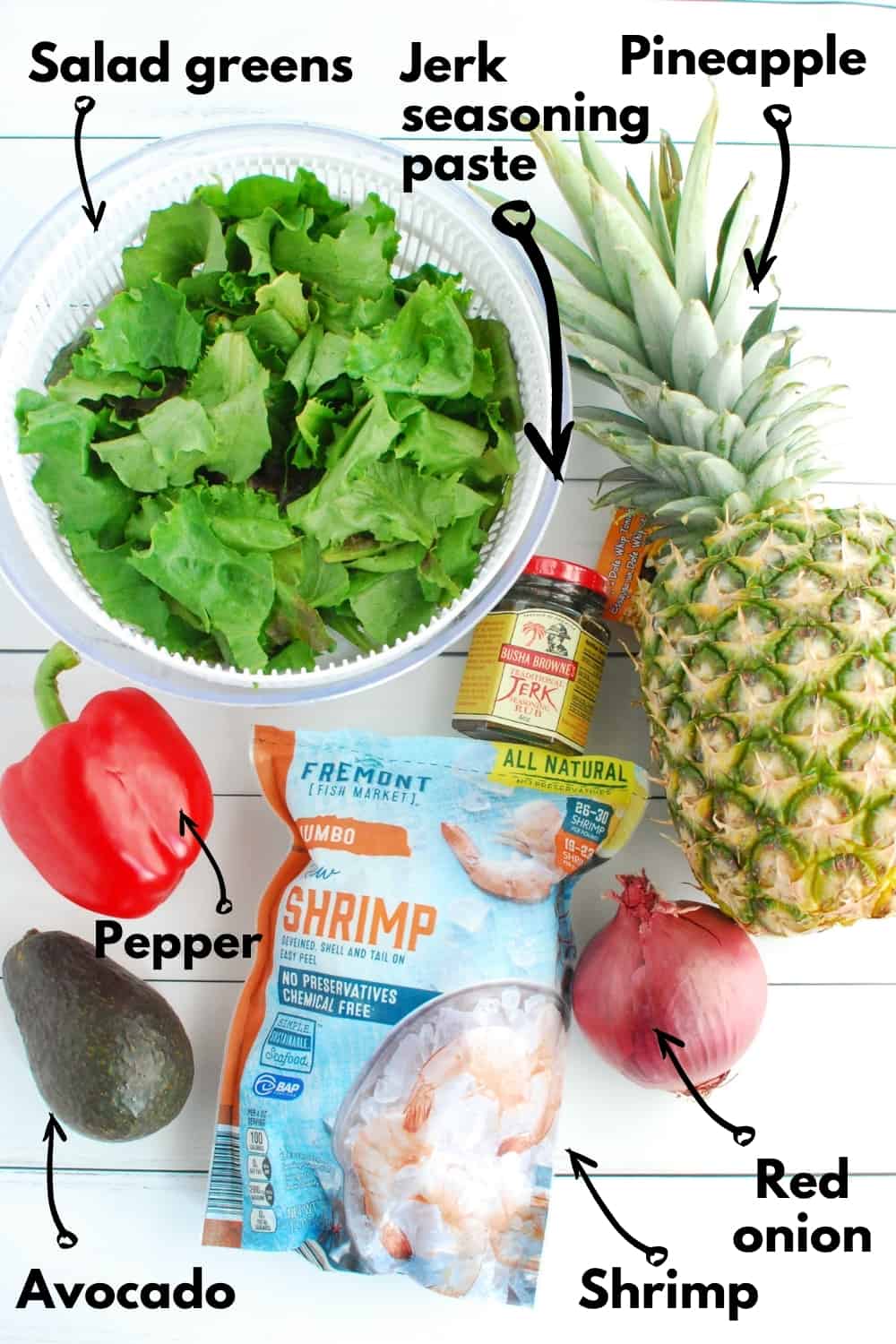 Shrimp – I recommend raw jumbo shrimp, but really, any size will do. If you can find frozen raw shrimp that are already peeled and deveined, it cuts down on the prep time!
Jerk seasoning paste – See recommendations below.
Olive oil
Lettuce – I like green leaf, but romaine is also a nice option.
Bell pepper – Red, orange, or yellow are nice for this recipe, due to their sweetness.
Red onion
Pineapple – Fresh is best for flavor, but canned will do in a pinch!
Avocado
Dressing of your choice – I like this creamy citrus dressing or mango salad dressing for this recipe, but you can use any bright and fruity vinaigrette for this.
Jerk seasoning suggestions
Disclosure: This section contains Amazon affiliate links; as an affiliate I earn a commission on qualifying purchases.
I have two suggestions for jerk rubs, both from companies located within Jamaica:
Based in Kingston, Jamaica, this company stems from both Jamaican and Irish roots. The Browne family, originally from Ireland, spent much time in Jamaica in the 1800's. A descendent, Charlie Browne, grew up in Jamaica and loved all of the family recipes that were passed down. Winston Stona, a Jamaican citizen, helped co-found the company to bring these recipes to the masses in the 1970's.
This is personally my favorite product, because it's got that classic heat, but is not too intense. A little goes a long way on whatever recipe you're using it in.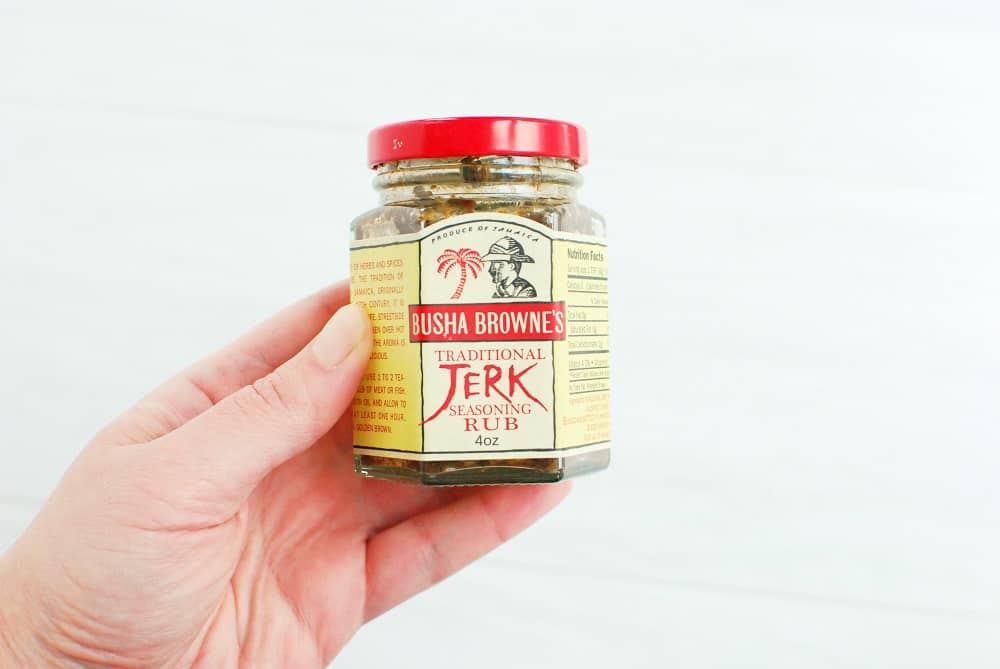 This company was started in the late 1970's in Jamaica as a way to increase employment opportunities in rural areas. They purchase local ingredients for their products, and even have a cooperative farm that they helped establish where scotch bonnet peppers are grown.
The first product was the jerk seasoning, which continues to be a fan favorite today. It does tend to be a spicier than Busha Browne's, so keep that in mind when deciding which to purchase (they do have a mild version though that's a bit more tame than their hot and spicy version).
Step by Step Instructions
You'll find the full ingredient amounts and recipe instructions in the recipe card below, but here's a helpful overview with tips.
You're going to start by tossing your shrimp with the jerk seasoning you've got on hand. Keep in mind these seasonings can be intense – even though it may not seem like there's a lot on your fish, you might be surprised at how fiery the shrimp will be.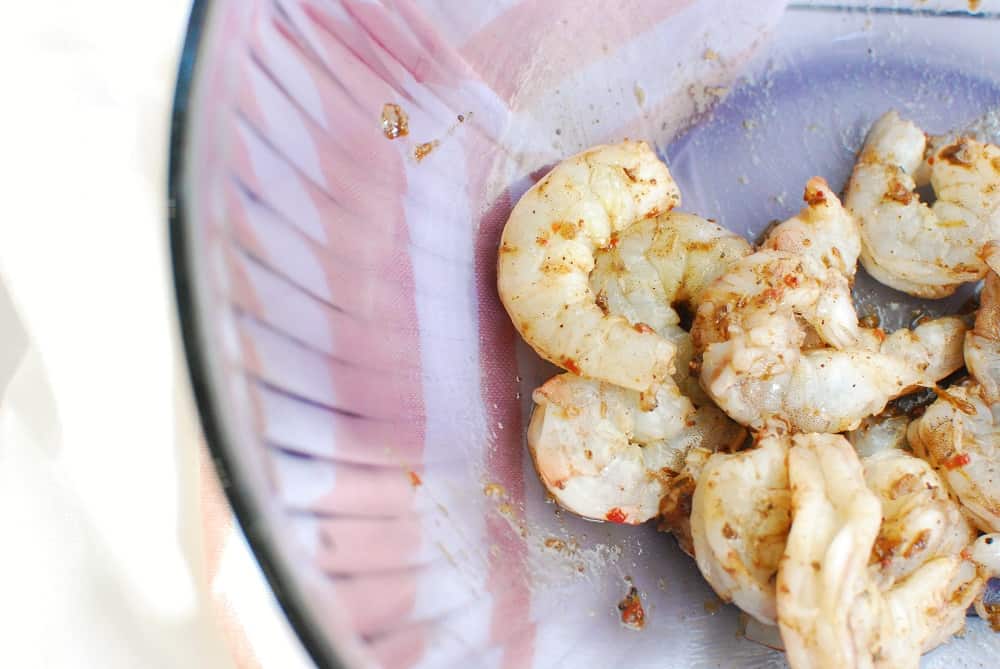 From here, you can either sauté the shrimp (as written in the recipe) or grill it. Either way, it cooks very quick – generally about 2 minutes per side – and you want to cook it until it's just pink in color. Note that if you're using smaller shrimp, they may cook even quicker than the jumbo shrimp.
Next, you'll make up your salad with the greens, bell pepper, red onion, pineapple, and avocado. All of these balance out the spices on the shrimp (plus, the shrimp pairs so nicely with sweetness from the fruit).
Top it all off with the dressing of your choice, and go ahead and dig in!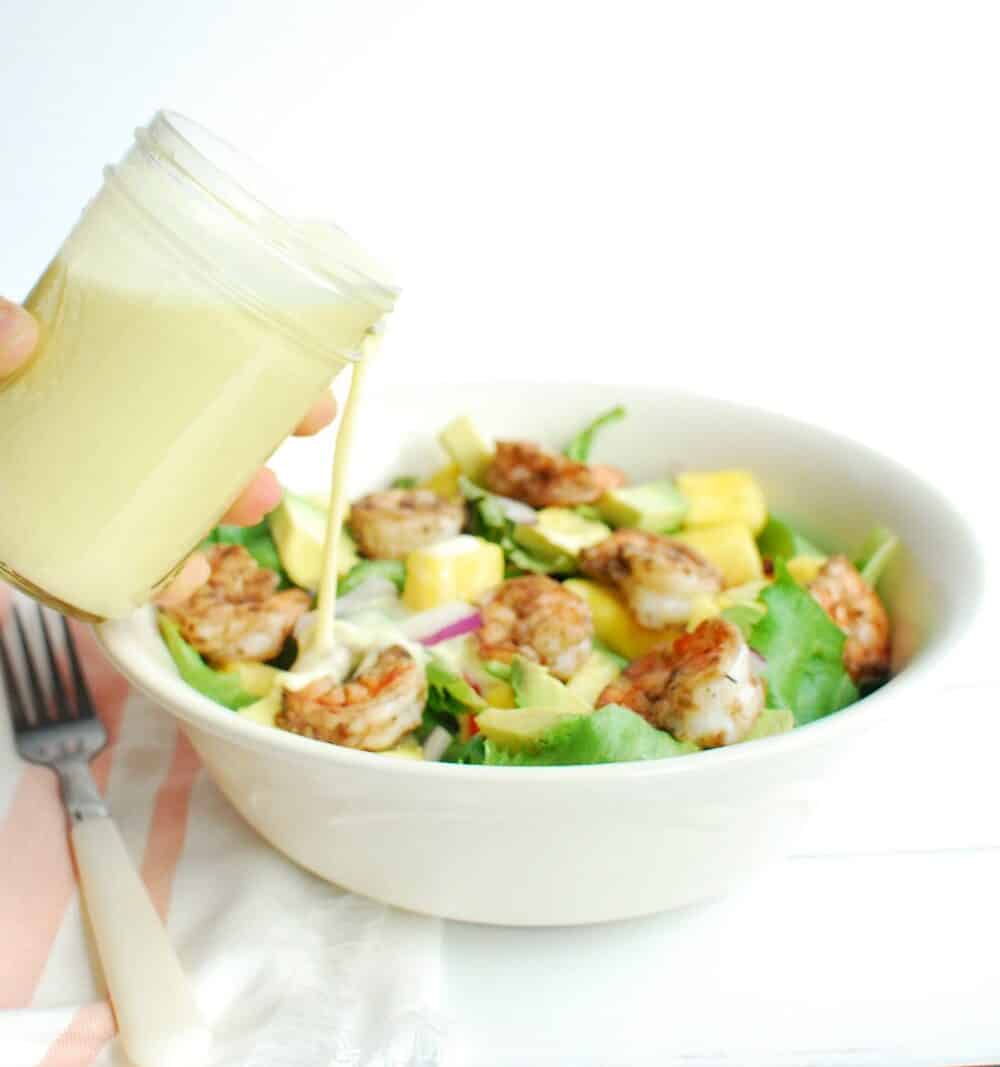 Recipe FAQ
Here are some common questions that may come up as you prepare this recipe:
Can you store leftovers? Yes, feel free to store leftovers of this salad and enjoy within 2-3 days. Ideally, store the salad and dressing separately when saving for another day. Also, it's best if you wait to add the avocado until the day you plan to eat it to prevent browning, but keep in mind leftover browning avocado is still safe to eat (just not as appealing to look at!).
How do you thaw frozen shrimp? Thawing frozen shrimp is easy. Place a bag of shrimp in a bowl of cold water for 15-30 minutes, or until thawed all the way through.
Why does frozen shrimp contain more salt? Frozen shrimp (or "previously frozen" shrimp, as often found at the seafood counter) is usually placed in a salt brine prior to freezing. You can reduce this if you can get fresh-off-the-boat shrimp, but don't worry too much about this. An occasionally high sodium meal can definitely fit into an overall balanced diet – especially one like this that is also packed with other nutrients!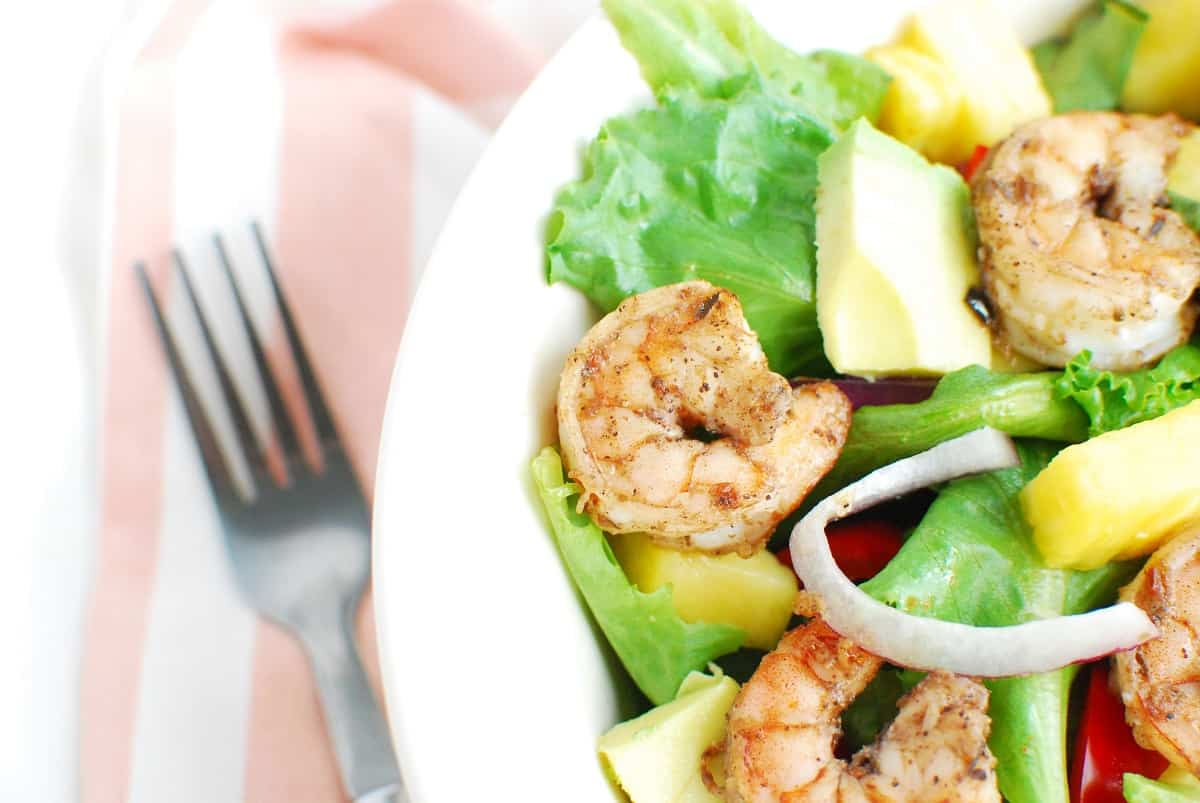 Nutrition Benefits
This jerk shrimp salad is a recipe that is packed with good nutrition! Here are a few highlights:
21 grams of protein per serving, which supports satiety as well as muscle repair and recovery
17% of your daily calcium needs, for good bone health
More than an entire day's worth of Vitamin A and Vitamin C – both of which help support the immune system
14% of your daily potassium needs, a key electrolyte that is lost in sweat and also helps regulate blood pressure
I hope you get a chance to try this recipe! If you do, feel free to leave a recipe rating or comment below.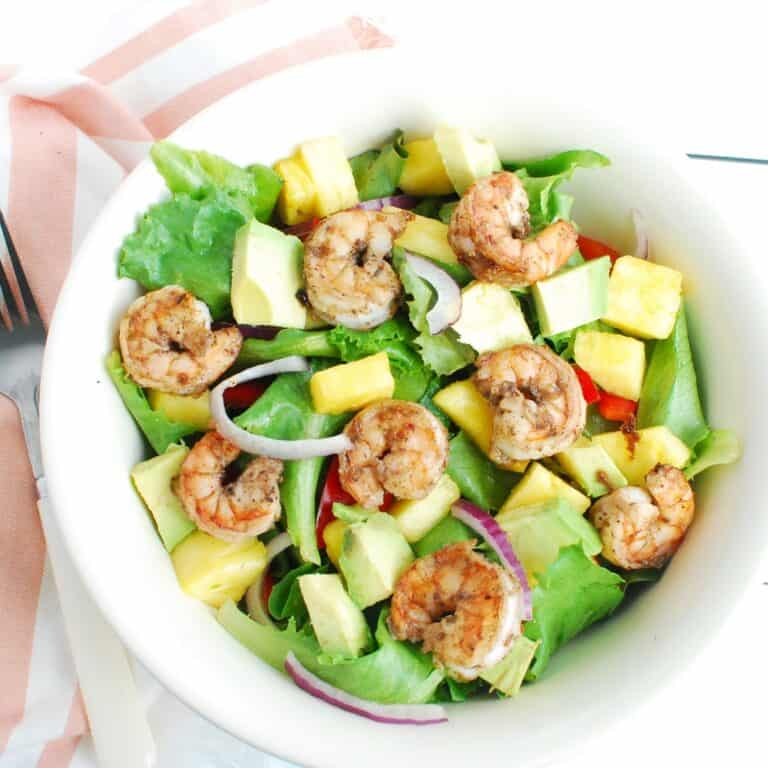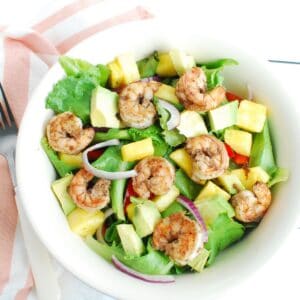 Jerk Shrimp Salad
This jerk shrimp salad is a hearty and healthy recipe that tastes great on a hot summer day!
Ingredients
1 ¼

pound

raw jumbo shrimp, peeled, deveined, tails removed

2

tsp

jerk seasoning paste*

1

tbsp

olive oil

8

ounces

green leaf lettuce

1

medium red bell pepper, chopped

¼

large red onion, sliced thinly

(or more/less according to taste)

2

cups

chopped pineapple

1

avocado, peeled, pitted, and chopped

½

cup

Creamy citrus dressing

or any dressing of your choice
Instructions
Toss the shrimp in a bowl or zip top bag with the jerk seasoning paste, mixing everything around to thoroughly coat the shrimp.

In a large skillet, heat the oil over medium heat. Add the shrimp and cook for 3 to 4 minutes, flipping halfway, until shrimp is cooked through (pink and opaque throughout). Remove from heat.

Combine the lettuce, bell pepper, red onion, and pineapple (either in a large bowl, or divided onto four plates). Top with the shrimp. Add the creamy citrus dressing (or any dressing of your choice). Enjoy!
Notes
*You may need to adjust the amount of jerk paste depending on the product you use and your spice preference.
The shrimp can be grilled for more traditional jerk cuisine. Place them on a skewer, then grill about 2-3 minutes per side.
Nutrition analysis (approximate per serving): 415 calories, 28 g fat, 4.5 g saturated fat, 1350 mg sodium, 25 g carbohydrate, 6 g fiber, 12.5 g sugar, 21.5 g protein, Vitamin D: 0%, Calcium: 17%, Iron: 10%, Potassium 14%
Nutrition
Share: What's your favorite summertime salad? If you tried this recipe, what did you think?
Feel free to pin this post to save for later.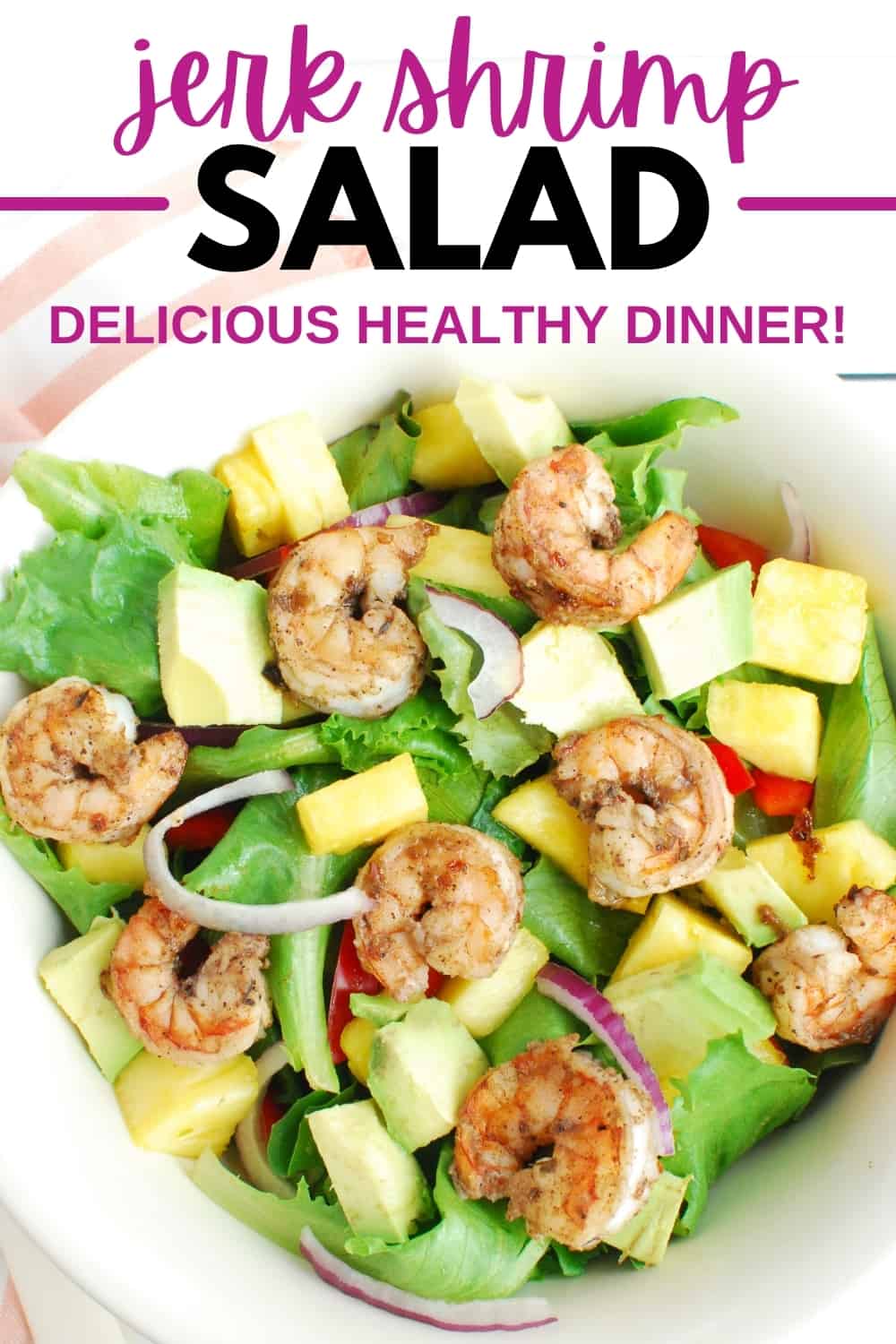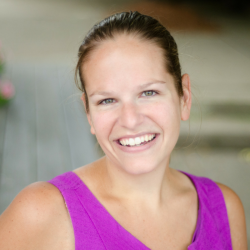 Latest posts by Chrissy Carroll
(see all)