You may have seen leucine mentioned on a supplement bottle, or heard about it when people talk about sports nutrition. But what actually is leucine? Are there any true leucine benefits for runners and triathletes? Let's break it down…
Disclosure: This post is sponsored by the dairy farm families of New England. As always, all opinions are my own.
What is leucine?
Leucine is a branched chain amino acid that's found in a variety of foods (and supplements). It is one of the essential amino acids, meaning your body can't make it, so you have to eat it in food.
This particular amino acid – along with other branched chain amino acids (BCAAs) – play a role in muscle protein synthesis after a workout (aka rebuilding and strengthening your muscles). The availability of leucine and other essential amino acids in different protein sources is one of the factors thought to influence how effective those sources are in the post-workout time frame.
Because of this post-workout role, and the fact that oxidation of leucine increases during exercise, researchers have investigated the impact of leucine consumption on performance or recovery.
Leucine, performance, and recovery
First off, you should know that there's not a ton of research out there looking at leucine in an isolated manner – it's often talked about in the context of protein powders or BCAA supplements. But here are a few highlights that you might find interesting…
Improved muscle protein synthesis: A 2011 study (Pasiakos et al) compared the effects of two essential amino acid drinks – one with a higher leucine concentration – on fit adults during cycling exercise. They found that muscle protein synthesis was greater during recovery after using the leucine-enhanced drink during exercise.
Better subsequent performance with acute dose: In one study, researchers compared two recovery meals consumed after 2.5 hours of cycling intervals. One of the recovery meals provided a higher amount of leucine/protein compared to the other meal (but both contained sufficient carbohydrate and were equal in calories). After a day and a half of rest, the cyclists repeated a sprint performance test. The researchers found that those who had the recovery meal with higher amounts of leucine/protein experienced a 2.5% increase in sprint power and a 13% decrease in perceived tiredness during the sprints (Thomson et al, 2011).
Better performance with long term supplementation: One study found that among trained canoeists, 6 weeks of leucine supplementation led to increased upper body power and work, increased total rowing time to exhaustion, and a decreased rate of perceived exertion (Crowe et al, 2006).
Increased cycling power: Another 2016 study (Kephart et al) compared a maltodextrin (aka carbohydrate) placebo with 12 g/day BCAA supplementation (which included 6 g/day of leucine). There was an increase in power output for the BCAA cyclists compared to the placebo cyclists – about a 19% increase in body mass normalized peak power and a 4% increase in relative mean peak power. (There was also a trend towards improved 4-km sprint performance, though this was not statistically significant.)
On the flip side…
Not all research shows these leucine benefits, of course. For example, another study (Nelson et al, 2012) looking at post-exercise leucine intake did not find any improvements on subsequent sprint performance or power, unlike the Thomson study mentioned above. That said, this particular study did find that the leucine group had reduced muscle tissue damage.
Similarly, a 2014 study (Areces et al) examined the impact of 7 days of BCAA supplementation compared to a control group. Both groups of runners then completed a marathon race. There were no differences in performance or perceived muscle pain during the race between groups.
So are there truly leucine benefits for runners?
Though not all the research is conclusive, it does seem likely that leucine helps with recovery and muscle protein synthesis after an endurance exercise session.
This may help keep the muscles in more optimal shape while training, and possibly help with subsequent performance after a hard training session (i.e. if the leucine helps the muscle recover better, it may then perform better in that next workout).
Of course, with most emerging sports nutrition topics – these leucine benefits are based on a few small studies, and we really need more data to come to stronger conclusions.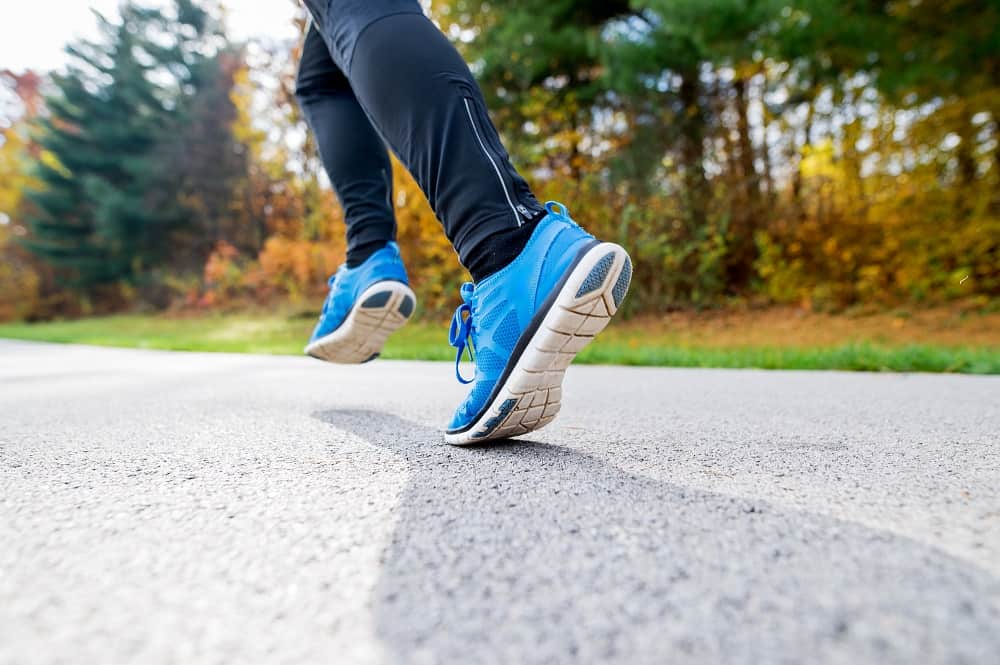 How much leucine do you need?
The International Society of Sports Nutrition Position Stand on Protein and Exercise makes three compelling recommendations related to this topic – I've pulled the quotes from the paper:
"Acute protein doses should strive to contain 700–3000 mg of leucine and/or a higher relative leucine content, in addition to a balanced array of the essential amino acids (EAAs)."
"EAAs appear to be uniquely responsible for increasing muscle protein synthesis with doses ranging from 6 to 15 g all exerting stimulatory effects. In addition, doses of approximately one to three g of leucine per meal appear to be needed to stimulate protein translation machinery."
"While greater doses of leucine have been shown to independently stimulate increases in protein synthesis, a balanced consumption of the EAAs promotes the greatest increases."
In non-sciencey terms, that means you want to try to get a variety of essential amino acids in your post-workout protein source. Ideally that protein source should clock in around 15-25 grams after endurance exercise, and should have around 1-3 grams of leucine. It may also be optimal to include sources of leucine at your other meals in the day (besides your post-workout meal).
It's also important to remember that more doesn't always mean better. For example, one study (Rowlands et al, 2015) compared two different beverages over a 90-minute post-workout period (after completing 100 minutes of cycling):
Beverage 1: 70 grams protein, 15 grams leucine, 180 grams carbohydrate, 30 g fat
Beverage 2: 23 grams protein, 5 grams leucine, 180 grams carbohydrate, 30 g fat
Interestingly, the lower protein option achieved nearly maximal rates of muscle protein synthesis, with only negligible differences to the higher protein option.
Now even though it was lower in overall protein, the 5 grams of leucine in this study is on the high end of most recommendations for post-workout fueling. You can see that maximizing it to 15 grams didn't make any additional difference.
This stands to reason we need moderate amounts of a high-quality protein which includes adequate leucine to promote muscle recovery – but there's no need for massive doses for most people.
There is one group, though, which may benefit from a little extra attention to the protein and leucine dosing, though, and that is Master's endurance athletes. Research has suggested that older athletes (age 40+) experience slower recovery rates after muscle-damaging exercise compared to their younger counterparts.
Some sports nutritionists believe that increasing the post-exercise protein dose a bit higher than 20 grams – perhaps around 30 grams, with particular emphasis on high leucine protein options – may be helpful for combatting this. (Doering et al, 2016).
Do you need a leucine supplement?
Nope. There are many food sources that contain adequate amounts of leucine – in particular, dairy products. Eating a variety of dairy products each day can help you get a consistent balance of leucine in your daily diet (and in the post-workout time frame) to support optimal muscle protein synthesis.
Of course, if you prefer a choosing a protein powder in the post-workout period, you can certainly do so. These powders are often more expensive compared to regular foods, but they can be a convenient option. (Read more about why I generally recommend whey protein vs plant-based protein powders).
How to get enough leucine in your diet
Take a look at the chart below, which shows you good sources of leucine from common foods. You can see that many of the top sources come from dairy products.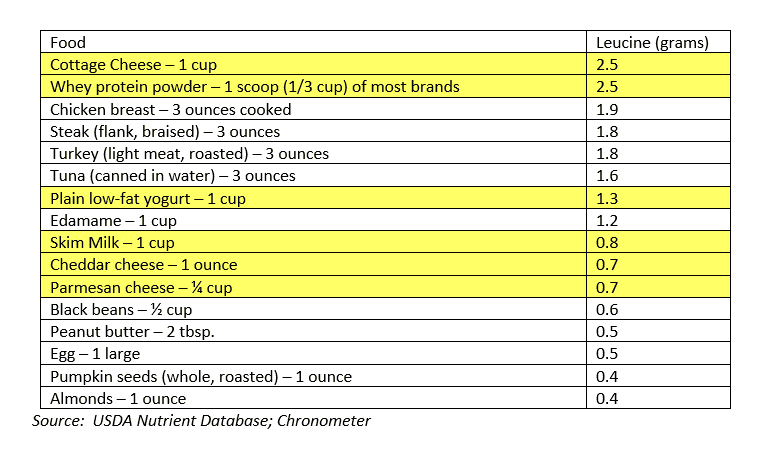 You can easily incorporate foods with a higher leucine content into your recovery meals following standard recovery guidelines. For example, consider these recovery meals or snacks:
A 16-ounce glass of chocolate milk is easy to get down after a long run, and will provide about 1.6 grams of leucine (along with an ideal blend of carbs and protein).
A turkey and cheese sandwich with a side of fruit will give you around 2.5 grams of leucine, a good blend of carbs and protein, and also satisfy that post-training hunger.
Prefer a sweet treat after your long ride? Top a bowl of yogurt with pumpkin seeds, almonds, and fruit for about 2.1 grams of leucine.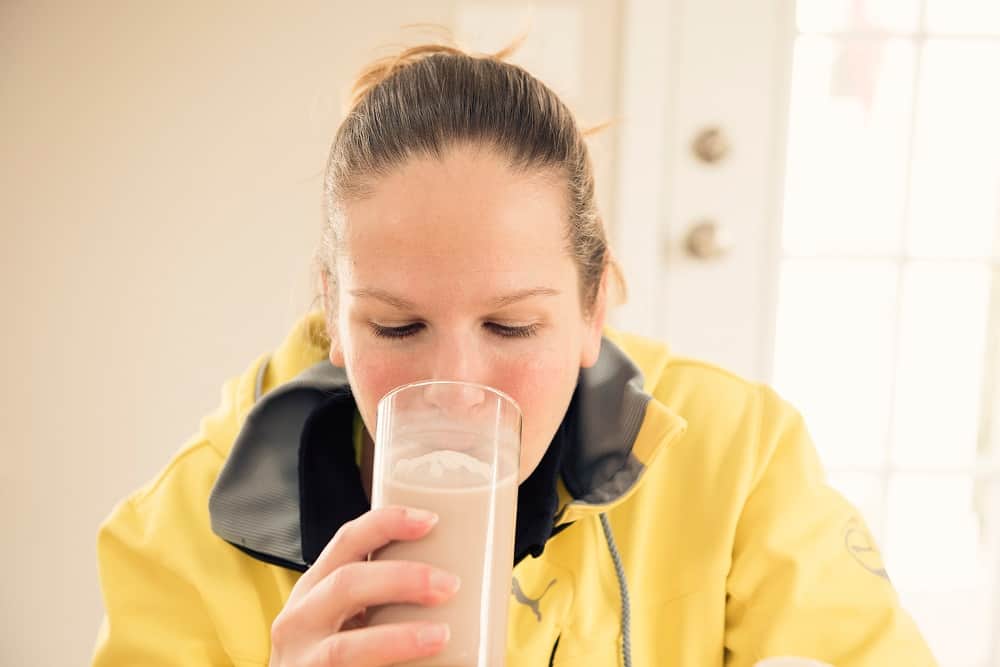 Lastly, don't forget that proper recovery is about a blend of carbohydrates and protein. So often, we get tied down in worrying about protein – when in reality, it's the carbohydrates that many people fall short on in that post-workout time frame.
Be sure to get enough carbs along with your post-workout protein. For most endurance athletes, aim for a 3:1 or 4:1 ratio of carbohydrates to protein (for most, this will look like about 50-100 grams of carbohydrate and 15-25 grams of protein).
I hope you found this article helpful to learn more about leucine benefits for runners. Got more sports nutrition questions? Don't hesitate to ask in the comments!
Share: Have you heard about these leucine benefits? What's your favorite leucine-rich dairy food?
For information about the dairy farm families of New England, school nutrition, and health and wellness topics, please visit New England Dairy & Food Council and Must Be the Milk.
References:
Areces F, Salinero JJ, Abian-Vicen J, González-Millán C, Gallo-Salazar C, Ruiz-Vicente D, Lara B, Del Coso J. A 7-day oral supplementation with branched-chain amino acids was ineffective to prevent muscle damage during a marathon. Amino Acids. 2014 May;46(5):1169-76.
Crowe MJ, Weatherson JN, Bowden BF. (2006). Effects of dietary leucine supplementation on exercise performance. Eur J Appl Physiol; 97(6):664-72.
Doering TM, Reaburn PR, Phillips SM, Jenkins DG. Postexercise Dietary Protein Strategies to Maximize Skeletal Muscle Repair and Remodeling in Masters Endurance Athletes: A Review. Int J Sport Nutr Exerc Metab. 2016 Apr;26(2):168-78.
Kephart WC, Wachs TD, Thompson RM, Brooks Mobley C, Fox CD, McDonald JR, Ferguson BS, Young KC, Nie B, Martin JS, Company JM, Pascoe DD, Arnold RD, Moon JR, Roberts MD. Ten weeks of branched-chain amino acid supplementation improves select performance and immunological variables in trained cyclists. Amino Acids. 2016 Mar;48(3):779-789.
Jäger R, Kerksick CM, Campbell BI, et al. International Society of Sports Nutrition Position Stand: protein and exercise. J Int Soc Sports Nutr. 2017;14:20.
Nelson AR, Phillips SM, Stellingwerff T, Rezzi S, Bruce SJ, Breton I, Thorimbert A, Guy PA, Clarke J, Broadbent S, Rowlands DS. (2012). A protein-leucine supplement increases branched-chain amino acid and nitrogen turnover but not performance. Med Sci Sports Exerc; 44(1):57-68.
Pasiakos SM, McClung HL, McClung JP, Margolis LM, Andersen NE, Cloutier GJ, Pikosky MA, Rood JC, Fielding RA, Young AJ. (2011). Leucine-enriched essential amino acid supplementation during moderate steady state exercise enhances postexercise muscle protein synthesis. Am J Clin Nutr; 94(3):809-18.
Rowlands DS, Nelson AR, Phillips SM, Faulkner JA, Clarke J, Burd NA, Moore D, Stellingwerff T. Protein-leucine fed dose effects on muscle protein synthesis after endurance exercise. Med Sci Sports Exerc. 2015 Mar;47(3):547-55.
Thomson JS, Ali A, Rowlands DS. (2011). Leucine-protein supplemented recovery feeding enhances subsequent cycling performance in well-trained men. Appl Physiol Nutr Metab; 36(2):242-53. doi: 10.1139/h10-104.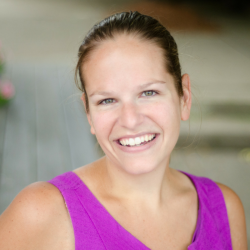 Latest posts by Chrissy Carroll
(see all)