Satisfy your sweet tooth with this delicious banana mug cake! Made with wholesome ingredients, this is a healthier treat that is easy to whip up. It clocks in at just 210 calories with 8 grams of protein. What a perfectly pleasant way to use up those overripe bananas!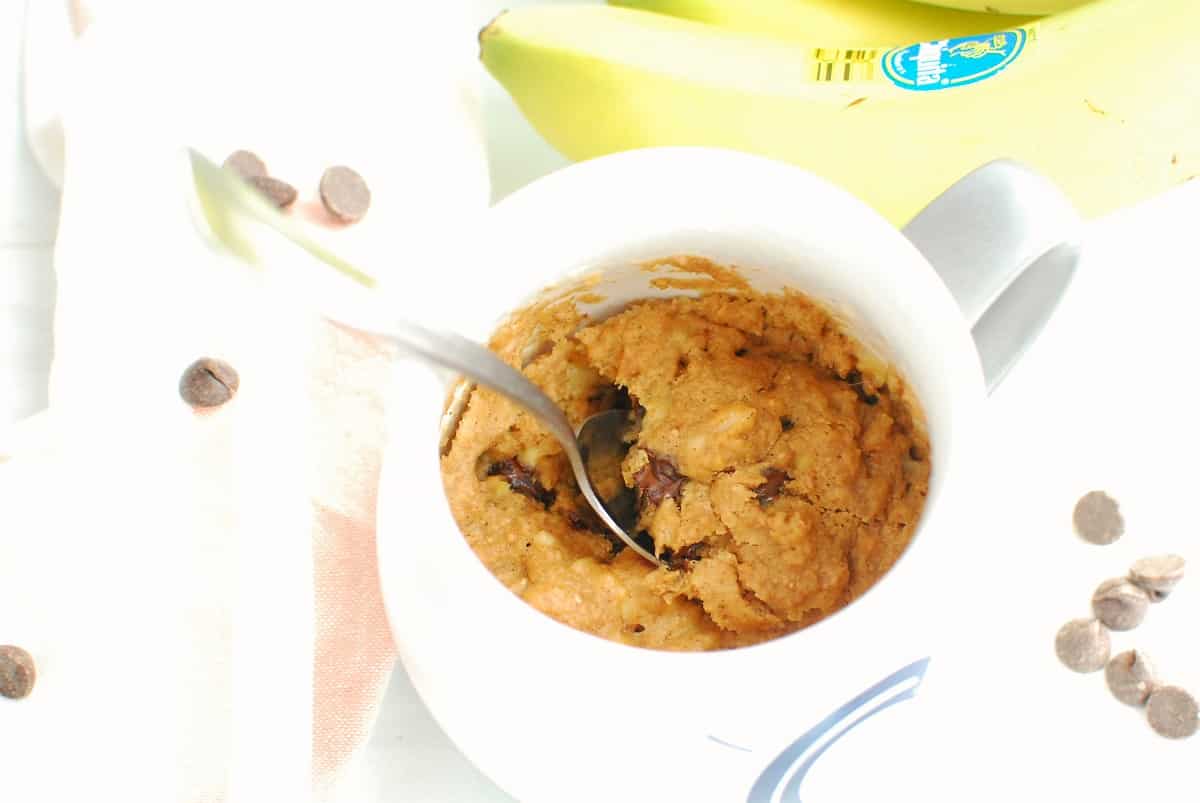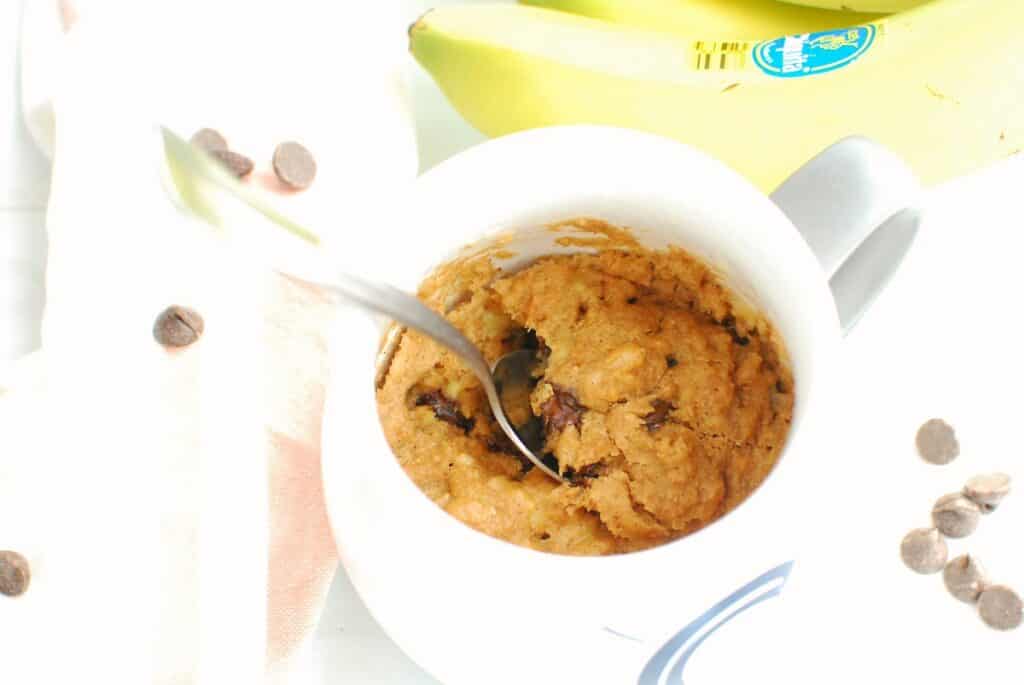 Ingredients
Here's a photo of all the ingredients you'll need, along with selected ingredient notes:
Banana – Overripe bananas work best for this recipe, as much of the starch has been converted to sugar, and the texture is very soft. They should have a ton of brown spots, or even be turning a little black on part of the peel. You can still use a less ripe banana to make this, but you may find that you need to add a little extra milk to create the right texture, and possibly a little extra syrup to sweeten.
Powdered peanut butter – With powdered peanut butter, some of the oils been pressed out of the nuts before they're pulverized into a fine powder. While I don't think we need to worry nutritionally about the healthy fats in peanut butter, powdered peanut butter can be very convenient for baked goods and smoothies. (I also love it in my healthy peanut butter cookie dough bites).
Instructions
It's so easy to make this recipe! You'll find the full instructions and amounts in the recipe card at the bottom of this post, but here's a helpful overview.
You're going to start by taking half of an overripe banana and mashing it in a microwave-safe mug. (Tip – save the other half in a freezer-safe bag to go in smoothies!)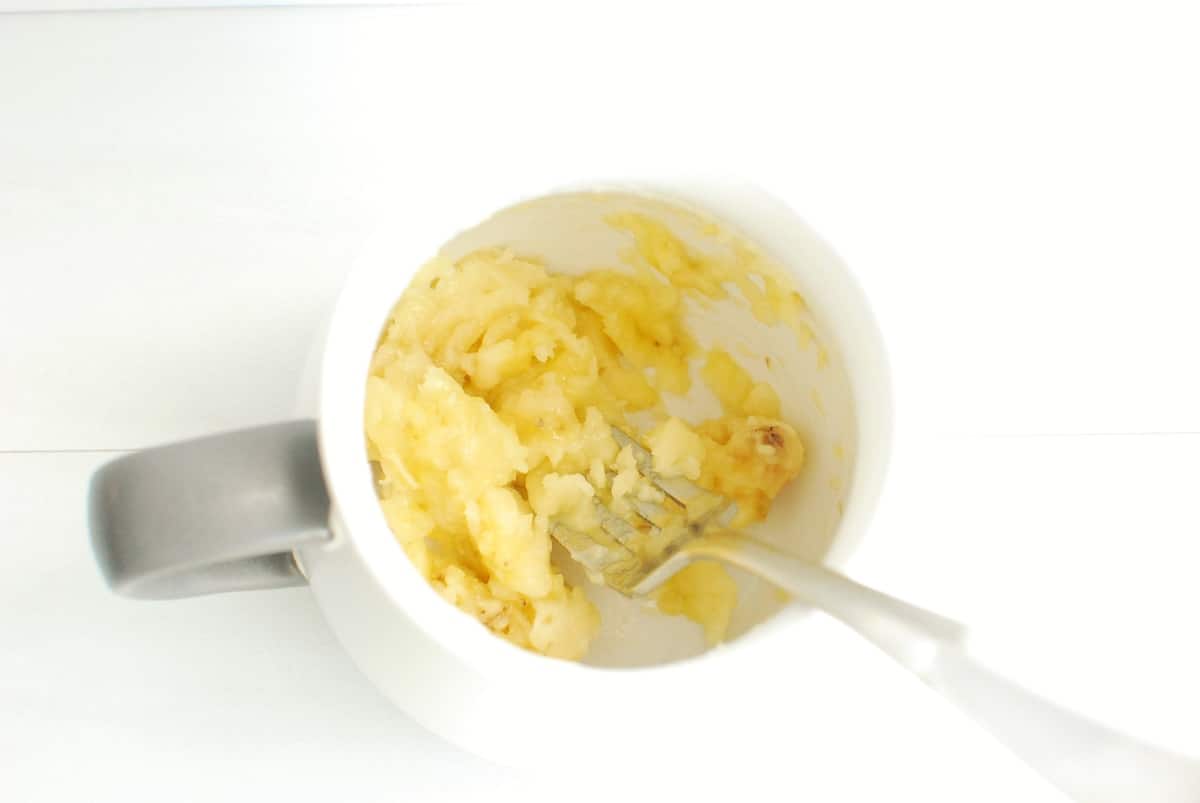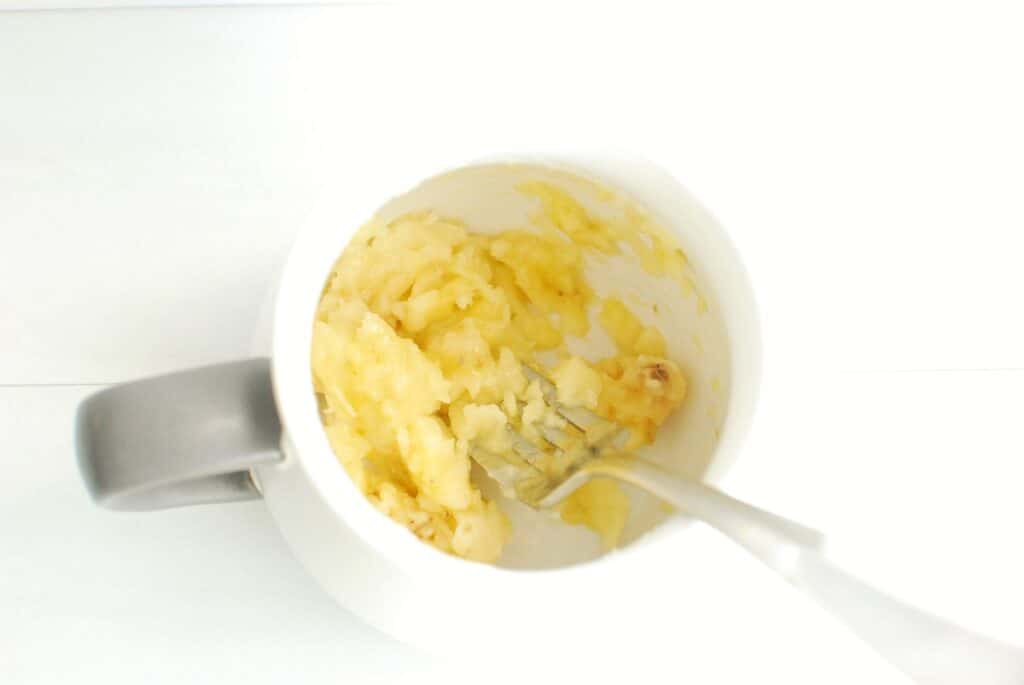 Then mix in your powdered peanut butter, whole wheat flour, baking powder, cinnamon, salt, maple syrup, and milk.
Once those are combined, fold in your chocolate chips. Your cake batter will look like this – fairly thick: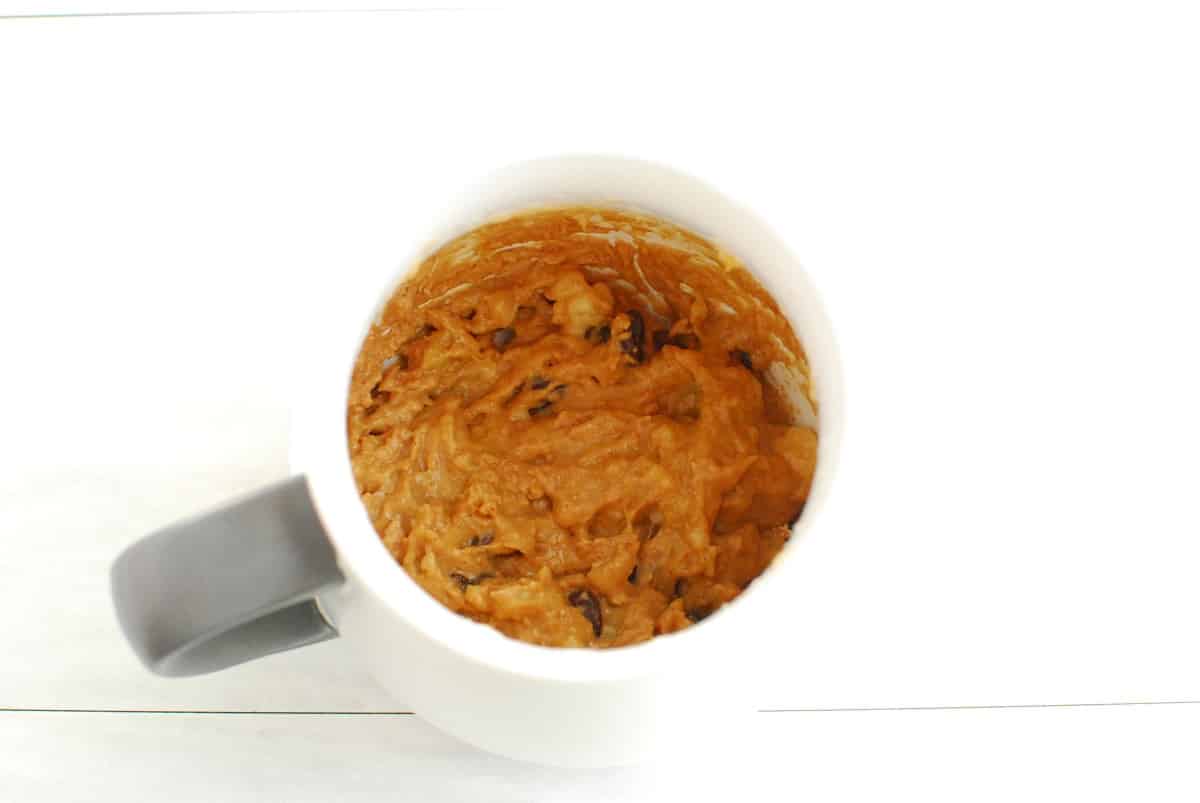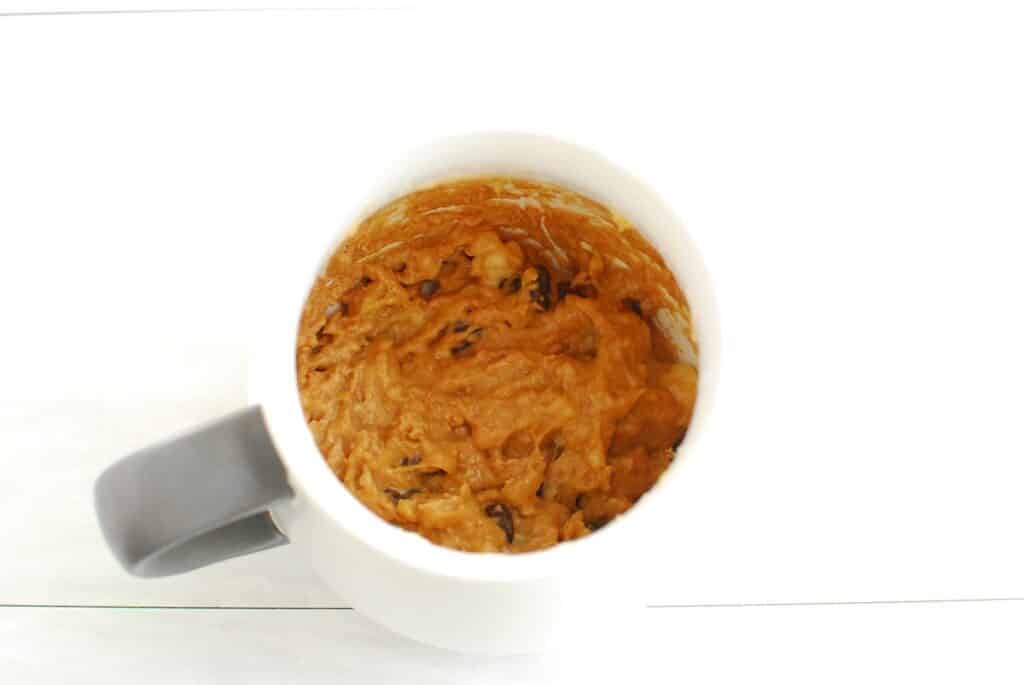 Now microwave that for about 45 to 60 seconds.  I recommend you start with 45 seconds, check the mug, and add an additional 10-15 seconds if needed.  You'll know it's done when the top of the mug cake doesn't appear damp.  Avoid overcooking it.
Let the banana mug cake cool for a few minutes. This will be the hardest part – it's so tempting to dig in! – but y'all, it will be hot. I say this after burning my mouth one too many times, haha.
After it cools, grab a spoon and dig in! You can eat it as-is (which is what I normally veer towards) but you can also feel free to add a dollop of vanilla ice cream or vanilla Greek yogurt.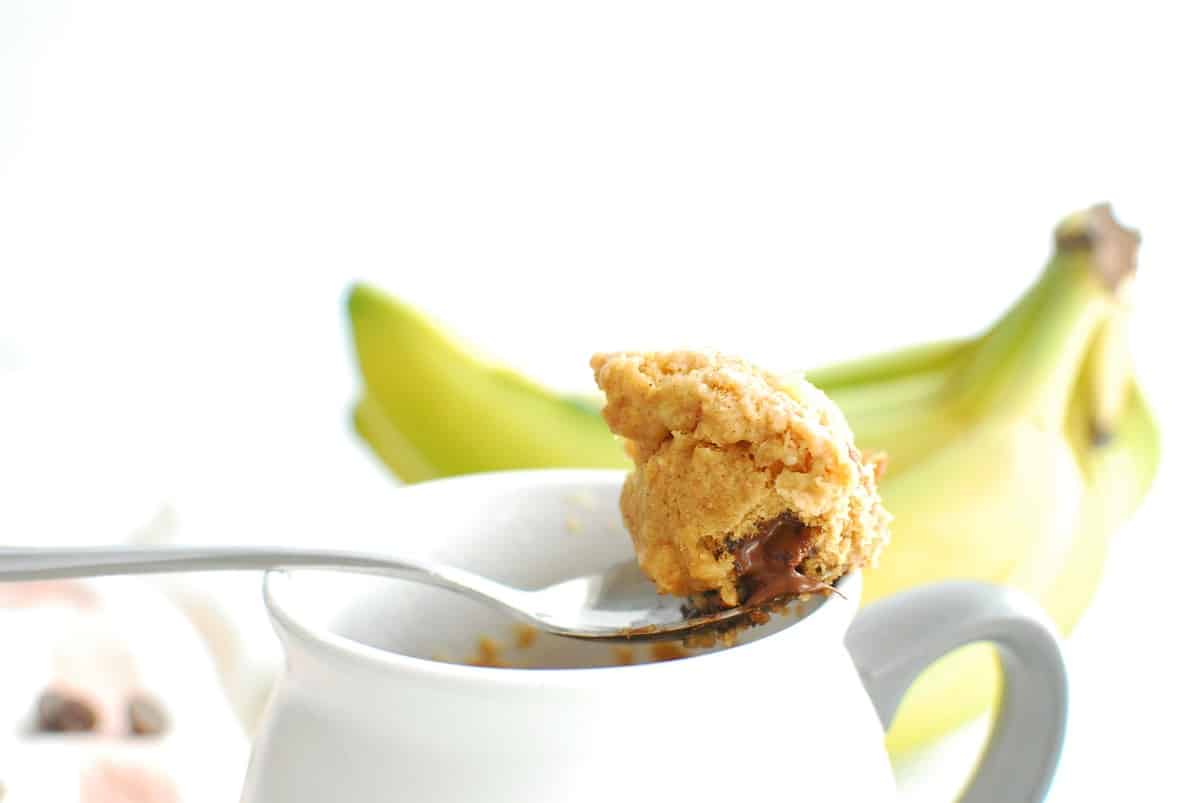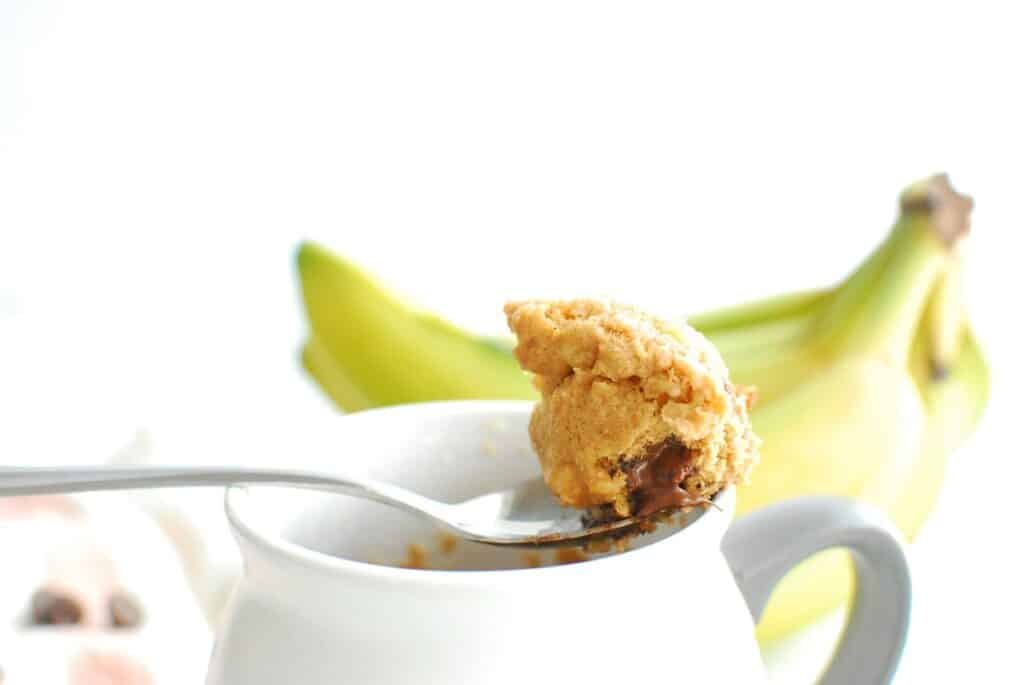 Recipe FAQ
Here are some common questions that may arise as you prepare this recipe:
Does mug cake have the same texture as regular cake?
The texture will be slightly different since it's made in the microwave, but the taste is delicious.
Can you bake mug cakes in the oven?
Yes.  Combine all the ingredients and pour them into a small oven-safe ramekin.  Bake at 350 degrees F for 13-17 minutes, or until baked through and a toothpick pulls out clean.
Can you eat mug cake batter?
It's not recommended to eat mug cake batter, since it contains raw flour.
Can you make this recipe vegan? 
Sure – to do so, simply substitute a dairy-free milk for the regular milk in the recipe.  Be sure your chocolate chips are dairy free as well.
I'm not a fan of cinnamon – how should I adjust the recipe?
If you're not a fan of cinnamon, feel free to leave that out and use a quarter teaspoon of vanilla extract instead. That said, the cinnamon adds a lot of flavor, so I recommend at least a pinch!
Nutrition Benefits
This banana cinnamon mug cake has a nutritional step up compared to many mug cake recipes! Here are a few highlights:
Provides protein – This mug cake packs in 8 grams of protein, helping you feel more full and satisfied after your snack.
Less added sugar – While many mug cake recipes call for 3 tablespoons of added sugar, we've used just half a tablespoon of maple syrup to sweeten.
Unique base – The base of this recipe is made with powdered peanut butter and whole wheat flour, making it a more nutritious option than traditional white flour recipes.
Contains minerals – You'll walk away with 9% of your daily potassium needs, 6% of your daily iron needs, and 7% of your daily magnesium needs – all of which are very important for runners!  (Read more about magnesium for runners and iron for runners).
More Overripe Banana Recipes
Looking for more recipes you can make with those browning bananas in your fruit bowl? Try one of these delicious ideas:
Almond flour banana muffins – These muffins are packed with healthy fats and fiber, making them perfect for part of a filling morning meal.
Banana protein muffins – These are a fan favorite here on the blog! More protein than your average muffin, and they taste great.
Cacao smoothie – Freeze those overripe bananas to toss into this nutritious chocolatey smoothie.
I hope you enjoy this healthy banana mug cake. If you get a chance to try it, I'd love for you to leave a recipe rating or comment below.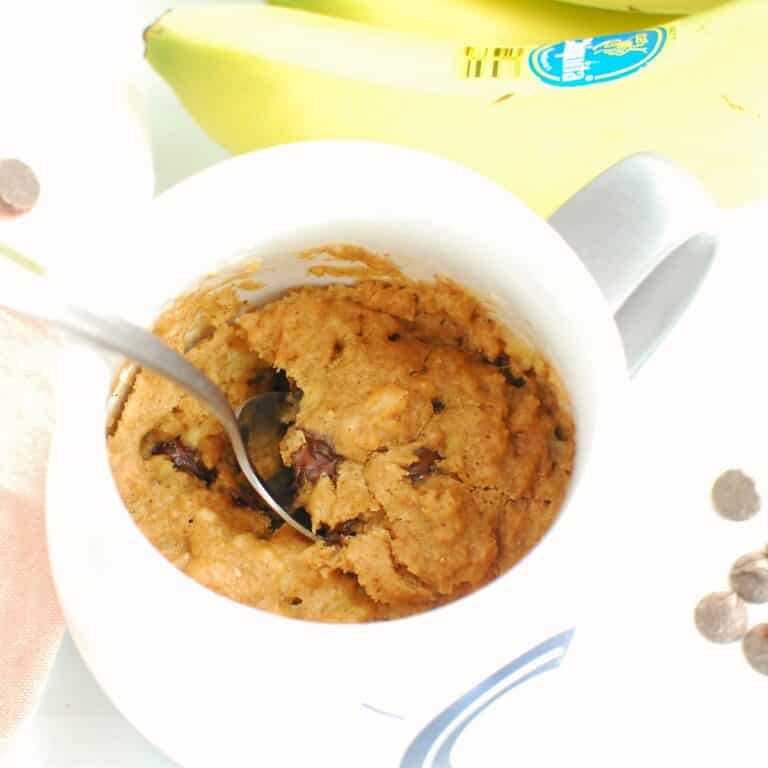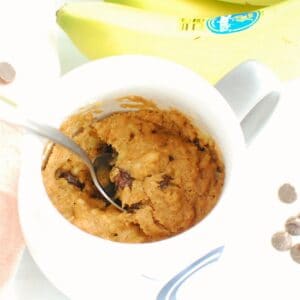 Healthy Banana Mug Cake
Sweet banana, aromatic cinnamon, and dark chocolate all come together wonderfully in this healthy banana mug cake.
Ingredients
½

overripe banana

2

tablespoons

powdered peanut butter

(i.e. PB2)

1

tablespoon

whole wheat flour

¼

teaspoon

baking powder

¼

teaspoon

cinnamon

Pinch

salt

½

tablespoon

maple syrup

1

tablespoon

1% milk

(or milk alternative*)

½

tablespoon

dark chocolate chips
Instructions
Place the half of the overripe banana in the mug. Use a fork to mash well.

Add the powdered peanut butter, flour, baking powder, cinnamon, salt, maple syrup, and milk. Stir together until well combined. Fold in the chocolate chips.

Place the mug in the microwave and cook for 45-60 seconds, or until the top of the cake does not appear damp. Do not overcook.

Let cool for a few minutes, then enjoy! Feel free to add a dollop of vanilla ice cream or Greek yogurt on top if you'd like.
Notes
*This works best with a very overripe banana – one with lots of brown spots or starting to turn black. If your banana is only slightly overripe (i.e. a few brown spots), it will not provide as much moisture. As such, you may need to increase the milk to 2 tablespoons in that situation.
Freeze the remaining half of the banana to use in smoothie recipes.
Nutrition analysis (approximate for the entire recipe): 210 calories, 4 g fat, 1.5 g saturated fat, 375 mg sodium, 37 g carbohydrate, 3.5 g fiber, 20 g sugar, 8 g protein, Vitamin D: 1%, Calcium: 9%, Iron: 6%, Potassium: 9%
Nutrition
Share: What's your favorite way to use up overripe bananas? Are you a fan of mug cake?
Feel free to pin this post to save for later.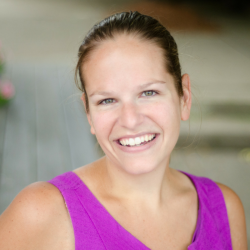 Latest posts by Chrissy Carroll
(see all)