Looking for something to do with those overripe bananas sitting on your counter?  Baking is always a good option!  Try making these easy banana protein muffins for a tasty snack recipe that the whole family will love.  With less than 200 calories per muffin and 6 grams of protein each, they're a great healthy way to satisfy the sweet tooth.
Disclosure: This post contains Amazon affiliate links. As an affiliate, I earn a commission on qualifying purchases.
How to make banana protein muffins
These are pretty simple to make! Don't be fooled by the ingredient list – though it looks long, just about everything on here is something you're likely to have on hand in your pantry or fridge. Here's what you'll need to gather up to make this:
Bananas – You'll want overripe ones for this recipe – they should have ample brown spots or even be turning quite brown, as in the photo below. These bananas have had more of their starch turn to sugar, which will sweeten the muffins. They are also softer and easier to mash.
Cinnamon
Vanilla
Oil of choice – I like avocado oil for it's neutral flavor, but you can also use canola oil, vegetable oil, softened coconut oil, or whatever you prefer.
Egg
Brown Sugar
Flour
Vanilla Protein Powder
Baking powder
Baking soda
Salt
Milk
Dark chocolate chips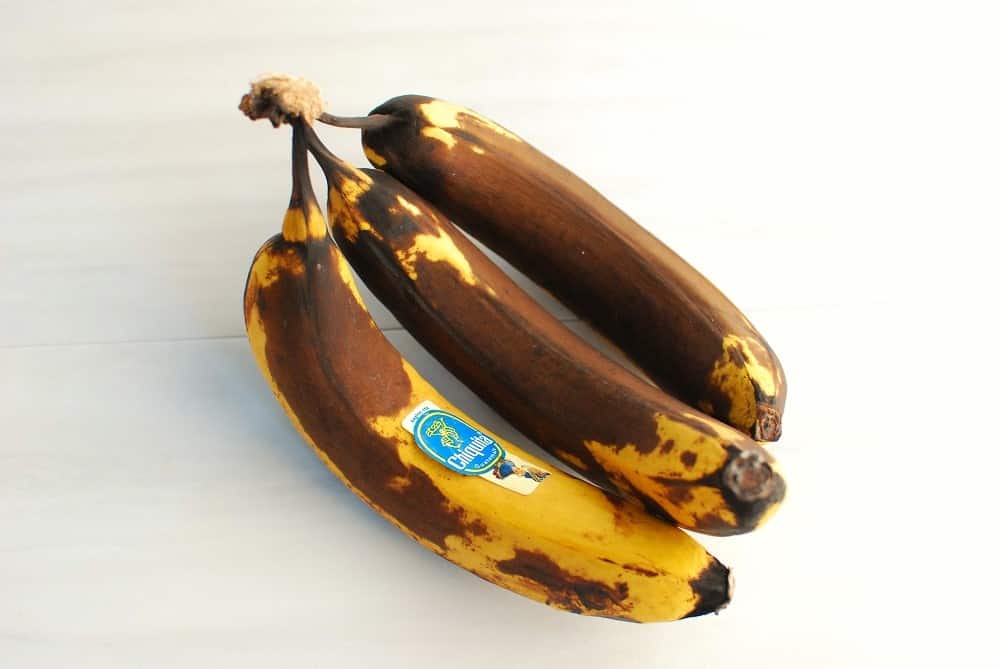 The only thing that might not be a staple in your house is the protein powder.  I used this vanilla whey protein powder but you can use any vanilla protein powder that you'd like.
Once you've got all your ingredients together, it's as simple as mixing 'em all up in a bowl, pouring them into a muffin tin, and baking the muffins! No special techniques or anything, easy peasy.
Nutrition benefits
I like these banana protein muffins because they're a step up nutritionally from your average muffin recipe. The bulk of the sweetener is the mashed bananas, along with a little brown sugar and a small amount of dark chocolate chips – but less of the later than you might find in a standard muffin recipe.
And of course, you're adding protein powder to this recipe to boost the protein content.  Now keep in mind, I wouldn't necessarily call these "high protein" muffins.  Each muffin contains 6 grams of protein. 
But to give comparison, most homemade muffins made with white flour and no protein powder are only going to clock in around 2-3 grams, so you're at least doubling what would be in there.
While there are higher protein muffin options out there, I find they often lack the taste and texture that this version has – so these are a great compromise.
These are also the perfect serving size for a snack or dessert when you're craving a sweet treat. They clock in at 193 calories, and because they have that blend of carbs, fat, and protein – they'll help you stay full longer while satisfying your sweet tooth.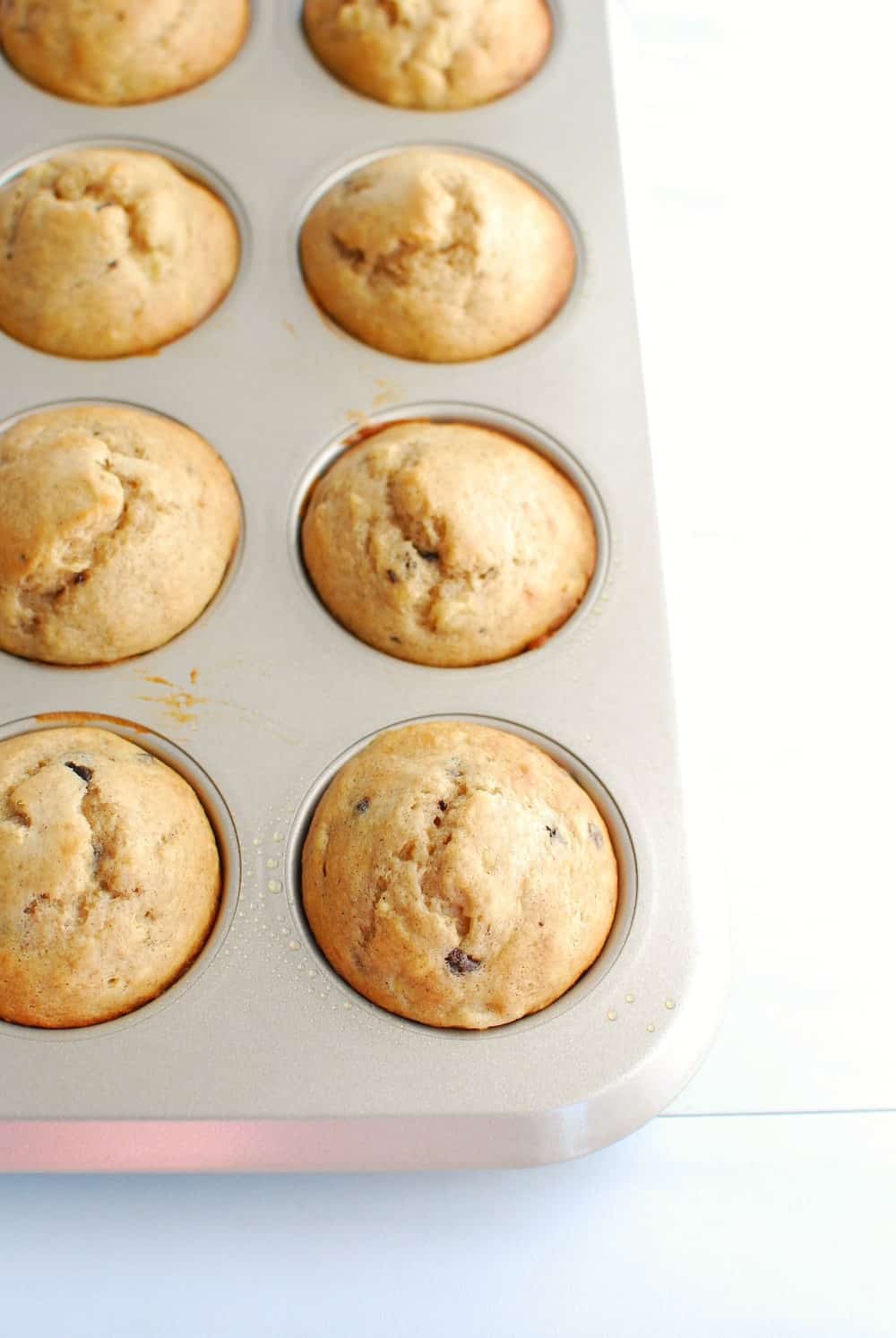 Recipe FAQ
Here are some common questions that may arise as you prepare this recipe:
Can you freeze banana muffins? 
Yes!  Just place them in a freezer safe bag and pop 'em in the freezer.  When you're ready to eat one, defrost it for about 30 seconds in the microwave.  While they'll be good indefinitely from a food safety perspective in the freezer, for quality purposes I'd recommend keeping them in there for up to 2-3 months.
Can you make vegan banana protein muffins? 
Yes.  To do that, you'll want to use a flax egg rather than a regular egg.  You'll also want to use a milk alternative (like almond milk or soy milk) rather than regular milk.  Double check that the dark chocolate chips you choose are vegan (i.e. Enjoy Life).  And lastly, choose a plant-based protein powder rather than a whey protein powder.
Can you make gluten free banana protein muffins?
I haven't tried it, but I would imagine you can use a gluten free flour blend (like King Arthur's or Jovial) that measures 1:1 in place of the flour here.
How can you make a lower calorie muffin?
For a lower calorie version, use a brown sugar substitute, reduce the oil by half and substitute the other half with applesauce or additional mashed banana, and eliminate the chocolate chips.  Note that the taste and texture will vary from the original.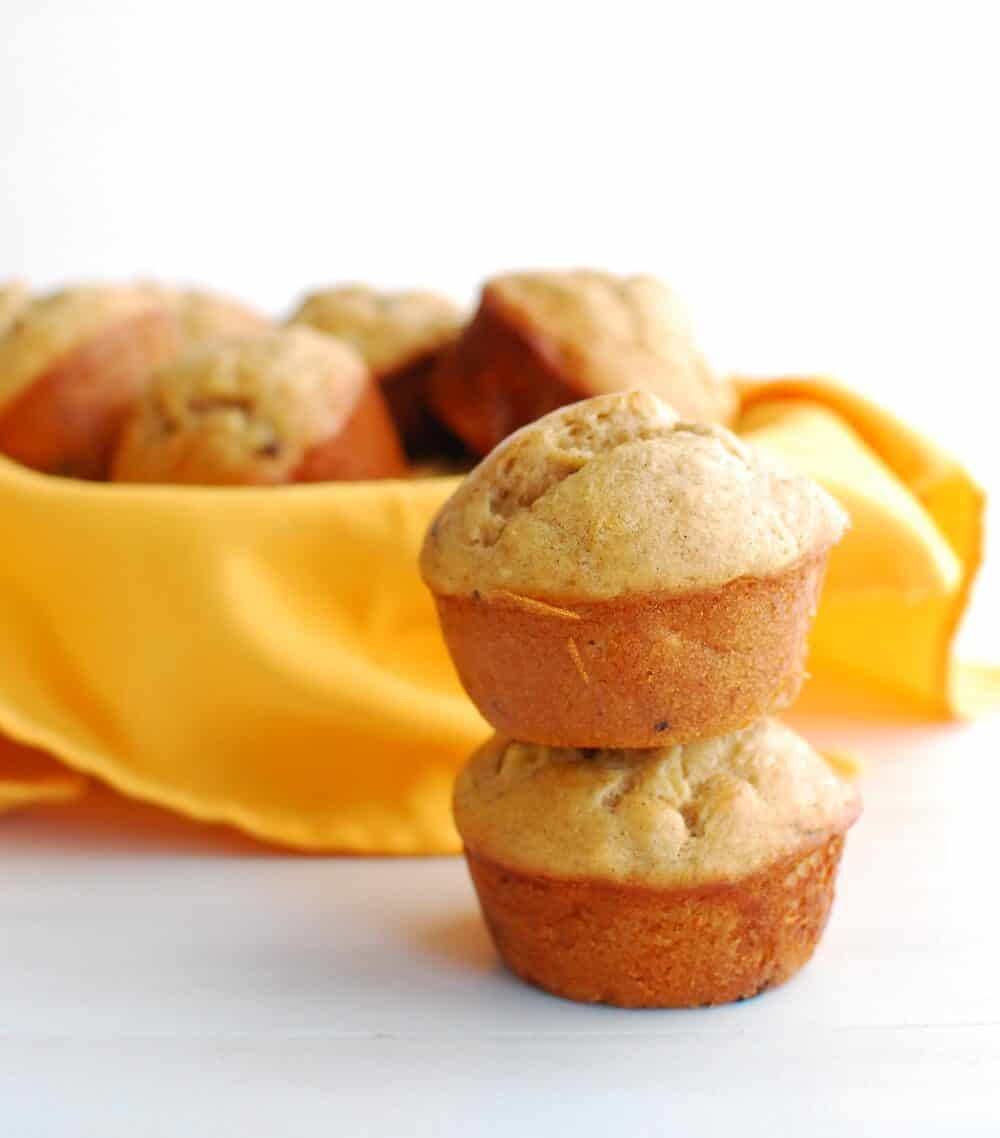 More Healthy Muffin Recipes
Looking for more muffins that have a nutritious spin? Try one of these options:
Alright, now that you've got all the key info, it's time to get baking!  I hope you enjoy these as much as my family did.  Even my kiddo is a huge fan of these.  
If you get a chance to make 'em, please feel free to leave a recipe rating or comment letting me know your thoughts. 
PS – Looking for more ways to use up your ripe bananas?  Check out this roundup of 20 different overripe banana recipes!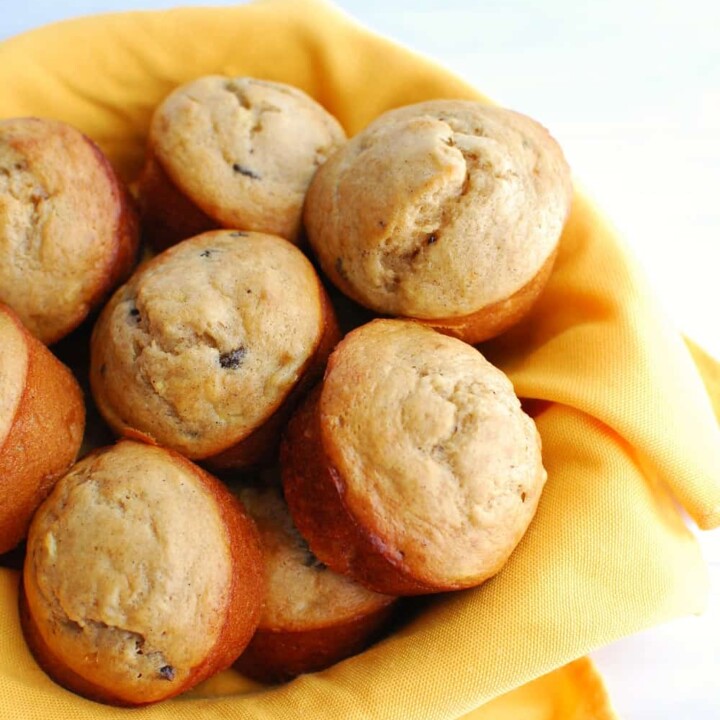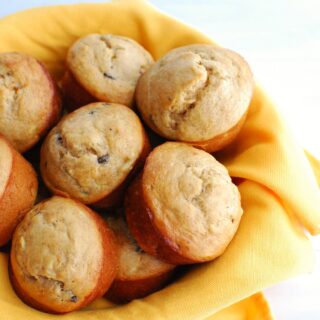 Chocolate Chip Banana Protein Muffins
These chocolate chip banana protein muffins are packed with delicious flavor that makes for the perfect healthy sweet treat!
Ingredients
3

ripe bananas, mashed

1

tsp

cinnamon

1

tsp

vanilla

1/4

cup

oil of choice

(avocado, canola, coconut, etc)

1

egg

1/3

cup

brown sugar

1 1/4

cup

flour

(ideally whole wheat, but all-purpose flour works too)

1/2

cup

vanilla protein powder

(I used whey)

1

tsp

baking powder

1/2

tsp

baking soda

1/4

tsp

salt

1/2

cup

milk

1/3

cup

dark chocolate chips
Instructions
Preheat the oven to 350 degrees. Grease a 12-count muffin tin.

In a large bowl, combine the bananas, cinnamon, vanilla, oil, egg, and brown sugar. Mix well.

Add the flour, protein powder, baking powder, baking soda, and salt. Stir the ingredients until just combined.

Add the milk and mix until everything is combined. Fold in the chocolate chips.

Pour the batter evenly into each spot in the muffin tin, filling almost completely. Bake for approximately 20 minutes, or until muffins are golden brown on top and a knife pulls out clean. Let cool for a few minutes in the pan, then remove from the pan and allow to finish cooling. Enjoy.
Notes
Notes:  For best results, spoon the flour into your measuring cup. If you scoop it in, sometimes it can be a bit denser – if that's the case and your batter is too thick, just add a little more milk.
Nutrition analysis (approximate per muffin): 193 calories, 7 g fat, 1.5 g saturated fat, 160 mg sodium, 27.5 g carbohydrate, 2 g fiber, 13.5 g sugar, 6 g protein, Vitamin A: 1%, Vitamin C: 4%, Calcium: 7%, Iron: 6%
Nutrition
Share:  What's your favorite type of muffin to bake?  If you tried these banana protein muffins, what did you think?
Feel free to pin this post to refer to later!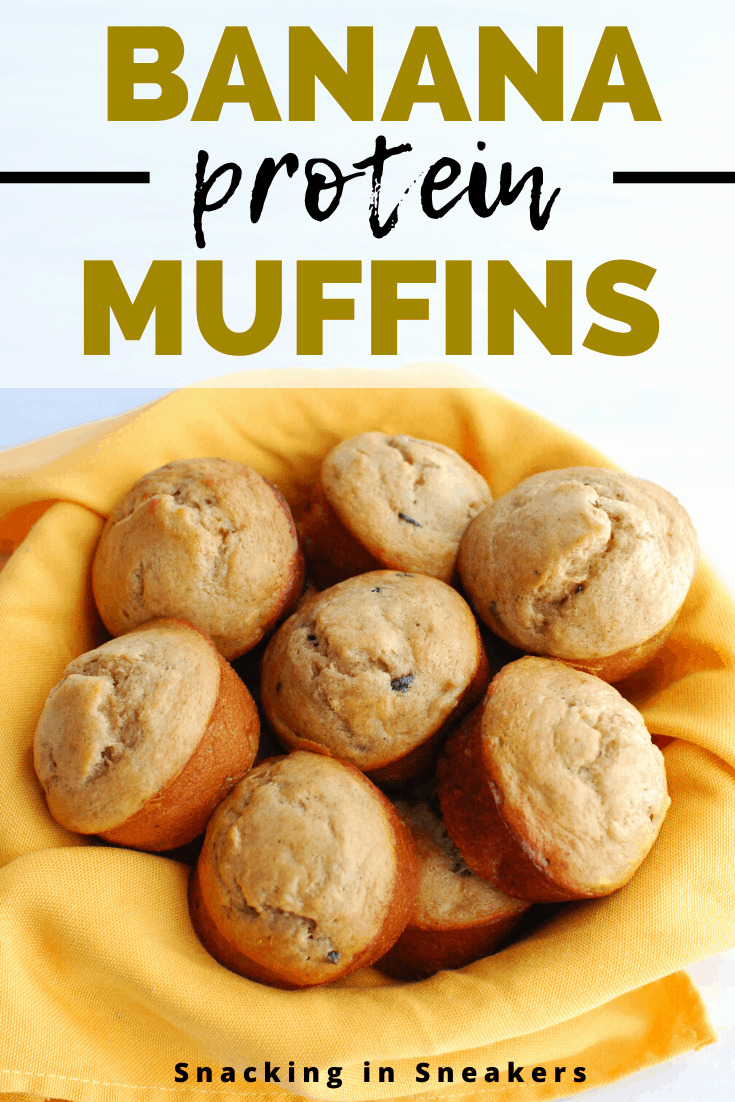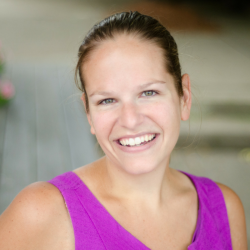 Latest posts by Chrissy Carroll
(see all)