You know you can eat a sweet, juicy slice of watermelon…but did you know you can also eat the white rind? This recipe for coconut watermelon muffins uses both parts of the watermelon! The result is a sweet muffin with a tender crumb that's great as part of your breakfast, an easy snack, or even a light dessert.
Disclosure: This post was sponsored by the National Watermelon Promotion Board. As always, all opinions are my own.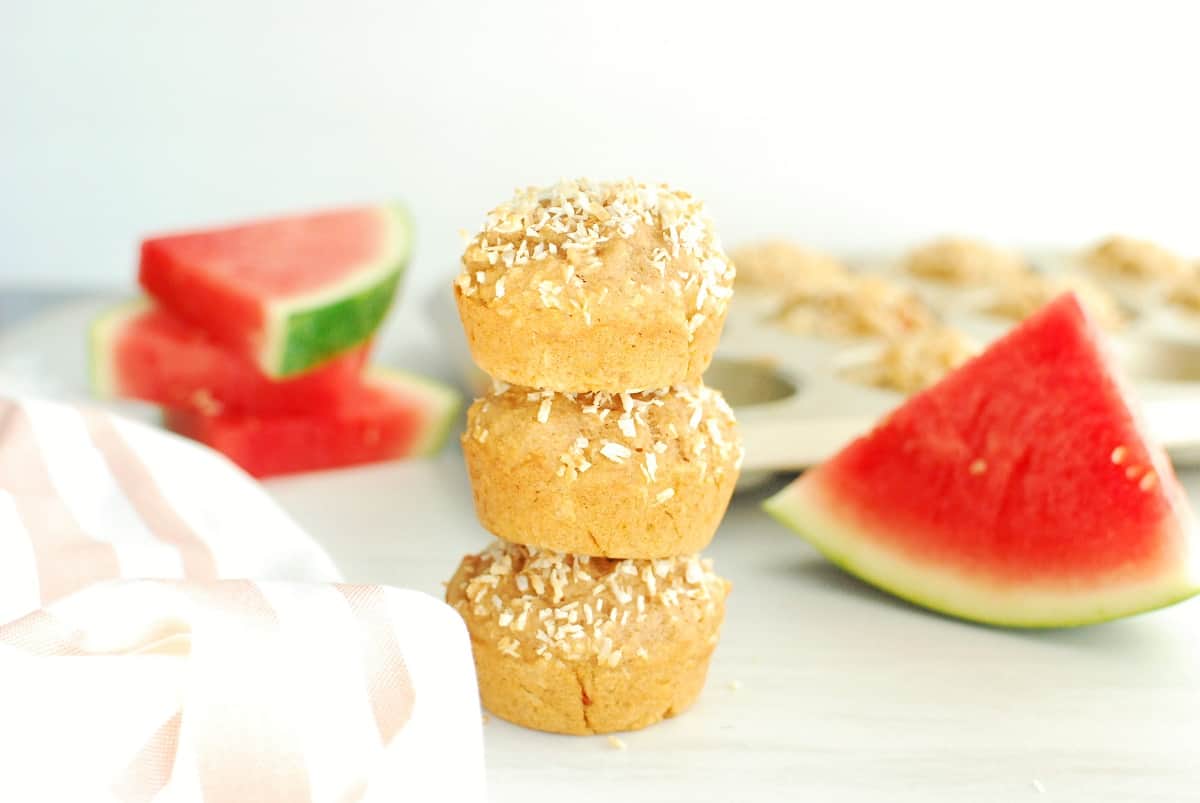 Why Use Watermelon Rind?
Why not! 😉 For real though, using all edible parts of our food means reducing food waste and stretching our grocery dollar. Why throw something away when we can make perfectly delicious recipes with it?
In this particular recipe, the rind helps add moisture to the muffin, which is a welcome addition with the use of whole wheat flour. Blending the rind and flesh together and adding it to the batter means you'll bite into a muffin that's soft and delicate rather than dry.
Ingredients
Here's a photograph of everything you'll need to make this recipe, along with selected ingredient notes: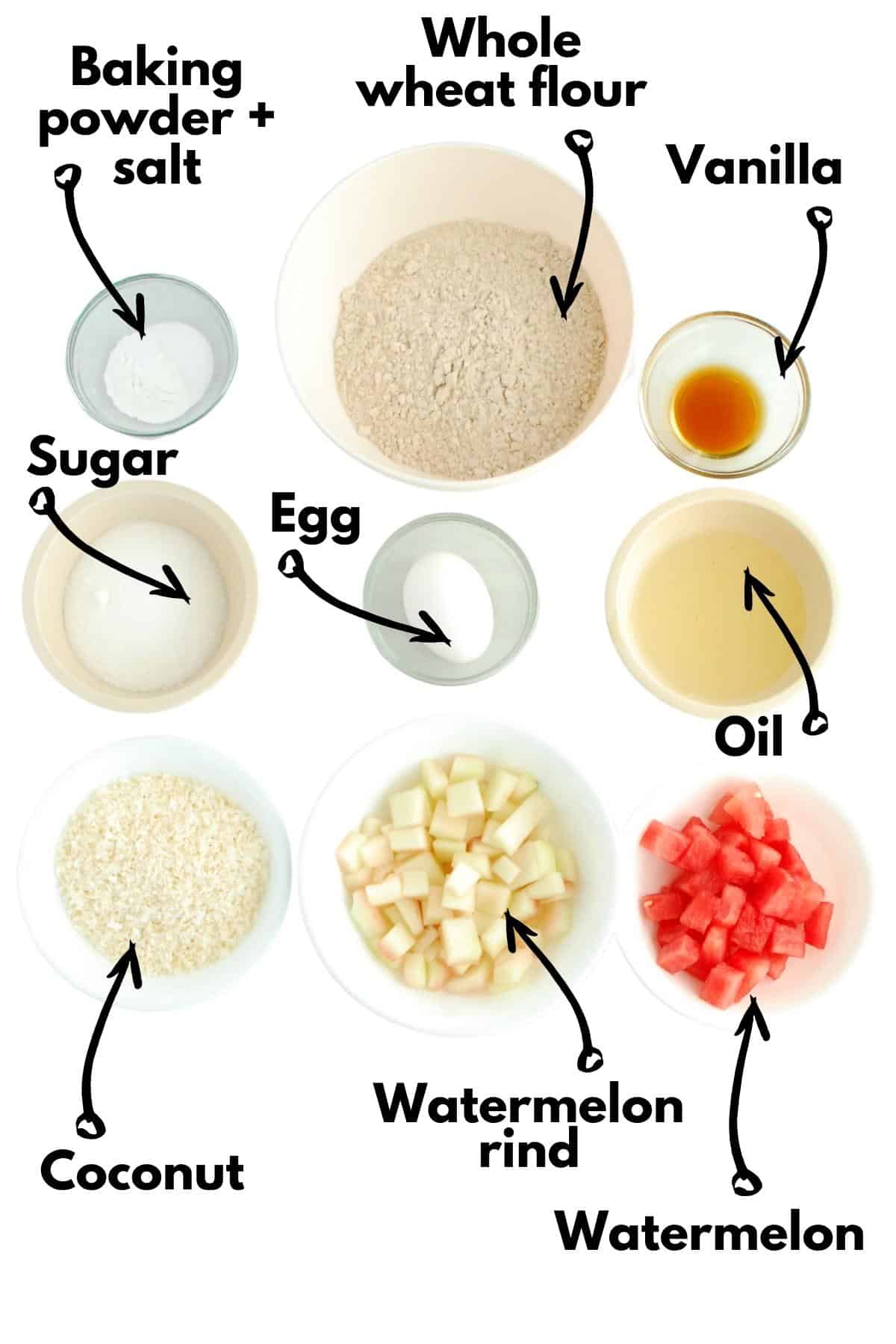 Watermelon rind – The watermelon rind is the firm white-green part of the watermelon between the flesh and the outer green skin. While it's often thrown away, it's actually completely edible and can be delicious. For this recipe, you'll use 1 cup of rind. You'll have extra left from your watermelon to use for other recipes!
Whole wheat flour – Whole wheat flour is made with the entire grain kernel, meaning it retains more minerals, fiber, and phytonutrients. If you prefer using white flour instead, though, feel free.
Avocado oil – I like this in baking because it has a very neutral flavor that allows the other ingredients to shine through. You can also use canola oil, vegetable oil, or olive oil (note that some olive oils will leave a hint of fruity olive taste after baking, though).
Instructions
Ready to bake? This recipe is easy and you'll find the full ingredient amounts and instructions in the recipe card below, but here's a quick overview with photos.
If you haven't yet broken down your watermelon, go ahead and do that. You're going to cut the rind off the bottom of slices of watermelon, then carefully cut the green peel off as shown below (as an alternative, you can cut off large chunks and use a peeler on the outside to remove that green peel).
Discard the green peel, then roughly chop up the rind to get enough for the recipe.
Mix together the flour, baking powder, and salt in a bowl. Set that aside for now.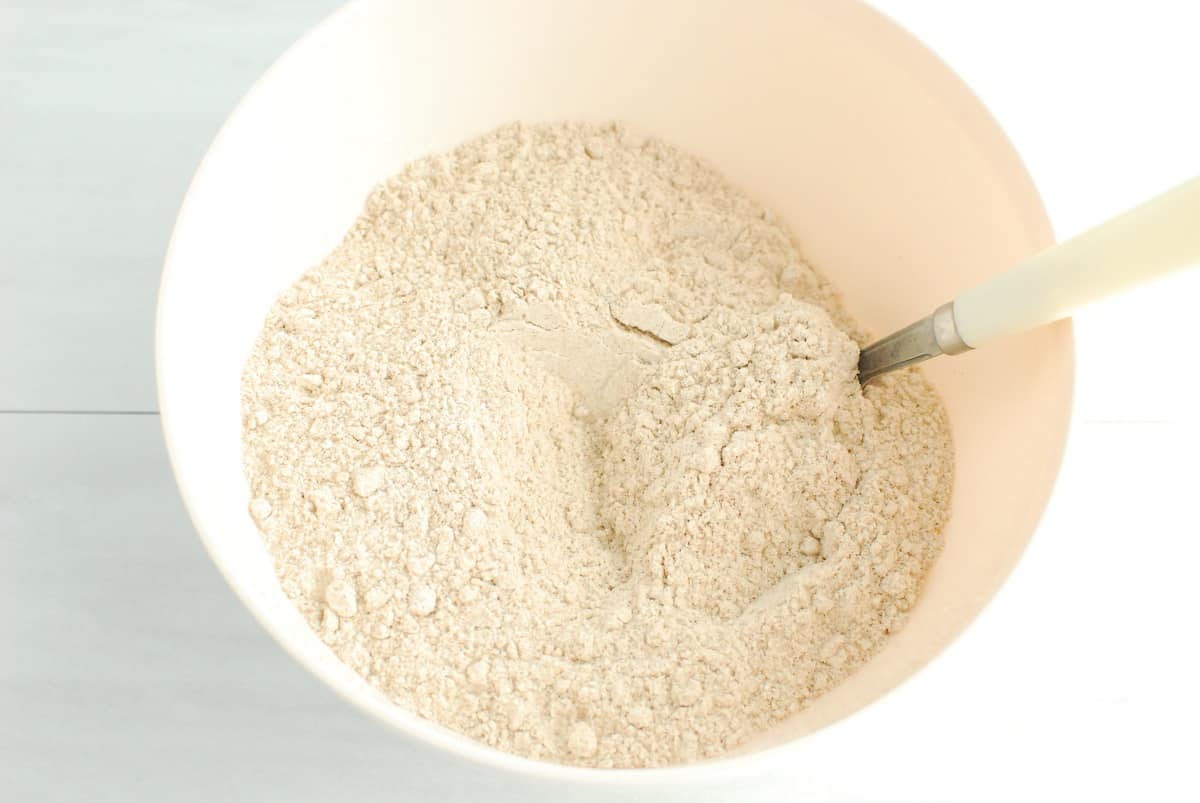 Next, add the watermelon rind and watermelon to a blender cup (or traditional blender). Blend for about 30-60 seconds, until the mixture is smooth.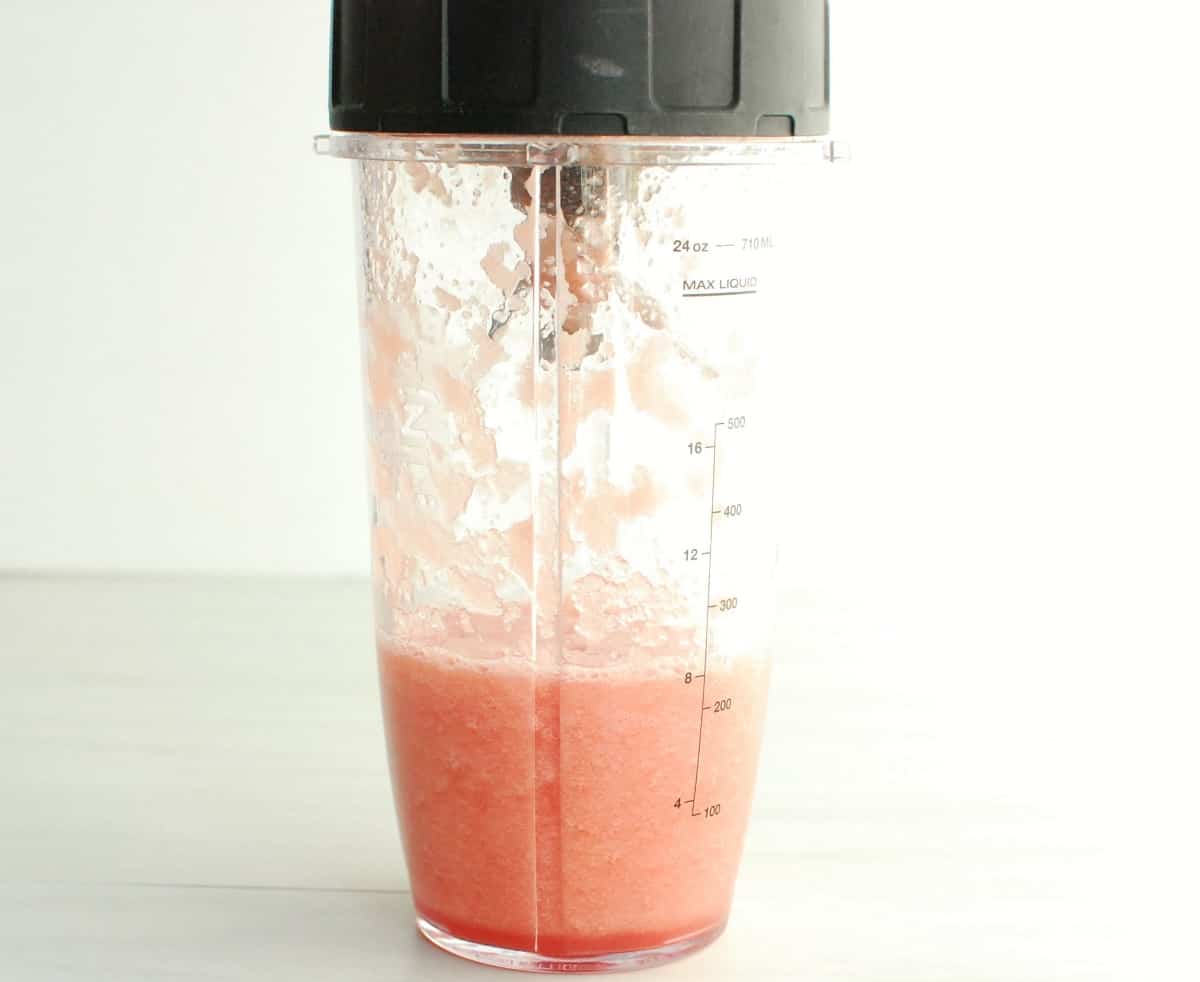 In a large bowl, mix together your watermelon puree, avocado oil, sugar, egg, and vanilla. Whisk it all until it's well combined.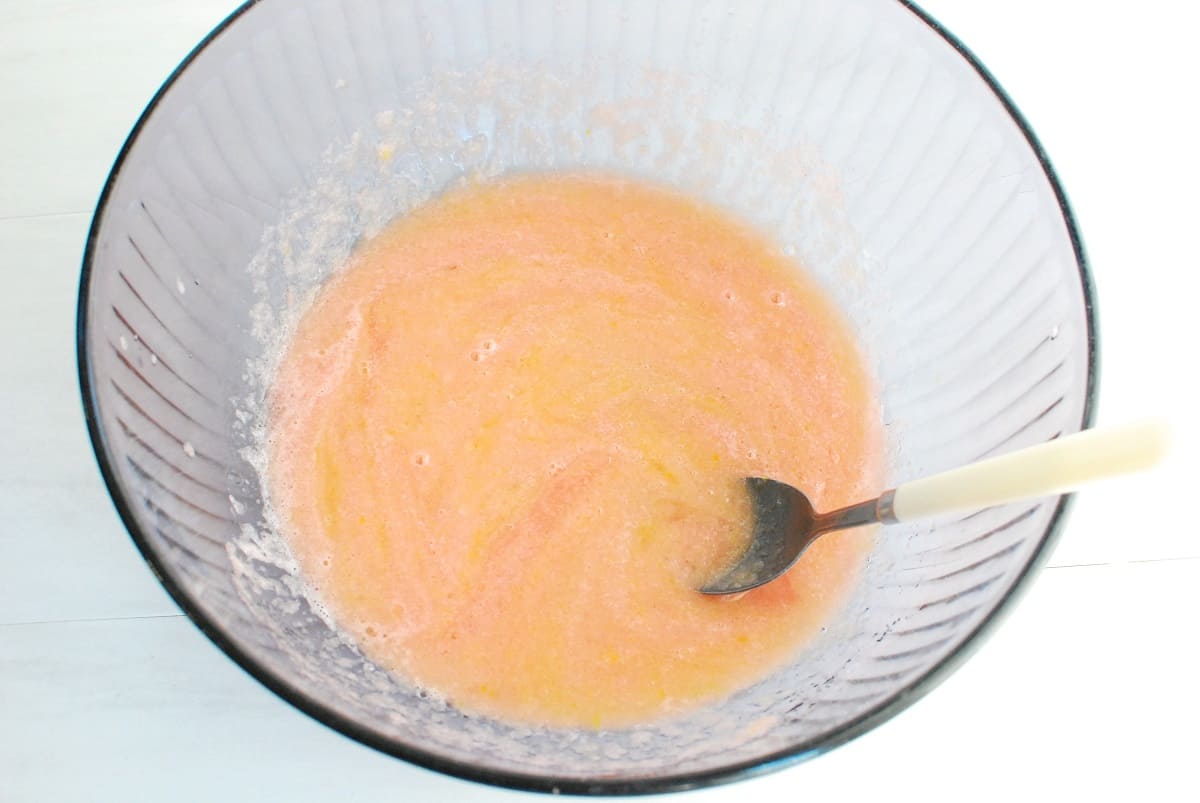 Pour in the bowl with the flour mixture and give it a few stirs until it's just combined.
Then fold in most of your coconut, reserving some to sprinkle on top of the muffins though.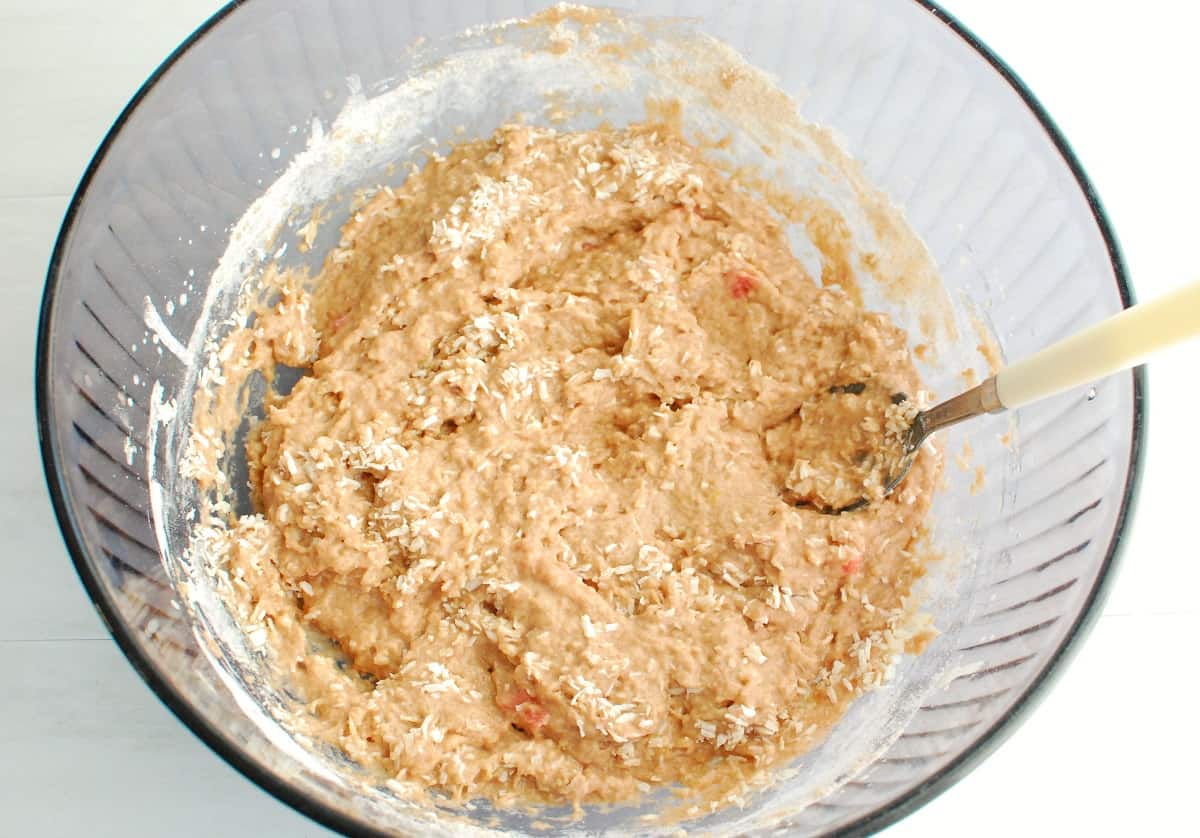 Pour the batter into a greased muffin tin, then top with that extra coconut.
Bake, cool, and enjoy!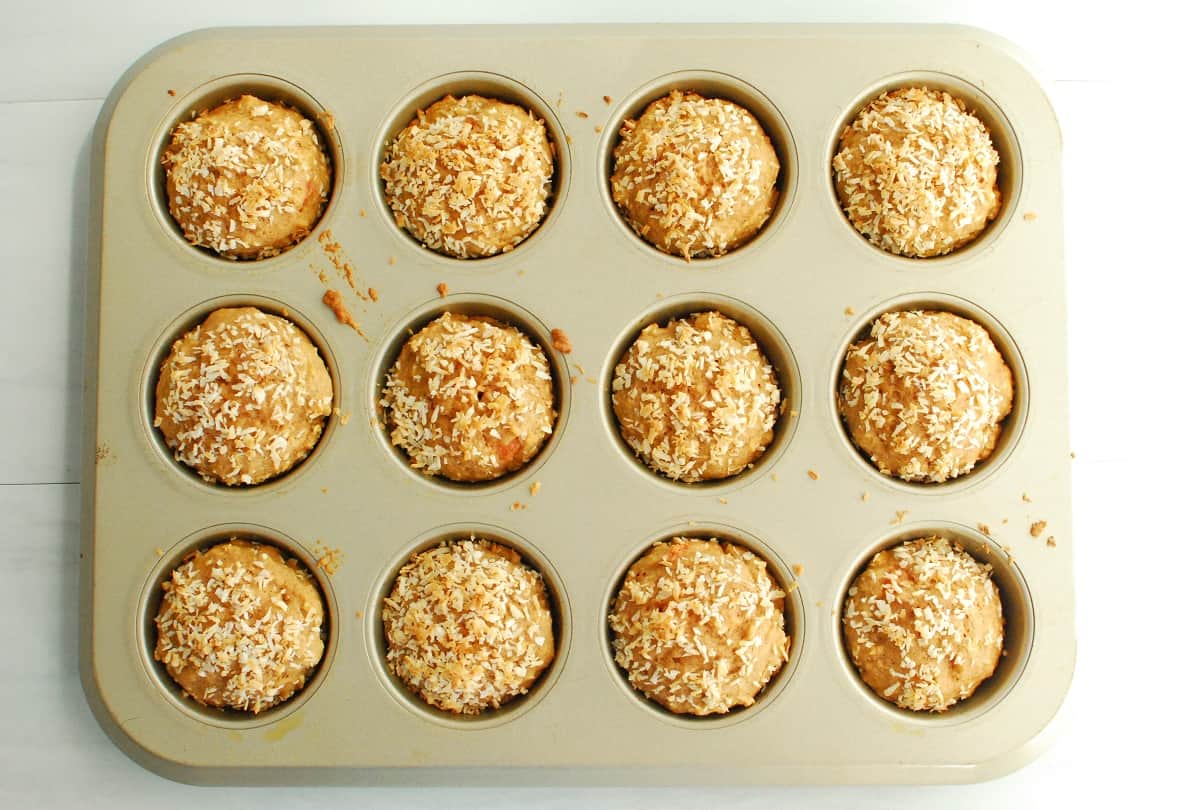 Recipe FAQ
Here are some common questions that may come up as you prepare this recipe:
How should you store coconut watermelon muffins?
Store at room temperature in an airtight container for up to 2 days. If you don't plan to eat them by then, store the rest in the freezer and defrost when ready to enjoy.
Can you freeze coconut watermelon muffins?
Yes. Place extra muffins in a zip-top bag, and store in the freezer for up to 3 months. If you don't plan to eat them from the freezer within a few weeks, it's recommended you wrap each muffin individually in plastic wrap first, then place in the zip-top bag to prevent long-term freezer burn.
Can this recipe be made vegan?
You can make this vegan by swapping the egg for a "flax egg", made by combining a tablespoon of flaxseed with 2 ½ tablespoons of hot water.
Can you freeze extra watermelon rind?
Yes, simply dice it then freeze in a freezer-safe container or bag. Frozen rind is best used for cooked dishes.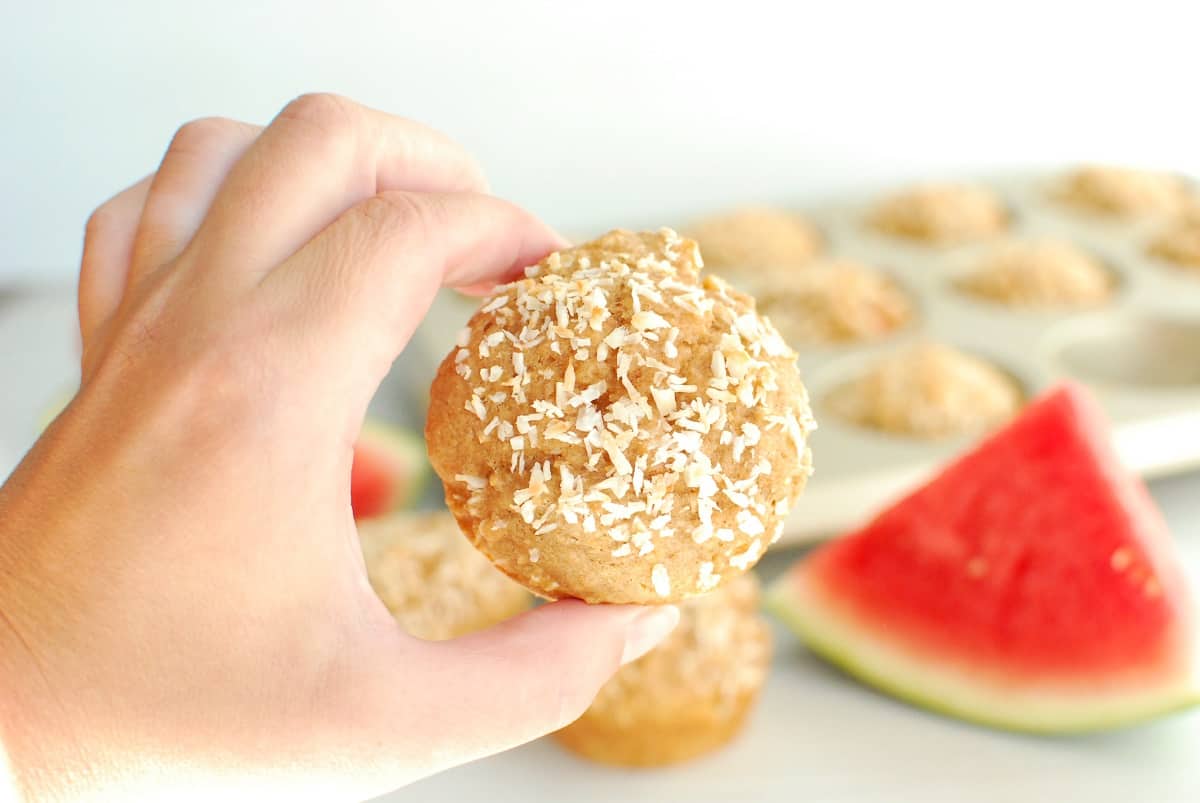 More Watermelon Rind Recipes
Got more watermelon rind to use? (Of course you do!). Try one of these delicious recipes:
I hope you enjoy these muffins as much as I do! They're perfect for a nutritious snack or adding to a balanced breakfast.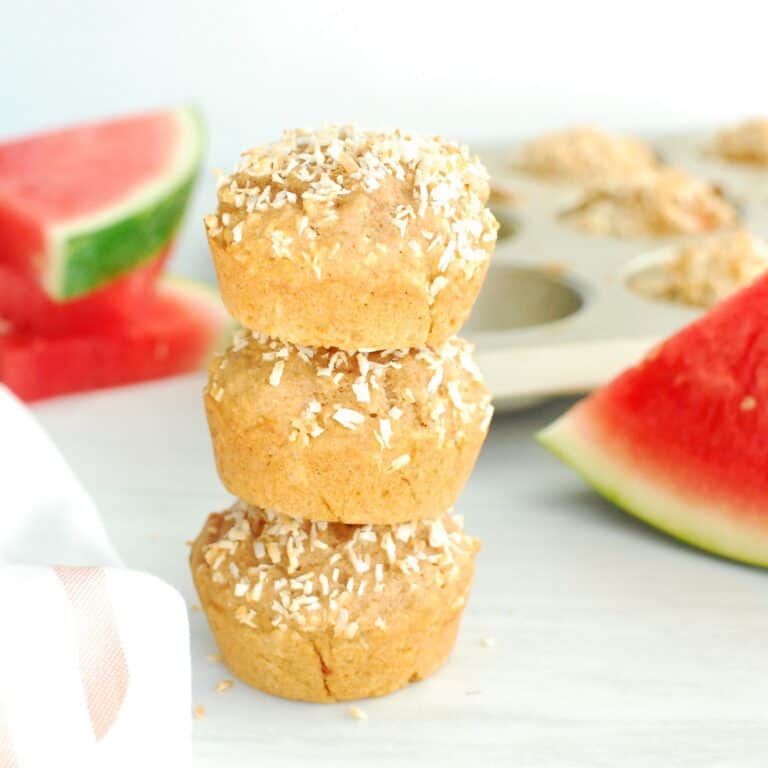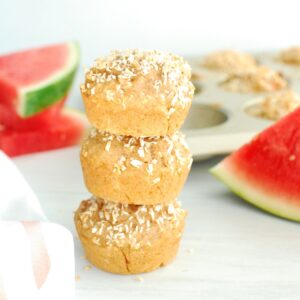 Coconut Watermelon Muffins
These coconut watermelon muffins are a nutritious, lightly sweetened treat for breakfast or a snack!
Ingredients
1 ⅔

cup

whole wheat flour

2

teaspoons

baking powder

½

teaspoon

salt

1

cup

chopped watermelon

1

cup

chopped watermelon rind

⅓

cup

avocado oil

(or canola oil)

⅓

cup

granulated sugar

1

large egg

1

tsp

vanilla

¾

cup

unsweetened shredded coconut

divided
Instructions
Preheat the oven to 350 degrees F. Grease a 12-count muffin tin.

In a medium mixing bowl, combine the flour, baking powder, and salt. Set aside for now.

Add the watermelon and watermelon rind to a blender. Blend until smooth.

In a large bowl, mix together the watermelon mixture, avocado oil, sugar, egg, and vanilla.

Add the flour mixture and stir until just combined. Fold in ½ cup of the coconut. (The batter will be a little thick, this is normal for this recipe).

Portion the batter into the greased muffin tin. Top with the remaining ¼ cup of coconut.

Bake at 350 degrees F for 16-19 minutes, or until a toothpick pulls out clean. Let cool in the pan for five minutes, then remove muffins and allow to finish cooling on a metal rack. Enjoy!
Notes
This makes a lightly sweetened muffin. If you prefer a sweeter muffin, increase the sugar to ½ cup.
Sweetened coconut can be substituted for unsweetened coconut if desired.
Please note that the nutrition analysis below should be considered an estimation, and not a precise analysis. There is no USDA database entry for watermelon rind. We have estimated the nutrition content of the watermelon rind below.
Nutrition analysis (approximate per serving): 177 calories, 10 g fat, 4 g saturated fat, 190 mg sodium, 20 g carbohydrate, 3 g fiber, 6.5 g sugar, 3 g protein, Vitamin D: 0%, Calcium: 4%, Iron: 5%, Potassium: 2%
Nutrition
Share: Have you ever cooked with watermelon rind? What did you make? If you tried these muffins, what did you think?
Feel free to pin this post to share with others.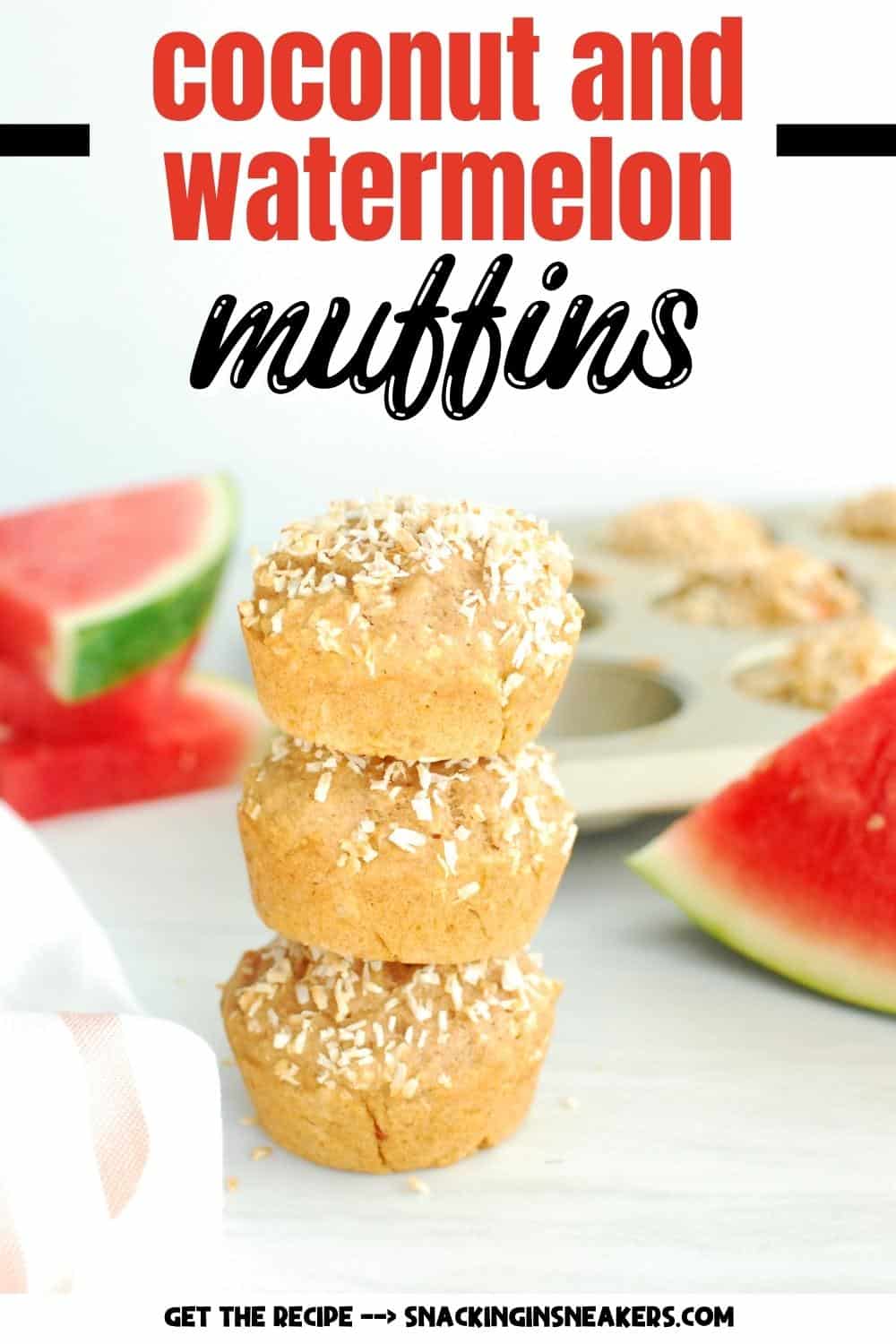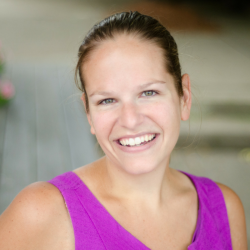 Latest posts by Chrissy Carroll
(see all)