Craving a sweet and salty snack combo? Look no further than this popcorn trail mix! It's a blend of salty stovetop popcorn, rich pecans, flavorful dried fruit, and a sweet chocolate chickpea snack. This filling treat is sure to be loved by kids and adults alike.
Disclosure: This post is sponsored by Grabanzos. As always, all opinions are my own.
Why add popcorn to trail mix?
If you're a trail mix traditionalist, you might be wondering why anyone would add popcorn to their trail mix. The reason I love to? You can add a lot of volume to make it a more satisfying portion while still keeping it at a reasonable calorie count.
For example, this recipe makes eight 1-cup servings that clock in at just 145 calories each. But if you were to eat a cup of regular trail mix, you're looking at around 500-700 calories in that portion.
Keep in mind there's absolutely nothing wrong with regular trail mix; that calorie-dense option is clutch in many situations (like athletes with high calorie needs or fueling on a long hike).
But for at-home snacking when I want a lighter yet still crave-worthy option, this recipe is one of my favorites. Plus, research has shown that both nuts and popcorn promote satiety (source).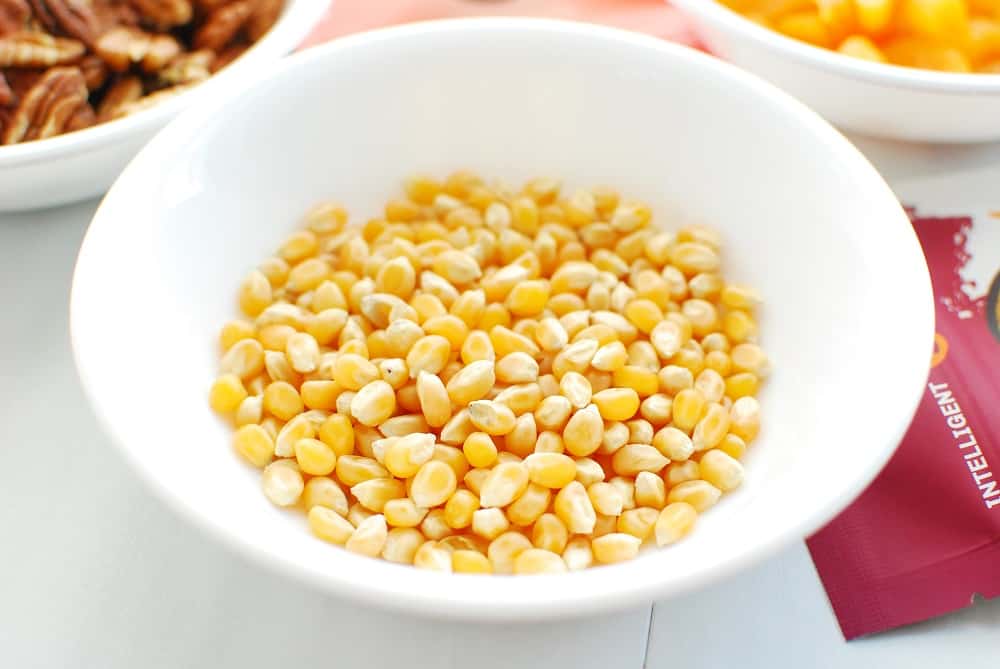 How to make this recipe
Alright, ready to give it a whirl yourself? You'll only need a handful of ingredients:
Olive oil (or coconut oil)
Popcorn kernels
Salt
Pecan halves
Grabanzos (one each of the milk and dark chocolate varieties – more on these below!)
Dried apricots (optional; you can also use another dried fruit)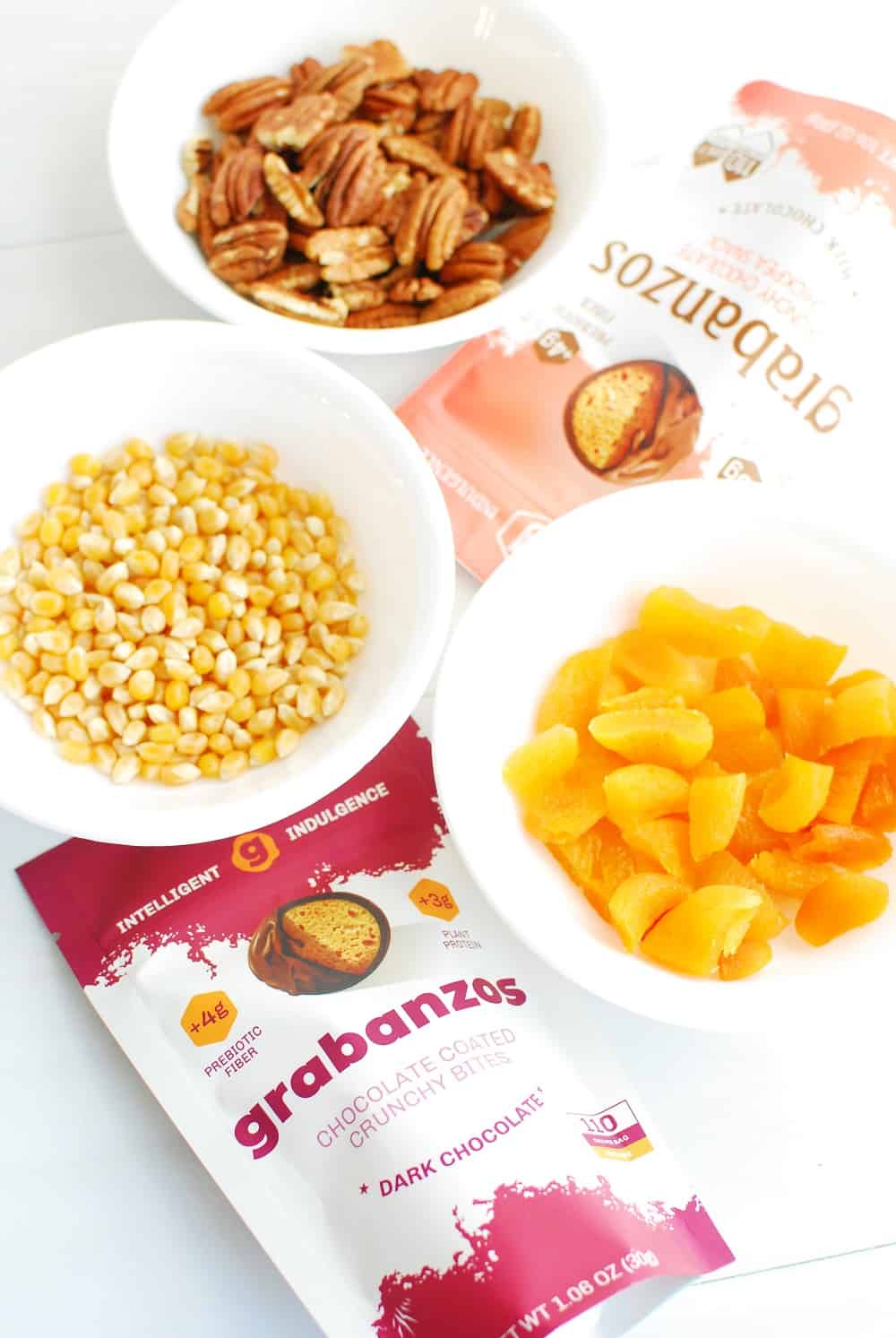 You'll start by popping your popcorn kernels on the stovetop. If you've never done this before, it may seem a little intimidating – but I promise, it's so easy!
To start, you just need to drizzle a little olive oil in a pan, and place just 2 or 3 of the kernels in there with it.
Heat those over medium heat until those two kernels pop. Then pour in the rest of your kernels and give everything a little shake.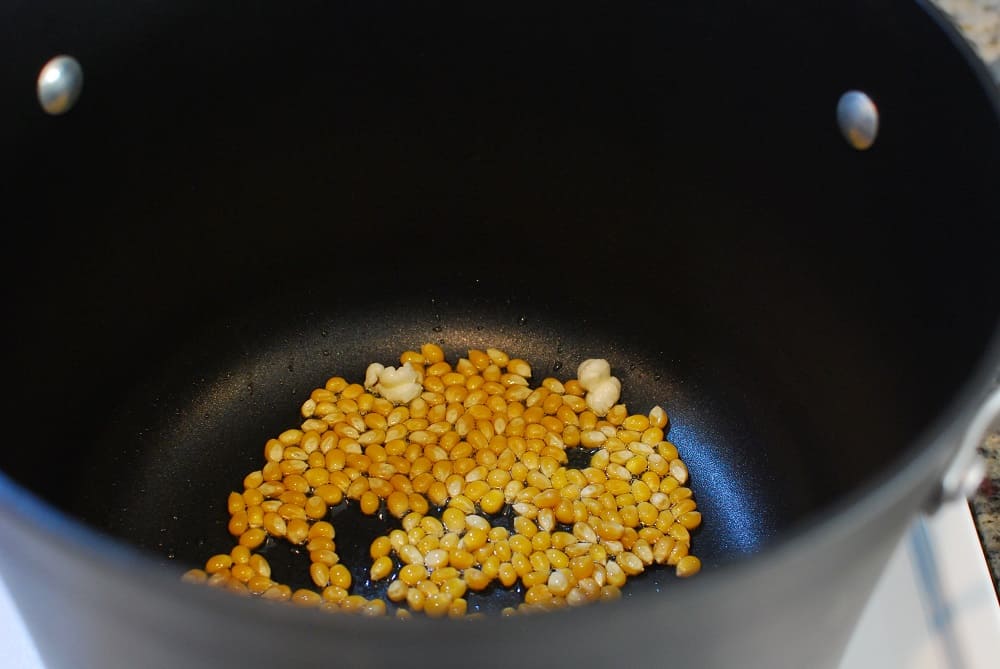 Cover with a slightly ajar lid, and let the rest of 'em pop! It should only take a few minutes. Once the popcorn is ready, you'll toss it with some salt and let it cool down for a few minutes.
Then mix in your other trail mix ingredients – pecans, Grabanzos, and dried apricots!
The dried apricots are optional here. I like them in the mix; my husband is not a fan and just prefers keeping it salty and chocolatey. You can test this recipe with and without to decide your preference. You can also use other dried fruits, like chopped dried apples, dried mango, or dried cranberries.
Now that it's all mixed up, you can dig in and enjoy! Store it in an air tight container or zip top bag at room temperature; it will stay fresh for a few days.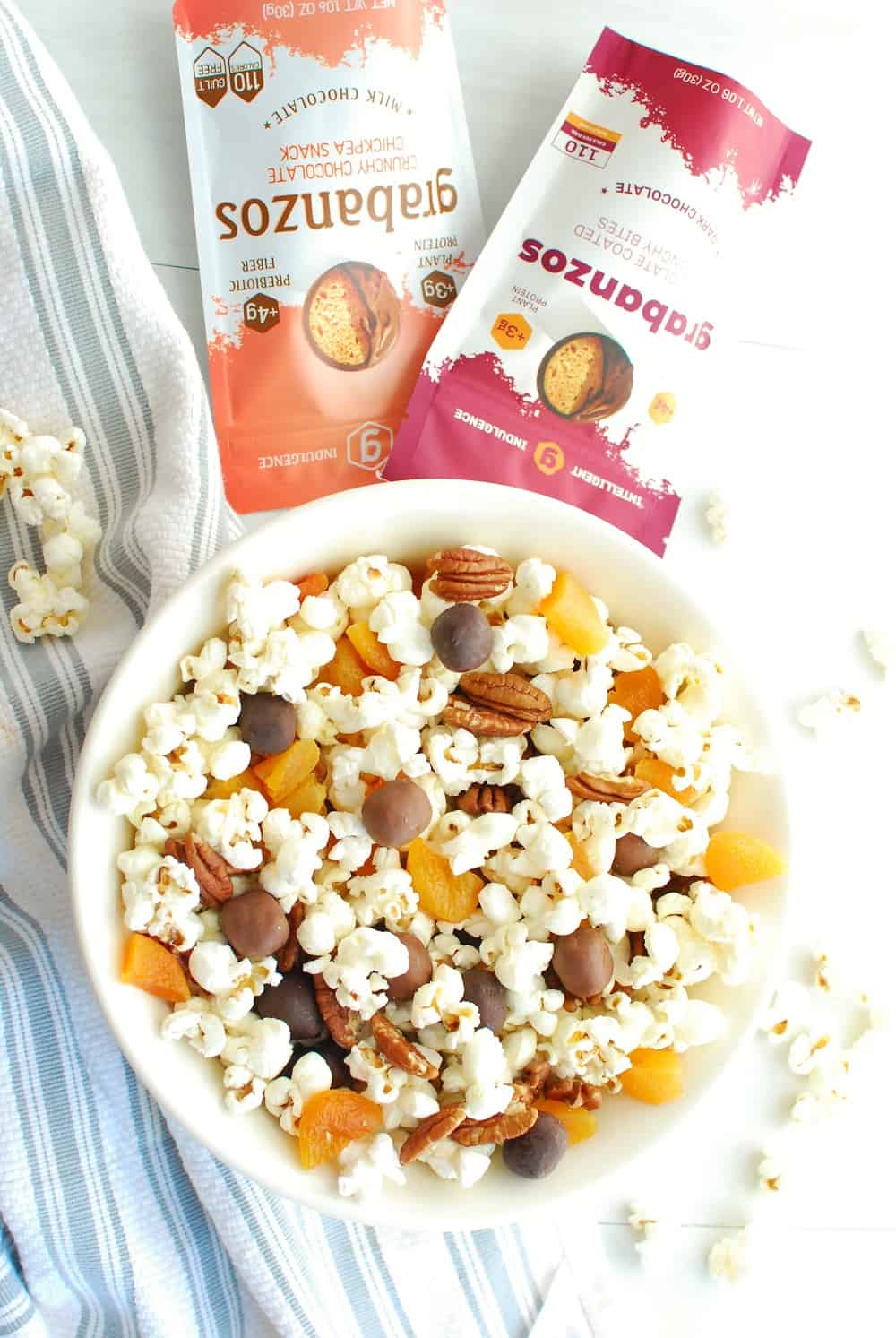 What are Grabanzos?
If you're reading this wondering "what the heck are Grabanzos?!" – let me fill you in, my friend! They are one of my very favorite better-for-you chocolate snacks.
It's a crunchy chickpea snack that comes coated in either milk chocolate or dark chocolate. Somehow, the magical geniuses over there have developed a chickpea snack that legit tastes like chocolate candy. I don't know how they do it, but I'm here for it!
In this popcorn trail mix, the Grabanzos add another textural element and give you the sweetness that balances the salty popcorn. But you can also just buy them to snack on as-is, too.
Each snack-size bag of Grabanzos is just 110 calories and packs in 4 grams of digestive-friendly fiber, making it ideal for a grab-and-go treat. They contain mostly soluble fiber, which is a prebiotic that helps feed the good bacteria in your gut (source).
And I'm a big fan of the dark chocolate ones – especially for runners! – since they contain more antioxidant-rich cocoa and pack in 10% of your daily iron needs (key for healthy oxygen flow in the blood).
I'd love for you to grab some to try out – whether you want to snack on 'em as-is or make this recipe! Visit the Grabanzos website and use code CHRISSY06 to score 15% off your order (y'all know I love a good discount).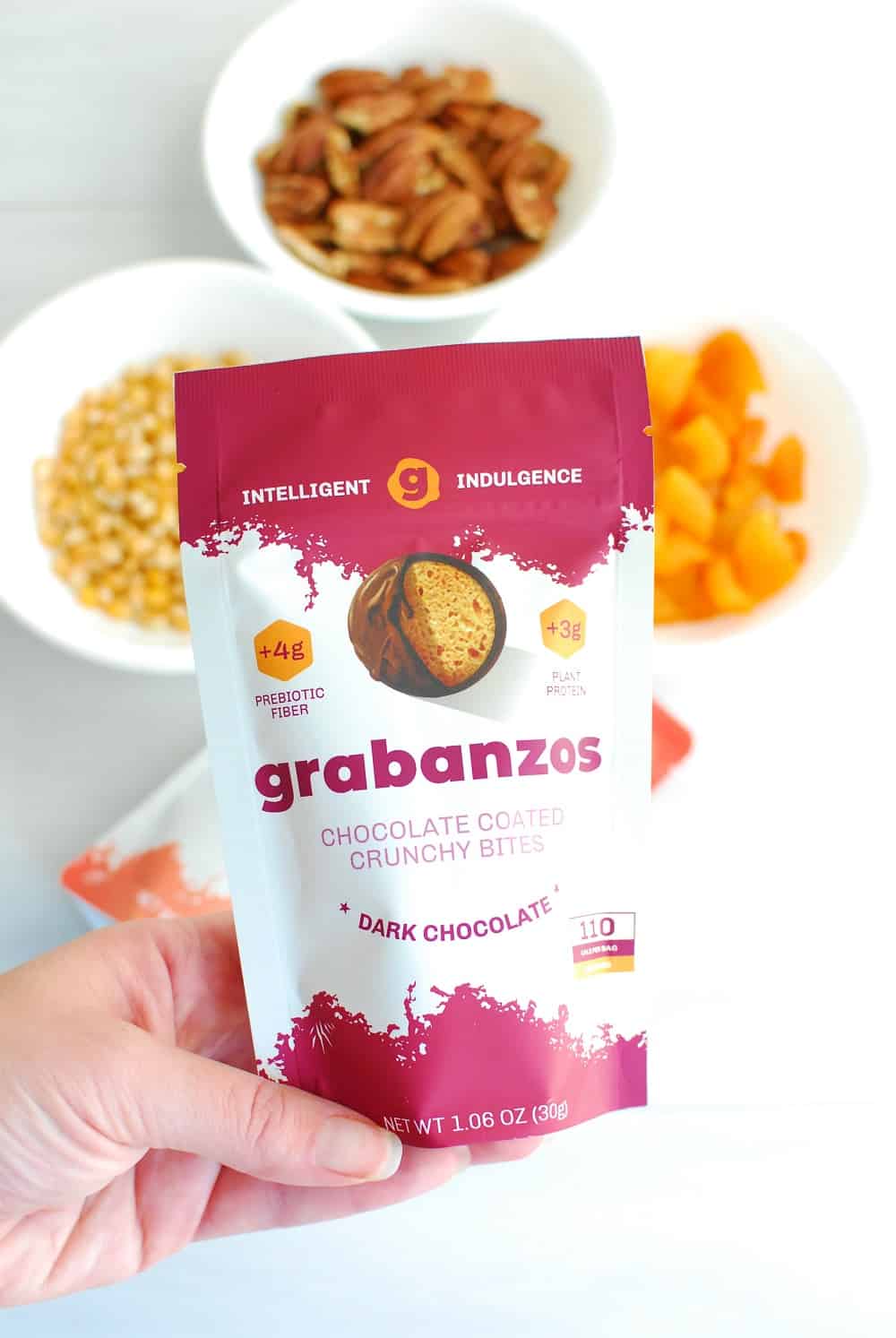 Other Trail Mix Add-Ins
I obviously love the combination of ingredients in this recipe, but you don't have to let yourself be limited to it. Here are some other options that you can consider for your popcorn snack mix. Get creative!
Walnuts
Almonds
Macadamia nuts
Peanuts
Dried mango
Dried pineapple
Dried apples
Coconut chips
Shredded coconut
Banana chips
Chocolate chips
White chocolate chips
Cacao nibs
Beef jerky
Pretzels
Rice squares cereal
Toasted oat cereal
Sesame sticks
I hope you enjoy this popcorn trail mix as much as I do! If you have a chance to try it, please do leave a recipe rating or comment below. And don't forget to grab your Grabanzos so you're ready to make this!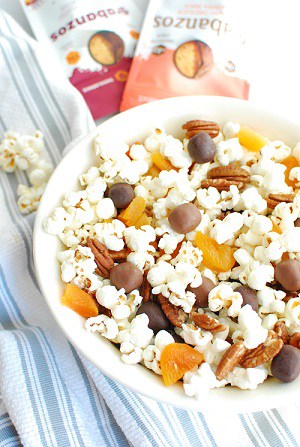 Popcorn Trail Mix
Craving a sweet and salty snack combo?  Look no further than this popcorn trail mix!
Instructions
Pour the olive oil into a large pot, and place 2 to 3 individual popcorn kernels in the pot. Turn on the heat to medium, cover with a slightly ajar lid, and wait for those kernels to pop.

When that happens, pour in the remainder of the popcorn, giving the pot a little shake to ensure all the popcorn is evenly coated. Cover the pot again with a slightly ajar lid. The rest of the popcorn kernels will start popping fairly quickly. Continue cooking until sound slows to a few seconds between pops, at which point remove from heat.

Toss the popcorn with the salt in the pot, then pour into a large bowl and let cool for a few minutes.

Mix in the pecans, Grabanzos, and dried apricots (if using). Enjoy!
Notes
Notes: This recipe makes 8 servings of approximately 1 cup each.
Nutrition analysis (approximate per serving): 145 calories, 8 g fat, 1.5 g saturated fat, 140 mg sodium, 17.5 g carbohydrate, 3.5 g fiber, 7.5 g sugar, 2.5 g protein, Vitamin D: 0%, Calcium: 2%, Iron: 5%, Potassium: 6%
Nutrition
Share: What's your favorite sweet and salty snack combo?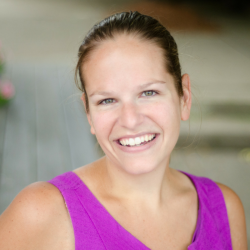 Latest posts by Chrissy Carroll
(see all)