Carbohydrates are always a hot topic for runners. Despite what much of the sensationalism we see villainizing carbs, they are actually super important for runners as they provide the main fuel source for energy. Of course, carbohydrates can vary as far as the nutrients they provide – and as far as their ease of digestion and how quickly they provide energy. Here's a breakdown of some of the best carbs for runners, along with when and how much to eat!
This post is a collaboration between myself and a student helper, Sami, from Boston University. Find helpful tips from both of us in here!
What are carbohydrates?
Let's start with the basics. Carbohydrates are the body's main source of energy. Your brain uses carbohydrate on a daily basis. And your muscles store carbohydrate as glycogen, which they use for energy during exercise.
By eating the right amount of carbohydrates daily (typically around 45-65% for most runners), you're able to stock those muscle glycogen stores with the fuel you need to perform.
As a quick aside, there's a ton of information out there these days on becoming fat adapted via a low-carb keto diet. While yes, a keto diet does shift your body towards burning more fat – that does not necessarily improve performance or health. In fact, several studies have suggested it actually decreases sprint performance. (You can read more about keto and runners here.)
All that said, I'm a fan of a standard diet that includes good sources of carbohydrates.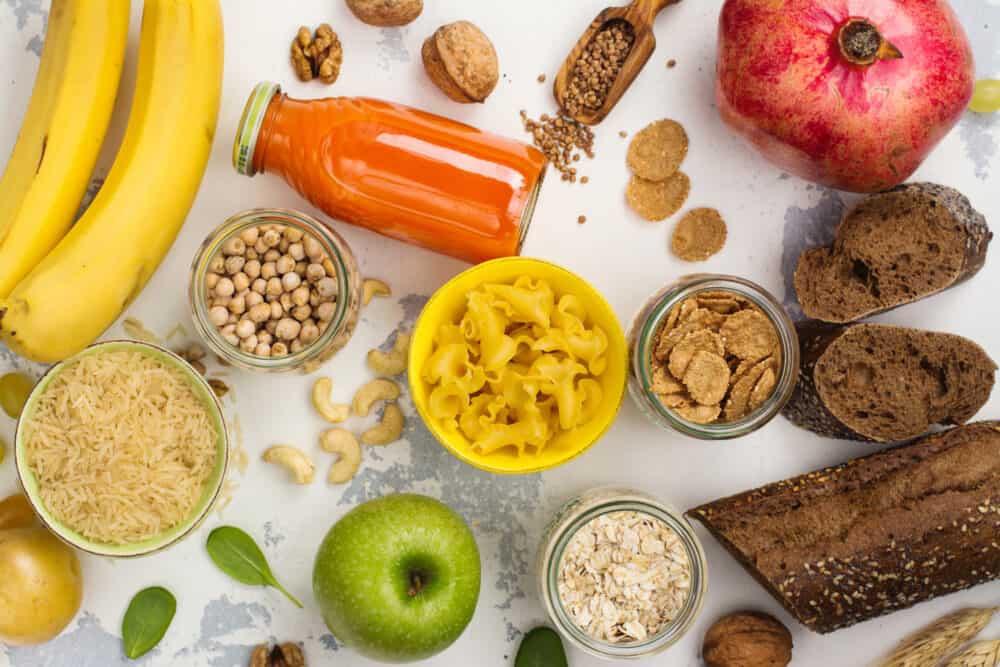 Best carbs for runners in your everyday diet
On an everyday basis, it's wide to include nutrient-dense carbohydrates in the diet. These are the types of carbs that provide vitamins, minerals, fiber, and/or phytochemicals and antioxidants. Essentially, you're looking for the choices that are going to provide additional nutrients to support your health.
Here's a list (though it's by no means exclusive!) of some of my favorite carbs for runners to include regularly:
White potatoes & sweet potatoes
Both white potatoes and sweet potatoes can be valuable choices to include in your diet. Both contain healthy carbohydrates and pack in a ton of potassium. Sweet potatoes also contain Vitamin A. Be sure to eat the skin for added fiber!
Yogurt
Not only does yogurt provide carbohydrates, but it also provides some protein and calcium. As runners, we want to ensure good bone health throughout life – so that calcium is helpful.
Watermelon
With a winning combo of hydration, carbs, and potassium – watermelon is great for any runner to include regularly. Besides your standard slices, you can also mix it into salads, smoothies, or juice it.
Berries
Berries are packed with phytochemicals – plant compounds that help the body in different ways – and are higher in fiber than most other fruits. Consider adding strawberries, blackberries, and raspberries to your meals regularly!
Grapes
Grapes are delish, but can they also be good for performance? Maybe! A 2015 study found that drinking grape juice for a month led to a 15% increase in time to exhaustion compared to baseline. And another study found that grape juice improved some circulatory system markers among triathletes.
Spaghetti squash and zoodles
I'm looping these both into one category because they both tend to be amazing for satisfying that crazy training hunger! Try mixing them into your pasta dishes or creating entirely new dishes (like these spaghetti squash BBQ chicken boats, or this zoodle mac and cheese).
Whole grains
There's a whole lot that fits into this category – whole wheat bread, whole grain pasta, oatmeal, quinoa, barley, brown rice, and more. All of these can be super helpful for creating a balanced and filling meal, as well as providing fiber for digestive health.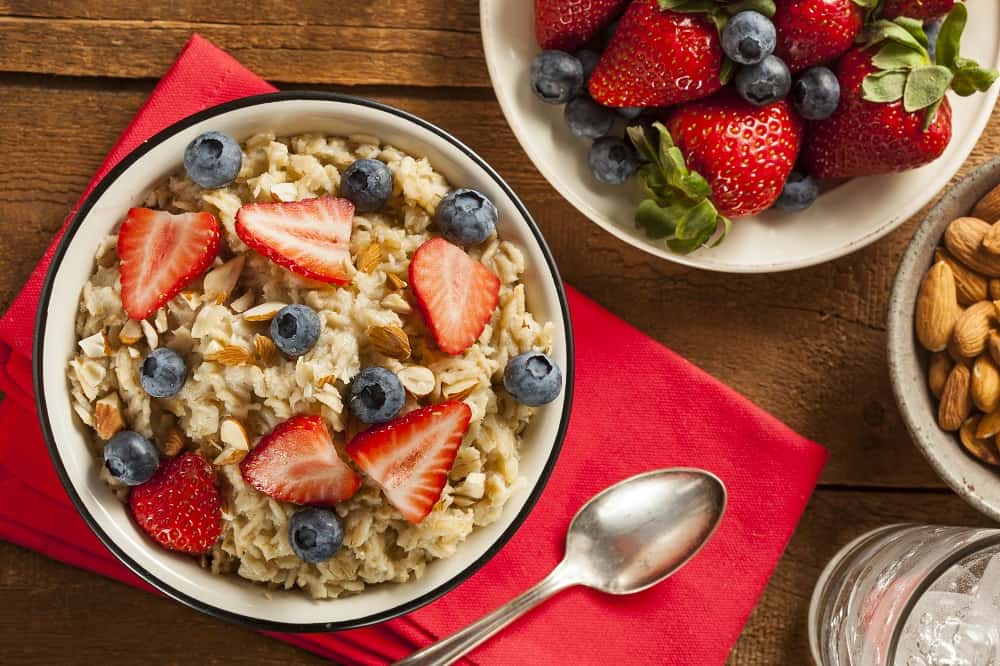 Best carbs before a run: what and how much
When you're headed out for a couple mile run, you don't have to worry too much about pre-exercise fueling. Your last meal or snack will likely tide you over, and you can always enjoy a small snack about an hour before your run if you need a little something extra.
Before a long run, though, eating carbohydrates allows you to "top off' your energy stores and feel fueled and ready to go. It helps power you through those many miles.
If you're going to be running more than 1.5 hours, aim to eat a pre-run meal that's rich in easily digestible carbohydrates and contains some protein. As far as timing, shoot for about 1-4 hours before your run. The specific timing will depend a lot on your workout timing, digestive system, what you like to eat before a run, and how long you're running. For most athletes, a good size meal around 2-3 hours before a long run or race works well.
Originally, experts postulated that foods with a low glycemic index would be good for pre-exercise meals, the theory being that they'd provide more sustainable energy. However, most research shows this is actually not true. For example, a 2017 meta-analysis concluded "There was no clear benefit of consuming a LGI pre-exercise meal for endurance performance."
So what's the best carbs for runners to take in right before exercising?
A food that feels good for your body, that digests easily, and that doesn't contain too much fat or fiber (both of which can leave you running for the porta-potty mid-run). This is the time where you'd want to skip most heavy whole grain products in favor of a refined product.
Here are some examples of good carbs for a pre-exercise meal:
Bagel with a little cream cheese
Ah, the runner's classic! This is by far my favorite pre-race meal. I swing by Dunkin before just about every race, haha. Anyone else with me?
Bagels are great because they're rich in carbs and generally sit well in an athlete's stomach. Cream cheese does have some fat, so if you're eating your bagel very close to your race, be sure to only use a thin layer. If you're eating further out, you've got more time to digest.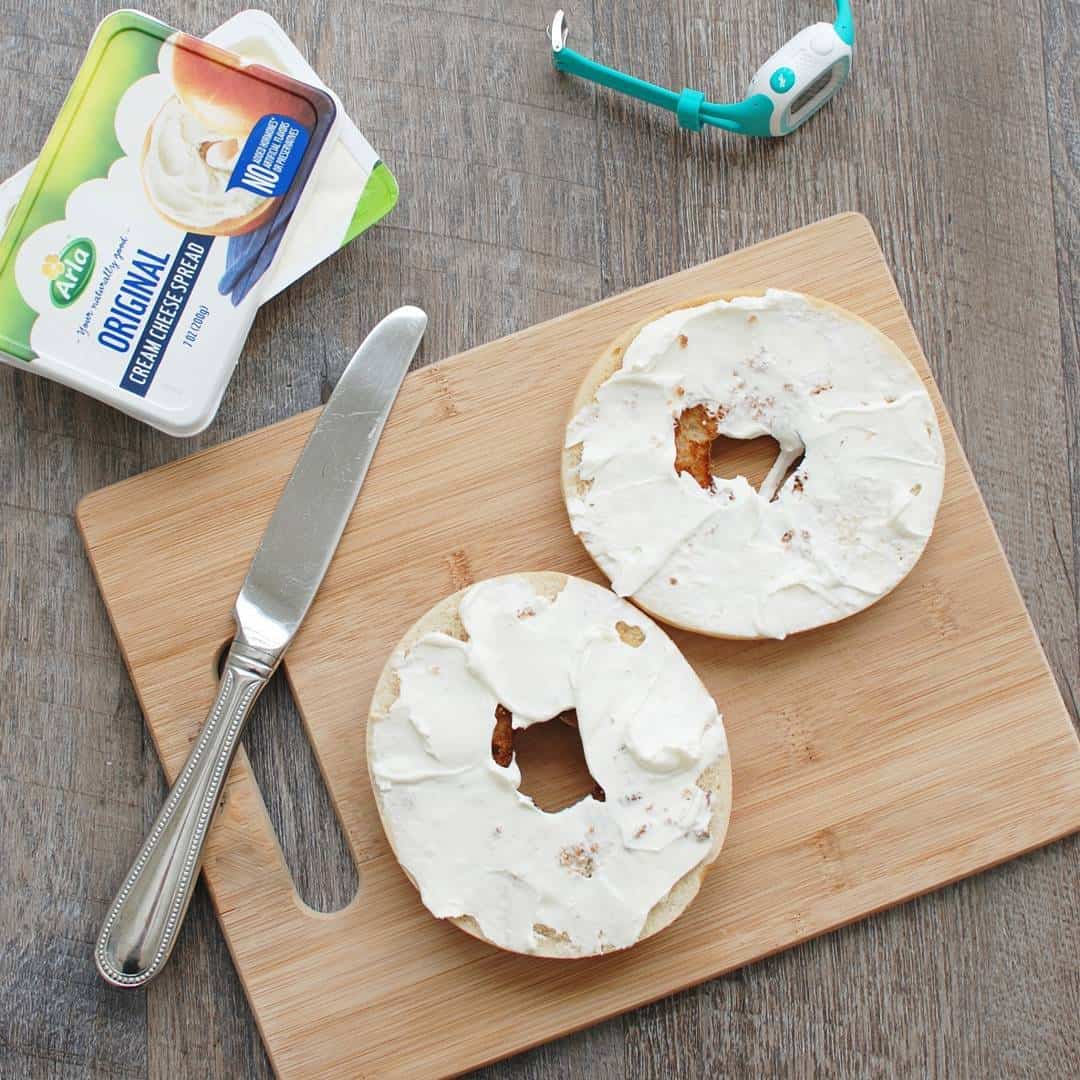 Yogurt and fruit
Dairy fans, rejoice – a bowl of yogurt with some fruit (and maybe a little honey drizzled on) can be an easy way to get your pre-race carbs.
PB&B sandwich
A peanut butter and banana sandwich is a great option for those of you traveling for training or races. You can buy a loaf of bread, a jar of peanut butter, and a bunch of bananas and keep them in your hotel room. Nothing requires refrigeration making it easy to whip up a quick pre-run meal whenever you need it!
Pasta with red sauce
It's the quintessential carb loading choice the night before a race, but it can be also used the day of – especially if you've got a night training session or race. For example, there's an evening triathlon up here in Massachusetts in June that starts at 6pm – so around 2pm, I'll have a nice bowl of pasta in preparation.
[Side note –
carb loading
is beneficial in events that last more than 90 minutes, so don't worry about it if you're training for shorter events!]
Oatmeal with fruit
Oatmeal can be hit-or-miss for people. Some athletes I've worked with complain that the fiber can cause a little GI upset, while others love this hearty morning meal. Let your body be your guide!
Best carbs during a run: what and how much
Fueling during a run varies depending on the distance and time you'll be pounding the pavement. Obviously, a long run training day or running your marathon race requires a bit more energy than if you are running a 5k or a quick morning jog.
You only need to take in carbohydrates during a run when you are out there for more than 75 minutes. Aim for 30-60 grams of carbohydrate per hour, letting your body guide you as far as how much your digestive system can handle and how much you need to keep your energy levels up.
As far as the type of fuel – you want easily digestible carbohydrates, and you want primarily sugars and starches that are absorbed very rapidly. This helps provide energy quicker to your working muscles.
Most sports nutrition products are engineered to include these types of sugar/starch, and include a blend of such. This helps maximize the different types of uptake pathways for quick absorption. For example, many products use a glucose and fructose blend or a maltodextrin and fructose combo.
You can certainly use "whole food" options too. Some people's digestive systems will better tolerate whole foods, while others will do better on a sports-specific product. The only way to know is to test it out!
Here are some good carbs to try during a run:
Sports drinks
Though people love to complain about them, I'm a huge sports drink fan! They're easy to use and for mid-distance races (like a half marathon) they can satisfy your fueling, hydration, and electrolytes all in one shot. If you're not a fan of the store bought stuff, you could try a homemade version like this lemon lime sports drink or this homemade watermelon sports drink.
Energy gels
Most energy gels average around 20-25 grams of carbs per gel packet. Taking one every 30-45 minutes is perfect to meet your fuel requirements. The gels come in a variety of different flavors so everyone is bound to find one they enjoy (ok, ok, maybe "tolerate" is better, haha).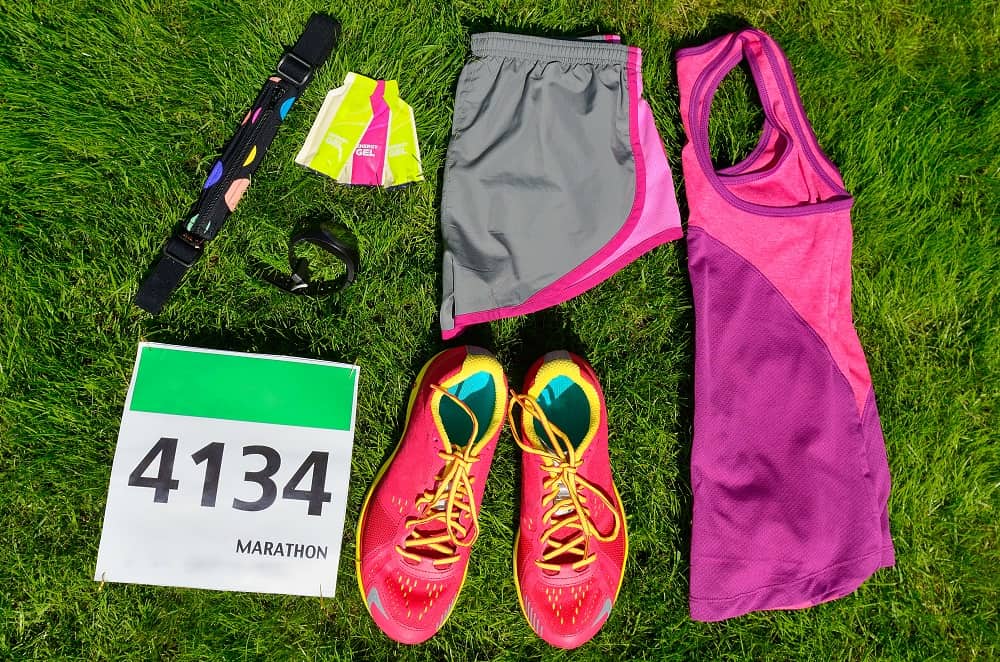 Blocks or chews
These gummy-like products are a nice change for those who may not like the texture of gels. They offer a concentrated energy source in a (fairly) easy to chew format, and taste very good.
Bananas
In addition to being great on an everyday basis, bananas are also useful as fuel during a run. A 2015 study on cyclists found that bananas helped athletes perform a 75 km ride 5% faster compared to water alone. And a 2012 study found no difference between bananas versus a carbohydrate sports drink on cycling performance when it came to time, heart rate, or perceived exertion.
Dried fruits
Many people enjoy trying dried fruit, like dates or raisins, on a run. These are great if you're looking for a more "whole food" approach. Keep in mind that relying on whole foods does mean you'll be taking in more fiber over the course of the event, so just make sure your stomach can handle that by practicing your fueling during training.
Best carbs after a run: what and how much
After a long run or race, carbs are equally important. Your body wants to restock your muscles with energy (aka glycogen) and eating within 30-60 minutes of your long workouts will help your body to do just that.
Now, the importance of recovery fueling is going to vary greatly depending on your training load and competitiveness. For your average person training for a half marathon, your next meals will typically allow for recovery just fine.
But if you're doing runs longer than 1.5-2 hours, or if you're a competitive athlete doing intense shorter sessions, or if you're doing two-a-day workouts – that's when you'll want to hit up the carbs and protein post-workout.
Here are some good meal ideas for the recovery phase:
Chocolate milk
Chocolate milk has a great blend of carbohydrates and protein in an ideal ratio for recovery. It's also very easy to get down. I don't know about you guys, but there are definitely times that I just don't want to eat anything in that first hour after a long workout. But getting down a tall glass of chocolate milk? I can do that!
Smoothie
Similar to chocolate milk, a smoothie can be easy to drink when you're not feeling like eating. Blend carb sources (like fruit, yogurt, juice, and veggies) with proteins (like greek yogurt, nuts, nut butters, tofu, or protein powders) for a great post-workout drink.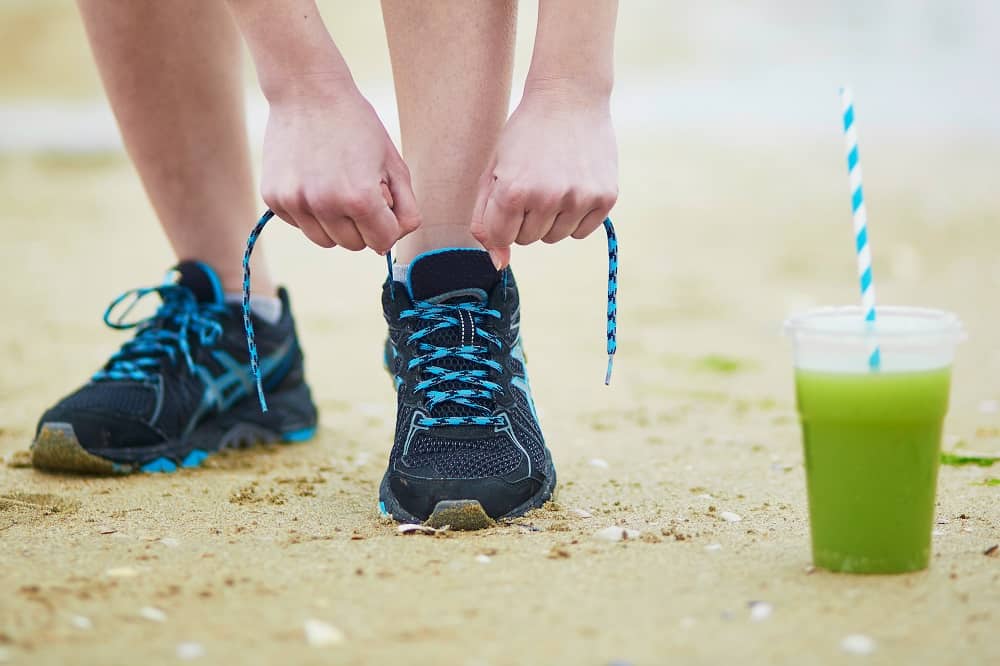 Sandwich with Fruit
No need to get fancy – sometimes a turkey or roast beef sandwich on a bulkie roll with a piece of fruit can satisfy your needs! The roll and the fruit contain the carbs; the meat contains the protein you need as well.
Yogurt Parfait
Load up a bowl of Greek yogurt with fruit, and maybe also a little cereal or a drizzle of honey (yummm). This is a nice way to recover from an early morning long run! Plus, yogurt is one of the best sources of L-leucine in our diet, an essential amino acid involved in muscle repair and recovery.
Tart Cherry Juice
Some research suggests that tart cherry juice may help with recovery, so feel free to enjoy a glass of this with your post-workout meal, mix it into a smoothie, or make popsicles from it!
Final Words
Hopefully at this point, you can see that carbs are essential for runners no matter what distance you're training for. They help fuel your body and without them, your performance can suffer. I hope this post was helpful as you start to think about the best carbs for runners to include in a healthy diet, and when to include them!
Share: Did anything surprise you in this post? Are there any other good carbs for runners that I missed?
This post contains some tips from a student helper, Sami Mirchin! Sami is studying Nutritional Sciences at Boston University. She is very interested in all things health and wellness. She is an avid runner herself and can often be found at the gym or at a local coffee shop guzzling down as much coffee as she can drink. She is studying towards becoming a dietitian and cannot wait to continue cultivating her passion for nutrition. You can find Sami over on LinkedIn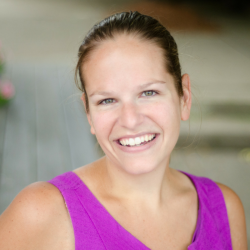 Latest posts by Chrissy Carroll
(see all)