A homemade natural electrolyte drink is a perfect choice for active folks who need to replenish fluids, electrolytes, and carbohydrates!
Disclosure: This post is sponsored by ALDI. As always, all opinions are my own and I only partner with brands I believe in.
I don't know about you, but I'm happy that we are getting a little break from that heat wave we had going on in Massachusetts. I love warm weather, but it gets tough for training when it's 90+ degrees every day. Even a 10 degree change makes a huge difference.
When it is hot out though, you definitely want to focus on hydration. If you or your kids are just having fun outside or you're going for a short jog, plain old water does the trick just fine. But if you're going to be exercising for more than an hour, I definitely recommend a sports drink of some sort.
And what's better than a homemade natural electrolyte drink with just 5 ingredients?!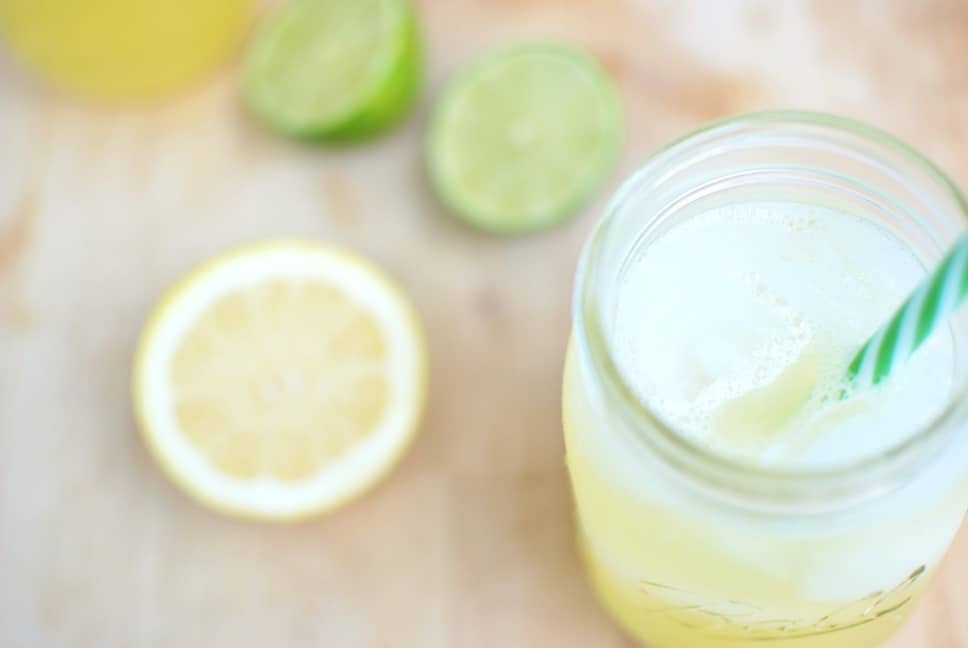 But first, let me fill ya in on why it's important – a sports drink is going to have three important things in there for you:
1) Fluid to keep you hydrated.
I think in the running community we hear so much about over hydration (hyponatremia) that sometimes we get nervous about how much to drink. While hyponatremia is scary and serious, the reality is that far more runners suffer from dehydration in warm weather.
The key is to follow your body's signals of thirst (craving fluid, dry mouth) versus over drinking (sloshing, feeling nauseous). If you're curious to see if you're hydrating right, weight yourself before and after a long workout. If you've lost between 1-2% of your body weight, you're probably spot on. If you've lost 3% or more, focus a bit more on hydration next time.
2) Electrolytes to replenish those lost in sweat.
When it comes to electrolytes, I really only get concerned about sodium. For those doing ultras and the long course tris, there might also be a little emphasis on potassium. But generally, you just want to make sure that you're taking in sodium during exercise lasting longer than an hour. If it's really hot and you're doing an intense workout, it might even be beneficial for under an hour.
(Completely anecdotal, but I was teaching dance classes two years ago in the dead of summer – high 90's every day. I was getting the worst headaches afterward but as soon as I started drinking a little sports drink out there, I didn't have any problems with them anymore).
3) Carbohydrate (sugar) to fuel your muscles.
Your body runs off both carbohydrate and fat during exercise. You store carbohydrate in your muscles, but only a very limited amount compared to the amount of fat you store. Unfortunately you can't just switch over completely to fat, so when you're exercising for longer than an hour taking in some carbohydrate through food or drink helps to prolong that stored energy in the muscles.
[Tweet "This DIY sports drink is a great option for any athlete!"]
Why a homemade sports drink?
Now one of the common concerns I come across is that people don't want to use commercial drinks because of artificial colors, chemicals, etc. In all honesty, I actually don't personally see much of a problem with commercial sports drinks. They're easy to purchase, they do the trick, and if used correctly you're only using them when necessary during long periods of activity.
But I know some of ya'll want to avoid the artificial colors and whatnot, and that's cool too. And if you can make your own natural electrolyte drink that avoids those things, why not do that?!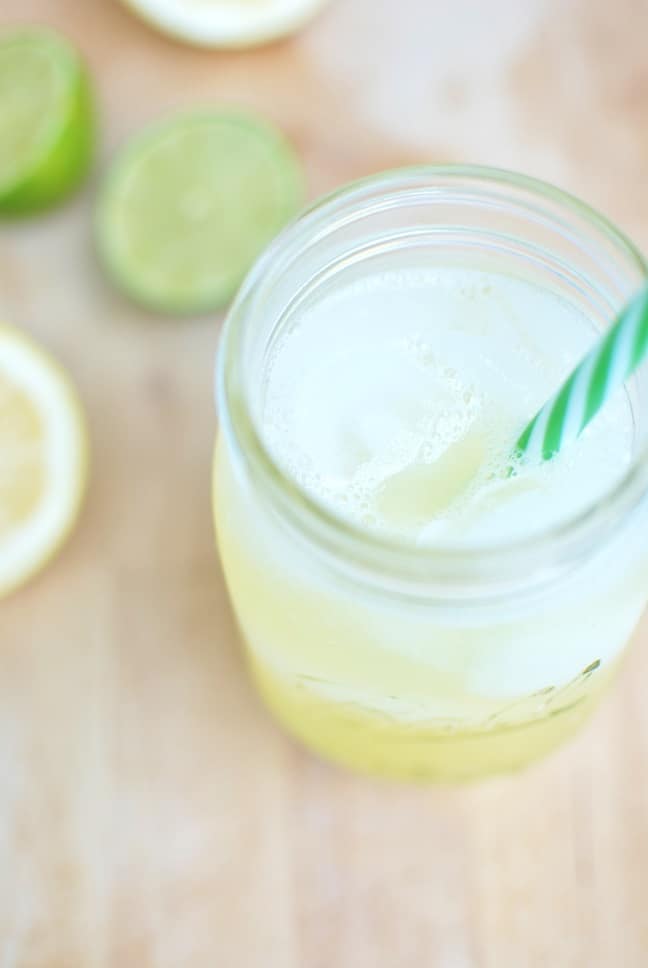 So here's my DIY electrolyte drink recipe – sure to fuel you well and keep you hydrated during those hot summer workouts! It uses orange juice, lemon and lime to add flavor, maple syrup to naturally sweeten the drink, and a pinch of salt for your sodium replacement. The result? A perfect "clean" homemade sports drink recipe.
I think the best part about this is that a) you can find everything at the grocery store very easily, and b) most of these ingredients are things you'd probably already have on your grocery list anyway!
I bought all my ingredients at ALDI for just $13.81, and that was purchasing multiple servings of each. I seriously love ALDI for inexpensive grocery shopping and their great selection of healthy products. Be sure to check them out on Facebook, Instagram, Twitter and Pinterest for their latest sales, news & recipes.
OK, back to my breakdown – so I bought bags of lemons and limes (each had 7 in them), a full carafe of OJ, a 12.5 oz container of maple syrup and a big container of salt.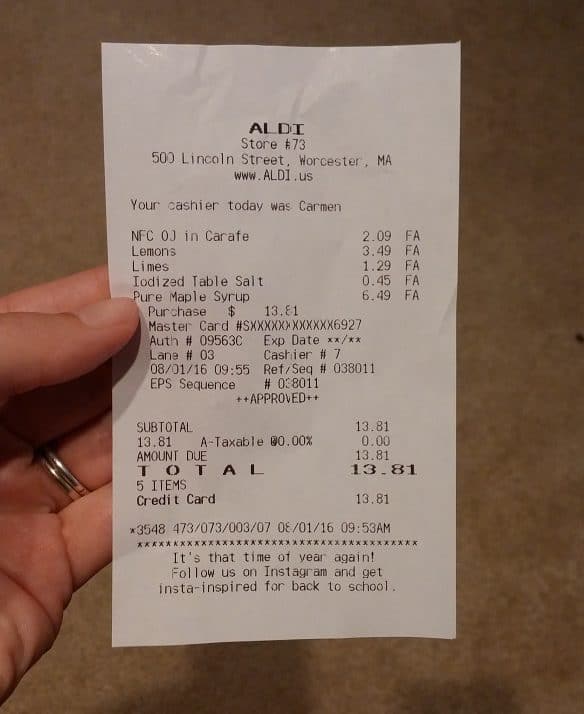 When you break down the amount of ingredients I got and that I could make 7 batches just from this (with extra OJ and salt to spare), it works out to less than $2 for 32 ounces of sports drink.
If you're trying to save money, you can just substitute regular sugar for the maple syrup. Maybe not as ideal of a sweetener depending on your health beliefs, but certainly an option if you want to cut the cost. It works just as well, and knowing the sugar at my ALDI costs $1.69 instead of $6.50 for maple syrup, it would cost less than $1.30 a batch (and that sugar & salt will last you quite a while!).
I love sipping on this during a long run – it's seriously so refreshing, especially if I jam some ice into my bottle as well. Nothing like a super cold drink when it's hot outside!
This natural electrolyte drink is also ideal for those of you with kids who do a LOT of exercise or play multiple sports. I find very athletic kids tend to stay hydrated better in back-to-back events when using a sports drink because it tastes good so they drink more.
If your kids are just having fun outside and not really intensely exercising, you could make this with less maple syrup or even no maple syrup so they still get a flavored beverage to drink to beat the heat, but they don't get the extra sugar. And if you want to mix up the flavor, you try different proportions of OJ/lemon/lime, or even mix in something like cranberry juice or tart cherry juice.
I hope you'll give it a try, and cheers to staying hydrated!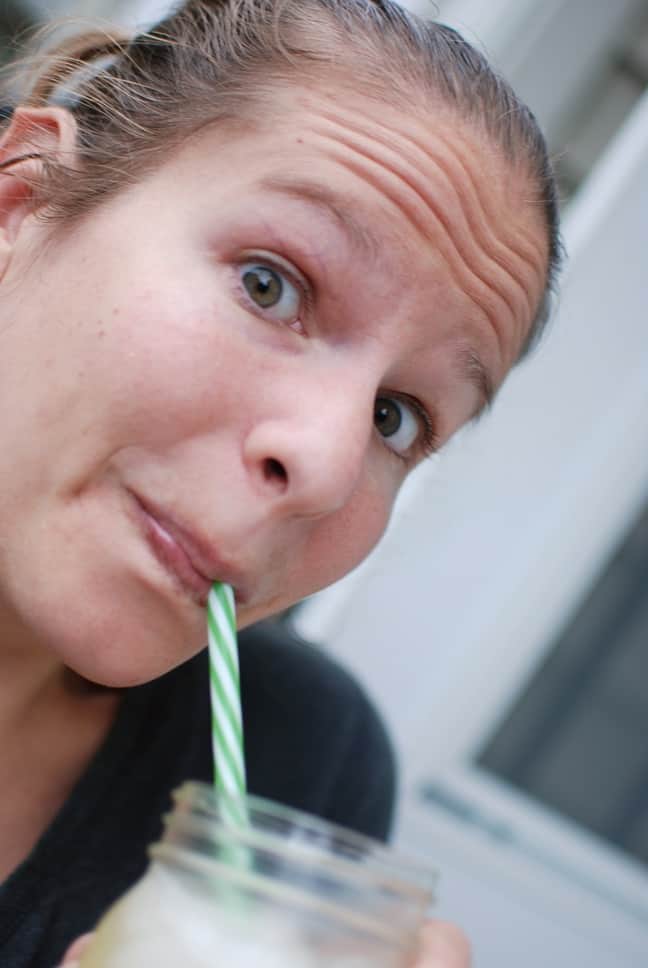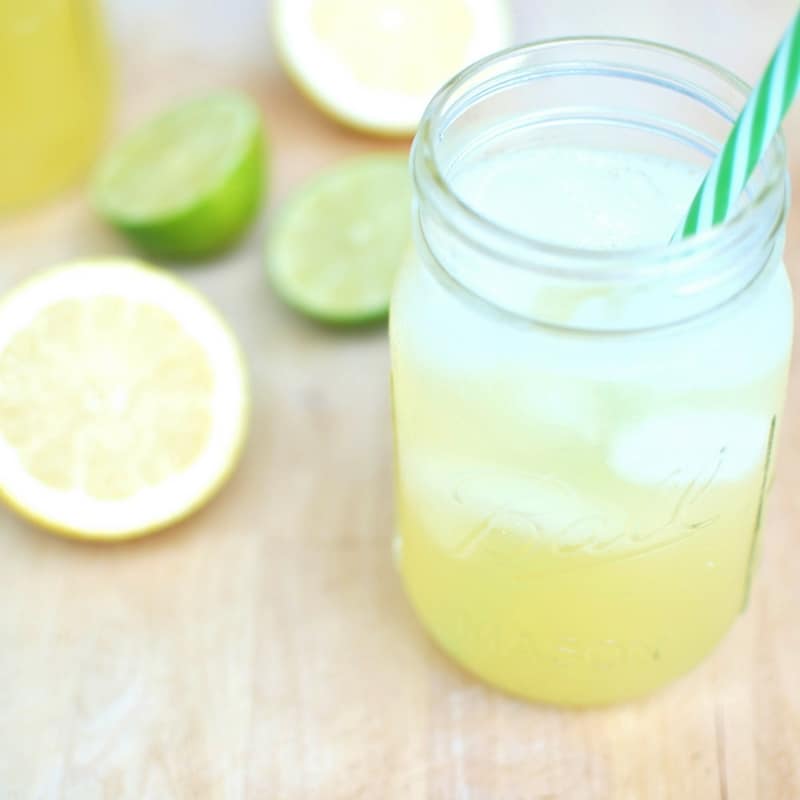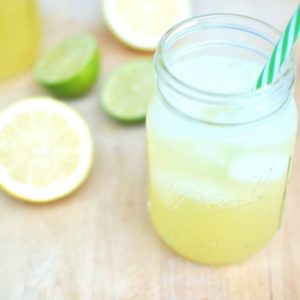 Homemade Natural Electrolyte Drink
This homemade natural electrolyte drink is a great option for active folks who want a more natural sports drink!
Ingredients
3

tbsp

maple syrup

1/2

cup

hot water

1

lemon, juiced

1

lime, juiced

1/3

cup

orange juice

1/4

tsp

salt

3

cups

cold water
Instructions
Mix warm water with maple syrup and stir until well dissolved.

Add the lemon juice, lime juice, orange juice, salt and cold water. Stir until well mixed and enjoy! I recommend serving over ice.
Notes
Nutrition facts (approximate per 8 oz serving; makes 4 servings):
55 calories, 0 g fat, 14 g carbohydrate, 0 g protein, 148 mg sodium, 93 mg potassium
Nutrition
Share with me: Do you use sports drinks when you work out? Have you ever made your own sports drink?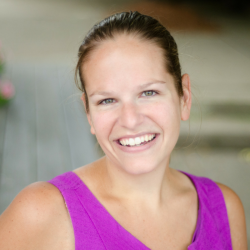 Latest posts by Chrissy Carroll
(see all)