The ketogenic diet has been everywhere these days in the media, from pro athletes to health bloggers and beyond. If you take a look at Google Trends, you can see that it's really exploded in popularity over the last year.

But when it comes to the science, does this diet hold up?
I'm hoping I can give you some insight into the evidence out there and explain why – as a sports RD – I do not personally promote the ketogenic diet for endurance athletes. Keep in mind I'm talking about chronically low carb intake, not occasional depleted runs (which I do think can have a role in training).
Let me start with a quick description of energy systems, because that shapes the theory behind the ketogenic diet.
When you are doing endurance exercise, your body is pretty much always using a mixture of fat and carbohydrate. Now if you're doing a very short sprint of some sort, you'll really only be using the carb-energy system. But for long distance running or cycling, you're using a mixture of both.
Keep in mind that you cannot shift your body to only use fat. It is impossible. The body just doesn't do that. I wish it did because we have way more fat than carbohydrate to use, but it just doesn't work that way.
The theory behind going keto…
Proponents of the ketogenic diet claim that it should make you a more efficient exerciser and able to train longer. Their theory is that by eating high fat and low carbohydrate, you're training your body to adapt to using fat rather than carbohydrate for fuel.
The substrate part of this statement is mostly true. When people eat an ongoing low carb diet and they test their RER – which lets scientists see a breakdown of what fuel is being burned – those people do burn more fat compared to those eating a normal carb diet. Of course, that doesn't mean they use all fat. They still burn some carbohydrate as part of that.
What's key here is the lack of evidence that supports this substrate change makes someone a better endurance athlete.
Just about all the (limited) research studies out there suggest that there is no change (or possibly a decrease in performance) when on a ketogenic style diet. So even though the body shifts the way it burns fuel, it does not translate to better performance.
Why? We don't know the exact answer to that, but part of it may be related to changes in the muscle. It appears that eating a low carbohydrate diet affects an enzyme called PDH. PDH is an enzyme in the muscle that is involved in making energy from carbohydrates. This is down-regulated in fat-adapted athletes, which makes the body less efficient at carbohydrate metabolism.
In other words, even though the body is burning a bit more fat, it's now become a bit more impaired at making energy from the carbohydrates it does have. In research, this has reduced sprint power performance. This means fat-adapted athletes will have trouble with maintaining intensity and the end-of-the-race sprint. These athletes are also known to experience an increased in perceived effort in some studies.
Even in low-carb athletes that are re-fed high carb diets for 24 hours prior to competition, it does not erase the effects of the previous low-carb diet. That reduced PDH activity still occurs.
The most recent research supports the conclusions that keto does not improve performance.
At the session I went to at FNCE presented by John Hawley, he shared the results of his new study (currently under review for peer-reviewed publication) which I think will be one of the best pieces of evidence that we have on this topic.
In this study, he recruited elite race walk athletes (think Olympic-level and other similarly talented). The athletes underwent intense training and were randomized to either a high fat, periodized, or high carb diet for several weeks.
The athletes on the high fat/low carb diet experienced an increase in the submaximal oxygen cost of walking at different speeds. That means that the effort it takes to walk at a certain speed increased after the high fat/low carb diet – but not after the other two diets. In addition, performance in a 10km race walk event improved for the two other groups, but did not improve for the high fat/low carb group.
This, along with previous research on the topic, suggests that there is no benefit to performance with the keto diet compared to a higher carb diet (all else equal).
Of course, one of the nuances in this topic is weight loss.
I've had several athletes tell me that they are passionate keto followers because they lost weight on it and now they perform better than ever. Well, yes – cycling and running at lower (but still healthy-for-the-body) weights will typically lead to better performance. You'll commonly hear that a 10 lb weight loss can result in knocking off about 20 seconds per mile. That's a simplification and the change in speed depends on several factors, but it's a good generalization of the effect.
However, this doesn't mean that the ketogenic diet itself created that effect. If someone had lost the same amount of weight while eating a standard balanced diet, they'd probably experience the same performance benefit because it's most likely due to the weight loss, rather than the keto diet.
Heck, if I could design my own study, I would love to take people who have lost a significant amount of weight on keto and compare their performance on that to switching back to a calorie-controlled carb-rich diet. Something that would maintain their new weight but boost their carb intake. But that's a story for another day when someone wants to put me in charge of a research lab 😉
Long term side effects outside of athletics?
Last but not least, I worry about the potential long term effects of a ketogenic diet – namely the lack of plant-based foods in the diet which we know have a large role in overall health promotion. Think vitamins, minerals, phytochemicals, and fiber. For example, lack of fiber in the diet could have significant impacts on digestive and gut health. Emerging research regarding the breakdown of fiber into short-chain fatty acids by gut bacteria may play a role in a whole host of beneficial health effects in the body, from reducing anxiety to cancer prevention.
OK, really the last but not least point – I'm a firm believer in doing what you feel works best for your body. If that's keto, then more power to ya. My concern is when media and sensationalism take over and try to denounce the research we do have on a standard sports nutrition diet, so I'm hoping this post will clear things up for you.
Here are a few great review articles you can take a look at if you want more info:
Burke LM. Re-Examining High-Fat Diets for Sports Performance: Did We Call the "Nail in the Coffin" Too Soon? Sports Medicine (Auckland, N.z). 2015;45(Suppl 1):33-49.
Hawley JA, Leckey JJ. Carbohydrate Dependence During Prolonged, Intense Endurance Exercise. Sports Medicine (Auckland, N.z). 2015;45(Suppl 1):5-12.
Phinney SD. Ketogenic diets and physical performance. Nutrition & Metabolism. 2004;1:2.
*Interestingly this is actually a pretty pro-keto review article, but it still says the same thing – performance does not get better but it's possible it might be able to be maintained. It also suggests some interesting concerns to keep in mind if you do decide to do keto, including adequate protein intake and mineral intake.
Share with me: What do you think of the ketogenic diet? Are you a carb lover or hater? Do you find food affects how you perform?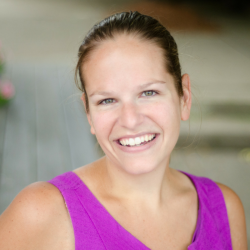 Latest posts by Chrissy Carroll
(see all)