You know it's a good idea to have your phone on you during a run, whether that's for tracking your miles or having access to call someone in the event of an emergency. But then the question always arises – how should you carry your phone while running?!
The right answer for you depends on your personal preferences, where you prefer carrying the weight of the phone on your body, and the type of gear you own (or are willing to purchase).
Here are the four recommended options for carrying a phone on a run, and three options to avoid!
Disclosure: This post contains Amazon affiliate links. As an affiliate, I earn a commission on qualifying purchases.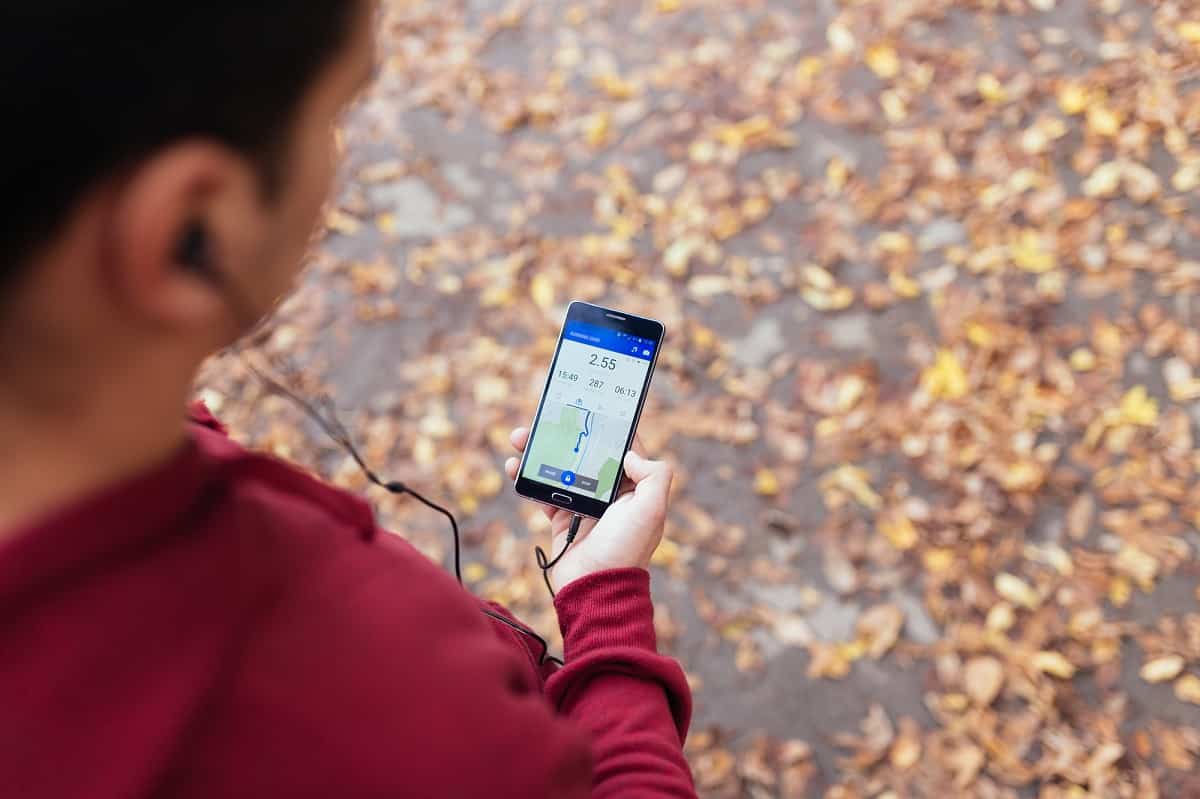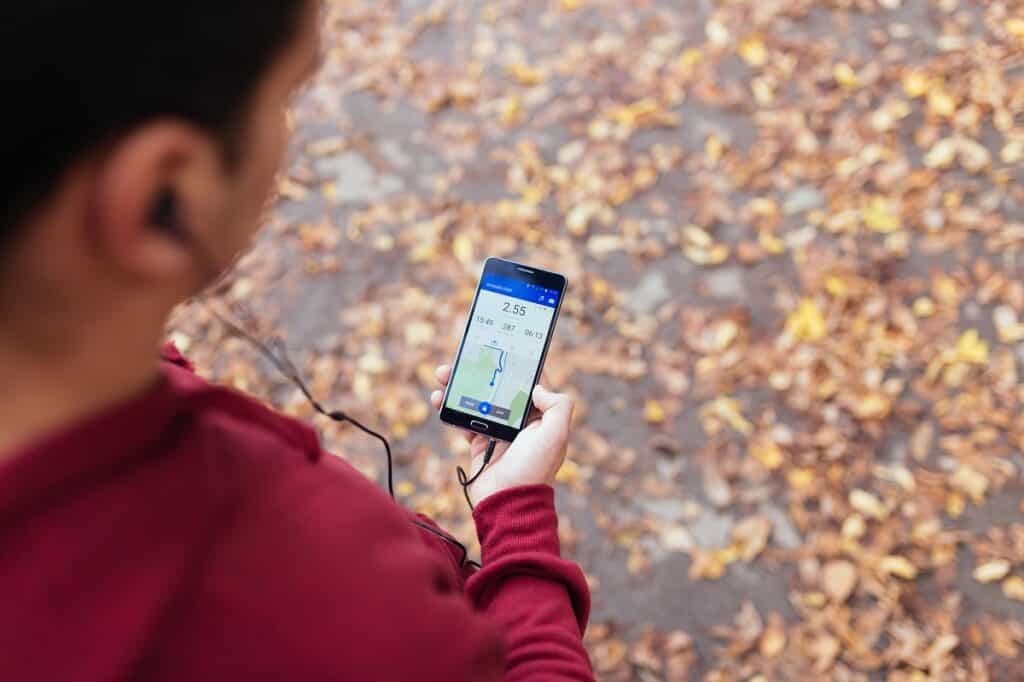 1. Hip running belt
A hip running belt is personally my favorite option. Placing the extra weight from a phone, keys, etc is usually more comfortable when distributed around your waist (or back) compared to other methods of carrying a phone.
You can get just a basic one which is usually a one-pocket adjustable belt with slightly stretchy material. Usually these only carries your phone (and maybe a key and a gel).
One popular option is a FlipBelt:
This is built with stretchy material and has several openings on the belt to place items in. There are no fasteners or zippers, and the smooth design works to reduce the risk of chafing.
This is very comfortable for most people. Keep in mind that for some body shapes, though, it can ride up a bit from the hips to the waist, and then may bounce around a little during the run.
You can also get a belt that also comes with water bottles to stay hydrated. This is a great option for anyone doing long distance training.
I've personally been using this 247 Viz Hydration Belt and absolutely love it.
It's one of the very few options I've found that comes with four bottles, which is key for me on very long runs. The pouch in front looks small, but if you put your phone in as directed (at a slight angle) it fits it just fine.
Keep in mind the phone pouch is like thin mesh, so you'll need to put your phone in a zip top baggie if it's raining out to prevent it from getting wet.
The strap in back is a little stiff as well, so if you tend to chafe easily, be sure that's placed over your shirt/pants and not directly on the skin.
2. Pockets
Up until a few years ago, it seems like manufacturers thought only men enjoyed pockets on their running gear. Luckily, we're seeing more women's running gear with pockets now too!
Keep in mind the type of pocket matters. A small but loose pocket makes it much more likely that your phone will accidentally fall out during the run. The best pockets are those that are large enough for a phone but are also either:

a) Made of snug material, to help keep the phone tight to the body. Less jostling = less chance to fall out.
OR
b) Have a zipper closure on a looser large pocket. Note that some people don't like zipper closures as they worry about scratching the phone screen, but if you have a case on your phone, this probably isn't too worrisome.
You should also consider where the pocket is located. Some running leggings have pockets in the back, which can be fine if you don't need to access your phone during your run – but frustrating if you do need to do that.
Here are a few recommendations for men:
HMIYA Men's lightweight shorts are both inexpensive and comfortable. They have a zipper side pocket that can fit a phone, which is reassuring as you know your phone won't pop out.
If you're looking for a non-zippered pocket, try the Neleus Men's 2 in 1 Running Shorts. These come with a liner short underneath, and a snug deep cell phone pocket is built into the liner. Note that some people report the sizing running slightly large, so you may want to adjust your size accordingly.
Here are a few recommendations for women:
I'm a big fan of the All in Motion capri leggings from Target. The material is silky smooth and they have a phone-size side pocket that's nice and snug. I have two pairs and they're great for running.
The ODODOS Women's High Waisted Capris are also a nice choice for capri-length leggings. They have a deep phone pocket that keeps the phone snug during runs.
For reasonably priced but super effective running shorts, try the BALEAF Women's High Waist Compression Shorts. They come in two different lengths – 5″ and 8″ – and have a side phone pocket that people have reported working great for phones on runs.
You might also like these adorable Amazon Essentials running/exercise shorts. They're inexpensive, a good length (falls between short-shorts and bicycle shorts), and have a snug side pocket that fits your phone. They come highly rated.
3. Running vest
If you need more room for nutrition and other workout necessities, consider wearing a running vest with a hydration pack. These provide ample space for your hydration and fueling needs, along with a space to put your phone.
The downside to certain vests is that the phone may not be readily accessible if it's in the back – which could be an issue if you need to frequently pop it out to change music or check your pace.
If you're looking for a vest, try out one of these options:
The Nathan Hydration Running Vest is a favorite among a lot of runners. It's a solid brand and their products tend to be high quality. This vest has a "phone pocket" that doesn't tend to fit larger phones, but the good news is there's a separate bungee pocket in front (for an extra bottle) that most users report being perfect for larger phones.
For an inexpensive hydration pack, I highly recommend the Gelindo Hydration Backpack Running Water Backpack. It comes with a 2 liter bladder for hydration that goes in an insulated back section. The front section has another storage area for phones, keys, credit card, etc. I think it's a great option for many athletes.
For another affordable option that also utilizes a front phone pocket, try the TRIWONDER Hydration Pack. This is very reasonably priced and has a lot of good reviews. As an aside, if you go with this one, you may want to get a better bladder to go in the pack itself.
There are some chest bags that are not designed to carry hydration, and are only for gear like a phone, keys, etc. As a woman with a curvier chest, I don't like these – it's too much front-loaded weight for me on my chest – but you may find it a good option for you.
If you do want to explore this option, try the Freetrain V1 Vest. It's got a front pocket for your phone, and a snug, lightweight design. Note that some people have said larger phones with cases were snug, which could make it a little tough if you have a large phone that you need to take out frequently.
4. Arm band
An arm band is another popular option that gives you easy access to your phone – for many, you can see the phone and adjust settings without removing it from the pouch.
Arm bans may be uncomfortable for some, particularly if the phone is large. A large heavy phone requires the band to be secured a bit tighter, otherwise it'll slip, but this can be quite constricting.
A good option for those looking for an armband might be the TRIBE Water Resistant Cell Phone Armband. It has a water resistant screen cover with high touch functionality, so you should still be able to use your phone without removing it from the pouch.
Another option to try is the Newppon 360° Rotatable Running Phone Armband. This armband uses a bungee-type elastic silicone holder in each corner (rather than covered plastic) to secure the phone to your arm. The phone rotates, making it quick and easy to check miles, change music, etc. Because the phone isn't covered, though, this isn't a great option if you frequently run in rain or snow.
What Not to Do: 3 Options to Avoid
Wondering what you shouldn't do? Here are the two ways that I don't recommend people carry phones during a run:
1. Don't carry it in your hand
As a running coach, I don't recommend carrying your phone in your hand – especially on hotter days and longer runs. The more you're out there sweating, the greater the potential for the phone to slip out of your hands and drop.
Even if you don't drop it, if you don't have a phone case, the moisture from the sweat can potentially drip into exposed parts of the phone which could lead to it malfunctioning.
In addition, holding your smartphone can cause slight imbalances compared to your normal running stride due to the extra unexpected weight in that hand.
All that said, if you're going out for a short run on a cool day, and you don't have any other gear to carry your phone, you might be able to get by with it in your hand for now. Be sure to keep a tight grip, and switch the phone between your hands every so often during your run (to help balance out the effects of the weight). But only do this until you can get your hands on some gear to help you carry it!
2. Don't carry it in your sports bra (unless it's specifically designed with a pocket)
It's hard enough for most of us to find properly fitting sports bras – adding a large smart phone in there just isn't a great idea. It can get soaked in sweat. While some people avoid this by placing it in a plastic baggie, the edges of the baggie can cause some major chafing during a run.
The exception to this rule is a sports bra that's built with an external phone pocket in the back, which is clearly a much better option than stashing it inside the bra itself.
However, these do present a risk of sweat affecting your phone during a longer or hotter run. And since the pocket for these is almost always on the back of the bra, which can be challenging if you need access to your phone frequently on a run.
3. Don't carry it in your waistband.
You know that trick some people use of rolling over their waistband and tucking the phone in there? Don't do it for a run. The odds of that coming lose and your phone dropping to the pavement are pretty high.
Final Thoughts
Hopefully this helps you narrow down which option is the best for you to carry your phone during a run! Overall, a belt, vest, pocket, or arm band are good options to choose from – but within those, you'll need to pick the one that suits you best.
Be sure to check out all our other running tips and training plans to find more helpful running info.
Share: How do you carry your phone while running? Do you find one way works best?
Feel free to pin this post to share with others.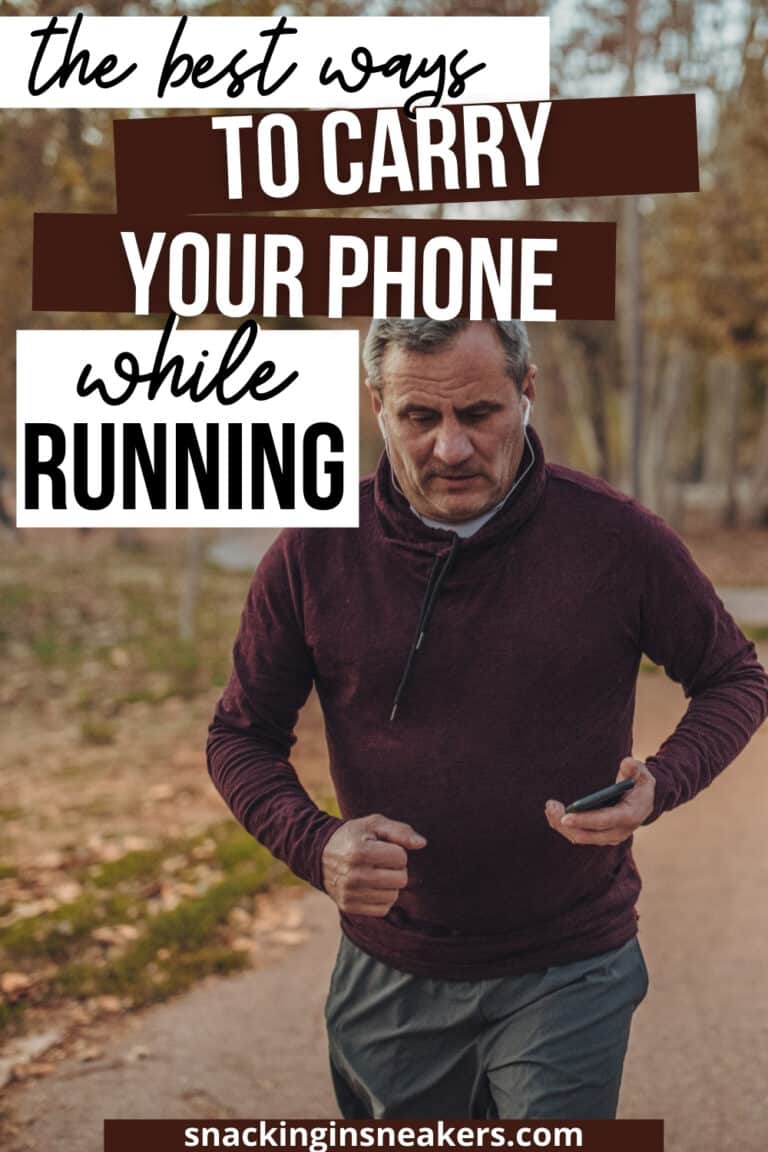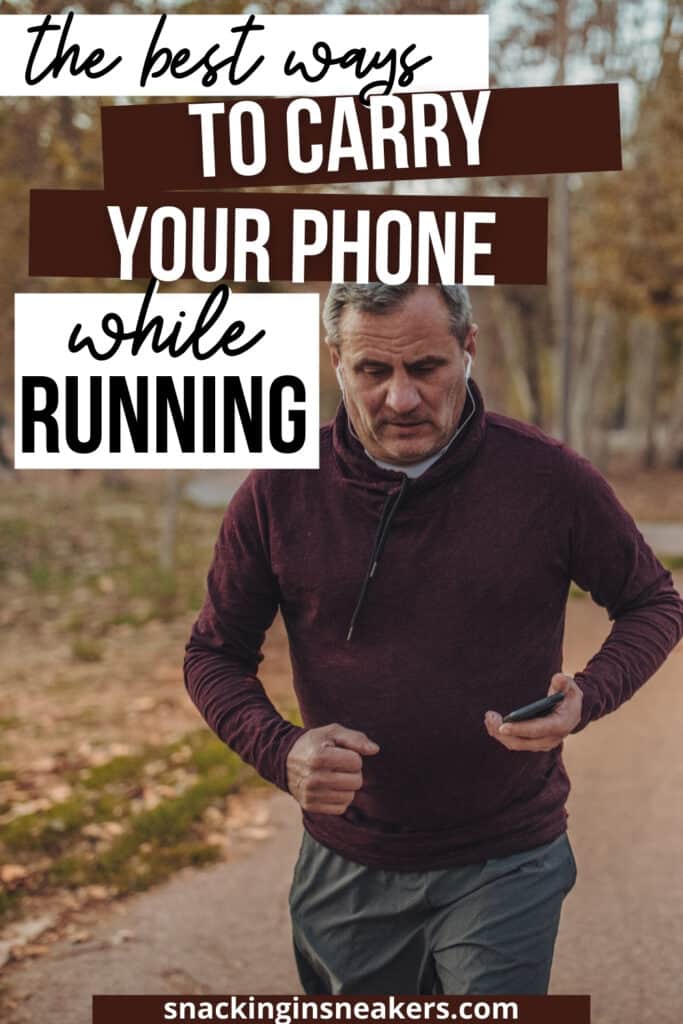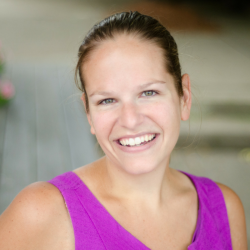 Latest posts by Chrissy Carroll
(see all)