These 20 healthy ripe banana recipes will ensure you always have something besides banana bread to make with those extra browning bananas!
Last month we had a little shindig for my son's second birthday. I went with a Curious George theme – we made pizzas with the kids a la "Curious George and the Pizza Party" and we had a banana split bar for dessert. I definitely overbought bananas, though, and a week later we had some browning ones sitting on our counter begging to be used.
I set aside a bunch for smoothies, but still had quite a few to use up. Since I already had banana muffins stocked away in the freezer too, I needed something new. Something different than the traditional banana breads, banana muffins, smoothies, and nice creams (though all of those are awesome too!).
But in searching the web for recipes for ripe bananas other than banana bread, I was coming up a little short on healthy options. So I reached out to my fellow dietitian friends and food bloggers to find their favorite healthy ripe banana recipes!
Healthy is of course a subjective term, so some of these may be 'healthy' in a way that suits a need – like it's allergen-friendly or vegan. But on the whole these are some good-for-ya, nutrient-rich options.
Next time you have some browning bananas sitting on your counter, whip up one of these recipes.
20 Healthy Ripe Banana Recipes (that aren't banana bread or smoothies!)
These baked oatmeal cups are perfect for snacking or an addition to your breakfast plate. There's no added sugar; the sweetness naturally comes from the bananas and raisins.
Another no added sugar recipe! To make these, just toss a few simple ingredients together in a blender then bake into chewy, wholesome cookies.
This easy to make mug cake is made with wholesome ingredients and packs in 8 grams of protein! It's such a fun single-serving recipe to make with your overrip banans.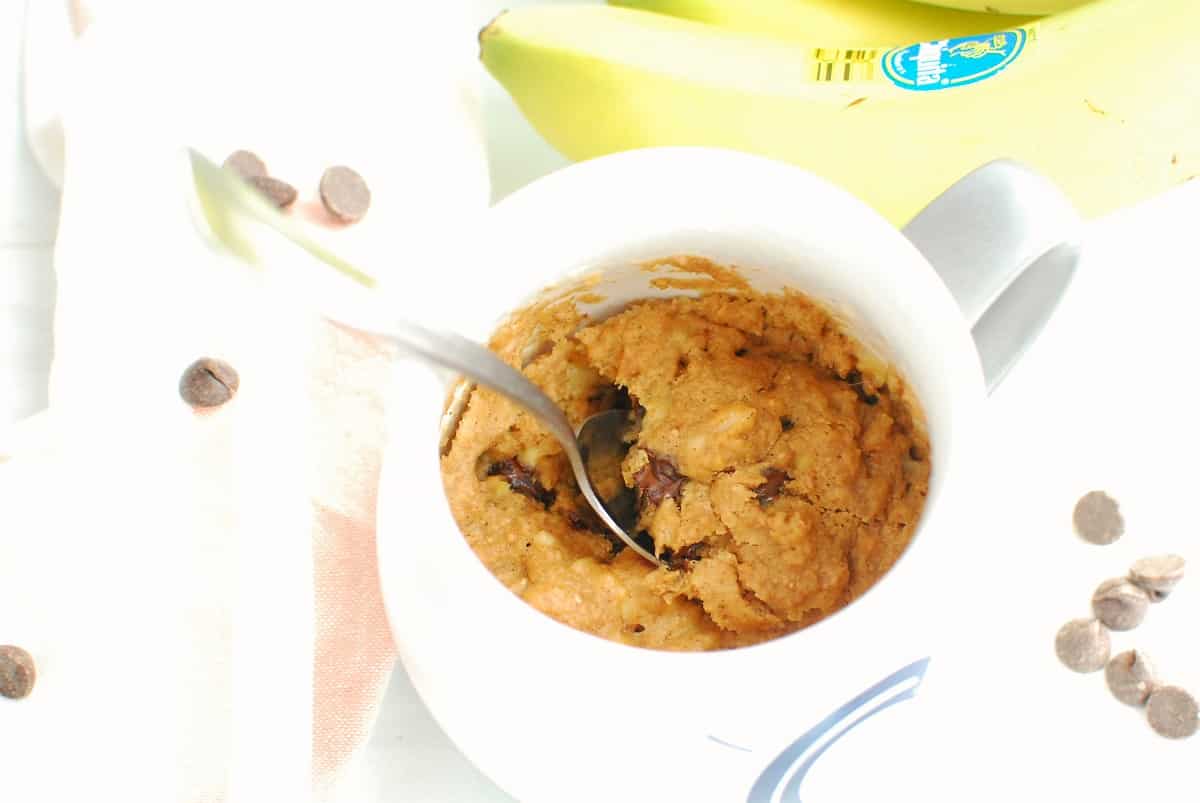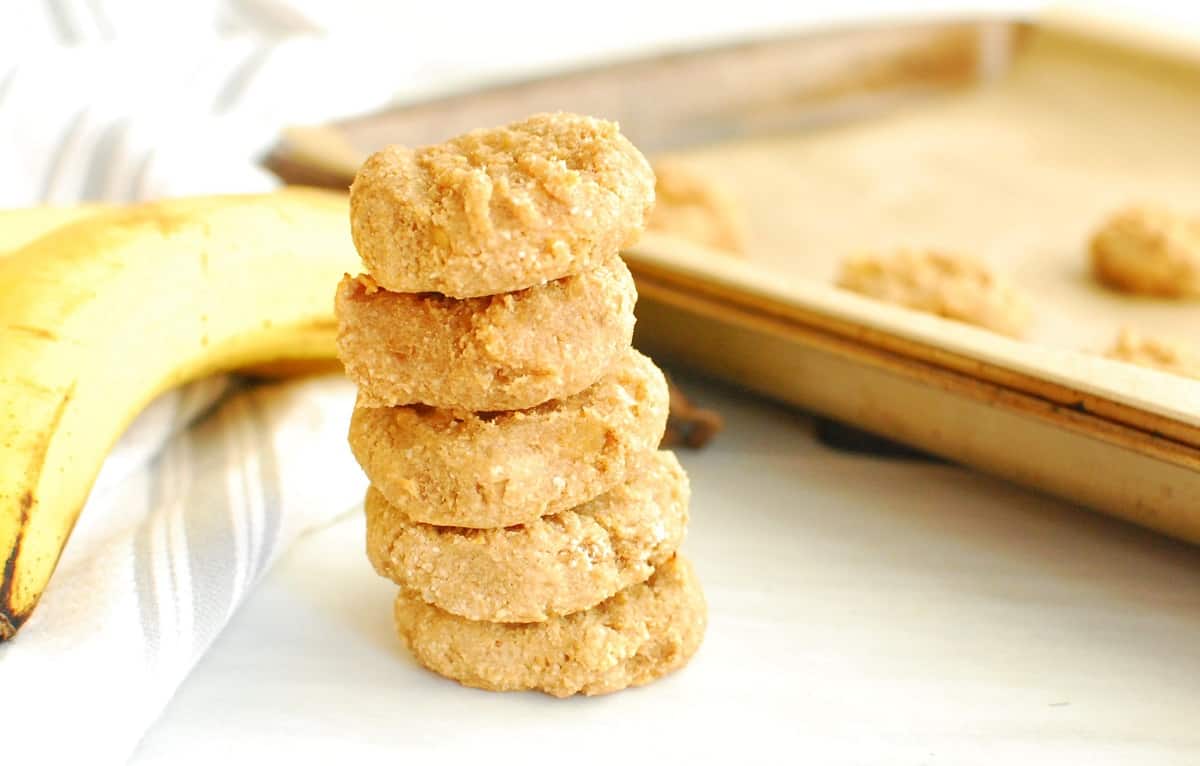 Just five simple ingredients make up these delicious cookies: banana, peanut butter, vanilla, maple syrup, and coconut flour. They're naturally gluten free and easy to throw together when you're craving a sweet treat.
I would have never thought to use banana to sweeten a granola recipe but it's brilliant. This version is grain free (but I've also made this recipe by cutting out the cashews and adding in a few cups of oats). It's yummy, and probably one of my favorite recipes for ripe bananas other than banana bread.
Another yummy banana granola recipe! This one includes a mixture of oats and nuts and has no added sugar. I love this one too.
These babies are a great healthy ripe banana recipe – they're kind of like a cookie-muffin top hybrid. They were a go-to sweet treat for me when I was nursing since they're dairy, soy, and egg free! (They're also nut free, so this is another recipe that's ideal for many food allergies).
Banana in a salsa?! Count me in! (And serious bonus points for creativity). This version also has tomatoes, cucumbers, coconut, and more. I can't wait to give it a whirl.
A breakfast pudding that packs in 17 grams of plant-based protein and 18 grams of fiber? Heck yes!
S'mores waffles. Need I say more?!
For those of you looking for minimal ingredient, whole food dessert recipes – this is a nice one. The cake itself is just simple ingredients.
This is one of my favorite recipes to make with my son. He loves them!
I've been digging healthier peanut butter cup recipes lately. Probably because Easter just passed and those Reese's eggs are a total temptation. But I like this version as a better-for-you option! This recipe only calls for 1 tbsp of added sugar thanks to the natural sweetening power of the bananas.
These bars have no added sugar, being naturally sweetened with dates and bananas. You can add an optional chocolate drizzle to the top (I highly recommend it, because – well, chocolate).
I cannot wait to make these! For anyone with dietary limitations, these are grain free/gluten free and dairy free. They also contain no added sugar in the donut, and just a smidge of honey in the nut butter frosting. YUM. A perfect healthy ripe banana recipe!
What a yummy dessert that only requires a few ingredients! I'd use these with slightly overripe bananas – not ones that have become really mushy to the touch. You can also reduce or eliminate the sugar if you'd like to!
This is one of the simplest recipes in this roundup – made with just three ingredients. I guess technically it's a different version of a smoothie, but these looked so delish as popsicles that I wanted them in here!
I've been all about the energy bites lately, so these will definitely be going down in my kitchen soon!
Just three ingredients makes these amazing frozen snacks! I recommend making a big batch ahead of time on the weekend and then keeping them in a freezer bag and popping them out to snack on throughout the week.
Overnight oats are so convenient for a make-ahead breakfast (perfect for kids on busy school days or adults on busy workdays!). This version is vegan and gluten free.
Share with me:  Do you have any more ideas for other recipes for ripe bananas other than banana bread?!  Which of these healthy ripe banana recipes are you dying to try?  What do you usually make with your overripe bananas?