Lately, I've been searching for some quick & easy sweet treats that are still relatively healthy. I stumbled across the idea for frozen banana bites on quite a few recipe sites and blogs, and decided to give them a whirl myself. So today I broke out the baby carrier for the first time and popped Devon in so he could watch his momma do some food prep.
Seriously, how cute is he?!
Anyway – this is a super easy recipe but the results are awesome. You can make the recipe with just bananas and peanut butter, or you can opt to make them a bit more indulgent by dipping them in some dark or semisweet chocolate. I decided to do half plain and half chocolate covered.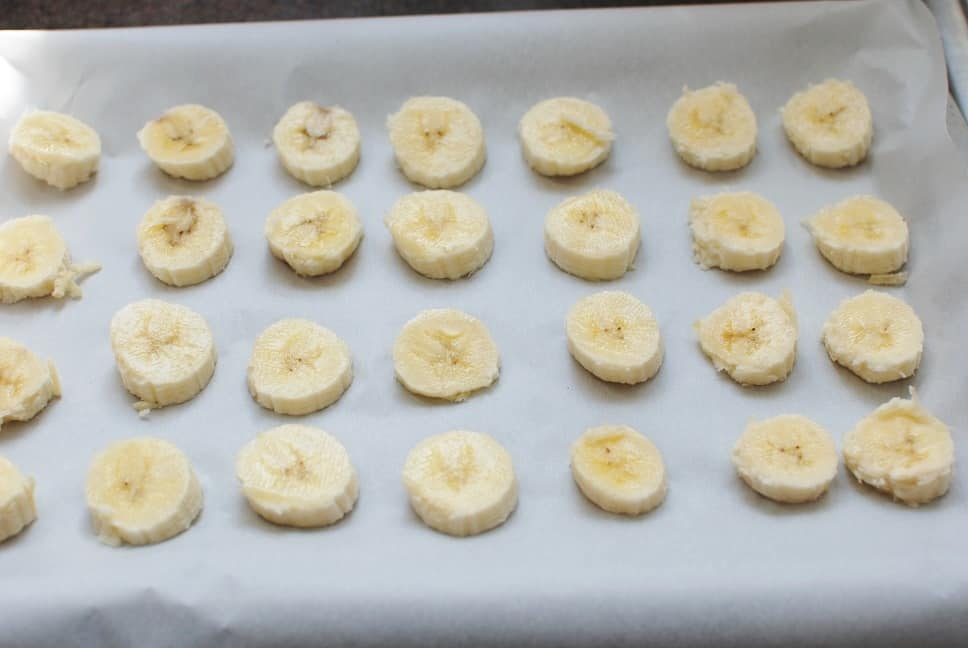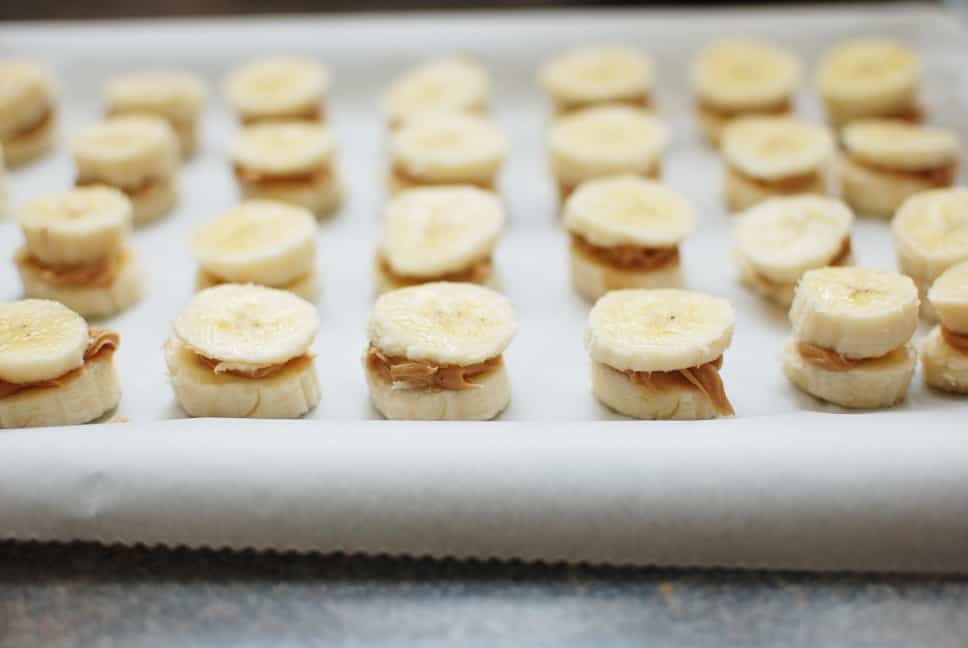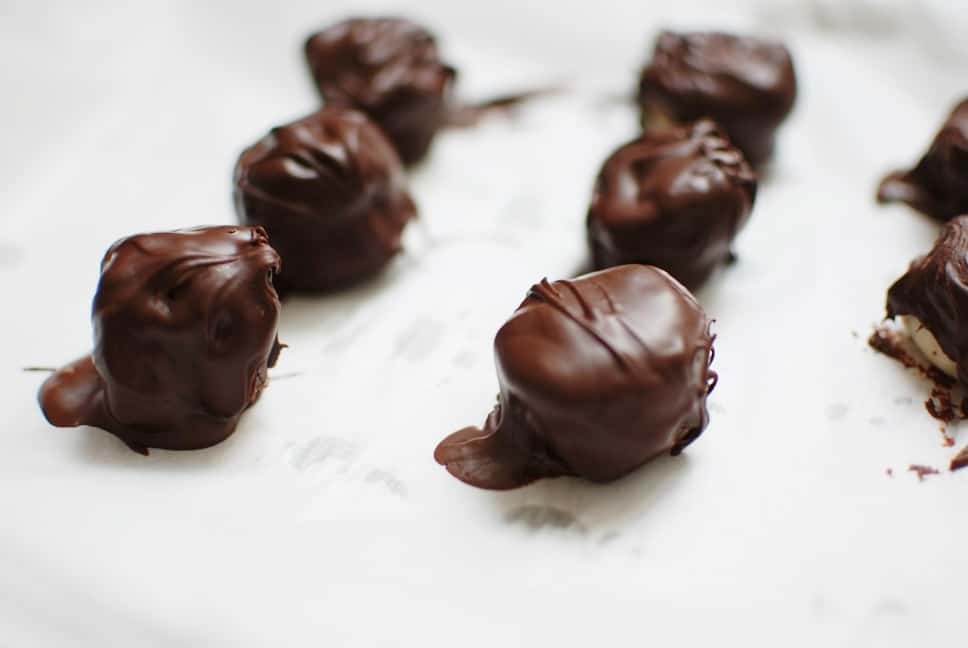 You'll simply slice the bananas and place them on parchment paper, add a dollop of peanut butter to each, and then top with another banana slice. Freeze those and you can enjoy them just like that! Or, after freezing, take it one step further and dip them in some melted dark chocolate because – well, who doesn't love chocolate?! You'll just re-freeze again after dipping.
You can also try dipping these in plain or flavored greek yogurt rather than chocolate! It's another take on this tasty treat – you can check out this recipe for one example of how to make 'em with yogurt instead.
These frozen banana bites are tasty and perfect for when you're craving a cold dessert (perfect substitute for those ice cream cravings). Plus, they're a nice nutritious clean eating option – you get a punch of potassium from the banana and healthy fats from the peanut butter, with no additives, preservatives, or artificial stuff.
[Tweet "Frozen banana bites are a great make-ahead treat to stash in your freezer!"]
And a money saving tip – check your grocery store for the 'reduced' produce section. Mine always has bananas that are just starting to brown at half the price of the normal bananas. They work wonderfully in this recipe (as well as any of these recipes using ripe bananas!).
I've been munching on our frozen banana bites throughout the day today, and they are making this new mom very happy to have a healthy yet tasty treat! I hope you enjoy them as much as I do. 🙂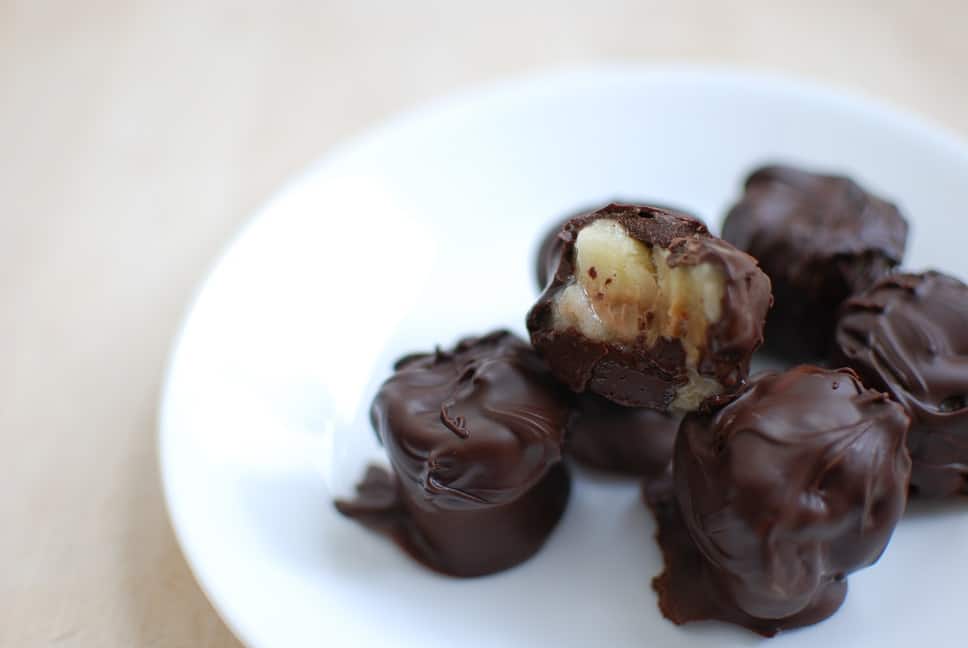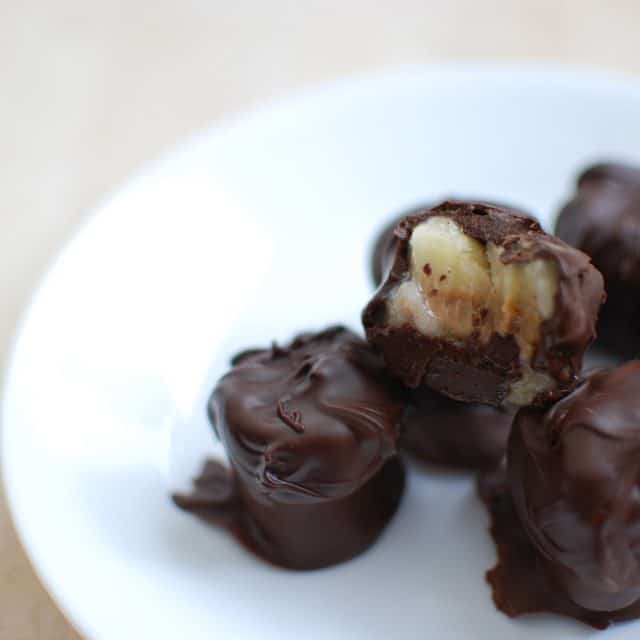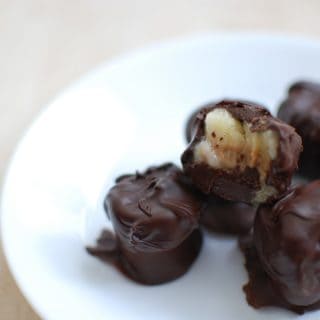 Frozen Banana Bites
Frozen banana bites are perfect when you're craving a sweet treat but want a healthier option! Packed with potassium & healthy fats.
Ingredients
Bananas

Peanut butter

Dark chocolate chips
Instructions
Place parchment paper on a cookie sheet.

Slice half of the bananas that you have into ½ inch slices and place them on the parchment paper.


Spread peanut butter on each banana slice. Slice the other half of the bananas and place on top.


Pop in the freezer for an hour or two. If you're not making them chocolate covered, remove at this point and place in a freezer safe bag to snack on as desired.


If you want to make them chocolate covered: melt chocolate chips in the microwave. Do so using intervals of about 20 seconds, and stir at each interval. Avoid overheating!


Remove the parchment paper with the frozen bites, and set a new piece of parchment paper on the cookie sheet. Place the frozen bites in the melted chocolate, then set on the parchment paper on the cookie sheet.


Pop back in the freezer for an hour or two, then move bites into a freezer safe bag. Enjoy!

Notes
*I didn't list any ingredient measurements because you can use as much or as little of each as you have. I made a bunch so I used 4 bananas and enough peanut butter to cover each of the bites. I did half in chocolate and half plain, so I used half a bag of semisweet chocolate chips for the half that were chocolate covered.
Share with me: What's your favorite healthy treat? Have you ever made frozen banana bites?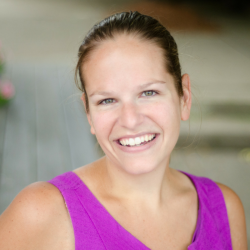 Latest posts by Chrissy Carroll
(see all)