With just 5 ingredients and a few minutes of prep time, these healthy banana peanut butter cookies are one of the easiest dessert recipes to make! This better-for-you sweet treat will satisfy your cookie cravings. As a bonus, they're both gluten free and vegan, making them a great option for anyone with dietary restrictions.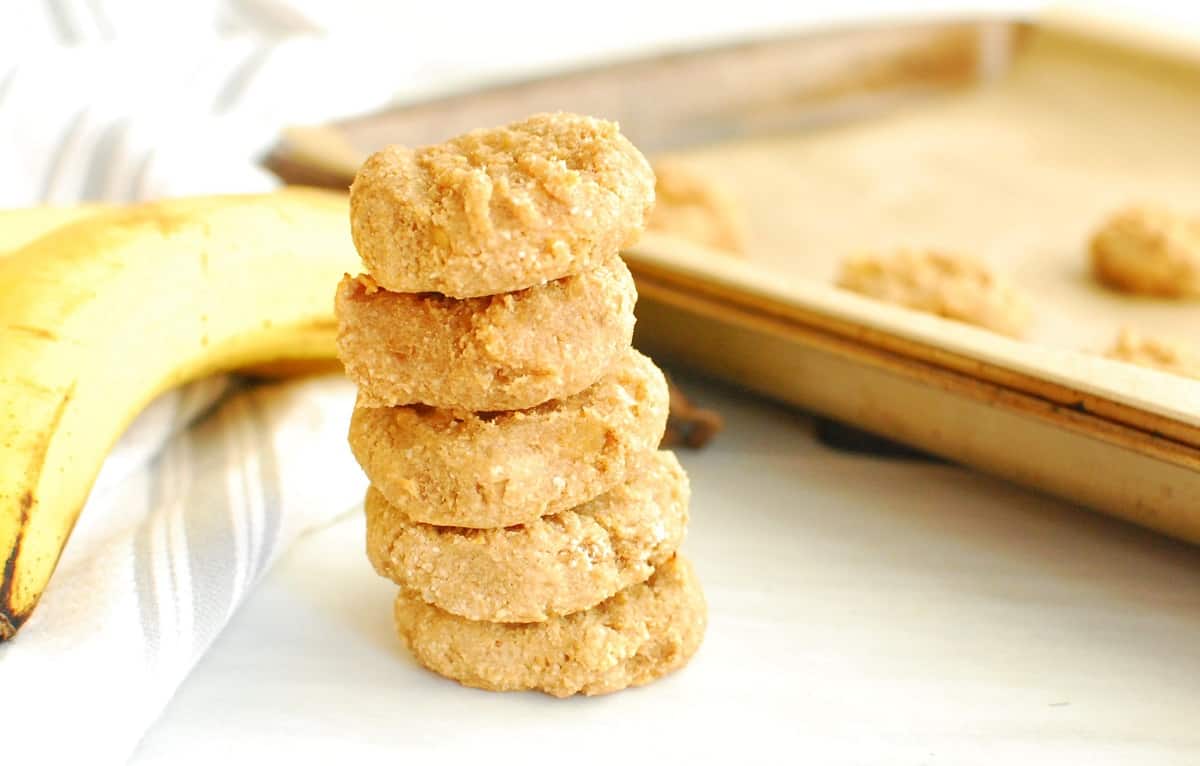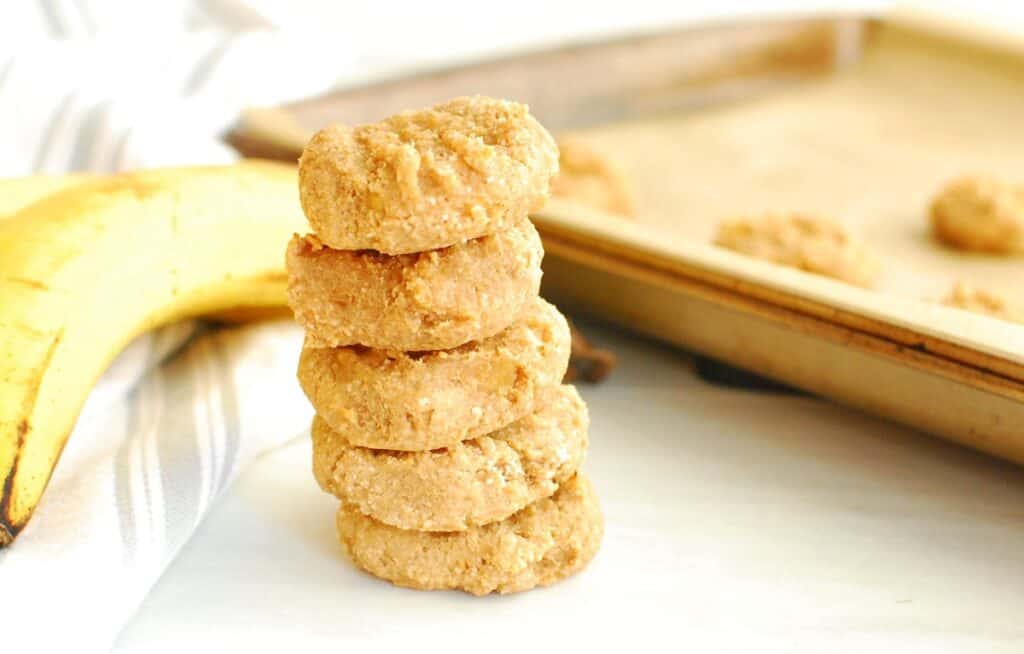 Ingredients
You only need 5 ingredients to make this tasty recipe: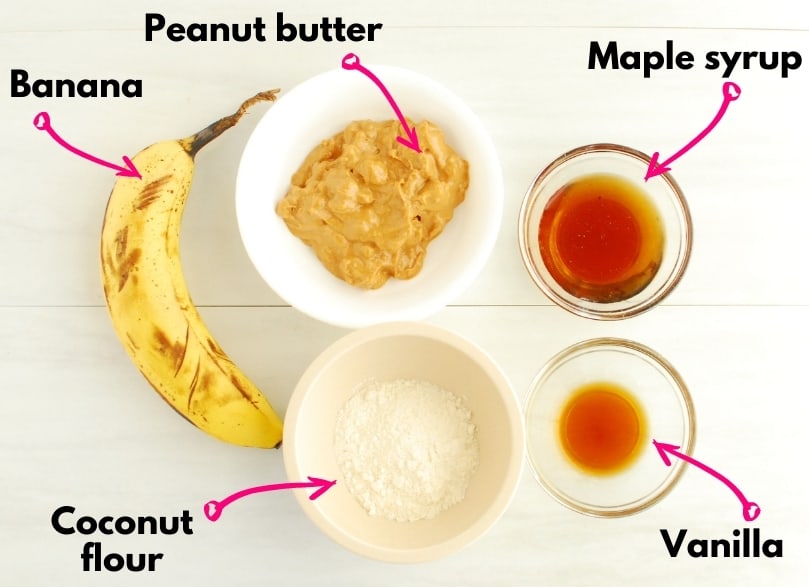 Banana – Make sure to choose an overripe banana for this recipe.  Ideally, it should have many brown spots on the outside.  These bananas are sweeter and softer than yellow bananas, making them perfect for mashing into baked goods.
Natural Peanut Butter – This should have just two ingredients – peanuts and salt.  This type of peanut butter is drippier than conventional peanut butters, and are also a little step up nutritionally since they don't contain added sugar or added unhealthy types of fat.  (Keep in mind if you decide to use regular peanut butter for this recipe, you'll need to adjust the amount of coconut flour since the texture of regular peanut butter is different).
Vanilla extract – This helps accentuate all the flavors in the cookie.
Maple syrup – We'll use this as a natural sweetener for this treat.  Now as a dietitian, I do believe that sugar is sugar, regardless of whether it's maple syrup, honey, or regular sugar.  But that said, pure maple syrup does provide small amounts of certain minerals, and also contains a number of antioxidants (source). For those reasons, it's one of my preferred sweeteners.
Coconut flour – This flour is made solely from coconuts. If you've never used it before, coconut flour absorbs a lot of moisture.  You can't substitute it 1:1 in recipes with regular flour.  However, in specifically designed recipes – like this one! – it makes a great option for baking.  It's also nice because it's naturally gluten free, which means that those with celiac disease can enjoy these cookies.
Step by Step Instructions
You'll find the full recipe card with ingredient amounts at the bottom of this post, but here's a helpful overview with photos.
Start by mashing your banana in the bowl. Then mix in the peanut butter, vanilla, and maple syrup.  Add in about 4 tablespoons of the coconut flour with that and give everything a good stir. 
Here's the only tricky part of this recipe – you need to look at the dough and see if it's the correct texture, and then adjust with more coconut flour if needed.  You don't want the dough to be too dry, but you don't want it too be to sticky either, since you need to be able to shape it into balls.  
If it's still too sticky, add in another tablespoon of coconut flour at a time.
Usually, when I'm using a nice, super-ripe banana with tons of brown spots – I find that I need exactly 6 tablespoons of coconut flour.  But definitely adjust that based on what it looks like.  Here is how the batter should look when it's ready: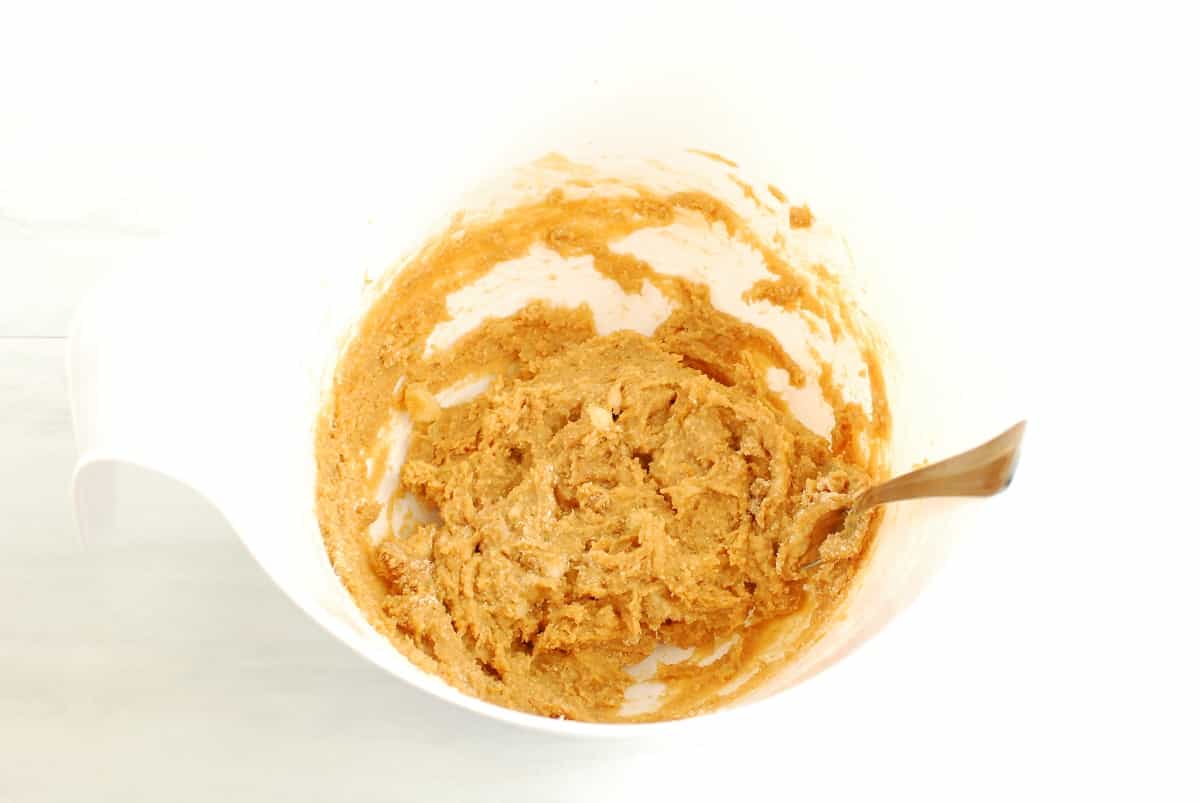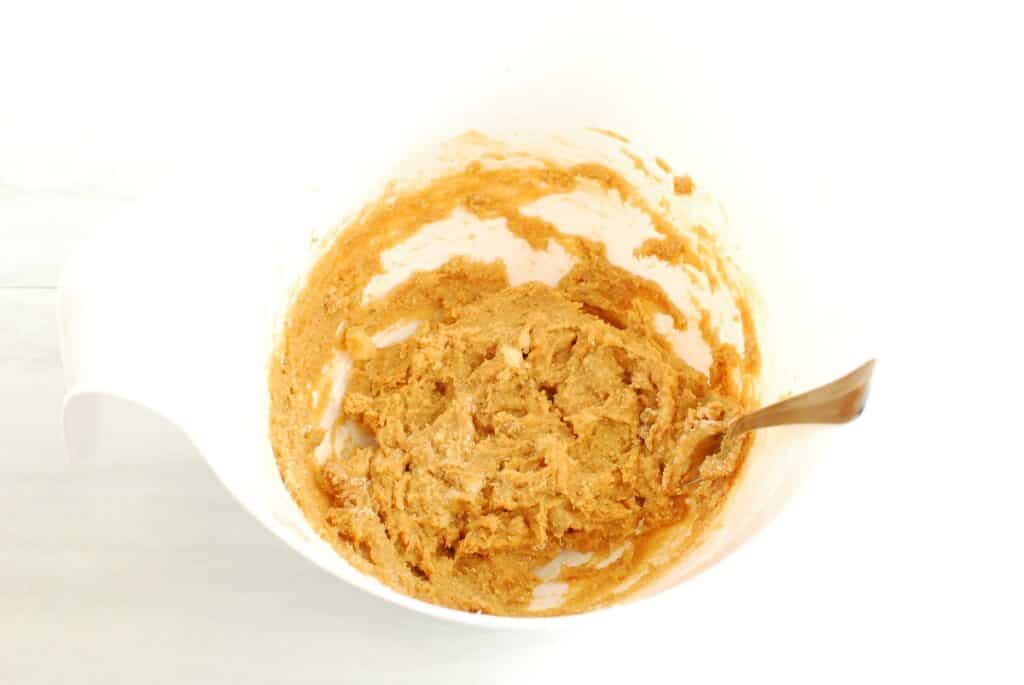 Now, take that and roll it into 12 balls, placing them on a parchment-lined baking sheet.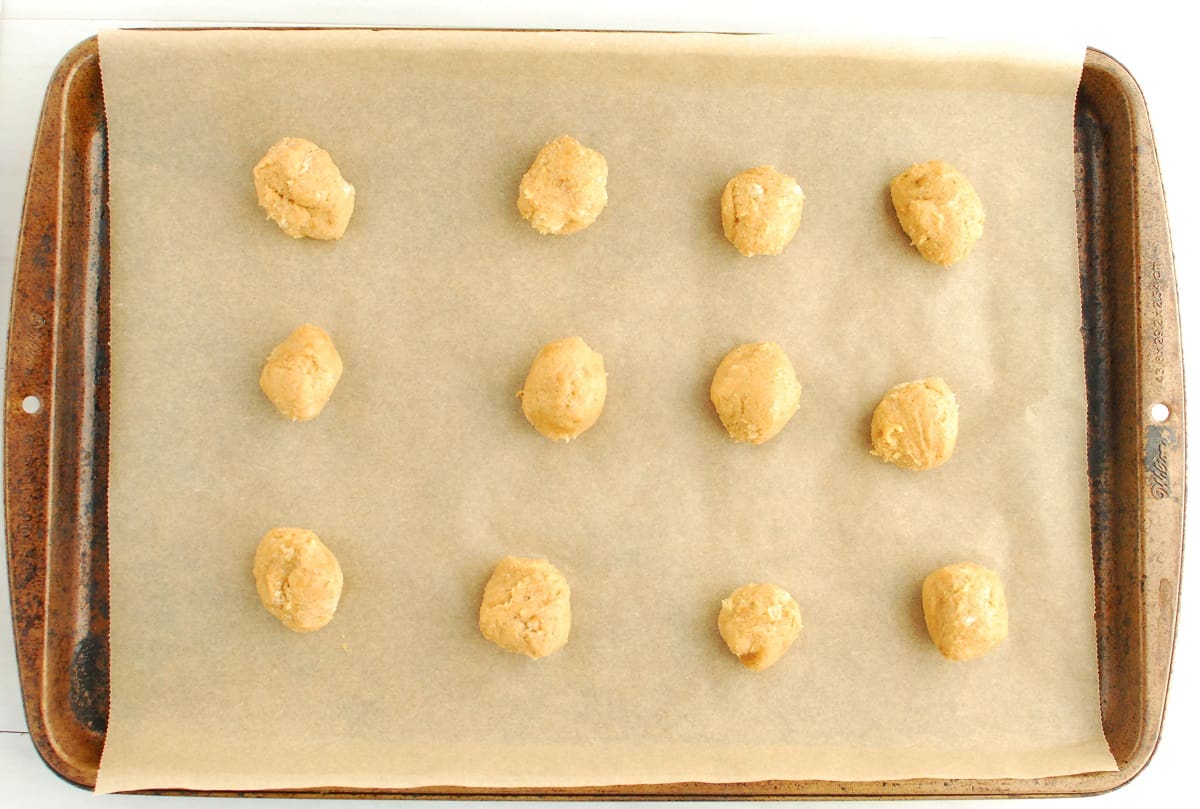 Take a fork and press down in a grid pattern on top of each ball to flatten into a cookie shape. Because the dough is very soft, the fork may want to stick to it – so press gently and then slide the fork off to the side to remove.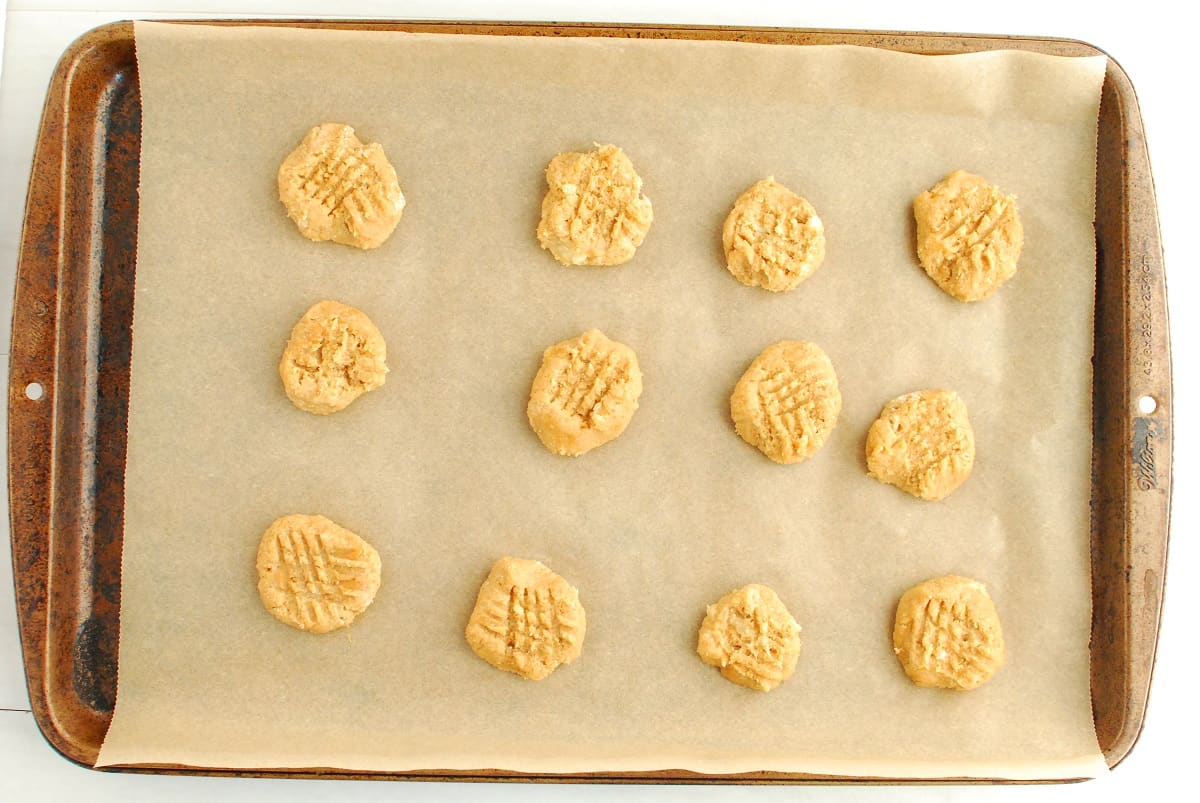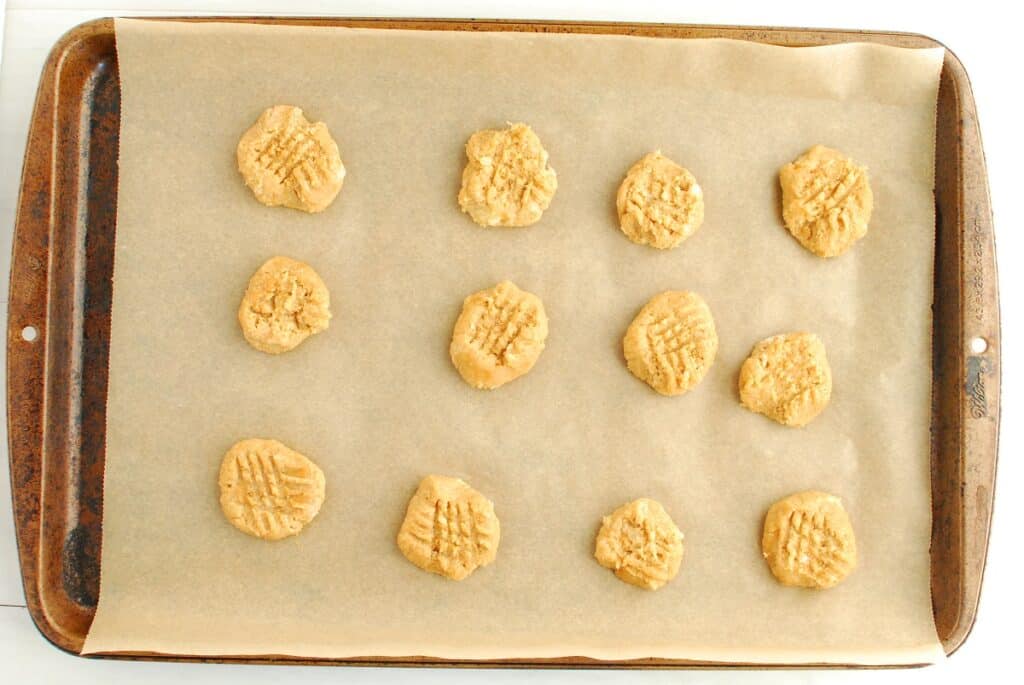 Now go ahead and bake those in the oven. When they're done, each cookie will have a delicious blend of banana, peanut butter, and maple flavor.
Recipe FAQ
Here are some common questions that may come up as you prepare this recipe:
Can you substitute coconut flour for another flour?
Coconut flour works quite differently than other types of flour, as it absorbs far more moisture, so you cannot substitute it for another flour. 

In this recipe, you would need to add more of another type of flour, which would dilute the flavor of the cookies – so it's not recommended.
Can you substitute honey for maple syrup?
Yes, you can substitute an equal amount of honey.
What are some other ways to use up ripe bananas?
Aside from the commonly chosen banana bread and muffins, you can also use ripe bananas to make energy balls, granola, or "nice" cream.  They are also perfect to freeze and throw into smoothies.
Why is this a healthier recipe?
This recipe has far less added sugar than most cookie recipes, and is made with wholesome ingredients. It also offers a little protein and fiber in each cookie.
More Healthy Desserts
If you've also got a sweet tooth like I do, here are some more of my favorite nutritious dessert options:
I hope you like these healthy peanut butter banana cookies! If you get a chance to try them, feel free to leave a recipe rating or comment below.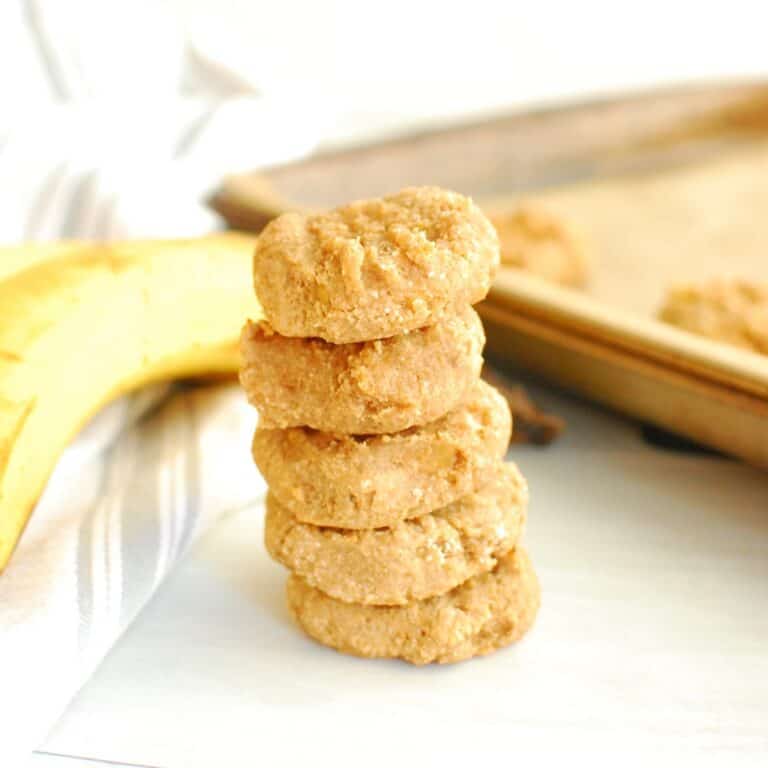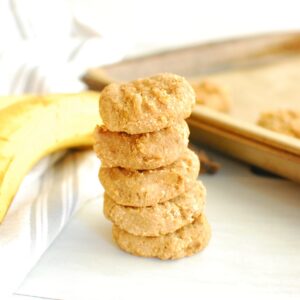 Healthy Banana Peanut Butter Cookies
These healthy banana peanut butter cookies are the perfect way to satisfy your sweet tooth – and you'll only need 5 ingredients!
Ingredients
1

medium overripe banana, mashed

½

cup

natural peanut butter

½

tsp

vanilla extract

¼

cup

maple syrup

6

tbsp

coconut flour

(*amount varies from 4 to 8 tablespoons; 6 is most common; see instructions and notes)
Instructions
Preheat the oven to 350 degrees F. Line a baking sheet with parchment paper.

In a mixing bowl, combine the mashed banana, peanut butter, vanilla, and maple syrup. Add in 4 tablespoons of the coconut flour. If needed, add in additional coconut flour, tablespoon by tablespoon, until the dough is thick and malleable enough that it can be rolled into balls. (Do not add extra coconut flour beyond that; just add enough so that it's able to be shaped).

Form into 12 balls and place on the baking sheet. Use a fork to press the balls into a cookie shape. (Cookies will be a bit sticky, so press down gently and slide the fork across to remove).

Bake at 350 degrees F for 10-12 minutes, or until cookies are golden brown and dry on the outside. Let cool for 10-15 minutes on the pan, then enjoy.
Notes
*The specific amount of coconut flour can vary based on how big and how ripe your banana is. A starchier and/or smaller banana will require less than a larger and/or sweeter banana. I recommend starting with 4 tablespoons of coconut flour and working your way up, tablespoon by tablespoon. After making this recipe many times, 6 tablespoons is usually what I end up with based on the bananas I choose, but it can be more or less.
This recipe calls for natural peanut butter, which is drippier than regular peanut butter. If you use regular peanut butter, you'll likely need to cut the coconut flour a bit.
Nutrition analysis (approximate per cookie): 106 calories, 6 g fat, 1.5 g saturated fat, 50 mg sodium, 11.5 g carbohydrate, 2 g fiber, 7 g sugar, 3 g protein, Vitamin D: 0%, Calcium: 1%, Iron: 3%, Potassium: 4%
Nutrition
Share:  What's your favorite better-for-you sweet treat?
Please pin this post to share with others! 🙂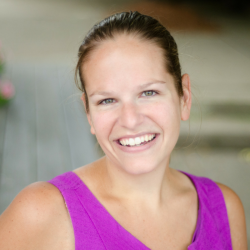 Latest posts by Chrissy Carroll
(see all)