These butternut squash brownies are the ultimate healthy dessert recipe! With a rich fudgy flavor and chocolate chips scattered throughout, you'll love this sweet treat that's made with wholesome ingredients.
Ingredients
Here's what you'll need to make this dish, along with some helpful notes about each ingredient. If you want the recipe right now, though, just scroll down to find the recipe card with the amounts!
Butternut squash – Using squash in brownies sounds a bit strange, but it adds moisture and body to this recipe, along with a hint of sweetness! Plus, who doesn't love sneaking extra veggies into their day?
Peanut butter – Natural peanut butter works best for this recipe because the texture is drippier and creamier, which helps it blend into the dish easily. Plus, natural peanut butter is made with just peanuts and salt – no other added sugars or fats – which makes it a great option to keep in your kitchen.
Pure maple syrup – While I'm a firm believer that sugar is sugar, and we want to use all sweeteners in moderation – there are some small benefits to using maple syrup as a sweetener. In research, maple syrup has been shown to have higher antioxidant activity than sweeteners like corn syrup or granulated sugar. It also contains minerals like zinc and manganese.
Cold brew coffee – Did you know coffee helps enhance the flavor of chocolate in recipes like cakes and brownies? Use a strong cold brew in this recipe – you won't really taste the coffee, but it will help bring out the chocolate flavor.
Salt – Like most recipes, salt is used to enhance other flavors.
Cocoa powder – Can't have brownies without the essential chocolate flavor! Cocoa powder is an unsweetened chocolate powder that's made from cacao beans. The fat from the cacao beans is removed and the dry part of the leftover bean is ground up into cocoa powder.
Almond flour – Almond flour is made from ground almonds. If you've never purchased this before, keep in mind that almond meal is not the same as almond flour. Almond meal is made from raw almonds (with their peels) while almond flour is made from blanched almonds (without their peels).
Chocolate chips – Some high quality chocolate chips add an extra layer of chocolatey flavor. You can use milk, semisweet, or dark depending on your taste preferences. Because the brownie part is just lightly sweetened and thus tastes like a darker chocolate, I like using semisweet chocolate chips to lighten it up a bit.
Instructions
You'll find complete instructions in the recipe card below. As a quick overview, though, these brownies are super easy to make.
Since this recipe uses mashed butternut squash, it's great to make as a "next day" dish after you've roasted off two butternut squash halves for dinner. Use one for the dinner you're going to eat that night, then save the other to mash up and use in these brownies (or other baked goods).
You'll start by mixing your mashed butternut squash with the peanut butter, maple syrup, coffee, and salt.
Then, stir in the cocoa powder, almond flour, and chocolate chips. The batter will be quite thick – here's what it looks like: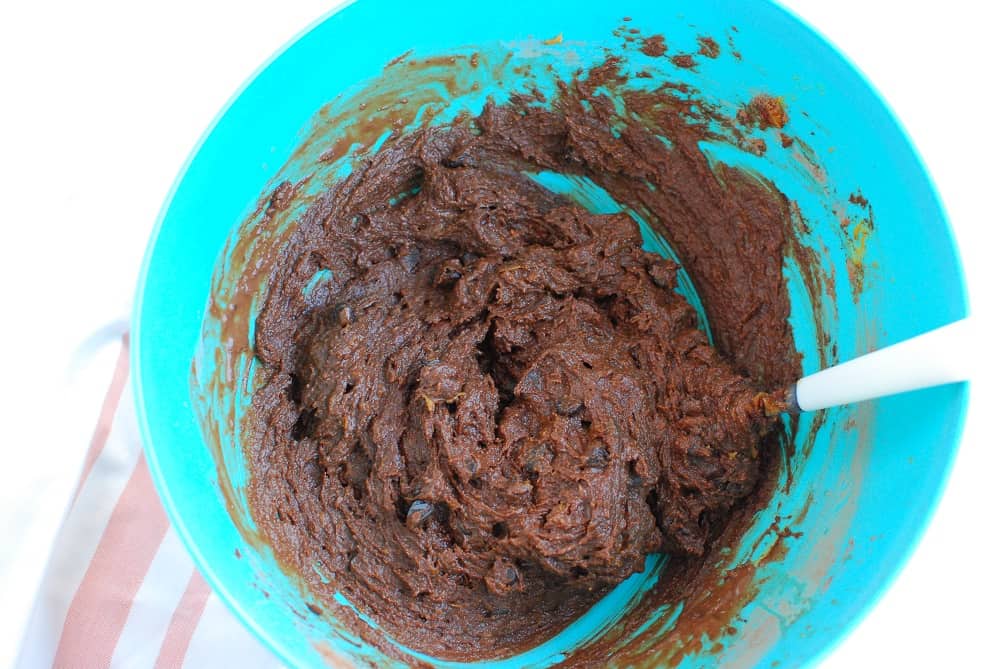 Take an 8×8 pan and pour the batter in. You'll need to spread it around because it's thick – just use the back of a spoon to spread it relatively evenly.
Now pop that baby in the oven and let it bake! Once it's done, be sure to let it cool completely. If you try to cut these too early, the brownies will crumble into pieces. They need to cool fully to hold together.
Recipe FAQ
Here are some common questions that may come up as you're making this recipe:
How should you store these brownies? You can store them at room temperature for 2-3 days, or in the refrigerator for up to 5 days.
Can you freeze brownies? Yep! Wrap in wax paper or plastic wrap, then in aluminum foil, and store in the freezer. When you're ready to eat them, you can thaw at room temp for a few hours. Eat the same day as thawing.
What should you do if the brownies are a little undercooked? If you enjoy them that way, dig in! This recipe has no eggs or traditional flour, which are the ingredients we worry about in undercooked desserts – so from a food safety standpoint, you can still eat them. However, I recommend storing them in the fridge if this is the case, as they'll have a higher moisture content when undercooked and can go bad quicker.
How do you make this recipe vegan? This recipe is vegan as long as you use vegan chocolate chips.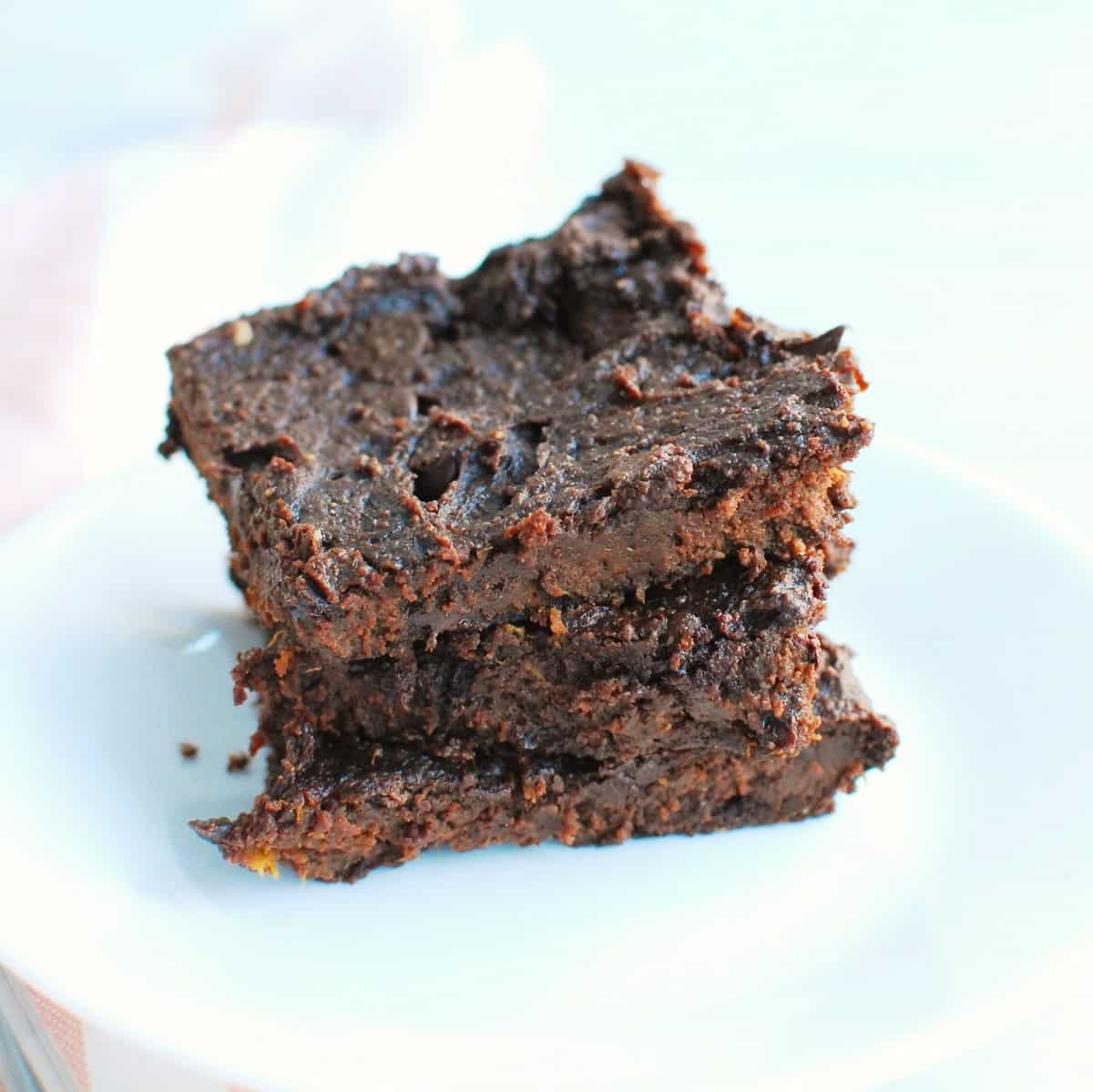 Nutrition benefits
This recipe makes 12 small brownies, and each brownie has quite a few redeeming nutrition qualities. (Don't worry – even though they're small, they pack a lot of flavor, and are quite filling!)
With each brownie, you're getting…
Healthy fats – First, you're treating your body to healthy, satiating fats, thanks to the peanut butter and almond flour you're using.
Fiber – The squash, nuts, and cocoa powder also provide fiber – in fact, one brownie provides 5 grams of fiber to help support digestive health and the gut microbiome.
Protein – Each brownie provides 7 grams of protein, which is quite nice for a dessert! Protein helps keep you full after eating, and also helps support muscle repair and recovery.
Iron – One serving of these brownies provides 10% of your daily iron needs, which helps transport oxygen in the blood (making it a really important nutrient for athletes).
I hope you enjoy these butternut squash brownies! I will warn you – this recipe seems to be polarizing. I absolutely love them, and my local taste tester did too. My son, though, wasn't a fan at all. They do have a deep, rich flavor and are only lightly sweetened, so if you love a good bitter dark chocolate, you'll probably love these. If you prefer overly sweet, milk-chocolatey desserts, then these might not be the best option.
If you get a chance to try it, let me know if you're on team love 'em or team leave 'em! 😉 (And if you're looking for more healthy dessert recipes, try our cookie dough hummus or our heathy chocolate pie).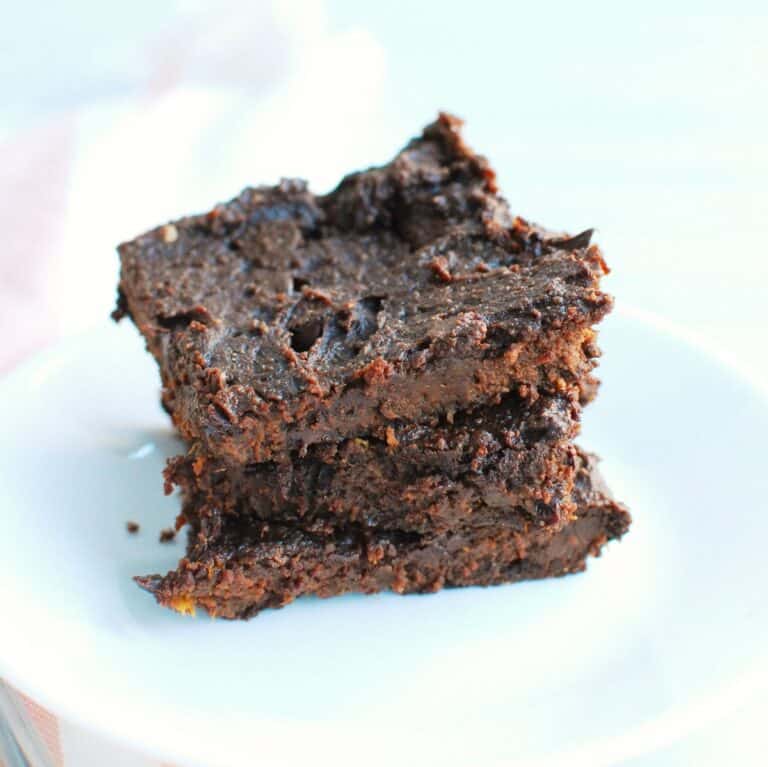 Butternut squash brownies
These butternut squash brownies are the ultimate healthy dessert recipe!
Ingredients
1

cup

mashed cooked butternut squash

1

cup

natural peanut butter

1/3

cup

pure maple syrup

1/4

cup

cold brew coffee

1/8

tsp

salt

1/2

cup

cocoa powder

1/3

cup

almond flour

1/2

cup

chocolate chips

(if vegan, use vegan-friendly brand)
Instructions
Preheat the oven to 350 degrees F. Grease an 8x8 baking dish.

In a mixing bowl, combine the mashed butternut squash and the peanut butter. Stir in the maple syrup, cold brew coffee, and salt.

Add the cocoa powder and almond flour. Stir until well combined. Fold in the chocolate chips.

Pour the batter into the 8x8 dish. Spread it evenly over the dish. Bake at 350 degrees F for 22-27 minutes, until cooked through and a toothpick pulls out clean.

Let the brownies cool completely before cutting them (otherwise they'll crumble). Enjoy!
Notes
Nutrition facts (approximate per serving):  229 calories, 15.5 g fat, 3.5 g saturated fat, 95 mg sodium, 22 g carbohydrate, 5 g fiber, 11.5 g sugar, 5 g added sugar, 7 g protein, Vitamin D: 0%, Calcium: 3%, Iron: 10%, Potassium: 6%
Nutrition
Share: Do you tend to prefer richer desserts or sweeter desserts? If you tried these, what did you think?
Feel free to pin this post to share with others 🙂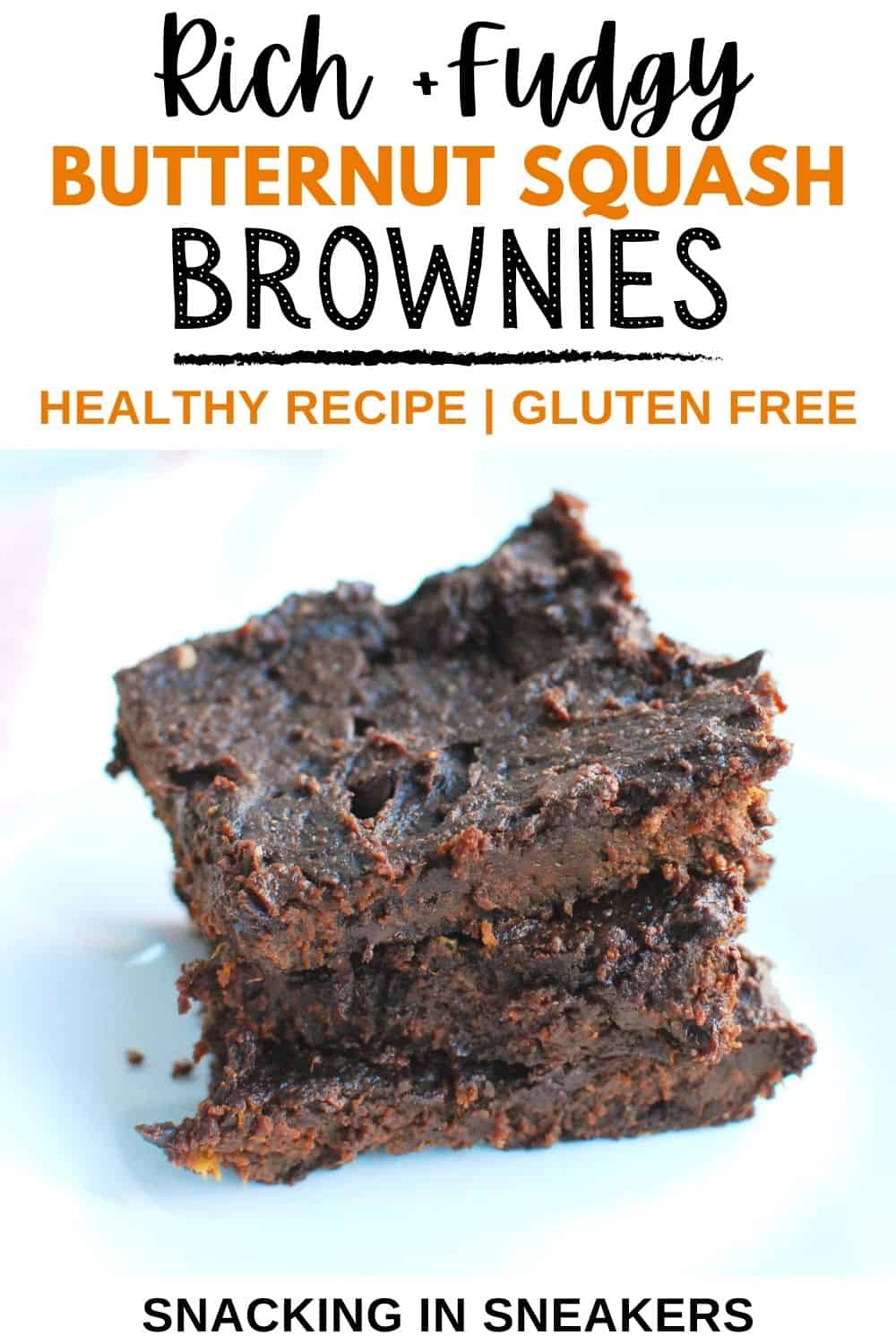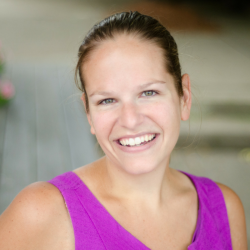 Latest posts by Chrissy Carroll
(see all)