Need a chocolaty treat to satisfy your sweet tooth? Look no further than these double chocolate banana cookies! These soft & chewy cookies are delicious but only clock in at 100 calories a piece. A great way to use up those brown bananas on your counter!
Why these are better-for-you chocolate banana cookies
Here are five reasons why I feel like these are a step up nutritionally from your average cookie:
1) Reduced added sugar.
If you look at many comparable cookie recipes, you'll find around 1/2 to 3/4 cup sugar for a comparable amount of grain. In this recipe, I've used just a little over a third of a cup of total added sugar (1/4 cup brown sugar plus 2 tbsp honey).
2) Uses whole grains.
While most banana cookie recipes will call for all purpose flour, this one uses a blend of whole wheat flour and whole grain oats. This helps add fiber and additional micronutrients.
3) Uses Birota Foods Unsweetened Smart Cocoa rather than traditional baking cocoa.
This product was developed by two fellow sports RDs, who saw a need out there for some functional foods for athletes. They sent me a few samples to test out and I fell in love with the product!
This Unsweetened Smart Cocoa is great for runners and triathletes:
Contains both red and black cocoa, which are rich in antioxidants and flavanols
Has caprylic acid powder, a medium chain triglyceride (MCT) that can raise ketone levels and support fat-burning
Contains cinnamon, a spice that has been shown to have anti-inflammatory properties
If you're not a runner, that's fine too of course – this product can be a great choice for anyone! And as an aside, they also make a smart creamer product that is great for coffee.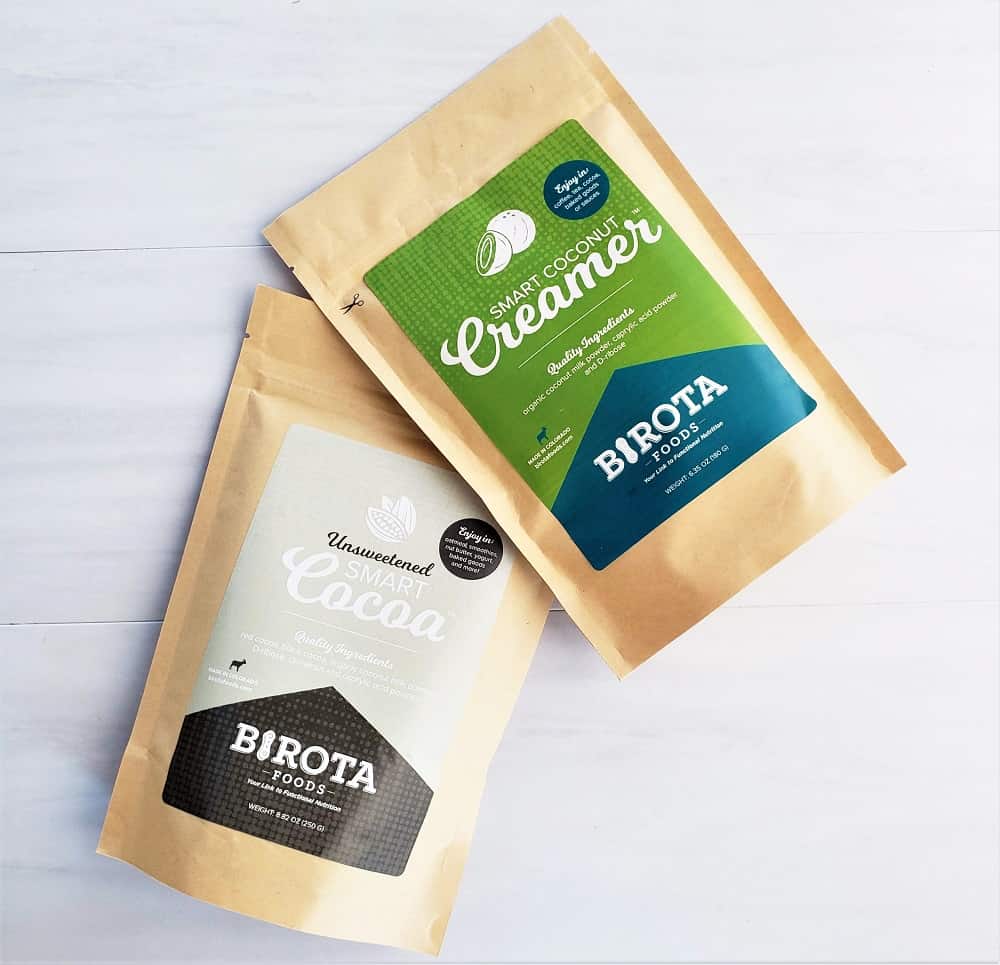 4) Just 100 calories each!
You can totally fit one or two of these chocolate banana cookies into your meal plan without sending your calorie balance completely out of whack.
5) Recovery snack?!
Not that I recommend it as an after-every-workout-kinda-thing, but two of these cookies plus a tall (16 ounce) glass of milk clocks in right at 52 grams of carbohydrate and 20 grams of protein. That's actually not a bad recovery snack, haha! Of course you want most of your recovery meals to also include nutrient-dense produce, but I'm just saying I'm not opposed to mixing this into the routine from time to time. 😉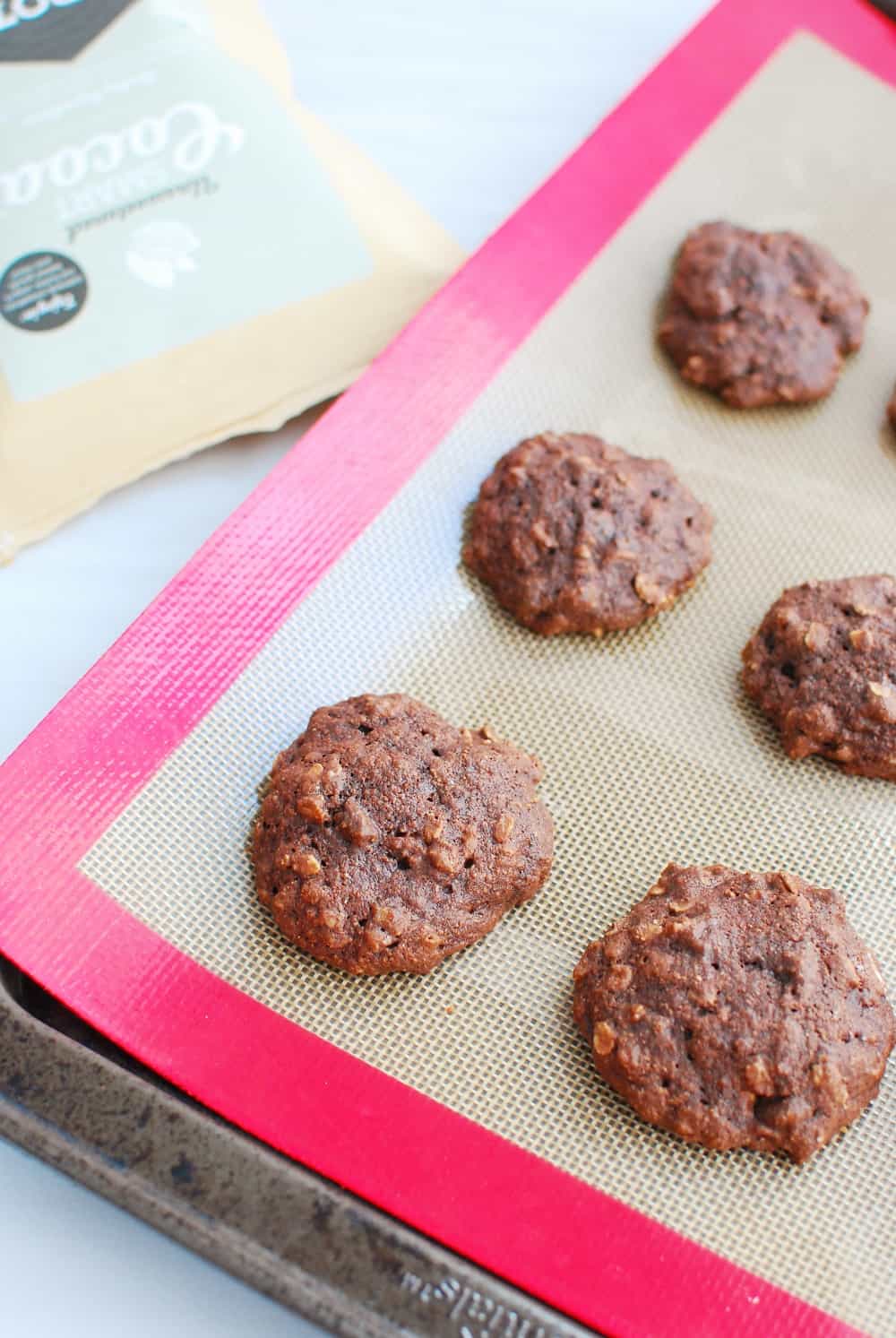 Ways to mix up this recipe
These double chocolate banana cookies are of course delish as-is! But if you've made these already but are looking for ways to change 'em up and add some variety, here are a few ideas:
Add in chopped pecans, walnuts, or macadamia nuts
Use pumpkin puree rather than banana
Add in unflavored whey protein powder to boost the protein content (you'll need to reduce the flour if you do so, otherwise they come out too dry).
Use white chocolate chips rather than dark chocolate chips
Use peanut butter chips rather than dark chocolate chips
Swirl some peanut butter into the batter prior to dropping the dough on the cookie sheet
If you want to get decadent, pair these cookies with some ice cream (or banana nice cream) in the middle
Want extra banana flavor? Sauté some chopped bananas in a little butter and add those to the batter too (along with the mashed banana).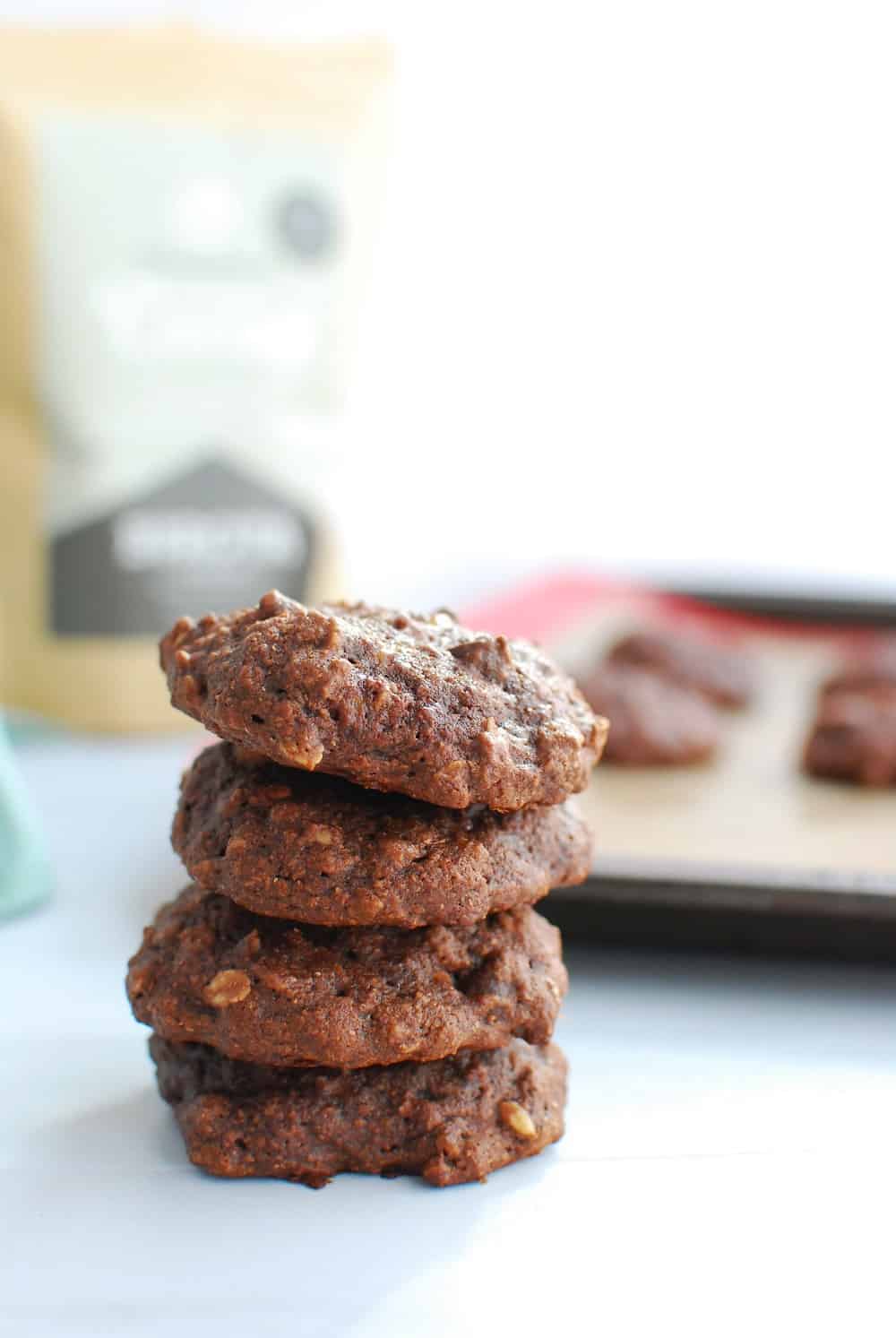 I hope you enjoy these double chocolate banana cookies as much as I do! If you try them, be sure to leave a recipe rating and comment.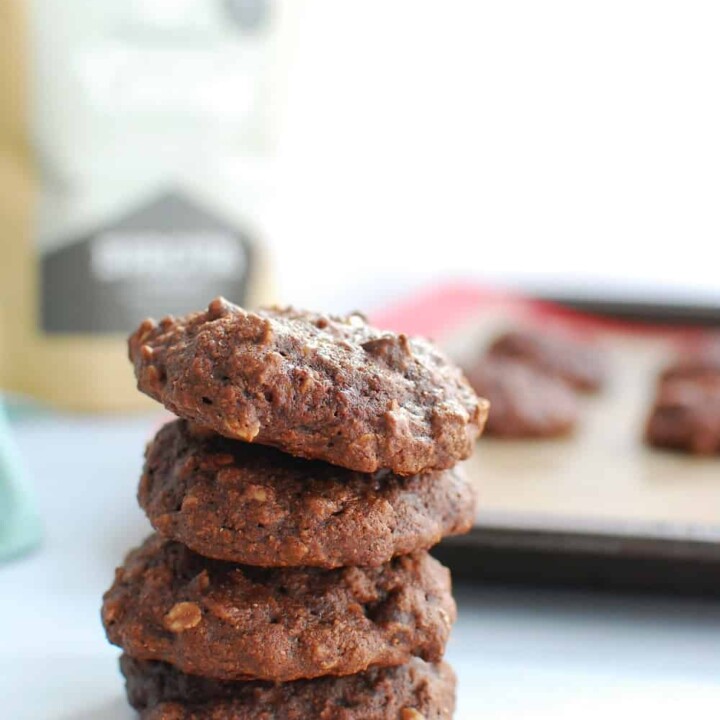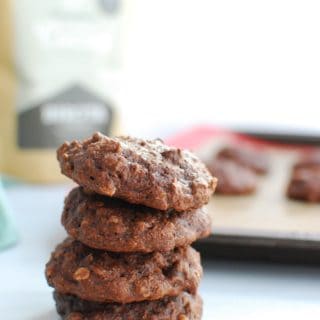 Double Chocolate Banana Cookies
Need a chocolaty treat to satisfy your sweet tooth? Look no further than these double chocolate banana cookies! Delicious AND just 100 calories each.
Ingredients
1

banana, mashed

1

egg

1/4

cup

brown sugar

2

tbsp

honey

4

tbsp

butter, softened

1

tsp

vanilla

3

tbsp

Unsweetened Smart Cocoa*

2/3

cup

rolled oats

2/3

cup

whole wheat flour

1/4

tsp

salt

1/4

tsp

baking powder

1/4

tsp

baking soda

1/3

cup

dark chocolate chips
Instructions
Preheat oven to 350 degrees. Prepare two baking sheets with a silicone baking mat or parchment paper.

In a large mixing bowl, mash the banana. Add the egg and use a fork to whisk together the egg and banana until well combined.

Mix in the brown sugar, honey, softened butter, and vanilla. When combined, stir in the unsweetened cocoa powder.

Add the remainder of the dry ingredients – oats, wheat flour, salt, baking powder, and baking soda. Stir until just combined, then fold in the chocolate chips.

Portion out cookie dough on the baking sheets into approximately 18 cookies. Place in the oven and bake for 9-11 minutes, or until the cookies have set. (Mine come out perfect right at 10 minutes). Enjoy!
Notes
Notes:
If you don't have Unsweetened Smart Cocoa on hand, you can substitute regular baking cocoa – however I highly recommend the smart cocoa!
Nutrition analysis:
100 calories, 4.5 g fat, 2.5 g sat fat, 14 g carbohydrate, 1 g fiber, 7.5 g sugar, 2 g protein, Vitamin A: 2%, Vitamin C: 1%, Calcium: 1%, Iron: 4%
Nutrition
Share with me: What's your favorite chocolaty treat? If you tried these double chocolate banana cookies, what did you think?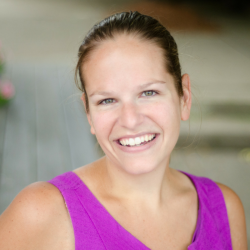 Latest posts by Chrissy Carroll
(see all)