If you're ready to make the easiest, creamiest, most delicious spread out there – look no further than this coconut chocolate macadamia nut butter. It's made with just three ingredients but provides the most flavorful spread that will rival any store-bought chocolate nut butter. Use it on sandwiches, breakfast toast, spread on fruit, or just eat it right out of the jar.
Disclosure: This post contains Amazon affiliate links; as an affiliate I earn a commission on qualifying purchases.
How to make chocolate nut butter
Macadamia nut butter is by far the easiest type to make at home, because it comes together crazy quick.
If any of you have tried to make peanut butter or almond butter at home, you know that those generally take a while of processing to reach the right creamy texture. For example, this gingerbread cashew almond butter is one of my very favorite treats at holiday time, but it also takes at least 10 minutes of processing to get the right texture.
But because macadamia nuts have a higher concentration of fat compared to other nuts, they blend into a creamy spread in just a minute or two. It's seriously so easy! I make a plain macadamia butter quite often.
For this chocolate version, you'll first toss your macadamia nuts in the food processor for a minute until it's pretty smooth. It should look like this: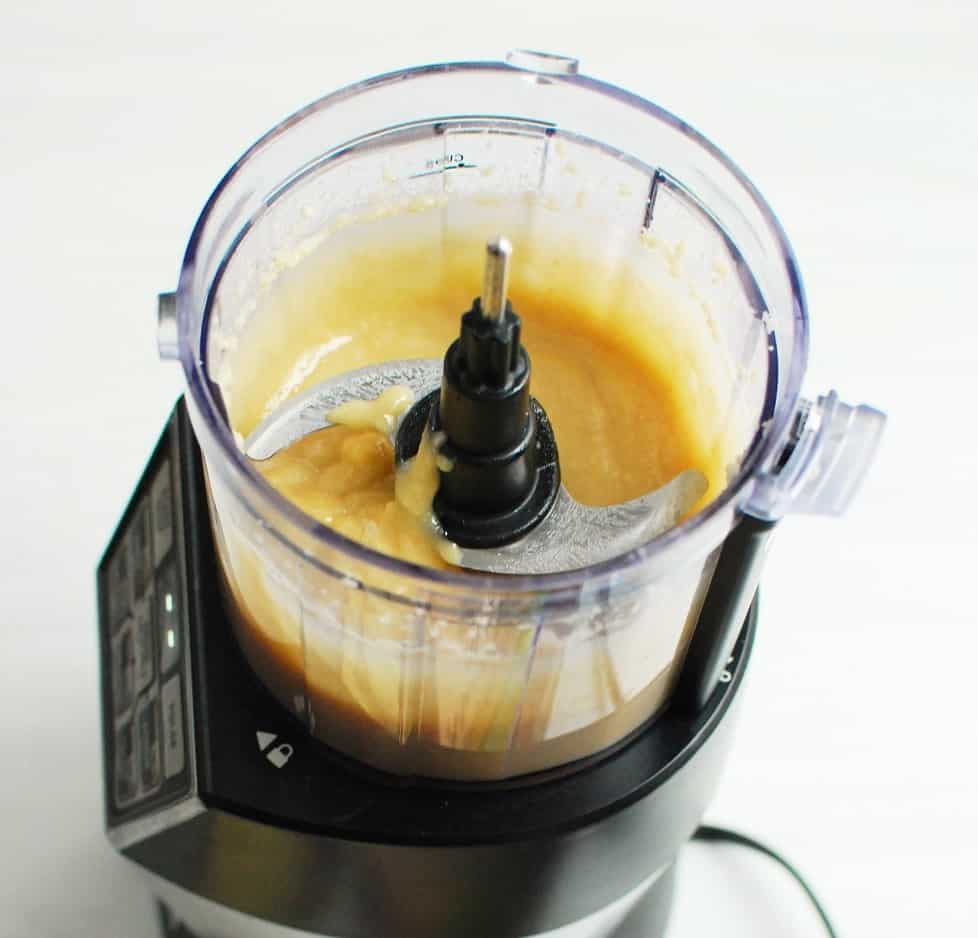 Then you'll add in your coconut and chocolate chips. Just add them right on top like this: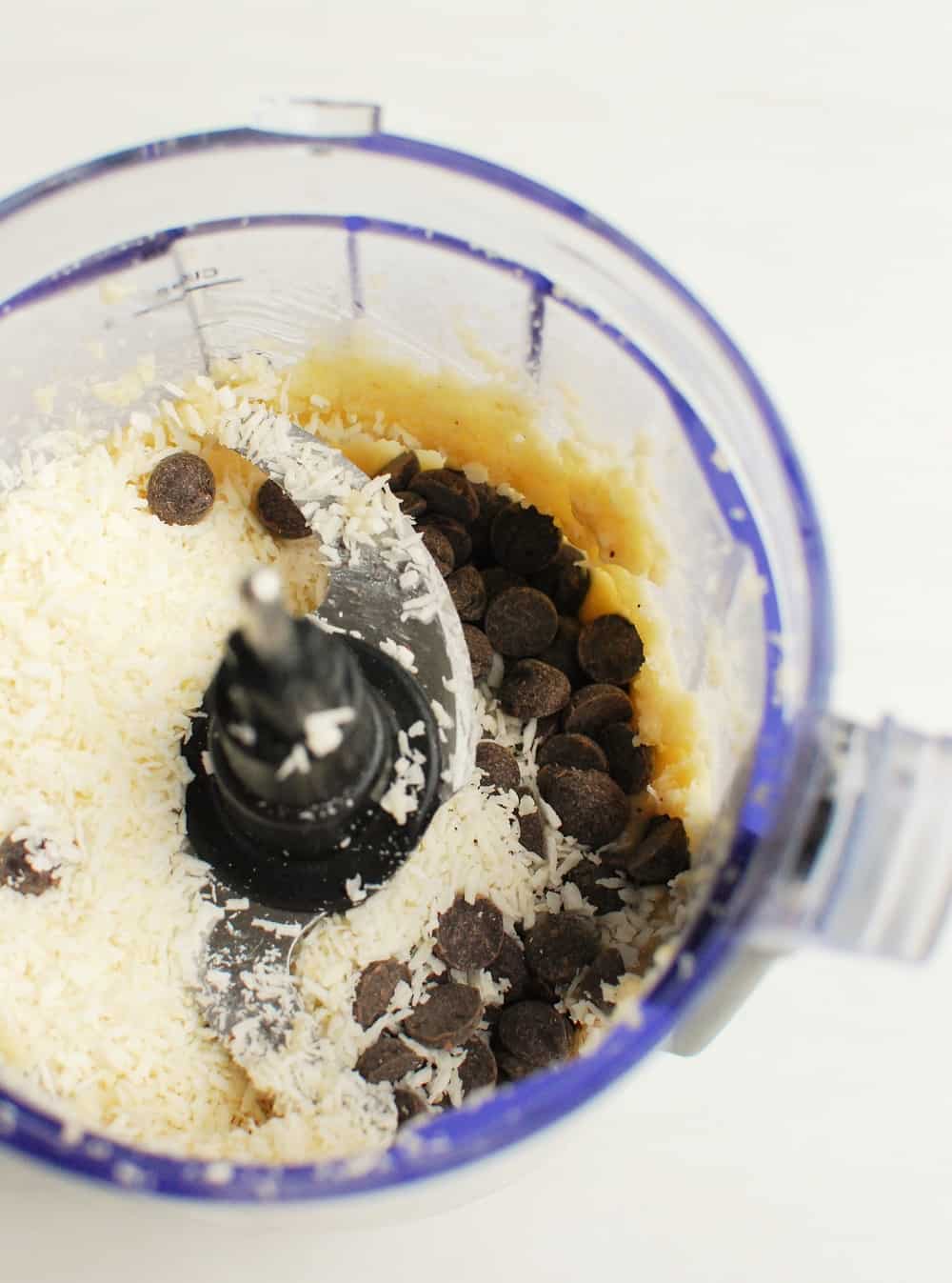 Process for another minute or two until it's well combined into a creamy, crave-worthy chocolate macadamia nut butter. That's it!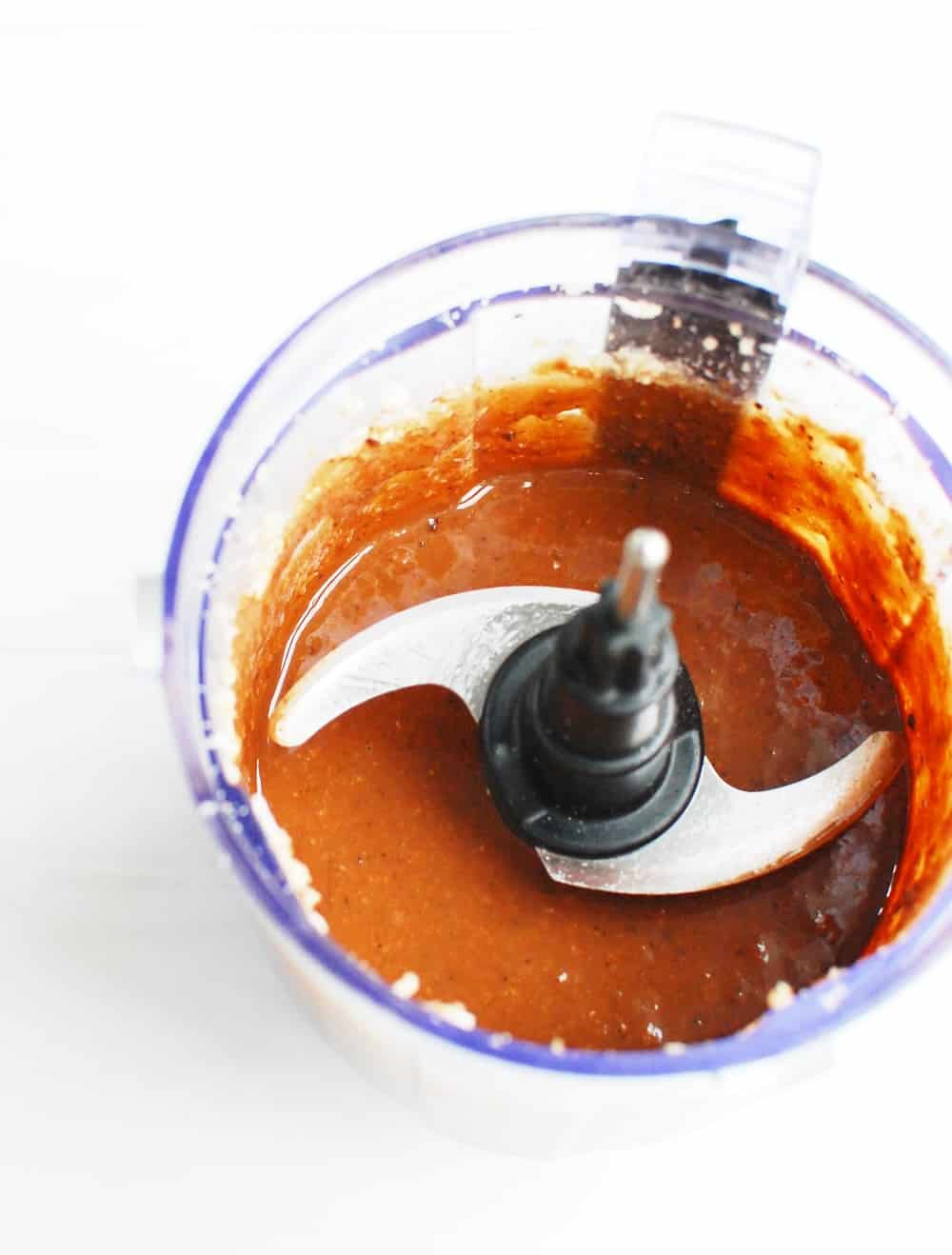 Nutrition benefits and comparison
Macadamia nuts are not only delicious, but nutritious as well. They have the more monounsaturated fats compared to other nuts, and are also a good source of fiber. Eating macadamia nuts (and other nuts) regularly may reduce the risk of heart disease. (source)
Nutritionally, I also think it's helpful to compare this to another popular chocolate spread on the market, so you can see why I love this one so much. I'm not going to throw it under the bus, but y'all know the popular store-bought one I'm talking about.
That spread contains 200 calories per 2 tablespoon serving, with 1 gram of fiber and 21 grams of sugar.
This chocolate nut butter is a little higher in calories at 225 per 2 tablespoon serving, but that extra comes from the healthy fats in the nuts. But with this recipe, you're getting 3.5 grams of fiber and only 4 grams of sugar per serving. Yes please!
Are nuts too high in calories?
I know sometimes people get a bit nervous eating nuts and nut butters because of the high fat content – darn that 1990's focus on low fat everything! In reality, eating portion-controlled servings of nuts can increase satiety and help you feel full, which may lead to a more balanced diet overall.
For example, if you ate just an apple as a snack, you might be hungry relatively soon, but spooning some of this chocolate nut butter on might better satisfy you and keep you full until your next meal.
Of course, keep in mind the portion control thing. This stuff in particular is easy to just eat right outta the jar. I'm not going to pretend I haven't eaten a lot more than two tablespoons at once by the heaping spoonful, haha. 😉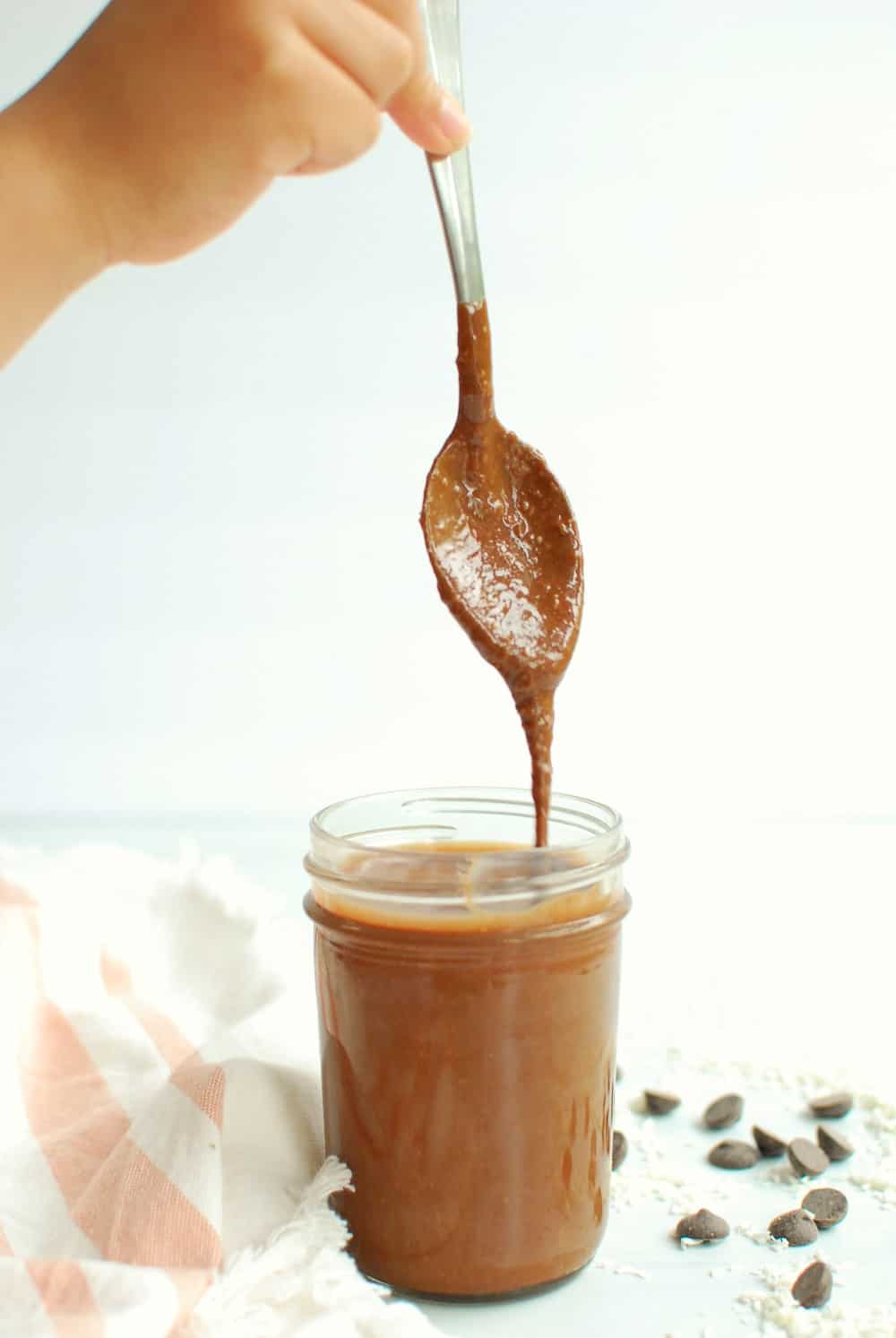 Recipe FAQ
Here are some common questions that might come up as you're making this recipe:
Where can you buy macadamia nuts? I get NOW Foods brand macadamia nuts online (disclosure – client). You can easily find their brand or other brands on Amazon. You can also see if you can find them at the grocery store; bigger stores will likely carry them while smaller stores or those in rural areas may not. Check both the nut section as well as the natural foods section.
Can you use sweetened coconut instead of unsweetened? Sure. The recipe will be sweeter with this, so you may want to start with 1/4 to 1/3 cup and see how you like the taste, and then decide whether to add more. If you use sweetened, keep in mind the nutrition facts for the recipe would be different.
Can you cut down the sugar more? Yes – if you'd like, you can cut the sugar down more by using something like Lily's chocolate chips, which are sweetened with stevia and erythritol (rather than sugar). I haven't calculated it out, but quick math tells me that should knock the sugar to only 1 or 2 grams per serving. I prefer regular dark chocolate chips, but definitely feel free to swap them out if you'd like!
Is this recipe vegan? As long as you choose dark chocolate chips that are dairy-free/vegan, yes! I use Enjoy Life dark chocolate chips which would be vegan-friendly.
Serving Suggestions
Wondering what to do with this coconut chocolate macadamia nut butter? I'd recommend the following ideas:
Dip apples into this for a snack
Spread it on toast and top with sliced fruit
Use it instead of peanut butter on a PB&J sandwich (or in place of the peanut butter on a PB & banana sandwich)
Mix it into your morning oatmeal
Make "nice cream": blend a frozen banana with this chocolate nut butter and a splash of milk (or milk alternative)
Spread it on a piece of banana bread
Make banana "sushi" (kids love this one): Spread this nut butter on a tortilla, then add a banana. Roll it up in and slice it into sushi-esque looking pieces.
Use this to make stuffed French toast, or drizzle it onto pancakes or waffles.
Just eat spoonfuls right out of the jar!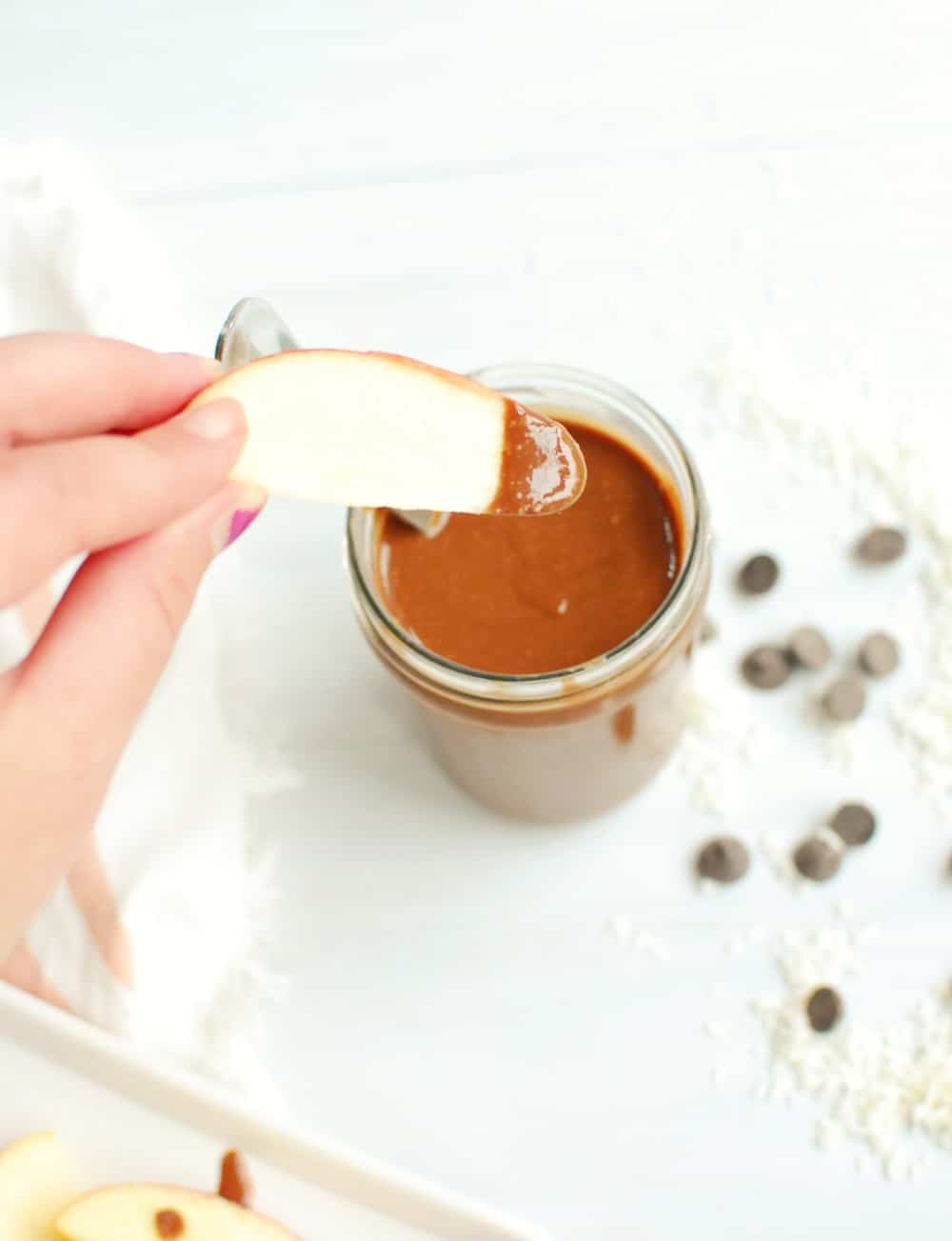 I hope you love this recipe – it reminds me of brownie batter; it's that good! If you get a chance to try it, be sure to leave a recipe rating or comment below.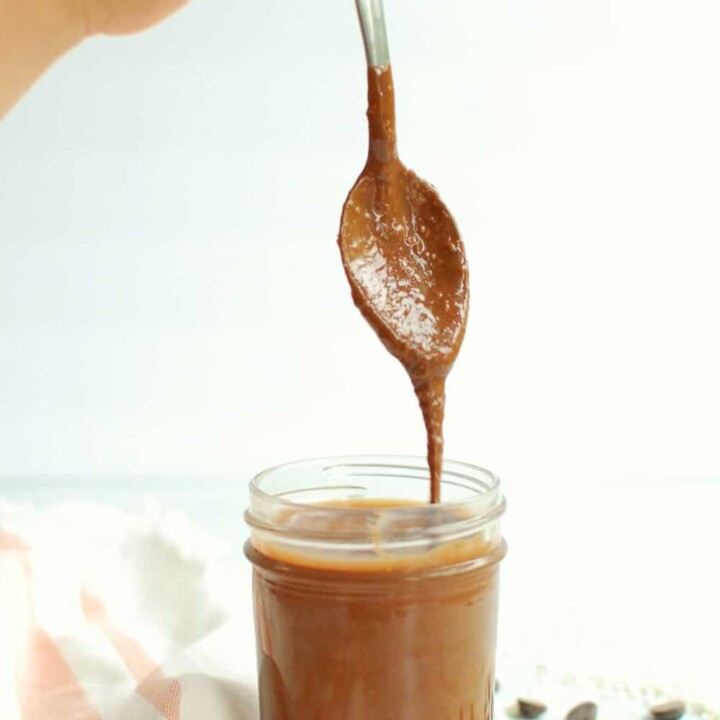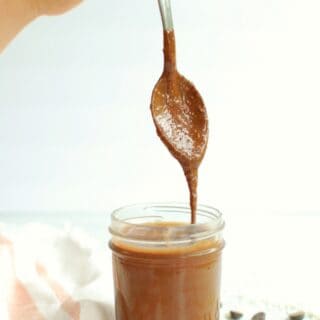 Chocolate Coconut Macadamia Nut Butter
This chocolate coconut macadamia nut butter is the most delicious, crave-worthy chocolate nut butter that you'll ever have!
Ingredients
1 1/3

cups

dry roasted macadamia nuts

1/4

cup

dark chocolate chips

1/2

cup

unsweetened shredded coconut
Instructions
Place the macadamia nuts in a food processor and process for 1 minute, until mostly smooth.

Add the chocolate chips and coconut and process for another 1-2 minutes, until well combined.

Enjoy! Store in the fridge for up to 4-5 days.
Notes
Notes: This makes about 1 cup. Each serving is 2 tablespoons.
Nutrition analysis (per 2 tablespoon serving): 225 calories, 23 g fat, 7 g saturated fat, 80 mg sodium, 8 g carbohydrate, 3.5 g fiber, 4 g sugar, 2.5 g protein, Vitamin A: 0%, Vitamin C: 0%, Calcium: 2%, Iron: 12%
Nutrition
Share: What's your favorite kind of homemade nut butter?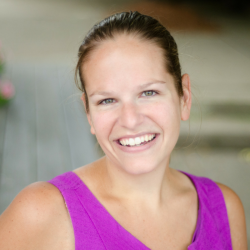 Latest posts by Chrissy Carroll
(see all)