This gingerbread almond cashew butter is incredibly simple to make for a perfect holiday treat!
It's the most wonderful time of the year – seriously! I love Christmas time. The lights, the tree, the treats… I can't get enough of it.
A friend and I went out for drinks a few weeks ago and one of the first things he said was "I can't believe you haven't posted the Folgers Christmas commercial yet on Facebook!" So, apparently the first thing that sticks out to friends is my sappy yearly holiday affection for this gem from the 80's…
Come on, you just have to love that commercial. 🙂
Aside from watching cheesy Christmas commercials, this is also my favorite time of year for cooking – both personally and here on the blog. I love testing out new holiday meals and snacks. And this gingerbread nut butter is no exception!
This has actually been in my recipe queue since last year; I just didn't have my stuff together enough to get it posted in time for December. I couldn't wait to break out the recipe again this month. I'm literally eating it as I type.
[Tweet "Gingerbread almond and cashew butter is the Christmas – or anytime! – treat you need in your life!"]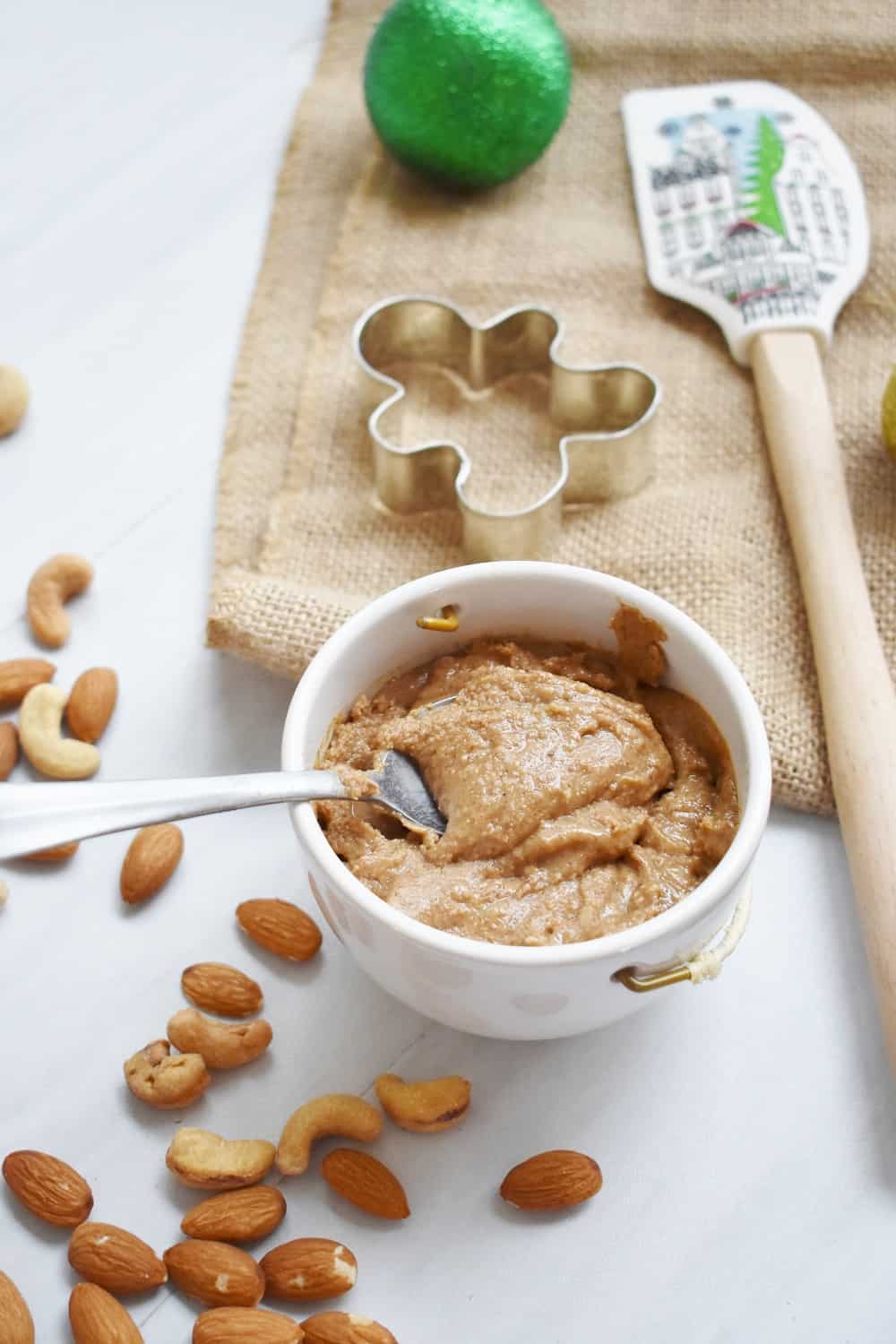 How to make gingerbread almond cashew butter
I suppose "gingerbread" is a bit of a misnomer since these don't actually contain ginger. But this tastes like Christmas in my mouth and that's all I care about, my friends. (You could easily add a little ginger too though if you wanted.)
This gingerbread nut butter is a blend of both almonds and cashews, with a few holiday spices and just a tiny bit of (optional) sweetener added in. For those with dietary limitations, this means it's naturally vegan and gluten free.
It's also incredibly simple as far as the process and ingredients go. You just toss your ingredients in the food processor and that's pretty much the extent of it. The only tedious part is that you have to use the food processor for a good 10-20 minutes (on and off – give it a break here and there) to get that smooth, creamy texture. I promise, it will happen though!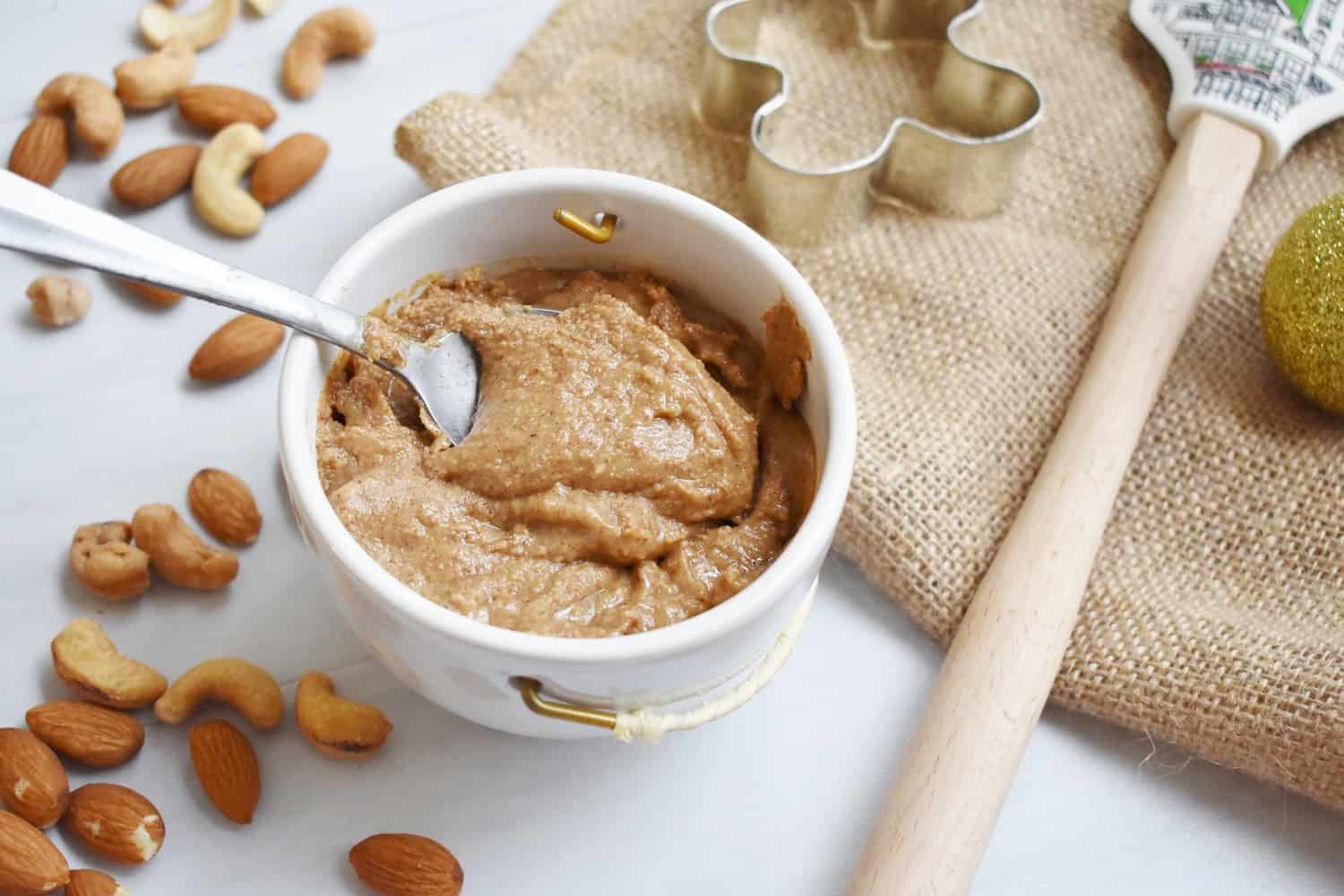 Helpful tips for making homemade almond cashew butter
Here's a pro tip for you that I learned making this over and over: you want to process the almonds and cashews alone first until you get it as smooth and creamy as possible. Then add your other ingredients. I've found that if you add the molasses and maple syrup at the beginning, it makes it much harder to create the right texture. I have no idea why, but I'm sure there's some food scientist out there that can speak to that. 😉
Once you make a jar, you can eat it…
By the spoonful
On sliced apples (my personal favorite)
Blended into a smoothie
On a sandwich with chia jam
Spread on toast and topped with pomegranate seeds
As a runner, some of this gingerbread nut butter combined with an apple is pretty much the perfect snacking solution. I'm getting carbs, protein, and healthy fats – in a way that totally satisfies my sweet tooth.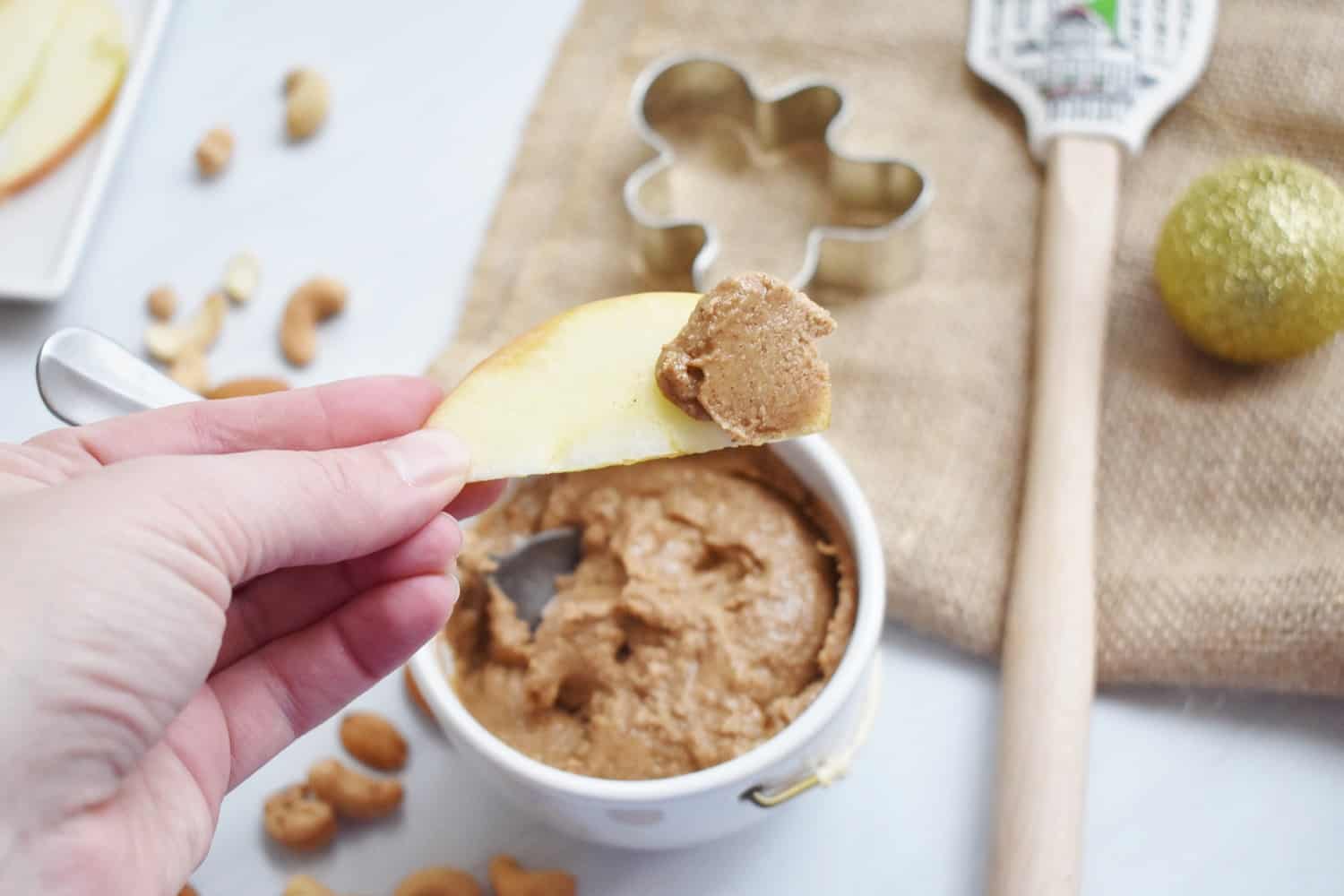 Seriously, you want this in your life – I promise. Give it a whirl and let me know what you think!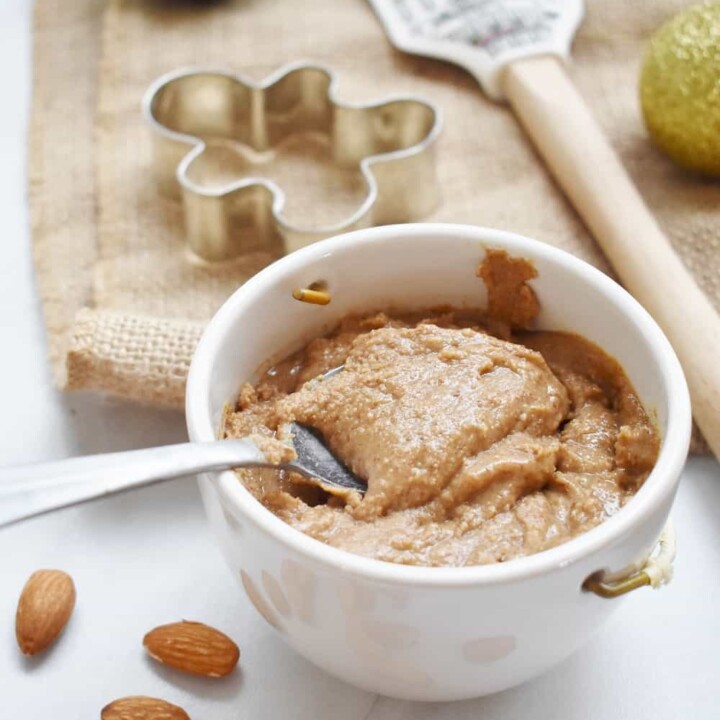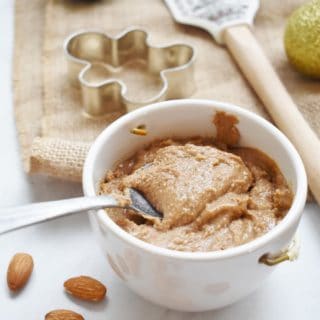 Homemade Gingerbread Almond Cashew Butter
Homemade gingerbread almond cashew butter is the Christmas - or anytime! - treat that you need in your life. It's easy to make with just a handful of ingredients.
Ingredients
1

cup

roasted cashews

1

cup

almonds

1

tsp

cinnamon

1/4

tsp

salt

1/4

tsp

nutmeg

1/4

tsp

allspice

1

tsp

molasses

1

tbsp

pure maple syrup

2

tsp

coconut oil
Instructions
Add the almonds and cashews to the food processor. Process for 5-10 minutes. I usually do about 1 min on/15-30 seconds off to give my food processor a rest, and scoop down the sides of the processor with a spoon in between rounds. When it looks relatively smooth, move onto the next step.

Add the cinnamon, salt, nutmeg, allspice, molasses, and maple syrup to the mixture, as well as 2 tsp coconut oil. Then just process for another 5-10 minutes (like you did above) until the nut butter is smooth and creamy and ready to eat!
Notes
Notes:
If the nut butter isn't starting to become smooth again after a few minutes in step 2, add another teaspoon of coconut oil. The oil helps with this process, but you only want to add as little as you need to help move it along.
This makes around 12-14 tbsp of nut butter.
Nutrition analysis (per serving, assumes 12 servings):
144 calories, 12 g fat, 2 g sat fat, 82 mg sodium, 7.5 g carbohydrate, 2 g fiber, 4.5 g protein
Nutrition
Share with me: Do you also love the Folger's Christmas commercial? Do you ever make homemade almond cashew butter? What would be your favorite way to enjoy gingerbread nut butter?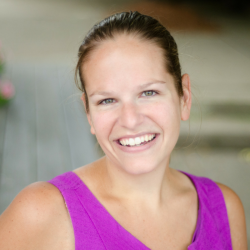 Latest posts by Chrissy Carroll
(see all)