These healthy toast toppings are perfect for a nutritious morning meal!
When I think back to being a kid, a slice of white bread with butter with cinnamon and sugar was about as special a slice of toast there was. But in the last few years, toast has taken a turn!
Gone are the days when toast was just a simple addition to eggs and bacon, or a quick way to grab something for breakfast. In the last few years, there's been a noticeable spike in trendy toast toppings – and we're loving that.
I mean, by itself, toast isn't that interesting (to say the least). A plain piece of warmed, slightly crispy sliced bread certainly isn't bad – but it's also not super exciting. And it's likely to leave you hangry mid-morning.
But jazzing it up with some protein, healthy fats, and/or additional nutrient-dense foods? That's the ticket to an exciting, delicious, and nutritious toast combo! And there are tons of healthy toast toppings that you'll love experimenting with in this post.
Selecting the Right Toast
An average piece of sliced white bread doesn't have that significant of a nutritional value, besides providing you with some energy-boosting carbohydrates. So if you're open to other types of breads, you can get a more well-rounded nutrition profile in your breakfast.
For example, whole wheat bread has more fiber and micronutrients compared to white bread, so it's a nice option to mix into your routine.
Similarly, sprouted grain breads are thought to have more available nutrients, less phytates, and potentially be easier for some people to digest, compared to regular white bread (source).
And there's some evidence that sourdough bread may have a lower impact on blood glucose compared to traditional white bread (thanks to the lactic acid produced during dough leavening, and the action the starter takes on some of the carbohydrates during the leavening process). (source). That's personally my favorite option for morning toast, because sourdough bread is just so darn delicious!
Lastly, don't forget about the other entry to the toast market – sweet potato toast! You can experiment with all of the healthy toast toppings below on that too.
All that said – just because white bread and other refined grains aren't nutritional powerhouses doesn't mean you can't include them. Variety is the spice of life, and they sure can be delicious!
And you can also try other breads like brioche, pumpernickel, rye, raisin bread, or challah – depending on your taste preferences and what you plan to top it with.
20 Healthy Toast Toppings
1. Avocado
First up, of course, is the millennial cult classic: avocado toast. Avocados contain tons of heart-healthy monounsaturated fats, along with digestive-friendly fiber.
Begin with toasting a piece of bread. Then scoop out some avocado and mash onto the toast, making it as thin a layer or as chunky as you please.
From there, you can get creative with your additions – here's some of our favorite combos to put on top of your avocado toast:
A fried egg plus some sriracha or everything bagel seasoning – both of these are go-tos!
Tomato, olive oil and red pepper flakes for some spicy that balances out the juicy tomato and creamy avocado.
Salsa, cheddar cheese, and an over easy egg, for a tex-mex style avo toast.
Sliced, hard boiled eggs, cucumber slices and red onion for some protein, a bit of crunch and a little spice.
Sautéed spinach and crumbled feta cheese make a nice vegetarian option for avocado toast.
2. Greek yogurt
If you're looking to add extra protein and calcium to your morning meal, greek yogurt makes a great healthy toast topping. You can use plain yogurt or vanilla yogurt and can use that as your main spread, or you can mix together your greek yogurt with some nut butter.
Ready to try it? Find a hearty whole wheat bread and layer it with vanilla Greek yogurt and fresh berries. It's delicious!
3. Nut Butter
Nut butter adds healthy fats and a little protein to your morning meal – plus, it tastes amazing!
You can go traditional with peanut butter, but you can also think outside the box with options like almond butter, cashew butter, or macadamia nut butter.
Here's a few combos to try:
This time of year, homemade gingerbread nut butter on toast with sliced apples is just delightful.
You can also try homemade chocolate macadamia nut butter on toast with strawberries, for a "chocolate covered strawberries"-esque toast.
Try peanut butter, thinly sliced apples, cinnamon and honey (tip: if you have the time, microwave the apples with a smidge of water so they soften up to apple pie consistency!)
Almond butter, plum and crushed hazelnuts makes a delicious and unconventional combo.
Any nut butter tastes great with sliced bananas (and is a classic breakfast option for many runners!)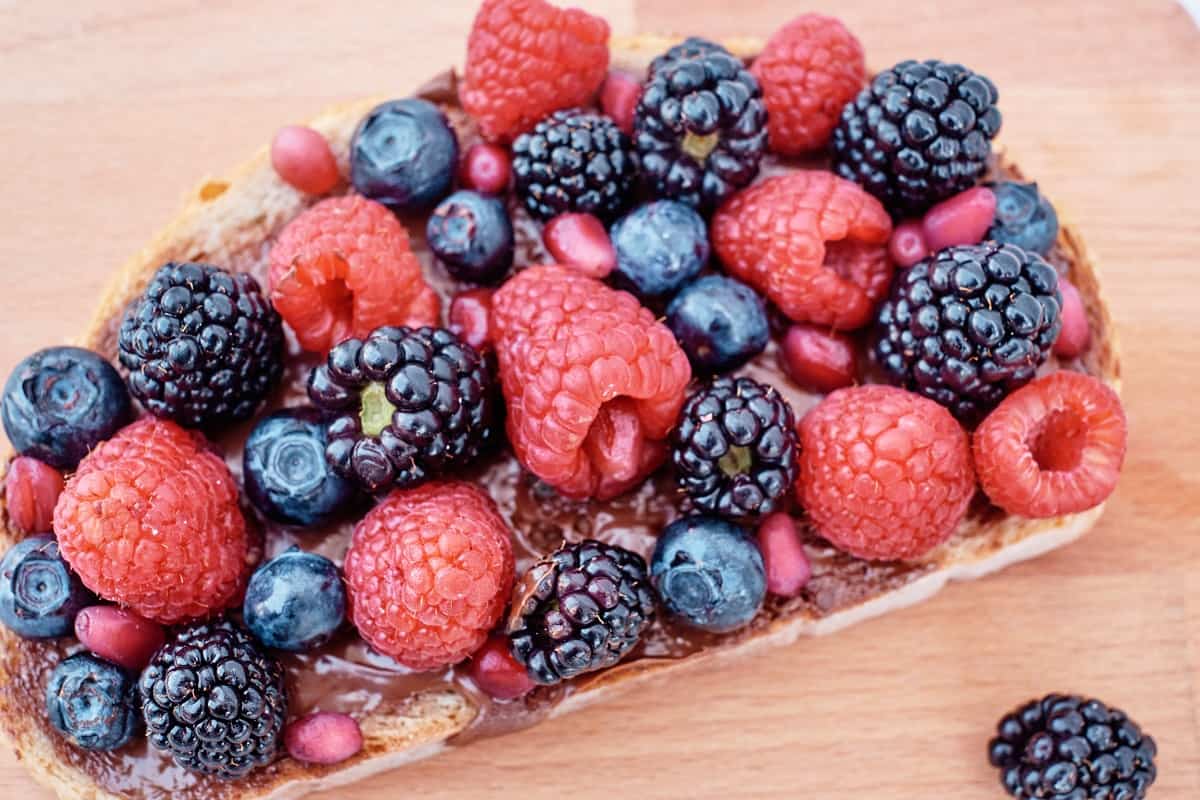 4. Powdered peanut butter
Yes, technically this one should get lumped above in nut butters, but let's pull it out separately just to highlight why someone might use this.
Normal peanut butter is delicious and rich in satiating, healthy fats. But if you're eating a meal right before a tough workout, sometimes that fat can bother your stomach (this is highly individualized). If you find that it does, you can try making your toast with powdered peanut butter instead, which has less fat.
Similarly, some people look for ways to cut down on calories, and powdered peanut butter may be a way to do so (though I'd argue a little of the real stuff is more satisfying and enjoyable!).
If you want to use powdered peanut butter, just mix it according to the package directions to a consistency that you can spread on your toast. Or, mix it with plain greek yogurt to spread on.
5. Seed butters
If you've got an allergy to nuts, you can purchase seed butters instead for your toast. Sunflower seed butter is very common and easy to find in pretty much any supermarket. If you search online, you can also find specialty seeds butters like pumpkin seed butter or watermelon seed butter.
Any of the combinations mentioned for nut butter will also be great with seed butters!
6. Ricotta
Ricotta cheese is the most underappreciated cheese of the dairy world – it's so versatile, and perfect for toast! Plus, it packs a surprising amount of protein (and depending on the type, may also have some satiating fats).
Try starting with a hearty piece of toast and layering on ricotta, fresh sliced figs, and a drizzle of honey. The toast and the ricotta are fairly neutral here while the subtle fig and drizzle of honey add just a touch of something sweet.
Or, for a little more of the savory and sweet combo, try the toast with ricotta, sliced roasted beets, arugula, and honey. This is one of my favorite lunch-time toasts!
7. Chia Jam
If you've never made chia jam, you're in for a treat – it's super easy to whip up. All you need to do is heat up your favorite kind of berries, mash 'em up, mix in a tiny bit of maple syrup, and then add chia seeds. The chia seeds help it to thicken and form a jam-like texture that's far lower in added sugar compared to store-bought varieties.
You can try my recipe for strawberry chia jam, but just know this also works with blackberries, raspberries, and even concord grapes (just process the grapes and strain out the seeds first for the grapes).
Chia jam is a great addition to your toast as it brings a sweet fruity flavor. Berries are also rich in phytochemicals that have numerous health-promoting benefits, and contain digestive-friendly fiber.
Try layering up a hearty slice of toast with ricotta or greek yogurt, then swirling in some chia jam
Or, try chia jam as your main topping, and add on some nuts and cacao nibs.
8. Mashed Banana
Quiz time – who dislikes eating whole bananas once they have any brown spots on them? (Raises hand).
If you've got some that are slightly past your preference for eating, mash 'em up and toss them on some toast. Bananas offer healthy carbohydrates that are great for fueling athletes, along with potassium that supports blood pressure regulation.
Top your banana toast with some dark chocolate chips and cinnamon and you'll be surprised how delicious it is!
9. Hummus
Hummus is that tasty spread made from ground chickpeas (and generally processed with olive oil, tahini, lemon juice, and some other seasonings). It's got healthy fats, and is a delicious, savory addition to breakfast.
Try hummus on your toast along with:
Different seasonings – everything bagel seasoning, black sesame seeds, or crushed red pepper
Sliced cucumbers and tomatoes
Sliced radishes
And if you can find chocolate hummus (yes, dessert hummus is a thing!) – try layering that on your toast along with sliced strawberries.
10. Mashed Beans
Outside of hummus, you can also get creative with any other kind of bean as a healthy toast topping. Beans provide plant-based protein and fiber, a key nutrient most people fall short on.
Mashing them up makes it easier to spread and stick on the bread (versus just layering them whole where they'll roll off when you pick it up).
Try spreading mashed black or pinto beans on your toast (either mashing your own, or you can buy canned refried beans), and then topping with tomatoes, green chiles, and a fried egg.
Or try mashing white beans on toast and adding a sprinkle of rosemary and parmesan cheese.
11. Tahini
Tahini looks like nut butter, and it has a similar texture – but is instead made from ground up sesame seeds. While it may sound exotic, you've probably had it before as it's a key ingredient in hummus. Most grocery stores carry tahini these days so you should be able to find a jar if you want to try it.
Consider these tasty combinations on your tahini toast:
Chopped dates and dark chocolate
Pomegranate arils and pistachios
Charred eggplant and zaatar seasoning
12. Cottage Cheese
Cottage cheese seems to be one of those foods that you either love or hate. If you love it, go ahead and layer it up on your toast! It's packed with protein (about 12.5 grams in half a cup!) so it's a great option to both help keep you full longer and support muscular health.
Slightly salty cottage cheese tastes great with sweet fruits like peaches, pears, and pineapples. Canned fruit works surprisingly well in this case, so you can stock up on a few cans to keep in your pantry.
13. Eggs (Scrambled, Fried, or Hard Boiled)
While eggs are great on avocado toast, you can also use them as a healthy toast topping on their own. Yes, it's more akin to an open-faced breakfast sandwich, but who cares?
This is a very nutritious addition, as the egg whites are rich in protein, while the yolk provides Vitamin D and choline.
Try scrambled eggs with halved cherry tomatoes and a sliced scallion on your toast. Or for a sweet and savory combo, go with apple butter, arugula, cheddar, and a fried egg (don't knock it 'til you try it!).
14. Goat Cheese
Goat cheese – also called chèvre – is a soft spreadable cheese that can be a nice addition to toast. It's got a very particular flavor that most people either love or hate. If you've never tried it, give it a whirl to see which camp you fall into.
Need a good combo idea? Try goat cheese with pistachios and honey on your toast.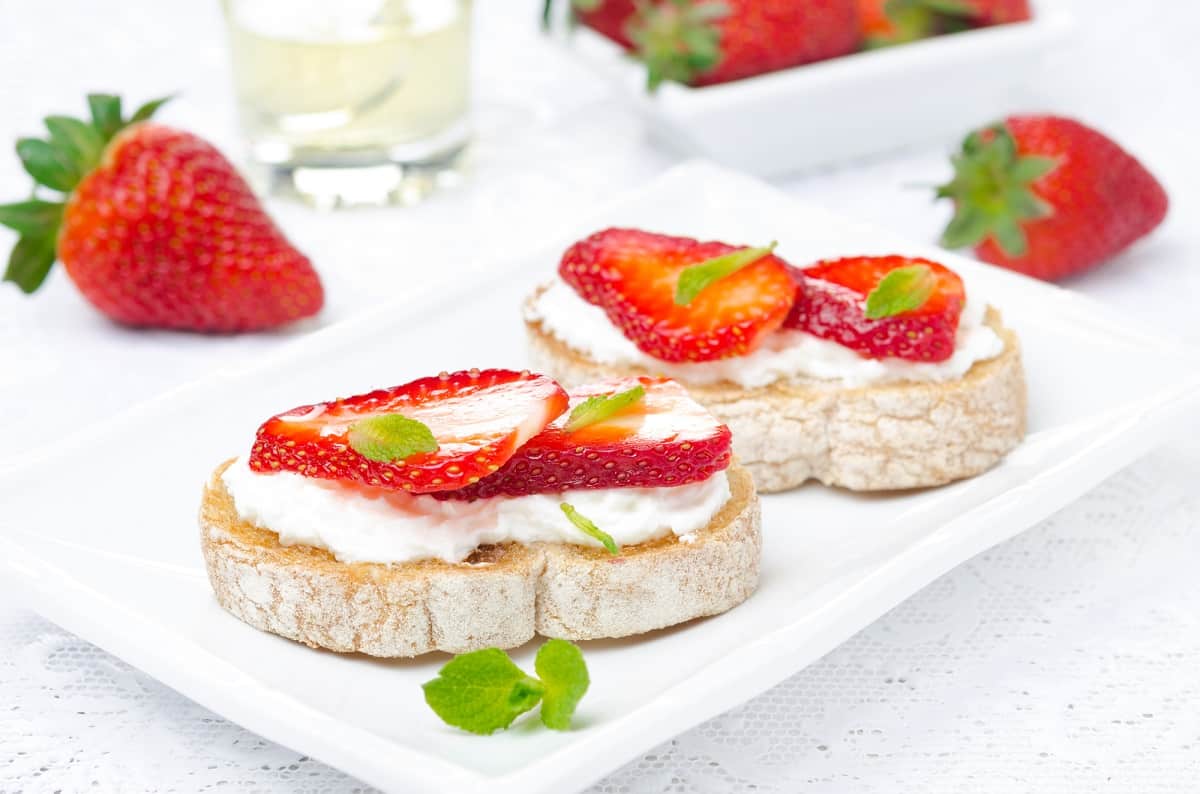 15. Roasted Red Peppers
A jar of roasted red peppers is an underutilized kitchen hack – these babies can add so much flavor to any dish!
When it comes to toast, try layering it with roasted red peppers and feta cheese, and consider adding on some roasted cauliflower. This unconventional veggie-packed toast is nutritious and tasty.
You could also try roasted red peppers with herbed goat cheese, or with mashed white beans.
16. Cacao Nibs
Cacao nibs are little bits of unsweetened cocoa beans. They've got a rich, bold chocolate flavor, and no added sugar or additional ingredients (as such, they're a bit more bitter than traditionally sweetened chocolate). They're also thought to be a good source of flavonoids, which offer health-promoting benefits.
Try sprinkling on some cacao nibs for any toast where you're using mashed fruit or jams. They taste great with the sweet fruit! They also are delicious alongside nut or seed butters.
17. Seeds – Hemp, Chia, Flax
Seeds add healthy fats and fiber to your morning meal – both of which will keep you full longer.
You can mix ground flax into any nut butters or yogurts that you're spreading on your toast, or you can sprinkle hemp hearts or chia seeds as the final touch to your toast masterpiece. The former blends in easier (and may be good for picky kids) while the later adds a pleasant crunchy texture to your toast.
18. Salmon
If you're feeling fancy, toast up a piece of bread and spread a thin layer (or thick–you do you) of cream cheese over it. Top with smoked salmon, slices of tomato, onion, and capers if desired.
Salmon adds omega-3 fatty acids to the dish, a nutrient that may help with heart health, cognitive health, and even potentially exercise recovery.
And while it's a bit more unconventional, you can also go beyond smoked salmon and think about other salmon toppings. For example, this canned salmon dip is packed with a rich flavor that tastes great on toast.
19. Tomato sauce
English muffin or bagel pizzas were a staple growing up – but toast pizzas can be delicious too!
Did you know that canned tomato products like tomato sauce are high in an important phytochemical called lycopene? Lycopene may play a role in preventing certain types of chronic disease and may also help promote optimal skin health (source).
Try topping your hearty toast with tomato sauce, mozzarella cheese, and some sauteed mushrooms or turkey pepperoni.
20. Homemade Cranberry Sauce
While the store-bought stuff is typically high in added sugar, homemade versions – like this low sugar cranberry sauce sweetened with pears – make for a delightful spread on toast. Cranberries are a good source of Vitamin C and are packed with proanthocyanins, a plant compound that can help the body in numerous ways (source).
Spread cranberry sauce on your toast then top with sliced apples and cinnamon for a sweet treat, or spread cranberry sauce on your toast and layer with turkey for a savory meal (that's great for using up Thanksgiving leftovers).
A Final Word
I hope this helps give you some new ideas for your morning (or anytime!) meal. Whatever your breakfast preference, you're likely to find a healthy toast topping that works for you and your goals. Enjoy!
Share: What's your favorite toast combo?
PS – Don't forget to pin this to refer to later or share with others. 🙂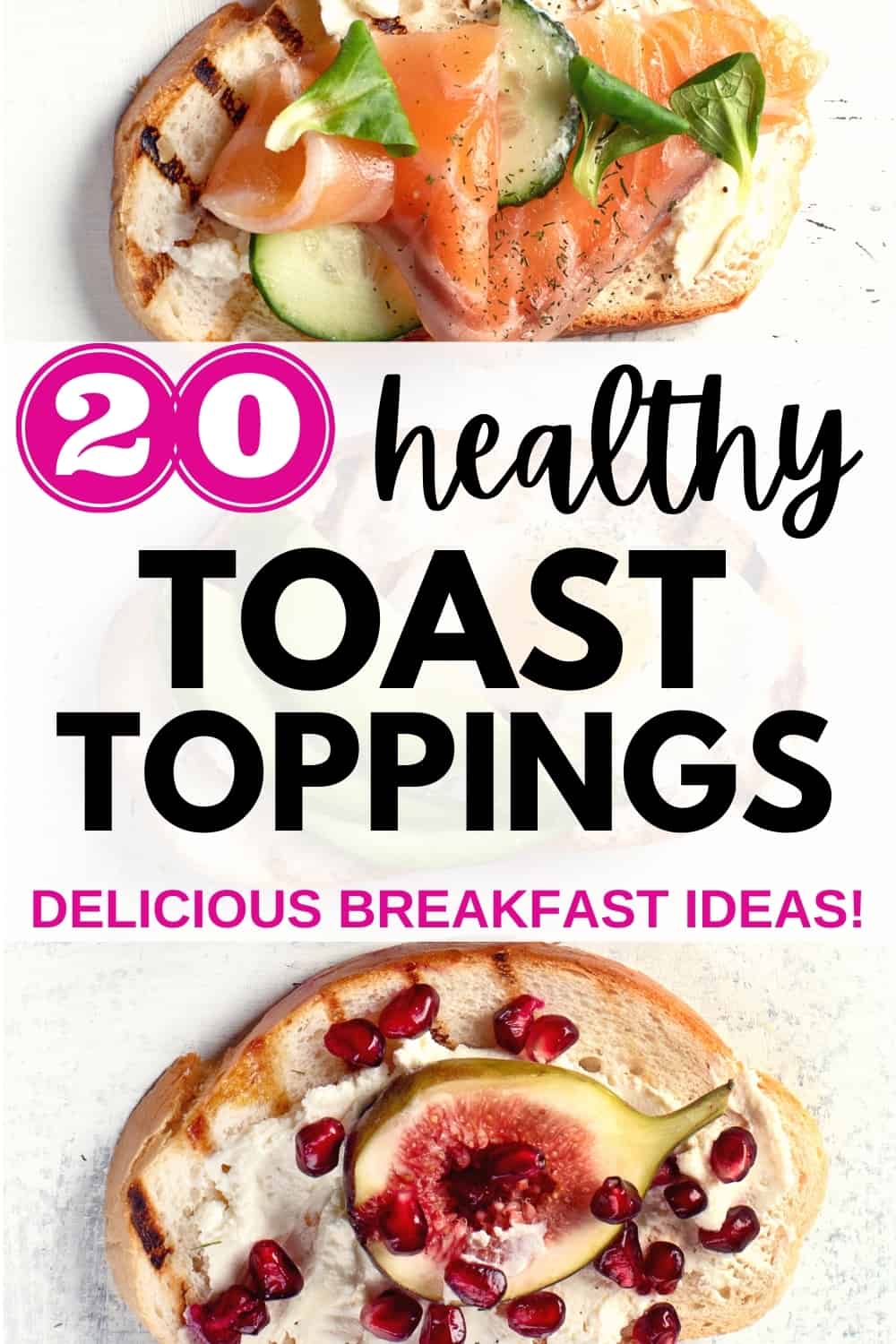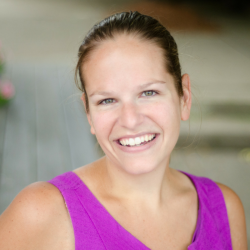 Latest posts by Chrissy Carroll
(see all)