Complete your Thanksgiving feast with this lower sugar cranberry sauce! This homemade version is tart and subtly sweet, letting the cranberry flavor truly shine through. It's perfect for topping your Thanksgiving turkey.
Note: This post was first published in 2016 and has been updated in 2022.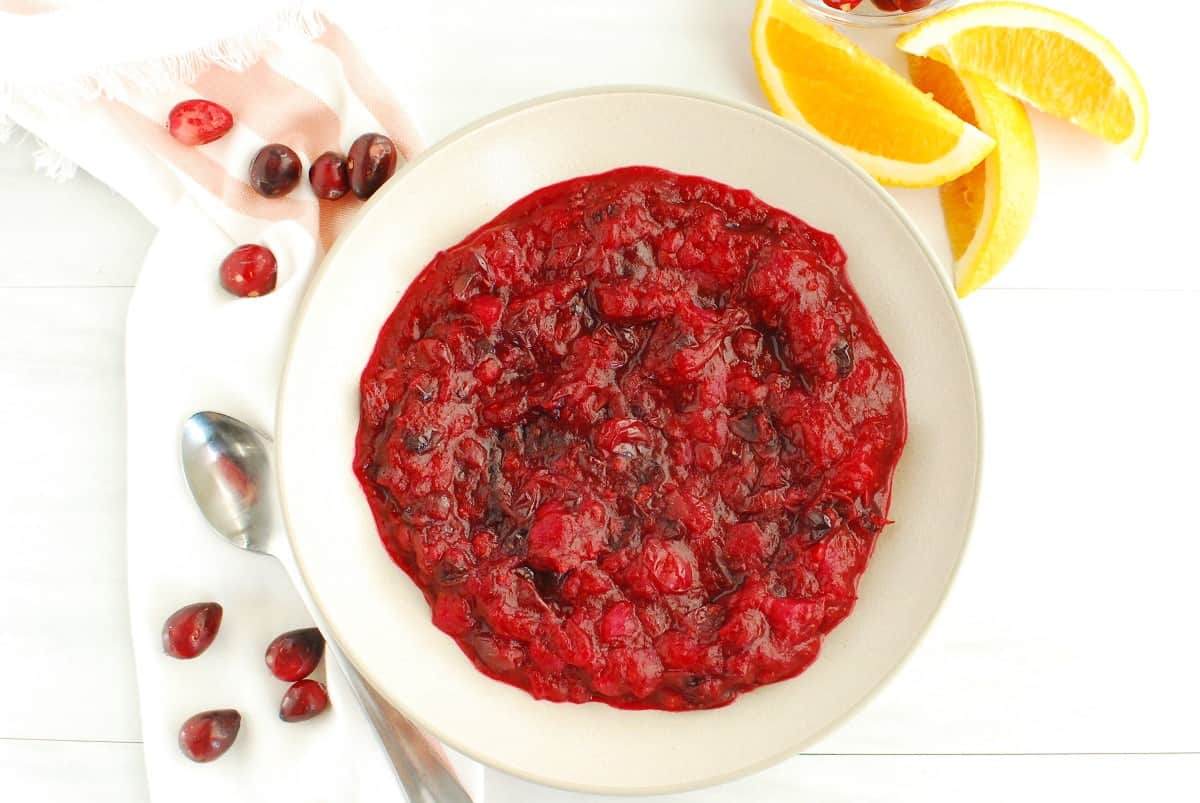 Why make homemade sauce?
My husband will argue with me on this one, but I really prefer homemade sauce that isn't clawingly sweet and allows the flavor of the berries to shine through. He much prefers the standard straight-outta-the-can slice of sauce. To each their own. 😉
From my standpoint as a dietitian, making your own sauce allows for you to better control the ingredients and sugar if you would like to do so.
For example, a standard quarter cup serving of canned cranberry sauce contains 23 grams of sugar, while a quarter cup of this sauce contains just 9 grams. Canned sauce has 1 gram of fiber, while this homemade version has 2.5 grams of fiber.
Since I like to use cranberry sauce in a lot of ways besides just Thanksgiving turkey, I like having this nutritious recipe on hand.
Ingredients
You'll only need these four ingredients to make this recipe: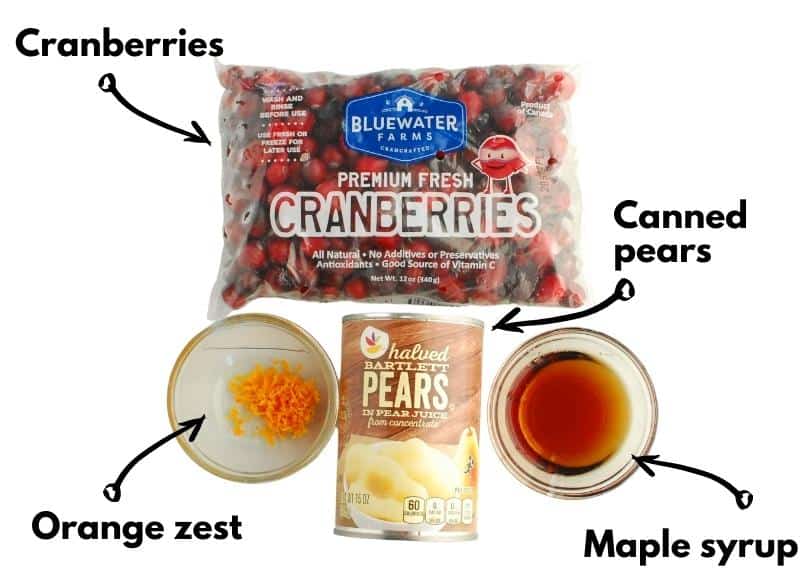 Cranberries – You'll want a standard 12-ounce bag of fresh cranberries. If you've harvested cranberries yourself or are using a big bag of frozen berries, this is equivalent to about 3 cups.
Canned pears – This is the secret to adding a subtle sweetness with less added sugar. Canned pears contain some fiber and antioxidants, so they're great to use in this recipe.
Orange zest – Optional, but recommended for flavor complexity.
Maple syrup – Because the canned pears don't add quite enough sweetness alone, I like using maple syrup in this recipe too. I find that two tablespoons is just enough to take the edge off of the super tart cranberries, but still allows their flavor to shine through. However, if you're used to canned cranberry sauce, you may want to add a little more maple syrup to reach your taste preferences.
Instructions
This recipe couldn't be simpler! You'll find the full amounts and instructions in the recipe card below, but here's a helpful overview with photos.
Start by placing your pear halves and some juice from the canned pears in the pot. Cook that over medium heat for two minutes.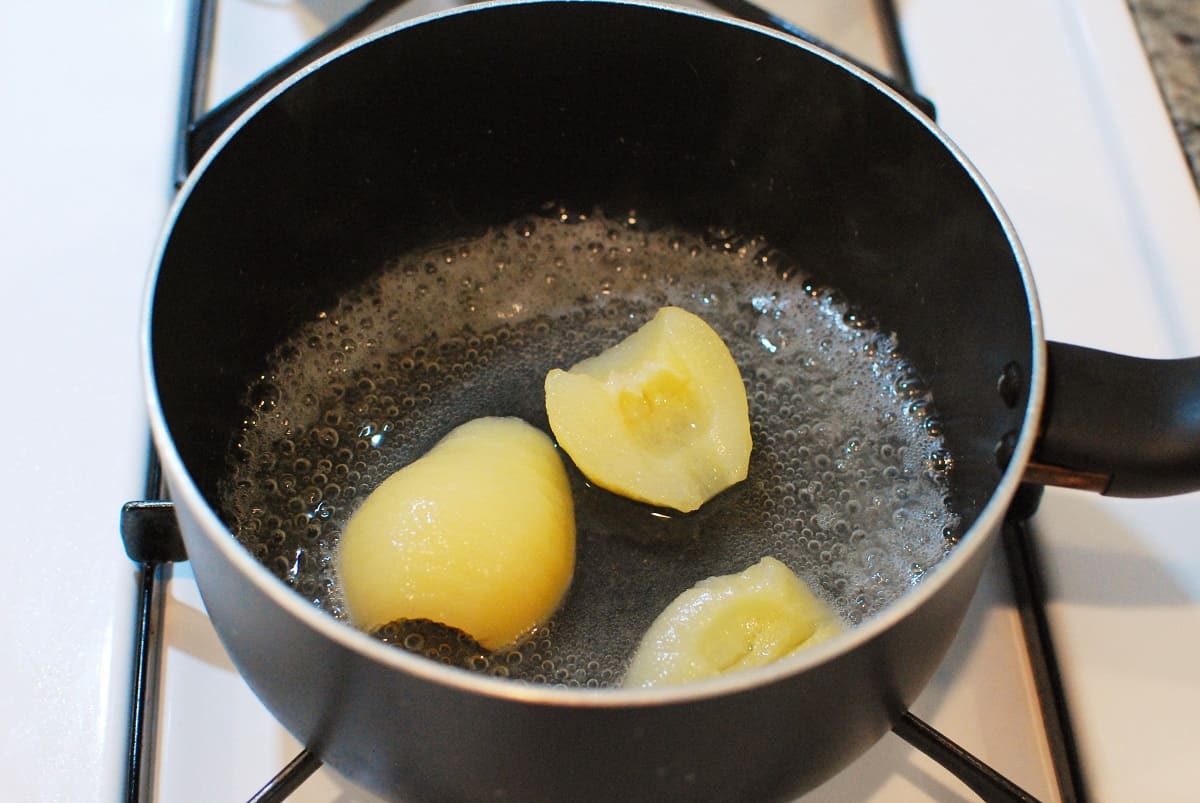 Then mash that with a potato masher.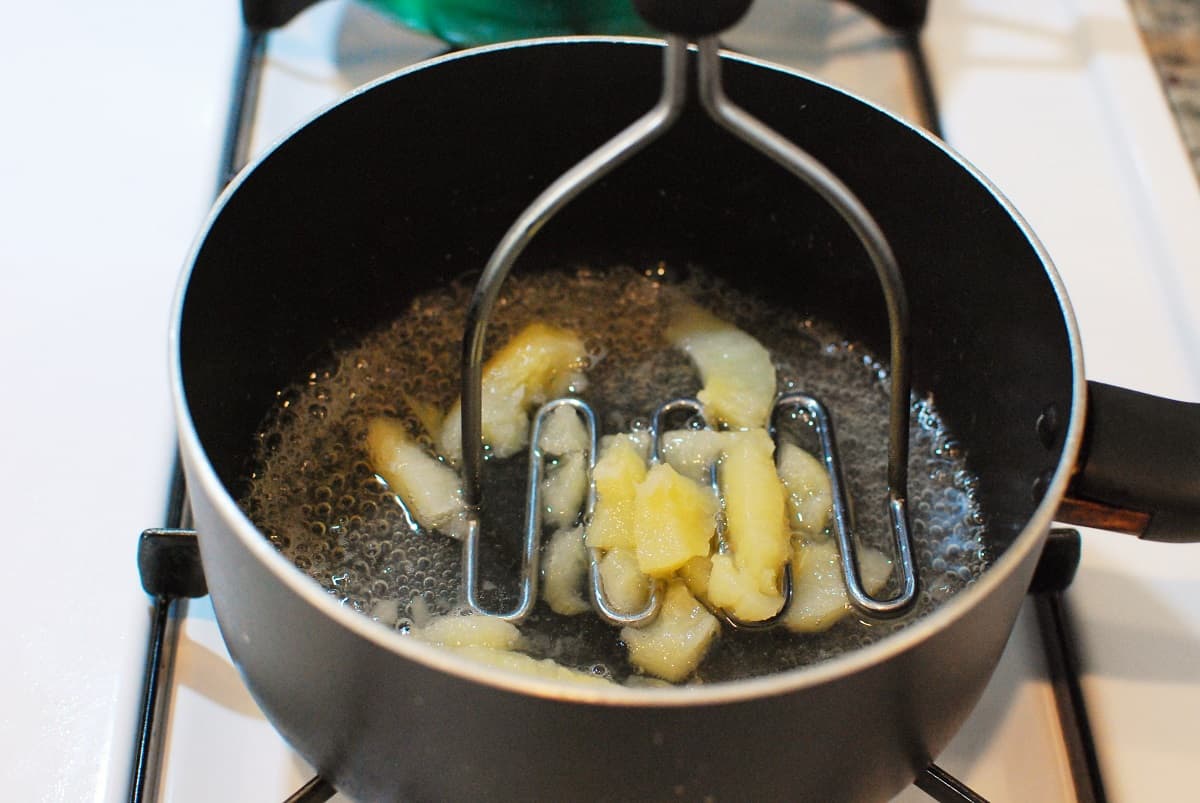 Add the cranberries, maple syrup, and orange zest.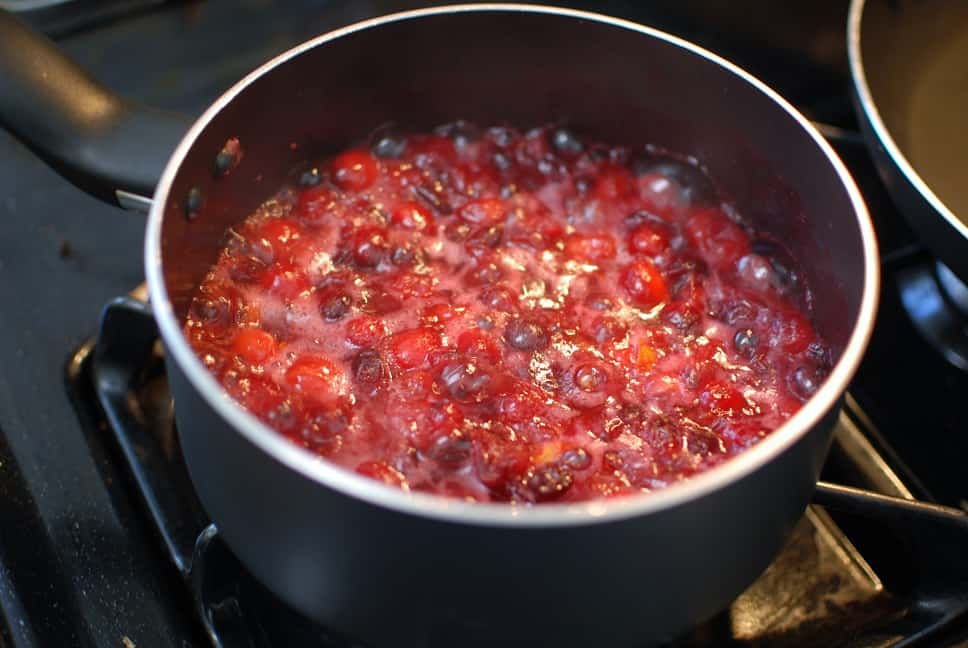 Cook it over medium low for about 10 minutes, or until the cranberries burst and the sauce has thickened up.
Mash the sauce with the potato masher until you get your desired texture. If you prefer a really smooth sauce, you can run this through a blender as well (just wait for it to cool a little, and leave the hole in the blender lid open to allow steam to escape). I prefer it just mashed though so you still retain some of the texture of the berries.
Now let it cool to room temperature, and enjoy!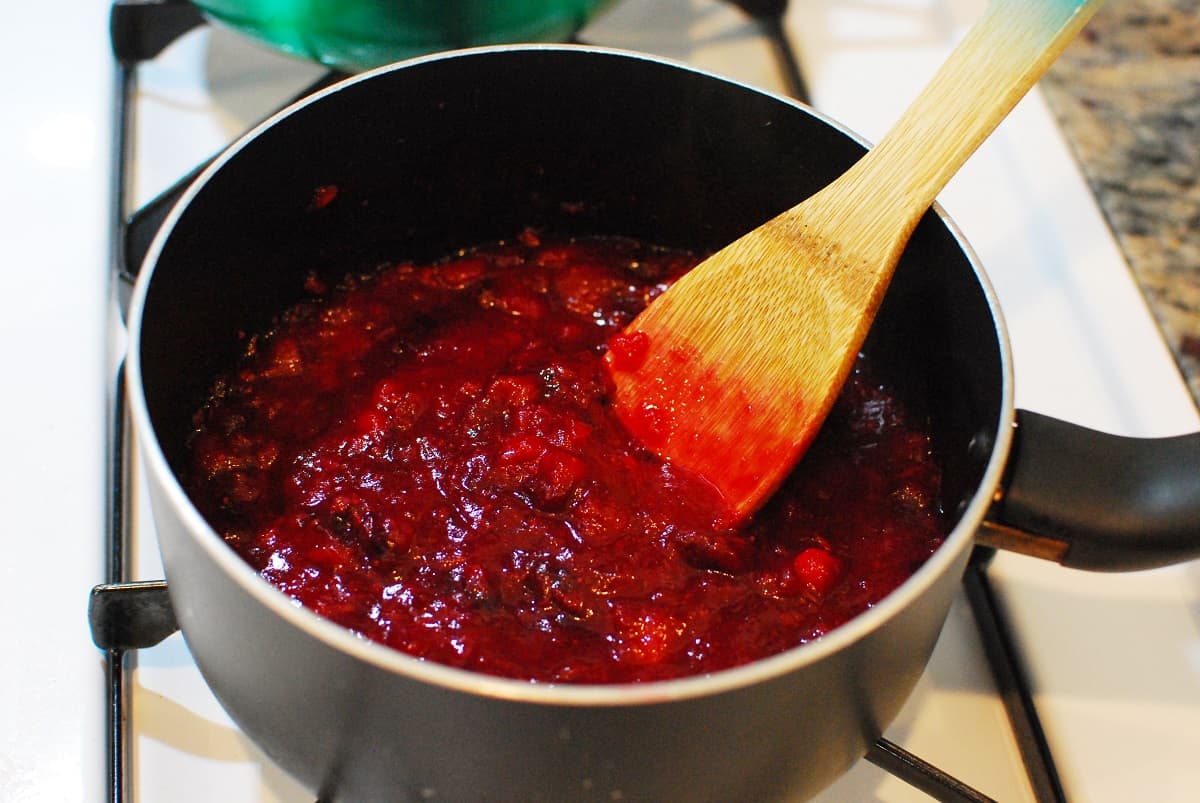 Recipe FAQ
Here are some common questions that may arise as you prepare this lower sugar cranberry sauce:
Can you use frozen cranberries for cranberry sauce?
Yes, feel free to use frozen cranberries instead of fresh. You may need to increase the cooking time by a minute or two.
How long is homemade cranberry sauce good for?
Homemade sauce is best used within 5-6 days.
Can you make lower cranberry sauce ahead of time?
Yes. Feel free to make this up to 3 days in advance for best quality. Store in the refrigerator in an air tight container after making.
Can you substitute honey for maple syrup in cranberry sauce?
Sure. Feel free to use an equivalent amount of honey instead of the maple syrup.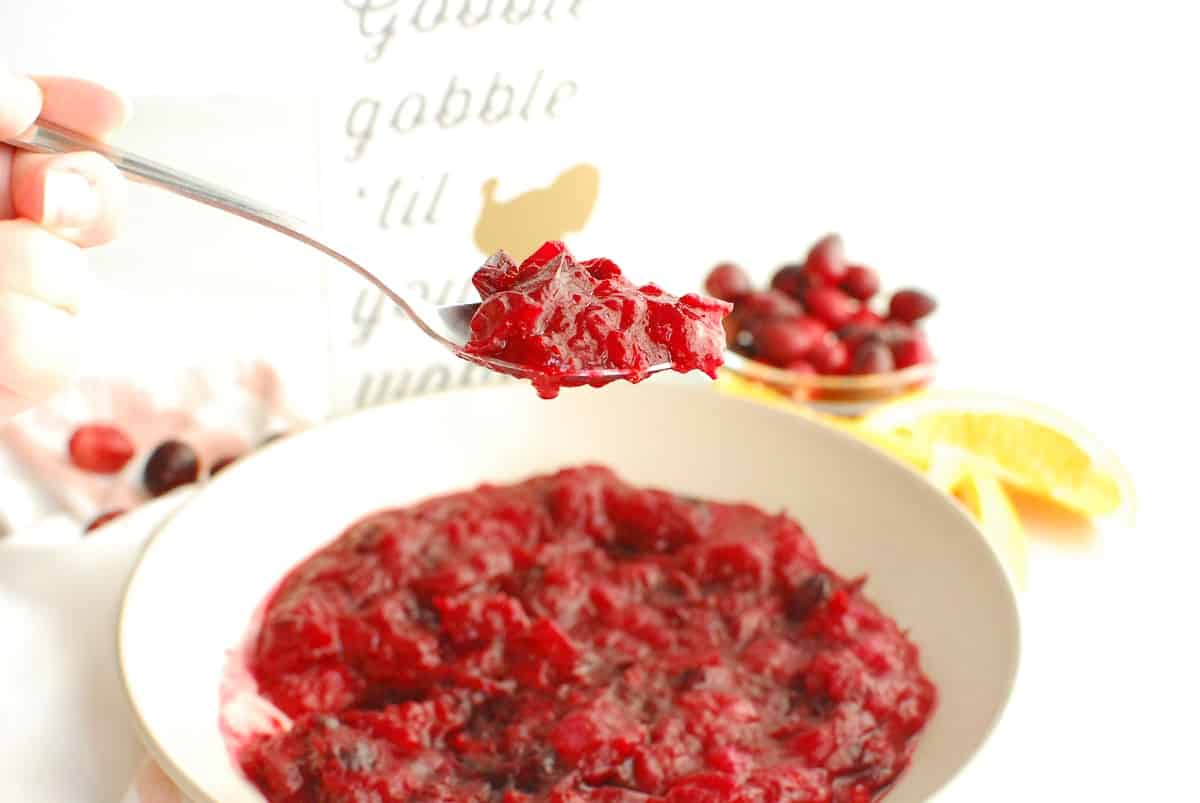 Ways to use leftover cranberry sauce
Got a bunch of leftover sauce after making this? Or just looking for unique ways to use cranberry sauce year-round?
Try one of these ideas:
I hope you enjoy this recipe! With Thanksgiving right around the corner, try adding this healthy low sugar cranberry sauce to your holiday menu.  It's super simple to make and you might be surprised at how much you love the punch of true cranberry flavor.
If you get a chance to try this, feel free to leave a recipe rating or review below.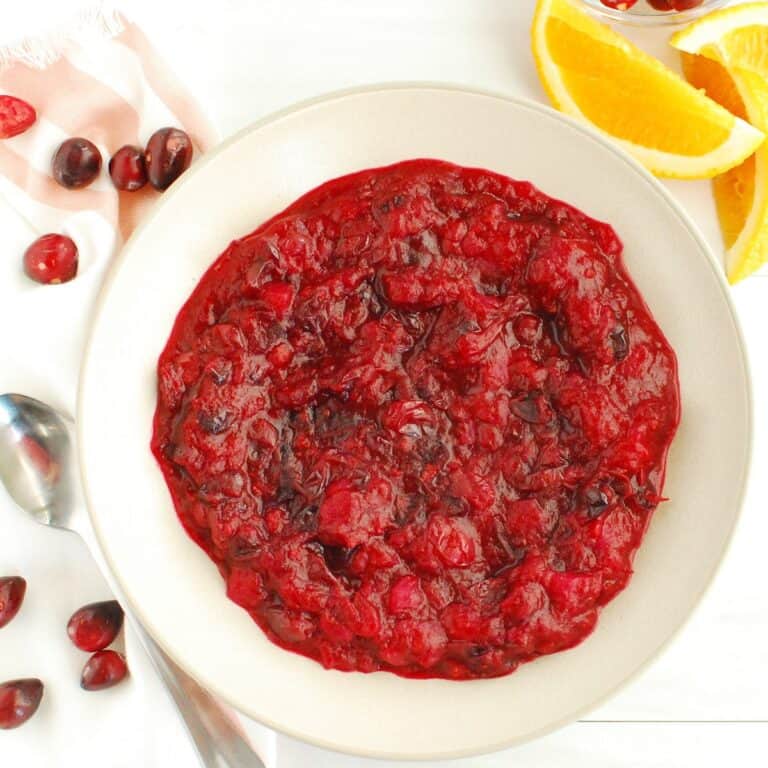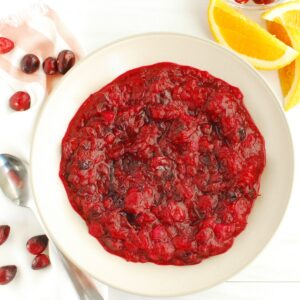 Lower Sugar Cranberry Sauce
This lower sugar cranberry sauce is a tart and subtly sweet healthy recipe that's perfect for topping your Thanksgiving turkey.
Ingredients
3

canned pear halves

½

cup

juice from can of pears

12

ounces

fresh whole cranberries

(about 3 cups)

2

tbsp

pure maple syrup

(or more to taste)

½

tbsp

orange zest
Instructions
Add the pear halves and juice to a medium pot over medium heat. Cook for 2 minutes, then mash pear halves a few times with a potato masher. 

Add the cranberries, maple syrup, and orange zest. Reduce the heat to medium-low and cook uncovered for about 10 minutes, or until the cranberries have burst and the sauce has thickened.

Remove from heat and mash to desired consistency. Let the cranberry sauce come to room temperature before serving.  Enjoy!
Notes
Canned pears should be packed in juice, not syrup. You use both the canned pear halves and the canned pear juice directly for this recipe.
This recipe is lightly sweetened and lets the tartness of the cranberries shine through. If you're used to store-bought cranberry sauce, you may find this too tart. In that case, feel free to add extra maple syrup to taste.
This recipe makes approximately 1 ¾ cups sauce, for approximately 7 servings of ¼ cup each.
Nutrition analysis (approximate per ¼ cup serving): 55 calories, 0 g fat, 5 mg sodium, 14 g carbohydrate, 2.5 g fiber, 9 g sugar, 3.5 g added sugar, 0.5 g protein, Vitamin D: 0%, Calcium: 1%, Iron: 1%, Potassium: 2%
Share with me:  When it comes to turkey, do you go for the gravy or the cranberry sauce? If you tried this recipe, what did you think?
Feel free to pin this post to save for later!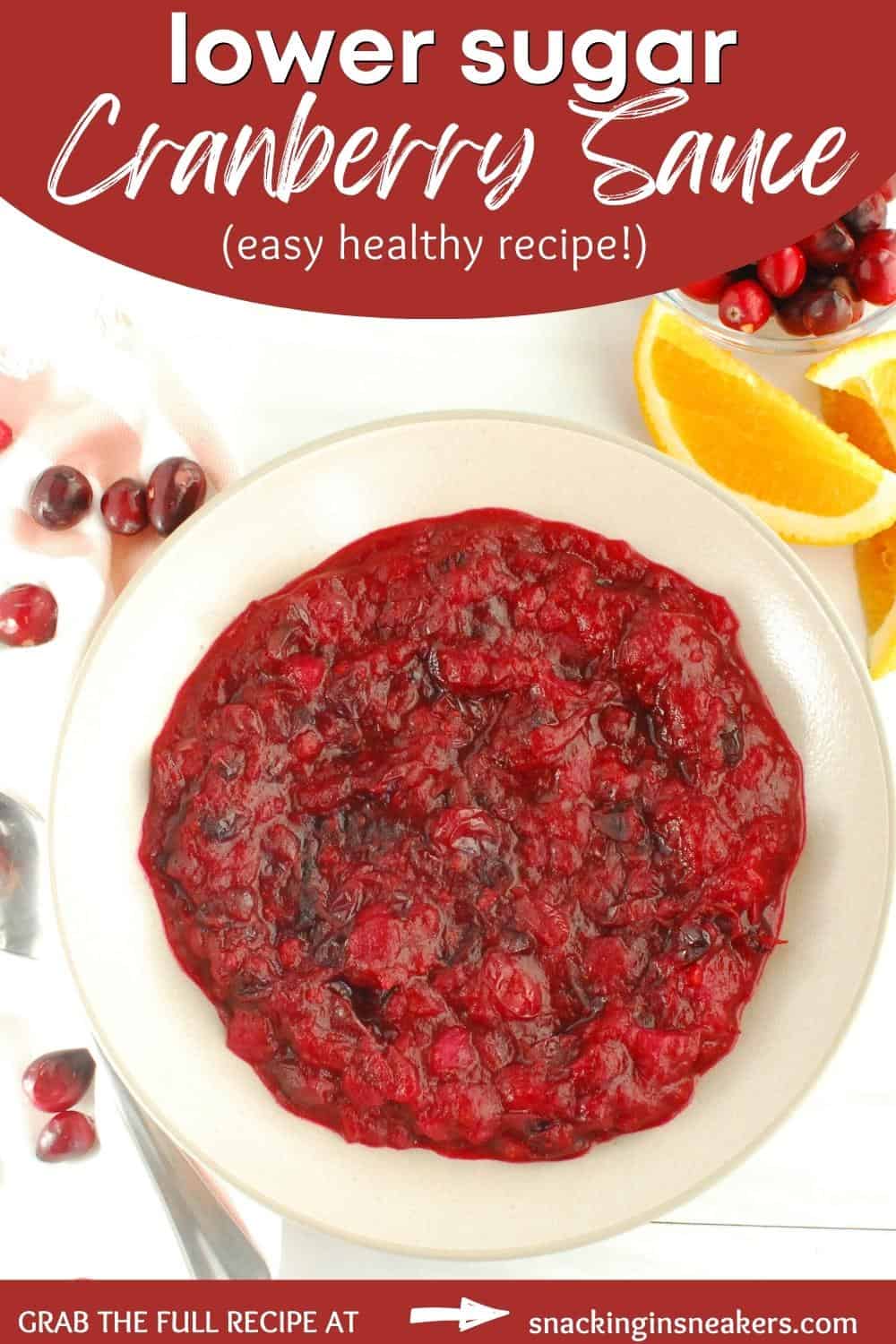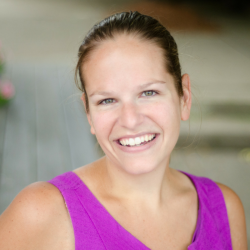 Latest posts by Chrissy Carroll
(see all)